Table of Contents
OneTrust is a popular risk management and data privacy compliance software, but it ships with a hefty price tag and long contracts. However, user consent services such as managing cookie consent and displaying privacy policies are crucial to comply with laws like the General Data Protection Regulation (GDPR).
So what should businesses do? Finding a reliable OneTrust alternative is one way to get started — a platform that delivers similar features at lower cost.
In this article, we'll review the top OneTrust competitors and alternatives that offer a cheaper privacy management platform without sacrificing any of the core functionality.
We list a detailed list of our criteria later in this article, but the tools we review help with cookie management, privacy policies, consent and preference management, DSARs, and more.
Let's dive in.
7 Top OneTrust Alternatives & Competitors
OneTrust is a great platform to navigate the complex world of data and privacy compliance. However, it can be a pricey option thanks to its a la carte service menu that features a pricing structure formatted on a per-feature and per-domain basis.
These are our top alternatives to consider:
1. Enzuzo (Our Top OneTrust Alternative)

Enzuzo is designed for a wider range of businesses than OneTrust, which is squarely focused on large enterprise customers. From burgeoning companies that might be operating their first website to agencies managing a portfolio of domains, Enzuzo offers a comprehensive buffet of privacy and data compliance services which include compliance with data privacy regulations such as GDPR, PIPEDA, CCPA, and LGPD.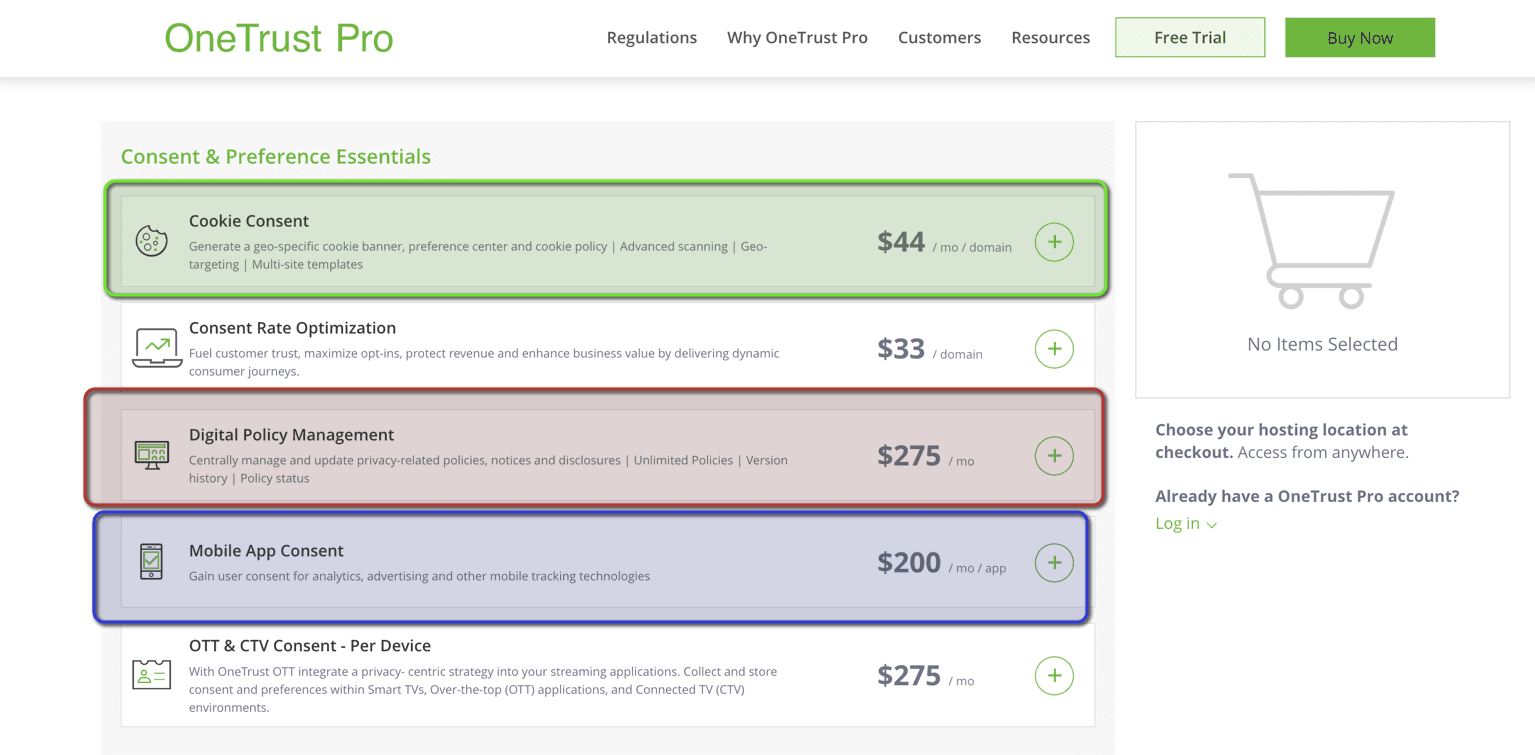 Businesses looking to onboard three consent & preference services will have to pay OneTrust over $500/month while the same features are offered by Enzuzo in the growth plan for $29/month.
Be prepared to shell out even more cash for DSARs, bringing your total to nearly $800/month.

Comparable plans from Enzuzo won't cost more than $89/month. And the business offers custom plans & features for enterprise clients, with a guarantee of cost savings of several hundred dollars a month compared to OneTrust.
Enzuzo can cater to enterprise needs without breaking a sweat and help global expansion efforts. Its work with Shopify Plus store Beacn is worth checking out.
IT MSP clients can also benefit from Enzuzo's custom workflows. Enzuzo works with several MSPs to manage data privacy for their clients, with dedicated logins and other features tailormade for each customer.
Enzuzo offers five pricing plans designed with flexibility in mind. This includes the Free, Starter ($9/month), Growth ($29/month), Pro($79/month), and Agency ($129/month) plans. The premium plans can be set to either monthly or annual renewal. This allows for more flexibility and doesn't require an annual contract like OneTrust. Enzuzo also easily integrates into most major web platforms such as Shopify, Squarespace, and Wix.
The free plan is ideal for budding entrepreneurs who want to be compliant with cookie consent, but need to stay lean. However, the Starter plan offers a solid package for one domain, complete with customizable legal policies, a returns and shipping policy, support for more than 25 languages, and 10 data requests per month.
The Growth plan includes everything from the Starter but supports four domains, includes DSAR and CCPA forms, and allows 50 monthly data requests. The Pro plan includes everything from Growth plus support for 10 domains, unlimited data requests, and premium support from Enzuzo.
Meanwhile, the Agency plan is perfect for enterprises that need to maintain compliance for a wide portfolio of domains. It incorporates everything from the Pro plan but provides support for 20 domains. By contrast, OneTrust requires customers to select from an a la carte menu that works on a per-domain basis.
Alternatively, enterprise clients can opt for a customized plan that includes an option for further development of custom integrations and workflows to meet their unique needs. However, the flat pricing for a comprehensive plan — whether from the existing options or customized — makes this an ideal option for businesses that need to stay compliant but also need to be mindful of how their budgets are allocated.
Overall, we find that Enzuzo is an excellent fit for companies that don't want to break the bank. OneTrust is a very enterprise-focused solution, with the pricing and contracts to match. Enzuzo can help small and medium-sized businesses in a way that OneTrust simply cannot. And for enterprise customers looking for custom solutions, Enzuzo can build out unique solutions and workflows

2. Mine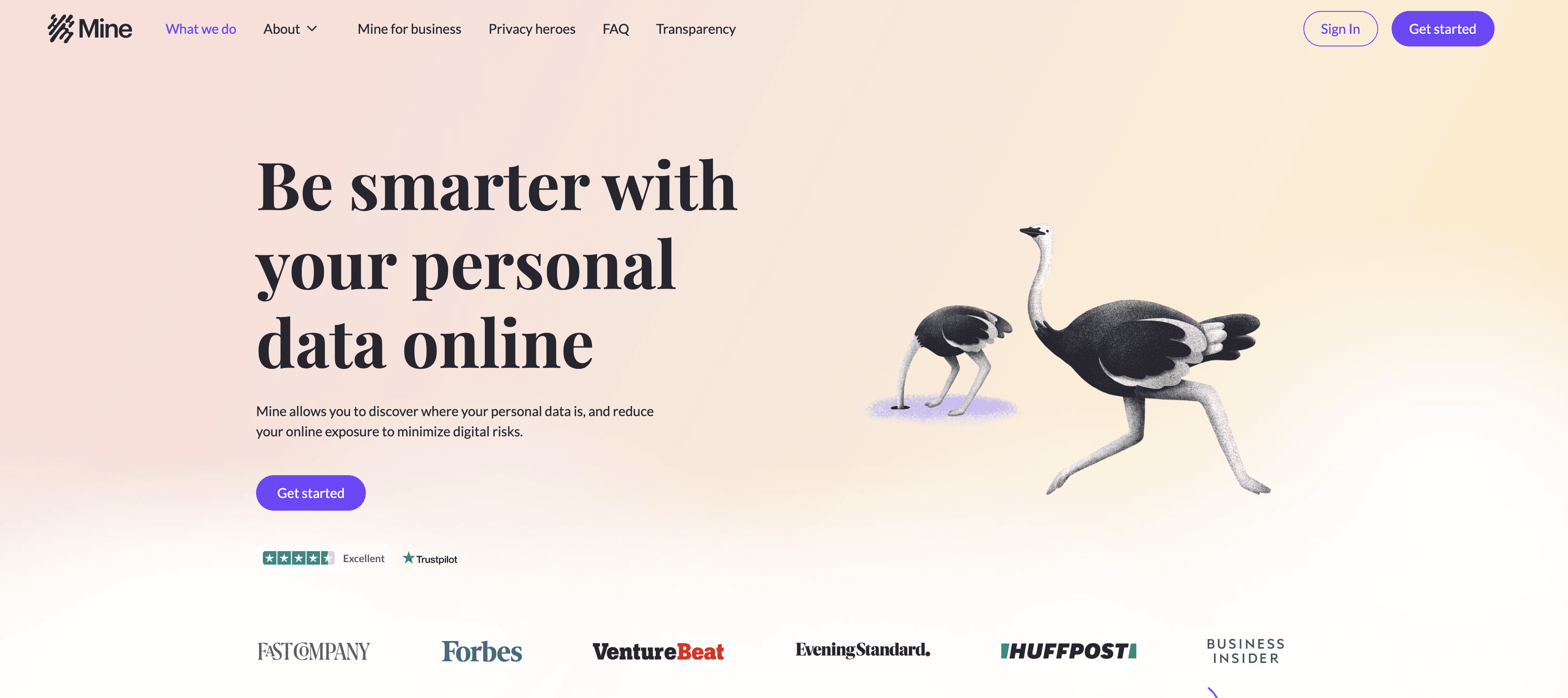 Mine is a data privacy management platform that started with a focus on helping the consumer know where their data was being used online and to gain control of that usage. It further branched out its product offering to include a business solution centered around maintaining data and privacy compliance.
Pros
As with many data and privacy compliance solutions, this one supports multiple touchpoints including email, SSO, website, and cloud scan. Key features include:
Monitoring operational systems

IT shadow & risk mapping

Employee data access

Privacy and governance compliance

Full data & systems coverage

Identifying authoritative systems
As with other platforms, Mine supports plug-and-play integrations that easily support access and deletion requests. Likewise, you'll get consent management for both websites and apps. There are three out-of-the-box plans to choose from and the option for a custom plan for enterprise customers.
Standard options such as a customizable privacy webform, collecting data requests across channels, and secure communication channels with data subjects are all supported.
Cons
While these are all nice and essential features, the firm lacks pricing transparency as none of the three available out-of-the-box plans list the monthly fees. While the base plan offers a trial run, you still need to sign up for a demonstration presentation before you can move forward. Additionally, customer service response times are linked with your plan level.
While the base plan promises a response within 48 hours, you need to upgrade to the top-tier plan to get a response within a few hours. While this might not be a problem for businesses that don't rely on their website as a primary funnel source, others may find that a potential two-day lag time for responses is problematic. Likewise, additional security and authentication support beyond SSO and email are limited to the two premium account options.
3. Usercentrics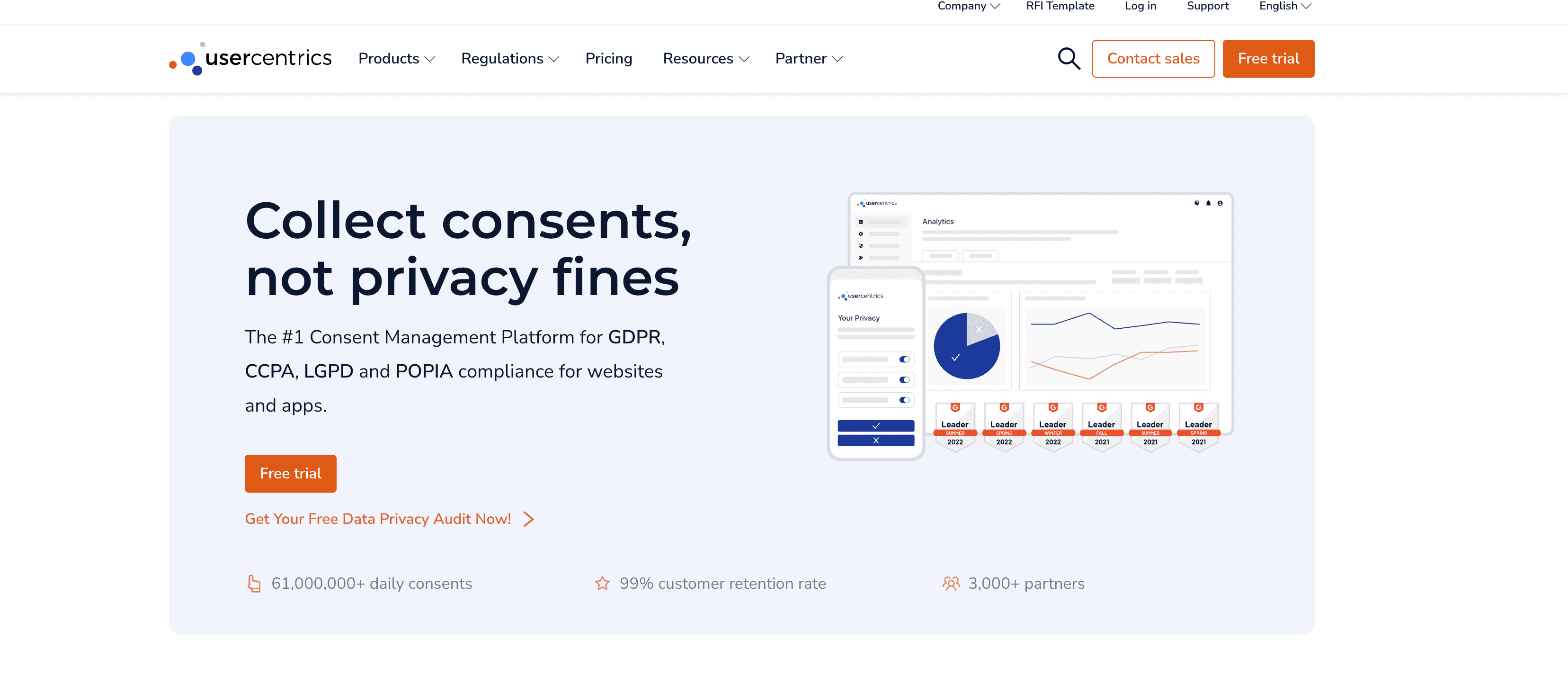 If your business is more app-driven rather than desktop, or you're solely seeking a solution for your proprietary app's data management and compliance, then Usercentrics is an option.
As with many other data and privacy compliance solutions, it features:
Customizable product

Compliance with most major privacy laws such as GDPR, LGPD, and CCPA

Easy installation and configurations

Analytics

UI templates (Advanced plan)

60 supported languages (Advanced plan)

Customer success manager (Premium plan)

API support (Premium plan)

Cross-device consent sharing (Premium plan)
Pros
Note that this solution isn't just for mobile apps but can also be applied to OTT options such as smart TV and console apps. While Usercentrics doesn't prioritize desktop compliance solutions on its website, they do offer them.
With three desktop plans and two app-focused plans, there is some flexibility. Pricing is based on the device you're targeting and the total number of sessions per month rather than the number of web domains. For website compliance, the three plans start with a Starter (free) option and Advanced at $60 per month.
As is common, feature functionality increases consecutively in conjunction with your monthly fee. The Starter plan exclusively focuses on cookie compliance while the Advanced incorporates significantly more customizations, geolocation compliance, language support, and data management. The Premium option requires contacting the platform for a demonstration but piggybacks off of Advanced, along with more enterprise-focused features like API development and a dedicated customer success manager.
For app compliance, you're limited to the Advanced which is still $60 per month, or the Premium which also requires contacting Usercentrics. For Connected TV support only, you'll need to contact the platform.
Cons
Still, it's obvious at a glance that apps are their primary focus as the Starter desktop plan is incredibly stripped down. Along with a cookies-only approach, it only supports base compliance with one of the major regulations of your choice — not all — and basic analytics. However, if your budget allows, you can add on services for a fee.
App compliance starts at $60 and is priced based on the maximum number of daily active users (DAU) that you receive. While this might not be an issue for enterprise customers, very small businesses may find this — in addition to any other digital integrations they're paying for — to be a hefty addition to their bottom line. Plus, if your focus is compliance with connected TV services, you'll need to contact Usercentrics for more details.
Some users have found that the interface can be a bit difficult to interact with. Likewise, slow cookie banner load times can hurt your Google Page Rank score if you're focused on a snappy website that loads lightning fast. Additionally, if you have an account that supports multiple domains, you can't initially configure the domain into your account independently, you'll need to request customer service to do this on your behalf.
4. Dataships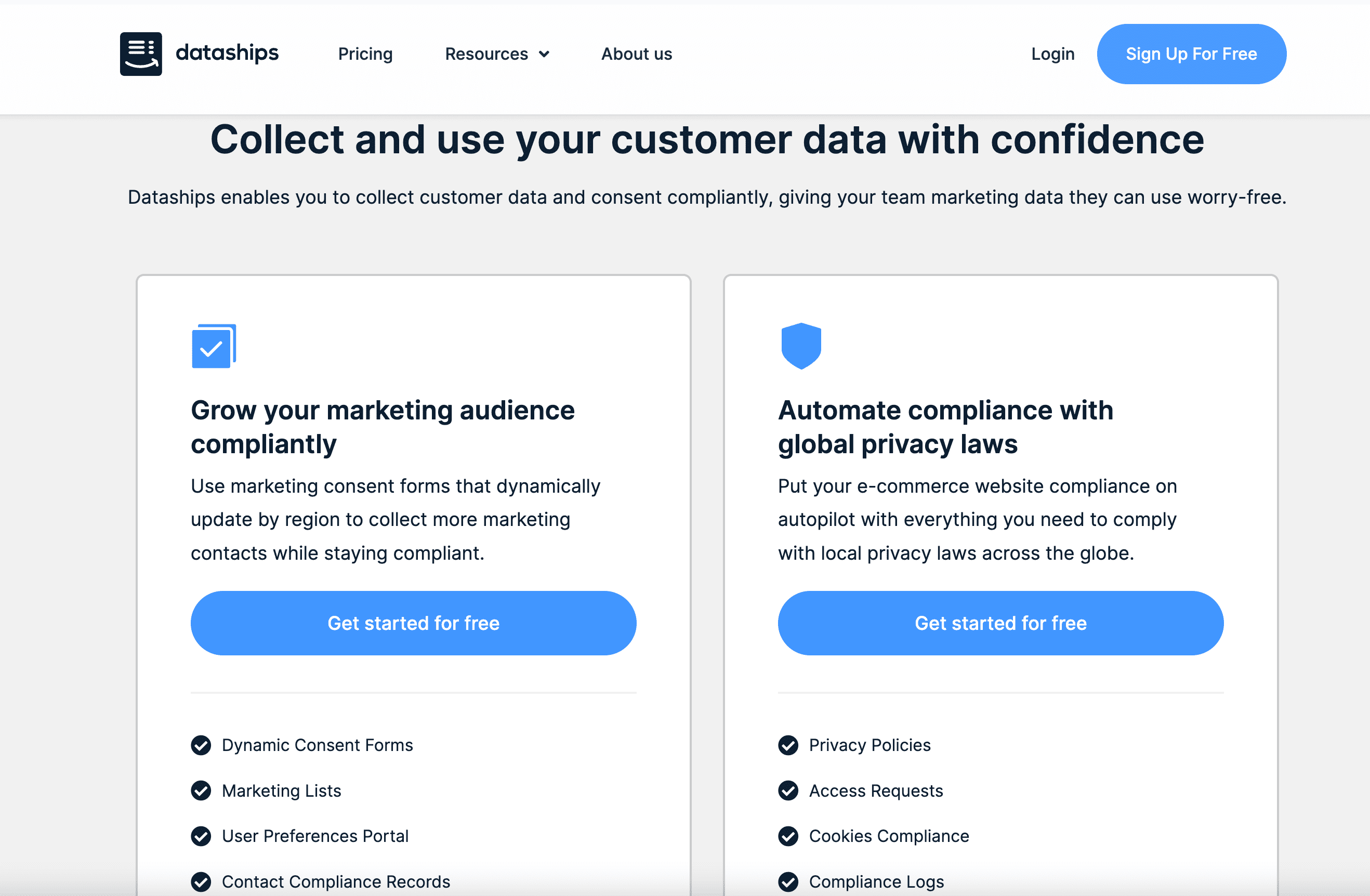 For those trying to grow a contact list, Dataships might be more your speed. While the company does offer solutions for multiple marketing channels, compliant email contact acquisition tends to be their sweet spot.
Key features include:
Dynamic consent forms

User interfaces for privacy centers, control panels, and user preferences portals

Compliance logs and customer support
Note that the lower plans only have marketing support system a single channel. While the company promotes email management primarily, you can also use Dataships for SMS, social, and direct marketing support.
Pros
With five plans ranging from a free starter solution to an enterprise option, all of them are designed to keep you compliant with the most recent data privacy laws around the world. Note that pricing is based on your total number of new contacts, not on the available features. This is because, in theory, every plan has access to the same functionality. This is a more plug-and-play solution that's ideal for a customer who doesn't need to go off-script with their compliance needs.
Monthly plans start with just 1,000 new contacts at the free level, 5,000 for $60, 20,000 for $250, 50,000 for $600, and finally 100,000 for $900 at the enterprise level. While the three lower plans only support a single marketing channel, if you upgrade to the Advanced or Enterprise solutions, you can leverage multiple channels.
Cons
Dataship's one-size-fits-all approach may not work for businesses that would benefit from a more customized approach or in-depth data extrapolation.
More importantly, if you leverage multiple marketing channels to engage with your audience, this platform will require that you upgrade to the more costly plans to access alternate marketing channels. For smaller businesses, the added cost increase may be unrealistic.
5. Ketch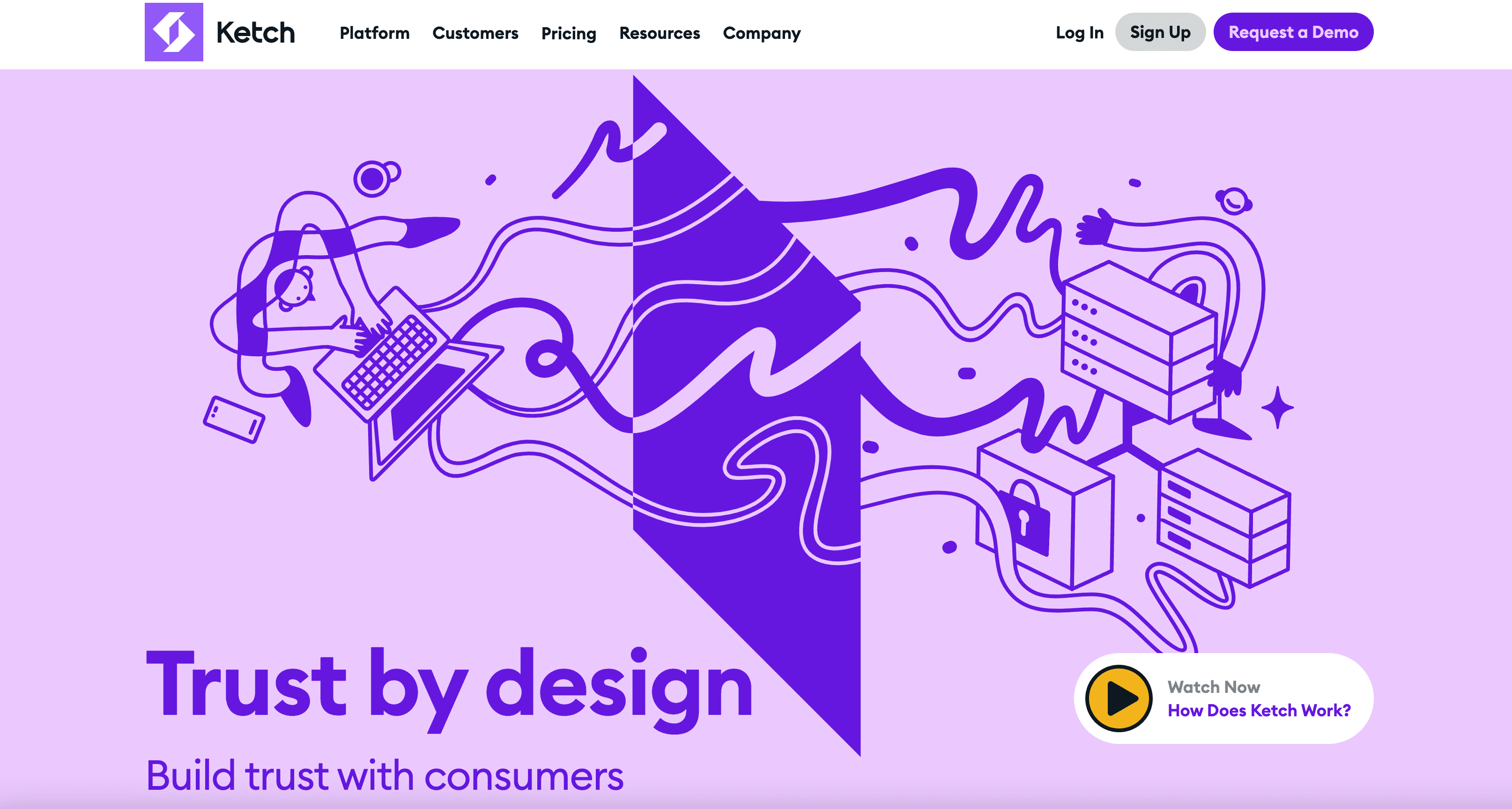 Ketch is another 360 solution that focuses on data management and privacy compliance from multiple angles. As with other similar offerings, Ketch promises to assist with supporting responsible data control from end to end across the data lifecycle. This includes:
Identifying data expiration

Proper data disposal

Customizable cookie and disclosure templates

Consent and preference management

Subject rights intake and management

DSAR support (Enterprise)

Automated data discovery and classification (Enterprise)

Data stewardship (Enterprise)

API development (Developers)
Pros
Ketch offers three general plans aimed at very specific customers – Ketch Free, Ketch Enterprise, and Ketch for Developers. Ketch Free is ideal for small or burgeoning businesses that need to stay compliant with privacy regulations.
Enterprise is ideal for those that are scaling and need additional support to stay compliant. Ketch for Developers offers truly customized solutions and tools that support no or low-code production. Note that the developer tool is also included in the Ketch Enterprise plan.
Cons
As is common for many businesses, pricing for Ketch Enterprise and Ketch for Developers is hidden behind a contact form. Likewise, if you're managing a deeper domain portfolio, Ketch limits each integration within its UI to just one domain per tier within the integration process (development, staging, and production). While this doesn't mean that you can't integrate multiple features into several domains, it does create a bottleneck during the development process since you can only work on one domain at a time.
Other users have noted that Ketch's backend isn't exactly user-friendly. It's easy to make mistakes since certain critical components are labeled uniquely so that they don't translate to general knowledge understanding.
6. Osano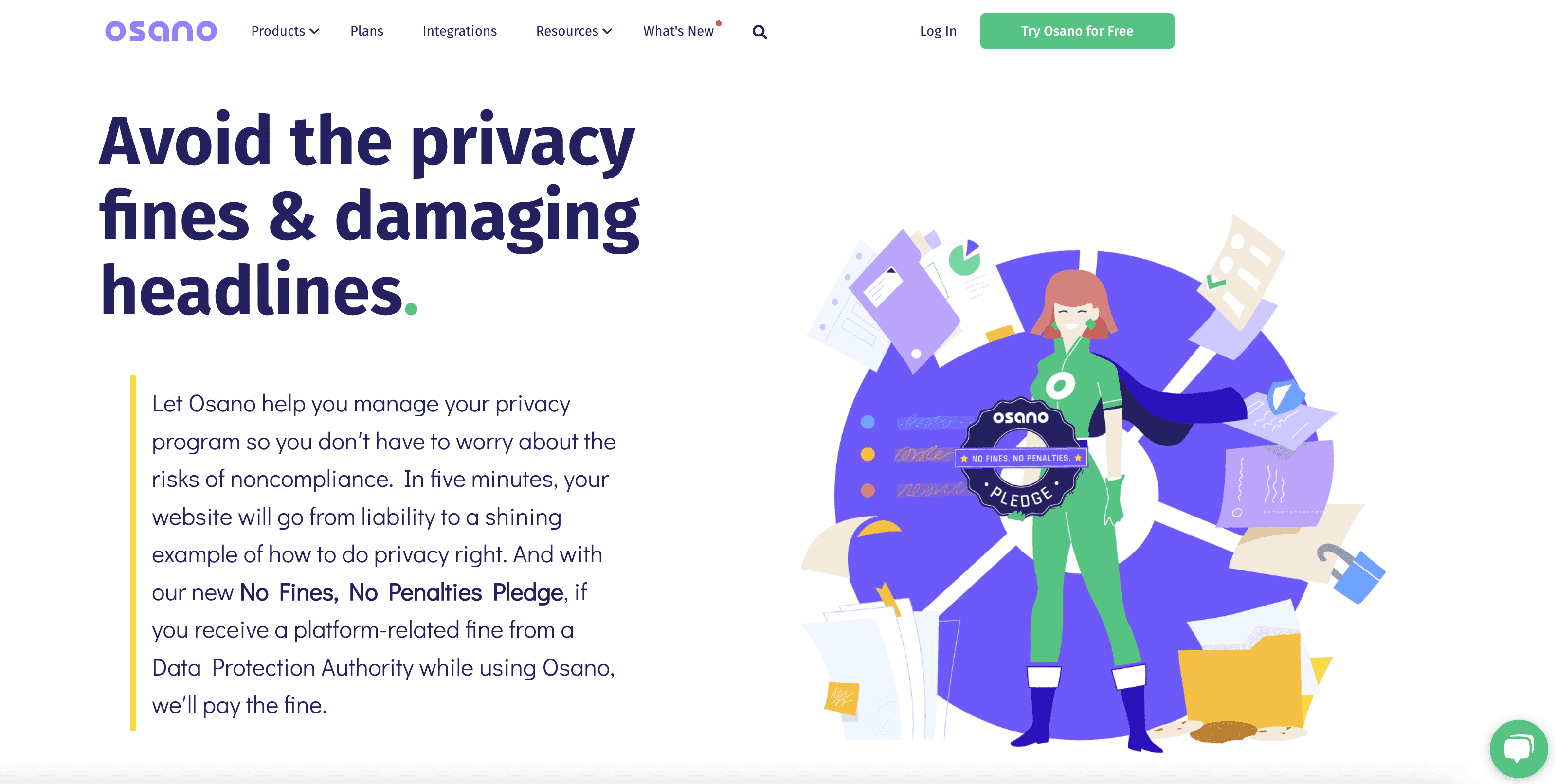 Osano puts its money where its mouth is by promising to not just protect your business from privacy or compliance fines but to pay for it if they do occur while using its product. Osano is a plug-and-play privacy and data management platform that keeps your business compliant with laws from 40 different countries. Key features include:
Cookie discovery, blocking, and control

iFrame blocking and control

Consent optimization (Business)

Vendor risk monitoring (Business)

CCPA opt-out (Business)

Consent record keeping (Business

GDPR representative (Business+)

Consult privacy team (Business +)

DSAR support (Enterprise)

Legal Templates (Enterprise)

AI-based data discovery (Enterprise)
Pros
This privacy and data solution offers four plan levels and full monthly pricing transparency. Plans start at free for Developer, $99.99 for Business, $199.99 for Business+, and start at $549 for Enterprise or custom builds.
Osano is more traditional in that functionality increases as you opt for a more premium plan. The free plan only supports a single domain, user, and data connector with 5,000 monthly visitors. By contrast, the enterprise solution gives you unlimited users and domains.
Cons
If you're just starting and aren't well-versed in data or privacy needs for websites, you might feel like the Developer plan is sufficient. But you're essentially limited to cookie maintenance and a response time that is listed as "best effort." However, the Developer plan is so stripped down that you won't know if your policy is outdated, nor will you receive guidance for major laws like GDPR or essential customer opt-out support to remain compliant with CCPA.
Core legal and privacy feature support is limited to the Business+ and Enterprise packages — meaning that you might not be as compliant as you would have hoped if you're eyeing the free or lower-tier Business packages.
7. TrustArc Privacy Management Platform
TrustArc is yet another privacy and data management solution that offers a suite of services catered to supporting customer consent, privacy strategy, and management, as well as certifications to keep your business compliant with the most relevant privacy laws. The platform works to merge cookie consent management with customer-led preference and rights management. Services include:
Cookie banner

Website scanning

User interface controls (more robust as plan price increases)

Cookie preferences management

Tracker database

GDPR and CCPA support (Professional)

IP-based geo detection (Professional)

Cross-domain consent (Professional)

AdChoices publisher add-on (Advanced)

Integrated DSAR workflow (Advanced)

Full-service support (Advanced)
Pros
As with most of these services, TrustArc also provides a variety of service tiers: Cookie Consent Basic, Cookie Consent Professional, and Cookie Consent Advanced. The Basic plan solely focuses on cookie consent. Professional gives you everything from the free plan plus support for GDPR and CCPA, compliance reporting, customized branding, IP-based geo detection, cross-domain consent, multilingual support, and tag management integration support to name a few additional features.
Meanwhile, the Advanced plan gives you everything from the Professional plan plus more in-depth scanning support, IAB EU and CCPA framework support, an AdChoices add-on, DSAR support, and routine regulatory updates to keep you compliant.
Cons
Once again, TrustArc is a brand that drops the ball on price transparency. To get a better understanding of whether this platform is financially feasible, you need to request a quote — meaning that you'll need to endure a sales pitch before you can receive basic pricing details. Additionally, the Cookie Consent Basic package doesn't specify which of the major privacy laws it's compliant with.
While you hope that it's compliant with the majors, the fact that the plan doesn't explicitly come with GDPR and CCPA support like the other plans makes it a risky investment. Likewise, some customers have noted that in the lower tier plans, you're somewhat on your own if you're not sure where your data is coming from. Additionally, some individuals noted that the various features the platform promotes don't always integrate easily with each other — leading to frustrations.
Factors to Consider When Choosing OneTrust Competitors & Alternatives
These were our main considerations when picking the most suitable OneTrust alternatives for data privacy and compliance.
Budget
We can't pretend that price doesn't matter. It's always nice when consent management platforms are transparent about pricing. But this doesn't always happen — as evidenced in our overview above. Does the platform you want to use offer a free trial? This can give you an idea of how easily you can not only integrate the solution into your backend but how user-friendly the interface is.
More importantly, you can't just think about price only while making a choice. You need to contrast that price against what you're getting. Keep in mind that free doesn't always equal good, even if you're just starting your website and don't have the largest budget. Consider where your traffic is coming from, and whether or not a platform is explicit about which privacy and data laws it maintains compliance with — specifically for the free plan.
As seen in our overview, many platforms offer a free plan that's so stripped down, it's barely compliant. More importantly, if the free plan doesn't include notifications when privacy laws change — thereby either automatically updating your policy or giving you the chance to do so manually — stay away from that plan.
Integration
Integrating a data management platform into your existing website or backend takes work. One of the most common complaints we found in our research with most platforms was that integration was a serious pain point. Part of this is because privacy laws are complex, and often they're at odds with each other. What GDPR demands of commercial websites isn't the same as CCPA or LGPD.
This isn't exactly the fault of a platform, but it does mean that you need to have someone or a dedicated team that's prepared to devote time to get your consent management system up and running properly. It also means your preferred platform should offer robust support in this area.
Support
As we mentioned above, privacy laws are complex, and integrating a management platform into your backend takes work. Does the platform you're considering offer responsive, timely support? A common concern we saw with many free plans was that response times could be as high as 48 hours or simply referenced as "best effort". What does that even mean?
If your business receives minimal website traffic because you're more brick-and-mortar focused, this might not be a real issue. But if you're an online business that receives massive daily internet traffic, the amount of violations you could be exposed to in 48 hours is scary.
Compliance
Most major consent management platforms provide compliance coverage for major international and state laws such as GDPR and CCPA. But, it's important to note that according to the United Nations, there are 137 nations with some type of privacy regulation in place. If you're receiving traffic from any of those 137 countries, you're technically liable for how you're managing those citizens' data.
Likewise, in the U.S. alone, more states are following California's lead and producing independent legislation. Most recently, Connecticut and Virginia released legislation in 2023, and more are sure to follow. This means you need a platform that's on top of the changing data privacy landscape. More importantly, their solution needs to be agile enough to adjust to maintain your compliance.
Automation
Does your platform automatically detect the IP address of incoming web traffic? While this might seem like a nice-to-have feature, it's also an important one. As we mentioned above, privacy laws can vary widely.
This means that not only the type of notification you use, but the available consumer opt-out options you provide may need to be different depending on traffic origination. Likewise, if a customer declines the cookies, what mechanisms are in place to prevent data from being downloaded? If an automated mechanism isn't available to block that download, then the platform isn't helping you maintain compliance.
Customizations
Whether you want a solution that isn't carrying the logo of your consent management platform, or you need to create content in multiple languages, customizations are central to a positive user experience when customers visit your website. Is the free consent management system you're considering rigid when it comes to these features? Or are they only accessible for the more expensive plans they offer?
Data Management
As the famous marketing adage says, data is king. From handling DSRAs to tracking where your data is coming from, when it's nearing expiration, and that it's being handled properly, you need a platform that can give you sufficient support in this arena.
Additionally, if you're coordinating that data with third parties like ad deployment services, you need additional compliance support. Make sure the consent management platform you're eyeing can do this efficiently.
An Agile Solution That Prioritizes Privacy and Data Compliance
Privacy laws are a constantly evolving space. With so many regulations around the world, staying compliant can be overwhelming for a business to handle on its own. Coordinating with a consent management platform that actively responds to regulatory changes, while also giving your business the flexibility to customize policies and cookie consent interfaces for customers is essential.
Enzuzo is a consent management platform that's designed to grow with your business. With five plans that don't require a monthly contract, but offer robust solutions and customizations, there's a solution here for businesses of all sizes. Whether you've just launched your first website, or you need a way to manage a portfolio of domains, Enzuzo is here to keep you compliant every step of the way.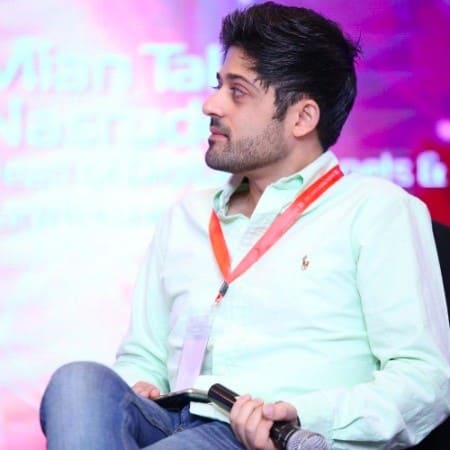 Osman Husain
Osman is the content lead at Enzuzo. He has a background in data privacy management via a two-year role at ExpressVPN and extensive freelance work with cybersecurity and blockchain companies. Osman also holds an MBA from the Toronto Metropolitan University.