Table of Contents
OneTrust vs TrustArc
The main difference between OneTrust and TrustArc is that OneTrust provides a comprehensive suite of products that extend beyond data privacy compliance to include sustainability and monitoring support as part of a transparency solution. Meanwhile, TrustArc focuses its features mostly on data privacy while also including privacy certifications.
In this article, we compare OneTrust to TrustArc ranked on things like features, pricing, customer support, and more. We also highlight a third option if you find that neither OneTrust nor TrustArc is a true fit for your business' data privacy compliance needs.
What are OneTrust and TrustArc?
Both OneTrust and TrustArc are software as a service (SaaS) solutions that provide support for managing data collection and ensuring proper compliance with major privacy regulations such as the California Consumer Privacy Act (CCPA), the General Data Protection Regulation (GDPR), or the Personal Information Protection and Electronic Documents Act (PIPEDA).
OneTrust was established in 2016 and is headed by CEO Kabir Barday who noticed many businesses were scrambling to meet data compliance requirements after the rollout of the European Union's GDPR. The brand took capabilities a step further to meet expectations outlined with the CCPA that rolled out in 2018.
Core capabilities with OneTrust include data privacy compliance, data mapping assessments, consent management, risk evaluation, and even niche products that support sustainability and transparency initiatives.
TrustArc is older and was established in 1997 under the name TRUSTe by founder Lori Fena until 2017. At this point, the firm changed its name to TrustArc. In contrast to OneTrust, the more senior firm focuses almost exclusively on data privacy compliance. However, ecommerce owners may be familiar with TrustArc's privacy certification which is often displayed on online storefronts as a way to build trust with consumers.
OneTrust Pros and Cons
OneTrust is a well-known name in the data privacy management industry. It's ideal for large enterprise businesses with data privacy budgets to match. The core features of OneTrust include:
1. Privacy and Data Management
OneTrust offers real-time access to all data that's currently on internal servers or those shared with third-parties. This allows you to clearly see what information is actively being used, make adjustments, and identify possible risks to data integrity.
2. Security Management and Analysis
OneTrust leverages key security integrations such as ALTR, Black Kite, Box, and Broadcom to vet third-parties and keep a close eye on vendor risk management.
3. An Emphasis on ESG and Sustainability
Environmental, Social, Governance (ESG) features are idea for companies with a sustainable-first ethos or those that are angling for certifications such as B Corp status.


Pros of OneTrust:
Powerful feature set for large companies
Forward-thinking solution that positions companies well to scale
Strong integration potential with other systems
Cons of OneTrust:
High-cost plans that have steep opt-out fees
Long-term contracts are required
Complex UI and steep learning curves for platform management
Unresponsive and inconsistent customer support
Overall Thoughts on OneTrust
In truth, OneTrust is probably a bit advanced — and too expensive — for the average business. A complicated interface and inconsistent customer service also holds it back, meaning companies will require a dedicated employee or team to oversee the OneTrust integration.
This frustration is common with OneTrust users as evidenced in the review below:
Despite mixed reviews, OneTrust offers a viable solution for medium and enterprise businesses that need to leverage, manage, and protect loads of data that might be too extensive for smaller data compliance services to coordinate.
🏆 Overall Verdict: OneTrust is a viable option for large enterprises with deep pockets. Expect steep implementation costs and timelines to make use of the robust feature set.
TrustArc Pros and Cons
TrustArc offers a suite of services that support cookie consent, privacy management and strategy, and managed services. Some of its core features are:
1. Customer Consent & Preferences
One of TrustArc's core competencies includes providing customer consent tools that help companies comply with laws like GDPR.
2. Privacy Strategy Management
TrustArc's privacy strategy and operations solutions provide strategic guidance to assist companies with regulatory compliance and streamline the day-to-day complexities of privacy management.
3. Managed Services
TrustArc provides a range of managed support services to help companies fill compliance or privacy gaps not addressed through standard solutions. This type of in-depth consulting is tailormade for the unique needs of each business.
Pros of TrustArc:


Comprehensive platform for cookie management and privacy reviews
Helpful reporting and privacy impact assessments
A strong library of supplementary compliance and privacy resources
Cons of TrustArc:


Expensive plans that lack transparency in options
Subpar customer support for problems
Complex and frustrating user experience
Overall Thoughts on TrustArc
TrustArc includes a number of features for the modern mid-market and enterprise customer, but suffers from poor UX, complicated onboarding, and subpar customer support. We like its privacy webinars and podcasts, which helps educate the market, but the lack of a month-to-month contract is another questionable decision.
Like OneTrust, reviews for TrustArc are mixed: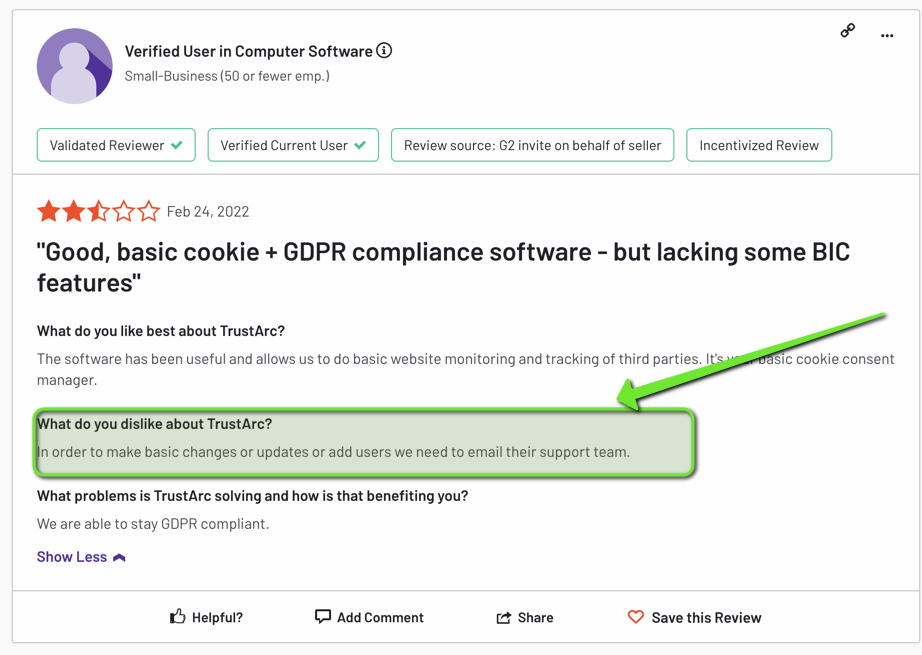 🏆 Overall Verdict: TrustArc has some solid data privacy features, but isn't squarely focused on compliance with privacy laws. The lack of pricing clarity is also a red flag.
OneTrust vs TrustArc: Who Wins in 2023?
Let's try to break down each platform in areas like features, pricing, UX, and product roadmap.
UX & Onboarding
Both OneTrust and TrustArc lose points for a difficult UX that can be difficult to set up. In particular, OneTrust can be hard to integrate into existing software. Of the two, TrustArc is considered slightly better — but only marginally.


Features
OneTrust is the superior option for advanced business needs — those that have larger volumes of data and multiple third-party integrations. By contrast, TrustArc limits its feature set for the needs of mid-market enterprises and therefore loses out.
🏆 Winner on Features: OneTrust ✅
Pricing
OneTrust's a la carte approach to pricing is transparent, but definitely out of reach for most businesses. To its credit, it doesn't make any attempt to hide this fact and corporations know what they're signing up for.
On the other hand, TrustArc keeps their pricing tiers hidden which dampens the user experience.
🏆 Winner on Pricing: OneTrust ✅
Product Roadmap
When comparing product roadmaps, OneTrust stands out with its robust and comprehensive feature set that offers a wide array of tools to address modern privacy challenges.
On the other hand, TrustArc is niche and laser-focused on its target consumer. In the end, the choice between these two solutions may hinge on your organization's priorities.
🏆 Winner on Product Roadmap: Tie ✅
OneTrust vs TrustArc: Another Option to Consider
Both OneTrust and TrustArc are decent options for data privacy compliance, but if you're still on the fence for a reliable partner we recommend you give Enzuzo a try.
Here's why:
1. Transparent Pricing & Month-to-Month Contracts
Enzuzo's pricing options are designed for flexibility and customization. It doesn't force you into long-term, expensive contracts and gives you the option to cancel whenever you like. What's more, it ships at a fraction of the price of comparable providers. Enzuzo's advanced compliance features, available in its enterprise plan, are also competitively priced and will beat comparable providers.
2. Generous Allocations on the Free Plan
Enzuzo's free plan allows you to build several legal policies and workflows, giving you the option to test the service before committing to a purchase. The free plan accepts unlimited website visitors, with a lightweight app that doesn't hurt website page load speeds. That's in stark contrast to both OneTrust and TrustArc, that don't offer comparable solutions.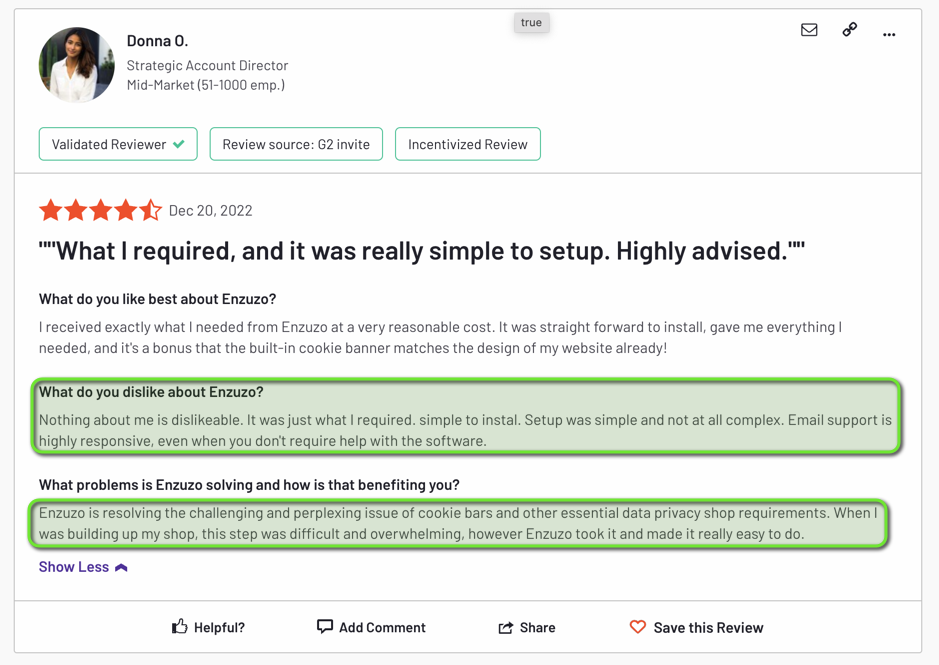 3. Quick Installation & Accessible UX
In contrast to OneTrust or TrustArc, Enzuzo is designed to prioritize speed, efficiency, and ease of setup. The onboarding process is straightforward, requiring just a few lines of JavaScript. This ensures that you can dedicate more of your time to implementing your workflows, rather than getting bogged down in setup details.

Many Enzuzo reviews highlight and appreciate this specific advantage.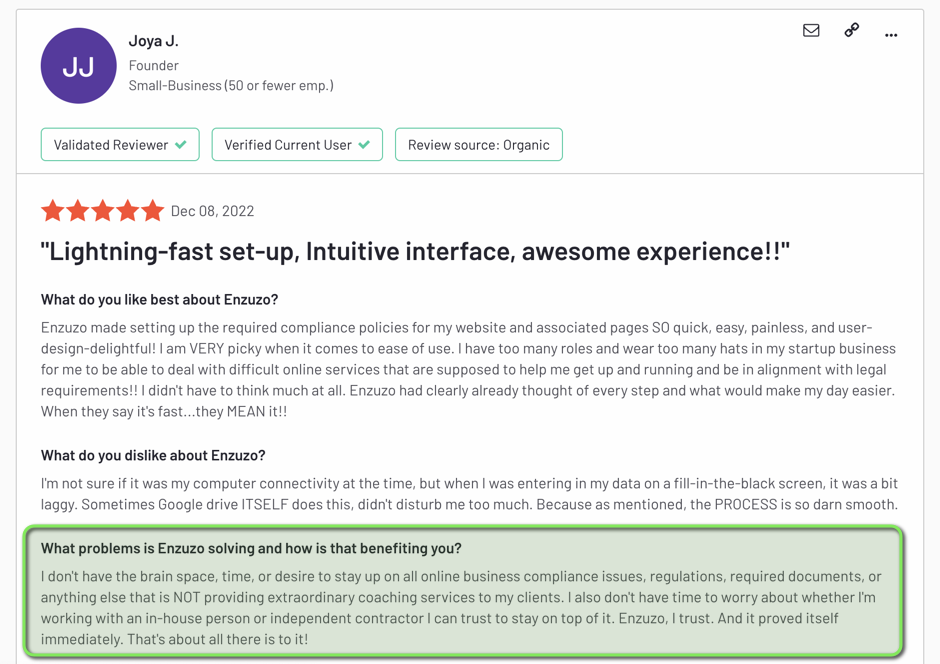 4. Advanced Enterprise Features For Larger Businesses
Enzuzo is able to meet the needs of larger organizations that may have offices in multiple countries, and have to set up things like region-specific cookie consent management as well as run data mapping, data governance, and data remediation projects. While these are not available as a self-serve option, Enzuzo's in-house team of privacy engineers and compliance experts act as your partners in privacy to cover the gamut of your compliance needs.
Learn more about how Enzuzo can assist with your compliance needs. Book 1-1 time with Mate Prgin, CEO👇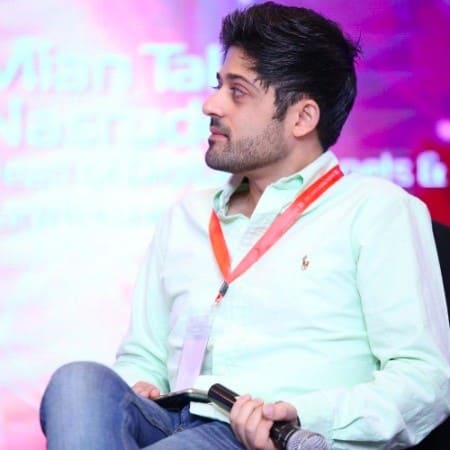 Osman Husain
Osman is the content lead at Enzuzo. He has a background in data privacy management via a two-year role at ExpressVPN and extensive freelance work with cybersecurity and blockchain companies. Osman also holds an MBA from the Toronto Metropolitan University.