Table of Contents
OneTrust Vs Osano
The main difference between OneTrust and Osano is that OneTrust offers products beyond regulatory compliance, such as its third-party audit and monitoring tools. At the same time, Osano is squarely focused on data privacy compliance and does not look to expand its mandate beyond that.
In this article, we'll drill down into the biggest comparison points between OneTrust and Osano to help you make an informed decision. If you're still on the fence on which platform to pick, we reveal a third option later down.
What are OneTrust and Osano?
Both OneTrust and Osano are tools to simplify data privacy compliance, helping your organization comply with laws like the GDPR, CCPA, and more.
OneTrust was founded in 2016 after CEO Kabir Barday noticed a spike in businesses requesting assistance in complying with the EU's GDPR. The product enhanced its tools after the California Consumer Privacy Act became law in 2018 and requests for privacy and security software started to rise.
OneTrust's suite of services includes data mapping assessments, risk evaluation, consent management, cookie compliance, and more. It's also acquired several companies to help get to where it is today, including DataGuidance, Integris, Docuvision, Tugboat Logic, and Planetly.
Osano was founded in October of 2018 by Arlo Gilbert and Scott Hertel after the two noticed a similar challenge, where U.S. businesses were struggling to streamline their data privacy needs.
On the surface, it seems like OneTrust and Osano have comparable offerings as they both deal with issues in data compliance. However, the two solutions offer radically different price points, features, onboarding help, and more. Let's take a look at them.
OneTrust Pros and Cons
What OneTrust does incredibly well is its commitment to building new and improved features, not just for data privacy compliance but also for trust and resilience. Some of its standout recent additions include:
1. Privacy and Data Governance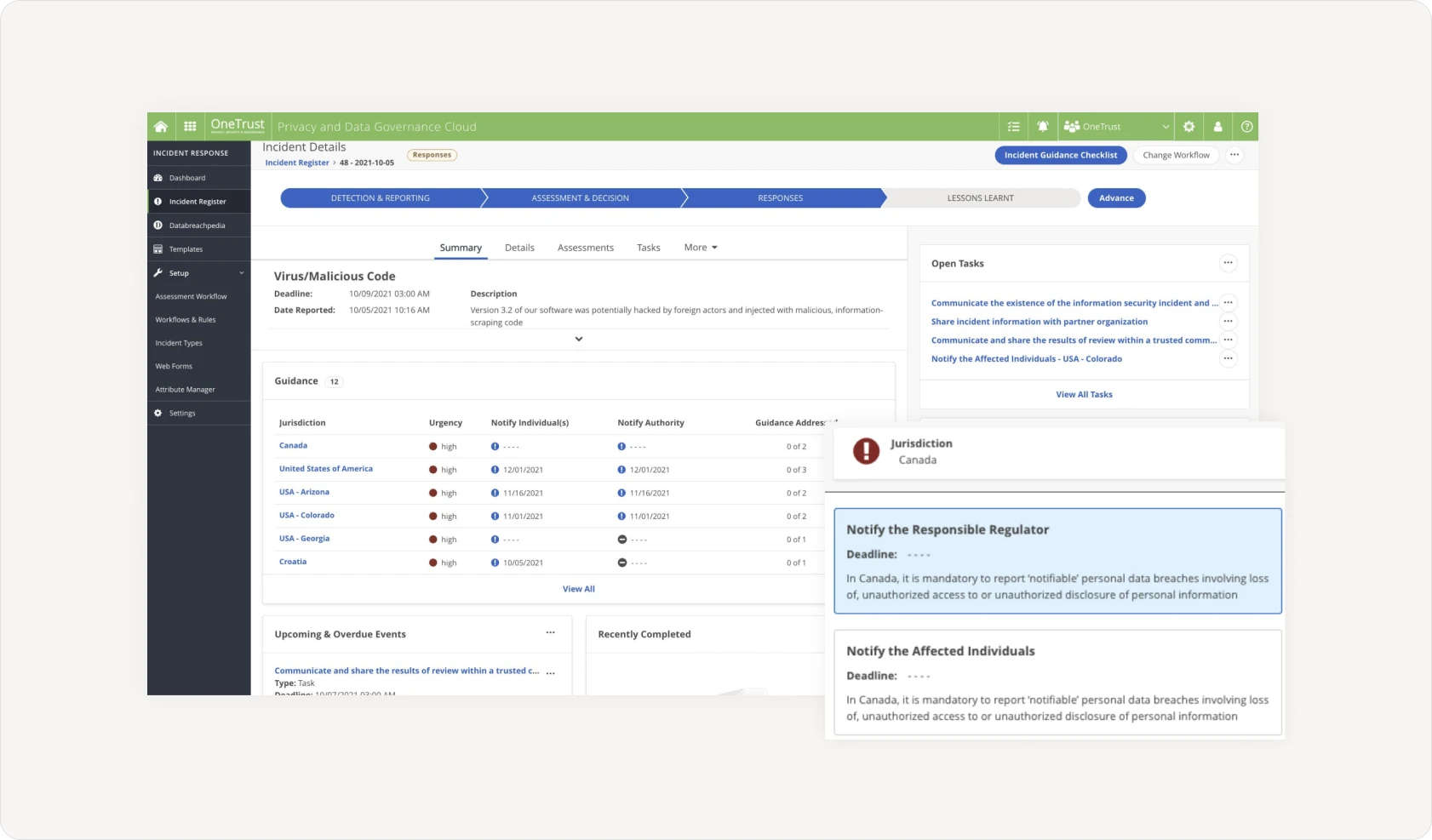 OneTrust's Privacy and Data Governance solutions give you real-time access to personal data held and processed by your organization and third-party vendors. It helps maintain compliance with regulatory requirements around the world.
2. ESG and Sustainability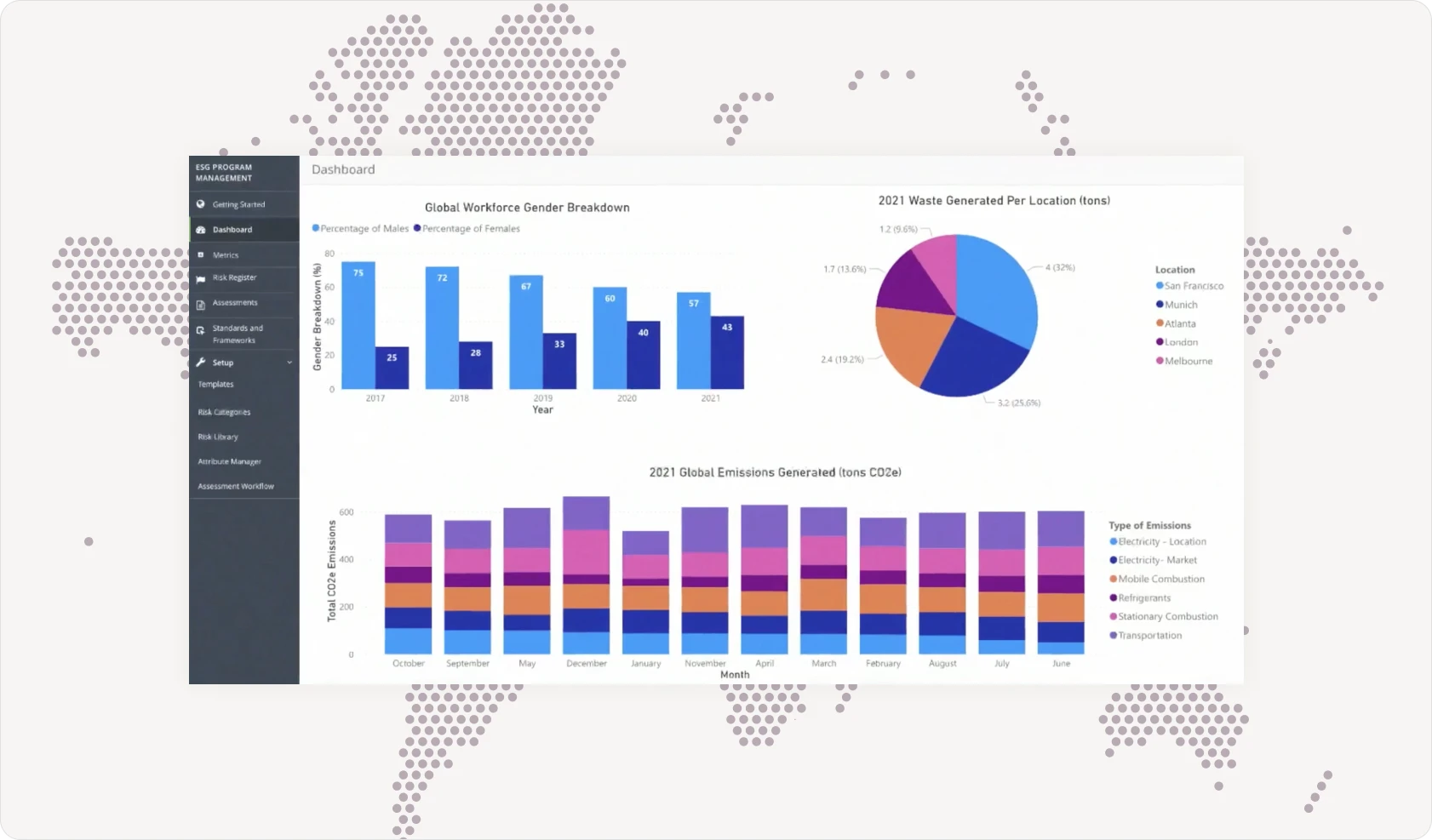 Another OneTrust feature that's different from what Osano offers is its ESG and Sustainability cloud. This helps organizations map out their ESG goals and understand progress towards maintaining them.
3. GRC and Security Assurance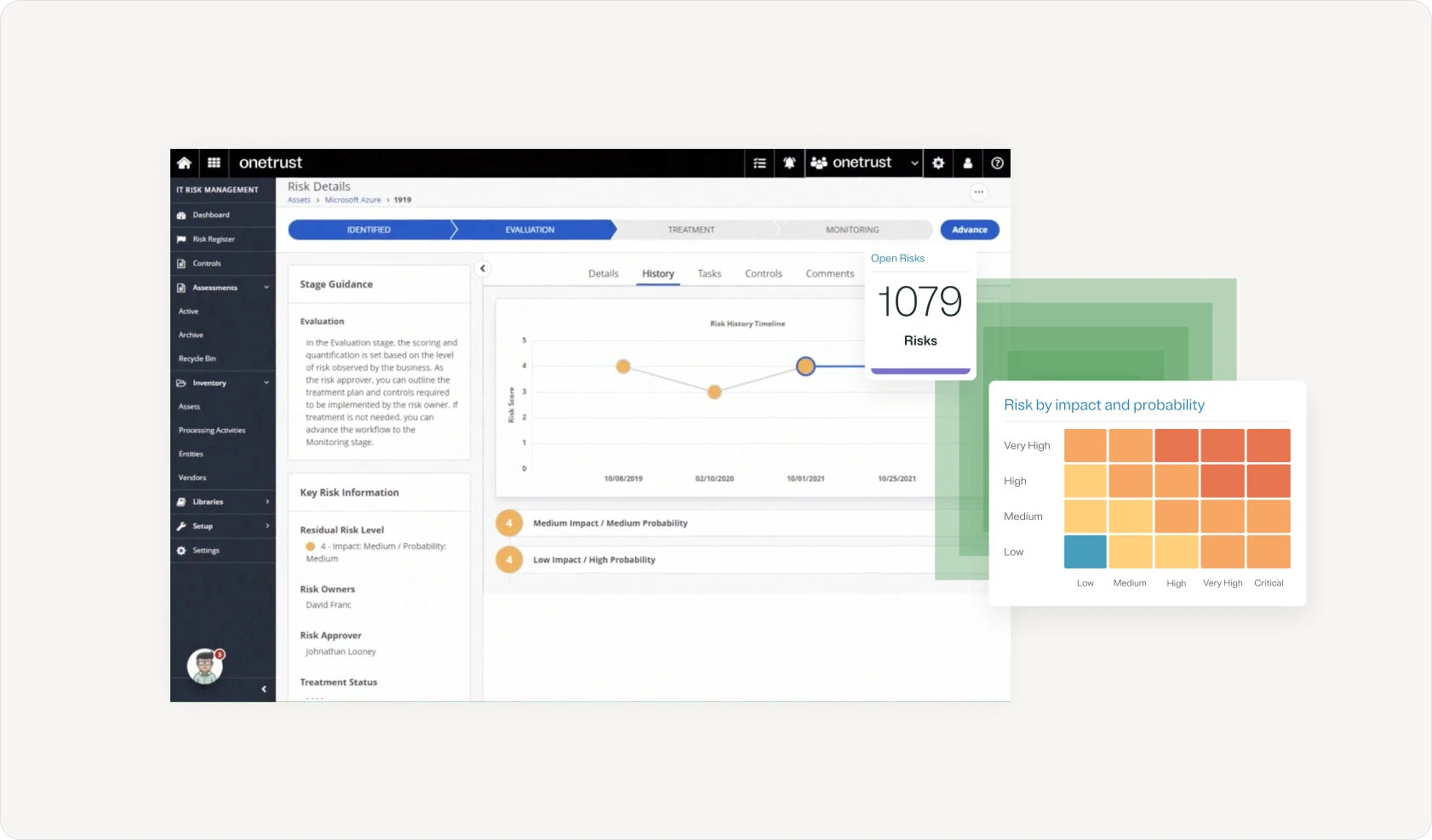 This feature helps businesses understand their level of exposure to cyber threats, and adds a layer of resilience to their operations.
We're not going to list all of OneTrust's features here because it's likely that you're already familiar with them. Nonetheless, it has to be mentioned that the company has a wide variety of security and compliance products that most others cannot match.
Pros of OneTrust:
Top-tier features for the discerning enterprise customer
Solution that goes beyond compliance into integrity and trust
Several integrations with other platforms
Cons of OneTrust:
Long-term contracts priced at thousands of dollars a month
Poor and unresponsive customer support
Complex platform that is difficult to set up and integrate
Overall Thoughts on OneTrust
OneTrust is an ironclad enterprise solution, but with the pricing and contracts that you would expect.
However, that's where the downside is, too. Because of its complexity, many users report that OneTrust is clunky and difficult to integrate with their systems. Customer support is unresponsive for the most part and many are left to figure it out themselves.
Unsurprisingly, this has led to some irate reviews online.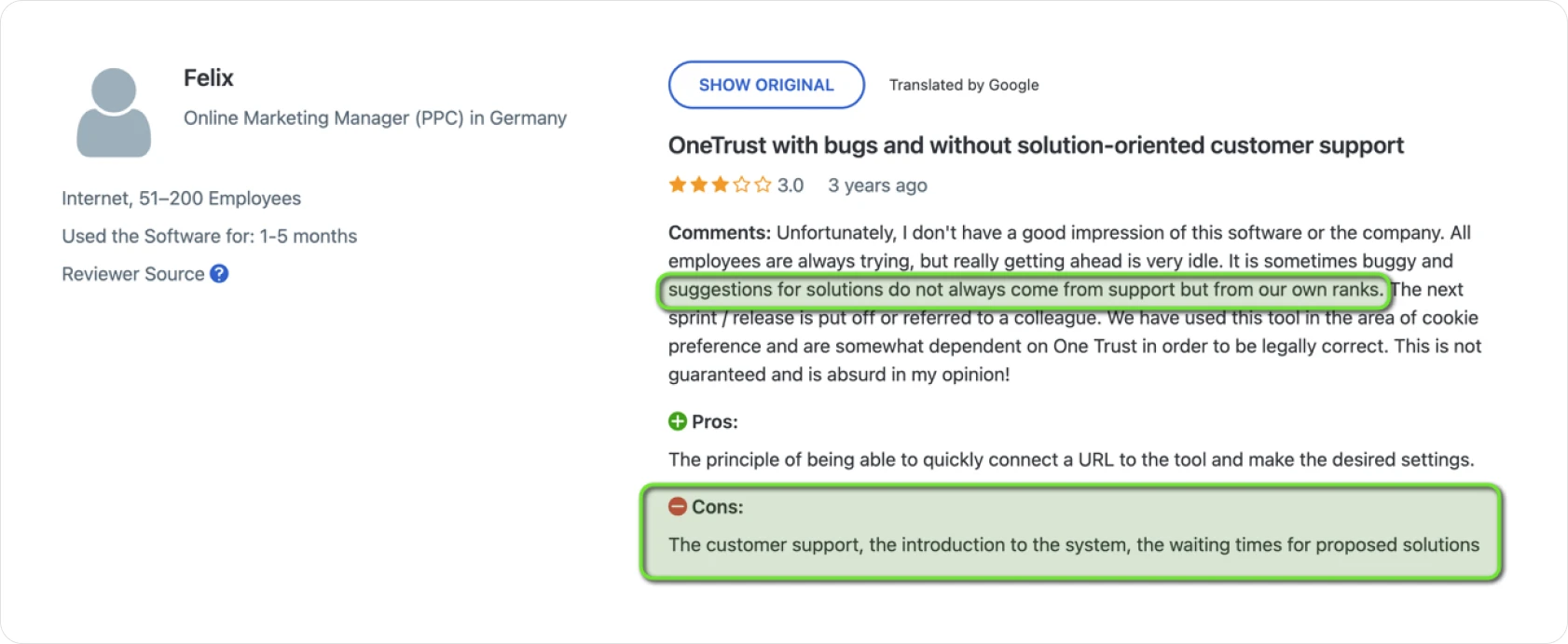 OneTrust is a great choice if you have hundreds of thousands of dollars to spend on compliance and can rely on in-house implementation and privacy experts to assist. We estimate that average contract values can be upwards of $50,000, depending on how many features you include in your plan. However, the firm makes it difficult to cancel and charges extra for onboarding assistance.
📢 Overall Verdict: Suits Customers With Deep Pockets
Osano Pros and Cons
Osano doesn't offer as many bells and whistles as OneTrust, but it's still a pretty robust platform for all things data privacy compliance.
The features that stand out for us are:
1. No Fines, No Penalties Pledge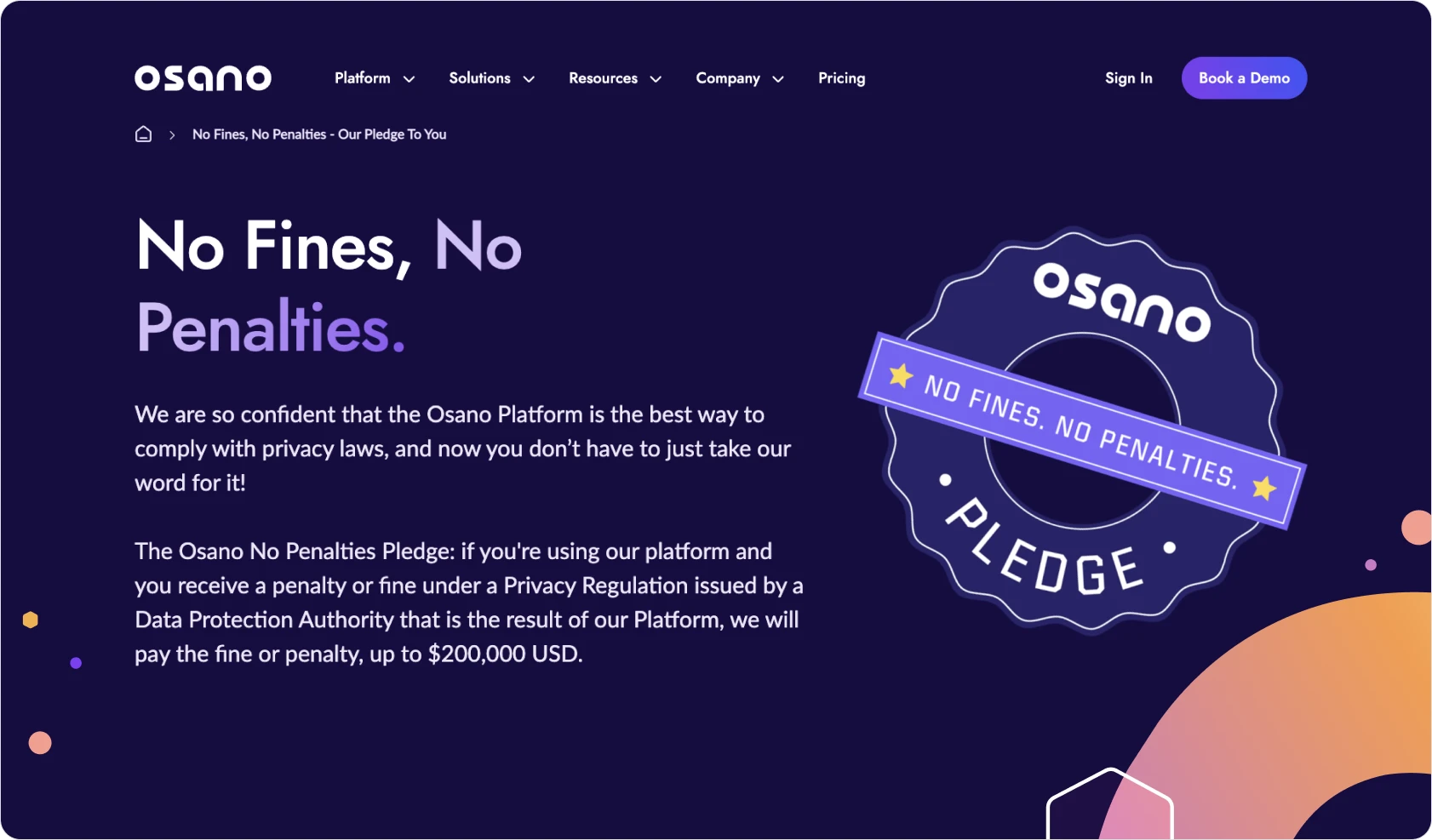 Osano guarantees compliance with data privacy laws to the extent that it agrees to pay any fine while a company has its legal workflows installed. This is a neat pledge but only applies to Osano's enterprise plans and fines up to $200,000. Nonetheless, it's one that stands out.
2. Vendor Risk Management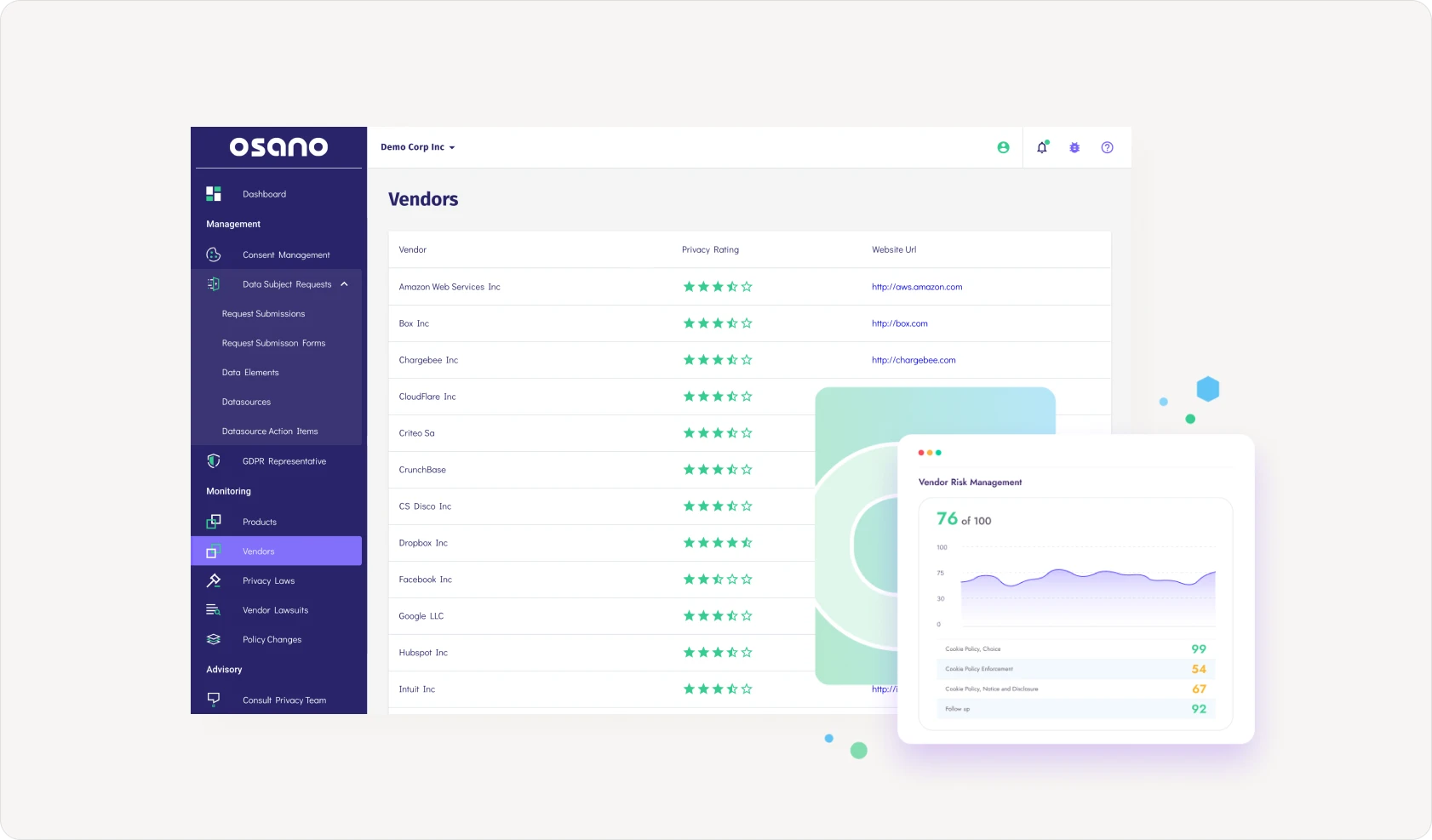 Osano's vendor risk management feature is similar to what OneTrust offers, and helps companies vet third-party vendors, specifically those that they share customer data with. This can help guard against potential bad actors or companies with lax privacy controls.
3. Data Subject Access Request Management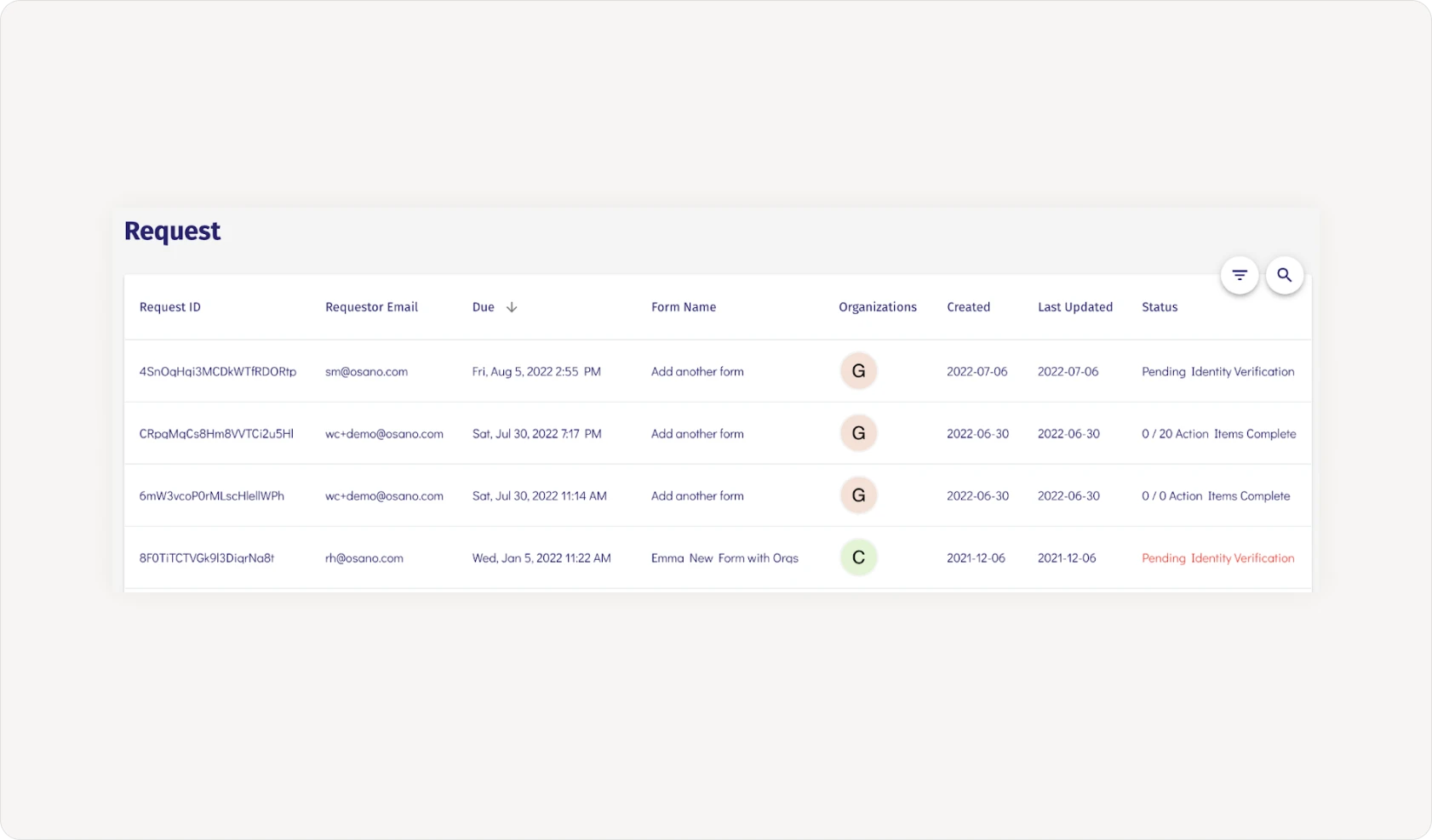 DSARs are an important part of compliance with GDPR and CCPA, and Osano has this part spot on.
Pros of Osano:
Offers value-added services to analyze third party vendors
Includes features necessary for compliance
Customizable cookie consent banners
Cons of Osano:
Pricey for what it offers
Limits on website traffic
Cut and paste legal templates
Overall Thoughts on Osano
It's clear that Osano offers a reliable solution for data privacy compliance, backed by solid engineering and an accessible customer support team.
However, there are a few things that Osano doesn't quite get right.
The first is that its free plan caps out at 5,000 monthly site traffic.
Secondly, some critical features to comply with GDPR & CCPA are only available on the Custom plan which starts at $549/month. DSARs, for example, can only be integrated if you opt for the most expensive plan which may be prohibitive for some users.
Osano doesn't offer a privacy policy generator in the same mold as other options. Its privacy policy consists of templates that you can cut and paste on your website. Overall, we find that its Plus Plan priced at $200/month lacks the features that you would expect from that sort of outlay.
The Plus Plan doesn't offer unlimited site traffic either, capping out at 30,000 monthly visitors.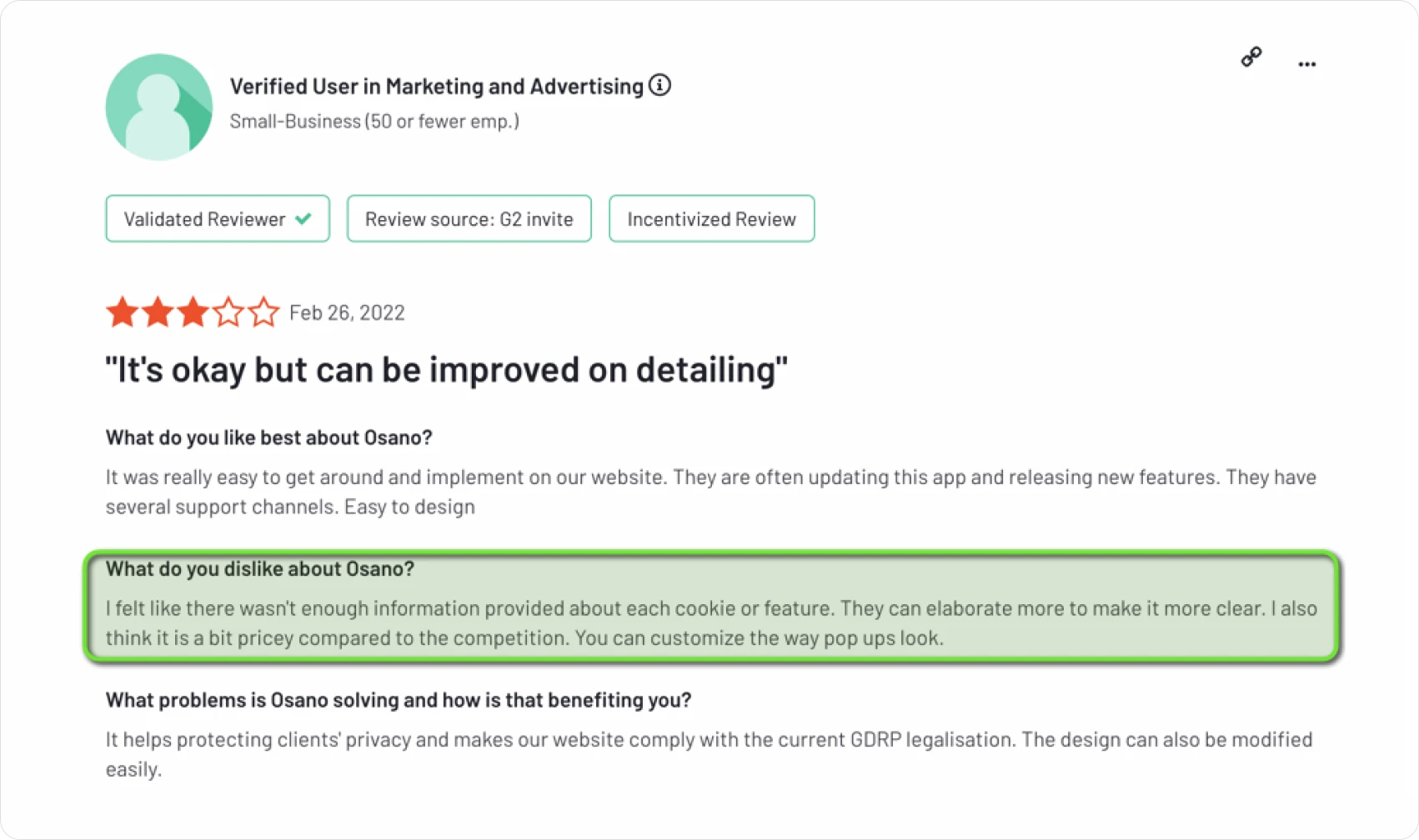 📢 Overall Verdict: Worthy Challenger But Doesn't Go Far Enough
OneTrust vs Osano: Who Wins in 2023?
This isn't an easy decision to make, since both solutions have individual strengths and weaknesses but let's try to break it down into a few factors:
UX & Onboarding
Anecdotal evidence from online reviews online indicates that integrating OneTrust is a complex affair, often requiring assistance from experts or internal teams. It can take a long time and systems may need to be temporarily offline as a result.
Osano, however, can be set up with only a few lines of Javascript. And most folks are happy with how quickly it's set up and live.
Features
It's fair to say that OneTrust has a lineup of features that far surpasses any competitors, including Osano. Beyond just data privacy compliance, OneTrust can help organizations achieve compliance with ESG goals, lock down cybersecurity threats, and more.
🏆 Winner on Features: OneTrust
Product Roadmap
Compliance and regulatory requirements are always changing, so it's vital to opt for a solution that tracks these changes and keeps its clients protected. We're going to go with OneTrust on this factor, given the resources it spends in building new features and updating existing ones.
🏆 Winner on Product Roadmap: OneTrust
Pricing
If data privacy compliance is all that you're in the market for, we believe that Osano has the better offer. Osano's GDPR compliance solutions can cost north of $500/month, while that's not cheap it's still a better deal than OneTrust. Comparable packages from OneTrust will likely set you back thousands of dollars.
🏆 Winner on Pricing: Osano
OneTrust vs Osano: Another Option to Consider
If you're still on the fence about the right compliance partner to pick, we recommend Enzuzo. Let's show you why.
1. No Limits on Website Traffic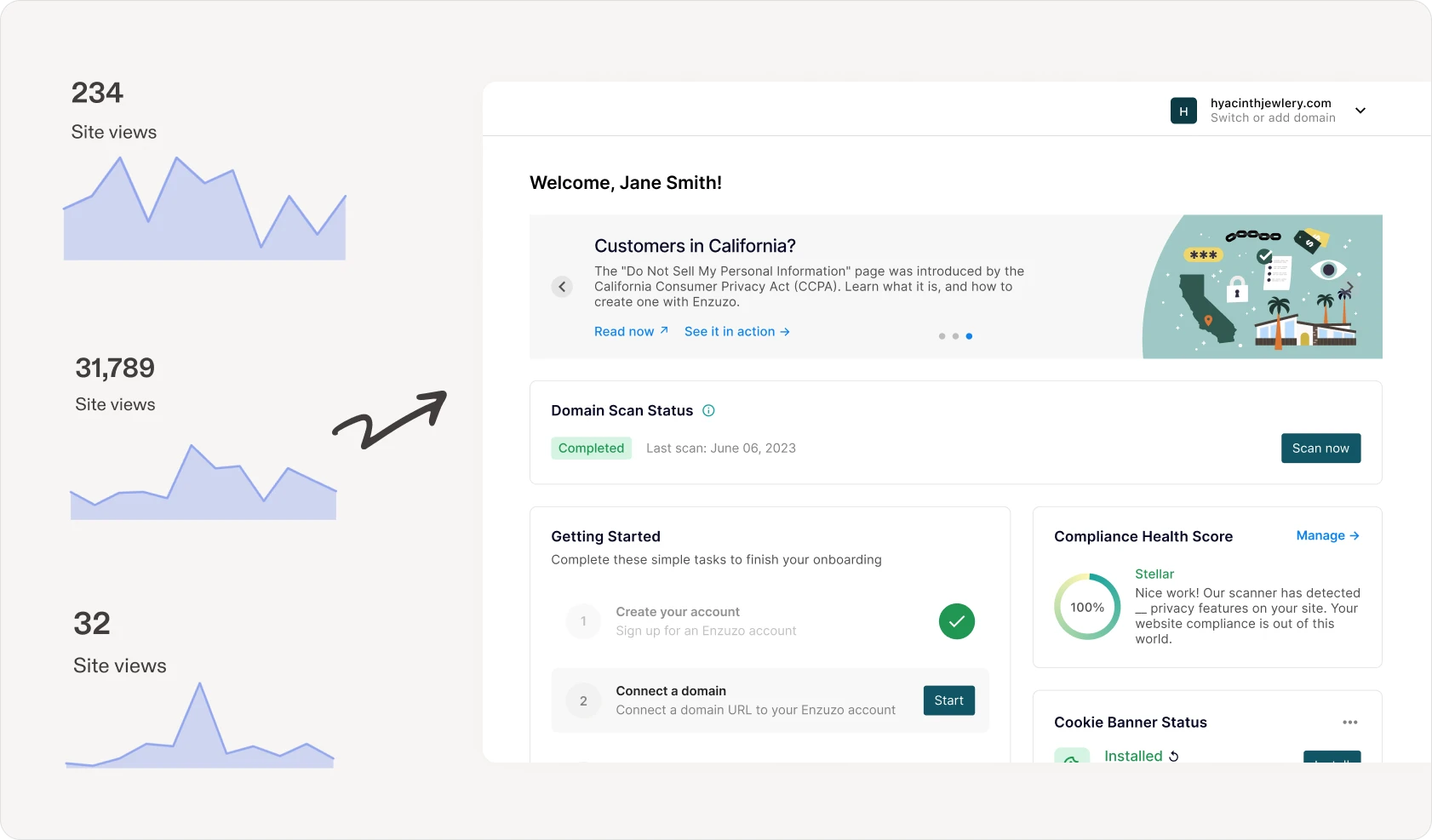 Enzuzo offers unlimited website visitors on all of its plans, including the free one. There are no hidden fees or surprises.
2. Fast Onboarding and Friendly UX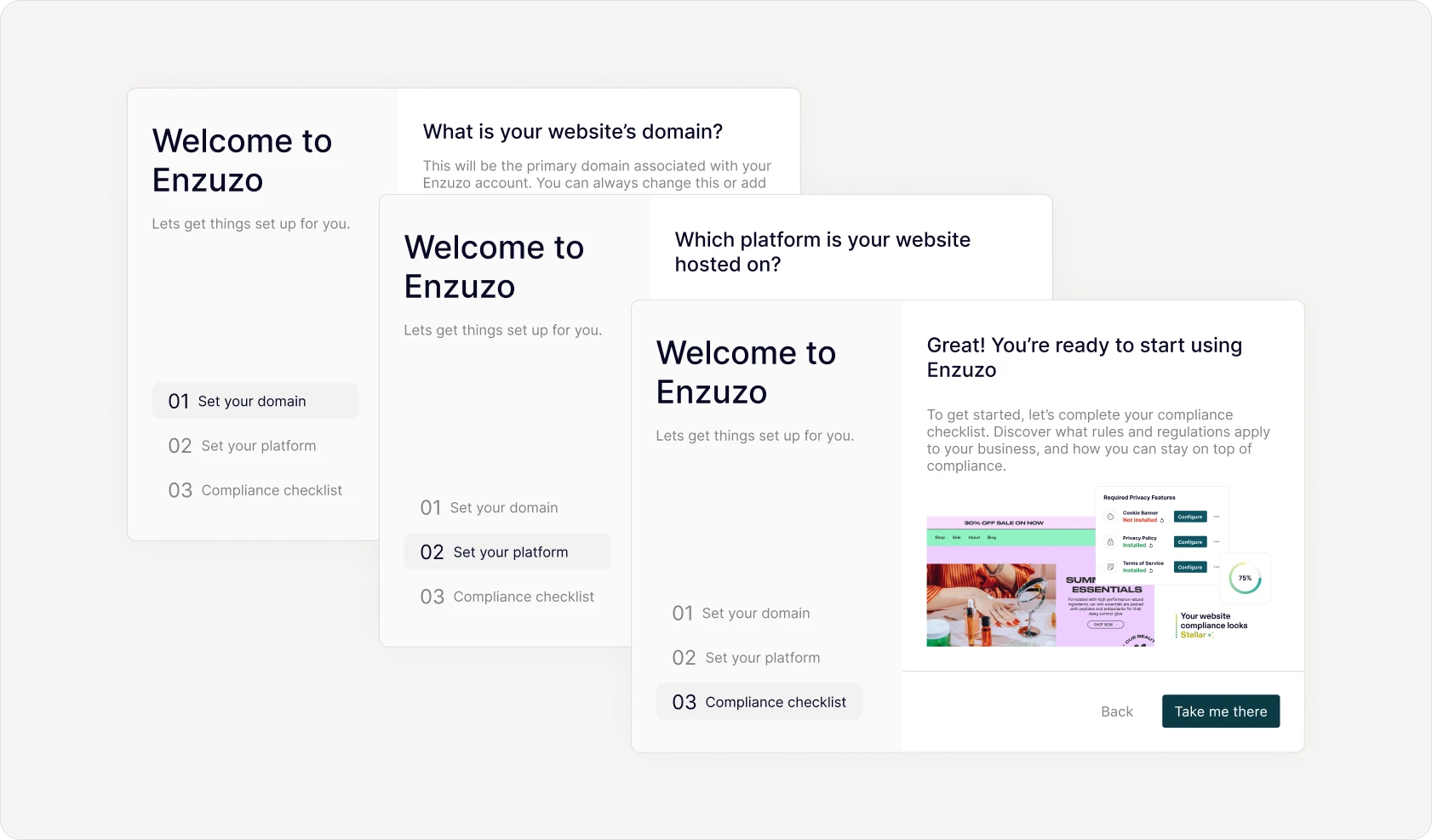 Enzuzo is engineered to be fast, lightweight, and simple to set up. It doesn't impact core web vitals or SEO scores. What's more, it can be set up with a couple of lines of Javascript — no complex onboarding needed.
Its reviews consistently point to that, too 👇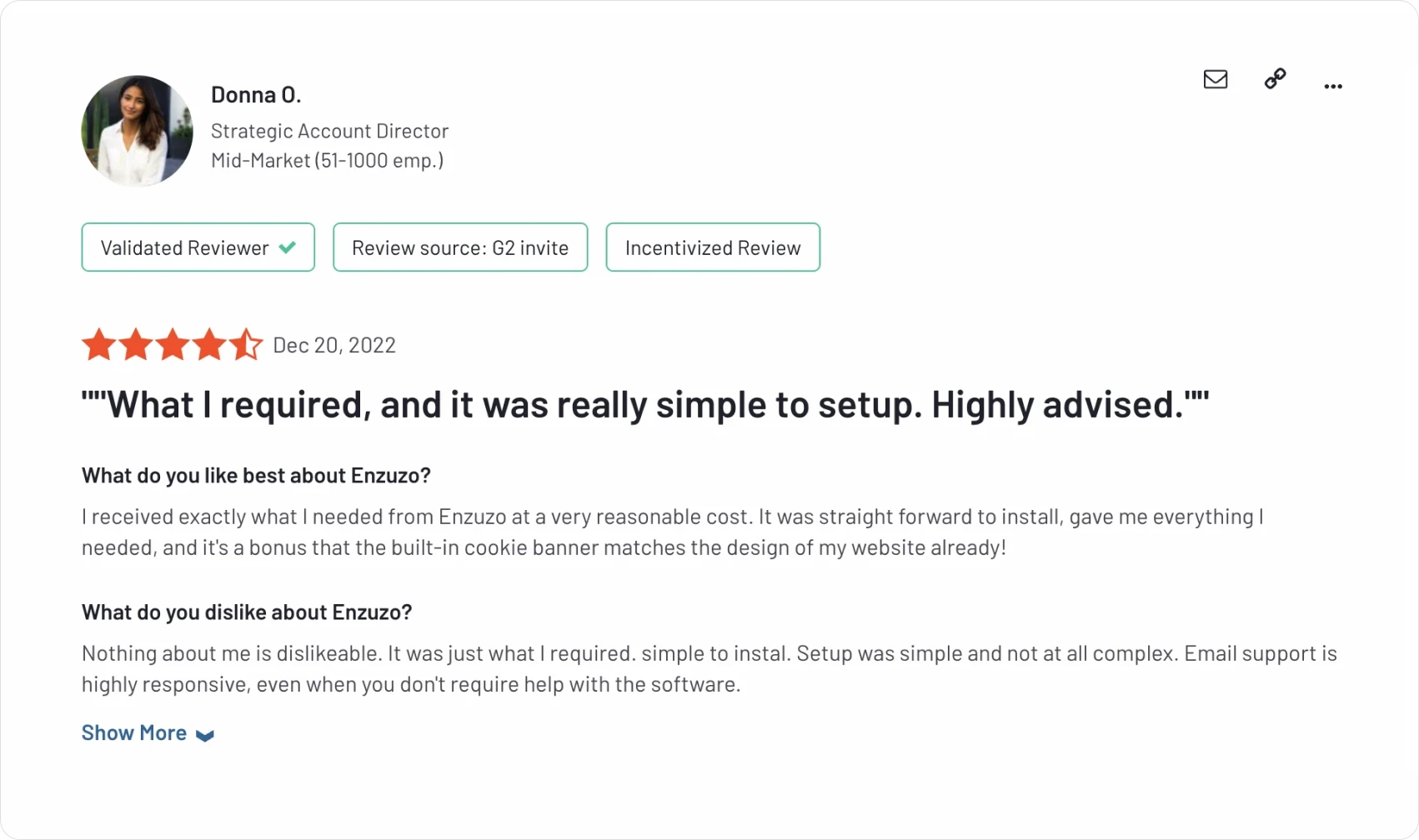 3. Affordable Pricing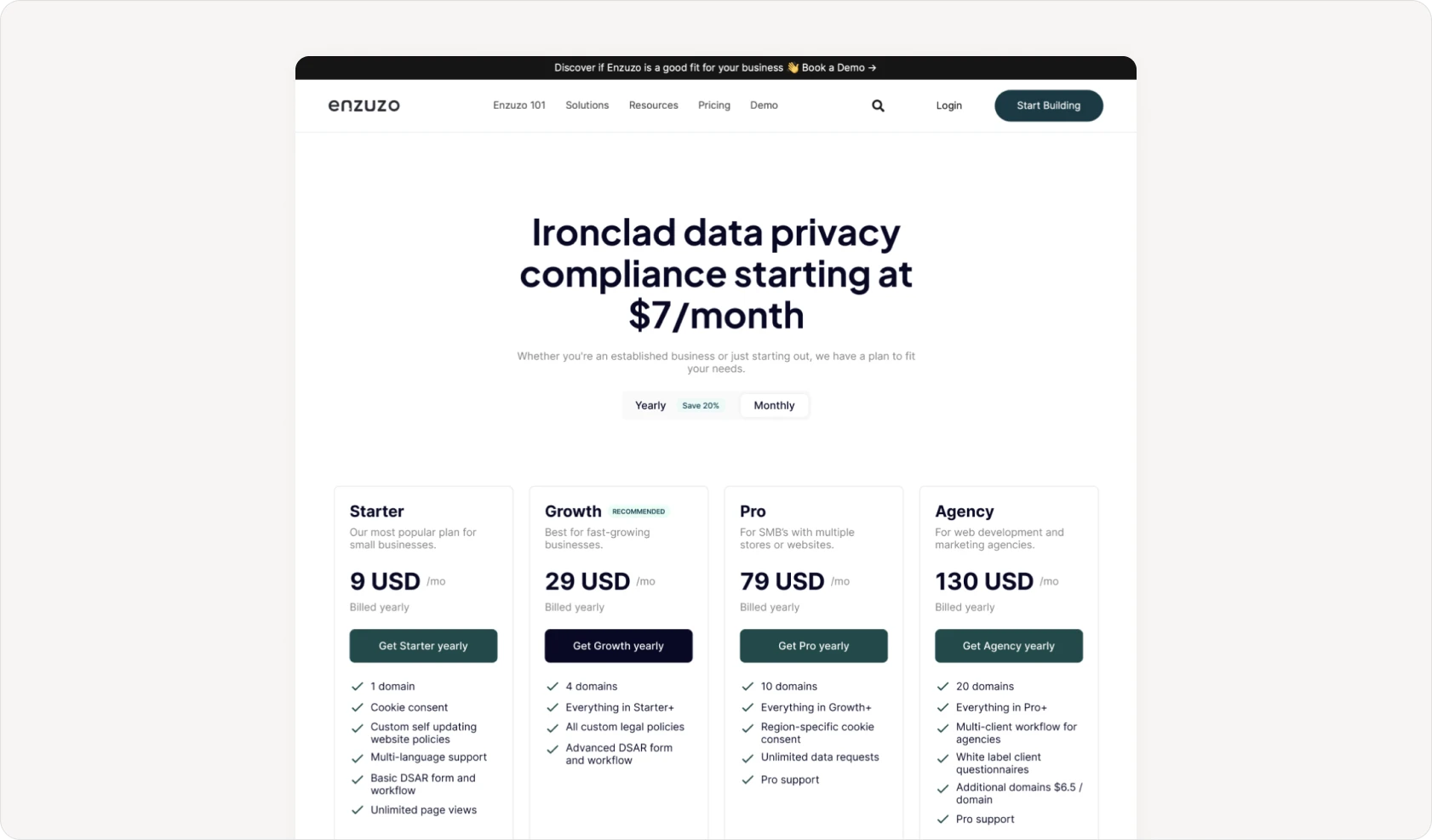 Both OneTrust and Osano are expensive products. For example, Osano offers DSAR forms (that are critical for GDPR & CCPA compliance) in its Custom Plan that starts at $549/month. For OneTrust, expect to pay thousands of dollars a month for compliance.
Enzuzo's Growth Plan which starts at $29/month includes DSARs and a host of other features that will put you on the path to GDPR & CCPA compliance.
What's more, Enzuzo doesn't lock you into long-term contracts. Cancel whenever you feel like it without any penalties. The platform also easily integrates into other apps such as Shopify, WordPress, Squarespace, Wix, and more.
4. Auto-Updating Privacy Policies and Legal Pages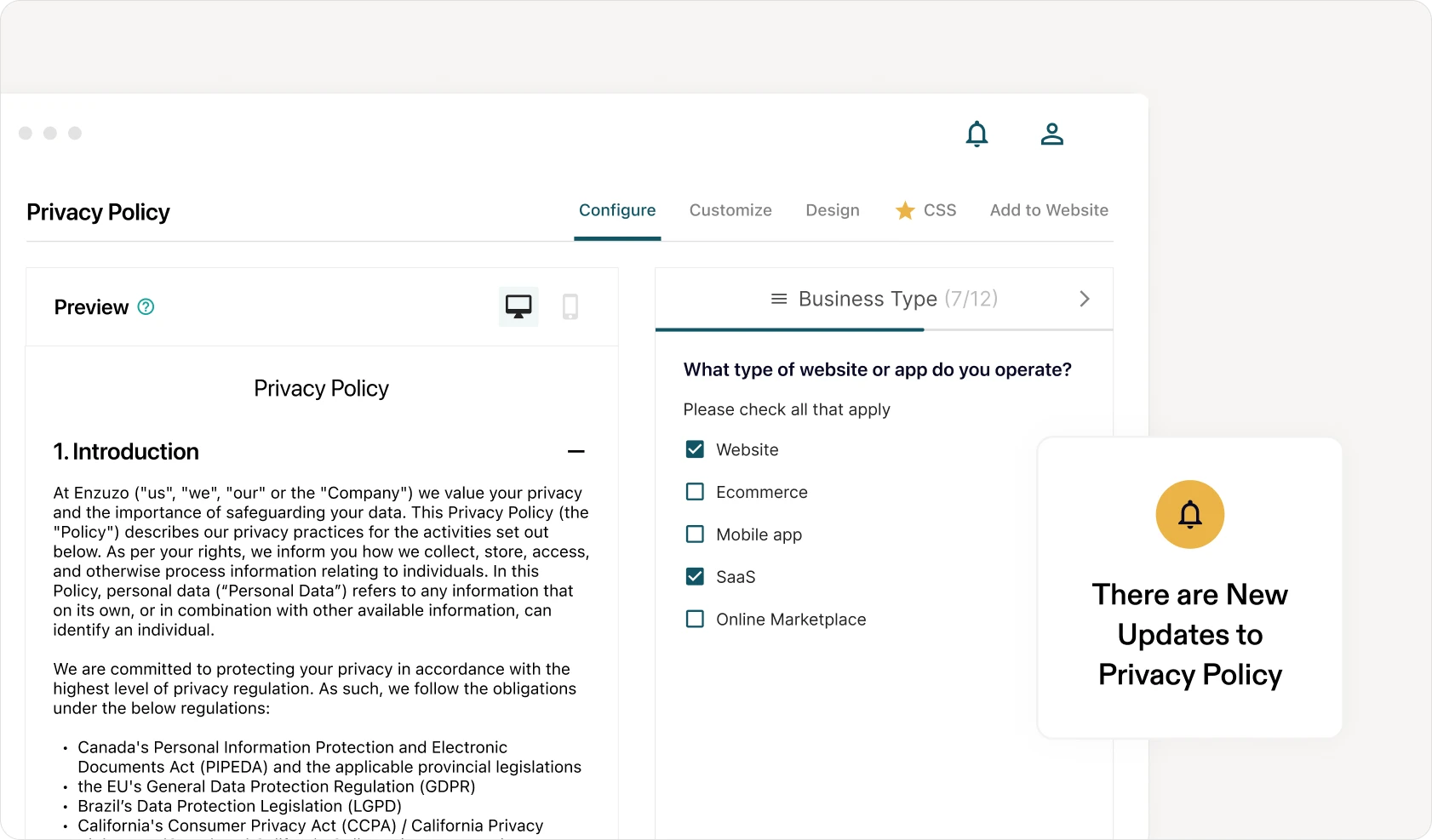 OneTrust and Osano offer privacy templates that you can edit and modify to your liking. The problem with that is you need to be a bit of an expert to know what you're doing and not accidentally omit critical information.
All of Enzuzo's critical legal pages, like privacy polices, are done via a generator. At onboarding, you're asked to fill out a brief questionnaire that asks you for details about your business. The end result is a customized legal document that's applicable to your country and places where you do business.
What's more, all privacy polices and other legal pages update automatically whenever there are changes in regulatory requirements. There's no need to generate the document again, Enzuzo handles it on its clients' behalf.
Want to read more? Check out our detailed reviews on:
Learn more about how Enzuzo can assist with your compliance needs. Book 1-1 time with our CEO👇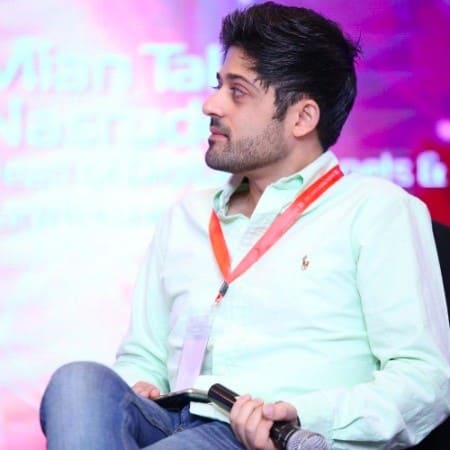 Osman Husain
Osman is the content lead at Enzuzo. He has a background in data privacy management via a two-year role at ExpressVPN and extensive freelance work with cybersecurity and blockchain companies. Osman also holds an MBA from the Toronto Metropolitan University.