Table of Contents
Best Consent Management Platforms
Consent management is a core principle in data privacy and compliance as it grants individuals the right to oversee how their personal information is collected, used, and shared by organizations.
This concept first came to the forefront with the General Data Protection Regulation (GDPR), which mandated that organizations get explicit consent from website visitors to opt in or deny tracking cookies. Since then, other data privacy regulations have taken a similar stance, including Canada's Quebec Law 25, and the United States' California Consumer Privacy Act (CCPA).
The recent Quebec Law 25 has introduced amendments that bolster data protection rights for Quebecers and place additional requirements on all companies that process their data. This law emphasizes the need for explicit consent before an enterprise collects, uses, or discloses personal information.
Similarly, the California Consumer Privacy Act gives Californians the right to opt out of the sale of their personal information and mandates that companies provide transparent and accessible mechanisms for consumers to grant or revoke their consent.
How Do Consent Management Platforms Work?
A consent management platform informs users of their data subject rights. It collects data on an individual's consent by informing visitors which third-party cookies are on the website and tracks whether they accept or opt-out.
A good consent management platform can:
Perform comprehensive website scans to uncover trackers, privacy policies, and cookie notices.

Scan and categorize cookies according to a database of pre-categorized trackers .

Display geo-specific consent notices and consent banners.

Collect consent based on categories (e.g., strictly necessary, analytics, targeting, etc.)

Maintain audit logs to record and track cookie banner settings and preferences modifications.

Build dashboards for your executive team to monitor and track consent status.
We've included an expanded list of our ranking criteria further down the article, but for now let's dive into our list of the best consent management platforms.
Here they are at a glance:
Enzuzo

CookieBot

CookieYes

MineOS

Ketch

OneTrust

Osano

Didomi

TrustArc
The 9 Best Consent Management Software
1. Enzuzo
Enzuzo's global consent management solution is ideal for mid-market companies and up looking for a robust and feature-rich solution that won't break the bank. Enzuzo helps businesses adhere to crucial industry regulations across GDPR, CCPA, and Quebec Law 25. It can also provide support for other compliance frameworks, such as Brazil's General Data Protection Law (LGPD) and South Africa's POPIA
Its latest update introduces a world-class cookie consent management tool that can be activated for selective, geo-targeted consent notices shown to visitors from specific regions and countries. Let's explore further why Enzuzo is our #1 pick:
Features
Enzuzo's consent manager allows enterprises to:
Integrate cookie banners with your tag manager and content management system.

Establish a historical consent database to showcase compliance to regulatory bodies and auditors.

Exhibit consent banners specific to regions & IP addresses.

Perform comprehensive website scans to uncover trackers, privacy policies, and cookie notices.

Conduct tests on a staging site before pushing live.

Store cookie banner consent across multiple domains.

Customize consent banners to align seamlessly with the company brand and visual identity.
And that's not all. Companies looking for the entire gamut of data privacy solutions are covered in Enzuzo's enterprise plan. This offers advanced features such as data governance, data mapping, privacy impact assessments, Records of Processing Activities (RoPA), vendor risk management, and more.
All enterprise customers get Enzuzo's white-glove onboarding service, which ensures that engineers can assist with migration and set up technical workflows in advance. They can also offer sandbox environments and work in tandem with in-house teams to ensure everything is managed smoothly.
User Experience (UX)
Enzuzo offers a swift setup and installation process, engineered for speed and simplicity. All standard compliance workflows and legal pages are embedded with just a few lines of Javascript. Built-in dashboards and DSAR status requests give you a 360 degree view of data compliance activities, including warnings and error reports.
Enzuzo's UX shines out in many of its reviews:
Multilingual Display & Consent
Enzuzo's consent management systems allow for the display of cookie notices and preference management in 25 different languages. This builds trust and makes it easier to communicate your policies in a language that's familiar to a global audience. Moreover, each consent notice can be customized to match brand guidelines, including colours, fonts, etc.
Customer Support & Onboarding
Swift customer support is a valuable differentiating factor, particularly in sensitive industries like data privacy. Software environments can break unexpectedly, and top-tier companies prioritize swift remediation of customer concerns.
Enzuzo's world-class customer support is available across Pacific, Mountain, Central, and Eastern time zones.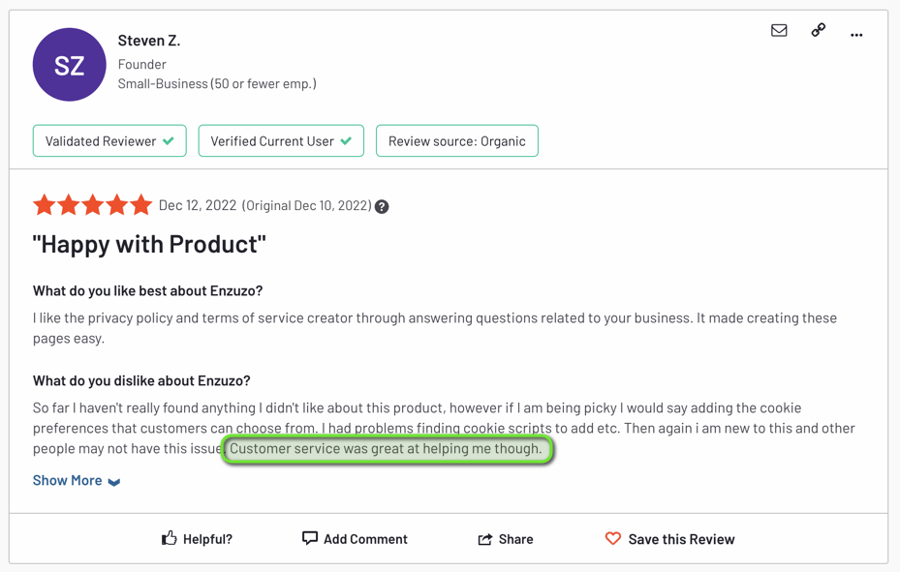 Pricing
Some consent managers on this list are expensive. For example, OneTrust, Osano, and Mine all are priced at several hundred dollars per domain. Enzuzo's starts at $79/month for one domain.
Enzuzo's features are at par with industry-leading software and competitively priced. What's more, it offers the flexibility of month-to-month contracts, which others don't.
Lean and Agile Web Application
Apps shouldn't drag down website performance. If so, they hurt core web vitals and impact SEO rankings, conversion, and provide a frustrating user experience.
Enzuzo has worked 1-1 with multiple web design and SEO agencies to test its apps, strengthening its codebase to build a lightweight app that doesn't impact website load time.
Overall Thoughts
Enzuzo's consent management software offers an array of forward-thinking features, simplifying compliance with laws like GDPR, CCPA, Quebec Law 25, and more. What's more, it also offers seamless integrations across a variety of web platforms, including Shopify, Wix, Wordpress, and headless CMS environments.
If you're looking for the trifecta of robust features, competitive pricing, and seamless onboarding and integration, we recommend Enzuzo as your top choice.
Learn how Enzuzo can be your partner in all things data privacy. Book 1-1 time with our CEO here! 👇

2. CookieBot
Developed by Usercentrics, the Cookiebot platform gives business owners control over website cookies and trackers. Its robust scanner conducts monthly checks to identify these elements, automatically categorizes and blocks them until visitors grant consent, and provides users with various pre-built templates and banners to ensure transparency across data collection.
Like other tools, CookieBot leverages automation to help companies stay compliant. Its scanning technology detects cookies and trackers and offers international customization for languages and regulations. It presents clear and accurate messaging to ensure valid consent collection.
However, CookieBot does have some drawbacks, largely related to functionality: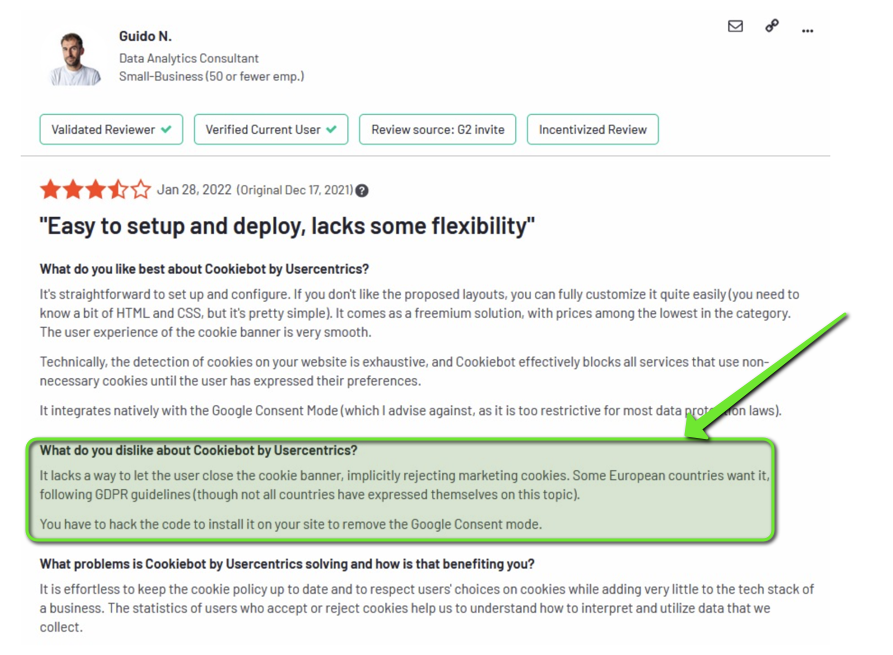 Pros of CookieBot:
Simple setup
Affordable pricing
Variety of plans, including a free option
Cons of CookieBot:
Poor customer support
Users report challenges with plugin use
Lack of flexibility in deployment
Overall Thoughts
CookieBot is a simple, compact solution that gets the job done but doesn't offer all the bells and whistles of some of the more advanced solutions on this list. It's better-suited for small businesses that need a quick fix without state-of-the-art features.
On the plus side, the platform offers a variety of subscription plans, including a free plan. Businesses of all types should be able to find a tier that fits their budget. It's also simple to deploy and relatively straightforward as far as cookie consent tools are concerned.
Having said that, we've monitored reviews that report implementation issues. Users also feel that the platform's basic features are less competitive than other cookie compliance tools in the market, with unresponsive and unhelpful customer support also proving to be a worry.
While CookieBot may be a viable starting point for smaller businesses, enterprise clients may want to give it a pass.
3. CookieYes
CookieYes is in a similar vein to Cookiebot in the sense that it's a simple, no-frills platform that gets the job done. Its features include the ability to generate a fully customizable cookie banner, record user consent, and manage all consent management needs in one place. Other notable features include historical consent logs, advanced website scanning, script blocking, and even generators to create free legal policies.
All of its plans feature a free trial period, so companies can test the services before they commit.
However, its feature set is minimal compared to others on this list, and some customers report challenges customizing cookie banners to their preferences.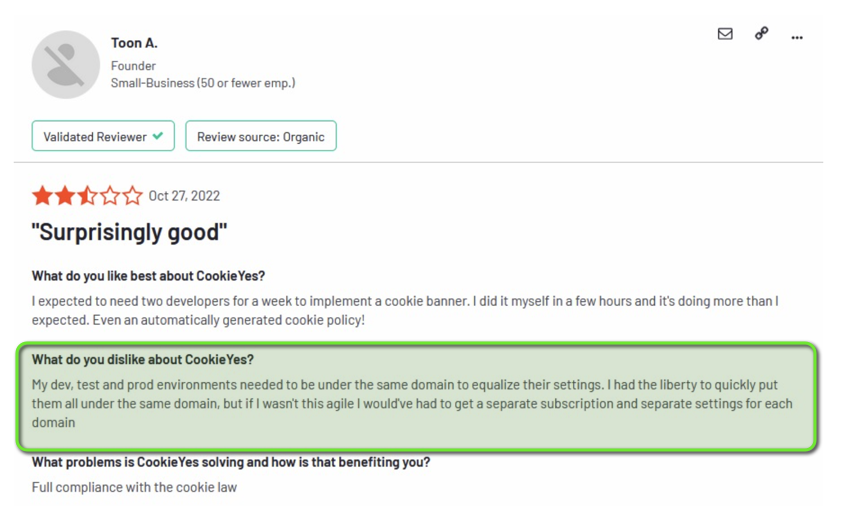 Pros of CookieYes:
User-friendly and simple to use
Affordable price point
Helpful customer support
Cons of CookieYes:
Limited feature set
Poor customization potential
Unsuitable for enterprises
Overall Thoughts
CookieYes is another cmp that doesn't attempt to compete with enterprise-level compliance solutions. It's a simple, straightforward tool focusing on its core consent management processes.
CookieYes offers a quick path to compliance without excessive price tags or lengthy onboarding for startups, small businesses, and other cash-strapped companies.
4. MineOS
MineOS is a respected platform used by privacy professionals worldwide. It offers features beyond consent management, including data mapping, governance, and more. This tool helps users find hidden data silos, categorize personal data, and generate reports, ensuring that organizations stay compliant with regulations all in one platform.
Furthermore, MineOS offers no-code API integration as a value-added feature. It's innovative and early to the AI revolution, but suffers from a lack of focus on UX and customer support.
Users have reported a steep learning curve and difficulties when they try to implement specific aspects of the platform's functionality:
MineOS Pros:
Comprehensive features for data mapping and consent management
Strong integration potential with a no-code API


MineOS Cons:
Steep learning curve requires extensive onboarding and training
Users report challenges with some functions
Poor customization potential
Expensive
Overall Thoughts
MineOS offers advanced features suited for the modern enterprise. However, its consent manager is only accessible via an expensive, long-term contract. This may suit some requirements, but will probably be out of reach for many.
Moreover, MineOS will entail onboarding and integration costs, but its strong feature set is a plus point.
5. Ketch
Ketch boasts a wide range of capabilities including data usage and storage functions, consent management, risk assessment, DSARs, and more. There's a limited free plan but that won't appeal to most other than small businesses.
Consent management is only included in the advanced plan, alongside data and AI governance. Naturally, these are high-ticket items with long contracts.
Ketch is a solid choice, but there are some drawbacks as users have reported: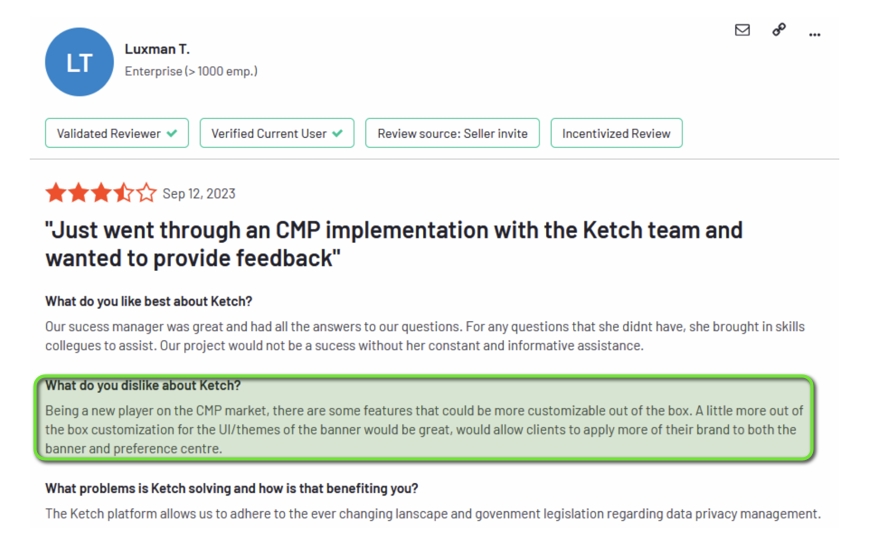 Ketch Pros:
Many advanced features and tools
Custom APIs available
Free option available
Ketch Cons:
Expensive plans
Long contracts required
Complex onboarding and difficult to customize
Overall Thoughts
Ketch has a great set of features. Enterprise users will find value in its AI-based approach to data privacy, enabling agile adaptation to rapidly changing privacy regulations. These features empower larger businesses to manage compliance at scale and reduce operational and privacy engineering costs.
With that in mind, Ketch is particularly suitable for larger enterprises. While Ketch does offer a free version that small businesses can utilize, these basic functionalities may take them only so far. The true strength of Ketch's value proposition lies in its programmatic privacy solutions that harness AI and automation.
Ketch is a good fit for companies with advanced requirements and privacy budgets to match.
6. OneTrust
Most readers will already be familiar with OneTrust – a leading name in data privacy.
OneTrust's consent management solution has world-class features, but is by far and away the most expensive solution on this list. Having said that, OneTrust's suite of features includes ESG reporting, cyber threat management, operational resilience, and more. Few platforms are as comprehensive as OneTrust, and its reputation is well deserved.
Of course, as a behemoth enterprise solution, OneTrust has some drawbacks: The platform comes at a high price point (albeit one expected from a compliance solution of this size), and users will need to commit to long contracts.
We've been informed that OneTrust contract sizes can start at north of $50,000, renewed yearly.
OneTrust is a complex software application and, as such, is difficult and cumbersome to integrate with in-house systems. Customer support isn't the best at responding to complaints, either. That leaves many users stranded, forced to tackle the platform on their own: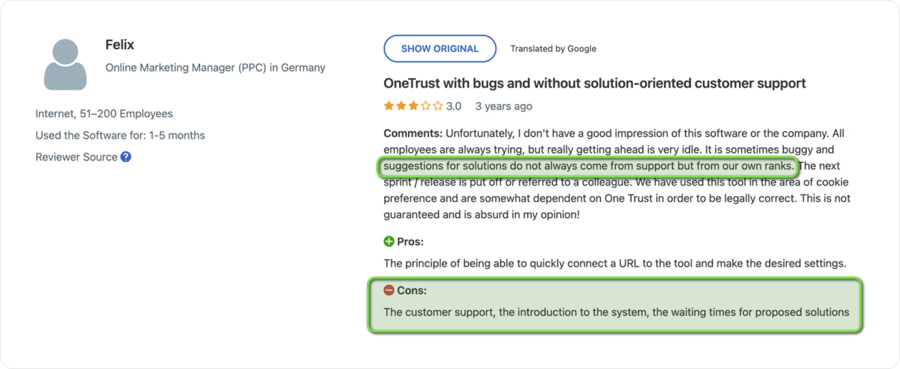 OneTrust Pros:
Comprehensive feature set for a variety of uses
Excellent for enterprise and corporate businesses
Strong integration potential with other business intelligence platforms
OneTrust Cons:
Long-term contracts with expensive plans
Unresponsive customer support
Complex platform that is difficult to set up and integrate
Overall Thoughts
OneTrust is a versatile privacy management platform best suited for larger enterprises and industries subject to stringent regulations. Its extensive feature set makes it a robust choice for such organizations. However, its considerable cost and complexity might render it less suitable in this challenging economic environment.
We recommend OneTrust for those with large budgets and in-house personnel. However, implementation can be complex and difficult to manage. And contracts are long, necessitating significant investment.
7. Osano
Osano offers a comprehensive array of tools and solutions to conform with data protection regulations, user consent management, and more.
We like its "No Fines, No Penalties Pledge," which covers fines of up to $200,000 for those utilizing Osano's legal workflows. The company puts its money where its mouth with a risk-free guarantee. However, that's only available on Osano's highest-priced plan.
Osano's consent management feature has the same features as our top pick, Enzuzo, but starts at $549/month, compared to $79/month for Enzuzo.
Osano Pros:
Strong value-added services to analyze and reduce risk in third-party vendors
Risk-free guarantee
Customizable cookie consent banners
Osano Cons:
High cost for the features you get
Restrictions on website traffic
Cut and paste legal templates
Overall Thoughts
Osano is reliable and backed by robust engineering and an impressive commitment to its legal policy management. However, there are certain areas where Osano falls short.
The free plan imposes a monthly cap on site traffic of 5,000 visitors. And certain essential features required for GDPR and CCPA compliance, including consent management, are accessible only through the Premier Plan, which starts at $549 / month.
Another drawback is that Osano does not offer customized legal policies. Instead, it includes templatized agreements that companies can modify to their requirements. The absence of things like a privacy policy generator is irksome, when you're spending hundreds of dollars a month.
Overall, Osano's feature set is robust and competitive, but it does come with high costs and certain service limitations that may give prospective buyers pause. Nonetheless, it deserves its place in the list of the top consent management tools.
8. Didomi
Didomi is another established player, based in France. It offers many of the same mid-market features as others on this list and plenty of integrations.
From a features and product standpoint, Didomi delivers on all fronts. We also like that it emphasizes quality UX and compliance with major data privacy laws.
However, Didomi is known to be technical and difficult to set up. The consent management app can also significantly impact website load speeds, which hurts SEO and conversion.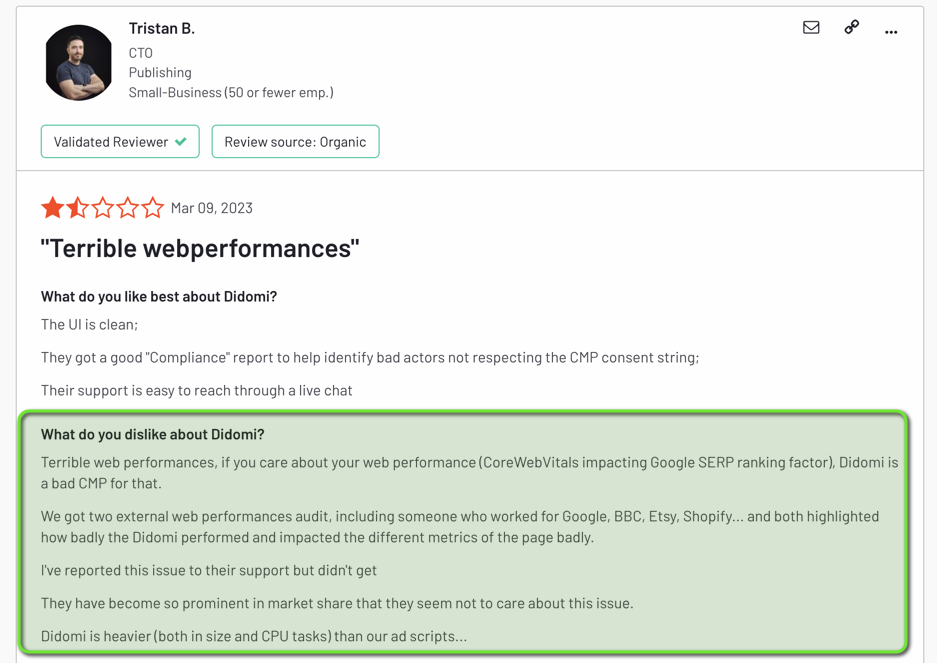 Didomi Pros:
Strong integration potential with other business systems
Solid features
Suitable for advanced users
Didomi Cons:
Integration process can be challenging
Platform may degrade website performance
Long contracts required
Overall Thoughts
Didomi provides a robust platform that caters to advanced users who can harness its customization options and third-party integration capabilities. Nevertheless, online reviews express concerns about the platform's complexity, as well as the potential negative impact of Didomi on website performance.
Depending on the size and complexity of your website and the volume of traffic it receives, this issue may pose challenges that affect the overall user experience for your audience. Additionally, Didomi's pricing structure involves long contractual commitments, further limiting its suitability as an all-in-one platform. While Didomi remains a robust data tool, its drawbacks earn it a lower spot in our assessment.
9. TrustArc
TrustArc is an established player in this space, and offers a robust platform that will keep you compliant across major privacy legislation around the world. It also offers an array of managed support services to back up its core offerings.
However, TrustArc is not without its drawbacks, as noted in some less-than-favourable user reviews:
Pros of TrustArc:
Comprehensive platform for compliance, cookie management, and privacy
Good reporting tools and transparency into operations
Strong library of supplementary compliance and privacy resources
Cons of TrustArc:
Expensive plans
Subpar customer support for problems
User reports of a frustrating, challenging UX
Overall Thoughts
TrustArc is a solid platform for and its suite of additional managed services provides a strong backbone for a company's ongoing compliance goals.
On the flip side, users should expect to pay high costs for TrustArc, particularly once additional managed services are added in.
Some users have reported a less-than-ideal user experience (UX) and subpar customer support, which could concern certain business owners. This means that, despite TrustArc's powerful feature set, users should know it's not the easiest platform to deploy. The lack of transparency in pricing may give prospective buyers pause.
Things to Consider When Choosing Consent Management Software
We reviewed several top criteria that any company should assess when selecting a CMP. Here's our framework:
User-Friendly Interface and Dashboards: We assessed CMPs based on the intuitiveness of their user interfaces and dashboards. Additionally, we examined whether these platforms offer analytics, multi-user support, and other forward-thinking features.
Comprehensive Customer Support: We took into consideration whether the providers on this list offered reliable customer support, complimentary onboarding, and additional training resources.
Customization Options: Some companies have individual needs and requirements. The ability to cater to feature requests and customizations was an important factor in our list.
Cost-Effectiveness: We analyzed whether each provider offered value in relation to their cost.
Analytics & Scanning Capabilities: One of the main requirements of a consent management platform is the ability to effectively track and categorize cookies. As such, we prioritized CMPs that offer analytics, fast scanning, and audit logs.
Related Data Privacy Functions: While consent management is important, that's usually not the only thing that folks look for when it comes to data privacy. Hence, we opted for providers that offer a multi-faceted platform.
Multi-Language Options: Companies operating in global markets need to display consent banners in multiple different languages. Hence, we opted for those providers that include a multilingual experience for their audience.
Consent Management Legislation Around the World
The earliest and most significant legislation that mandated consent for capturing personally identifiable information (PII) was the EU's General Data Protection Regulation (GDPR).
Under the GDPR is the ePrivacy Directive, also an EU standard. This directive lays down the law for businesses by giving them an exact framework of what they can and cannot do. For example:
In Article 12 of the GDPR, Businesses must clearly define what data is being collected, why it's being collected, and how consumers can contact your business to access, amend, or request that you delete it.
And Article 18 of the GDPR states that consumers have the right to refuse to allow cookies that would track them or to restrict a data transfer to third parties for further processing. This explicitly allows them to "opt out" if they wish. Moreover, businesses cannot restrict website access just because a user opts out of the tracking request.
Next, the California Consumer Privacy Act (CCPA) covers the use of PII extensively except financial and healthcare sectors that have their own legislation.
Under the CCPA, websites have to inform visitors what data will be collected by its cookies and trackers and how that information will be used. The act also includes frameworks for how to manage the storage and use of PII records.
Virginia's Consumer Data Protection Act (VCDPA), has the same consent requirements as the CCPA.
In Brazil, the local data privacy law is known as the Lei Geral de Proteção de Dados (LGPD). While it doesn't specifically discuss cookies, the LGPD does treat PII in a similar fashion as CCPA.
In Canada, the new Quebec Law 25 has imposed similar stringent consent management requirements. This makes it mandatory for businesses to explicitly collect and store user consent, or risk heavy fines if not compliant.
Main Functions of Consent Tools
Consent management centers around explicity approval from users for storing PII as well as other actions, such as transferring data from one location to another. For example, internet companies like Facebook regularly stored data of EU residents on servers in North America. This act required explicit approval from users and was given legal framework under Privacy Shield.

The best CMPs identify the right data types and categorize each cookie & tracker in relevant groups. Since some sites may have hundreds of cookies, it's preferable to list them under subgroups for better scannability.
Once all cookies are categorized, the CMP should create an appropriate consent popup notification giving users the option to accept or deny cookies.
All responses must be stored and kept in valid log files for audit purposes. Advanced CMPs can also store consent across several websites all owned by the same entity.
Cookie consent systems must also block trackers if visitors do not give consent.

If users wish to inquire about specific data held by an organization, they will submit a form known as a Data Subject Access Request (DSAR). This is similar to GDPR's 'Right to be Forgotten' and is a mandatory requirement. Users must be given the option to ask for their data to be deleted from servers or modified, if required. Businesses can also withdraw their service if retention of PII is necessary to allow them to function.
We're happy to assist with your search if you're still unsure which platform will best suit your needs. Book 1-1 time with our CEO here! 👇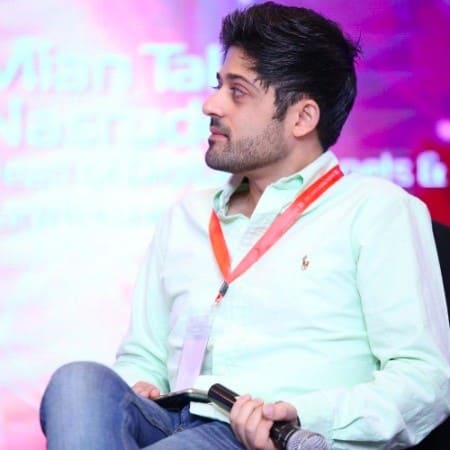 Osman Husain
Osman is the content lead at Enzuzo. He has a background in data privacy management via a two-year role at ExpressVPN and extensive freelance work with cybersecurity and blockchain companies. Osman also holds an MBA from the Toronto Metropolitan University.