Table of Contents
Whether you've got a great new startup idea or are looking to take your business online, everyone looking to venture into the eCommerce world needs a reliable eCommerce platform. Despite being strictly digital, an eCommerce platform acts as a sort of brick-and-mortar home base, the physical representation of your digital storefront. Your platform is an important part of your business, enabling and hampering your progress depending on the circumstance.
With hundreds of different platforms to choose from, all touting their amazing features, it's tough to know which platform is right for you. We'll go over the top considerations you need to know, and some of the best platform options available.
Consider the Business Side
As the owner of your business, and operator of your eCommerce site, there are a myriad of things to consider when choosing the best eCommerce platform for your business. Here are just a few:
Budget
The first and easiest one is budget. Simply put: how much capital can you afford to spend on your eCommerce platform, and all the expenses it may entail? Most platforms charge a monthly or yearly subscription fee for use, along with possible recurring fees for a domain name, a unique or customizable website, additional plug-ins or integrations, and much, much more. One thing to look out for—does the platform include all the key features you need? Or will you need to add costly third-party tools and apps for your website to perform? Create a detailed budget before deciding, and have it in hand when comparing your platform options to find the right fit.
Scale
The needs of a creative selling hand-crafted jewelry and a CEO aiming for Fortune 500 are very different. The best eCommerce platforms can scale alongside your business, enabling the flexibility necessary to adjust to the moment. Still, certain platforms are better for smaller or larger businesses. Consider the nature of your business, and how important tools like plug-ins, software integration, inventory management, and data reporting are for your success.
Search Engine Optimization
If your eCommerce platform does not leverage solid search engine optimization (SEO) practices, your website is going to be seen by far fewer potential customers. Effective SEO is crucial for eCommerce businesses of all kinds, as web traffic referrals through online searches make up a vast amount of online traffic. For the top 250 internet sites, a whopping 66% of their web traffic referrals came from Google Search. When users searched something on Google, 41.45% of their subsequent clicks were to non-paid, non-Google, organic site results. Those organic site results could include your business, if your eCommerce, and personal brand, have solid SEO practices.
Consider the Customer Side
You are only one part of the equation. The other, your potential customers, should find your site easy to use and aesthetically pleasing. Put yourself in your customer's shoes, and consider the following:
Shopping Experience
Whichever eCommerce platform you choose, it should allow you to make a fantastic website for your customers to shop. The best eCommerce sites are intuitive from the start, creating a pleasant and quick user experience for owners and customers. Not only that, but they work perfectly, no matter what kind of device you are using. This is crucial, as, according to shopping data collected by Google, a negative mobile experience can drastically affect sales. Choose a platform that will help you build a universally effective, trustworthy site, with social proof like user reviews, social integration and more. After all, creating a trustworthy site is another surefire way to land more sales.
Checkout Experience
Choosing a platform that either has, or allows you to create your own, smooth checkout experience is another important consideration to make. According to a 2021 data report by the Baymard Institute, online shoppers abandon their cart over 60% of the time, with reasons like forced account creation or a complicated checkout process being top reasons for abandonment.
Site Speed
If your site is slow, people aren't going to use it. A basic fact, but an important one nonetheless. Websites that load in under 4 seconds universally have the best conversion rates. This is largely up to your eCommerce platform, so be sure to pick one that is known to be speedy and reliable.
Top eCommerce Platform Recommendations
With all that in mind, it can still be overwhelming to compare the hundreds of eCommerce platforms out there. While there is no universal "best platform" for everyone, there are a few that stand out, and a few we'd like to showcase today:
Shopify: Best for Small Businesses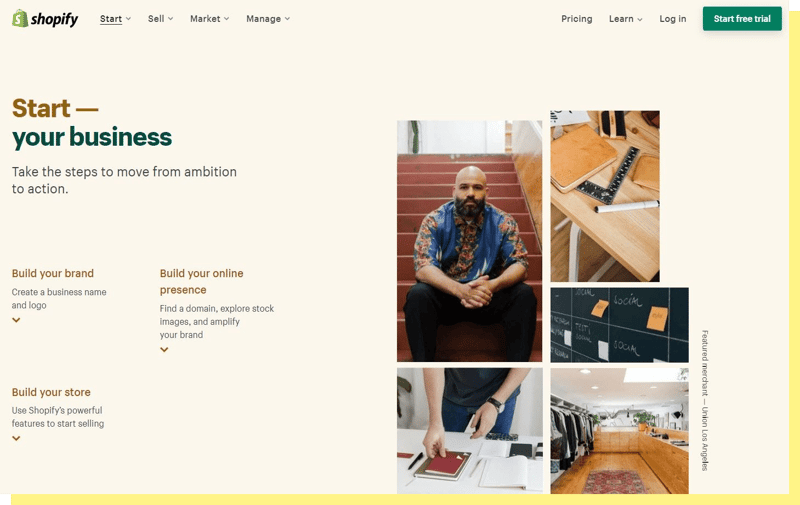 The elephant in the room. According to data by Oberlo, Shopify accounts for a whopping 23% of eCommerce market share in the United States. Taking a look at the data year over year, Shopify revenue is skyrocketing.
We like Shopify because it manages to be easy to set up yet incredibly scalable. Shopify handles sales, payments, inventory management, and other technical tasks with little effort from business owners. The setup is painless and creates an appealing site easily. But it's the vast integration with plugins and software that puts Spotify above the competition. With the right vision and the right effort, a Shopify-powered site can be almost anything. Just check out top brands like Los Angeles Apparel or Colourpop, both powered by Shopify Plus.
Pros:
Incredibly expansive plugin and software support
Very responsive support team
Fast user performance
Cons:
SEO performance could be better
Can get pricey for certain types of businesses

Check out our list of the best Shopify agencies in California.
BigCommerce: Best for Large Businesses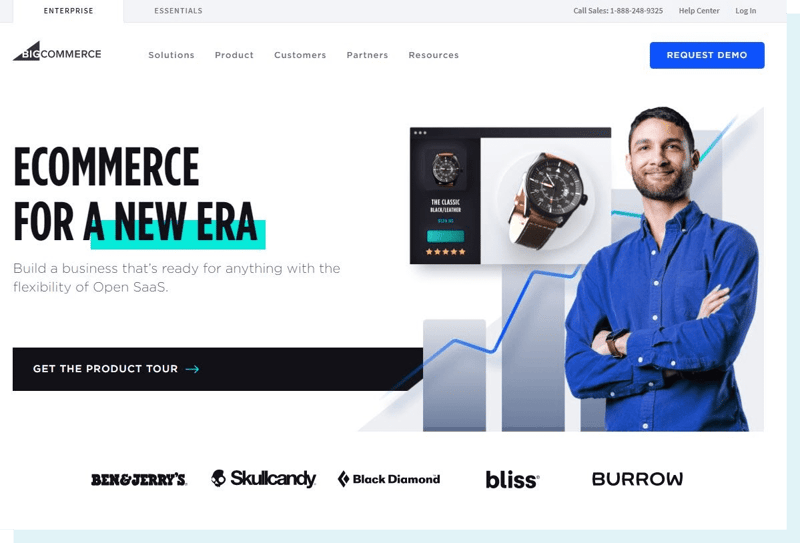 If you are already a mid-sized business, or have a very concrete, in-action operation, BigCommerce might be for you.
BigCommerce, as its name suggests, is more focused on larger business operations. A major feature it holds over the competition is payment processing, where you can choose from over 55 different options, many without extra fees tacked on. BigCommerce supports unlimited products, making it great for businesses with expansive, changing SKUs. It's no slouch on design either, with nearly 100 paid themes to choose from, and customizing via source code.
The main downside to BigCommerce is its larger-scope focus. It can be time-consuming to use, with its more advanced functionality creating a steeper learning curve for business owners.
Pros:
Very scalable and flexible
Extensive analytics reporting and tools
Multi-channel sales support
Cons:
Steep learning curve
Slightly slower speeds
Can be expensive for smaller businesses
Wix: Best for Small-Scale Digital Businesses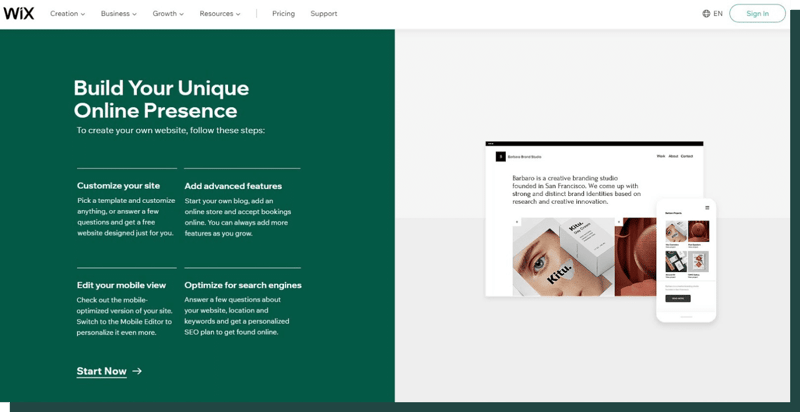 Wix is a bit more small scale than Shopify and BigCommerce, but offers plenty of comparable features at a more flexible price point. Wix is one of the easiest and more pleasant platforms to set up, with tons of amazing themes and templates to choose from. Like Shopify, Wix has its own app store, where owners can browse compatible plugins to enhance their website. As a small scale, easy to use, cost effective platform, Wix is a great choice for all digital or service-based businesses.
Pros:
Excellent, customizable designs
Wix app-store for easy plugins
Flexible pricing
Cons:
Not as robust as Shopify or BigCommerce
Squarespace: Best for Individual Creatives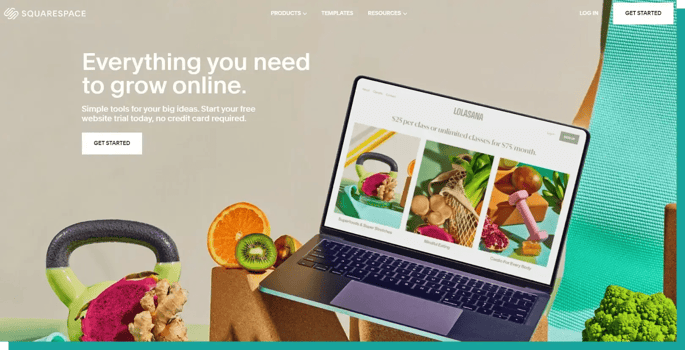 Squarespace is more known as an excellent platform for sharing an artistic portfolio rather than hosting your business operation. And that remains true: Squarespace is not an ideal platform for small business owners. However, Squarespace excels as an eCommerce platform for individual creatives offering digital products or services.
A visuals-first platform, it's easy to create a beautiful, aesthetically pleasing site using Squarespace. With great designs, templates, and customization options, Squarespace sites stand out because of their excellent visuals and design. And for individuals setting up a simple, small eCommerce operation, Squarespace provides plenty, with support for sales, payment processing, services, subscriptions, and appointment scheduling.
But, if you are a business owner, or plan on scaling past the individual level, Squarespace starts showing its limitations rather quickly.
Pros:
Create customizable, visually-striking designs
Well trafficking SEO
Great for individual creatives or freelancers
Cons:
Severely lacks scalability
No app store


Etsy: Best for Handmade Sellers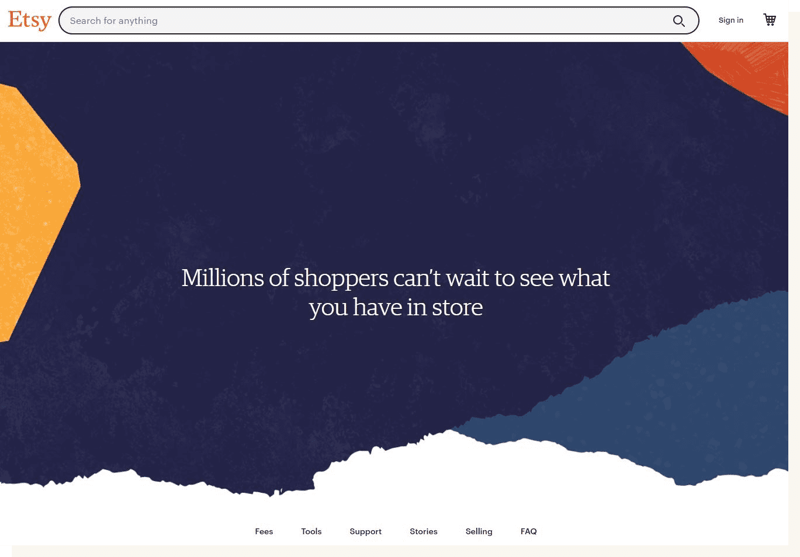 Etsy is more akin to a storefront than a personalizable eCommerce platform. Best known as the home for artists selling handcrafted goods, Etsy is perfect for people who simply want to sell their small-batch or individual products, without all the hassle of creating a website or business. Instead of making an entire site from scratch, users make an account, personalize a store page with products, and sell through Etsy's platform. Etsy handles the rest. It's a great solution for artists looking to sell their physical goods, but lacks the features to drive a small to medium sized business.
Pros:
Turn key experience: no setup or fees
Vibrant artistic community
Cons:
Not robust enough for serious businesses
Lacks scalability and customization
The Perfect Plan for You
Ultimately, the best eCommerce platform is the one that's best for you. Hopefully we've given you a good idea of what to consider, and what options are out there. Go forth, and build the site of your dreams on an eCommerce platform that matches your vision.