Table of Contents
Why you should make it easy for customers to request and update data
One of the most important things you can do for your eCommerce business is to build trust with customers through clear communication.
Why?
Because repeat customers represent 41% of revenue and building a strong customer relationship can ensure customers come back for more.
Now let's think about it for a second: a customer emails your support team asking for a copy of their data or request you to completely delete their data.
What would you do?
Now let's say they need to update or change their information.
Would they be able to easily navigate where the changes can be done?
Having a seamless process that allows customers to easily change or gain access to their information, communicates to the customer that you have their best interest in mind — thus building trust which is essential for long-term success.
How do I manage customer data requests?
There are various ways you can manage a customer data request, and in this article, we'll outline three different ways you can go about creating this DSAR process. How will you implement each for your eCommerce business?
Data Request TLDR:
If you're looking for the fastest and easiest way to manage customer data requests and your privacy policy, look no further than Enzuzo.
We offer 1-click data deletion and unsubscribe functionality, and privacy policy pages that automatically update as new privacy laws come into effect
Request data via your Enzuzo privacy policy page
There are several components of a privacy policy page, one of them being a section dedicated to opt-out procedures. Making this section obvious, and the opt-out process quick helps build trust with your customers and shows that you have their best interest in mind.
Most privacy policy pages are a lengthy document that involves lots and lots of scrolling. Make your privacy policy digestible, so that your customers can easily find the information they are looking for.
Example of a data request form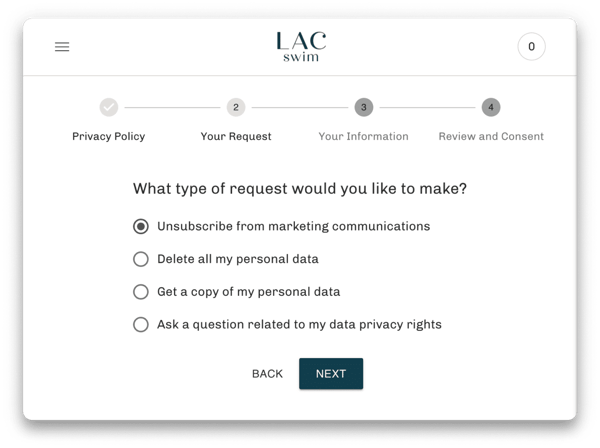 Enzuzo's privacy policy page has a built-in data subject access request form, where customers can submit a request in seconds.
It's super easy because there's a built-in Request Button right in the Contact Us section of your Enzuzo policy.

Update information via their customer account
If a customer needs to change their address, credit card, or any other personal information or data, they should be able to easily do so within their customer account. This is especially important for subscription-based businesses, as outdated information can result in miss-deliveries.
Example of a customer account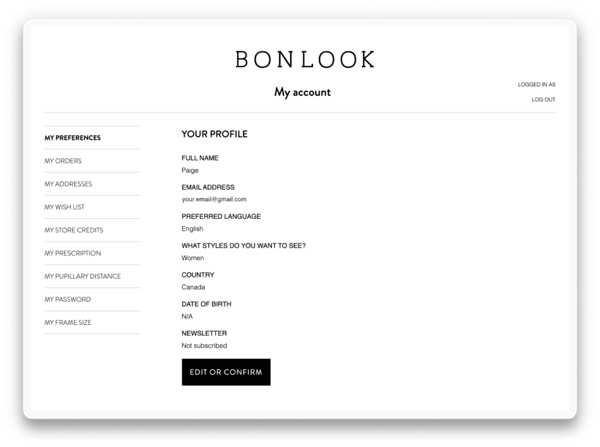 Bonlook who sells prescription glasses makes it easy for customers to update their personal information via their online account. Information like their prescription, address, frame size, email address and more.
All customers need to do is log in to their account and they can update their information at their convenience.
Make it easy to unsubscribe from emails
The best eCommerce brands understand that customers come and go, and make it easy for them to say goodbye — even if it hurts.
All emails should include an option to allow customers to unsubscribe. Giving them this power ensures that you aren't annoying them with unwanted emails. Not only this, but it's also legal under the CAN-SPAM Act.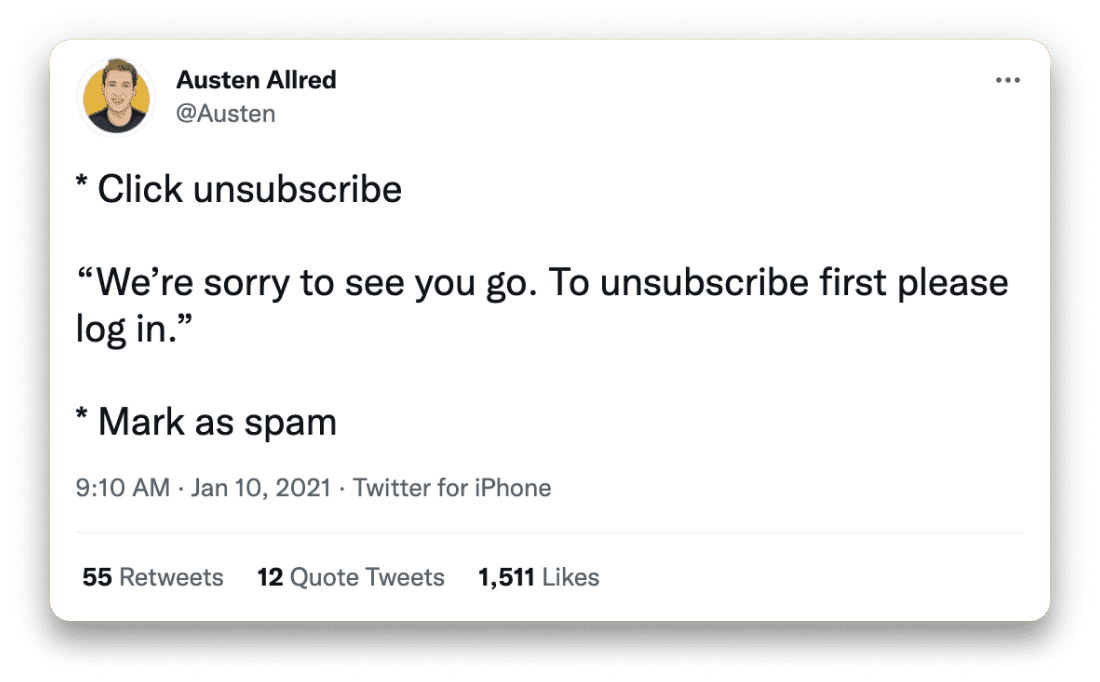 Unsubscribe links are typically found in the footer of an email. But to make the process easier for your customers, consider adding a link in the header of the email. This further communicates to customers that you care about their preferences, and contributes to their trust in your brand.
We go more in-depth on unsubscribe best practices, which you can check out here.
Key Takeaways
To recap, making it easy for your customers to change and access their data is a simple and effective way to gain their trust. Three ways you can implement this in your eCommerce business today is:
Make a data request possible via your privacy policy page
Changes to data should be obvious and easily done in-product — especially if you're a subscription-based business
Unsubscribe best practices are an easy way to build trust and show your customers that you have their best interests and preferences in mind
Want to improve your data subject access request process? We'd love to help!