Table of Contents
The internet is the primary way that most consumers learn about businesses. Whether they're directed to your website from social media or organic search, once they arrive on your website, you need to create a reason to keep them there.
For online retailers, this means having a shoppable website that functions properly, is speedy, is easy to maintain, and ideally will scale with your business as it grows. With so many platforms available — all promising to make building eCommerce websites easy — Wix is a popular choice, but is making a website on Wix the best option for your business?
To answer this question, it's important to first evaluate the advantages and disadvantages of creating a site on Wix. You'll need to compare that information against the unique needs of your business, to determine whether Wix is the right choice.
Wix Benefits
Wix is one of the most popular website builders because it is accessible to users of every level and has many strengths. Let's look at how it performs for building an ecommerce website or store addition to your existing Wix content site.
1. User-Friendly Platform
The process of creating a website on Wix is surprisingly simple. Even business owners who are uncomfortable with technology can develop and launch a professional website quickly, which is a key consideration when choosing between different platforms. This tends to be a common feature for most ecommerce-focused website builder platforms — such as Shopify, and WooCommerce.
When it comes to ease of use, the Wix platform outranks many other platforms especially for web design novices. If you're building a content-focused website and need a small ecommerce integration, or have a small catalog of products with no plans to expand that, Wix may be a better choice over competitors for several reasons.
First, you can use an artificial design intelligence (ADI) tool to build your site. By asking you to respond to a few questions, the site determines which style, headlines, images, and layout might best fit your brand. This lets you quickly build and launch a website without having to hire a design team. Depending on your company budget or overall goals, this can be an attractive option.
In addition, the Wix editing interface requires little to no training or technical knowledge. You can drag and drop elements onto the page and easily make adjustments like cropping images or changing the font.
2. Attractive Templates
If you're looking for a quick out-of-the-box website design, you'll like that Wix offers a wide array of pre-made templates. This may be a drawback for ecommerce owners that want a fully customized website, or who want to develop a storefront with the intent to scale for more products or functionality in the future. However, a quick browse through Wix's templates shows that many of them are beautifully designed and don't look like cookie-cutter websites.

The templates available through Wix are attractive, professional, stylish, and modern. They are also designed to suit your particular type of business. For example, you can choose a template from the catalog that is specifically built for:
Fashion
Jewelry
Automotive
Electronics
Arts & Crafts
With these options and the many others that are available, you can easily find a template that will engage the interest of your target customers.
3. Customization
Although you are required to build your Wix site based on a template, there are still many options for customization. You can change practically every aspect of your site, including the images, text, and layouts.
Furthermore, if any functionalities aren't already available through the template, you can turn to the Wix App Market. The apps available through the market can introduce features to your site, including:
Forms
Bookings
Image galleries
Chat
SEO
The App Market has both free and paid apps that provide far more opportunities to customize and personalize your site.
However, before adding any integrated apps to your storefront, you'll always want to confirm that they won't slow down your page load speed. Keep in mind that most ecommerce website platforms do not take responsibility for app integrations causing lag in page loads.
4. SEO Support
A beautiful website isn't enough to guarantee success these days. You also need to drive traffic to your store. Wix does offer a variety of in-house solutions to help online retailers maximize their visibility and grow sales. SEO Wiz is an optimization tool that you can use to analyze your website, and follow the suggested implementations to improve your website's discoverability.
You can also natively connect your social media accounts and manage posts, as well as import your email list, create a newsletter signup and craft messages all within the Wix ecosystem. All of these features allow you to create a more solid, SEO-friendly website that lays the groundwork for developing a robust lead generation funnel that will ideally translate into increased sales.
5. A Secure Website - Wix SSL
Operating an ecommerce website means that you need to prioritize data protection and security even more than websites that are content driven. Your store will be accepting highly sensitive financial data, making you a ripe target for hackers. Wix offers enterprise-grade security for all websites built on its platform, regardless of the package you select. This includes threat prevention, around the clock monitoring, HTTPS for all domains, and rapid response if your site does go down.

6. Integrations & Tools
Building your website through Wix grants you access to many other useful options. These features make it easier to operate your website and online store:
Integrated payments are available with all business and eCommerce plans.
Wix has a tool to help you quickly create a business logo if you do not already have one.
The platform includes Ascend by Wix, which allows you to become better organized by using tasks and reminders.
Some capabilities of Wix sites depend on the plan level that you choose, but every plan includes a comprehensive catalog of resources and tools for building professional websites.
7. Pricing & Customer Support
One standout area for Wix is that it does offer a free plan. This can be ideal if you're just thinking about building a website and you're not ready to fully commit to some of the more expensive packages from competitors or even Wix itself. Keep in mind that the free version is limited in functionality and does not support the critical ecommerce function of accepting payments. For ecommerce businesses, you'll have to upgrade to at least the Business Basic plan to create a storefront.
Although there are less expensive website platforms available, Wix pricing is relatively affordable considering what you receive in exchange. While basic plans can run as low as $22 per month, you must upgrade to an eCommerce plan which starts at $27 per month if you want to accept online payments.
In addition, Wix does not require you to commit to a multi-year contract. Signing up for a longer term will save you money, but it is also possible to operate on a monthly basis and cancel your plan whenever you choose. This is not unique though, as this is a standard feature for most plug-and-play ecommerce hosting platforms.
Another great upside to Wix is that every plan includes access to an excellent customer support team. If you are struggling with a technical aspect of the site, representatives are available to help you find solutions. This reduces the time that you have to spend on problem-solving and troubleshooting.

Wix Disadvantages
While there are a great many upsides to using Wix to build your eCommerce website, there are also some negative aspects of the platform that are worth considering. No website platform is perfect for every business, so it's important to analyze whether these disadvantages of Wix are deal breakers for yours
1. Lack of Flexibility
Wix provides a lot of opportunities for customization, but there are notable limitations to its flexibility like the inability to change your template once you build your site. The most problematic restrictions can affect your ability to scale your business over the long term.
2. Websites Aren't Transferrable
Sometimes the inevitable happens and you realize that your business has outgrown a platform. When this does occur, you'll find that Wix disincentivizes subscribers from leaving because websites aren't transferrable. Once you decide to part ways with the brand's platform, you need to completely rebuild your website — or find a coding wiz who knows how to backup, and reconstruct your site elsewhere.
3. No External Third Party Apps or Plugins
This might not be a big deal if you run a content-focused website. But for ecommerce store owners, this can be a problem. Depending on your overall growth goals, you may eventually decide to engage in retail distribution options such as drop shipping, or need plug-in integrations to quickly create storefronts on companion emerging social channels.
If those distribution channels don't have a relationship with Wix, you won't be able to take advantage of those opportunities.
4. Limited Monetization Options
While Wix does support multi-currency sales, and selling on marketplaces, those features are not available for the Business Basic plan which is the lowest tier option for ecommerce stores. Features like subscriptions, advanced shipping, dropshipping support and even built-in product review functionality require upgrading to at least the Business Unlimited plan which is $32 per month.
5. Basic Store Navigation
Similarly, the store navigation system through Wix is fairly simple, which can make it difficult for large businesses to organize their inventory in a way that makes sense to customers. If you have many products spread across a wide range of categories, you may not be able to develop an intuitive navigation on Wix.
6. Slow Loading Times
Businesses that use a lot of videos or images on their sites may also encounter problems with load times. While Wix websites are generally fast, they can quickly become weighed down by media files.
Deciding If Wix Is Right for You
Once you have evaluated the advantages and disadvantages of Wix, you should be better prepared to decide whether it is a good match for your business. In addition to exploring the experiences of other customers through avenues like Wix reviews on Reddit, you should also think about your ideal customer, the needs of your business, and the style of your brand.
Asking yourself a few basic questions may help you decide whether Wix is the best option:
How large is your inventory and how diverse is it across categories?
Will your business website include a significant number of videos, images, or audio files?
Do you want to leverage cross-channel sales such as drop shipping or niche social media storefronts?
Do you feel comfortable building a site on your own, or would you prefer a system that does a lot of the work for you?
Will you need features that aren't provided by apps included in the Wix App Market?
Your answers to these questions clarify how the advantages and disadvantages of Wix would affect your website.
Who is Wix Good for?
Wix is one of many platforms intended to make website building a fast and painless process. Ultimately, it's a web design platform that's content-first and offers the option to upgrade to ecommerce functionality. It's an ideal choice for businesses that are content driven, but need to incorporate a small ecommerce store. Likewise, store owners with small inventories, modest budgets, or few plans to increase the total number of SKUs or sales channels available may also find that Wix is a cost-effective solution for their needs.
Who is Wix Not Good for?
Scalability is one specific area where Wix struggles to effectively compete with ecommerce-first platforms like Shopify. If your business intends to continue growing your inventory across SKUs and categories, integrating third-party apps that might not be native to the Wix platform, or wants more control with a truly custom built website, Wix might not be the best fit. Likewise, larger organizations may be better served by building their websites elsewhere.
Concluding Thoughts
If you find that Wix is the right platform for your business, remember to incorporate security and privacy features, such as a privacy policy, to comply with regulations. Informing your customers about how you manage their data is an important component of your website, and Enzuzo's Wix privacy policy generator makes it easy to create a policy that is tailored to your business.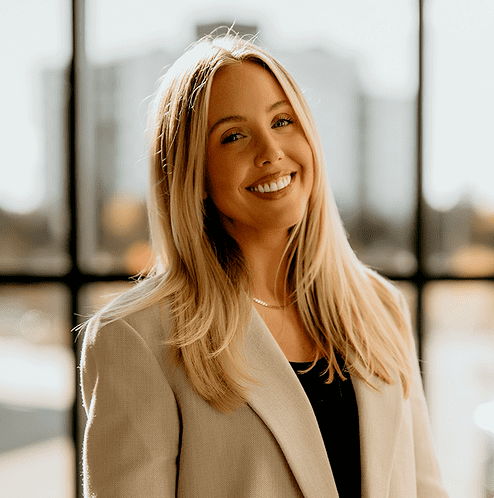 Paige Harris
Paige is the growth marketing lead at Enzuzo and host of The Living Lab podcast, providing insightful articles in the privacy space.