5 Reasons You Need to Update Your eCommerce Privacy Page Today
5 Reasons You Need to Update Your eCommerce Privacy Page Today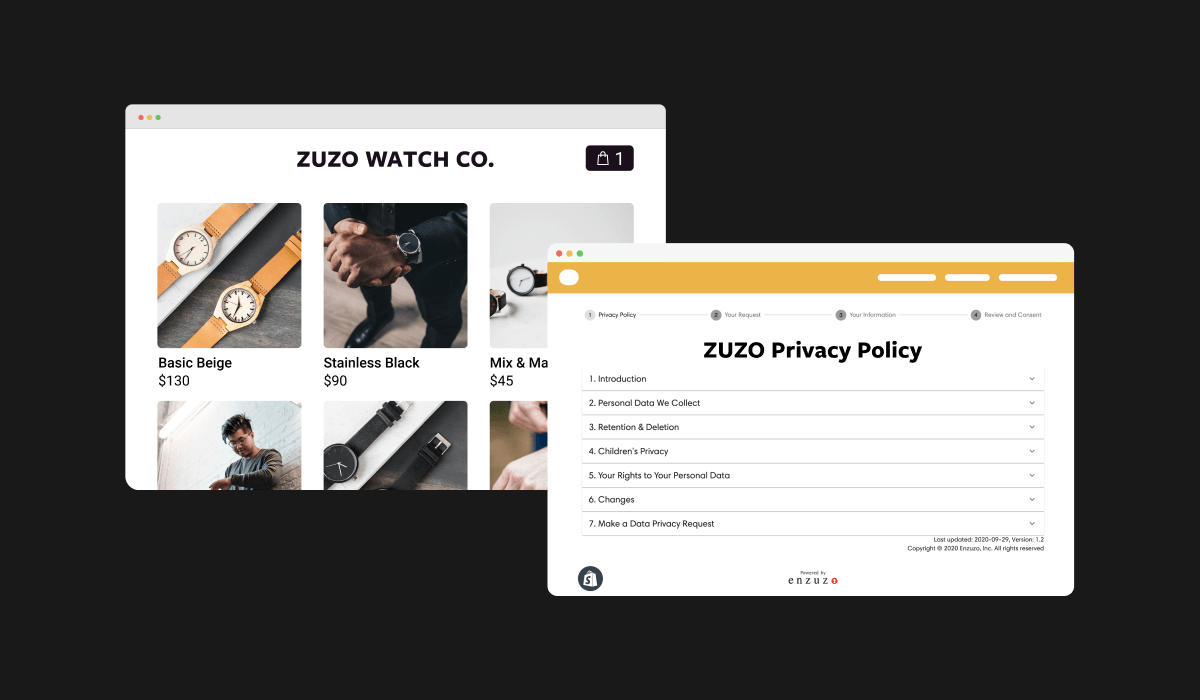 Table of Contents
When was the last time you reviewed your ecommerce store's privacy policy?
When embarking upon a new ecommerce venture, it's easy to get swept up in the process. With ecommerce platforms, such as Shopify, streamlining the creation and maintenance of online stores, it's tempting to blaze through the administrative side of store set up, in pursuit of that intoxicating first sale.
Whether you put time and effort into crafting something bespoke, or copy and pasted from a generator template, it's important to take time to periodically revisit your privacy policy.
This article will explore five of the main reasons that you might want to consider reviewing and updating your ecommerce privacy page.
Global laws and directives are constantly changing
There are no two ways about it – a comprehensive privacy policy is legal requirement. In this digital age, no matter where in the world you are selling, almost every country has strict data privacy laws to protect its citizens. It's important to ensure that you are adhering with complete compliance to the full range of legislation guarding personal information.
One of the great benefits of ecommerce is that you can sell globally, sending goods around the world. While this boosts your opportunity for conversion, it also increases the legal responsibility you hold, as your privacy policy must respect the laws protecting citizens from any country, should they visit your website or ecommerce store.
For example, the CalOPPA: California Online Privacy Protection Act protects the privacy of Californians wherever they may be in a position to share personal data.
Your use of third party apps may have evolved
Very few ecommerce stores fail to leverage third party apps to enhance the experience and functionality that they offer. It's important to make sure that your use of third party apps is fully divulged within your privacy policy.
If your privacy policy hasn't been reviewed since you originally set up your ecommerce store, the chances are high that your use of third party applications may have evolved in the interim.
Take some time to ensure that you've reviewed the terms and conditions of the apps and services that you use to run your ecommerce store. Many, such as Google Analytics, will specifically state the need for their use to be disclosed in your privacy policy.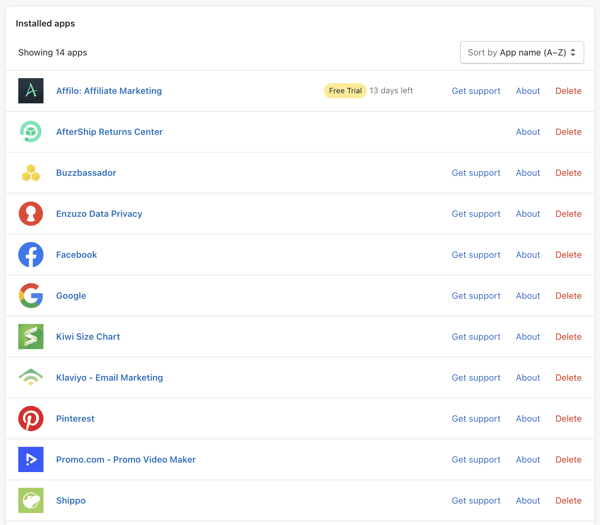 Your reputation is on the line
Choosing to buy from an online store requires us to expose not just personal but financial data, and as an intangible, digital interaction, this requires a significant degree of trust. Online brands must do all they can to protect and enhance the faith that their customers feel for them.
By ensuring that your ecommerce store's privacy policy is kept up to date, well ordered and clear, you send a clear statement of good intent to your audience. You can actively demonstrate that your commitment to their privacy is on-going and dynamic, as you respond and react to new requirements as they arise – far more appealing than a "set it and forget it" approach.
Privacy is a growing concern
The modern consumer is acutely aware of the value of the information that they give away through their online interactions, and is increasingly concerned about the way in which businesses can leverage and profit from it.
63% of consumers say most companies aren't transparent about how their data is used. (Tableau)
As data breaches continue to rock international headlines, with even the biggest names in ecommerce falling foul of these cyber crimes, we can reasonably expect the public's interest in these matters to continue to rise.
A well-crafted (and regularly reviewed) privacy policy signals in the clearest possible terms that your ecommerce store has carefully considered its attitude to data use and protection.
Go one step further by integrating a data request form (as in this example) into your ecommerce privacy page. Opening a channel of direct communication is a great way of signalling the respect you have for your customers and their personal data.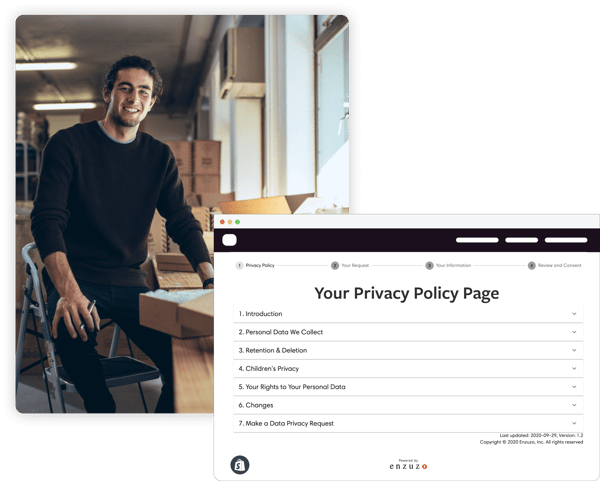 As interest and expectations surrounding data privacy continue to rise, ensure that customers actively seeking out information are met with a satisfactory, reassuring and crystal clear privacy page, that can help them make an informed decision about shopping with you.
Mistakes can be costly
As new privacy legislation and directives continue to be developed, businesses' compliance must be incentivized. While the "carrot" of increased consumer trust is often dangled, the "stick" of astronomical fines also hovers in the background...
Fines of up to €20 million are levied by the EU with regard to the worst non-compliance with its GDPR directives. Whilst it may feel hard for smaller eCommerce retailers to relate to this level of penalty, plenty of other warnings, penalties and reprimands await lower-tier offenders!
Other privacy laws like California's Law CCPA, have similar fines for non-compliance, which is why using a solution like Enzuzo is the easiest way to protect your business from risk.
By reviewing your privacy policy to ensure that all recent changes to regulation, or indeed your own use and storage of personal data, have been faithfully reflected and clearly communicated, you can sleep a little easier knowing that you're fully compliant.
Streamline your approach to data privacy today
As this article has shown, data privacy is a dynamic and constantly evolving concern, with global legislation and attitudes in a constant state of flux.
As an ecommerce retailer, you benefit from a rapidly evolving and expanding ecosystem – but with all this opportunity comes a growing responsibility.
Protect and encourage your customers by taking an active and ongoing interest in defending their privacy. Revisit and review your privacy policy, working with specialist tools such as Enzuzo, to help you to minimize risk and build brand trust.
Looking to level-up your privacy policy?
Launch an automated privacy policy on your Shopify store today with Enzuzuo. Free to install!