Table of Contents
Cookie banners are a crucial part of any great website. Not only do they inform and empower your customers about their personal data and privacy, but cookie banners keep your business legally compliant with key privacy laws like the CCPA, GDPR, and the EU's ePrivacy Directive.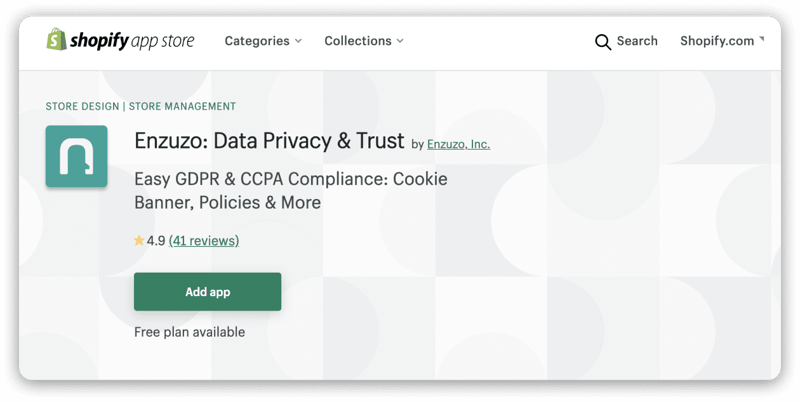 Even though we know a cookie banner is a must-have, it's often hard to know exactly which option to choose. Luckily, if your business is on Shopify, you have a huge range of apps available that make adding a pop up or static cookie banner to your website easy.
We may be a little biased, but we think one of the best apps out there is Enzuzo. Let's take a closer look at why you need a cookie banner for your Shopify store and how to get one the easy way with Enzuzo.
Why Do I Need a Cookie Consent Banner on my Shopify Store?
The short and sweet answer is because it's the law. The CCPA and GDPR give consumers a collection of rights, including the right to control how their data is collected online. Simply put, adding a cookie consent banner to your Shopify storefront is one way to follow these important laws.
More broadly speaking, adding a cookie consent banner is just another step to help you build trust with your customers. In our increasingly digital world, consumers are more concerned about their data than ever — which is why zero-party data is the way forward.
According to data collected by the Pew Research Center, 79% of US adults are concerned with how companies use the data they collect. Consumer trust is on a downward trend, with people placing higher value on brands they feel they can trust.
Taking a legally compliant, user-first approach to data policies and your cookie notice puts your Shopify store one step closer to being someone's trusted brand. With Enzuzo, it's super easy to set up not only your cookie banner but your privacy policy, terms of service, and other privacy essentials too.
PlantFuel uses Enzuzo to power their cookie banner

5 Reasons to Use Enzuzo's Free Cookie Consent Banner Tool
If you have customers and website visitors in the EU or that fall under the remit of other privacy laws like the CCPA, a cookie banner is a must-have for your Shopify store. While there are different apps you can use, and ways to DIY your own, here at Enzuzo we've come up with a simple, fuss-free tool to help you get it sorted.
Let's look at why Enzuzo's cookie consent banner stands out from all the other Shopify apps out there.
1. GDPR Compliance Made Easy
While the General Data Protection Regulation (GDPR) originated in the European Union, it doesn't just apply to businesses operating in the EU. If you have website visitors from applicable countries, you'll need to make sure you follow this major EU law.
Ration uses Enzuzo's cookie banner and cookie manager to ensure GDPR compliance.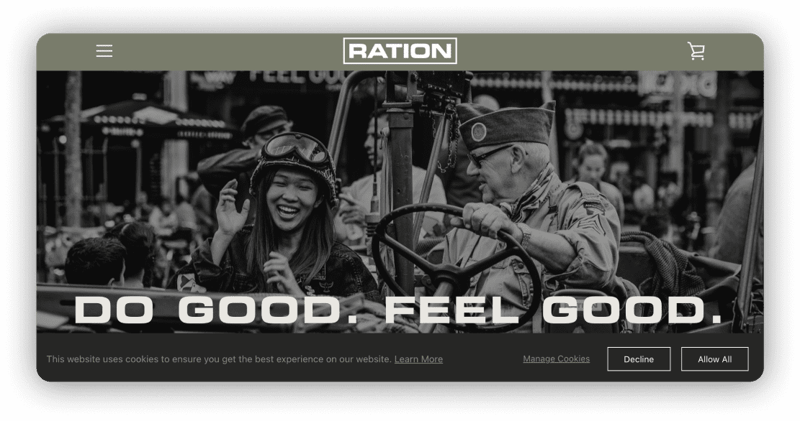 It's easy for your Shopify store to reach someone anywhere in the world, so GDPR compliance should be a priority — as should CCPA compliance, if you could have visitors from California.
Although the legal jargon can seem overwhelming at first, achieving GDPR and CCPA compliance is essential for any growing Shopify store. Set up a free GDPR cookie bar in moments using our tool, with EU cookie bar templates and customization options that help you reach cookie compliance.
2. Customizable to Match Your Shopify Storefront
You can be legally compliant and still have a storefront that doesn't hold back when it comes to Shopify theme design and experience. We're a big believer that the two can work together perfectly.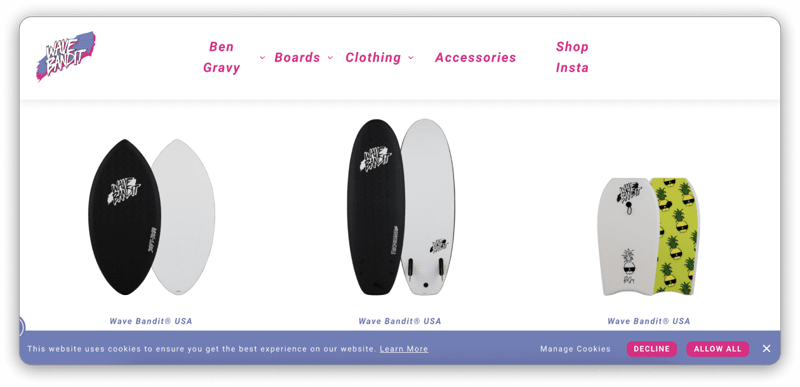 With options to customize text, font and banner colors, size, placement, buttons, and more, you can use Enzuzo's cookie consent banner tool to create a cookie banner that blends in with your site seamlessly.
This customizable design is easy to change too, if you decide to revamp your storefront or go in a whole new direction with your brand.
3. Easy to Set Up
With busy schedules and long to-do lists, the last thing any business owner wants to do is spend hours setting up and customizing apps. We get it, which is why Enzuzo is simple to use and easy to set up.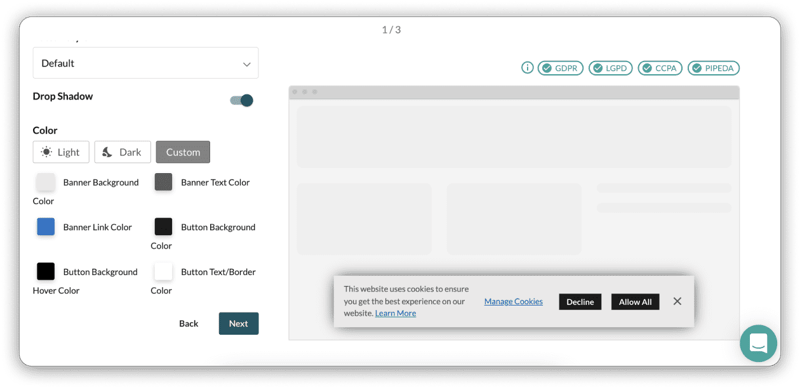 You can have your very own cookie consent bar live on your site within minutes. That way, you can get back to building your business. When you have a little more free time, explore our customization options further, safe in the knowledge you've already got the compliance side covered.
4. User-Centered Cookie Consent Management
Following the GDPR and CCPA is one thing — empowering your customers by giving them greater control over their data is another. With Enzuzo's cookie banner, you can do more than just give your users the basic cookie information required by European cookie laws.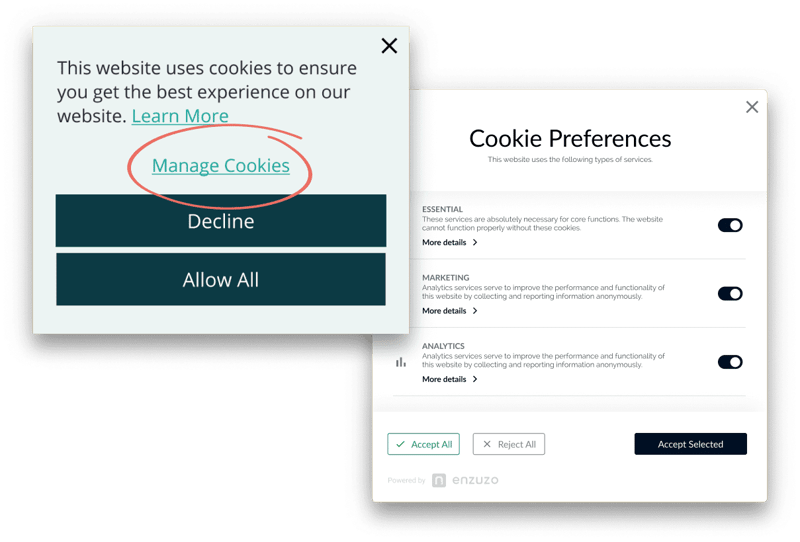 Our cookie banners give users multiple options to personalize their experience, including tailoring which cookies they consent to. It's all part of our philosophy to enable brands to treat customer data with respect.
5. Free Plan Available
Most privacy apps have a free option, but it's rarely what it seems. Often there's a limited time period, increased pricing after a free trial, or you need to share your credit card details to begin a trial. Our free plan at Enzuzo is free forever, with no subscription and no credit card info required. Get your Shopify cookie banner for free!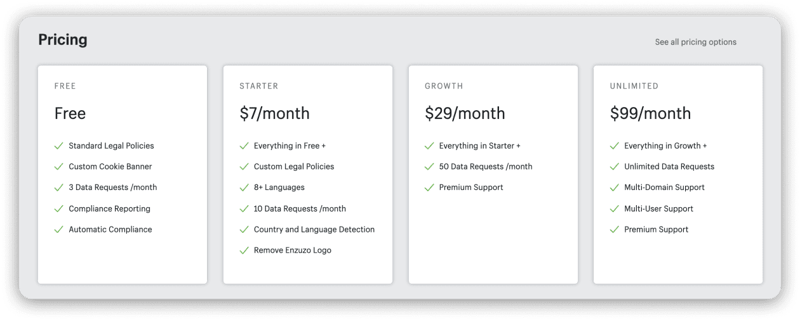 We also don't close off customization features to our free plan users. Our forever-free plan gives you total access to our customizable cookie banner generator, so you can create a cookie notice that matches your site perfectly.
While some of our added features, like multiple language translations, are only available in our paid plans, our free plan gives you everything you need to create a streamlined, on-brand cookie consent experience for your visitors.
How to Add the Enzuzo Cookie Banner to Your Store
Adding an Enzuzo cookie banner to your site is super simple. All you need to do is head to our cookie banner page and you can begin creating your very own banner in just one click.
What's great about our builder is that you can see changes as you make them. This means you can play around and experiment to create a banner that matches your online store perfectly — before you even go through the signup process.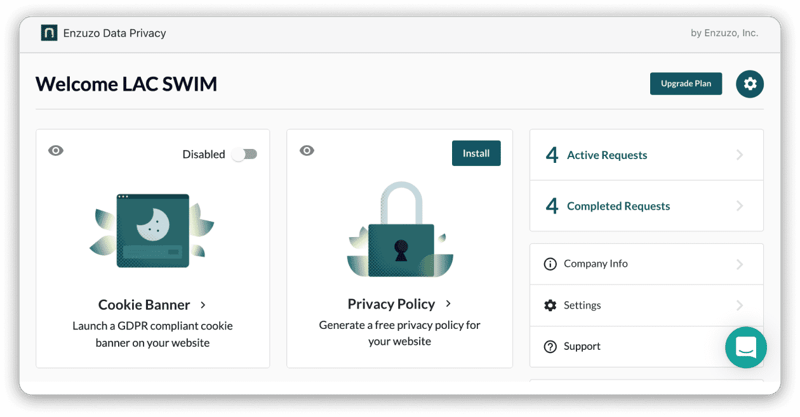 Once you're finished designing, select your ecommerce platform, add your site's domain, and create an account to set up your custom GDPR compliant cookie banner. You'll also have access to your Enzuzo dashboard, where you can further tweak and personalize your Shopify cookie banner until it's exactly how you want it.
Elevate Your Shopify Store with Enzuzo's Cookie Banner
There are many cookie banner apps and plugins out there, but they're not always easy to use. We've designed our cookie banner creator with simplicity in mind, so there's a clear, welcoming experience right the way through.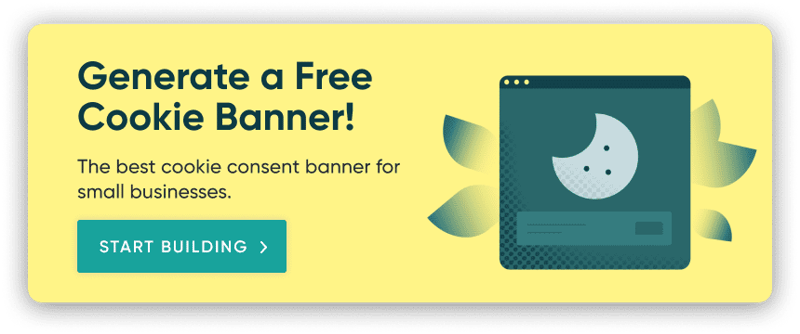 We may be biased, but we think it's the best cookie banner out there for Shopify store owners. With ample customization, multiple language options, robust cookie management options, and a fast, free setup, Enzuzo keeps your business compliant with all the latest customer privacy laws in style. This leaves you with more time to do what you do best — grow your Shopify empire.