Table of Contents
Cookie consent tools are software tools used by website owners to obtain the consent of website visitors for the use of cookies on their sites. They usually present users with an option to accept or decline the use of cookies and inform users about the types of cookies the site uses.
Cookie consent is an important aspect of privacy and helps to protect the rights of users who visit your page. It's also a requirement for website owners in certain regions to ensure compliance with privacy regulations. And there are many regulations to be aware of! As global commerce has increased over the years, digital businesses now must manage and maintain regulatory compliance in each of the areas in which they do business. Cookie policies and consent management are an important part of this strategy, particularly when you consider just how many frameworks must be accounted for:
General Data Protection Regulation (GDPR): This is the primary data protection regulation in the European Union (EU) and sets standards for how personal data must be collected, processed, and stored.

California Consumer Privacy Act (CCPA): This is a privacy law in California, United States, that gives consumers more control over their personal information and requires businesses to be transparent about their data practices.

Brazil's General Data Protection Law (LGPD): This privacy law is specific to Brazil and comparable in design to the EU's GDPR.

ISO/IEC 27001: This is an international standard for information security management that provides a systematic approach to managing and protecting sensitive information.

Payment Card Industry Data Security Standard (PCI DSS): This is a set of security standards for organizations that handle credit card information and is maintained by major credit card companies.

Health Insurance Portability and Accountability Act (HIPAA): This is a US law that sets standards that protect the privacy and security of personal health information.
Clearly, there are many different compliance frameworks and data privacy laws across global commerce that both businesses and consumers must be aware of.
Cookie consent tools are applied by site owners to inform users that certain personal details may be stored for tracking purposes. This ensures that all users can use site resources with fully-informed consent.
What to Look Out for When Picking a Cookie Consent Management Tool
Choosing a cookie consent tool might seem easy. Don't they all do the same thing?
Not exactly! Like other digital marketing tools, cookie solutions can be adapted and customized to suit different use cases and compliance frameworks. A solution that works perfectly for an eCommerce shop might look quite a bit different than one used by a marketing service provider. To understand which features are most important, let's take a quick look at cookie banner platforms in general.
The whole point of cookie policies and privacy laws is to allow users to provide informed consent when they use your site. For this consent to be valid, it must follow certain principles:
User consent must be freely given without any requirement to accept cookies in exchange for site usage.

Users cannot be excluded from a service or forced to consent to cookie usage.

Users must take explicit action to accept cookie policies, usually when they click the "accept" button.
This is the basic framework for all cookie consent tools, but how does a company select one for its website?
There are a few criteria to consider, so let's dive in.
One of the most important features of a cookie consent management platform is that it has a simple and intuitive user interface (UI) that makes it easy to keep everything organized. This organization is essential to business security, given that cookie consent tools aren't just a marketing tool or customer support product. They're critical legal documentation that protects a company from penalties.
With legal compliance at stake, companies should make sure that any tools and policies in use have been vetted by a legal team. If you fail to guarantee compliance, your company might have to pay penalty fees. Early in 2023, TikTok was fined 5 million euros by France's national data protection authority. That authority explained how the platform's consent mechanisms did not give users enough options to opt out of cookie settings and even discouraged users to refuse cookies.
Fines like these can hurt a business's bottom line, but worse than that, they can do irreparable damage to customer trust. Therefore, it's imperative that you find the right cookie consent tool for your business and make sure everything is set up correctly. The right tools make this process easy.
The Seven Best Cookie Consent Software & Tools
Cookie consent is important, and there are plenty of service providers out there that will help your company reach its compliance goals. Below, we provide a rundown of our favorite cookie consent tools and why they stand above the rest. If you want to fulfill your compliance requirements, these tools are a great place to start.
1. Enzuzo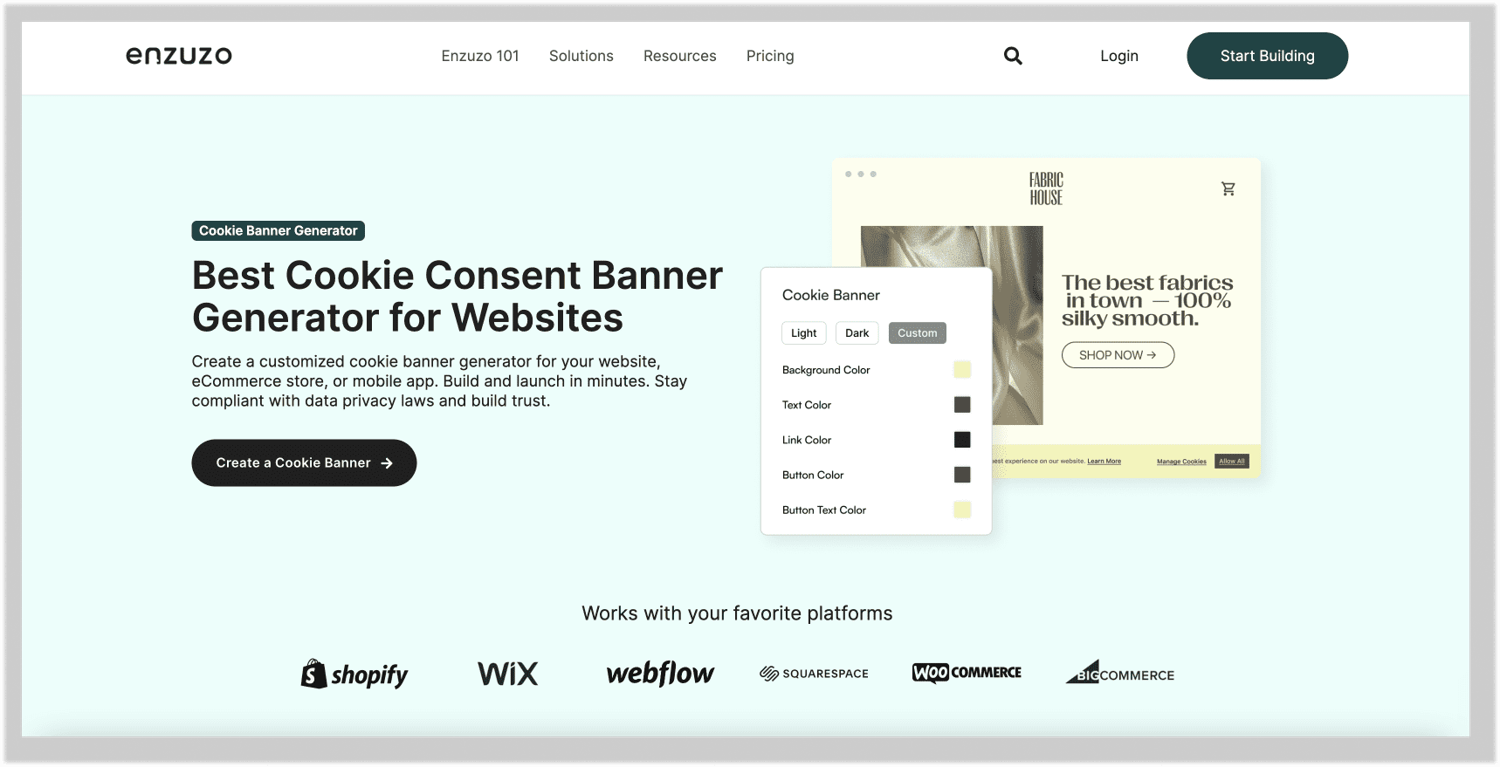 Enzuzo satisfies all our requirements listed above and represents one of the best market solutions for simple, cost-effective compliance for third party cookies, consent popups, and GDPR compliance.
Aside from helping users achieve full compliance across top regulatory frameworks, Enzuzo is available in a variety of languages and features first-rate customer support to make sure customers receive the best possible experience.
Enzuzo is designed for eCommerce, Shopify, mobile apps, social media apps, startups, and software-as-a-service (SaaS) platforms — just about any digital use case you can imagine. Its cookie consent banner generator offers an easy way to achieve compliance while it maintaining a consistent brand image. Banners are customizable to your existing brand guidelines and easy to deploy. This gives users a quick way to set up and deploy this essential compliance tool.
Pros of Enzuzo:
Global legal compliance with key regulations across GDPR, CCPA, and more

25+ languages and dialects

Affordable pricing

Prompt customer support

Automatic updates

Fast setup that can be done within minutes

Simple UI and cookie manager dashboard for easy banner adjustment
Cons of Enzuzo:
Customization options may take time to configure
Overall Thoughts
Enzuzo's cookie consent tool was built to offer complete peace of mind for both consumers and site owners. The compliance tools are easy to deploy and easy to manage, with the added benefit that they make a consumer's privacy options clear from the moment they arrive on-site. Just add a line of Javascript code and Enzuzo will generate a cookie banner that a website visitor can understand.
This isn't the only part of what Enzuzo offers, though. Enzuzo is a full-featured platform that gives users everything they need to manage and maintain privacy: cookie generation, the creation of custom legal policies, and the collection of and automation of data subject access requests (DSARs).
Enzuzo is suitable for businesses of all sizes because features can be personalized to fit different operational goals. Better yet, Enzuzo gives customers access to a team of experts who can help draft legal policies and make sure that all technical solutions are deployed correctly. It also has a free plan that allows you to obtain consent without breaking the bank.


2. Piwik Pro Consent Manager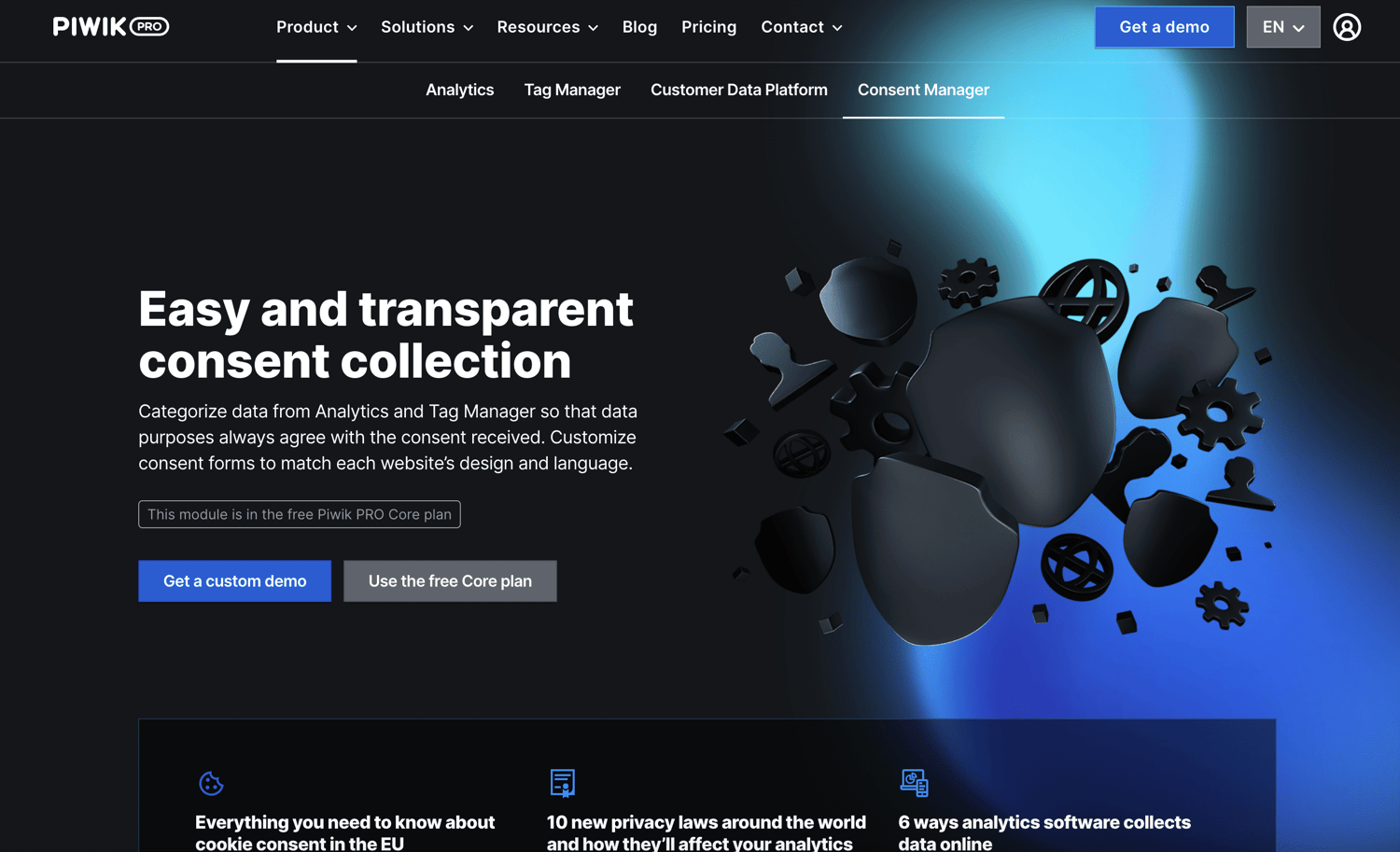 Piwik Pro Consent Manager is another tool for website owners. Piwik lets site owners manage user consent and guarantee compliance with all pertinent privacy regulations through a hassle-free implementation. Piwik PRO is a broader marketing and customer tracking solution that employs cookies and features a consent manager to obtain permission from site visitors for these cookies and trackers. The service also identifies cookies and trackers not created by itself.
Piwik PRO is a tool mainly for audience analysis. The consent manager covers only the cookies tracking utilized by the Piwik PRO system; however, the platform is extensive and includes features to manage personally identifiable information (PII) and data subject requests. There are even analytic functions to measure approval rates and analyze visitor activities on-site.
Pros of Piwik Pro Consent Manager:
Global legal compliance with top regulations

Powerful technical features suitable for advanced users

Advanced goal-setting and tracking features

User interaction tracking

Quality customer service

Strong UI and visualization tools
Cons of Piwik Pro Consent Manager:
Technical nature of the platform means long onboarding and training times

Expensive to deploy

Clunkier to use than other options
Overall Thoughts
Piwik Pro Consent Manager is a great system for compliance, visitor tracking, and cookie hosting. However, it does have a few drawbacks, including the fact that it only manages cookies from its own trackers. It's also expensive compared with other options and potentially more complex to use.
Note that Piwik is a technical platform that's more suitable for advanced users, meaning that small businesses may not consider the investment worth the cost. Given that the platform requires a notable amount of onboarding and training, companies will need to consider how to deploy this solution without substantial delay to any existing project timelines.
Despite these issues, this solution is great for users who want to understand broader audience sentiments and behaviors. This is because it offers a series of out-of-the-box integrations and customizations to let users push the value of the system. For those willing to invest some effort into configuration, Piwik is a powerful choice that generates more data-backed insights.
3. CookieBot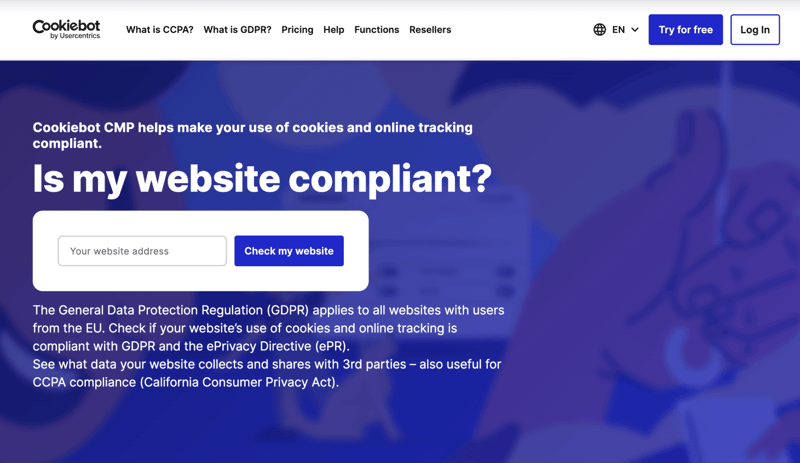 CookieBot is meant for those who seek a dedicated compliance management tool, as it concentrates on cookie consent functions. It offers an API-based system that can be integrated into websites by adding a line of code specific to your page. This is generated by the CookieBot dashboard after it scans a website, and this makes it easy for new users to get on board with the solution.
CookieBot's service includes cookie and PII discovery alongside customized consent forms based on the site's purpose and conditions. The CookieBot system offers policy notification banners and cookie consent forms, and it collects and stores responses to ensure full compliance with industry regulations. These features make CookieBot an effective compliance tool for a large number of business uses.
Pros of CookieBot:
Simple cookie features for compliance management

Automatic updates

Free plans available for single-site users

Affordable option for new users
Cons of CookieBot:
Complex pricing models as you scale

Manual, hands-on processes are required to manage functions

Limited in functionality compared to other options
Overall Thoughts
CookieBot is an effective solution, but it's more suitable for small businesses that have websites with a limited number of pages. CookieBot is a straightforward tool and lacks many of the bells and whistles that users will find in competing systems. Despite this, it's a great tool for those who have just begun to explore compliance. It offers a free demo and free subscription plan for up to 500 pages. Beyond that point, users will need to explore premium options with more complex pricing options.
While there is some complexity to be found in CookieBot's pricing models and management, it's notable for its free version plan, feature set, and customer support quality. Its affordable nature and no-nonsense approach to cookie management make it unique among many cookie consent tools. Overall, it's a great choice for companies that want an affordable way to take charge of compliance and privacy management.
4.OneTrust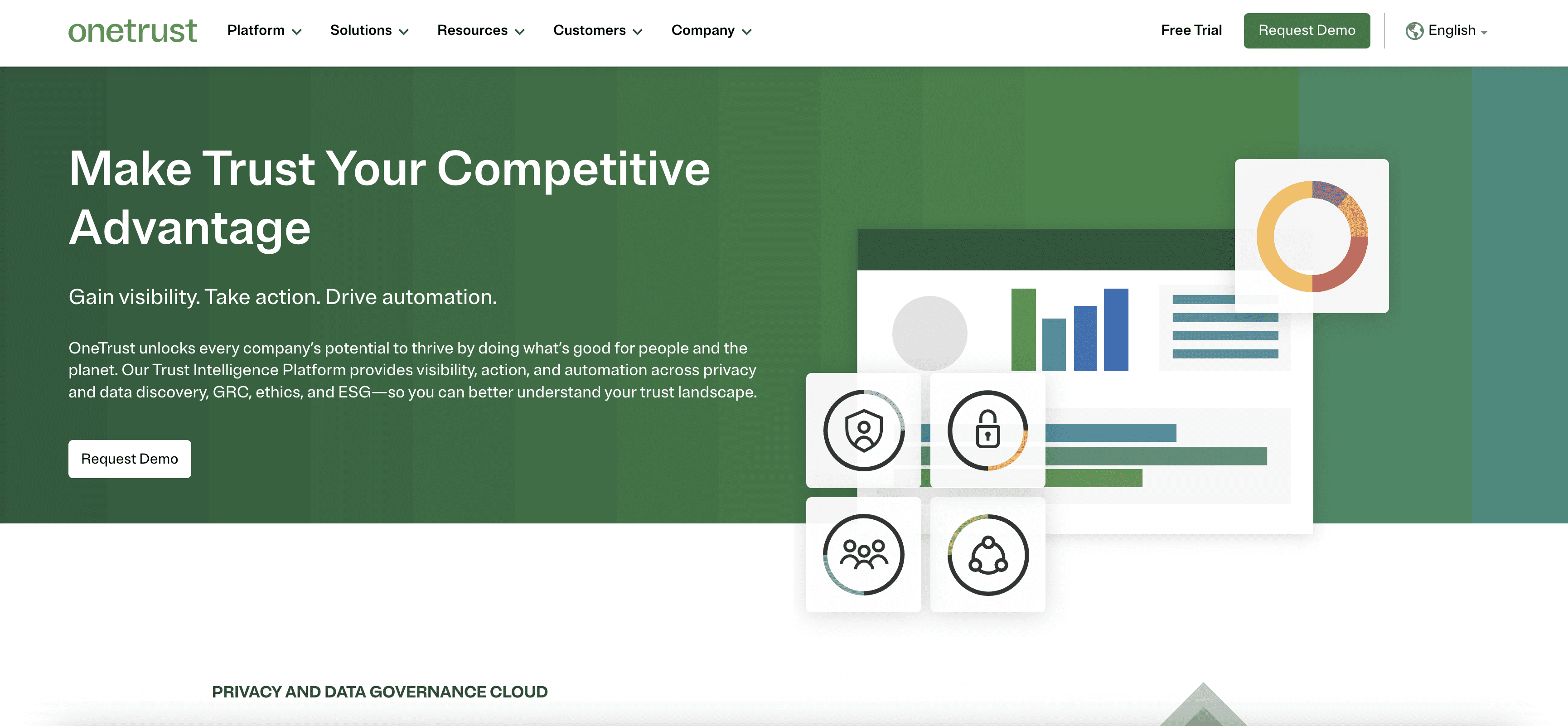 The OneTrust platform provides a comprehensive solution for consent management through its cloud-based platform. It offers various tools to detect, secure, and manage PII data stores, seek permission for data usage and cookies, manage cookies, and handle many other functions.
Like the other platforms in our list, OneTrust is a powerful solution that produces consent forms that adhere to data privacy regulations in various regions. The platform is supported by real legal experts who can provide advice, and its functions are updated as regulations change. The company bills itself as a single source of truth for intelligence visibility, action, and automation. When we compare the controls of OneTrust to more limited cookie management tools on this list, we see why OneTrust is so popular.
Pros of OneTrust:
Strong compliance control features across industries

Advanced customization options suitable for technical users

Services backed by legal expertise
Cons of OneTrust:
Appropriate more for enterprise users than smaller-sized companies

Expensive service plans

Long contracts required
Overall Thoughts
OneTrust's combination of legal-backed IT services can benefit all businesses with websites that collect visitor data. However, small businesses may find it too expensive. The platform is equipped to scan websites and identify trackers and data input forms, which is crucial for larger websites but may not be necessary for smaller sites where manual assessments can be done. Additionally, services in OneTrust are charged separately, which can further increase costs.
Although OneTrust is a powerful platform, it's one that comes with more firepower than many businesses need. Enterprise companies will find value in OneTrust's comprehensive nature, though more cash-strapped companies may do better with more affordable alternatives on this list.
5. Iubenda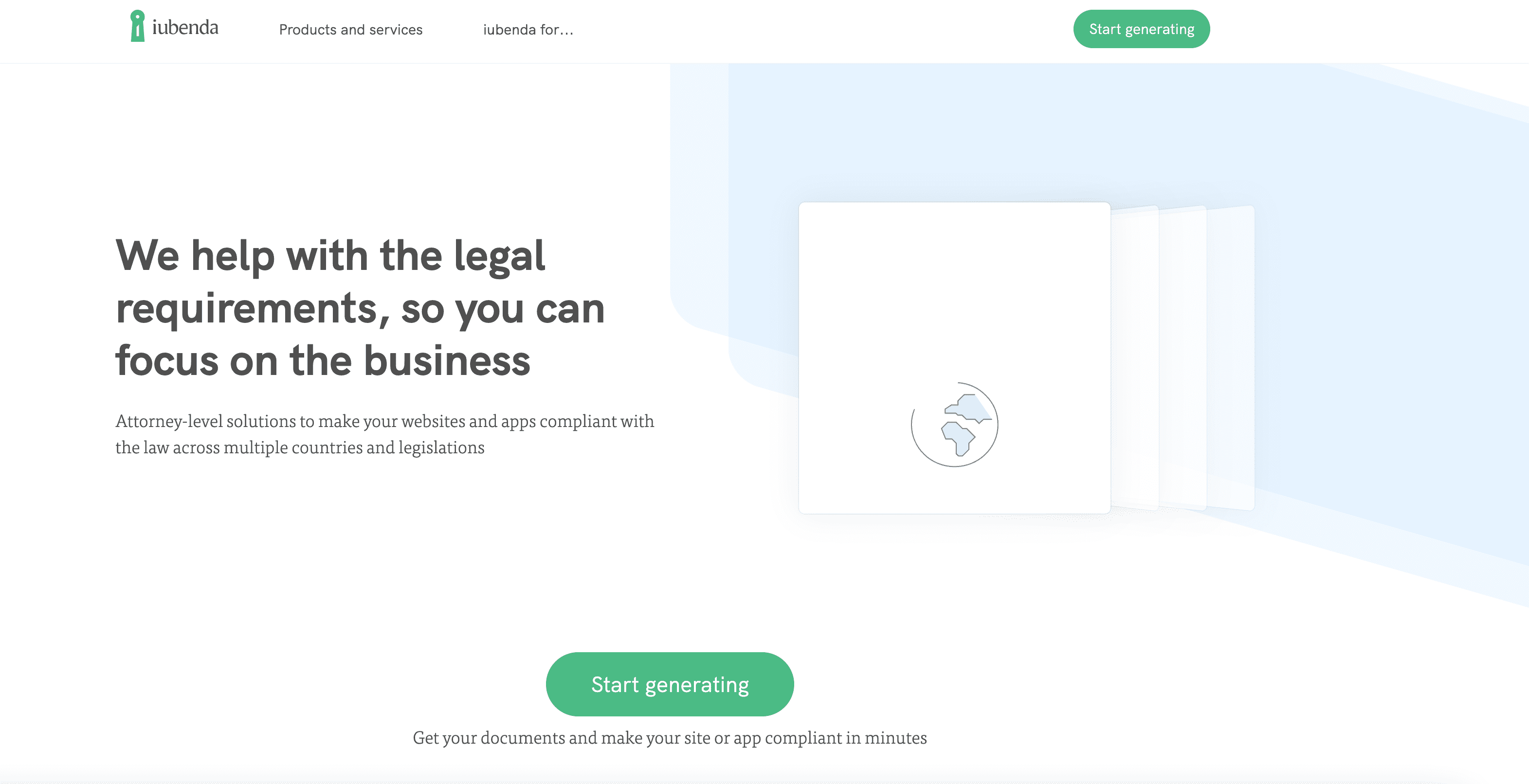 Iubenda is a cloud-based solution that provides privacy tools to businesses, particularly with regard to cookie consent. Iubenda's customizable cookie consent solution presents users with clear information about the types of cookies being used on a website or app and gives them the option to accept or reject them.
The platform provides a privacy-policy generator that allows websites and apps to create legally-compliant privacy policies with ease and automated generation tools to support streamlined management. These great features, combined with affordable pricing options, make Iubenda a great choice for businesses interested in a straightforward way to manage cookie policies.
Pros of Iubenda:
Affordable pricing

User-friendly dashboards

Helpful automation and detection tools

Multiple customization options
Cons of Iubenda:
No API key available

Poor analytic capabilities

Users report challenges with plugins

Configurations require some manual effort to set up and run
Overall Thoughts
Iubenda features a suite of automated tools and generators that support a hands-off compliance management process. The platform includes a cookie solution specifically designed for apps as well as the ability to customize the design to match the look and feel of each website or app.
Additionally, Iubenda supports multiple languages, and it integrates with popular platforms such as WordPress, Shopify, and Magento. However, some users have reported technical challenges with these integrations and have struggled to set up their cookie policies without some hands-on support.
While the platform boasts a helpful variety of tools that keep businesses on top of compliance requirements, users should be prepared to tackle some associated technical issues. Despite this, Iubenda offers a great combination of accessibility and affordability. This makes it a worthwhile option for small-to-medium sized businesses that want to push their compliance goals further.
6. Mine PrivacyOps
Mine PrivacyOps is a comprehensive compliance and privacy solution that prioritizes user experience. It's an automated platform that requires no coding and can be implemented quickly to give companies a stronger, more comprehensive data mapping and classification system. By integrating this data across the enterprise, Mine helps companies accelerate data rights management, risk assessments of data policies, and organizational compliance overall.
Data content management systems are a key benefit of Mine PrivacyOps. Many of its core functions support streamlined data processing and better visibility. It also features some helpful risk assessment tools to help companies assess the viability of different business processes, from legal frameworks to the vendors who make up your third-party partner ecosystem.
Pros of Mine:
Powerful data management and visibility tools

Quick onboarding

Support for multiple languages

Responsive customer support
Cons of Mine:
Limited functionality

No additional privacy tools

No mobile support
Overall Thoughts
Mine PrivacyOps is a strong choice for those who seek a scalable privacy solution with support for data request handling, consent management, and more. Users report a quick onboarding process and a responsive customer service team ready to help users deal with any inquiries that may arise.
However, Mine has limited functionality beyond its core offering and lacks some of the bells and whistles found in other entries in this list. Despite that, Mine earns a place on this list for the way it leverages powerful mapping and classification tools that make tedious data management processes simple. As companies continue to grow and develop bigger and bigger data lakes to draw from, tools like Mine will become more important to stay competitive.
7. Osano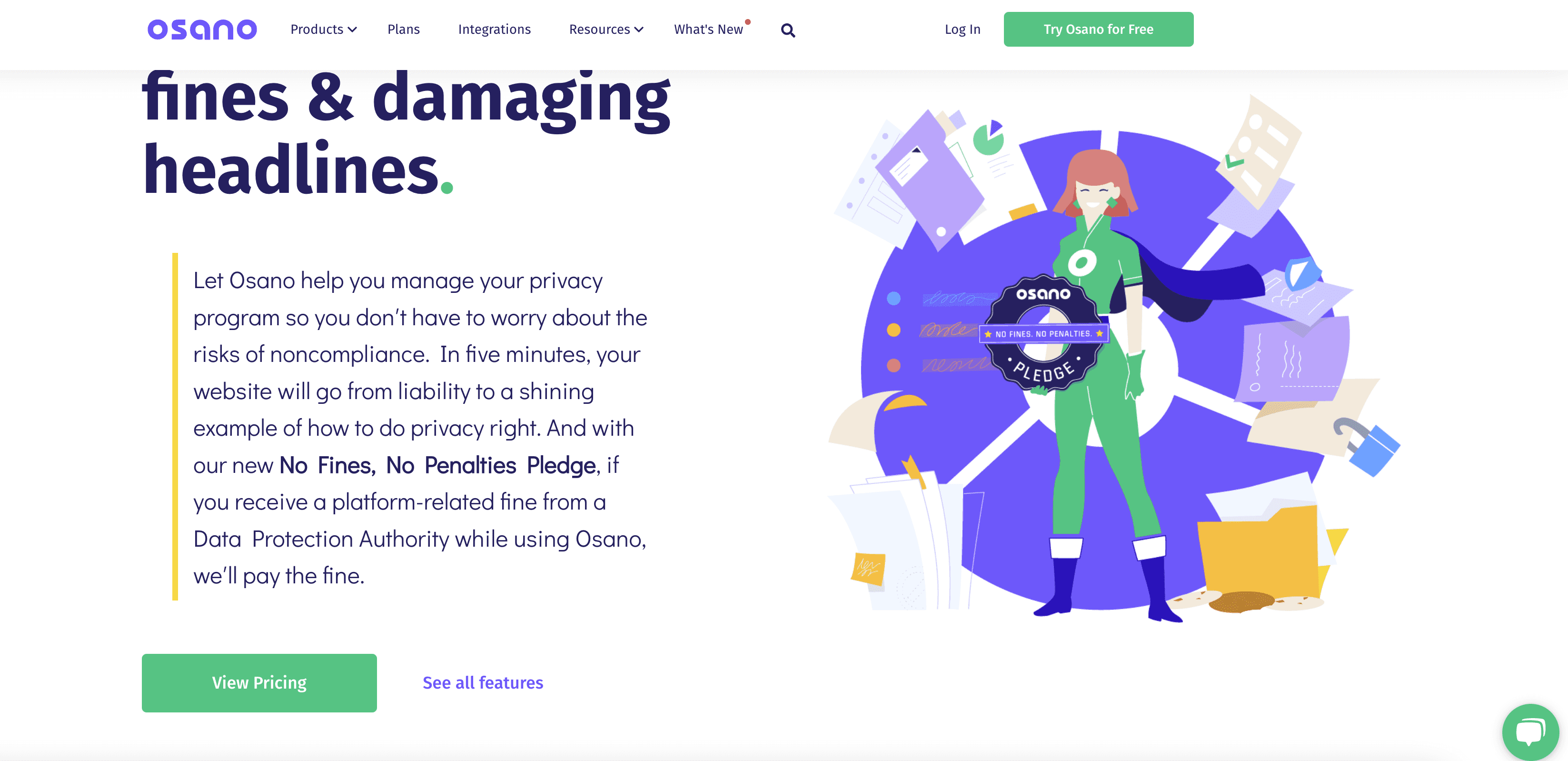 Osano is another compliance tool that helps companies manage data privacy with features like data mapping, risk assessments, data policy management, and incident management. Osano's platform is user friendly and can be integrated with a variety of data sources to make it easier for companies to manage their data privacy obligations.
Among these tools are options for data mapping, incident management, and analytics—all of which can be integrated with different enterprise systems to give users a 360-degree view of their compliance status across the organizations.
Pros of Osano:
Simple and intuitive cookie consent management platform

Quick onboarding for new users

Fast and responsive customer support
Cons of Osano:
Limited functionality beyond core offering

Naming conventions require some manual work

No additional privacy tools
Overall Thoughts
Osana is a great choice for small businesses that need a quick solution to get them up and running, though it's less suitable for enterprises with more substantial compliance needs. Don't let these limitations fool you, though. Osano is a worthy entry on this list for a majority of business use cases, particularly for cookie management.
Osano stands behind its compliance features with a "No Fines, No Penalties" pledge. This pledge promises that if users receive a fine from a data protection authority while using the platform, Osano will foot the bill.
Overall, Osano is another platform that offers a quick road to compliance. Even if the platform lacks privacy tools compared to other options in this list, its great range of cookie consent options makes it worth considering.
Select the Perfect Cookie Consent Tool
Aside from the clear need for legal compliance with evolving regulatory frameworks, cookie consent tools help users stay in control of their data. Because they provide users with the information and choice they need to make informed decisions about cookies and their use, businesses can build—and maintain—valuable consumer trust over time. Cookie consent tools are already an inseparable part of digital commerce, but as privacy laws continue to evolve on a global scale, informed consent will continue to be a relevant concern for businesses.
It's to every company's benefit to explore these solutions early and get familiar with them as essential business tools. At the end of the day, compliance and privacy regulations tend to flow in only one direction. They expand rather than shrink; therefore, companies will need to evolve and refine their compliance policies on a regular basis. Cookie consent tools, particularly ones with built-in automation and first-rate support, help companies establish a foundation for this growth.

Cookie Consent Tool FAQs
As a provider of cookie consent solutions for businesses, our team has heard it all. To help you find the perfect compliance tool for your business, we address below some of the most common inquiries we've received from companies like yours.
Can I customize which cookies my viewers consent to?
Not every cookie consent tool offers this functionality, but many do. As an example, Enzuzo lets users choose which cookies to accept and which to deny. This gives them more control over their browsing experience while it allows your company to build and maintain their trust. Solutions that don't offer this functionality require users to accept cookie policies as a group, which may put off some viewers.
Can I use a cookie consent tool without disrupting my site's performance?
Yes, a well-designed GDPR cookie consent tool should not affect your website's performance. If your new cookie solution is slowing down your website, there may be an issue with its configuration that needs to be corrected. Contact your vendor or work with a third party to audit your system.
How do I choose a cookie consent tool for my website?
When you shop for a cookie consent tool, consider the following factors as your top criteria: ease of implementation, customization options, user experience, and cost. Naturally, it's also important to choose a tool that complies with the privacy regulations that apply to your website.
Can I use cookies for essential functionality on my website even if a user doesn't give his/her consent?
Yes, you can use cookies for essential functionality on your website, such as remembering a user's login session or maintaining the security of your website. These types of cookies are typically referred to as "strictly necessary cookies" and do not require user consent. However, it's important to distinguish and classify which cookies fall under compliance regulations. Many companies benefit from outside support in this area from services that can establish and deploy comprehensive compliance policies that cover all the bases.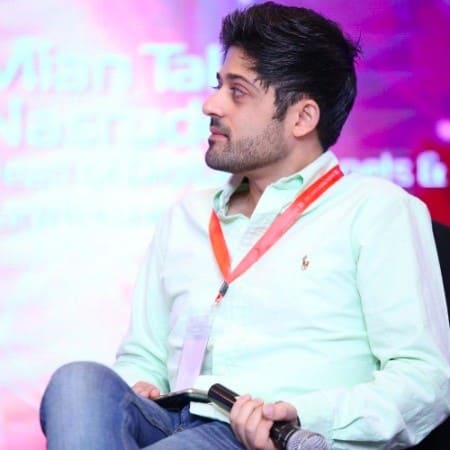 Osman Husain
Osman is the content lead at Enzuzo. He has a background in data privacy management via a two-year role at ExpressVPN and extensive freelance work with cybersecurity and blockchain companies. Osman also holds an MBA from the Toronto Metropolitan University.