Table of Contents
The Top 10 Compliance Software Platforms
The importance and cost of regulatory compliance continues to grow in 2023. A Thomson Reuters survey noted that a top challenge is to maintain a competitive compliance program and balance the cost pressures at the same time. One-third of respondents expected their compliance teams to grow in the coming years along with associated cost increases for compliance staff.
Compliance software is a crucial component of the quest to stay abreast of regulatory requirements. In this article, we review the best compliance software that keeps your business in conformity with laws like GDPR, CCPA, and more. The software mentioned on this list can assist with a range of compliance requirements, including data mapping, vendor risk assessment, privacy impact assessments, and data governance.
A good compliance software solution simplifies processes, automates tasks, and centralizes data to make compliance easier to manage. With real-time updates and customizable features, these platforms help businesses stay agile as regulations change. This reduces risks and ensures long-term success in a complex regulatory landscape.
1. Enzuzo (Our Top Pick for Compliance)
Enzuzo offers a global automated legal compliance solution to help businesses of all sizes comply with the industry's most critical regulations:
And more. Its most recent core update is a world-class cookie consent management tool that can be toggled to appear for website visitors from specific regions and countries. This is vital to maintain compliance with the above mandates. Let's do a quick rundown of Enzuzo's top features to illustrate why this tool is so ideal for big-picture compliance management.
Ironclad Compliance Features for Enterprise Clients
Enzuzo's enterprise plan includes all the features needed for robust compliance with data privacy laws and regulations. For example:
Do Not Sell My Information workflows to comply with GDPR & CCPA
Data governance and data mapping workflows to meet GDPR requirements
Incident response and management
International data transfer assessments and compliance with GDPR article 30
Record of processing activities
What's more, Enzuzo's enterprise offering is priced at a discount to the competition without any compromise on the feature set.
Region-Specific Cookie Consent Management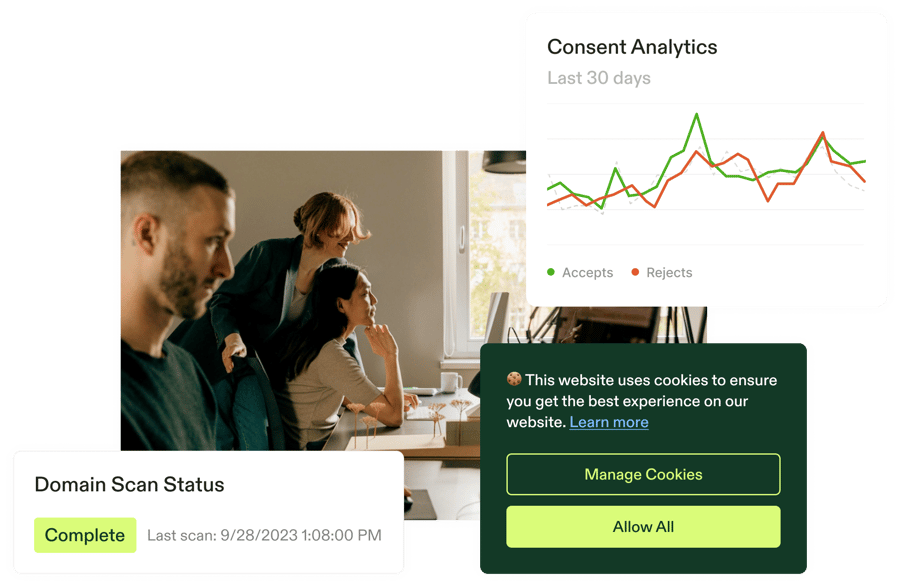 Permissionless advertising and data collection is a thing of the past. Emerging privacy laws like Quebec Law 25 and older compliance regulations like GDPR & CCPA mandate that businesses must clearly allow customers to opt out of data tracking via cookie consent.
Businesses must also distinguish between necessary cookies and those used for advertising purposes. Enzuzo's cookie consent manager helps you configure your cookie notice to match your brand and set it up to show for IP addresses from specific countries.
Why is that important? Because different laws have differing requirements around cookie consent. Yes, it's messy and complicated but that's the world of compliance for you.
Additionally, Enzuzo offers unlimited web traffic without any hidden limits or charges. Some compliance software will charge you higher amounts based on your web traffic, which can increase costs quickly.
No-Code Platform Set up in Minutes
Designed for speed and simplicity, Enzuzo is effortless to set up and quick to install. Embedding standard compliance workflows and legal pages onto your website is a breeze with just a few lines of Javascript. No need for intricate integrations or coding knowledge.
Here's a review from a satisfied Enzuzo customer highlighting how quick it was to install:
Friendly and Supportive Customer Support
Issues can arise in software environments, particularly in sensitive industries like data privacy, and when they do, they can frustrate the best of us. The best compliance software is supported by robust customer support teams that troubleshoot issues promptly and work with internal stakeholders to resolve complaints.
Here's another review from an Enzuzo customer talking about how well customer support dealt with his queries.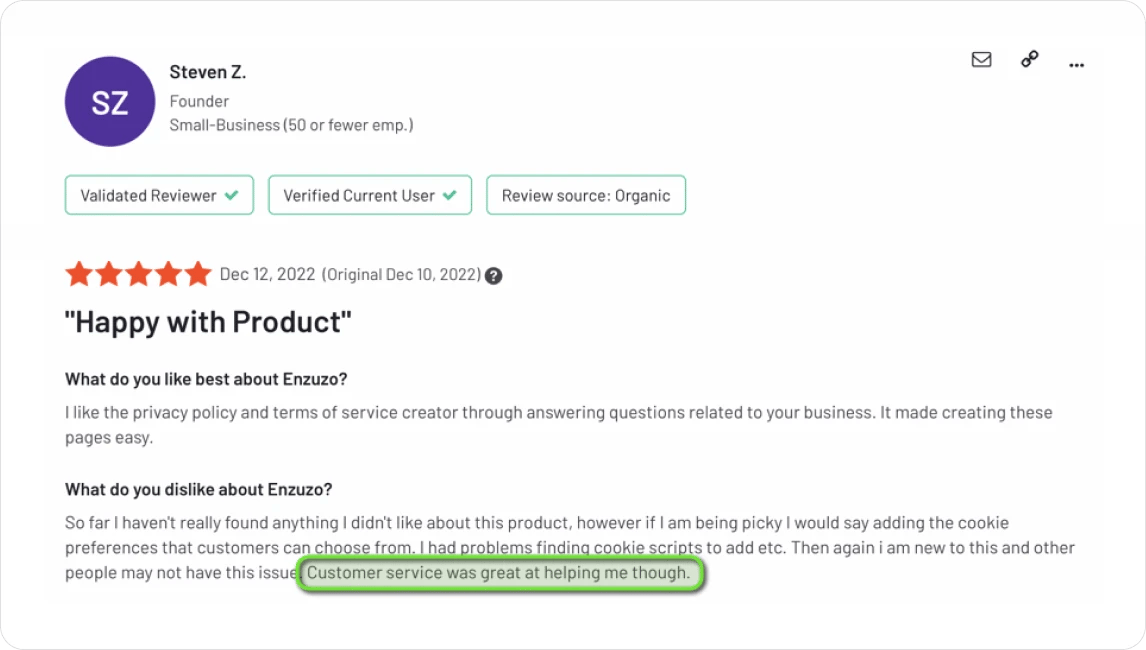 Complimentary Onboarding and Training
Enzuzo's in-house team of privacy engineers and compliance specialists is able to assist with any migration or implementation issues. Enzuzo offers a premium white glove onboarding service to help sort out any compliance issues
Affordable Pricing
Data privacy compliance software doesn't need to come with an exorbitant price tag. Many recommendations in the following review will require users to sign on to long-term contracts with average values reaching tens of thousands of dollars.
Enzuzo is different. It offers flexible month-to-month arrangements for cookie consent and compliance services, which allows customers to cancel at any time. Furthermore, the pricing plans are both competitive and affordable.
As an illustration, Enzuzo's 'Right to be Forgotten' privacy workflow is integrated into the growth plan at just $29 per month. Alternative service providers may offer the same service as a separate add-on priced at $275 per month.
Pros and Cons
Enzuzo Pros:
Comprehensive solutions for cookie management, consent collection, and policy generation
Tiered pricing options with free service available
Quick onboarding backed by reliable customer support
Enzuzo Cons:
Basic plans will not be comprehensive enough for larger organizations
Suitability
Enzuzo is accessible to businesses of all sizes. For example, mid-sized businesses benefit from features like auto-updating privacy policies, terms of service agreements, data subject access request (DSAR) forms, software subscription agreements, and more. These features aid compliance and protect against legal challenges and chargebacks.
For larger corporations that seek advanced capabilities, Enzuzo's enterprise plan includes data governance, data mapping services, privacy impact assessments, RoPA procedures, and third-party threat assessments. While these features aren't self-serve, Enzuzo offers white glove onboarding assistance that ensures a smooth migration and setup process.
Overall Thoughts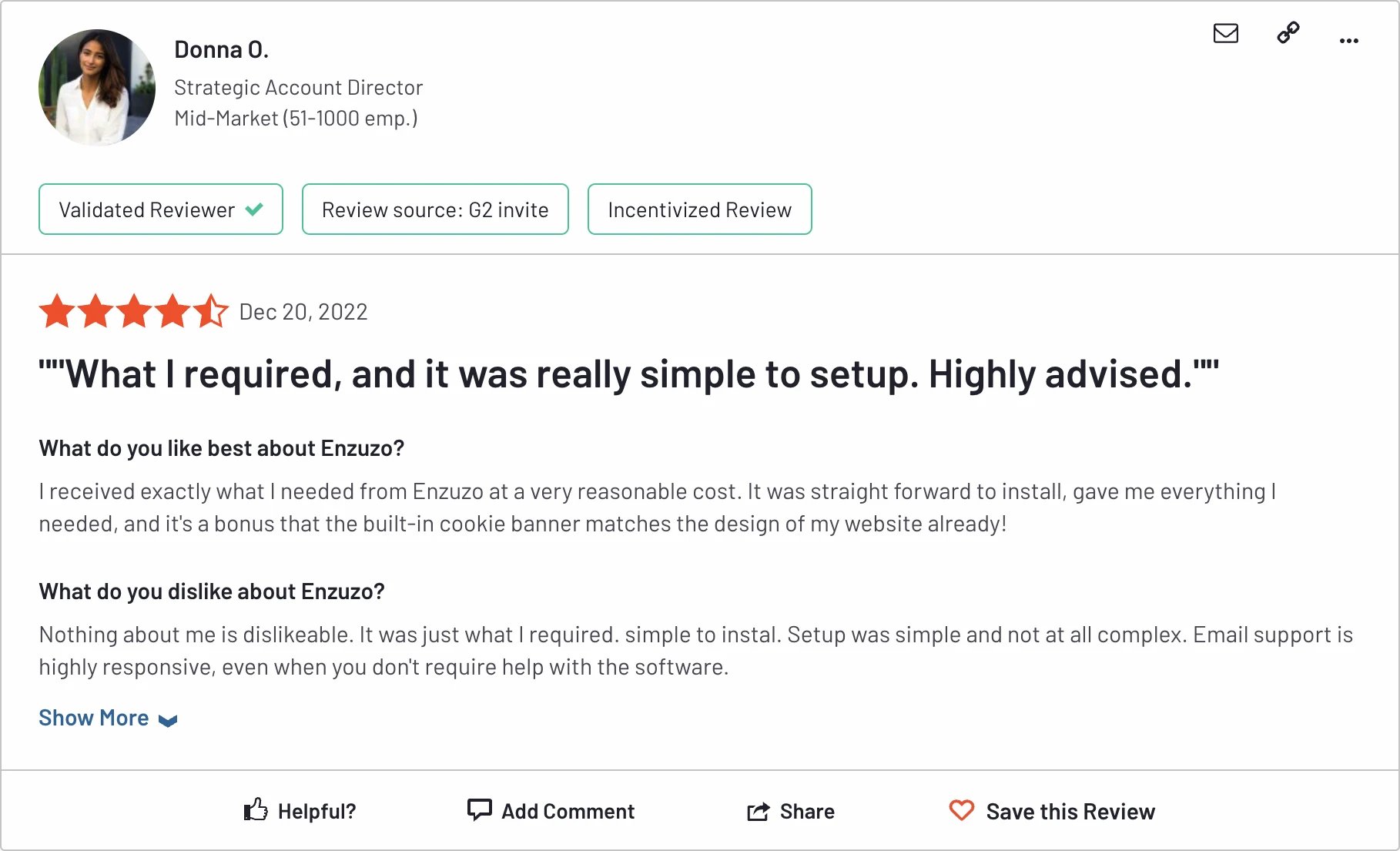 Enzuzo is one of the most straightforward and user-friendly platforms for compliance management on the market. With multiple plans and a development team committed to its clients from pre-purchase research to customer support, Enzuzo has something for everyone—which makes it our top candidate for compliance software.
Learn more about how Enzuzo can assist with your compliance needs. Book 1-1 time with our CEO👇

2. Data Sentinel
Data Sentinel is a technically sophisticated data management solution that offers a robust feature set for users who possess a deep understanding of data management and analysis. The company's services are based on automation and machine learning to help companies streamline key trust workflows:
Minimize sensitive data risks
Comply with data privacy regulations
Manage data governance and quality
Remediate data challenges
Data Sentinel's mission is to promote authentic, transparent, and mutually-beneficial data sharing relationships as the industry standard. To do so, they leverage a variety of powerful features that technical users may find appealing.
Top Features
Data Sentinel offers a variety of solutions for data management, the most powerful of which is its automated data mapping tool. This solution provides a complete data inventory that paints a complete picture of a company's assets, perfect for audits, risk management, and overall compliance.
This solution is backed by dedicated tools for automated data remediation and data policy management; it is a comprehensive service suite that helps companies gain full visibility into their data.
Pros and Cons
Data Sentinel Pros:
Advanced and technical feature set for power users
Forward-thinking features for automation
Variety of plug-and-play and custom development implementation options
Data Sentinel Cons:
Expensive plans
Poor suitability for mid-market companies
Complicated UX that may frustrate less tech-savvy users
Suitability
With its intricate capabilities, DataSentinel lets users dive into complex data scenarios, which makes it an ideal choice for those with a strong technical background. However, note that this platform comes at a premium price, which may be an untenable drawback for budget-conscious organizations and small businesses without cash to spare.
Additionally, DataSentinel's complex nature and advanced functionalities may not be well suited for mid-market businesses that want more cost-effective, user-friendly data management solutions.
Overall Thoughts
Data Sentinel comes with steep costs and an even steeper learning curve. So it's tricky to recommend it to any business without the labor and capital to invest in training. Generally, enterprise users will be in the best position to make use of Data Sentinel's tools and able to use the platform to its fullest potential.
3. OneTrust
OneTrust stands out as an industry leader. It offers a comprehensive range of features that enhance an organization's compliance, transparency, and resilience. Unlike many data privacy software options, OneTrust consistently demonstrates its value to users through extensive customization options and seamless integration capabilities:
Privacy and data governance
Governance, risk, and compliance assurance
Environmental, social, and governance management
Ethics and compliance
Founded in 2016, OneTrust emerged in response to the evolving data privacy landscape. The catalyst for its inception was the transformative impact of regulations such as GDPR, which became enforceable in 2018. OneTrust's founders witnessed the profound changes in privacy regulations and envisioned a solution to simplify compliance for businesses.
While OneTrust undoubtedly offers a plethora of compliance features, it ships with a hefty price tag, long contracts, and frustrating implementation problems. Many reviewers have pointed to how customer support is unresponsive, and that the platform isn't worth the money you pay. Nonetheless, if you have lots of money to spend, OneTrust is a good option for your regulatory compliance needs.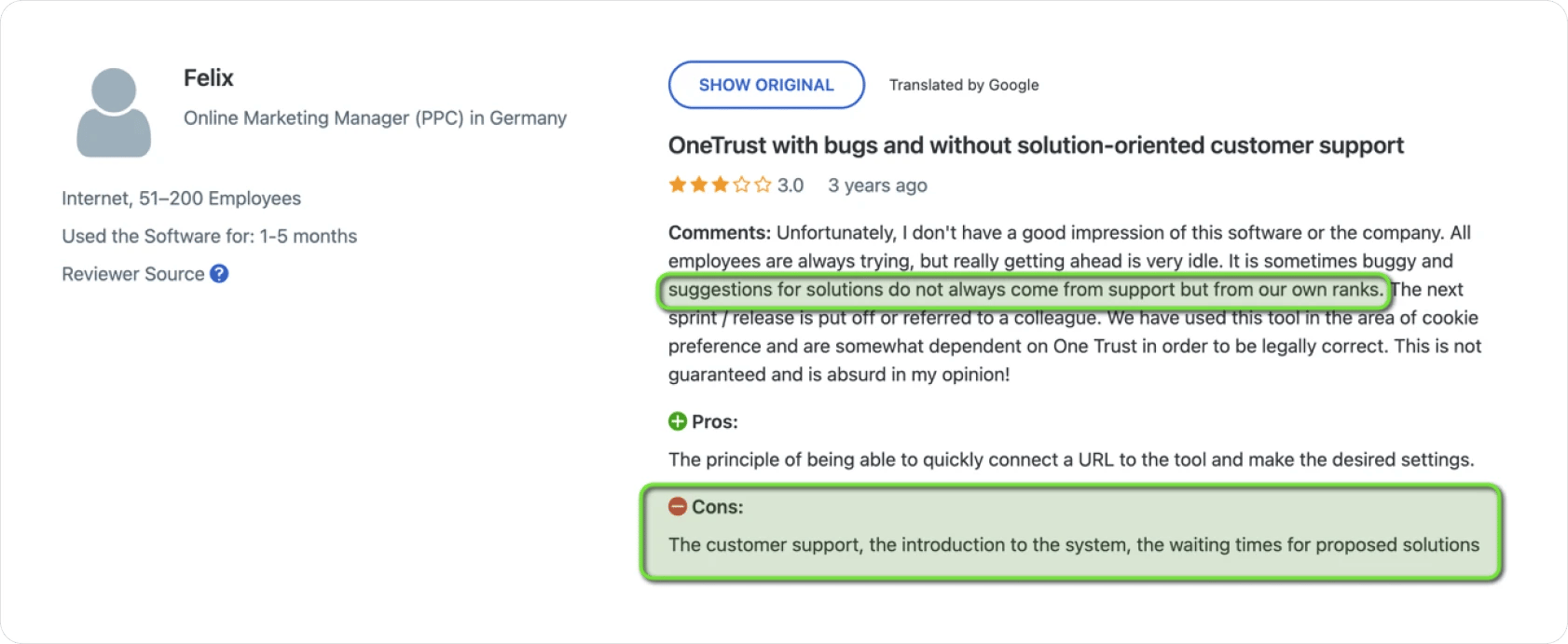 Top Features
OneTrust was conceived as a comprehensive platform that offered a suite of essential tools, including data mapping, data request management, consent management, website compliance, privacy impact assessments, and more.
This extensive toolkit was designed to empower organizations in their compliance endeavors. Over time, OneTrust's commitment to excellence and its robust suite of privacy management tools propelled the company to a prominent position as a market leader in the field of privacy management.
Pros and Cons
OneTrust Pros:
Comprehensive feature set for a variety of uses
Excellent for enterprise and corporate buyers
Strong integration potential with other business intelligence platforms
OneTrust Cons:
Long-term contracts with expensive plans starting at $5,000 USD
Unresponsive customer support
Complex platform that is difficult to set up and integrate
Suitability
OneTrust is a versatile privacy management platform suitable for larger enterprises and industries with strict regulations, thanks to its comprehensive features and global support. However, its high cost and complexity may make it less suitable for smaller organizations.
Note that OneTrust requires lengthy contract commitments from its customers, which may further reduce its viability as an all-purpose platform. Companies will need to consider their growth goals before they purchase SaaS solutions with these types of extensive commitments.
Overall Thoughts
OneTrust presents an excellent choice for businesses that want to fully engage in the onboarding process. Note that the typical contract values associated with OneTrust can exceed $50,000, and the long-term implementation expenses can run into the hundreds of thousands. Therefore, every enterprise should conduct a thorough evaluation of its compliance requirements when it contemplates a long-term partnership.
4. Didomi
Didomi is a compliance management platform with a business philosophy that transforms consumer privacy into an enhanced customer experience. The company recognizes the paramount importance of the UX and how to showcase absolute transparency in data collection practices. This approach elevates trust and also elevates consent rates, which ultimately convert privacy compliance into a business opportunity.
Based in France and founded in 2017, Didomi is well acquainted with GDPR and international privacy regulations. Didomi tries to turn compliance management into a point of competitive advantage for users through user-centric policies and bespoke consent solutions.
Top Features
Didomi offers a specialized solution suite to help organizations tackle data privacy compliance challenges without the need for extensive legal and compliance expertise. This makes it particularly attractive to businesses that want to streamline their compliance efforts.
Didomi offers solutions for consent management, compliance monitoring, and privacy request management. These tools allow a breadth of functionality, from simple management of DSARs to visible reports on key performance indicators.
Pros and Cons
Didomi Pros:
Responsive customer support
Strong integration potential with other business systems
Suitable for advanced users
Didomi Cons:
High costs
The platform may degrade website performance by impacting SEO scores
Long contracts required
Suitability
Didomi has emerged as a noteworthy entry in the data compliance field because it offers a compelling, albeit somewhat constrained, product portfolio. Online reviews highlight the high regard customers hold for Didomi's exceptional customer and technical support, which may make it a better option for businesses with less in-house technical expertise.
However, a significant concern voiced in online reviews is the potential adverse impact of Didomi on website performance. Depending on the size and intricacy of your website and the volume of traffic it experiences, this issue can pose challenges that impact the overall user experience for buyers. It's also rather expensive with long contractual commitments, which further reduces its viability as an all-in-one platform for all but enterprise customers.
Overall Thoughts
Didomi offers a strong platform for advanced users capable of leveraging its customization and third-party integration potential. However, its high costs and contractual commitments, alongside its technical nuances, limit its use for small-to-mid-sized companies.
5. BigID
BigID stands at the forefront of the data security, privacy, compliance, and governance arena. It empowers organizations to discover, manage, safeguard, and extract enhanced value from their data. This all-encompassing platform delivers comprehensive data visibility and control and serves as a singular solution for these critical aspects.
Founded in 2016, BigID doesn't have the legacy presence of a company like TrustArc, but it has gained recognition for its innovative solutions. The company reports that BigID has been recognized by CNBC as one of the top 25 startups. It has been named to the Inc 5000 and Deloitte 500 for two years in a row, and it's the leading modern data security vendor in the market today.
Top Features
BigID's flagship offering is its data intelligence platform that provides "infinite possibility" through one single system. Some of these top features include integrated solutions for governance, security, a compliance cloud, and tools for data lifecycle management. The company serves a variety of industries across federal, finance, healthcare, and retail and offers data security solutions across a wide range of uses.
BigID also offers bundled service packages to further uplevel a customer's abilities, including Zero Trust, Data Rights Automation, and Insider Risk Management.
Pros and Cons
BigID Pros:
Robust data discovery tools for visibility and categorization
Affordable for its size
Free trial available
BigID Cons:
Some features may be complex and cumbersome to use
No API key
Pricing is not transparent
Suitability
One look at BigID's website is enough to showcase the company's expansive feature set and abilities. Both in terms of its standard services as well as its bundled solutions, BigID offers a comprehensive toolkit that enterprise users love. Better yet, the platform is user-friendly for its size, though challenges persist. Users report that BigID's features are more suited to big-picture analyses rather than in-depth file reviews, which produces cumbersome workflows for a platform this size.
In terms of costs, pricing for BigID is complex and dependent on each company's ecosystem, which makes it difficult to perform true cost comparisons with its competitors. However, users suggest that BigID is affordable for its enterprise feature set, so mid-sized companies may find value in a free platform trial.
Overall Thoughts
BigID boasts a powerful suite of tools backed by a user-friendly interface and affordable price point. However, note that the platform does not come with an API key, which means that its integration potential may be limited compared with competitors'. Nevertheless, users in most industries will find something to love with BigID, provided they can look past the cumbersome architecture and broad scope of services.
6. MineOS
MineOS is a data governance platform that has garnered a strong reputation among privacy professionals worldwide. Driven by AI, it offers a streamlined, user-friendly approach to data management, and this makes it an innovative entry in our list of compliance platforms.
The founders behind MineOS believe that privacy has become an integral part of any company's user experience. MineOS aims to bridge the gap between consumers and companies with a new privacy experience that will fit and empower both sides.
Top Features
One of MineOS's standout features is its data mapping functionality. This tool helps users identify concealed data silos, classify personal data, and generate compliance reports. This comprehensive approach to data governance ensures that organizations remain in compliance with relevant regulations, all within a single platform.
Also, merging MineOS into existing workflows is easy through its no-code API integrations. This feature simplifies the process of connecting MineOS with your existing SaaS platforms, and it boosts operational efficiency and flexibility in all data governance processes.
Pros and Cons
MineOS Pros:
Comprehensive features for data mapping and consent management
Strong integration potential with a no-code API
Free option available
MineOS Cons:
Steep learning curve requires extensive onboarding and training
Users report challenges with some functions
Poor customization potential
Suitability
MineOS bills itself as an innovative compliance solution on the cutting edge of AI, an approach that's reflected in its usability. Although MineOS has a strong feature set, users report a steep learning curve upon purchase and challenges when they try to implement certain aspects of the platform's functionality.
MineOS offers several low-cost plans for new businesses, including a free plan and an upgraded basic plan that starts at $49/month. Although the features in these plans are limited, they give smaller companies a chance to test out several of MineOS' specific functions before they commit to a longer solution. In this way, MineOS offers a nice blend of innovation and accessibility that may be of interest to young companies.
Overall Thoughts
While AI-based automation is appealing for compliance workflows, users will need to invest time and resources into the onboarding process. The Professional Plans contain a wide range of data discovery and classification tools that businesses can integrate. And backed by a no-code API, users will find that MineOS is a powerful and extensible solution, even if it's not the easiest to manage.
7. Ketch
Ketch's capabilities encompass a broad spectrum of data governance needs. Like other providers, Ketch understands that bringing visibility to every customer's data footprint is a fundamental step in data governance. To facilitate this goal, they provide comprehensive insights into data usage and storage practices, and they offer solutions for consent management, risk assessments, DSRs, communication preferences, and more.
Founded in 2020, Ketch is one of the youngest entries in our list but represents another viable entry for businesses seeking more automated, programmatic ways to address their compliance goals.
Top Features
Ketch simplifies compliance with dedicated solutions for data mapping and discovery, consent management, risk analyses, DSR requests, and AI-based governance. To help companies stay up to date with evolving data privacy and AI laws, the company offers several plans, including Ketch Free for day-one privacy compliance and the more advanced Ketch Programmatic Privacy for adaptable, cost-effective compliance solutions.
With cross-device identity management for a consistent consumer experience and custom APIs for seamless integration with third-party systems, Ketch promises that privacy choices are upheld throughout an organization's data ecosystem, including AI models. This comprehensive approach helps businesses build trust with their customers while the business navigates the complexities of modern data regulations.
Pros and Cons
Ketch Pros:
Many advanced features and tools
Custom APIs available
Free option available
Ketch Cons:
Expensive plans
Long contracts required
Less mature product roadmap
Suitability
Ketch is suitable for larger organizations at the enterprise level. Although Ketch does offer a free version that small businesses can use, these basic functions will take them only so far. The true force behind Ketch's value proposition is its programmatic privacy solutions that leverage AI and automation.
These features are available only in Ketch's Enterprise plan—a high-cost option with contractual obligations. This investment may be out of reach for smaller businesses, though Ketch Free can offer a good starting point for cookie management and subject rights intake.
Overall Thoughts
For being such a new entry in the compliance game, Ketch has some impressive features to back it up, and enterprise users will surely find value in its AI-based approach to data privacy, which allows for agile adaptation to fast-changing privacy and AI regulations. These features help larger businesses manage compliance at scale and reduce operational and privacy engineering costs.
8. Osano
Osano offers businesses a comprehensive set of tools and solutions to achieve compliance with data protection regulations, manage user consent, and address other key aspects of data privacy. Like similar platforms, Osana makes automation a core selling point in its offerings and gives users a better, more streamlined experience.
From its origin in 2017, Osano is rooted in real-world privacy challenges. Since then, Osano has become a valuable resource for organizations to navigate the complexities of data privacy with ease.
Top Features
Among Osano's distinctive features is its "No Fines, No Penalties Pledge" for enterprise plans, which cover fines up to $200,000 incurred by a company while it uses its legal workflows. This unique pledge underscores Osano's dedication to facilitate compliance with data privacy laws.
Additionally, Osano provides a Vendor Risk Management feature akin to OneTrust. This enables companies to assess third-party vendors, especially those that handle customer data, and mitigate risks associated with potential non-compliance or inadequate privacy practices. Moreover, Osano excels in DSAR management, a critical aspect of compliance with GDPR and CCPA. This ensures that businesses are well prepared to handle such requests.
Pros and Cons
Osano Pros:
Strong value-added services to analyze third-party vendors
Includes adequate features for compliance
Customizable cookie consent banners
Osano Cons:
Pricey for what is included
Set limits on website traffic
Cut and paste legal templates
Suitability
Osano provides a dependable solution that achieves data privacy compliance, supported by robust engineering and accessible customer support. Nevertheless, there are a few areas where Osano falls short.
Its free plan imposes a cap on monthly site traffic at 5,000 visitors. Furthermore, some essential features necessary for GDPR and CCPA compliance are accessible only through the Premier Plan, which starts at $549 per month. For instance, integration of DSARs is available in only the highest-priced plan, which can pose a cost barrier for certain users.
Plus, Osano does not offer a privacy policy generator. Instead, it provides privacy policy templates that can be manually added to a website. This lack of automated policy generation is particularly noticeable in the Plus Plan, which is priced at $200 per month and may not meet the expectations for features at that price point.
Overall Thoughts
Osano is a powerful solution, but like all entries in this list, its drawbacks must be weighed against its benefits. Osano's feature set comes with high costs and some frustrating service limitations that might give buyers pause. On the other hand, its feature set is strong and viable enough to put Osano among the top names in compliance management.
9. TrustArc
TrustArc specializes in solutions and services related to data privacy compliance and trust-building in the digital space. Like other entries in this list, TrustArc offers a variety of solutions for compliance, data visibility, and organizational security.
Originally known as TRUSTe when it was founded in 1997, the company changed its name to TrustArc in 2017. Unlike competing platforms, this well-established company concentrates on data privacy compliance. Nevertheless, ecommerce operators might recognize TrustArc for its privacy certification, which is often showcased on online storefronts to establish trust with consumers.
Top Features
TrustArc excels at customer consent tools that assist businesses to navigate the evolving landscape of global privacy regulations. To make sure that companies remain up to speed, TrustArc offers three service plans for privacy management: Cookie Consent Basic, Cookie Consent Professional, and Cookie Consent Advanced.
On top of that, TrustArc offers solutions for continuous privacy management that include strategic guidance, regulatory compliance, and simplification of the intricate aspects of day-to-day privacy management. Add in an array of other managed support services, and TrustArc can be a viable all-in-one management solution.
Pros and Cons
Pros of TrustArc:
Comprehensive platform for compliance, cookie management, and privacy
Good reporting tools and transparency into operations
Strong library of supplementary compliance and privacy resources
Cons of TrustArc:
Expensive plans
Subpar customer support for problems
Users report a UX that frustrates and challenges them
Suitability
TrustArc's preset plans are a convenient feature that simplifies the decision-making process for business owners and allows them to determine whether TrustArc is a suitable option. Moreover, the ability to readily compare plans and the flexibility to adjust or cancel on a month-to-month basis offers a more convenient experience for buyers.
But note that TrustArc's Basic plan is quite limited and can fall short of providing adequate coverage for companies with extensive privacy regulations. Furthermore, the less-than-ideal UX and subpar customer support may discourage certain business owners.
Overall Thoughts
TrustArc is a dependable option for businesses that want a straightforward compliance solution without excessive add-ons. It's especially well suited for companies that can handle operations internally and be less reliant on external customer support. Buyers may find the basic plans too limited, while the more expensive options may be untenable for smaller budgets—so companies will need to do careful comparisons to ensure a right fit.
10. Usercentrics
Usercentrics plays in the field of consent management to give businesses easy tools to collect, manage, and document user consent on websites and apps. The platform facilitates compliance with global privacy regulations while it boosts consent rates and cultivates trust with customers. Usercentrics establishes a harmonious balance between data privacy and data-driven business strategies, and it delivers solutions tailored to enterprises of all sizes.
Like many compliance providers, Usercentrics was founded in 2017 as a way for companies to manage the rise of new privacy mandates, such as GDPR. It stands as a known entity in the compliance field, particularly for companies interested in better cookie consent management.
Top Features
Usercentrics specializes in consent management and offers a variety of tools to facilitate this goal. As an enterprise-level privacy platform, Usercentrics has dedicated tools that obtain, manage, and document user consent, and it leverages tools for consent storage and consent APIs.
The company offers privacy compliance audits for businesses unsure of their posture as well as dynamic policy generators for privacy documents.
Pros and Cons
Usercentrics Pros:
Strong automated feature that streamlines processes
Helpful customer support
Extensive resource library and documentation
Usercentrics Cons:
Complex setup and onboarding processes
Confusing UI
Substantial work required to operationalize system
Suitability
Usercentrics' features are suitable for businesses of all sizes. It offers tiered plans across Starter, Advanced, and Premium. The basic plans begin at just $50/month, which appeals to smaller companies. However, buyers should be sure that they're prepared for the process before they commit. Users report substantial difficulty getting the most out of Usercentrics, with high levels of frustration across onboarding and usage.
Overall Thoughts
Usercentrics is a quality platform with many great features for consent management. It is focused solely on consent, which allows the company to provide a more comprehensive consent management solution than jack-of-all-trades platforms. Its tiered pricing system offers some flexibility for businesses, although any buyer should be prepared to invest significant time to learn the ins and outs.
Factors to Consider When Choosing Compliance Software
Each of the above platforms represents a viable solution for compliance management, though not every solution presented here will be viable for every business. In this article, we've explored key features and considerations that should be part of your compliance solution toolkit.
From intuitive UI and strong customer support to cookie consent managers and customizable options, we now delve into the essential elements that will make sure your business operates within the bounds of privacy laws and provides a seamless user experience.
1. Forward-Thinking Tools
Most critical, any solution should include the foundation tools to help your organization adhere to data privacy regulations. These may include tools to obtain consent, cookie banner management, generators for privacy policies and templates, auditing tools, and more.
2. DSAR Requests (Right to be forgotten)
Under GDPR, users have the right to request the deletion of their personal data. Compliance requires that businesses handle these requests while they respect legal obligations.
3. Good UI & Dashboard
A user-friendly interface (UI) and dashboard are essential for easy navigation and management of privacy-related tasks, which enhance user experience and compliance management.
4. Robust Customer Support
Effective customer support resolves user queries and addresses compliance concerns promptly for smooth operation and user satisfaction.
5. Value for Money
A cost-effective solution provides businesses with compliance tools and features without excessive expenses.
6. Automatic Updates
Automatic updates ensure that the compliance solution stays current with changing regulations and security requirements to reduce the risk of non-compliance.
7. Customization Potential
The ability to customize the compliance solution to align with your specific business needs produces a tailored, effective approach to compliance management.
8. Free Trial
Free trials allow businesses to assess the suitability and functionality of the compliance solution before making a commitment.
9. Multi Language Support
Multi language support is essential to cater to a diverse user base and ensures that compliance notifications and information are accessible and understandable by users in their preferred languages.
If you're still unsure of which platform will best suit your needs, we're happy to assist with your search.
Learn how Enzuzo can help meet your compliance needs. Book 1-1 time with our CEO here👇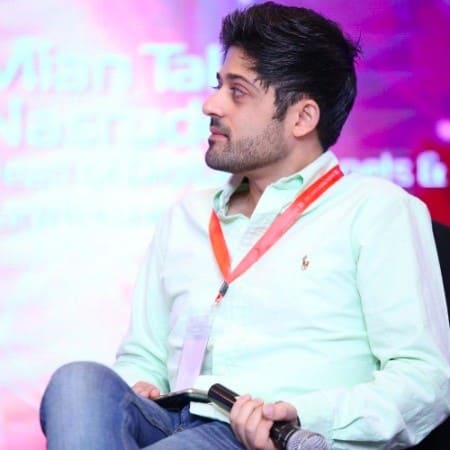 Osman Husain
Osman is the content lead at Enzuzo. He has a background in data privacy management via a two-year role at ExpressVPN and extensive freelance work with cybersecurity and blockchain companies. Osman also holds an MBA from the Toronto Metropolitan University.