Table of Contents
Osano vs. Cookiebot
The main difference between Osano and Cookiebot is via their approach to website cookies and consent management. Osano offers a comprehensive privacy platform that includes cookie consent management, data subject request (DSAR) management, and privacy monitoring. Cookiebot primarily focuses on cookie consent management and website scanning for cookies and tracking technologies.
There's an undeniable overlap of the two solutions, and your company might find itself stuck trying to decide between the two. Below, we review each platform's top pros—and cons. We also run these two options up against the Enzuzo platform to see which privacy management tool come out on top in 2023 and beyond.
What Are Osano and Cookiebot?
Let's start with a brief rundown of Osano and Cookiebot.
Osano, Inc. was founded by Arlo Gilbert in 2018, so it's a relatively new player in the field of data privacy and compliance solutions. It has since developed into a provider of tools and services to help businesses manage their data privacy and consent requirements in compliance with various regulations, including the General Data Protection Regulation (GDPR) and the California Consumer Privacy Act (CCPA).
Cookiebot is a solution developed by Usercentrics as part of its larger suite of consent management tools. First launched in 2012, Cookiebot has evolved over the years to provide cookie banner solutions, website tracking tools, and a suite of additional cookie management tools.
Osano Pros and Cons
Osano is our first contender. It boasts an impressive feature set and extensibility. In our view, these are the top selling points for the Osano platform:
1. It Has Solid Features
Osano offers a robust set of features that manage website privacy and compliance. Its toolset extends across cookie consent management, DSR handling, and privacy monitoring. This comprehensive feature set allows businesses to address various data privacy and compliance aspects in one handy platform.
2. It's a Forward-Thinking Product
Osano is known for its forward-thinking approach to privacy compliance. It keeps up with evolving privacy laws and regulations and offers updates and new features to ensure users can adapt to changing requirements. We view this proactive stance as a top selling point for businesses that must comply with shifting data protection laws.
3. It Offers Multiple Integrations
Osano provides support for multiple integrations with other software and platforms. This flexibility allows businesses to incorporate Osano into their existing tech stack. It enhances the overall privacy compliance process and makes it adaptable to each business's demands. The ability to integrate with other tools and services can streamline data privacy management and make it more convenient for users, fostering a stronger user experience (UX).
Cons of Osano
Osano's great tools can't be ignored, but neither can the platform's shortcomings—many of which may undercut the strong feature set. In our view, this is where Osano comes up short:
1. There Are Limits on Free Plans
While Osano offers a free plan, it comes with limitations that may not suit the needs of larger or more complex organizations. Users on the free plan may encounter constraints in terms of features and capabilities. One example is the number of users— a max of 5,000 site visitors per month on the free plan. This could force businesses to upgrade to a paid subscription when these limits are reached.
2. It's Expensive for What It Offers
Some users may find Osano expensive compared to alternative privacy management solutions. Osano offers a Plus plan that starts at $199/month and a Premier plan that starts at $549/month. These costs are substantial compared to other tools on the market, and for some, the expense may not align with the platform's perceived value, particularly for smaller businesses or those with limited budgets.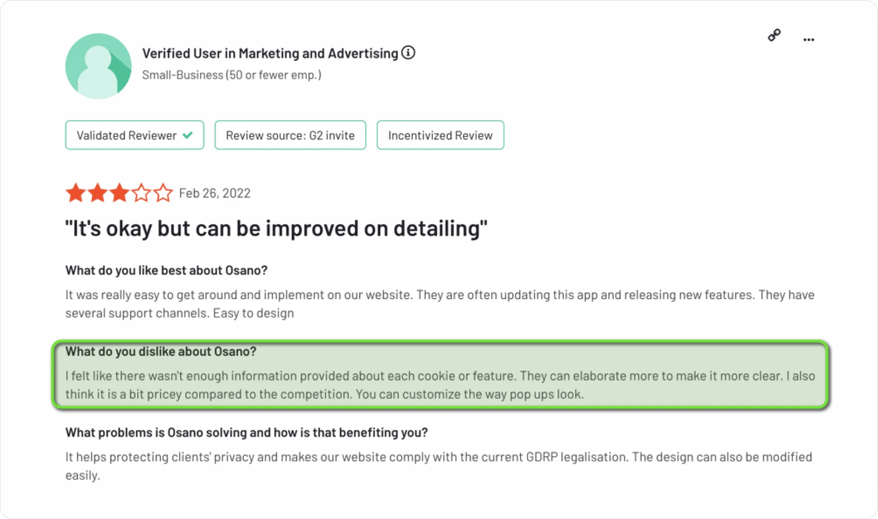 3. It Can Be Clunky to Set Up
The Osano set-up can be challenging or clunky, especially for users new to privacy compliance tools. The initial configuration and customization process will require a learning curve, which could be a downside for those who seek a more user-friendly and straightforward experience. Certain functions are also gated behind more expensive plans (such as DSAR integration, which is only available in the high-cost Premier plan).
Overall Thoughts on Osano
Osano provides a dependable data privacy compliance solution characterized by robust engineering and accessible customer support. However, there are some aspects in which Osano falls short.
It's important to note that while Osano's Free plan is a handy option, we consider it more of a "try before you buy" offer. The Free plan gives users a taste of what Osano can do but limits its most comprehensive compliance functions behind its paid plans. Users who stick with the Free, or even the Plus plans, will experience limits on web traffic to the tune of 5,000 visitors/month and 30,000/month, respectively.
Overall, Osano boasts a comprehensive feature set but requires substantial customer investment. And even when Osano is put into action, your company must consider what level of investment will balance needed functions against costs.
Cookiebot Pros and Cons
Cookiebot is a smaller and more focused platform specifically built for cookie management. Here's how this platform stacks up:
1. It's Easy to Set Up
Cookiebot is praised for its user-friendly setup process. It offers a straightforward and intuitive interface, so it's easy for users to implement cookie consent management on their websites. This simplicity can be especially beneficial for those who are new to privacy compliance tools and those unwilling to invest heavily in the process.
2. It's Relatively Inexpensive
Cookiebot is often considered a cost-effective solution for cookie consent management. It provides value for budget-conscious organizations and offers essential features at a competitive price. Cookiebot's Free plan offers basic cookie consent tools at no cost, and beyond that, there are three Premium service plans priced at a reasonable €12/month, €28/month, and €49/month respectively.
This affordability can appeal to smaller businesses and those that want to manage cookie consent without breaking the bank.
Cons of Cookiebot
Cookiebot is competitive from a simplicity and cost standpoint, but it does come with some drawbacks:
1. It Has Poor UX
Cookiebot is criticized for its user experience (UX). Some users find the interface and overall user interaction with the tool cumbersome and frustrating. A poor UX can lead to user dissatisfaction and potentially hinder efficient cookie consent management, especially for those unfamiliar with cookie management tools.
2. Its Features Are Limited
Compared to competitors like Osano, Cookiebot has a limited feature set. This can be a drawback for businesses that require a more comprehensive set of tools to address various aspects of privacy compliance.
3. It's an Uncompetitive Product
Cookiebot is considered uncompetitive because it may not keep up with the evolving landscape of privacy compliance in the same ways its larger rivals do. It may not offer the same level of innovation and adaptability as some of its competitors, so it may be less suitable for organizations that want long-term, evolving solutions.
Overall Thoughts on Cookiebot
Cookiebot is a nice blend of simplicity and affordability, but users have struggled to put Cookiebot in action. Many users have reported challenges in managing the platform. Poor UX is one of the most common complaints with Cookiebot, which may undercut the company's promise of a simple, straightforward platform.
Similarly, those who go with Cookiebot Free will be restricted to basic features. Like Osano, the Free version almost functions more as a trial version, limiting users to one domain and only 50 subpages.
As you move up the pricing tiers, you'll gain access to more options, such as increased domain limits, better customization, and multi-language support. While these features do come at a cost, Cookiebot remains an affordable option. Its most expensive plan costs only €49/month.
Osano vs. Cookiebot: Who Wins in 2023?
So, with all of the above in mind, which platform wins out in 2023? Below, we compare the two across four categories—usability, feature set, product roadmap, and price point.
UX & Onboarding
You might think that a simple platform like Cookiebot would come out on top for usability, but Osano comes out ahead. Despite its size, Osano can be set up with just a few lines of Javascript, and users seem to be happy with its usability post-purchase. Conversely, Cookiebot's reviews are rife with complaints surrounding its UX. With all of this, Osano is the winner.
Winner on UX: Osano ✅
Features
Feature set is another area where Osano comes out ahead. Osano offers a strong suite of privacy management tools, including everything Cookiebot can do and more. While Cookiebot isn't trying to compete on the same level of complexity, its comparative lack of functionality will make it less suitable for most business users.
Winner on Features: Osano ✅
Product Roadmap
To win in the product roadmap category, the platform must strongly commit to regular updates and new releases that help businesses manage ongoing compliance goals. As noted above, Osano is the clear winner in this forward-thinking category; it boasts regular updates and a stronger overall commitment to its userbase's privacy goals.
Winner on Product Roadmap: Osano ✅
Pricing
Price is one area where Cookiebot stands out. With a Free option available and a series of affordably-priced service tiers, Cookiebot's solution is more accessible than something like Osano, which competes more at the enterprise level. While Cookiebot's lower tiers are most suitable for individuals, non-profits, or other small businesses, it remains a good entry-level option.
Winner on Pricing: Cookiebot ✅
Another Option to Consider For Data Privacy
Based on the above analysis, we have some clear distinctions to draw. Osano is the better choice for businesses with complex compliance needs, such as those that operate globally. Cookiebot is better for smaller companies that need low-cost privacy solutions. But what if there were another option that gives companies the best of both worlds?
Allow us to open door number three: the Enzuzo platform.
1. Robust Cookie Consent & Data Privacy Features
Some of Enzuzo's advanced cookie consent features include:
Google Consent Mode
Google Tag Manager
Global Privacy Control (GPC)
Cross-domain consent
Multi-domain consent grouping
User admin roles/permissions
Sub-domain consent
I-frame blocking
Geo target consent mode based on country
Moreover, Enzuzo offers unlimited website visitors on every plan—even our free one! You'll never be throttled or limited based on your site's popularity.
2. Fast Onboarding and Friendly UX
Enzuzo is engineered to be fast and simple. Our solution doesn't impact core web vitals or SEO scores, giving you a simple way to build a compliance framework with just a few lines of code.
3. Affordable Pricing
Osano is a pricey solution, and Cookiebot is limited in its ability. Enzuzo gives you the best of both with a Free option and a Growth Plan starting at just $29/month. This plan includes DSARs, multi-language support, and a host of other features that make compliance simple.
4. Auto-Updating Privacy Policies and Legal Pages
All of Enzuzo's critical legal pages, like privacy policies, are done via generator to provide a fast onboarding experience that gets you up and running at speed. Just answer a few questions and our automated tools do the rest.
Better yet, all privacy policies and other legal pages update automatically whenever there are changes in regulatory requirements. This gives our users complete peace of mind that their compliance needs are always handled.
5. Custom Plans and Workflows
Enzuzo offers custom plans and features for enterprise clients, which isn't apparent with either Cookiebot or Osano.
For example, we're currently working with a customer to display a unique cookie banner depending on the customer type and location. The expected outcome is for our client to be able to configure each cookie banner separately and dynamically choose which one to display based on those attributes.

In another case, we received a request to integrate our policies directly into a website built on an application framework. Enzuzo worked with the customer to provide an API so the policies' languages switch seamlessly when the website language changes.
6. Trusted by International Companies to Power Data Privacy
Enzuzo was recently picked as the global data privacy partner for Lucy Group, a prominent international electric business with a workforce spanning five continents and 12 countries.
This achievement is mirrored by Enzuzo's triumph in securing the business of Power Corporation of Canada, a renowned management and holding company specializing in financial services across North America, Europe, and Asia.
Both organizations have placed their faith in Enzuzo for essential data privacy support and management, making it the go-to solution for businesses of all sizes seeking a cost-effective solution for data security and privacy compliance strategies.
Want to learn more? Check out our detailed reviews on:
Learn more about how Enzuzo can assist with your compliance needs. Book 1-1 time with Mate Prgin, CEO👇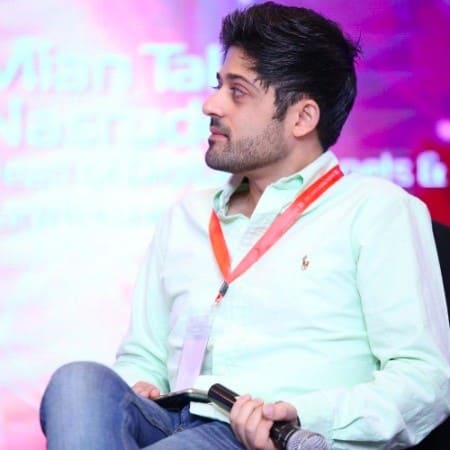 Osman Husain
Osman is the content lead at Enzuzo. He has a background in data privacy management via a two-year role at ExpressVPN and extensive freelance work with cybersecurity and blockchain companies. Osman also holds an MBA from the Toronto Metropolitan University.