12 Best GDPR Compliance Software for 2023 (Free + Paid Tools)
12 Best GDPR Compliance Software for 2023 (Free + Paid Tools)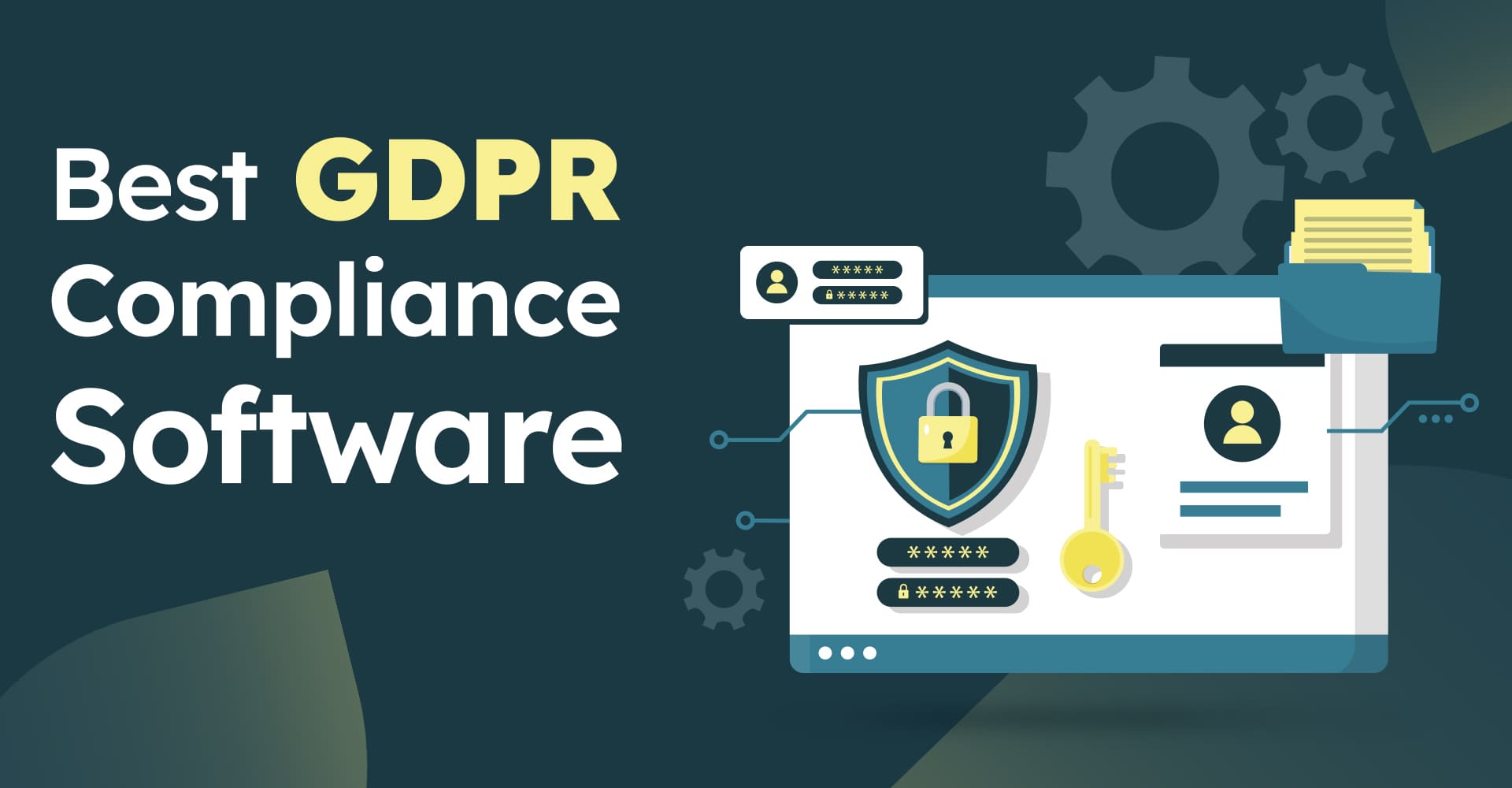 Table of Contents
In 2016, the EU passed the General Data Protection Regulation, more commonly referred to as the GDPR. Going into effect in 2018, it has since become one of the most important and widely respected data privacy regulations in the world, with many countries outside of the EU using the GDPR as a basis for their own data privacy regulations. Even American legislation, like the CCPA, is based in part on the GDPR.

While the GDPR is a lengthy legislation, its primary purpose is that companies, businesses, and other organizations need the consent of customers to store, transfer, and process their data. Consumers must be made aware of how their data is used, and are entitled to have their data deleted or changed with proper requests. Companies are also charged with taking proper steps to protect user data, and must notify both the EU and public at large of data breaches.

To help enforce GDPR, the EU can levy significant fines on companies for GDPR violations. The EU doesn't hesitate to investigate and punish violators either, as several companies have discovered these past few years.

As such, it is vital that all modern businesses take the proper steps to ensure GDPR compliance. A cost-effective manner to do that is by specialized software and platforms. These are applications that integrate with your existing website, applications, and other services to improve data handling and ensure proper communication with consumers about their data privacy rights.

Not only is GDPR compliance software helpful, but it is typically less expensive than having a dedicated GDPR legal expert, something many small businesses and organizations can't afford.

Want to learn more about GDPR compliance software? Here are the top GDPR compliance features, and our favorite platforms you should consider integrating into your company:


What to look out for when choosing GDPR compliance software
Our key features and criteria when choosing the best GDPR compliance software are the following:


Secure & sensitive data handling: One of the most vital components of GDPR regulations is proper data handling and security protocols. Consumer distrust of organizations and how their data is handled is at an all-time high. Using GDPR compliance software that improves data handling is a great way to reassure the public while also staying compliant with the GDPR.



Easy to Use UI: There are some great platforms with a ton of features, but hard to manage and clunky to operate on a day-to-day basis. Our list takes into consideration whether the compliance management software has an easy-to-use user interface, along with a well-designed dashboard and a quick operational learning curve.



Cookie consent managers: One of the fastest and most obvious ways organizations are found to be out of compliance with GDPR regulations is by failing to maintain proper cookie consent managers. The better platforms will not only help the consumer understand how cookies are used but properly delete data when they decide to withdraw their cookie consent.



Automatic privacy policy updates: GDPR and many other data privacy acts around the world, are in constant flux. Regulations about privacy policies can change rapidly. The top GDPR compliance software platforms help organizations adjust with each legislative update while helping consumers understand how their data will be handled differently with each policy update.



eCommerce integration: Many businesses allow consumers to purchase products and services directly from their websites. When companies exchange money directly with the consumer over the internet, additional data privacy regulations have to be followed. Great GDPR compliance software packages will help with eCommerce transactions, protecting consumer financial data during these pivotal exchanges.



Personalization and customization: Organizations and businesses have different needs, meaning that certain GDPR regulations will apply more than others. GDPR compliance software that caters to businesses and their specific needs offers a clear advantage over software and platforms that do not.



Global data privacy protection: If your organization needs software to ensure compliance with GDPR data privacy laws, chances are you'll need to be compliant with similar laws like CCPA, PIPEDA, and more. When looking for the best tools, you should also look at data platforms that also provide compliance with the other major data privacy regulations around the world.



Pricing plans: There are many different pricing plans for data platform solutions. Some charge per page view. Others charge based on the features that you want. A few offer discounts on annual plans, while others lock you into a contract for a period of time. Carefully consider the costs and terms of each option as you look for the best GDPR compliance software.



Free trial and demos: Our list is analyzed on those applications that give you the opportunity to try it out first before purchasing. Not only does this help business operations create efficiencies by allowing for an onboarding period, but it's also a risk-free purchase.
The 12 Best GDPR Compliance Tools
There are dozens, if not hundreds of GDPR software solutions, dealing with things like personal data protection, data security, data subject access requests, privacy risks, and other security measures. The challenge is to analyze the best tools that help you demonstrate compliance and assist businesses by staying ahead of the privacy landscape.
Here's our list:
Enzuzo integrates all of the key features described above to make a genuinely great software package. It helps reach GDPR compliance with adequate security measures, well-integrated tools like consent forms and data subject requests, and a clean, easy-to-use interface.
Our favorite features include:
Support for 25+ languages: The EU is home to many non-English speakers, including Spanish, Portuguese, German, and more. Enzuzo offers support for 25+ languages, making it easy for consumers worldwide to understand how you protect their data and stay compliant with GDPR and other data privacy laws like the California Consumer Privacy Act.



Affordable pricing: Get data privacy compliance and protection for a few dollars a month. A free plan is also available, helping you gain access to one of the most affordable yet feature-rich GDPR compliance software platforms on the internet.



Privacy compliance checklists: Unsure of what you should do to help improve your organizational compliance under GDPR or CPRA? Enzuzo includes privacy compliance checklists to help you cater to regulatory requirements in a matter of minutes.



Global legal compliance: Need help staying compliant with other data privacy laws around the world? Enzuzo's data privacy platform is designed with GDPR, LGPD, CCPA, PIPEDA, and other data privacy regulations around the world in mind. Stay up to date with the latest global data privacy regulations when you use Enzuzo.



Rapid and varied policy generator: It can get very expensive to hire legal and data privacy experts to write and update your organizational data privacy policies. Use the Enzuzo data privacy platform to generate privacy policies, terms of service, shipping and return policies, and even EULA statements for your company.



Consumer consent manager: One of the most things your organization must do to stay GDPR complainant is to collect and manage consumer consent. Enzuzo makes it easy, providing the proper cookie data privacy consent to consumers and helping them manage their consent without having to deal with confusing databases or difficult coding.



Varied platform integration: Enzuzo is built with versatility in mind. Integrate the Enzuzo data privacy platform into eCommerce platforms, mobile and web apps, Shopify Plus, websites, phone applications, and more. Try our demo to learn how to integrate Enzuzo into your company software platforms.



Automatic software and policy updates: Data privacy laws like GDPR are constantly evolving. Enzuzo is a cloud based solution and it offers automatic updates on all its paid plans, meaning you don't need to worry about keeping abreast of the changing landscape. Enzuzo's in-house legal team will complete compliance on your behalf.



Dedicated and prompt customer support: When something goes wrong, it's essential to get help as quickly as possible. Enzuzo's dedicated customer support team is always happy and willing to help you with any questions or concerns you may have.



Free company demo: Want personalized onboarding before giving the green light? Schedule a demo and we'd be glad to take you through what the software has to offer.
Want to learn more about Enzuzo and discover why it's an ideal fit for your business? Contact us today if you have any questions, or book a demo to try it out for your company.


Solarwinds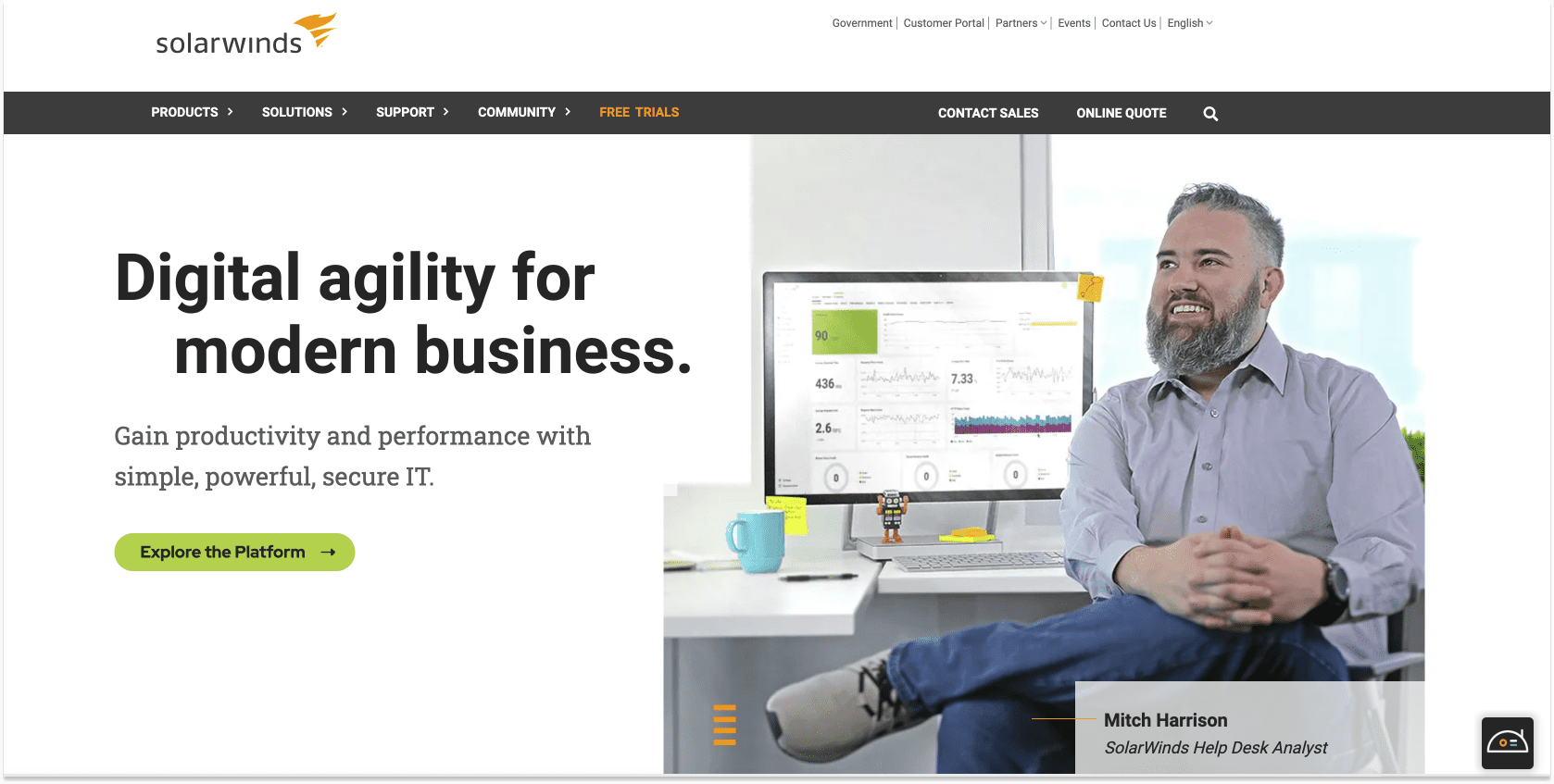 Next up is Solarwinds. It's a great consent management platform that helps process personally identifiable information and assists with sensitive data identification. GDPR compliance is just one part of their overall package, which is designed with large companies and enterprise businesses in mind.
The downside of Solarwinds is that it is designed primarily for network and systems engineers, and is an overly complicated solution for someone who just wants a simple GDPR compliance software package. There's a steep learning curve to learn things like access controls, data elements, audit trail, and other features. Because of its many features, it isn't as easy to integrate as other platforms.
Solarwinds is also very expensive due to its robust features. It's an excellent option for those who want network solutions beyond GDPR compliance, but overkill for companies who don't want to spend thousands of dollars a month.


Auditboard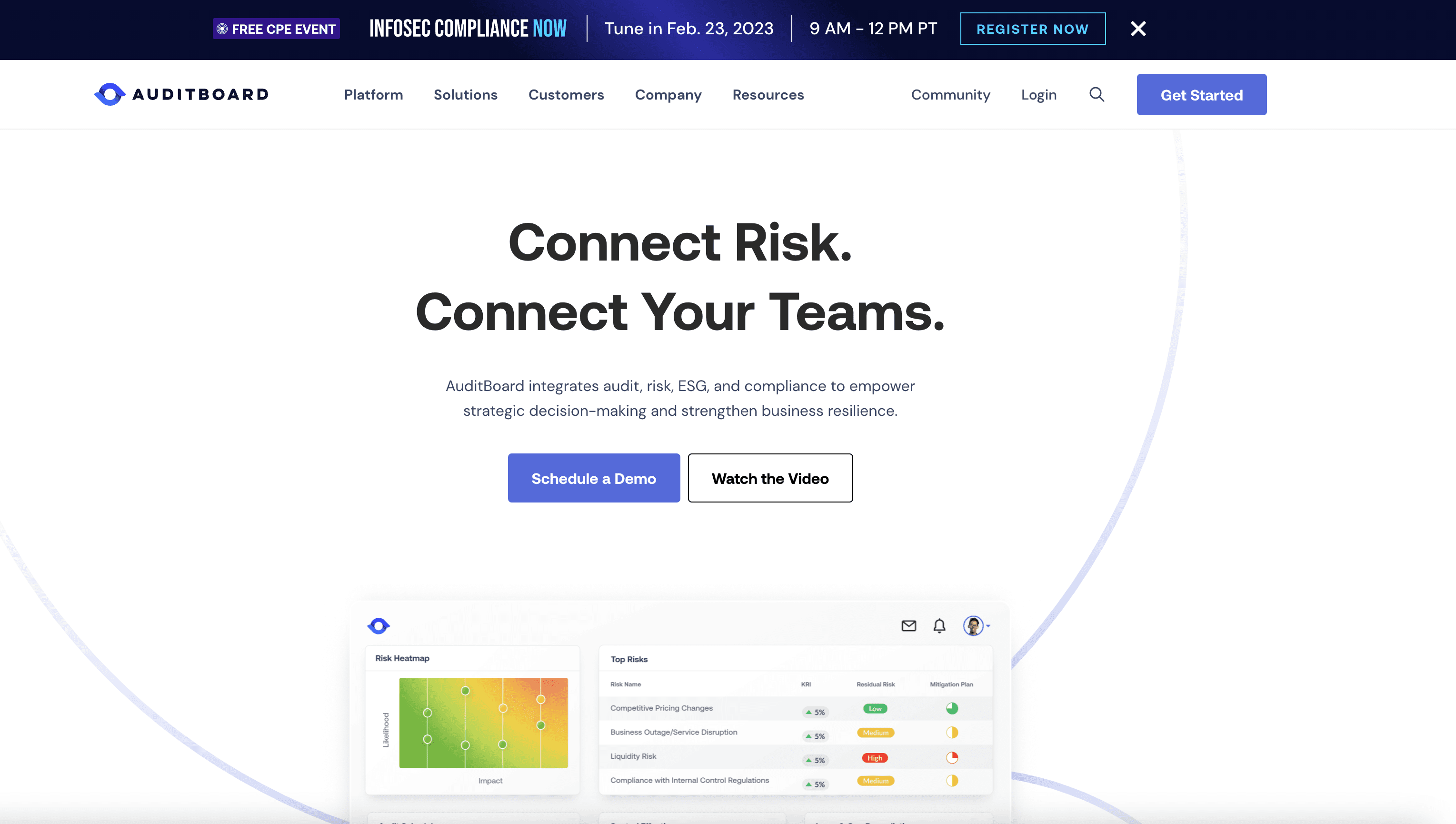 Auditboard is another comprehensive data compliance, network auditing, and IT protection digital security platform. Besides offering a ton of risk management and operational evaluation systems, it helps your organization stay compliant with over 10 different regulatory systems around the world, including GDPR. Auditboard is easy to update, and offers a free plan for those who only need access to its more basic features.

However, Auditboard has a few different issues that hold it back. While the free plan is great, the pricing escalates quickly as you try to use more features. It doesn't integrate well with some platforms, and offers very limited customization once it is implemented into your system.
It also doesn't offer things like gap analysis, unauthorized disclosure protection, and data mapping.
Lastly, Auditboard doesn't offer automation for some features that are performed automatically through other software services. You'll likely need a dedicated engineer or data compliance officer focused on using this software to utilize Auditboard to its full potential.
OneTrust


OneTrust is a good choice for companies with large budgets. The platform helps in staying compliant with over 25 regulatory bodies, including GDPR, with features to enhance privacy management, data governance, IT risk & security assurance, and a host of other features. Automation, cloud data storage and discovery, privacy, training, and other digital research tools make it a great data management and risk assessment platform.

However, like we mentioned above, OneTrust is built for large enterprise companies with their own established IT network and is priced accordingly. The free trial is only for 14 days, after which you're locked into a lengthy contract. While you do get truly global data privacy compliance and a long list of other great network protection features, only the biggest companies will need that much guidance and protection.
While OneTrust is working on a network data platform solution for small and mid-size businesses, it is still too expensive for the average company to justify. Unless you need features such as automated data discovery, sensitive data redaction, integrated ISMS workflows, data processing activities, and similar features, your firm will be just fine using another data compliance software package.
Transcend


Transcend advertises its software as privacy on autopilot, and they mean it. This is one of the most user-friendly solutions, helping you stay compliant with the GDPR and several other important global data privacy laws. Along with solid privacy management tools, Transcend helps your organization improve your organizational data handling visibility and improves data handling consent. This is also one of the most affordable GDPR compliance software solutions on our list.

While it is very easy to use, Transcend is also one of the most basic in terms of GDPR compliance software functionality. There's no API key and limited system integration, no analytics and little data mapping to see how your users interact with your applications, and few security enhancements to protect consumer data.
Transcend's limited range of key features makes it an okay-ish tool, but firms looking for better data management,

Dataships




Dataships is a Shopify and email marketing service focused on both data privacy compliance and helping organizations grow through data collection. It's free for the first 1,000 contacts and makes it really easy for your company and consumers to be transparent with how their personal data is handled. Compliance checklists help your data protection officer see whether the organization is taking the proper steps to stay in line with GDPR with the use of adequate data protection measures.

Because it is a mixed data compliance and marketing tool, Dataships has far fewer data handling features compared to the other entries on our list. Its data privacy tools are barebones, and as you go up in price you generally get more contacts and marketing tools rather than data compliance features.
Consider Dataships if your primary means of marketing is through email contacts, but consider another platform if you're looking for a dedicated GDPR compliance software package.


Axeptio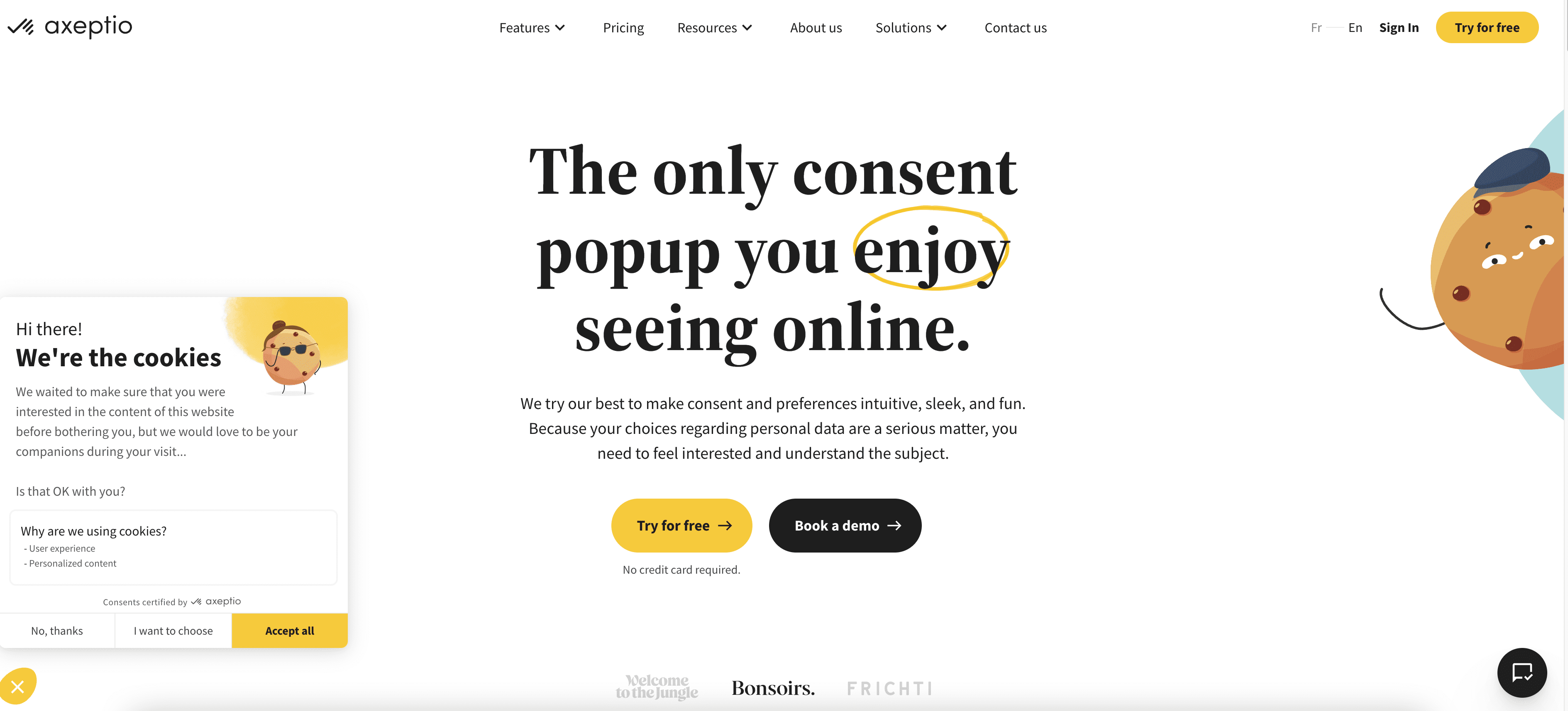 Axepito is an easy-to-integrate and unobtrusive cookie widget. Highly customizable, it's a fantastic way to manage consumer consent when they visit your website. Besides consent storage, higher price plans provide great analytics and other advanced data tools to improve the consumer experience when interacting with your company.

The flip side is that Axepito plans are based on pageviews, with progressive pricing that can skyrocket if you exceed your monthly allotted use. Furthermore, it is very limited to just a simple cookie and consent widget. While this is a fantastic way to handle consumer consent and some personal information, Axeptio doesn't offer the same analytics or processing activities as other software packages.
Axepito helps with GDPR compliance, but due to its limited focus you will have to consider using it in tandem with other compliance software, especially if you are concerned about other global data regulations like CCPA or PIPEDA.
Additional GDPR compliance tools
The apps we listed above are some of the best, and most popular, platforms on the market. Need a few extra recommendations, or have a different focus in mind that the above recommendations don't quite match? Here are a few more we think are worth your while, although they aren't as feature-rich compared to the ones above:

PrivacyPage



PrivacyPage is a simple-to-use app focused on consent management. It is very user-friendly for both consumers and businesses, allowing compliance professionals to build things like consent forms and handle customer data.
Paying for more expensive plans doesn't give you many features beyond additional integrations though, and there is little network support and security enhancements beyond basic consent and personal information data storage.

Egnyte


Egnyte is a secure file-sharing software package above all else. It helps with things like GDPR international data transfer. But because of its focus on data file security, it doesn't offer much in terms of consumer data protection and consent. This is another solution to be considered in tandem with a more dedicated app.

Accountable




Accountable is an all-in-one platform that is built from the ground up to help you improve your organization's data compliance one step at a time. Easy to use with a ton of features, including data protection impact assessment, data mapping, risk assessment, and more, it is a fantastic option for large companies to consider. However, most of its key features are blocked behind its more expensive plans, and it doesn't offer the same network monitoring and protection as some of the other recommended software despite its big price tag.

Altova




Altova is a software company that provides desktop software, workflow automation, and cloud-based SaaS solutions to ensure organizational compliance across a wide range of legal fields. This is a software framework, so you will need an in-house developer to work on the base they provide to build a GDPR compliance software package. A great basis if you want to make a long-term in-house solution, but a solution to skip if you don't care if you own your GDPR compliance software or not.

CookieYes




With CookieYes, you can generate a fully customizable cookie banner to store and manage consumer consent when they visit your website. As a widget, it is highly compatible with many different online platforms and website makers, including Wordpress, Squarespace, Shopify, and many other website solutions. However, it doesn't offer much more beyond cookie management. CookieYes can help you with GDPR compliance, but if you want to stay compliant with other data privacy laws around the world you will need a more comprehensive data handling solution.
Best GDPR Compliance Software FAQs
How do I know if I need to be GDPR compliant?
According to legislation at this article's time of publication, all companies in and outside of the EU that collect any personal information from a citizen of the EU are required to be GDPR compliant. Technically, the EU has yet to try and punish a company outside of the EU for failing to comply with the GDPR, but given the large fines, companies avoid being the first to test the EU's reach per Article 50, an article designed to target international companies.
What is personal information according to the EU? Per GDPR Article 4, personal data is:
"Any information relating to an identified or identifiable natural person ('data subject'); an identifiable natural person is one who can be identified, directly or indirectly, in particular by reference to an identifier such as a name, an identification number, location data, an online identifier or to one or more factors specific to the physical, physiological, genetic, mental, economic, cultural or social identity of that natural person."
So while personal characteristics are obvious personal data identifiers, things like email addresses, IP addresses, or even their location are all considered personal data. Since it is so difficult to tell where online visitors are from, most organizations that collect any personal data from consumers opt to be GDPR compliant given the broadness of the legislation.
Does GDPR Compliance Software guarantee compliance?
In general, no. There will be other steps your organization will need to take to ensure total GDPR compliance. GDPR compliance software does many great things to ensure compliance, with many platforms improving data handling security while also informing the public about how their data is handled and their other data privacy rights.
That being said, there isn't a single platform out there that can guarantee GDPR data compliance on its own. In particular, larger organizations will want to reach out to legal experts and other GDPR consultants to find how to best make their organization GDPR compliant. Depending on your question, you may also want to contact the European Data Protection Supervisor for direct help in understanding and achieving GDPR compliance.


How do GDPR Compliance Software platforms identify data that belongs to EU residents?
Depending on the data captured, it can be extremely difficult to determine where particular captured data comes from. That's why many organizations opt to use data privacy software that is compliant with the major data privacy laws around the world rather than gate off access to their websites and services. This is especially true with the rise of VPN services, programs that mask and even provide dummy data to networks.

As an example, when you use the Enzuzo GDPR compliance software, you'll not only improve organizational data compliance under GDPR regulations, but CCPA, LGPD, PIPEDA, and more. When considering the best GDPR compliance software, look for platforms that offer simultaneous and automatic data privacy platform updates in order to stay compliant with constantly evolving data privacy regulations.

Am I required to use European software or store data in European data centers to be GDPR compliant?
No, you don't have to worry about opening a business or bank account in Europe, using EU-designated software, or relying on EU-based data servers. In fact, it's likely your organization will never even have to contact an authority in the EU as long as you follow the proper protocols.

The GDPR is designed just to protect EU citizens by providing open transparency about how their data is handled. While GDPR compliance software does cost money, it can also be a net positive for organizations. According to some studies, nearly 90% of consumers worry about how companies handle their private data. GDPR compliance software encourages consumers, reaffirming that companies can be trusted with their data, which can lead to increased business.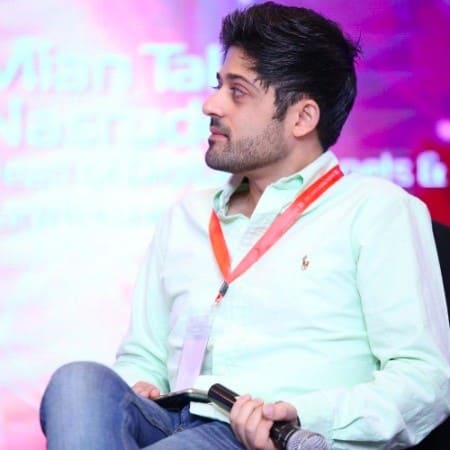 Osman Husain
Osman is the content lead at Enzuzo. He has a background in data privacy management via a two-year role at ExpressVPN and extensive freelance work with cybersecurity and blockchain companies. Osman also holds an MBA from the Toronto Metropolitan University.