The Top 10 Data Privacy Management Tools & Software for Compliance
The Top 10 Data Privacy Management Tools & Software for Compliance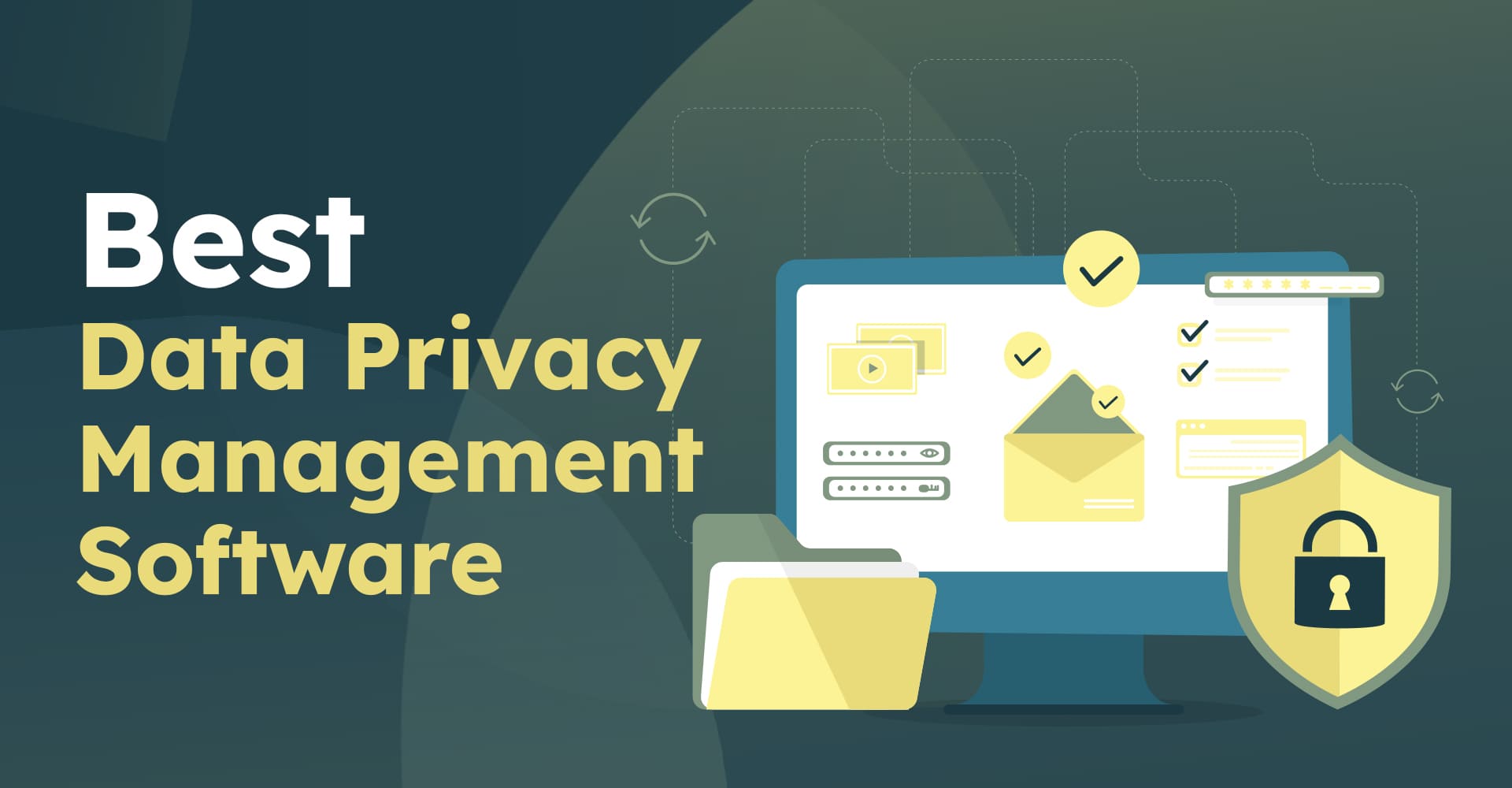 Table of Contents
Data privacy management software helps companies stay compliant with data privacy regulations like the California Consumer Privacy Act, GDPR, and more.
This includes responding to data subject access requests (DSAR), GDPR's Right to Be Forgotten, and complying with things like privacy policies, cookie banners, and terms of service.
By using data privacy management tools, businesses can automate manual processes, provide visibility, and leverage reporting tools to manage their company's privacy program. These are essential to adhere to region-specific data privacy regulations, such as:
The Payment Card Industry Data Security Standard (PCI DSS)

The Health Insurance Portability and Accountability Act (HIPAA)
To achieve compliance with these regulations, the best data privacy management software is able to protect sensitive data, maintain compliance as privacy laws change, and introduce security measures that help organizations manage web traffic and permissions.
A detailed list of our ranking criteria is provided towards the end of this post, but first, we want to dive straight into our recommendations.
The 10 Best Data Privacy Management Tools & Software
The best data privacy software platforms are those that provide the right balance of security, functionality, customizability, and ease of use. Here's our list:
Enzuzo enables you to launch professionally drafted legal privacy policies for websites, ecommerce stores, mobile apps, and SaaS platforms without the high price tag. It's a true end-to-end compliance platform, complete with a cookie consent banner generator, eCommerce privacy policy templates, automated DSAR requests, and more.
One of the best things about Enzuzo is how multiple features and requests can be handled inside a simple, user-friendly dashboard. It's no surprise that data privacy management software can get complicated. Across regulatory frameworks, region-specific mandates, different languages, and staying on top of new compliance updates, there's a lot for the average business to manage.
Enzuzo streamlines compliance management with its simple processes that ensure that all tools seamlessly integrate with one another. And backed by first-rate customer support to address any questions that pop up, Enzuzo gives clients the easiest and smoothest compliance management experience possible.
Enzuzo also offers custom plans for Enterprise and MSP partners to provide integrated solutions for their clients. It's able to build specific integrations and workflows to meet their needs.
Pros:
Global legal compliance with regulations across GDPR, CCPA, LGPD, HIPAA, and more

Translation services for 25+ languages and dialects

Affordable pricing (free tier available)

Automatic updates

Fast setup that can be done within minutes

Simple UI and cookie manager dashboard
Cons:
The most advanced features are available only in premium plans
Overall Thoughts:
Enzuzo was built to give companies a simple way to work toward a "privacy first" business culture. While many other platforms on this list are bogged down by complexity and unintuitive user interfaces, Enzuzo declutters the process with straightforward tools and helpful dashboards. This enables a self-serve privacy experience that business users of any technical ability can use.
Enzuzo is an ideal choice for businesses and site owners who prefer having complete peace of mind in their technical solutions. Enzuzo's tools are easy to deploy, manage, and audit, so all stakeholders can be kept in the loop.
With multiple pricing plans and access to a variety of powerful features, Enzuzo has something for everyone.

2. DataGrail

DataGrail is a privacy management tool that helps companies streamline compliance, allowing companies to track and manage customer data across various systems and departments. It also provides helpful tools to automate DSAR and other privacy-related tasks.
DataGrail helps organizations manage things like data subject requests and conforms to many regulatory standards set by governments around the world.
The software offers a range of features, including data mapping and inventory, consent management, policy and notice management, and vendor management. It also provides real-time dashboards and analytics to help businesses monitor their compliance efforts and identify areas of risk.
Pros:
Technical feature set suitable for advanced users

Strong customer service support

Access to comprehensive training tools
Cons:
High cost & need for technical resources

Long onboarding and training time

Poor usability
Overall Thoughts:
DataGrail offers an advanced suite of features that makes it a great choice for technical users, and it offers a range of helpful integrations with various popular systems such as Salesforce, Microsoft Dynamics, Marketo, and HubSpot. In fact, DataGrail integrates with over 1,900 different enterprise applications to allow seamless data management across platforms.
DataGrail's mission is to simplify privacy compliance for companies of all sizes and to provide a more transparent and trustworthy relationship between businesses and their customers. However, the system tends to be rather technical and may be unsuitable for users interested in a more straightforward system of compliance management. It also comes with a higher price tag, meaning managing data privacy may be costlier than expected.
For those with the technical acumen and resources to invest into training, however, DataGrail is a powerful option for data privacy.
3. PrivacyEngine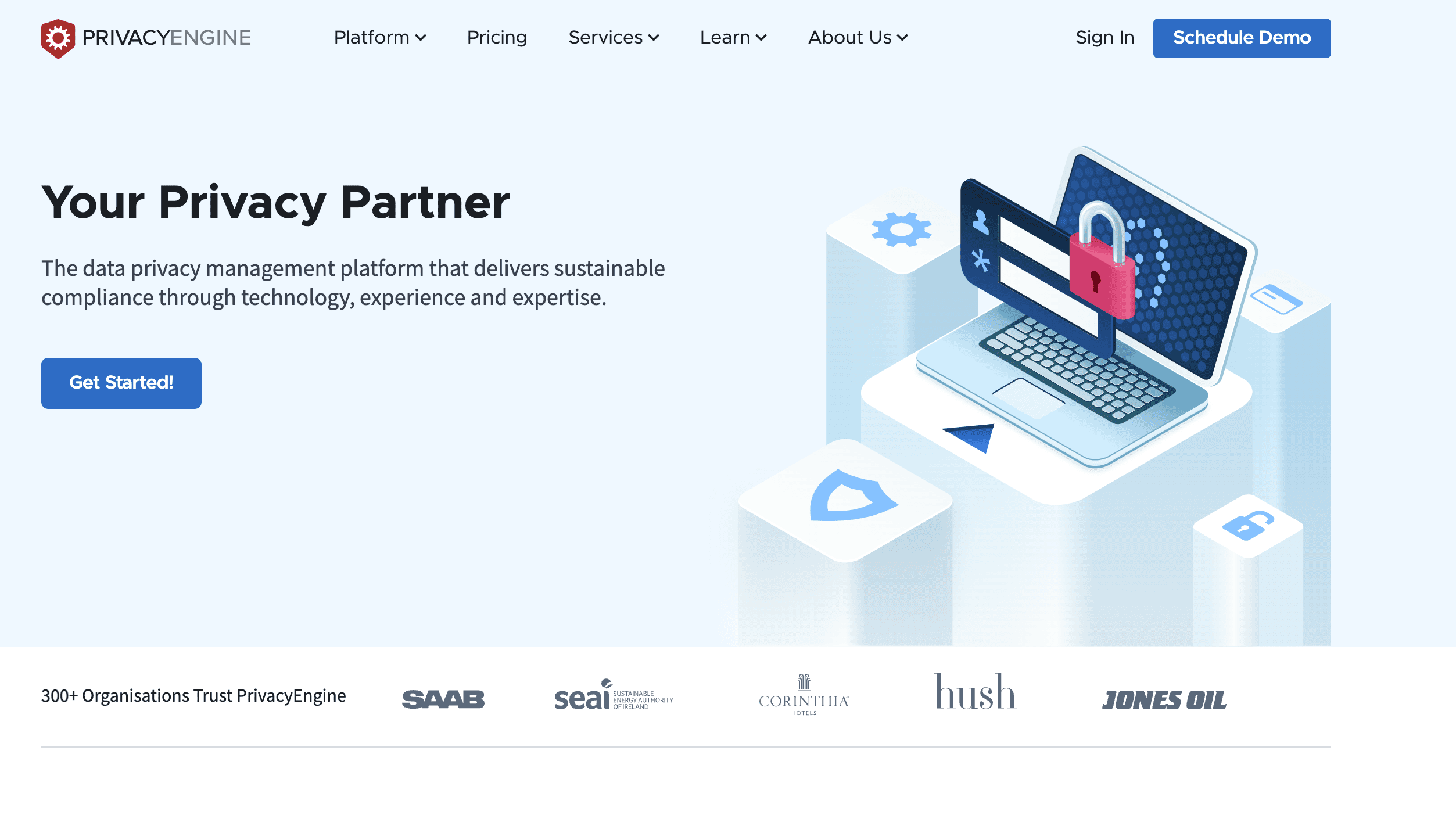 PrivacyEngine is designed to help organizations manage their data privacy risks and build a privacy-first culture across the organization. PrivacyEngine offers a range of features, including data inventory and mapping, privacy risk assessments, DSR management, incident management, and vendor management. It excels at helping organizations understand and manage their data privacy risks through customizable risk assessments and privacy impact assessments.
Pros:
Strong feature set suitable for enterprise customers

User-friendly interface that supports simple management

Additional support offered through the OneTrust community
Cons:
High starting costs

No free plan available

Time and effort required for implementation
Overall Thoughts:
PrivacyEngine provides a wide range of features and tools to help organizations manage data privacy. It offers a comprehensive solution for compliance management. Its strongest points include a user-friendly interface and a powerful feature set.
However, PrivacyEngine can be expensive, especially for small and mid-sized organizations that may have limited budgets. The cost of the software can also increase as an organization's needs grow or as they add more users. And like many comparable platforms, implementing and maintaining PrivacyEngine can be complex and time-consuming. Organizations may require significant resources to ensure the software is properly configured and integrated into their systems and processes.
4. OneTrust

OneTrust is a leading provider of privacy, security, and governance technology solutions. The company offers a comprehensive suite of software products that help businesses comply with global regulations, including GDPR, CCPA, LGPD, and more.
OneTrust's software products are designed to give organizations a powerful suite of features to manage their privacy, security, and governance programs. The software is scalable and can be customized to meet the unique needs of businesses across various industries. OneTrust also provides a range of professional services that include consulting and training, which help businesses optimize their privacy programs and comply with global regulations.
Pros:
Strong features ideal for advanced users

Centralized repository for documentation

Many customization options
Cons:
High learning curve meant for enterprise users

Expensive pricing above the industry average

Long contracts required
Overall Thoughts:
OneTrust is known for its innovative approach to privacy technology and has received numerous awards and recognitions for its products and services. The company has also established partnerships with leading organizations, including the International Association of Privacy Professionals (IAPP) and the Cloud Security Alliance (CSA), to advance the privacy and security industry.
The drawbacks of OneTrust include a steep learning curve, high licensing costs, and long contract terms. Modules and processes will need substantial configuration to perform correctly, which can be time-consuming. However, OneTrust is known for its excellent service and strong community of users, both of which can help companies understand the system's intricacies. This combined with OneTrust's training tools can help ease the learning curve and ensure users get the most value out of the system.
5. Securiti
Securiti is a privacy and data security automation solution that provides a comprehensive platform for security, governance, and compliance across on-premise, hybrid, and multi-cloud environments in different geographies. Securiti's software products provide a range of features designed to provide end-to-end data protection, including sensitive data discovery, data cataloging, access intelligence & controls, security posture management, and more.
By providing a comprehensive approach to data privacy, Securiti helps organizations better understand and manage their sensitive data, reduce the risk of data breaches, and ensure compliance with regulatory requirements.
Pros:
Affordable costs across implementation and management

User-friendly dashboards & data visibility

Technical documentation and support available
Cons:
No API key authentication

No analytic capabilities

Challenges when deploying at scale
Overall Thoughts:
Securiti is a strong privacy solution that leverages advanced techniques to help organizations automate key aspects of data privacy, governance, and security. The platform can scan and discover hundreds of different data types across structured and unstructured assets, both in on-prem and cloud native environments.
A key selling point of Securiti is the wealth of features it provides at a reasonable price point. The platform coordinates a series of helpful dashboards and visualization tools to promote data transparency, and it comes with helpful technical resources to support onboarding.
However, users should note that Securiti does lack analytic capabilities found by other entries in this list as well as an API key. While users can harden their security architecture to accommodate this, it's a distinction that may create downstream complexities as the company grows.
6. Collibra
Collibra is a cloud-based data intelligence platform that helps organizations manage and govern their data assets. The platform enables businesses to understand, trust, and leverage their data. It is designed to support a range of use cases, including data governance, cataloging, data lineage, and data quality.
Collibra's software products provide a range of features that include automated data discovery and classification, data lineage visualization, data quality monitoring, data cataloging and indexing, and workflow management. The platform also includes collaboration and communication tools, which enable data stewards and analysts to work together and share knowledge.
Pros:
Strong data governance functions

Many integrations available

Numerous product enhancements available
Cons:
Steep learning curve with substantial onboarding required

Poor UI management

Third-party deployment support may be necessary
Overall Thoughts:
Collibra's platform is highly customizable, which enables businesses to tailor their data governance and management programs to meet their unique needs. The company is known for its innovative approach to data governance and management, and it offers a powerful way to get a handle on metadata management across the enterprise.
The complexity of Collibra's platform is a big advantage for users with the technical acumen to pull it off, but less technically-minded organizations will struggle with implementation. Collibra's interface can be unintuitive for many users, and even with proper planning, users may need to lean on third-party implementation support to truly get the most out of their investment. For organizations willing to invest the time into Collibra setup and management, it's a worthy choice for data discovery and compliance.
7. Palqee Data Privacy
Palqee is a comprehensive solution to help a company achieve all aspects of its governance, risk, and compliance goals. The software includes great features for data management across data mapping, assessments, subject rights management, documentation, and building a stronger, privacy-first culture overall.
With helpful customization options, pre-set templates, and a strong community that supports the platform's growth, Palqee has established itself as a great choice for compliance management and collaboration, with a specific focus on South American and Brazilian markets.
Pros:
Many advanced data management features and tools

Intuitive interface and usability

Free trial available
Cons:
High costs

Long contracts required

Best suited to region-specific markets
Overall Thoughts:
Palqee offers a great range of data management tools to bring visibility to a company's governance, risk, and security management goals. The platform features a rare combination of advanced features delivered through a user-friendly interface, giving users the best of both worlds in technical capability and usability. The platform can even be tested ahead of time through a free 14-day trial period to make sure it's a proper fit.
However, Palqee comes with high implementation costs and requires users to sign on for longer contract periods than many other software entries in this list. Also, Palqee's compliance features and community are primarily centered around South American markets, which can limit its potential value for companies that operate outside the region.
Despite these drawbacks, Palqee is a pioneering data privacy solution that can substantially improve the way a company communicates and collaborates on compliance initiatives.
8. Osano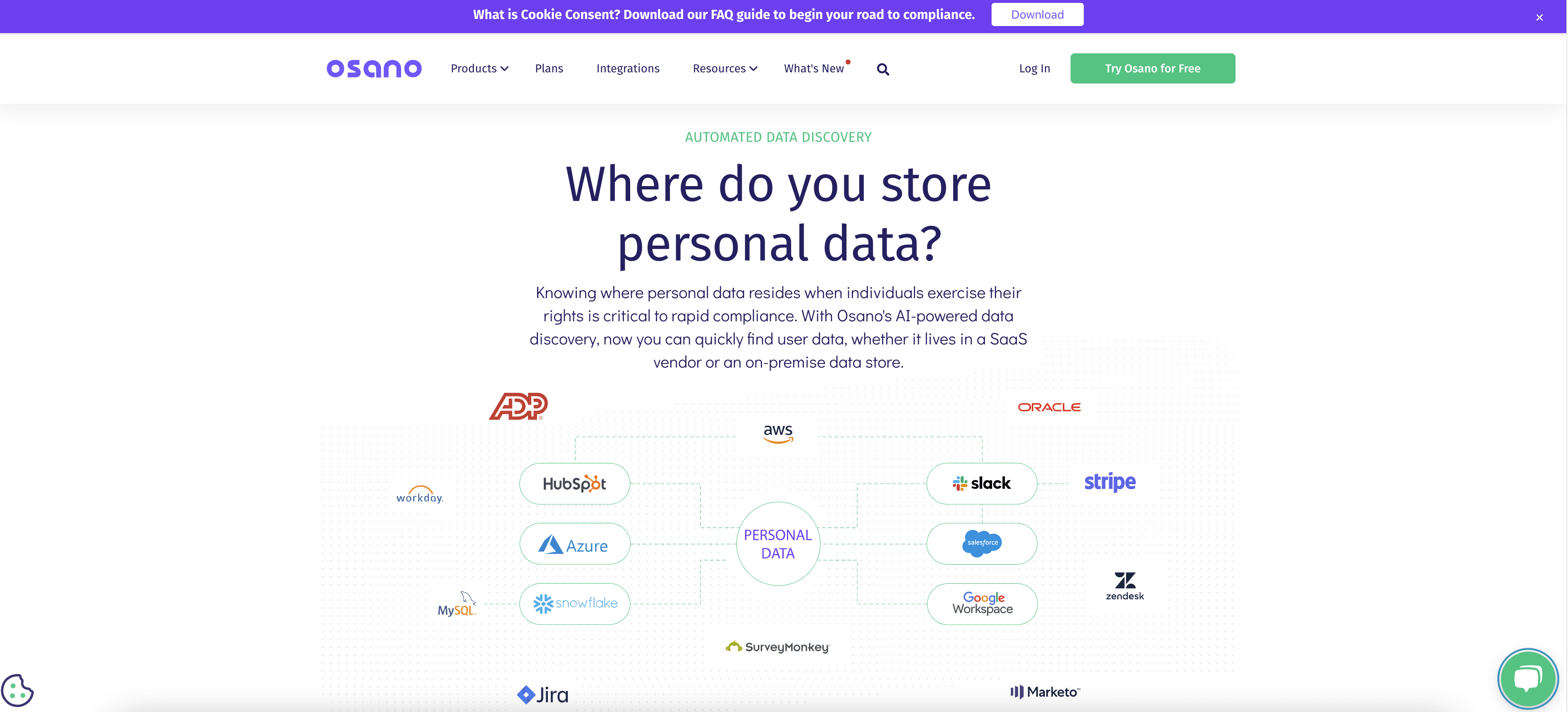 Osano provides businesses with a great range of tools to help them comply with data privacy regulations and manage their website and app privacy policies. Its basic features include website and app privacy scanning, consent management, and compliance monitoring. Osano also provides privacy policy templates and compliance reports for businesses, which can be customized to a variety of different applications.
Pros:
Simple and intuitive management

Interface customization options to support usability

Effective cookie consent management tools
Cons:
Limited feature set for advanced users

Limited integration with other tools

Poor suitability for enterprise applications
Overall Thoughts:
Osano's platform is user-friendly, with a clear dashboard and intuitive features. It also features some helpful tools, such as a detailed privacy scanning module that can scan assets for potential privacy violations. These features are backed by customizable reports that provide full visibility into how well an organization may or may not be complying with key privacy regulations.
However, Osano lacks integration with other privacy management tools and platforms, which can be inconvenient for businesses that rely on them. It's also notable that Osano's features are geared toward businesses that need basic privacy management tools, which means they won't necessarily be sufficient for advanced users who require more comprehensive management.
Overall, Osano is a suitable privacy management software for businesses that need basic privacy management tools and want a user-friendly interface. However, it may not be the best option for advanced users or enterprises.
9. TrustArc
TrustArc provides a comprehensive privacy management platform that coordinates privacy frameworks, intelligence, reporting insights, and data inventory capabilities to deliver a centralized compliance management experience.
TrustArc offers a fully-automated platform for end-to-end compliance management that goes beyond the basics, making it a great choice for businesses that want to streamline their time-consuming and tedious compliance processes. Better yet, the platform is backed by a superior customer support team to address issues that may arise during implementation.
Pros:
Full range of flexible compliance tools and automated processes

High level of customizability

Strong customer support for issues
Cons:
Substantial hands-on management required

Can be complex to implement for enterprises

May be too costly for small businesses
Overall Thoughts:
TrustArc is a comprehensive privacy management software that offers a wide range of features, with a special focus on bringing customization and automation to a business's compliance processes. TrustArc is known for its advanced features, and its helpful customer support staff who can help buyers address problems at any stage throughout implementation. This support can ease the technical burden of implementation and management.
The drawbacks of TrustArc relate to the sheer scope of services and customization options available. Users may find that substantial hands-on management is required to keep data up-to-date and make TrustArc the single source of truth it's meant to be. This means that enterprises with multiple business units will face some complexities during implementation. Smaller companies may struggle as well due to the platform's costs, so companies will need to assess their needs carefully to determine whether TrustArc is a suitable option for their business.
10. BigID
BigID is a data discovery and intelligence platform that helps businesses discover and manage data across their entire enterprise. The tool specializes in data discovery and intelligence, and it offers great tools for the assessment, classification, and management of sensitive data sets. BigID accomplishes this through a series of tools, both out-of-the-box and configurable, that help companies make sense of their information.
Pros:
Enterprise-grade toolsets for data classification and cataloging

Frequent updates to product releases & features

Responsive customer support team
Cons:
High effort required for data management

Scope may be unsuitable for SMBs

Poor UI & usability
Overall Thoughts:
BigID is an enterprise-grade solution for data discovery and classification, and the platform's pros and cons reflect that. While users will certainly find value in the powerful toolsets and broad range of discovery tools, the tools also require some hands-on management. Combined with a relatively unintuitive interface, navigation through BigID can be a challenge for the uninitiated.
Despite this, BigID is backed by responsive technical and customer support teams. New updates are released frequently, and customer service representatives are willing to help users navigate any problems they may encounter. BigID is a great data discovery tool for enterprises, (over half of its user base is companies with $10B+ revenue), but its cost and complexity make it less suitable for smaller companies.
Things to Consider When Choosing Data Privacy Software
Companies will need to do their due diligence before they commit to new software. They must be sure that their chosen solution meets their compliance needs—both today and as the business grows. Here's our ranking criteria for this list:
User Interface (UI) and Dashboards: The platform should be user-friendly, with an intuitive interface that allows users to access the information they need. It should provide analytics and reporting capabilities to help businesses track performance metrics, identify potential issues, and generate reports for stakeholders—absolute musts for ongoing compliance. This extends to both data collection and disposal. The chosen solution should make data deletion and DSAR requests simple because the right to be forgotten is a key GDPR requirement.
Robust Customer Support: The platform provider should offer reliable support and training resources to help users get the most out of the platform and address any issues that may arise. This includes both training resources for onboarding as well as live customer service support.
Customization Potential: A good data software platform should be customizable to meet the unique needs of a business. This includes the ability to add or remove features, customize workflows, and integrate with other systems, such as enterprise resource planning (ERP), customer relationship management (CRM), and other software as necessary.
Costs: Any platform should be priced fairly and provide good value for the investment, with transparent pricing and no hidden costs.
Cookie Consent Tools: The best data privacy solutions will include dedicated tools to manage cookie consent policies, including simple reviews of privacy policies, cookie banners, and more to ensure total compliance with data handling regulations.
Automatic updates: As a best practice, data privacy software should be updated regularly—and automatically—to ensure that the platform contains the latest security fixes, upgrades, and full compatibility with other systems.
Multi-language support: Particularly valuable for companies that do business internationally, multi-language options support a seamless compliance process across a variety of markets. This saves users the time and hassle of creating entirely new policies by hand.
Free Trial: The best way to validate a potential system is to get hands-on with a free trial. Prioritize software that lets customers test the platform before they commit to it. This gives companies a trial period to understand the basics, ask questions, and determine whether the system is the right fit.
Data Privacy Tools & Software FAQs
Who uses data privacy management software?
Data privacy management software is used by a wide range of businesses and organizations that handle sensitive data, including financial institutions, healthcare providers, government agencies, and e-commerce businesses. Technical audiences, including data analysts, data architects, and IT professionals, are key users of data privacy management software because they manage data privacy risks and ensure compliance with data protection regulations.
What are some of the top features of data privacy management software?
Technical teams can use data privacy management software to automate data discovery and classification, streamline the data inventory and mapping process, and enable data access control, monitoring, and audit trails. This software can also help technical teams ensure that data is encrypted, anonymized, or pseudonymized when appropriate. It also ensures that access controls are in place to prevent unauthorized access to sensitive data.
Data privacy management software can help technical teams manage user consent for data collection and processing, maintain compliant privacy policies, and manage DSAR for access, deletion, and correction of personal data.
What happens if my company fails to achieve compliance with these regulations?
Fines for data privacy violations can be significant, especially under GDPR and similar data protection laws in other countries. The fines can range from a few hundred euros to millions of euros or dollars, depending on the severity of the violation.
Aside from the monetary fines, your company's reputation may suffer, leading to loss of business because customers may lose trust in your organization. Your company may also face legal action from affected individuals or regulatory authorities, resulting in further financial losses.
It's important to note that data privacy violations can have serious consequences, and organizations should take steps to ensure that they comply with all relevant data protection laws and regulations.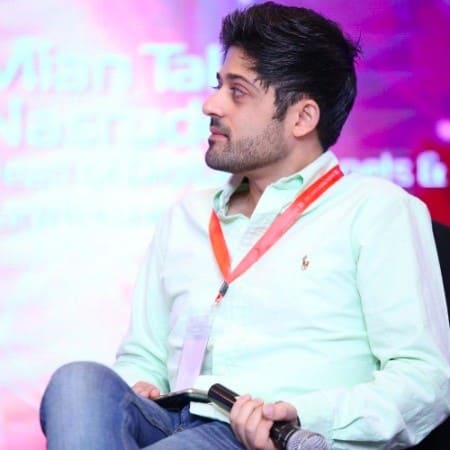 Osman Husain
Osman is the content lead at Enzuzo. He has a background in data privacy management via a two-year role at ExpressVPN and extensive freelance work with cybersecurity and blockchain companies. Osman also holds an MBA from the Toronto Metropolitan University.