Table of Contents
BigID Alternatives
BigID is an industry leader in data security, privacy, and governance solutions. But it's certainly not cheap: BigID ships with a hefty price tag and long-term contractual commitments that keep you locked into service.
These may be big sticking points for some companies, and understandably so. Extensive contractual commitments can be a burden and prevent companies from adopting an agile approach. For businesses interested in staying lean, we recommend seeking out BigID alternatives.
Below, we'll review BigID's top competitors and how these alternatives offer the same benefits through different approaches.
9 Best BigID Alternatives & Competitors
BigID is a powerful solution for trust management, but it's not the only kid on the block. Users may be interested in finding alternatives that better address BigID's weak points—such as its clunky UI and lack of pricing transparency.
Here's a list of our top alternatives to consider in your search.
1. Enzuzo (Our Top Choice)
Enzuzo provides a full range of data security, privacy, governance, and compliance tools that help businesses meet their data lifecycle management requirements. It's the data privacy partner for global companies like Lucy Group and Power Corporation of Canada, and offers a customizable suite of products relevant for the modern enterprise.
Let's give you a detailed overview of why we rank Enzuzo as #1.
Pricing
As we mentioned earlier, BigID's pricing is one of the biggest considerations for its audience. Each contract is priced relative to business needs, and based on several factors across data sources, apps, and more. There's definitely a lack of pricing transparency, which isn't the case with Enzuzo.
Enzuzo's SMB solutions are offered through a range of subscription tiers that make it easy to know what you're getting.
Its five pricing plans are designed with flexibility in mind. This includes the Free, Starter ($9/month), Growth ($29/month), Pro ($79/month), and Agency ($130/month) plans. The premium plans can be set to either monthly or annual renewal.
Enterprise plans do require an exploratory call first, but Enzuzo will comfortably beat BigID on all pricing quotes. That's an ironclad guarantee.
Moreover, Enzuzo offers the flexibility of month-to-month contracts, allowing customers to cancel whenever they want. That contrasts BigID, which requires customers to commit to extensive terms before proceeding.
🏆 Winner on Price: Enzuzo ✅
Features
Enzuzo's enterprise plan includes many of the same features that BigID offers, including:
Data mapping
Data governance
Privacy impact assessments
Third-party risk management
Region-specific cookie consent
Record of processing activities (GDPR article 30)
Enzuzo's cookie consent manager also offers industry-leading features like cross-domain tracking, consent analytics, and automated website scans.
However, there are some areas where Enzuzo falls short. For example, it cannot match BigID when it comes to things like:
HIPAA compliance
BCBS 239
Compliance with Thailand's Personal Data Protection Act (PDPA)
BigID is the winner here in terms of the sheer volume of features alone.
🏆 Winner on Features: BigID ✅
Onboarding & UX
Enzuzo is a self-serve tool that is fast, straightforward, and easy to install. We're talking just a few lines of Javascript, which can be easily implemented—even for non-technical users—without the need for onboarding support.
BigID necessitates a lengthy onboarding period with multiple teams working in tandem. It's common for these types of deployments to run over time and over budget, creating downstream impacts to other processes as well.
Reviewers often point to a clunky UX as a downside of using BigID and the difficulty of troubleshooting problems.
On the other hand, Enzuzo's ease of use and friendly UX are some of the reasons behind its high net promoter score.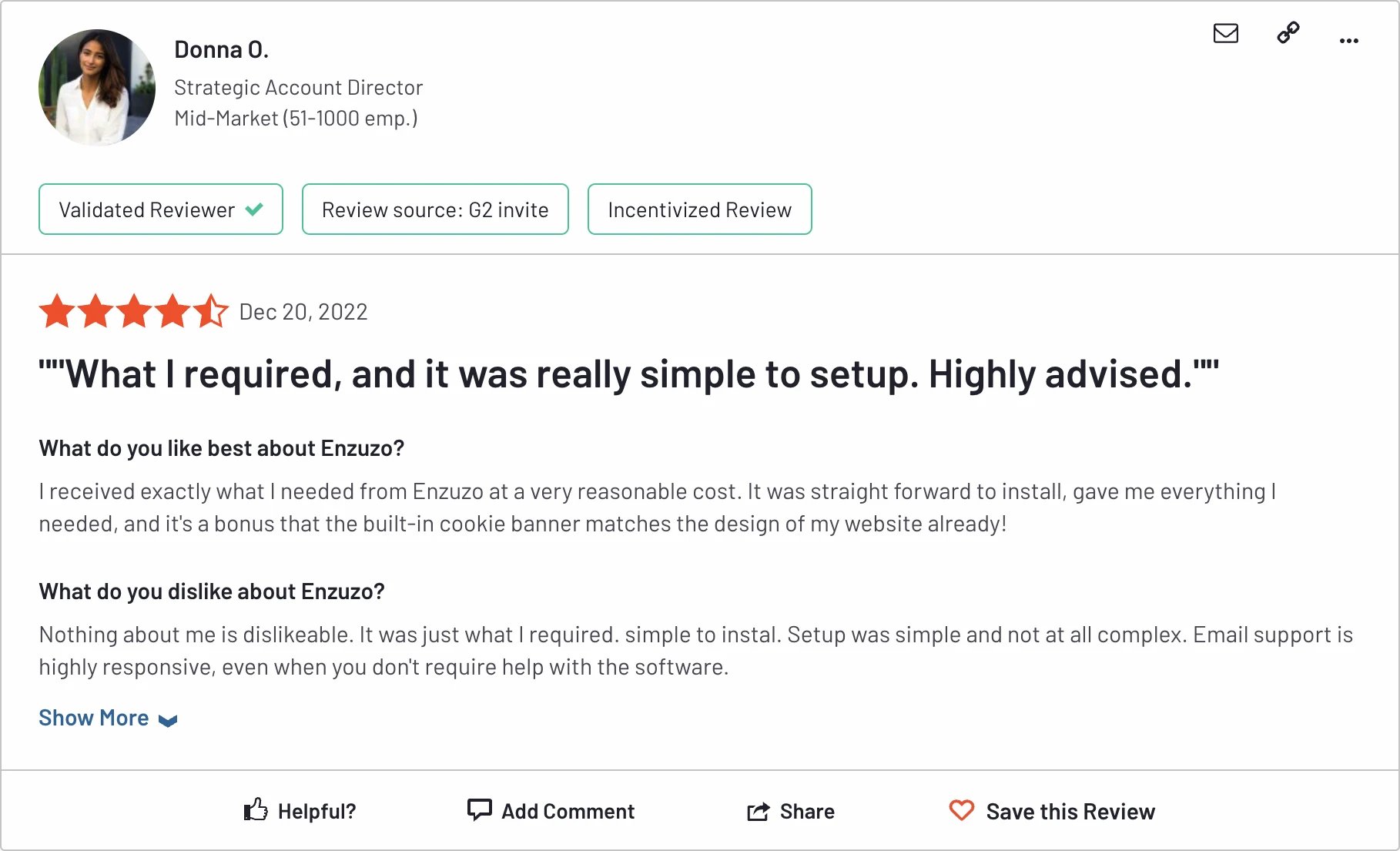 Extensive onboarding is a necessary evil for enterprise solutions, but it's not a process a business wants to go through without need. For most companies, more flexible solutions provide an avenue to compliance just as easily and at a fraction of the cost.
In this category, Enzuzo takes the win.
Customer Support
Customer support is paramount in software deployment since things can break and companies must maintain effective lines of communication when that happens. Enzuzo has this dialed in.
At the same time, many reviewers point to BigID's exemplary customer support too so we believe both companies do well on this front.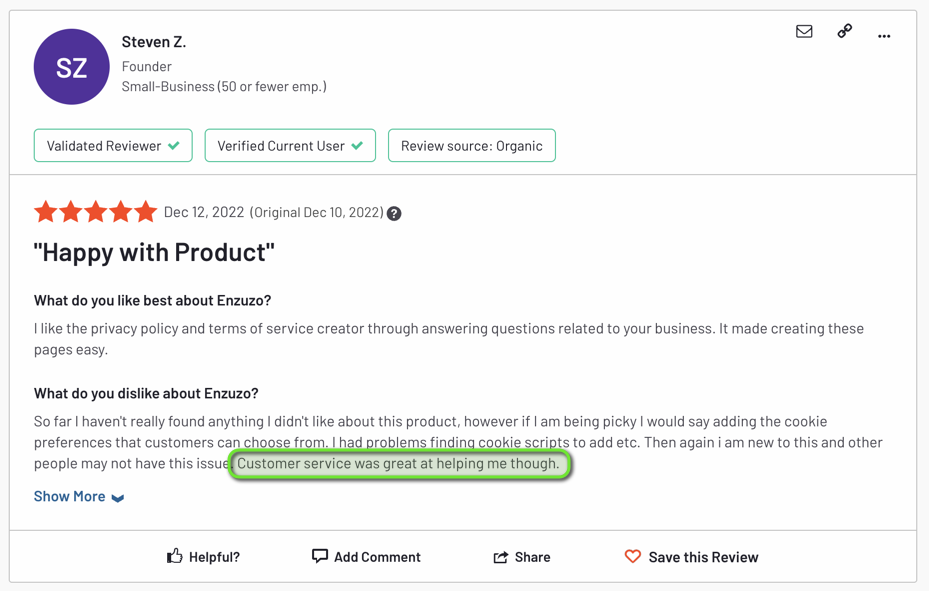 🏆 Winner on Customer Support: Tie 🙅‍♂️
Trusted by International Companies to Power Data Privacy
Enzuzo was recently selected as the data privacy partner of Lucy Group: an international electric business that employs over 1,600 people across five continents and 12 countries.
A similar process saw Enzuzo winning the business of Power Corporation of Canada, a globally recognized management and holding company specializing in financial services across North America, Europe, and Asia.
Both organizations depend on Enzuzo for critical data privacy support and management and Enzuzo can certainly assist other enterprises looking to migrate away from BigID or considering their options.
Final Thoughts
Enzuzo offers several features for enterprise data lifecycle management needs and ships at a much more affordable price than BigID. Moreover, it's possible to avail of the service month-to-month and avoid early contract termination fees.
BigID is undoubtedly a feature-rich solution, but if you're interested in a cost-effective data privacy partner that gets the job done, look no further than Enzuzo, as it offers businesses tremendous value at an affordable price point.
🏆 Recommended BigID Alternative: Enzuzo ✅
Learn more about how Enzuzo can meet your data privacy and governance needs. Book 1-1 time with Mate Prgin, CEO👇

2. Data Sentinel
Data Sentinel offers a comprehensive suite of AI-powered trust management solutions. Among its notable offerings are automated data mapping, which covers the entirety of a company's data landscape, and automated discovery and remediation of compliance risks and violations. It also provides valuable consent management tools, encoding, and automated enforcement of local data governance policies.
Pros
Data Sentinel's strengths rest in its powerful feature set built on AI and machine learning capabilities. Unlike many other entries in this list, Data Sentinel can automate many common workflows in the consent management lifecycle. Data Sentinel makes it easy to discover both structured and unstructured data across silos and enables a more efficient data management process overall.
Plus, Data Sentinel offers flexibility in its solution delivery models, with three options to choose from: managed service, traditional software subscription, or API component subscription. This makes the service more accessible to a broader range of companies. And, just as BigID is known for its connectivity, Data Sentinel is equipped with pre-built SQL-based connectors that support seamless integration with applications and platforms.
Cons
Data Sentinel's weakness involves its relatively limited scope of services with respect to certain processes. For example, Data Sentinel, by its own admission, does not provide compliance tools or templates specifically tailored to various regulations or industry standards. This means that companies searching for tools to aid in certification or audit readiness may do better to look elsewhere.
3. MineOS
MineOS stands as a highly regarded platform and worthy alternative to BigID. It's trusted by privacy professionals worldwide and boasts capabilities that extend well beyond mere consent management. MineOS has tools for many essential functions such as data mapping, governance, and more. With this versatile platform, users can uncover hidden data silos, classify personal data, and effortlessly generate compliance reports, all within a single, unified platform.
Pros
MineOS offers a full range of features for consent management and compliance. From DSAR management to data mapping to consent management, MineOS has a lot to bring to the table. Better yet, the platform offers no-code API integration, making it fast and lightweight to deploy.
It's also worth mentioning that MineOS offers a tiered pricing framework that gives flexibility to buyers. Services are available in Plus, Pro, or Professional subscription tiers, each providing varying access levels to the platform's feature set and integrations.
Cons
MineOS' biggest weaknesses are its UX and customer support. Users have noted that MineOS presents a significant learning curve and challenges when implementing specific features. While MineOS provides helpful tools for achieving compliance with GDPR or CCPA, it's worth mentioning that access to its consent manager is gated behind a costly, long-term commitment. This arrangement may work fine for certain businesses but could prove cost-prohibitive for many.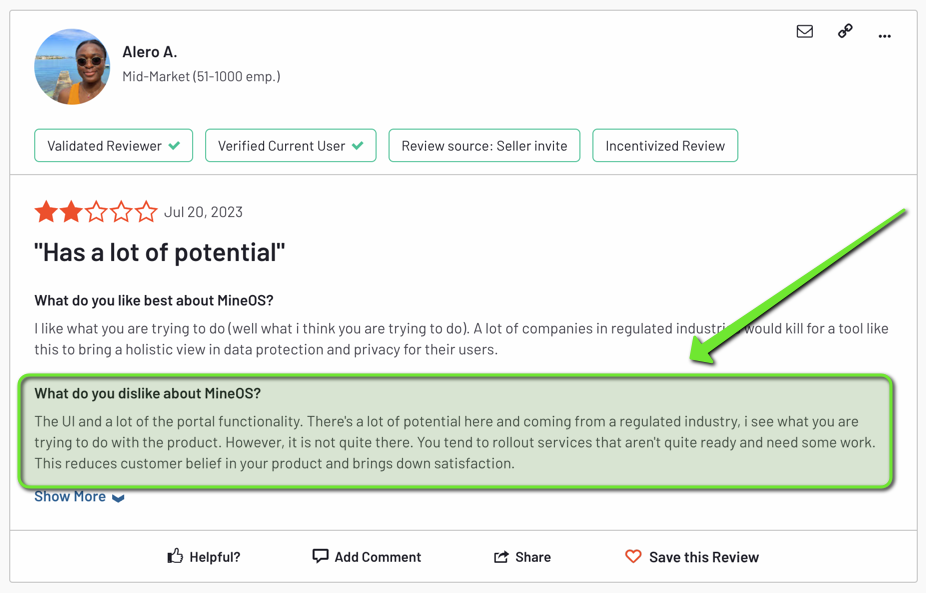 4. Securiti
Securiti is another BigID competitor, billing itself as a "data command center" for intelligence, security, and compliance. And when the full range of its features are considered, the command center analogy is hard to argue. Securiti offers a full range of data management tools designed to help bring visibility and control to a company's operations.
Pros
Securiti's biggest strengths are in its robust feature set and strong supporting team. Like BigID, Securiti has made it a mission to help companies get more from their data and manage risk. Its features reflect that goal. Users will benefit from various bundled solutions that address various pain points in data management, from data security posture management to governance to consent automation.
On top of that, Securiti offers support for multiple languages, and past customers report great experiences with the Securiti team. Users report that implementation experts and support reps are available to address issues that pop up, which can greatly benefit when dealing with a behemoth unified platform like Securiti. Although pricing information isn't available online, users can test Securiti with a free trial before committing.
Cons
Securiti's most notable drawbacks are its complexity and integration challenges. With so many features to bring to work, users report challenges managing the UI and finding helpful documentation. This challenge extends to integration, where buyers may spend excessive time trying to coordinate external components. Past customers are generally satisfied with their implementations but feel that the relatively young platform still has a few rough edges. Notably, despite the company's free trial, full commitments to Securiti may be cost-prohibitive for smaller companies.
5. Ketch
Ketch is another prominent data privacy and compliance industry player, boasting a robust programmatic privacy and AI data governance platform. Fans of BigID's unified platform will appreciate Ketch's Trust by Design; a platform built on a coordinated set of applications, infrastructure, and APIs. This solution is intended to mobilize data and streamline compliance processes in new ways.
Pros
Ketch's biggest benefit is its forward-thinking features that provide a new approach to privacy management. Ketch's platform is built on programmatic privacy solutions and AI governance, providing many features across data mapping, consent management, risk assessments, and more. It's a strong solution for expanding capabilities and configurability. Additionally, users report positive experiences with Ketch's support team, which is a foundational element of vendor selection.
Cons
Ketch's weaknesses are more evident when looking beyond the scope of services. Ketch's offerings come at a high cost and may entail substantial technical complexity. The company also requires contractual engagements from its customers, meaning long-term commitment upfront. Users will need to decide if Ketch's feature set justifies the expense, but those who do invest will enjoy innovative and streamlined management processes.
6. Osano
Osano is our next alternative, offering a compliance and risk management solution. Like BigID, Osano specializes in helping companies get control of their data and bring visibility to processes. Though relatively new in the space, Osano offers a good range of compliance solutions at flexible price points, making them a solid choice for companies of all sizes.
Pros
Osano's biggest strength is in its risk management suite. From GDPR compliance to assessing vendor risk, Osano can shore up a company's vulnerabilities in numerous ways. Plus, Osano offers a unique "no fines, no penalties" pledge that protects customers who receive fines while using the Osano platform. Though some restrictions apply, we appreciate this commitment to its customer base and willingness to stand behind its service.
Cons
Osano's drawbacks relate to its service restrictions, specifically those related to site traffic and feature availability. While Osano Free can be a great entry point for compliance, it limits users to 5,000 monthly site visitors—a threshold many buyers will quickly exhaust. The upgraded Plus plan expands this to 30,000 users but doesn't remove the restriction altogether.
It's also important to point out that Osano doesn't include certain critical compliance features in its lower-tier plans. For example, certain GDPR and CCPA compliance features are gated behind the Custom plan, which starts at a much higher price point. Users should be aware that while Osano does offer lower-priced options, the platform's best features will require investment in this premium service.
7. OneTrust
OneTrust is a household name in trust intelligence solutions. With a comprehensive range of services and integration capabilities, OneTrust provides some great benefits to the enterprise customer. We've written extensively on OneTrust in the past, but we'll provide a quick summary of the platform's top features below.
Pros
OneTrust's top benefit is the vast range of security, compliance, and trust management tools available to users. The platform is known as a jack-of-all-trades in compliance management; users will gain dedicated privacy and security tools while accessing forward-thinking tools like OneTrust's ESG and sustainability cloud. Users report great success with these tools and appreciate the ability to personalize their implementations, particularly with respect to compliance. It's easy to set OneTrust's controls to align with various security standards and compliance frameworks.
Cons
OneTrust comes up short in its cost, contractual obligations, and support capabilities. Unlike other compliance management solutions, OneTrust requires long-term contractual commitments with associated high price tags. This will put OneTrust's services out of reach for companies without an enterprise-level budget. And, like other platforms on this list, add-ons present additional budgetary concerns.
And unfortunately, one of the biggest areas of complaint in OneTrust reviews is the company's customer support. Many users report poor quality and timely support when encountering platform problems. This may make buyers want to think twice before committing, particularly if they lack the in-house expertise to resolve technical issues on their own. OneTrust does many things right, but users should carefully do their due diligence on these issues before proceeding.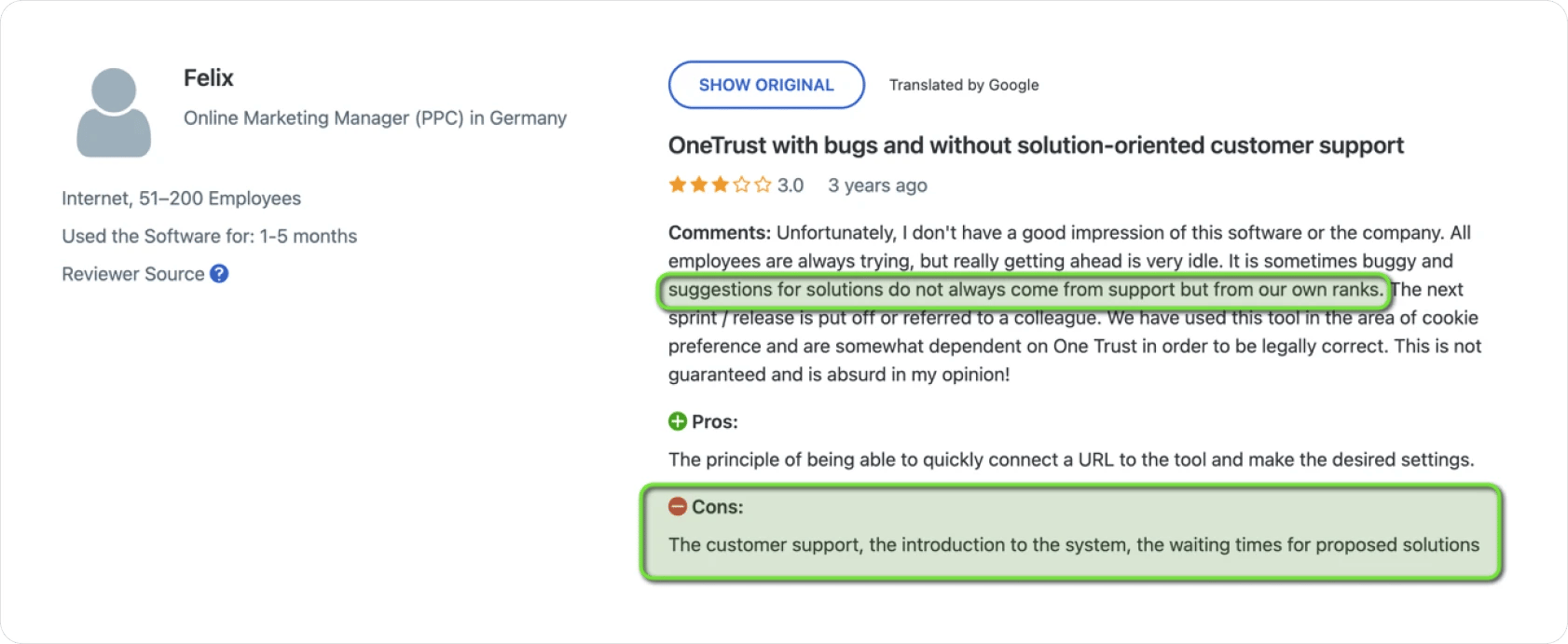 8. Varonis
Varonis is a leader in data management solutions, giving organizations tools to illuminate deep data silos, classify information easily, and automate remediation for data access. It's an undeniably effective platform, earning top-ranking spots in several Gartner technology reviews, but is it a suitable choice for your business?
Pros
Varonis' strength lies in its comprehensive features and customer support. Varonis offers tools to discover, classify automatically, and tag data and continuously remediate data exposure and misconfigurations. It can do a lot to improve a company's processes, particularly suited for larger enterprises with varied big data silos to manage.
Considering the size and force of Varonis' platform, you might think that its customer support would come up short, but the opposite is true. Users report that Varonis' customer support is helpful and responsive when setting up the platform and defining use cases. Notably, support technicians have been able to remediate some customer complaints in less than 24 hours, and several reviews agree that Varonis' customer service is one of its top selling points.
Cons
Varonis' weaknesses relate to its technical complexity and cost of add-ons. A common complaint with Varonis is a long implementation period with various technical concerns popping up post-deployment. Understandably, users struggle to coordinate usage across the platform and often find their workflows impeded by technical concerns.
Cost is another drawback of this platform. Although a high price point isn't unexpected for an enterprise platform of this scale, several users report its high price point as an organizational concern. This problem compounds as users incorporate various other SaaS integrations for AWS, Microsoft 365, or Salesforce services. With an already high price tag, these add-ons can quickly create an untenable value proposition if not approached carefully.
9. Vanta
Vanta stands as a prominent player in the realm of data privacy, compliance, and information governance. The company boasts a diverse array of offerings that cater to a global clientele. The platform is strong at its core and has earned a spot on our list, but it's important to note that, like other solutions listed here, Vanta's suitability varies from one business to another.
Pros
Vanta's biggest selling points are its robust feature set for security and compliance. Vanta bills itself as an automated solution for trust management, ostensibly able to automate as much as 90% of a business's security and privacy frameworks.
The platform is a strong choice for security-minded companies, with an impressive range of tools to support use cases in security and compliance foundations, risk management, privacy foundations, and continuous trust. Businesses will appreciate the holistic risk assessments available through the company and the ability to streamline auditing processes. Generally, the biggest strength of Vanta is its feature set, time-saving tools, and the platform's ability to serve businesses of all sizes.
Cons
Vanta's biggest weaknesses relate to high costs and usability. While Vanta doesn't provide transparent pricing details, it's evident from user reviews on top consumer review sites that Vanta's costs can be substantial—and in some cases, they're prohibitively expensive for the value provided by the platform. Solutions like Vanta typically cost hundreds per month, expanding into thousands as you venture deeper into enterprise territory.
To make matters worse, users have expressed concern about Vanta's UX, reporting confusion about managing the notifications and data in the Vanta ecosystem. This means that businesses who invest in Vanta may need to rely extensively on the company's support to ensure users can make good use of the platform.
Factors to Consider When Choosing BigID Alternatives
There are a plethora of data privacy management companies but all did not make it on this list. Here, we've detailed the criteria used and the points on how we assessed other vendors.
Do They Compete on Feature Set?
When assessing privacy/compliance software, we prioritized feature-rich solutions. We recommend that businesses look for software that cover the gamut of data privacy and governance needs. These features collectively ensure that your software not only helps your organization remain compliant but also safeguards your sensitive data from potential breaches and misuse.
Do They Support User Consent Management?
User consent management is a critical aspect of privacy compliance, particularly in light of regulations like GDPR and CCPA. When evaluating software, make sure it allows for transparent and efficient consent collection. Look for features that enable you to obtain user consent for various data processing purposes, maintain detailed records of consent, facilitate easy consent revocation, and generate and store consent documentation. This ensures that your organization not only respects user privacy but also has the necessary documentation to prove compliance in case of regulatory audits.
Do They Support Customizability and Onboarding?
Customizability and free onboarding services are crucial for tailoring privacy/compliance software to your business's needs. Seek software platforms that offer configuration options, allowing you to adapt settings, workflows, and policies to align with your specific privacy and compliance requirements.
Additionally, free onboarding services, training resources, and documentation can expedite your team's familiarity with the software, ensuring a smooth transition. It's also important to check whether the software supports industry-specific compliance needs and can scale to accommodate your business's growth and evolving compliance landscape.
Is There a Free Trial or No-Cost Assessment Available?
Before committing to a privacy/compliance software solution, having a trial period or access to a free tool can be invaluable for assessing its suitability. Look for software providers that offer a reasonable trial period, typically ranging from 7 to 30 days, which allows you to evaluate the software's functionality, ease of use, and compatibility with your organization's requirements.
Free versions or tools with limited features can be especially beneficial for SMBs or startups with basic compliance needs. Ensure that you have access to customer support or resources during the trial period to maximize your evaluation as well. Additionally, we'd advise you to confirm data portability options to facilitate the export or transfer of data collected or generated during the trial.
Do They Offer Multi-Language Support?
In an era where data privacy and regulatory requirements extend across borders, we don't see any other way to achieve full compliance than offering the ability to communicate and operate in multiple languages. Whether it's GDPR in Europe, CCPA in California, or similar data protection regulations worldwide, businesses must ensure that they can engage with stakeholders on their preferred terms.
Do They Offer a Cookie Consent Management Tool?
Implementing a cookie consent banner is imperative for GDPR compliance these days and is a core aspect of a business's privacy strategy. The GDPR mandates that websites and online platforms obtain clear and informed consent from users before collecting their personal data through cookies and similar tracking technologies. A well-designed cookie consent banner serves as the initial point of contact between a website and its visitors, helping to ensure that individuals are fully aware of and have control over their data.
Cookie consent management isn't just a regulatory checkbox; it's a powerful tool for building and maintaining a compliant and user-centric online presence. A structured banner can empower users, enhance data protection, and help organizations navigate the complexities of GDPR, ultimately supporting a better and more privacy-conscious online environment.
Learn more about how Enzuzo can meet your data privacy and governance needs. Book 1-1 time with Mate Prgin, CEO👇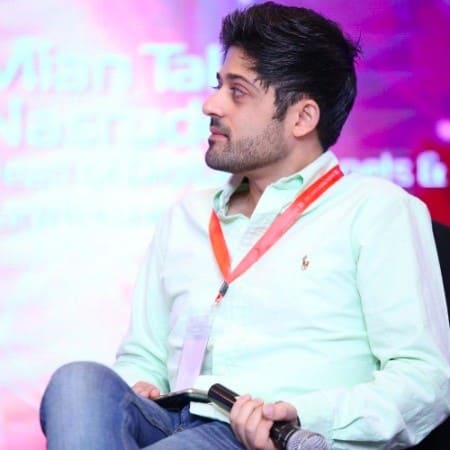 Osman Husain
Osman is the content lead at Enzuzo. He has a background in data privacy management via a two-year role at ExpressVPN and extensive freelance work with cybersecurity and blockchain companies. Osman also holds an MBA from the Toronto Metropolitan University.