Table of Contents
Vanta is a well-known company in data privacy, compliance, and information management. It has an impressive roster of products with a number of customers around the world.
But Vanta isn't the right fit for all businesses. Some feel it is extremely pricey for what it offers, while others have reservations about its user experience.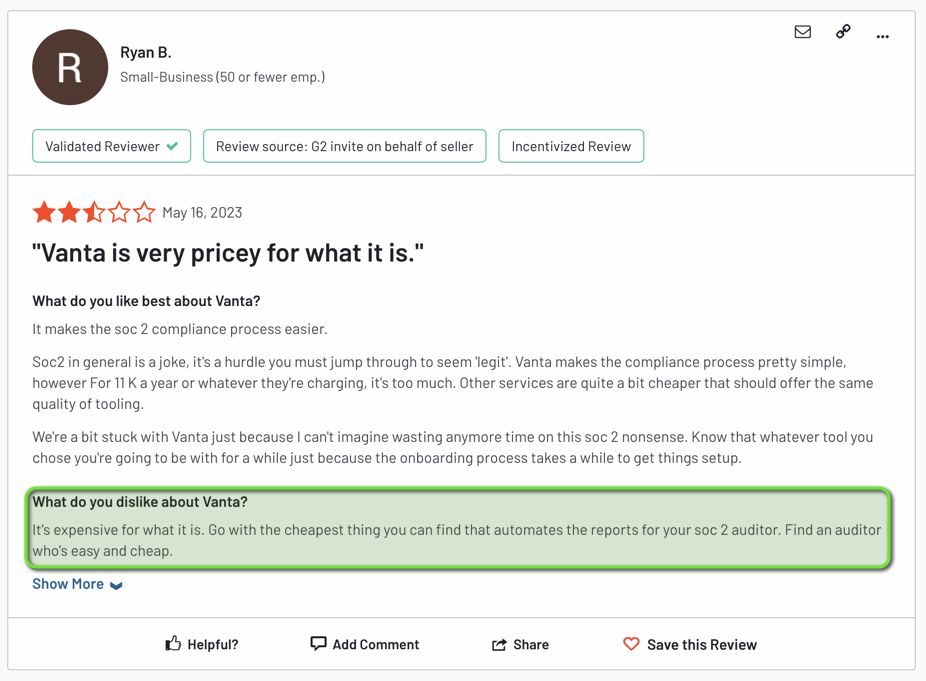 You're in the right place if you're looking for Vanta alternatives and competitors to understand your options. In this article, we detail the top 9 picks for a better data privacy experience.
The Top Vanta Alternatives
If you are close to implementing an automated cybersecurity and compliance platform, it may be helpful to review a consolidated summary of the pros and cons of Vanta and its top alternatives.
1. Enzuzo (Our Top Choice)
Enzuzo offers a comprehensive menu of privacy and data compliance services, including compliance with data privacy regulations such as GDPR, PIPEDA, CCPA, and LGPD.
Why do we believe Enzuzo is the top Vanta alternative?
Pricing
As mentioned earlier, one of the main complaints about Vanta is the price.
While Vanta does not advertise its pricing, it's clear that it doesn't come cheap, particularly for smaller customers with limited resources who are still held to the same regulatory requirements as enterprise customers.
Enzuzo, by contrast, offers a range of plans suited for businesses of varying sizes. The enterprise plan is priced according to specific needs, but GDPR & CCPA compliance is possible within the Growth and Pro plans that start at $29/month.
Furthermore, unlike Vanta, Enzuzo doesn't require an annual contract. Upgrade, downgrade, or stop your service anytime with no penalty.
Enzuzo's enterprise plans guarantee cost savings in the hundreds of dollars per month compared to Vanta. These customized plans include an option for further development of custom integrations and workflows to meet your particular needs.
Features
At a high level, Vanta and Enzuzo share a number of features, but if you dig a little deeper you find that Enzuzo offers some unique advantages. Some Enzuzo's advanced features include:
Data mapping
Data governance
Privacy impact assessments
Third-party risk management
Region-specific cookie consent
Record of processing activities (for GDPR article 30 compliance)
DSAR form and workflow
"Do not sell my information" and "right to be forgotten" functionality
Automated email notifications
Enzuzo is designed to keep you compliant with many data privacy laws out of the box. And advanced needs are dealt with on a case-by-case basis.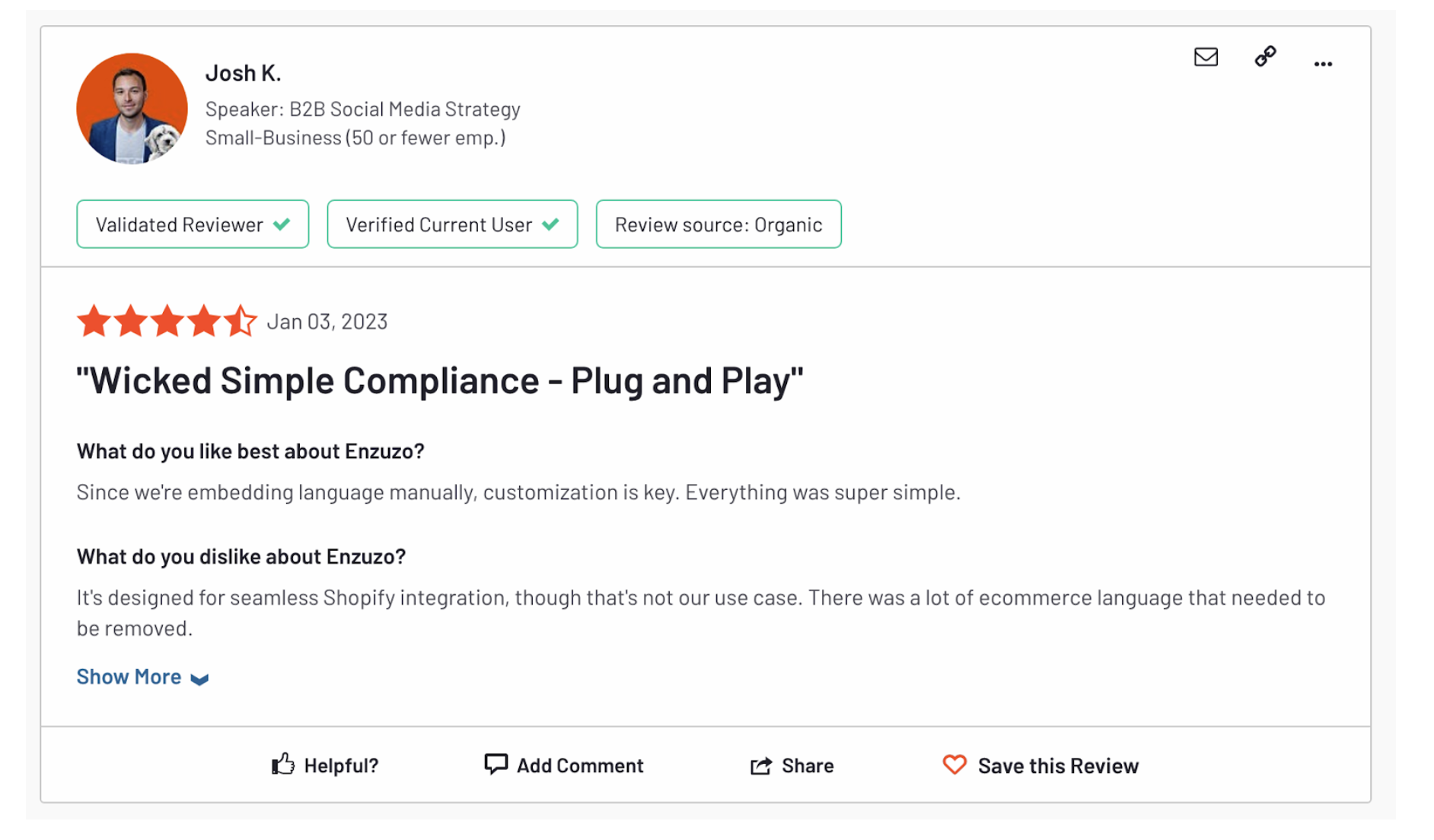 Onboarding and UX
Some Vanta customers report confusing UX as an area of frustration.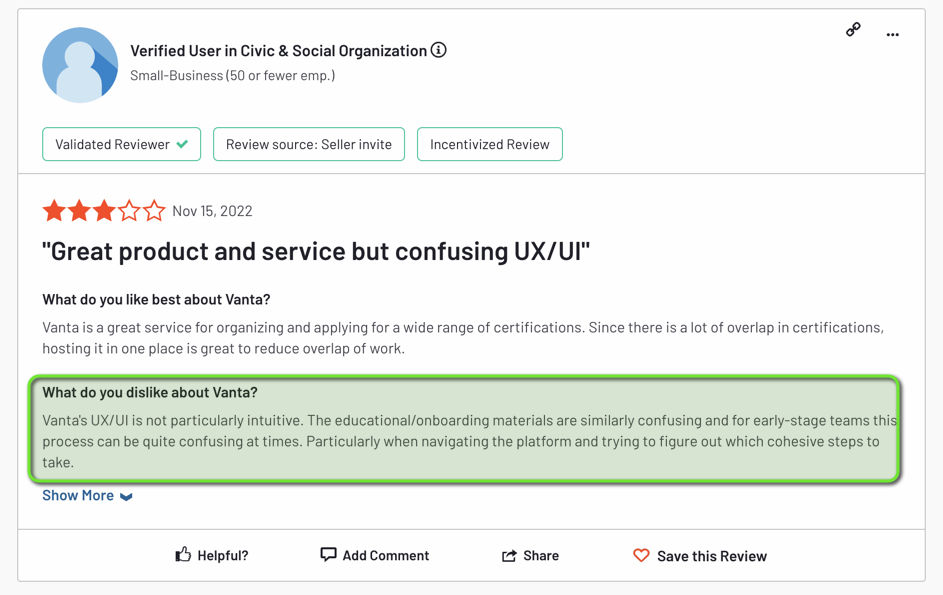 Enzuzo, on the other hand, enjoys strong reviews in this area–customers are delighted with how well it works out of the box, and that setup and onboarding is effortless.
The app is engineered to be fast, easy to configure, and quick to install. All legal pages are embedded with a couple of lines of Javascript — it's a true self-service tool that can get set up in minutes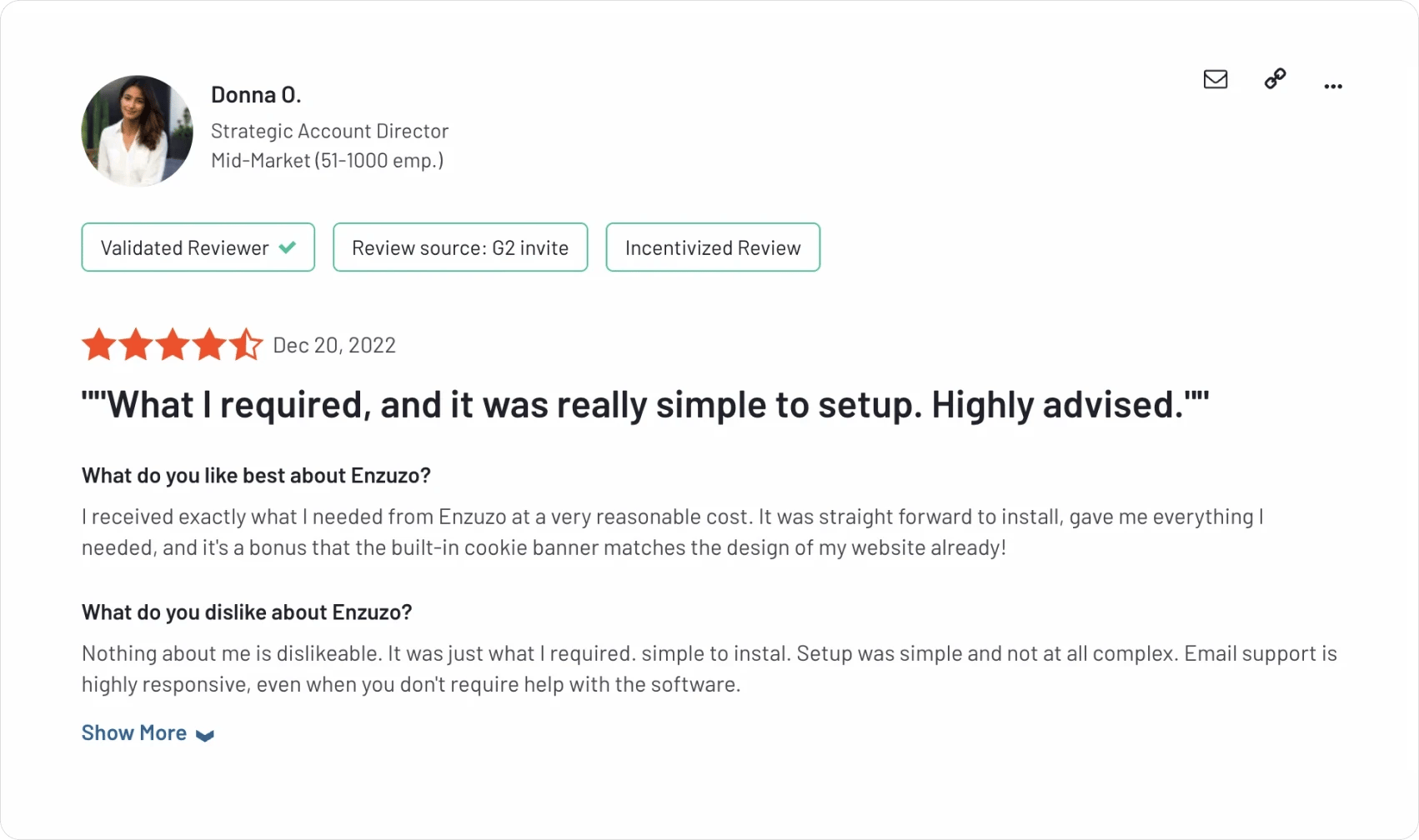 Customer Support
Customer support is another area where Enzuzo has strong positive reviews. That's important because things tend to break in complex software environments, and timely customer service is critical, especially in sensitive areas such as data privacy.
Enzuzo's reviewers consistently highlight the helpful and timely response to their customer support requests.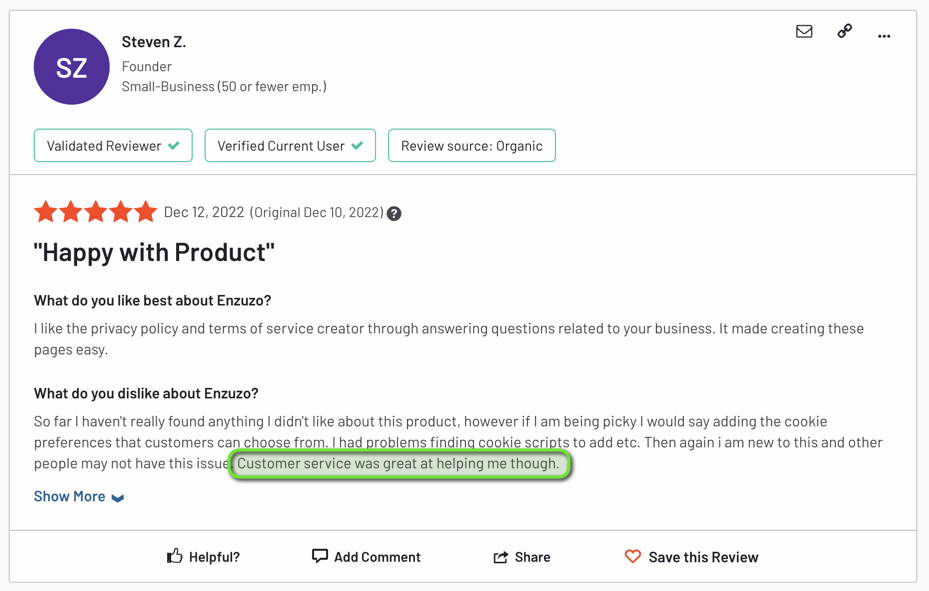 Trusted by International Companies to Power Data Privacy
After a competitive bidding process, Enzuzo was recently chosen as the data privacy partner of Lucy Group — an international electric business that employs over 1,600 people across 5 continents and 12 countries.
A similar process saw Enzuzo winning the business of Power Corporation of Canada, a globally recognized management and holding company specializing in financial services across North America, Europe, and Asia.
Both organizations depend on Enzuzo for critical data privacy support and management — and it can certainly solve similar challenges for businesses looking for a more cost-effective alternative to Vanta or considering their data security and privacy compliance options.
Final Thoughts
Enzuzo and Vanta have similar product offerings, but if you're looking for the triple play of data privacy compliance (including legal pages and cookie consent management), pain-free onboarding, and low price, we reiterate that Enzuzo is the top Vanta alternative.
Enzuzo doesn't lock you into long-term contracts, offers free onboarding and priority customer support on all plans, and ensures compliance with GDPR, CCPA, PIPEDA, and other data privacy laws.
Learn more about how Enzuzo can assist with your compliance needs. Book 1-1 time with Mate Prgin, CEO👇

2. Data Sentinel
Data Sentinel, headquartered in Ontario, Canada, is a recent entrant in this field, but has already garnered several awards, including the Globee Security Hybrid Startup of the Year award in 2021. Seasoned veterans lead Data Sentinel with years of experience in data governance, security, and compliance.
Features
Data Sentinel has a comprehensive, AI-powered data management solution suite with some compelling features, including:
Automated data mapping across your entire landscape, including identification and classification of sensitive data
Automated discovery and remediation of compliance risks and violations
Consent management tools
Encoding and automated enforcement of local data governance policies
Pre-built, SQL-based connectors to hundreds of different applications and platforms
However, they do not claim to provide compliance tools or templates for specific regulations or industry standards, so if you are looking for tools to help with certification or audit readiness, Data Sentinel may not be the solution you are looking for.
Data Sentinel has three solution delivery models: managed service, traditional software subscription, or API component subscription. They have a team of consultants who can perform a baseline audit, initial remediation, and setup of appropriate Data Sentinel components to maintain ongoing security and compliance.
Final Thoughts
Overall, Data Sentinel appears to have a solid solution, although reviews are few and far between and they don't have a list of clients on their website, suggesting they don't yet have a large client base. It's unclear if they are targeting the SMB or enterprise market; the one "success story" on their website is for a Canadian government agency.
3. Mine
Mine is a data privacy management platform that started with a focus on helping consumers know where their data was being used online and to gain control of that usage. It further branched out its product offering to include a business solution centered around maintaining data and privacy compliance.
Pros
Like many data and privacy compliance solutions, Mine supports multiple touchpoints, such as email, SSO, website, and cloud scanning. Key features include:
Monitoring operational systems
IT shadow and risk mapping
Controlling employee data access
Privacy and governance compliance
Full data and systems coverage
Identifying authoritative systems
Mine supports plug-and-play integrations that easily support access and deletion requests as with other platforms. You also get consent management tools for both websites and apps. Mine has three out-of-the-box plans to choose from and the option for a custom plan for enterprise customers.
Standard options such as a customizable privacy webform, collecting data requests across channels, and secure communication channels with data subjects are all supported.
Cons
Although all of these features are essential, Mine lacks pricing transparency; none of the three available out-of-the-box plans have their prices advertised. The base plan offers a trial period, but you must sign up for a demonstration presentation before moving forward. Additionally, customer service response times are linked with your plan level.
The base plan promises a 48-hour response time, but you must upgrade to the top-tier plan to get a same-day turnaround. Although this might not be a problem for businesses that don't rely on their website as a primary funnel source, others may find a potential two-day response lag time problematic. Likewise, security and authentication support beyond SSO and email are limited to the two premium account options.
Final Thoughts
The fact that Mine tries to address both the consumer and business markets suggests that the company is not altogether focused on their data governance and privacy compliance side. It's unclear how easy it is to onboard or how many integrations they support. Finding a provider focusing more on the B2B market might be wise.
4. Securiti
On the surface, Securiti appears to be quite similar to Data Sentinel, in that it is an AI-powered data governance platform, with a feature set much like that of Data Sentinel. Unlike Data Sentinel, however, Securiti has numerous reviews online, with consistently high ratings.
Features
Securiti's flagship product is the Data Command Center, a one-stop interface for managing various aspects of your data landscape, including:
Data discovery and classification
Data governance policy monitoring and enforcement
Data privacy and consent automation
Data breach impact analysis and response
Data lineage
Securiti also has functionality to automate compliance with dozens of different data privacy regulations at the national and state/provincial level.
Most reviews praise Securiti's support team even more than the software itself. The support and engineering teams seem willing to accommodate special requests for features and functionality. The only negatives expressed in the reviews are over minor issues, such as the complexity of using some of the data connectors.
Final Thoughts
Securiti has a compelling product centered on governance and compliance. The features are robust and well suited for enterprise-scale organizations with sizable compliance budgets. Securiti's pricing isn't advertised on their website, but given their target market, it's safe to say they are beyond the reach of most smaller organizations.
5. Ketch
Like Data Sentinel and Securiti, Ketch is a 360-degree solution focusing on data management and privacy compliance from multiple angles. Ketch promises to support responsible data control from end to end across the data lifecycle. Features include:
Managing data expiration and proper disposal
Customizable cookie and disclosure templates
Consent and preference management
Subject rights intake and management
DSAR support (Enterprise)
Automated data discovery and classification (Enterprise)
Data stewardship (Enterprise)
API development (Developers)
Pros
Ketch offers three general plans for specific customer types – Ketch Free, Ketch Enterprise, and Ketch for Developers. Ketch Free is ideal for small or startup businesses that must comply with privacy regulations.
The Enterprise plan is ideal for those scaling up and needing additional support to stay compliant. Ketch for Developers offers customized solutions and tools supporting no-code or low-code production. The developer tool is also included in the Ketch Enterprise plan.
Cons
As is common for many providers in this space, pricing for Ketch Enterprise and Ketch for Developers is hidden behind a contact form. Likewise, if you're managing a deeper domain portfolio, Ketch limits each integration within its UI to just one domain per tier within the integration process (development, staging, and production). Although this doesn't mean you can't integrate multiple features into several domains, it creates a bottleneck during the development process because you can work on only one domain at a time.
Other users have noted that Ketch's backend isn't exactly user-friendly.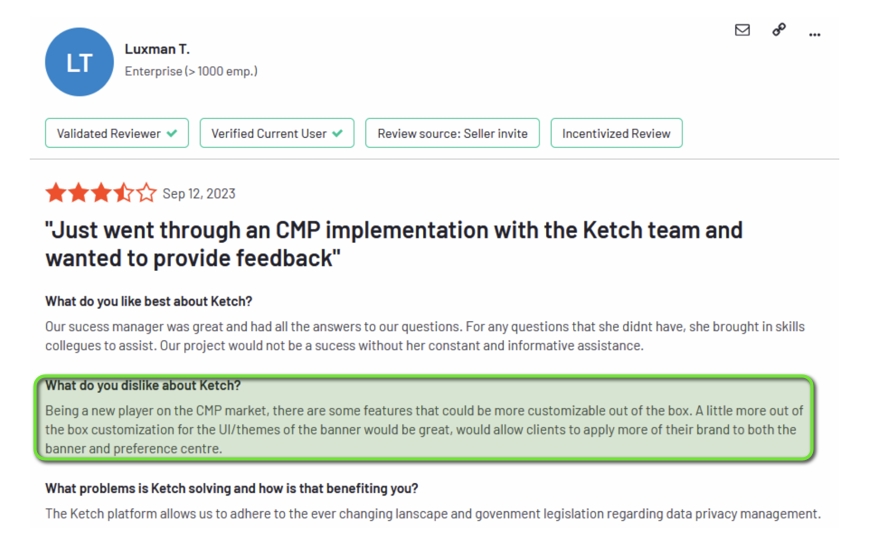 Final Thoughts
As with many young providers, Ketch hasn't quite achieved a high level of maturity in its products and documentation–there are gaps in both that will be addressed over time but can be annoying if you invest significant time, money, and resources into implementing their solution. But Ketch, by all accounts, has a solid product designed for both SMBs and enterprises.
6. Osano
Osano puts some skin in the game by promising not only to protect your organization from privacy or compliance fines but also to pay those fines if they are imposed on you while using their product. Osano is a plug-and-play privacy and data management platform that keeps your business compliant with laws from 40 different countries. Key features include:
Cookie discovery, blocking, and control
iFrame blocking and control
Consent optimization (Business)
Vendor risk monitoring (Business)
CCPA opt-out (Business)
Consent record keeping (Business
GDPR representative (Business+)
Consult privacy team (Business+)
DSAR support (Enterprise)
Legal Templates (Enterprise)
AI-based data discovery (Enterprise)
Pros
A refreshing difference with Osano is that they offer four plan levels with full pricing transparency. Plans start at free for Developer, $99.99 per month for Business, $199.99 for Business+, and $549 and up for the Enterprise plan or custom builds.
Unsurprisingly, functionality increases as you opt for a more premium plan. The free plan supports only a single domain, user, and data connector with 5,000 monthly visitors. By contrast, the Enterprise package accommodates unlimited users and domains.
Cons
If you're just starting and aren't well-versed in data or privacy needs for websites, you might feel like the Developer plan is sufficient. However, under this plan you're limited to cookie maintenance and a response time that is listed as "best effort." Furthermore, the Developer plan is so stripped down that you won't know if your policy is outdated, and you won't receive guidance for major laws like GDPR or essential customer opt-out support to remain compliant with CCPA.
Final Thoughts
Core legal and privacy feature support is limited to the Business+ and Enterprise packages — meaning that you might not be as compliant as you would have hoped if you're considering the lower-tier plans.
That said, reviews of Osano are consistently enthusiastic about the ease of onboarding, the helpful support during that process, and the ease of use after implementation (although some find the UI less intuitive than it could be).
7. OneTrust
OneTrust was founded in 2016 in response to growing demand by businesses for assistance and tools for GDPR compliance. They further enhanced the company's offerings with the passage of California's CCPA and the resulting rise in requests for privacy and security software tools.
OneTrust's suite of services includes data mapping assessments, risk evaluation, consent management, cookie compliance, and more. OneTrust has numerous features, including privacy and data governance solutions that provide real-time knowledge regarding the personal data held and processed by your organization and by your third-party partners.
Additional major features include an ESG and Sustainability cloud service that helps organizations map out their ESG goals and track progress towards maintaining them and a GRC and Security Assurance feature that helps businesses understand their exposure to cyber threats.
Pros
Top-tier features for mature enterprise customers
Solution that goes far beyond data privacy, governance, and compliance into integrity and trust
Several integrations with other platforms
Cons
Poor and unresponsive customer support
Complex platform that is difficult to set up and integrate


Final Thoughts
Because of OneTrust's complexity, many users report that the software is clunky and difficult to integrate with their systems. Customer support is unresponsive for the most part and many customers are left to figure it out themselves, leading to some negative online reviews.
OneTrust can be a great choice for large, well-funded organizations that can rely on in-house IT resources and privacy experts to assist in setup and operation. We estimate that contract values can be $50,000 or more, depending on how many features you implement. Moreover, the firm makes cancellation difficult and charges extra for onboarding assistance.
8. Egnyte
Founded in 2008, Egnyte has been around longer than most of its competitors. The company positions its offering as more of a secure file-sharing solution, not a data governance or privacy compliance solution. Implementing a secure file-sharing solution requires some built-in data governance features, so we're including Egnyte in this list of Vanta alternatives.
Egnyte enables an organization's users to share files within a secure environment, eliminating the need to use risky sharing methods such as email and USB drives. Features include granular access control at the file level, end-to-end data encryption, visibility and management tools, reporting, and audit trails. Egnyte can be implemented for a company's on-premise, cloud, or hybrid IT landscapes.
The data-governance features of Egnyte include:
Sensitive data discovery and classification
Support for RAD/ROTs and SAR/DSAR fulfillment
Policy management, including built-in and custom policies
Support for regulatory and industry-standards compliance, including ISO 27001, CCPA, and GDPR
Integration with dozens of applications and services
Egnyte is somewhat more forthcoming on their website regarding pricing. Their basic Business plan, which includes file version control, desktop and mobile file access, and single-step workflows, is $20 per user per month. The more advanced Enterprise Lite and Enterprise plans require a custom quote. Significantly, the data governance module is an extra-cost add-on to any of the plans, not a part of the core software.
Pros
Online reviews focus mainly on the file-sharing features, which get high ratings from most reviewers. Specific highlights include the ease of implementation and use, an intuitive user interface, and the essentially unlimited storage space.
Cons
Complaints are few and far between in Egnyte's online reviews. Many of them are about minor issues such as upload times and occasional crashes.
Final Thoughts
The fact that the software's data governance and compliance features are part of an add-on module at an extra cost, and not part of the core product offering, should give you pause. There seem to be few or no reviews specific to these features, so it's not clear how many of Egnyte's customers use this module or what their opinions are.
Egnyte might be for you if you're looking for a secure file-sharing tool that happens to support data governance and privacy compliance, but if you're in the market for a solution that puts data privacy front and center, you should look elsewhere.
9. Didomi
Headquartered in France, Didomi's product offerings include a consent management platform, compliance monitoring, a privacy request management module, and a preference management platform.
Didomi's solution suite is aimed at organizations immediately needing to get ahead of the curve on data privacy compliance. Didomi's main offerings include:
A consent management module that tailors your customers' consent choices to comply with various data privacy laws. Presentation of the consent tool is fully customizable to fit your site or app's look and feel.
A compliance monitoring tool that tracks your organization's privacy compliance and that of your external partners, providing a 360-degree view of your data compliance status with intuitive key performance indicators.
Privacy request management tools to service user DSARs in a timely and compliant manner. Didomi's privacy request management module streamlines the servicing of these requests, reducing turnaround time and increasing customer satisfaction.
Pros
Online reviews of Didomi's solution indicate high ratings for their customer support and the solution's ease of customization. The ability to integrate Didomi with other business systems is also seen as a major plus.
Cons
The complaints about Didomi include:
Poor support for IAB TCF
Less mature product
Degrades website performance
Lack of integration support for certain popular platforms such as Shopify


Final Thoughts
Didomi is an up-and-coming player in the data compliance space with a compelling, if limited, product offering. Didomi offers three plans, including:
Consent Essentials, for basic consent management
Core Privacy UX, which includes more features for user preference management
Privacy UX Plus, for high-volume environments
Pricing is not advertised on their website, but the lack of complaints about price suggests that its pricing is not unreasonable. Didomi can be a good choice for organizations with more focused data compliance requirements, but it may lack some features that are must-haves for your organization. It should be evaluated with care before making a buying decision.
Factors to Consider When Evaluating Vanta Alternatives
These were our main considerations when selecting the most suitable Vanta alternatives to consider.
Budget
Pricing transparency is a big plus for smaller organizations because they can easily eliminate options that far exceed their budget constraints, which is rare — as evidenced in our overview above.
A good question is: Does the platform you want to use offer a free trial? A free trial allows you to "test drive" the solution and see how easily you integrate the solution into your backend and to evaluate the user interface.
Integrations
Integrating a data management platform into your existing website or backend is not trivial. A common complaint with many platforms is that integration was a major pain point. Therefore, it's integral to have someone or a dedicated team that's prepared to devote time to set up and test your consent management system. It also means your chosen solution should offer robust support in this area.
Support
A common concern we saw with many free plans was that response times could be as high as 48 hours or referenced as "best effort," meaning…what? One day, 3 days, 10 days?
This might not be a major issue if your business receives minimal website traffic because you're more brick-and-mortar focused. But if you're an online business receiving massive daily internet traffic, this issue becomes paramount.
Compliance
Most major platforms provide compliance coverage for major international and state laws. But it's important to note that according to the United Nations, 137 nations have some type of privacy regulation in place. If you're receiving traffic from any of those 137 countries, you're technically liable for how you're managing those citizens' data.
Likewise, in the U.S. alone, more states are following California's lead and producing independent legislation. Connecticut and Virginia enacted legislation in 2023, and more are sure to follow.
With the myriad regulations in place or in the pipeline, your data privacy compliance platform must keep up with the changing data privacy landscape. More important, their solution needs to be agile enough to adjust and maintain your compliance, both as the laws change and as your business model evolves.
Customizations
Whether you prefer a solution that doesn't give your provider free advertising by showing the logo of your consent management platform, or you need to create content in multiple languages, customizations are central to ensuring a positive user experience for your site visitors. How flexible is the free consent management system you're considering regarding these features? Can they be customized only under the more expensive plans they offer?
Data Management
Data management, of course, is a central function of any data privacy and governance solution. From handling DSARs to tracking where your data is coming from, when it's nearing expiration, and whether it's being handled properly, you need a platform that can give you sufficient support for these tasks.
Enzuzo: An Agile Solution That Prioritizes Privacy and Data Compliance
Privacy laws are constantly evolving. With so many regulations worldwide, staying compliant can be too much for a business to handle independently. You must have a consent management platform that actively responds to regulatory changes, while also giving your business the flexibility to customize policies and cookie consent interfaces for customers.
Enzuzo is designed to grow with your business. With five plans, no monthly contract, and robust solutions and customizations, Enzuzo has a solution for businesses of all sizes. Whether you've just launched your first website or manage a portfolio of domains, Enzuzo can help keep you compliant every step of the way.
Learn more about how Enzuzo can assist with your compliance needs. Book 1-1 time with Mate Prgin, CEO👇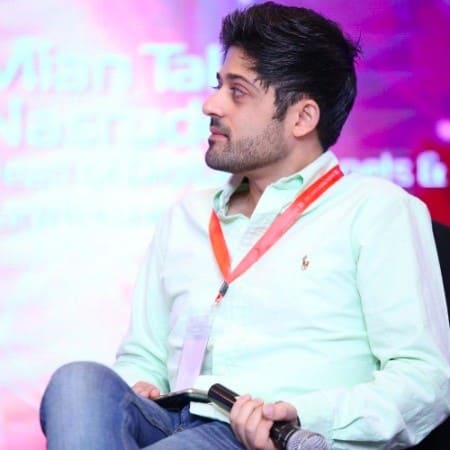 Osman Husain
Osman is the content lead at Enzuzo. He has a background in data privacy management via a two-year role at ExpressVPN and extensive freelance work with cybersecurity and blockchain companies. Osman also holds an MBA from the Toronto Metropolitan University.