How to Add Terms and Conditions to Your Website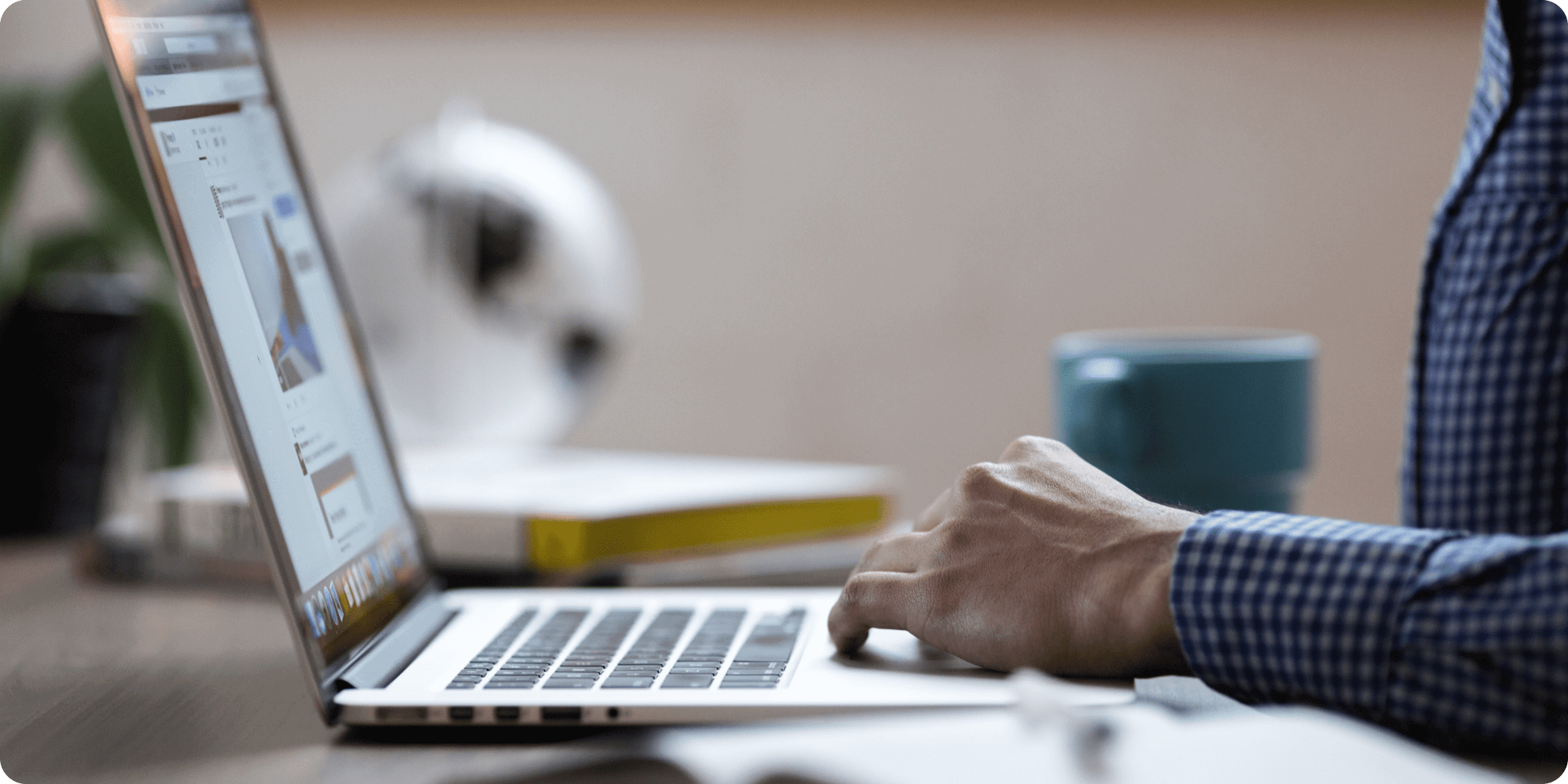 A clear, well-written terms and conditions agreement helps establish a better relationship between you and your website users. They know exactly what to expect, and get an insight into how you operate your online business.
In the past, you'd consult a legal team to draft a comprehensive set of terms and conditions. Now, you can enjoy the benefits of this must-have document with no time wasted.
Here's how to add terms and conditions to your website the easiest way — with the help of Enzuzo's free terms of service generator.
How to Generate Terms and Conditions for Your Website
You don't need hours of time and a stack of paperwork to complete your own terms and conditions. All you need is a handful of company details and a few minutes.
Here's how to generate terms and conditions for your website using our free generator.
Add your company details
The first page you see will be this one, where you're prompted to enter some basic company details. Here you'll add your company name, mailing address, and website URL.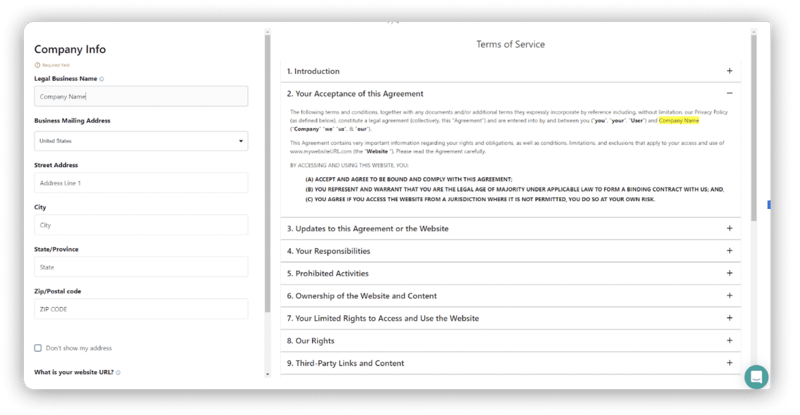 Next, you'll be asked to share further contact details. Enter your email address and phone number, so that people can reach you with any questions about your terms of service.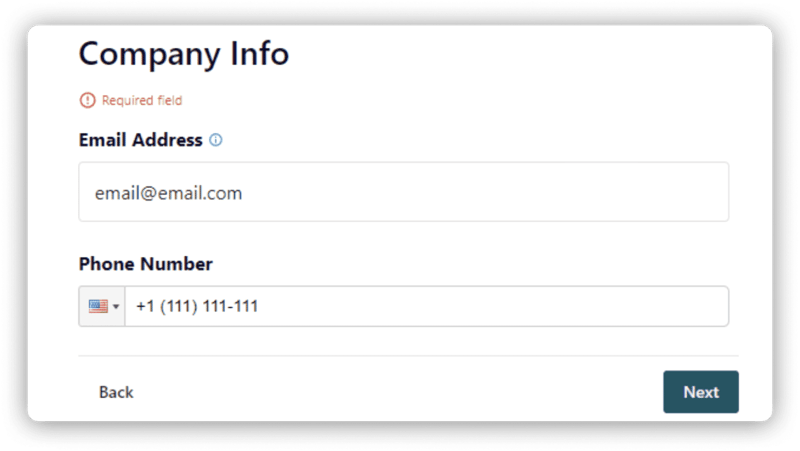 We're all done with company details now! Let's move on to the next step.
Set your governing law
Each jurisdiction will have a slightly different approach to what your terms of service should contain. In this step, we'll ask what your governing law is and in which location any legal disputes would be governed.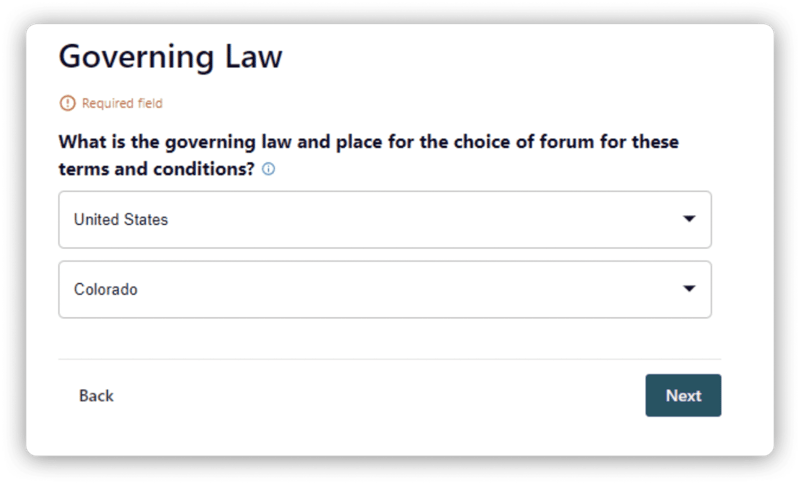 Next, if it's required based on your location, add a link to your privacy policy. If you don't have a privacy policy already, try our free privacy policy generator!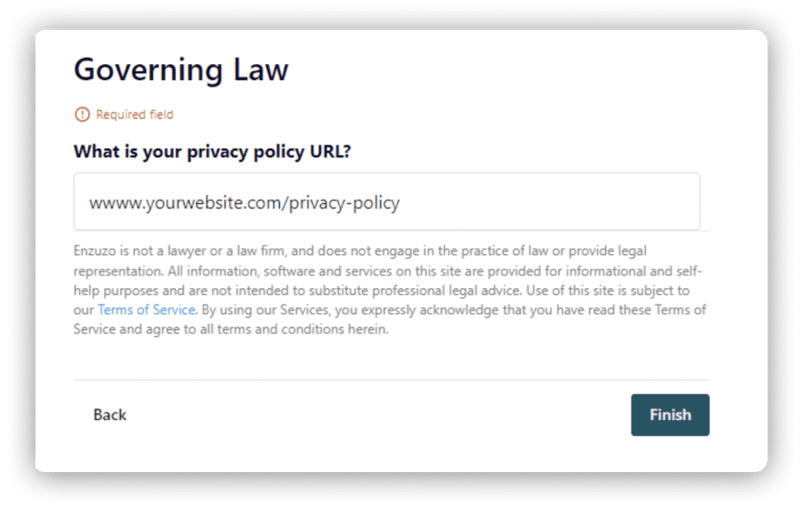 That's all the details we need — now it's all about finalizing your account so that you can save your policy.
Complete your account setup
Once you've finished adding your details to the terms and conditions template, you'll be prompted to complete your account setup. After this, you can view, edit, and add your policy to your website at any time.
How to Add the Terms and Conditions to Your Website
It's easy to add your website terms and conditions with the help of our step-by-step guide.
You won't need expert level knowledge to do this — especially if you're using a platform like WordPress or Webflow. If your website is built with custom code and you're not comfortable editing it directly, ask your web support tech to handle this process for you.
Let's get started.
From your Enzuzo dashboard, navigate to your Terms of Service page.
Click the green "Add to website" button at the top of the page.

In the pop up dialog, click "Copy Code to Clipboard" to copy the code snippet to your clipboard.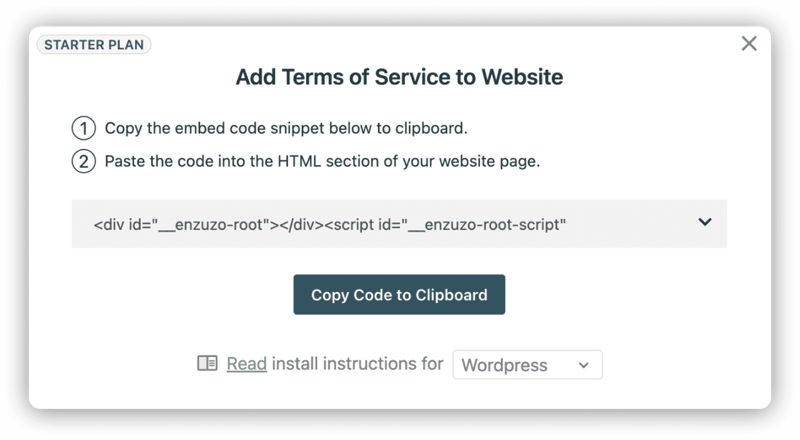 Open up your website builder, and create a new page. Name it something clear, like "Terms of Service" or "Terms and Conditions".
Create a HTML block to contain your code snippet.
Note: If your website's built in WordPress, use the Custom HTML block to add your embed code easily. If you're using Webflow, you'll want the Embed component instead.
Save your new page.
Add a link to your new page to your website's footer menu.
Your new terms of service page is now ready and visible!
For detailed walkthrough instructions for each platform — including how to add the link to your menu — see our dedicated guides here:
Here are a few of our dedicated guides that will be coming soon:
How to add your terms and conditions to Shopify
How to add your terms and conditions to Squarespace
How to add your terms and conditions to Wix
Do You Need Terms and Conditions for Your Website?
There's no specific law that says you must display terms and conditions on your website. Unlike a privacy policy, that's often required by privacy laws like the GDPR, displaying your terms and conditions (or terms of service) is completely up to you.
While it's not a legal requirement, we'd encourage you to consider having terms and conditions anyway. Having your terms visible to your users makes it easier to:
Communicate your role, responsibilities, and legal requirements
Share what is expected of your users and online store customers
Make statements about liability
Be transparent about how you operate
Establish a binding agreement between you and your users
Reference what was accepted in the future in a legal dispute
For these reasons, it's worth listing your terms and conditions on your website. Additionally, you don't need to choose Shopify as the platform to build your eCommerce store with. It might help you in deciding which platform to use to better understand how much Shopify takes per sale.
What to Include in Your Terms and Conditions
There's no rule that says your terms and conditions must include any specific wording, sections, or disclaimers. However, they should set out your roles and responsibilities as the service or product provider, and what you expect from your users in return. Your terms and conditions can also outline any limitations and an exclusion of liability, as they provide a legal agreement between you and your users.
Here's what to include in your terms and conditions:
Introduction
Updates to your terms of service
A formal acceptance of the terms and conditions agreement
Your responsibilities
Prohibited activities
Website and content ownership
Intellectual property rights and copyright infringement
Rights of access
Company rights
Third-party links and content disclosure
Limitation of liability
Disclaimers, warranties, and indemnification
Governing law
Other matters
Contact information
For a detailed look at everything you need to know about terms and conditions, see our guide to ecommerce site terms and conditions.
Reasons to Use Enzuzo vs. Other Terms and Conditions Generators
You might be wondering how Enzuzo shapes up against the other terms and conditions generators out there.
Here are some of the best reasons to choose Enzuzo's terms and conditions generator:
Easy onboarding — build your terms first, then complete your account setup
User-focused design — offer a better user experience to your customers
Professional legally drafted policy — enjoy expert-created wording, without the cost of legal advice
Affordable pricing — stick to our free plan, or upgrade for customized terms and policies, and multi-language options
Expert updates — stay up to date with the latest in privacy laws with our automatic updates
Enzuzo privacy dashboard — manage not just your terms and conditions, but other elements of your personal data privacy compliance too

Create your terms and conditions with our free generator and have them on your website within minutes. Our free terms of service generator makes it easy to build the foundations of trust and transparency with your customers — without the expense and hassle of bringing in the experts.
Create Better Terms and Conditions Today
Having your own personalized terms and conditions agreement should be easy. With the help of our free terms and conditions generator, it is. Follow the steps above to create your own customized terms of service in minutes — so you can be more transparent with your users and build a more privacy-focused experience.