Table of Contents
Gone are the days where you needed to wait for a legal team to get back to you with the latest round of amends for your terms and conditions. Now, you can have yours ready and online in minutes with the help of our terms and conditions generator.
Let's take a look at how to create and add terms and conditions to your Wix website.
How to generate terms and conditions for Wix
It's easy to create your own terms and conditions with our template and generator approach. All you need is a few company details and you can create a usable document in just a few minutes.
Here's how to generate terms and conditions for your Wix website with our free generator.
Add your company details
First of all, we'll need a few basic company details. This includes your legal business name, mailing address, and website URL.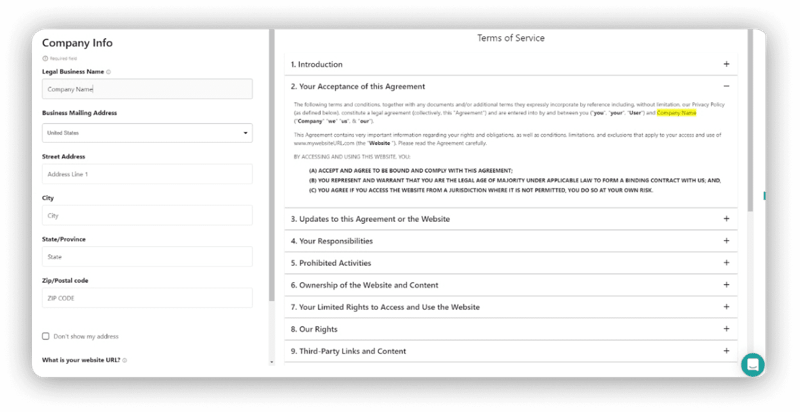 We'll also need your email address and phone number. This is displayed at the end of your terms of service, so it's easy for someone to find out how to contact you.
With those details complete, it's time to move on to the next step — your governing law.
Set your governing law
In this section we'll configure your terms of service wording, based on the applicable law for your jurisdiction. We'll ask for your governing law and state or area here, so we can display the correct information.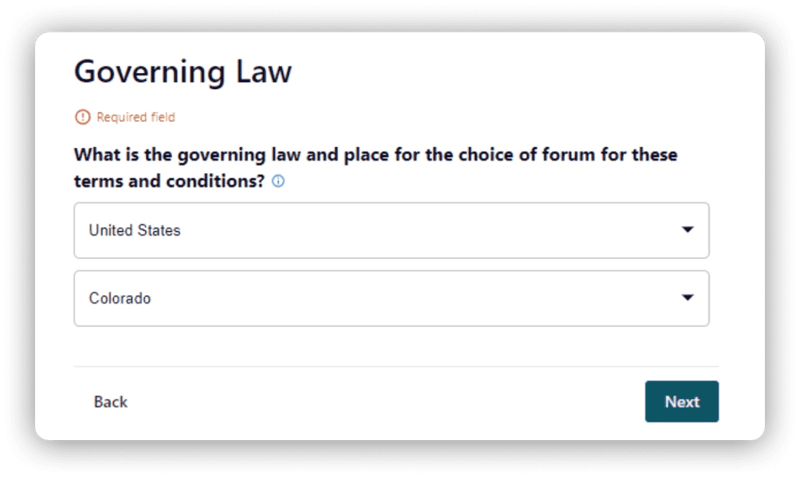 Next, share with us a link to your privacy policy page. This is a legal requirement in most locations, and having it linked within your terms and conditions gives your users another easy way to find the information they need.
If you don't have a privacy policy already, try our free privacy policy generator!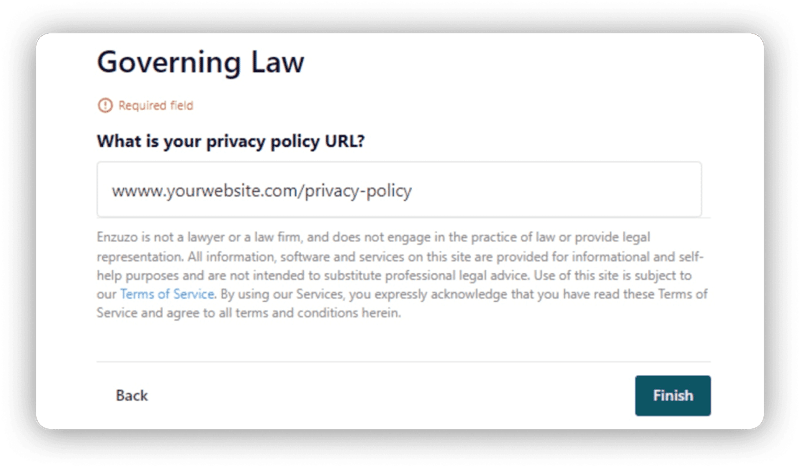 With your governing law information complete, the final stage is to finish setting up your account.
Complete your account setup
After you've filled in the details above, you'll be prompted to create an account so you can save and access your terms of service at any time. Fill in a few personal details and you'll gain access to your Enzuzo dashboard, where you'll find the details you need to add your new terms to your Wix website.
How to add your terms and conditions to your Wix website
It's easy to add your website terms and conditions with the help of our step-by-step guide. All you need is the Wix website builder and a code snippet from your Enzuzo dashboard.
Let's get started.
1. From your Enzuzo dashboard, navigate to your Terms of Service.
2. Click the "Add to Website" button at the top of the page.

3. In the pop-up dialogue window, click the "Copy Code to Clipboard'' button. This will copy the code snippet to your clipboard for later.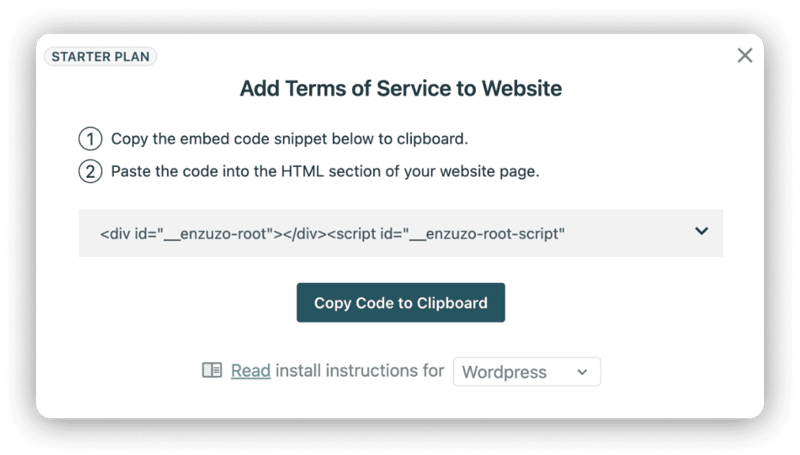 4. Head to your Wix site dashboard, and find the site you wish to edit. Click the blue "Edit Site" button.


5. Within the Wix editor, click the arrow beside "Page: Home" on the left side. Select "Manage Pages".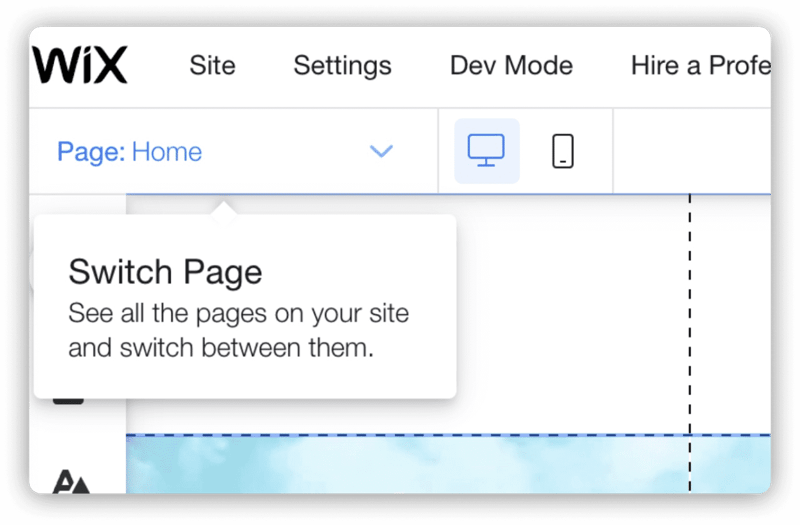 6. From the Site Pages menu, select an existing page or click "Add Page" followed by "+ Blank Page" to create one.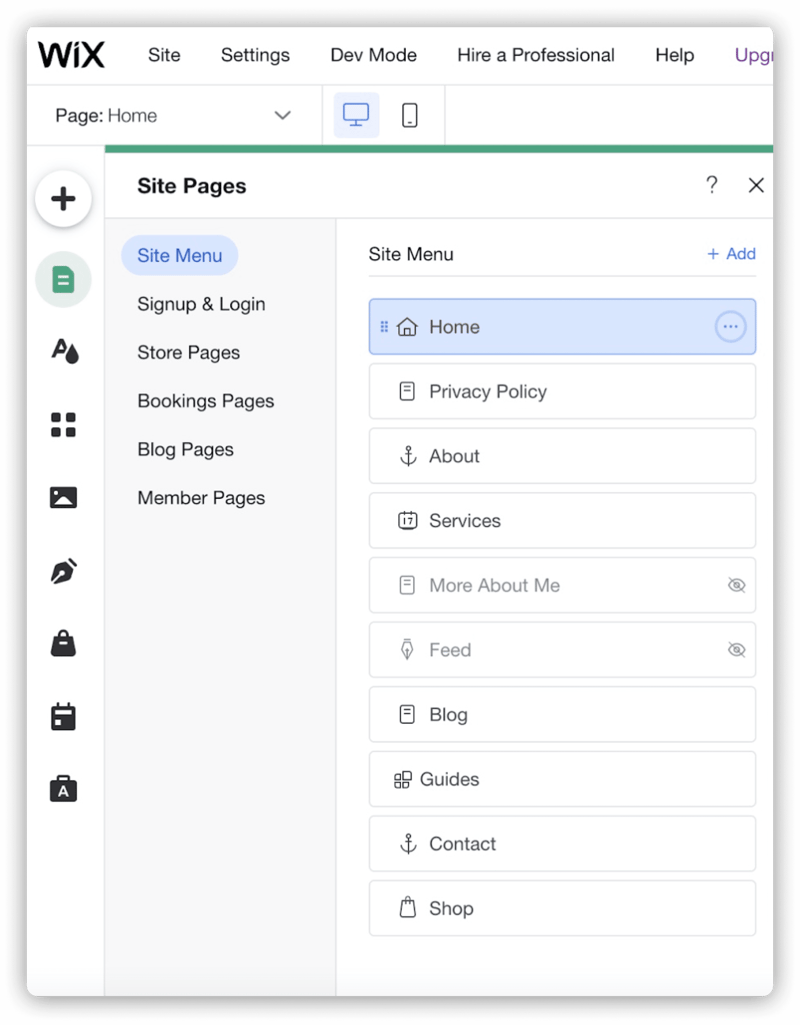 7. Give your new page a name like "Terms and Conditions" or "Terms of Service". Here you can also decide where it'll display — in this case, in the Site Menu, but you could also display it at the bottom of the page.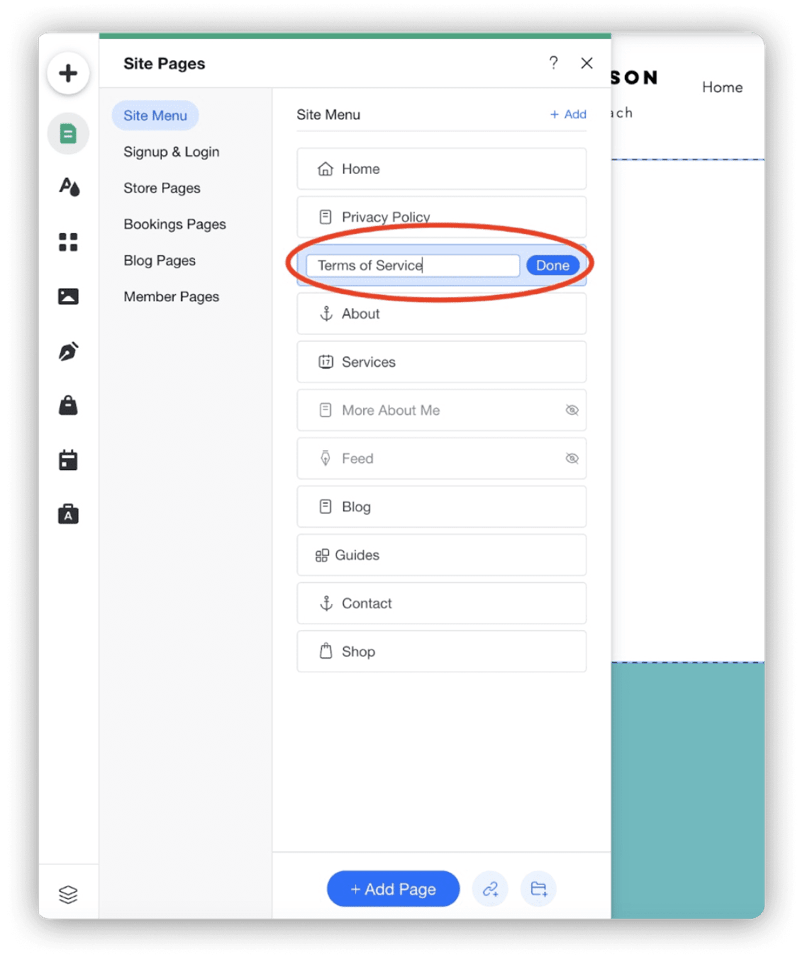 8. Click "Add" and then select "Embed", followed by "Embed a widget".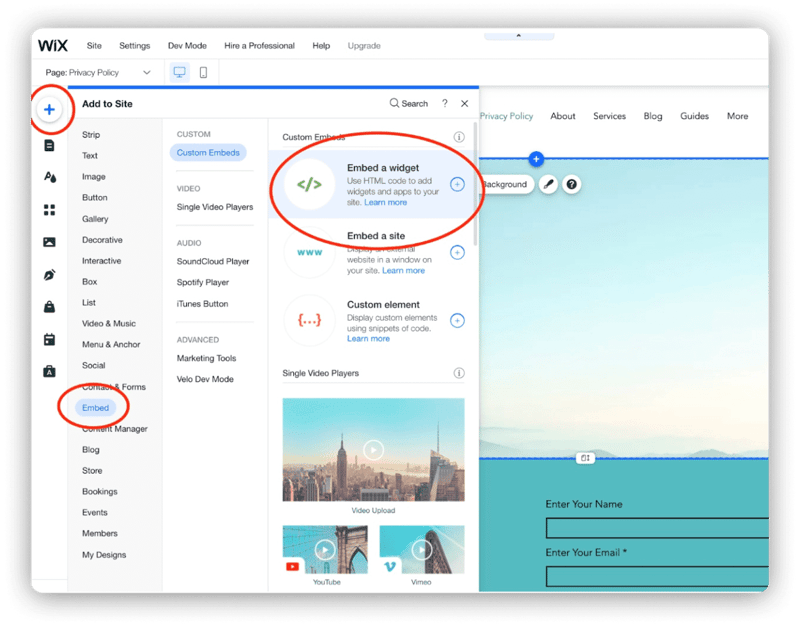 9. Move the "Embed" to where you want it to display on the page.


10. With the Embed widget selected, click "Enter Code". Paste the code snippet that you copied earlier on. Click "Update."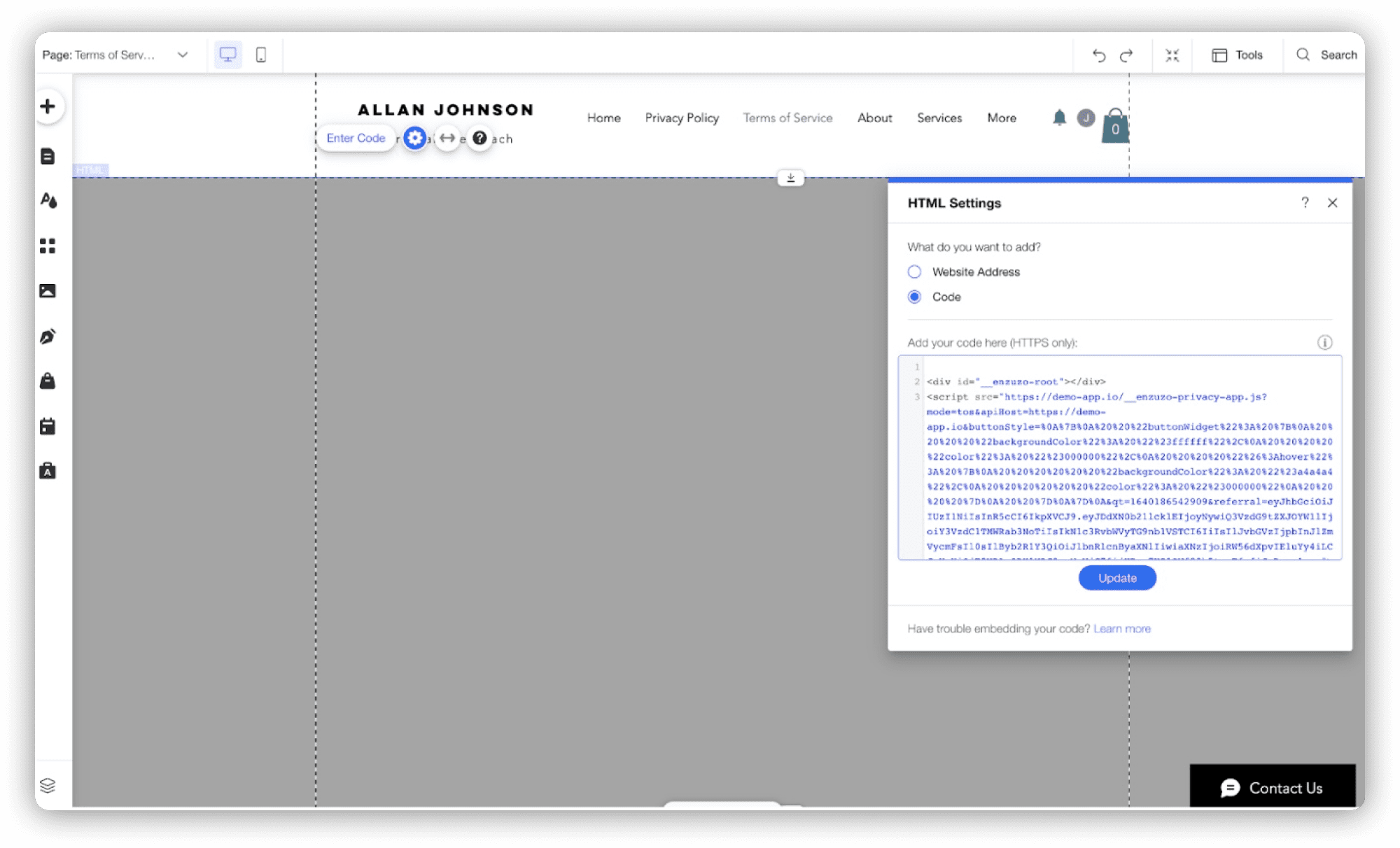 11. Your terms and conditions will now be visible on the page.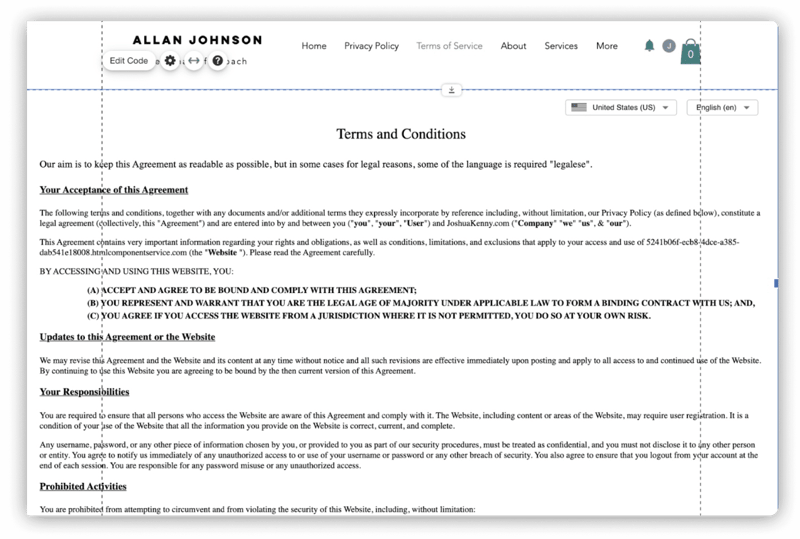 12. When you're happy with everything, click "Preview" to see a live preview. Make any final changes, then click "Publish" to make the page live to the public.
Do you need terms and conditions for your Wix website?
While many privacy laws, like the General Data Protection Regulation (GDPR), require you to have a privacy policy listed on your website, you're not legally required to have your terms and conditions (or terms of service) on display. That doesn't mean you shouldn't, however.
Displaying your terms and conditions gives you a better way to:
Communicate your responsibilities and legal requirements
Mention what you expect from your users and customers
Establish warranties and statements that limit liability
Be more transparent about how you operate
Create a binding agreement between you and your users
Establish a reference point for any future legal disputes
With such strong reasons in favor of it, it's well worth investing a few minutes in generating your free terms of service with Enzuzo.
As there's no legal requirement to display your terms and conditions, there are no set sections or wording that it must contain.
The best way to approach it is to consider what you want to include in a binding legal agreement with your customers — such as your responsibilities, copyright, rights of access, and limitation of liability.
Here's what to feature in your terms and conditions:
Introduction
Terms of service updates
Acceptance of the terms and conditions agreement
Your responsibilities
Prohibited activities
Content and website or online store ownership
Intellectual property rights and copyright infringement
Rights to access
Company rights
Third-party links and content disclaimer
Limitation of liability
Disclaimers, warranties, and indemnification
Governing law
Other matters
Contact information
If you want to take a closer look at how to build strong terms of service, see our dedicated guide to ecommerce site terms and conditions.
Reasons to use Enzuzo vs. other Wix terms and conditions generators
Enzuzo isn't the only Wix terms and conditions generator out there, but we do think it's the best. Here's why:
Simple, fast onboarding — build your terms, then complete your account setup
User-friendly design — simple, easy to read and navigate policies
Drafted by professionals — expert-level wording, without the confusing legalese
Affordable pricing — enjoy our free plan, or upgrade to access extra benefits like customization
Automatic industry updates — make sure your terms of service are always relevant, thanks to automatic updates
Enzuzo privacy dashboard — manage not just your terms and conditions, but other aspects of your personal data privacy compliance too
Easy to add to any website or online business platform provider — including Wix, WordPress, Shopify, and Squarespace
Our free terms of service generator offers you a simple way to build a policy that demonstrates your business' responsibilities and rights in minutes. The savings in both your time and legal advice fees can then be put to better use in growing your business.
Create your free Wix terms of service today!
Using our free terms and conditions generator is the simplest way to get your terms of service ready and online in minutes. Gather a handful of company details, know your governing law, and that's all you need to build and display your terms and conditions — and connect with your users in a better way.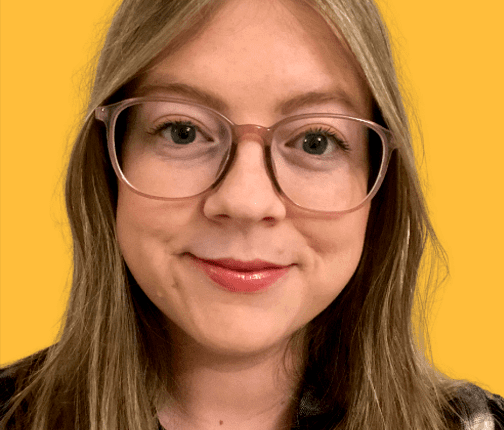 Nicola Scoon
Nicola is a freelance content writer for HR tech & SaaS. She's written for Polly, Zapier, Pyn & more and is passionate about remote work, employee wellbeing & productivity.