Table of Contents
In the past you'd have to consult with a legal team and wait for them to create personalized terms and conditions, which isn't always practical (or affordable) for an ecommerce store or website.
Now, you can get the benefit of professionally written terms without the wait or the cost — with our free terms and conditions generator for Squarespace sites.
How to generate terms and conditions for your Squarespace website
You only need a few minutes and a handful of company details to create your own Squarespace terms and conditions. Here's a walkthrough of our free generator process.
Click the button below to follow along with the process and generate your terms of service in minutes.
Add your company details
The first stage is to customize the terms and conditions template with your company details. Add your legal business name, mailing address, and website URL and it'll display in the area to the right.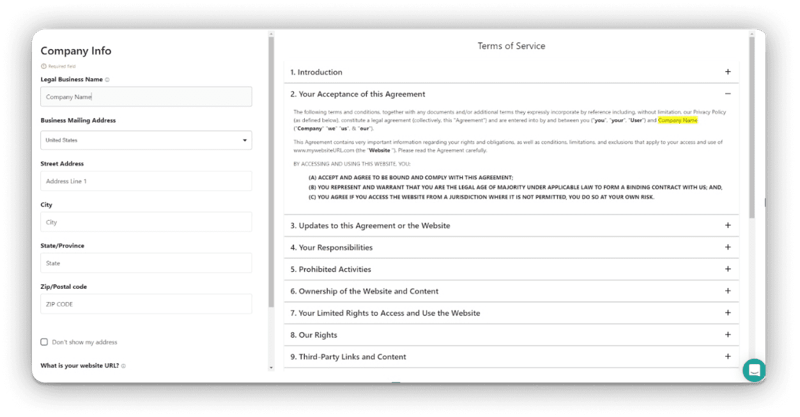 Next, share your contact details. Enter your email address and phone number here, so they're easy for your users to find.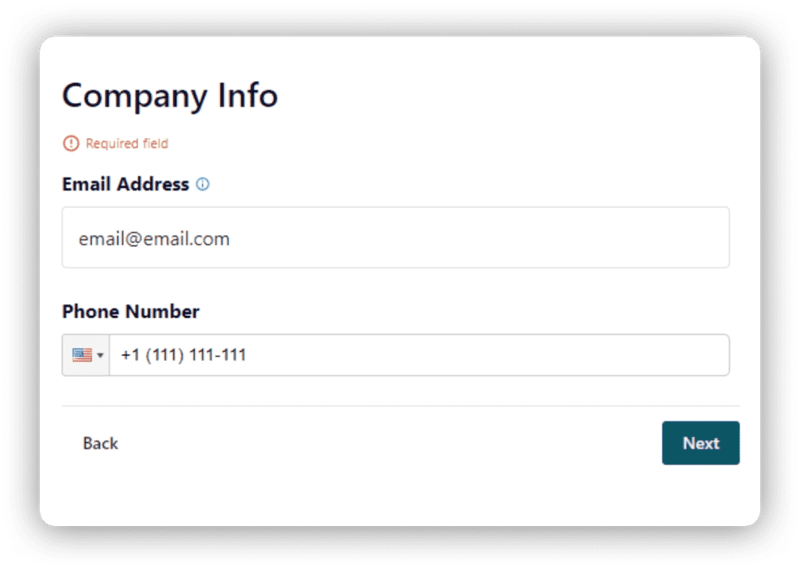 Set your governing law
Once you've added your company details, the next step is to establish what your governing law is. This can influence the wording in the document, so it's a key step. Share your location here, and we'll do the rest.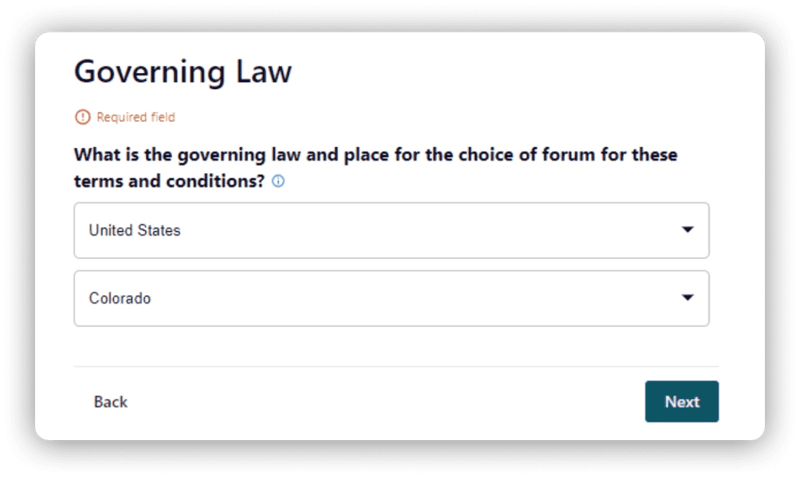 Next, if it's required based on your location, add a link to your privacy policy page. If you don't have a privacy policy already, try our free privacy policy generator!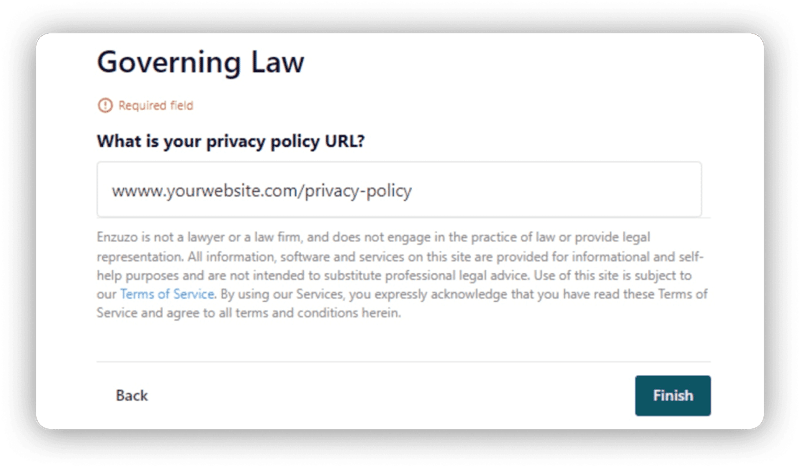 Complete your account setup
With your company details and governing law all set, you're almost finished. The final stage is to create an account so you can save and access your terms and conditions at any time. Once you've finished the signup process, you'll be able to embed the terms on your website.
How to add terms and conditions to your Squarespace website
It's easy to add your terms to your Squarespace website, whether you use Squarespace's personal plan, business plan, or commerce plan.

Let's get started.

1. From your Enzuzo dashboard, navigate to your Terms of Service page.

2. Click the green "Add to website" button at the top of the page.


3. In the pop-up dialog, click "Copy Code to Clipboard" to copy the code snippet to your clipboard.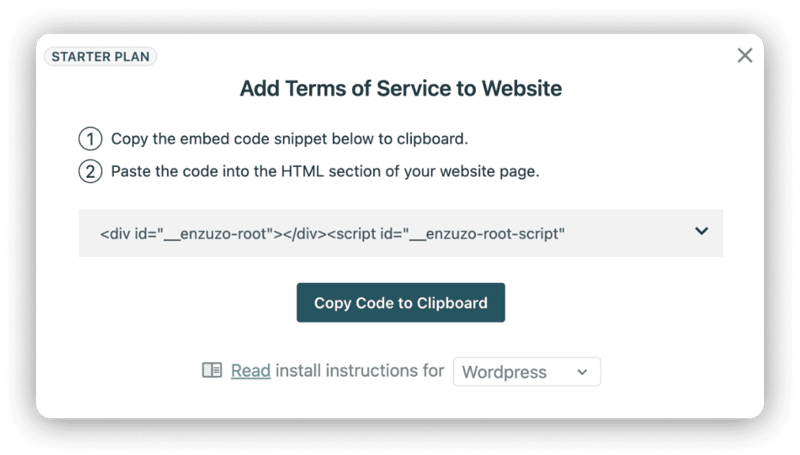 4. Log in to your Squarespace account and open your store. Click on "Pages" in the left-hand menu.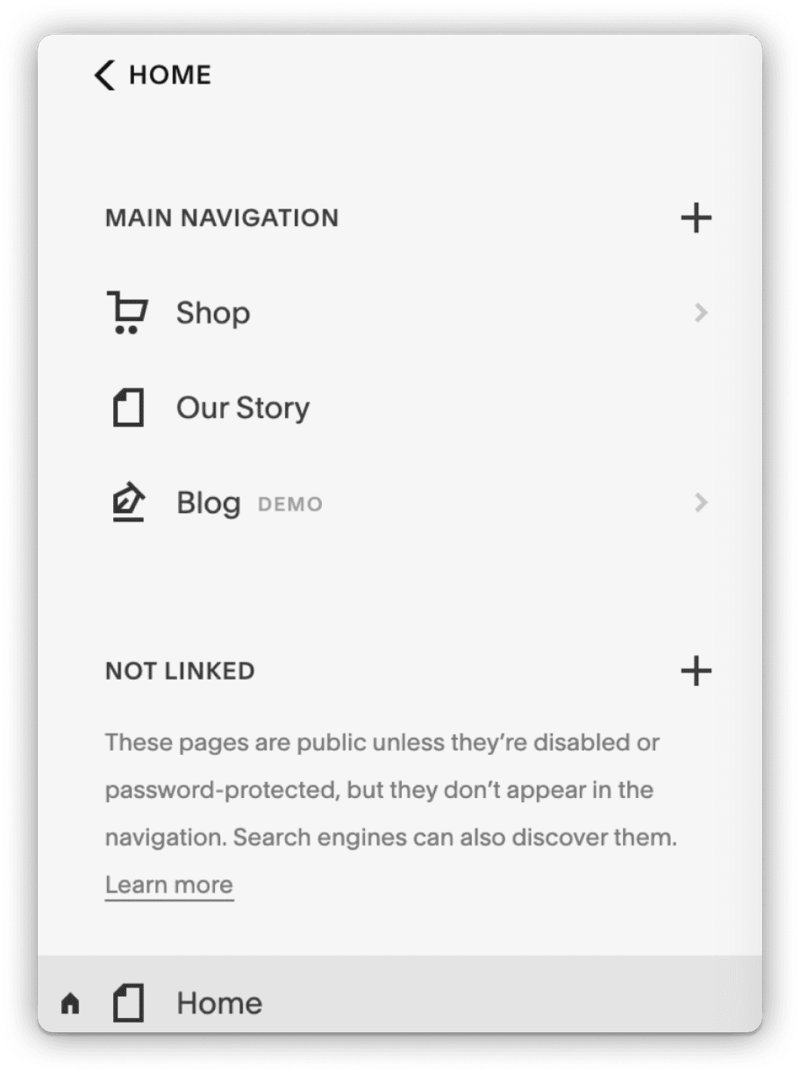 5. Look down to where it says "Not Linked" and click the "+" icon here. Create a new blank page and give it the title you want — Terms of Service or Terms and Conditions are great options. Press Enter when you've finished typing the page title.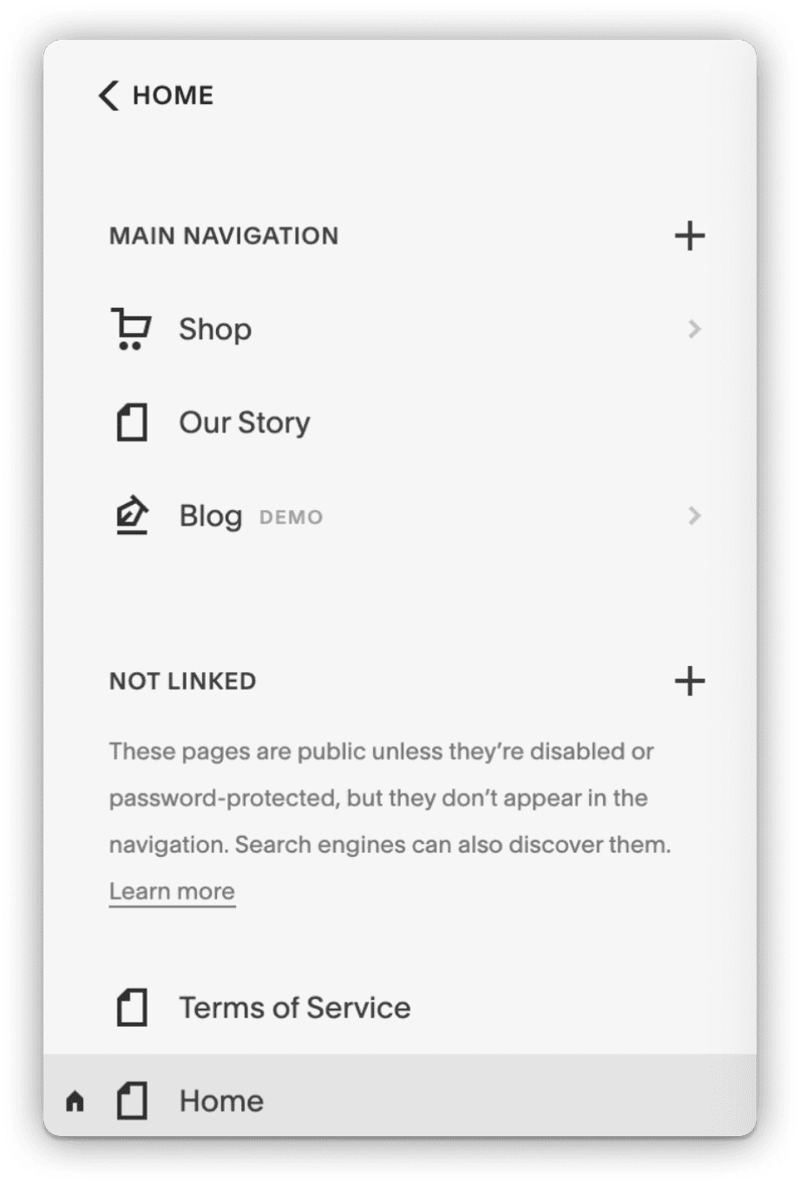 6. Click into your new page and select the gear icon to open your page settings. Click on the "Advanced" tab.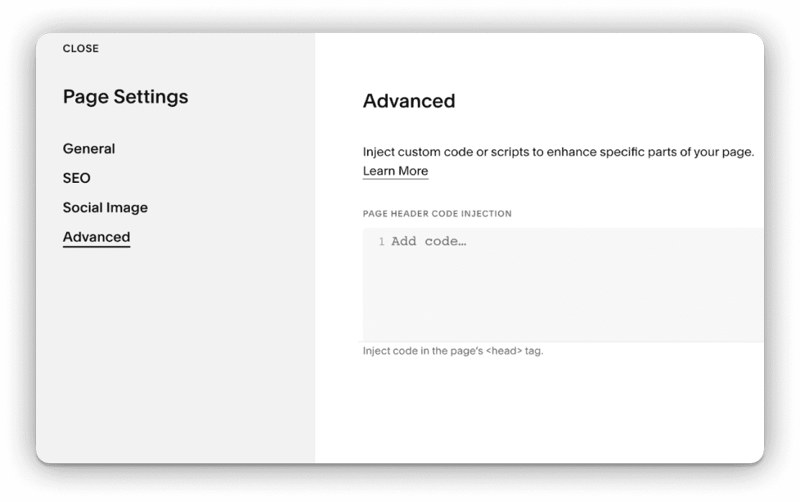 7. In the box provided, paste the code snippet that we copied earlier. Click "Save".
8. Head back to your home page and open Edit mode. Scroll down to your footer and click "Edit Footer".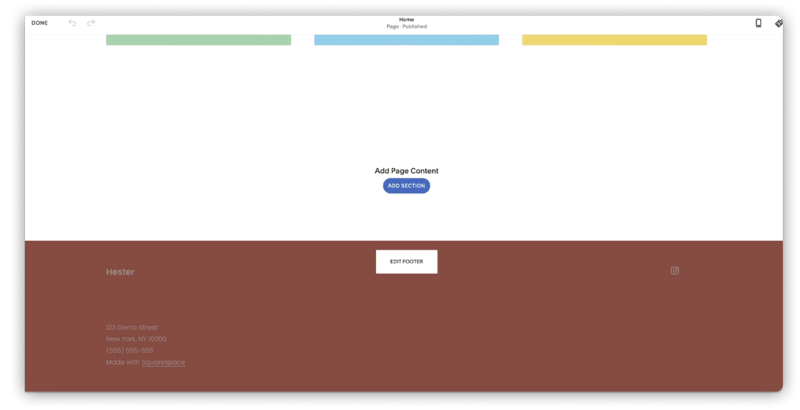 9. Find the section where you want your new terms page link to appear, and click "+" then "Content Link".

10. Select your new page from the list of options, then click "Save".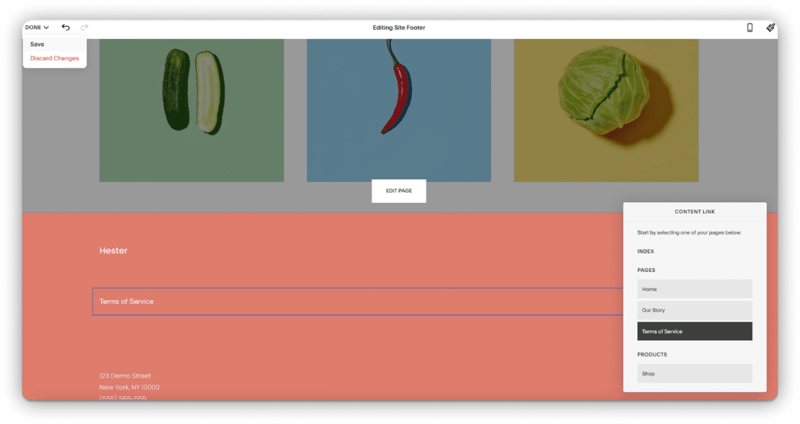 You're all done! Your new terms page will now be visible across your site — including on your product and checkout pages.
Do you need terms and conditions for your Squarespace website?
Often privacy laws, like the General Data Protection Regulation (GDPR), require you to have a privacy policy listed on your website if you handle personal data.
That's not the case when it comes to terms and conditions (or terms of service) — there's no requirement for you to publish these, or guidelines on what they need to include.
However, publishing your terms and conditions on your website or online store makes it easier for you to:
Communicate your responsibilities and requirements
Set out what you expect from your users and customers
Cover warranties and statements that limit liability
Demonstrate transparency about how you operate
Create a binding agreement between you and your users
Establish a reference point for any legal disputes
Think of your terms and conditions as a key legal document that outlines your ownership and gives you protection over what you publish on your website. With our free generator it only takes a few minutes to create your terms, so it's worth investing in.
What to include in your Squarespace website terms and conditions
While there are no rules that say your terms must feature certain elements, we think there's a standard structure that's helpful for Squarespace website and ecommerce store owners.
Here's what to include on your Squarespace terms and conditions web page:
Introduction
Terms of service updates
Acceptance of the terms and conditions
Your responsibilities
Prohibited activities
Website and content ownership and rights
Intellectual property rights and copyright infringement
Rights to access
Company rights
Third-party links and plugins disclaimer
Limitation of liability
Disclaimers, warranties, and indemnification
Governing law
Other matters
Contact information
If you'd like more detail on these areas or an in-depth look at ecommerce site terms of service, check out our guide to ecommerce store terms and conditions.
Reasons to use Enzuzo vs. other Squarespace generators
Enzuzo isn't the only terms and conditions generator provider out there, but we do think our service offers you the best experience. Here's a look at why that's the case:
Easy, quick onboarding — create your terms of service before you create your account
User-friendly documents — make the user experience better with easy to navigate terms
Expertly created — enjoy templates written by experts, without the expensive legal advice costs
Affordable pricing — choose our free plan, or upgrade for more customization features
Automatic industry updates — terms of service that are always relevant, thanks to automatic updates
Enzuzo privacy dashboard — manage not only your terms and conditions, but other functions of your website data privacy compliance too
Easy installation — embed your terms on your website in minutes on platforms like Wix, WordPress, Squarespace, and a Shopify integration
With a user-friendly approach and a streamlined process, our free terms and conditions generator is the way to go if you want an easy, quick route to better terms of service.
Create your terms and conditions today in minutes!
Terms and conditions are essential if you want to limit your exposure to liability for things like content errors, or want to establish some ground rules for what you expect from your users or customers. Use our free terms and conditions generator today to create terms that protect you and your content.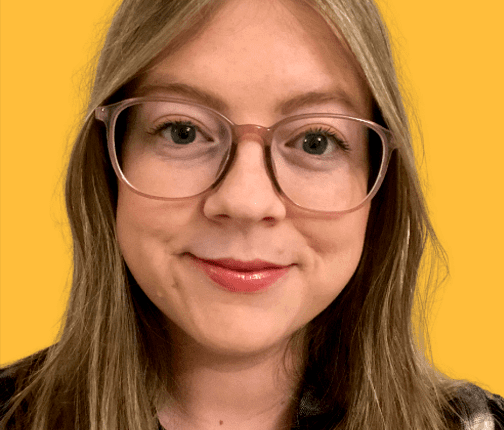 Nicola Scoon
Nicola is a freelance content writer for HR tech & SaaS. She's written for Polly, Zapier, Pyn & more and is passionate about remote work, employee wellbeing & productivity.