Table of Contents
Cookie banners began to spring up everywhere following a 2012 update to the EU's ePrivacy Directive, known as the "Cookie Law."
For now, it looks like they're here to stay — so it's worth understanding more about cookie banners and how they apply to your eCommerce business.
In this guide, we'll cover everything you need to know about cookie banners for eCommerce. We'll go through the basics of what a cookie banner is, why your eCommerce store needs one, plus some best practice tips. We'll also share an easy way to get your cookie banner live on your website in moments.
We'll share an easy way to get your cookie banner on your website in moments.
What is a Cookie Banner?
You've probably seen a cookie banner on practically every website you've visited in the last few years. They're the pop-up banners, boxes, and notices that you see when you land on a website for the first time. These notices, also known as cookie consent banners, alert users that cookies are active on a website and give them the option to allow or deny consent for their use.
Cookies are small pieces of code that collect personal data and browsing habits of the user, after being stored in their web browser. Many cookies are used to add functionality to a website — like storing your shopping cart before you check out, or to remember your login details. Other cookies are used for non-essential purposes — like to serve relevant adverts to you as you browse the web.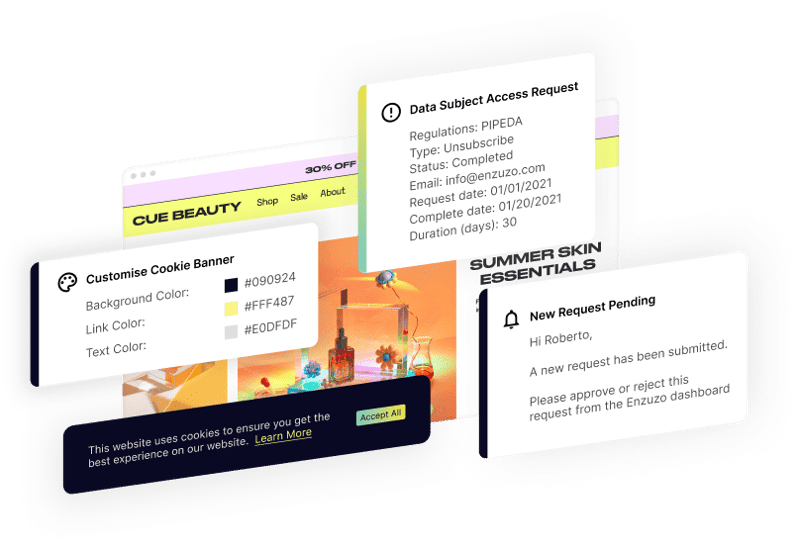 When it comes to personal data, and therefore cookies, many privacy laws require you to seek consent before you collect and process it. That means that a cookie notice or cookie banner has become a must-have for websites and businesses that operate online — especially eCommerce businesses.

Why Your eCommerce Store Needs a Cookie Banner
Like most additions to websites, cookie banners have appeared to meet legal or regulatory requirements. For eCommerce stores especially, a cookie banner is a must-have due to the number of functional cookies you might use.
Legal Requirement

With the European Union spearheading a move towards better data privacy for EU citizens, it's no surprise that the two main privacy laws that cover cookies come from the EU. Both the ePrivacy Directive and the General Data Protection Regulation (GDPR) cover cookie use, and are focused especially around the idea of consent.

To respect the commitment to your users' data privacy and the requirements of the ePrivacy directive, you're required to:
Know which cookies your website uses and provide information about their use and purpose
Provide this information to users in a clear way — for example in your privacy policy
Seek a user's consent to use cookies on the first visit, unless those cookies are strictly necessary
Collect and store this consent properly, so you can refer to it in the future
Not make consent to use cookies a condition of accessing or using your service
Provide a way for users to deny or revoke their consent that's as easy as giving it
Respect a user's decision to accept or deny consent for cookie use and their preferences
While you may not be based in the EU, chances are you'll have website visitors and customers from a member state — either now or in the future. There's no way of knowing where your next customer will come from, and their rights need to be respected from the moment they land on your eCommerce website. This means it makes great business sense to be prepared and be compliant with these EU laws now.

eCommerce Stores Rely Heavily on Cookies

Almost every website uses cookies, but some more so than others. If you run an eCommerce website, you're going to need a lot of extra functionality that a standard website doesn't need — like an online store, shopping cart, checkout, user accounts, and more.

Most of these functional cookies are essential to the operation of your website, so they're considered strictly necessary. This means you don't need to seek consent for the cookies that make it possible for users to retain their shopping cart as they browse other products, but there are some other types of eCommerce cookies that do require consent.

For a lot of eCommerce stores, digital advertising is one of the best ways to attract new customers and keep them coming back to view suggested products. Displaying relevant ads to your users on other websites means you need to use third-party advertising network cookies.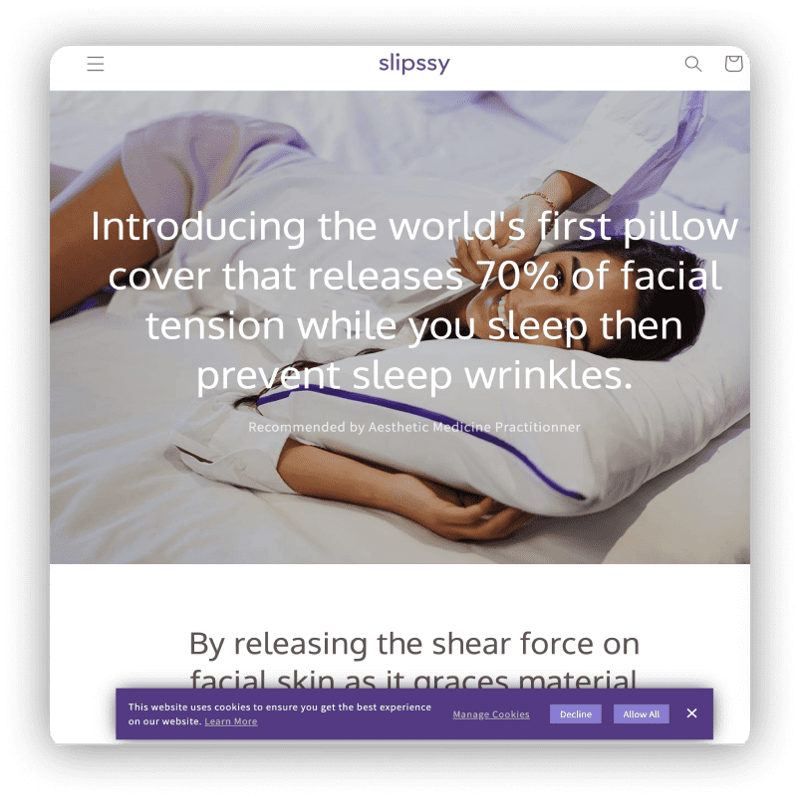 These marketing advertising cookies collect personal data while on your website but transfer it to another organization, so ads can be displayed across multiple websites and social media platforms. Examples of this type of third-party cookie include Facebook's Pixel, and popular display advertising networks like Google Ads and Taboola.
As well as helping you display product ads to your customers wherever they are, cookies help you optimize your eCommerce marketing and advertising campaigns in other ways too. Cookies from tools like Google Analytics help you understand which product pages your users are browsing, so you can refine your retargeting and understand the impact of your existing campaigns. Email marketing tools like Mailchimp also use cookies to show you useful insights on which users have clicked through from your email newsletters or sales promotion emails, and which actions they've taken as a result.
All the valuable data you gain from these analytics, performance, and advertising cookies helps you make the most of your ad spend and bring you a better return on investment. While users can now deny the consent for their use, many users continue to be happy to share this information and these cookies remain a key component of eCommerce websites.
eCommerce Cookie Banner Essentials
Most people don't enjoy having to display a cookie consent banner or to be faced with one every time they land on a new website, but it's a must-have for eCommerce businesses that want to stay GDPR compliant. To help you figure out the best way to format your cookie banner, here's an overview of what yours should include.
Clear and Simple Language

Most privacy laws place a huge importance on your documents, policies, and disclaimers being clear and easy to understand. After all, legalese is tough for most people to navigate. To help your users understand their rights and how you support them, make the language used on your cookie banner simple and user-friendly.

Avoid overcomplicating things, and instead, present your shoppers with a simple statement that tells them what they need to know. A great example of this is something like:
"Our eCommerce website uses cookies to provide you with an enhanced browsing and shopping experience. To read more about how cookies work and to customize your preferences, click here."
This statement is clear and simple, and gives the user all the information they need to make an informed decision about whether to accept or deny cookies. Add in a simple way for them to provide their consent, and a link to your privacy policy, and this cookie banner notice is ready to go.

Chance to Give Consent

Your eCommerce cookie banner needs to appear on a user's first visit to your website, so that they can set their preferences before your cookies start collecting data. To allow you to start serving cookies to that user, they first need to give their consent.

To satisfy the requirements of privacy laws like the GDPR, a user's consent must be valid. Consent should be given freely, and there should be no requirement to provide consent to continue using your website. A user's consent should also be explicit — meaning you can't rely on implied consent. Instead, users should actively provide their consent by clicking a button or checking an opt-in box.

Consent should also be informed, which means your users need to be given enough opportunity to read and understand what the consequences of saying "Yes" to cookies are. Providing a link to your privacy policy is the easiest way to do this, as it gives you one central place to explain what cookies are and how you use them.

One of the best and most simple ways to achieve consent is to offer your users a clear button on your cookie consent banner. Give them the choice to "Accept" or "Deny" the use of cookies by providing buttons that they can press to record their preferences. As with your cookie banner statement, make sure your buttons use clear and obvious language — don't be tempted to add a touch of whimsy or humour, even if that fits with your brand tone.
Link to Your Privacy Policy

Some organizations prefer to present users with a more detailed cookie notice pop up, often with explanations of cookie functions and customization options on-page. If you run a large news site or services company, these pop ups might make sense. For eCommerce businesses, they can feel unwieldy and prevent your browsers from getting to your content as fast as they'd like.

Instead of publishing an in depth cookie notice on page, you can simply link to your cookie policy or privacy policy from your cookie banner for more information. Your users get the same details and can feel fully briefed on which cookies you use and how they work, without being faced with too much text when they land on your homepage.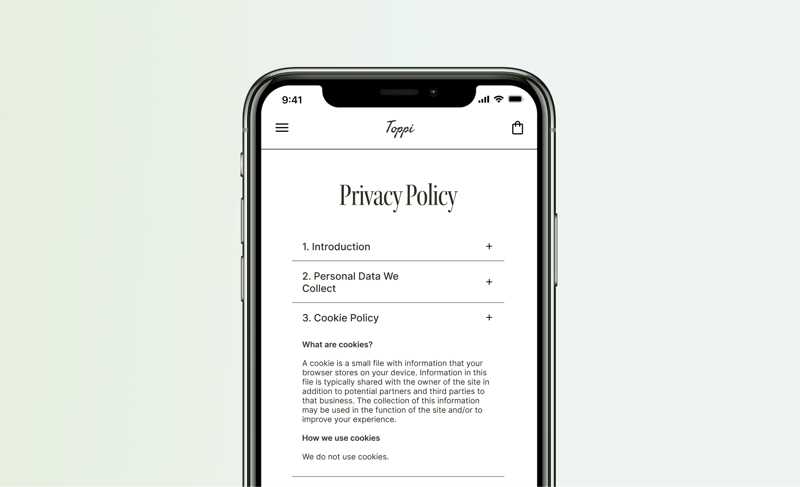 Within your online store or Shopify privacy policy, you'll want to make sure you have all the basics covered. If you've already built a compliant privacy policy, all you'll need to do is add some extra information about your cookie use. To help your users and stay compliant, include the following details:
Which types of cookies you use, and details of specific cookies used (if possible)
Why these cookies are used — for example to provide more personalized adverts
Which of these cookies are owned by or share data with third parties
How users can provide, deny, or change their consent or preferences
For a more in depth look at different types of cookies and examples of what they're used for, see our detailed guide to cookie banners.
Cookie Banners for eCommerce Businesses: Best Practice
Once you've got the essentials covered, you can start thinking about how to improve your eCommerce cookie banner even further. Everything your users and customers see on your website can influence how they use it, whether they buy, and what their experience is like — so make it count.
Avoid a Cluttered First Impression

People are landing on your website because they're interested in the products you sell — not because they want to be greeted by a wall of pop ups. With cookie banners being a must-have, try and limit the amount of other pop ups and messages your visitors see when they visit your website.

If promotions pop ups convert well for you, look for ones that you can set on a delay so they appear after someone has set their cookie preferences. That way, they're not quickly clicking through banners and pop ups without giving them their full attention.
Offer People More Choice

Some people might be happy to accept functional cookies, but are less keen on being followed around the internet by products they've viewed before. Others are happy with all cookies, and some aren't happy with any. Everyone's different — so give your website visitors a choice, if you can.

Look for a cookie banner tool that allows people to choose which cookies they consent to, like Enzuzo does. Offering people the chance to personalize their user experience shows that you care about their individual preferences, and means you can hopefully collect more of the data from cookies that people are comfortable with consenting to — instead of losing them entirely.
Style Your Cookie Banner to Your Brand
Your cookie banner should feel like it's perfectly matched to your eCommerce site and brand. Your approach to data privacy is embedded in who you are as a business, and your cookie banner should simply feel like another element of what makes your website yours.
Generic apps and plugins might provide you with the functionality, but you'll want to look for something that lets you customize colors and styling for a better impact. With Enzuzo, you can personalize your cookie banner so that it suits the overall theme and style of your online store. This means you can opt for a color scheme that complements your own, with a standout button — instead of making do with a bright or monochrome banner that feels out of place.
An Easy Way to Get a Cookie Banner for Your eCommerce Store
Adding a compliant and great looking cookie banner to your eCommerce store doesn't have to take all day. At Enzuzo, we've designed our 1-click cookie consent banner to be simple, easy to install, and, most of all, user friendly — for both you and your website visitors.
If you have a Shopify store, you can simply connect our app, create an account, and start building your personalized cookie consent banner. It's easy, and there's no need to take a class in how to understand code to add and customize your banner.
Plenty of Customization Options

Every eCommerce brand and online store looks and feels different, so your cookie consent banner should be just as easy to customize. We've designed our cookie banner tool to offer you lots of flexibility when it comes to editing templates and styles.

Within the cookie banner editor, you can easily personalize different features and functions — like banner size, banner mode, and banner style. You can choose your own brand colors for the banner color, text color, and link color, to create a banner that fits with your website design seamlessly.

As well as design options, you also have the choice over who gets to see your cookie consent banner. If you want to switch it on only for users located inside the EU, that's easy — simply toggle the option. It's a simple way to stay compliant for your EU customers, while simplifying the browsing experience for others.
Part of Our Privacy Platform

Privacy laws like the GDPR don't just govern how you should act when it comes to cookies. They cover so much more — including how you collect, store, use, and share your users' personal data. Our cookie banner tool is part of a wider privacy platform that helps you stay on the right track to privacy compliance.

As well as our cookie banner tool, you can also enjoy access to our privacy policy generator. This useful tool helps you create a compliant privacy policy in no time at all, that not only shares all the essential information but offers a better user experience too. Drop-down navigation and a simple design make it easier for your users to find what they're looking for. Plus, you can make your privacy policy available in multiple languages instantly.

Alongside these two tools, you gain access to a user friendly privacy dashboard that gives you an easier way to manage your data privacy compliance. Users can submit access requests through your privacy policy, for you to view and manage through your privacy portal. Get notifications when key dates and deadlines are coming up, so you don't miss them, and generate compliance reports to show that everything's working as it should.
Create a Better Experience for Your Visitors With a Customized Cookie Banner
Your website visitors don't want to face barriers to enjoying your content or browsing your new products, even if privacy laws say they need to. Get to know the basics of cookie banners for eCommerce, perfect your statement wording, and then get ready to add a perfectly matched cookie banner to your website.
Try Enzuzo's customizable 1-click cookie consent banner to create a better user experience for your website visitors. Tailor your banner size, design, and colors to match your brand, and give your customers control over their personal data — without compromising on style.
👉 Looking for inspiration? Check out our list of the best cookie banners we've seen!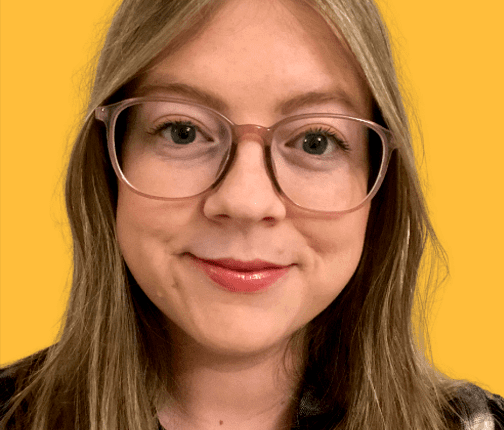 Nicola Scoon
Nicola is a freelance content writer for HR tech & SaaS. She's written for Polly, Zapier, Pyn & more and is passionate about remote work, employee wellbeing & productivity.