Table of Contents
Privacy is on everyone's minds these days. We're all more conscious than ever before about how our data is collected, what it's used for, and how we can regain control over it. This means that having a clear, transparent, and user-friendly privacy policy is more valuable than ever.
While English may be the preferred language for business in many regions, it's not everyone's preferred language. Trying to navigate data privacy in a language you don't understand can be anything but clear.
Making your privacy policy available in multiple languages gives your users more control, trust, and confidence in you. In this guide, we'll take you through why you should publish your privacy policy in multiple languages and a simple way to create your own translated privacy policy.
What is a Privacy Policy?

A privacy policy is a comprehensive legal document that outlines the personal data you collect and how you use, store, and share it. It's designed so that your users and customers can get a better understanding of which data is collected and how you take care of it.

In many jurisdictions, having a privacy policy is a legal requirement. Privacy laws such as the General Data Protection Regulation (GDPR) in Europe, and Canada's Personal Information Protection and Electronic Documents Act (PIPEDA) give people the right to know more about how their data is collected and handled.

With so many ecommerce stores and businesses operating worldwide and across regions, you often need to be considerate of privacy laws in other places. This means your privacy policy should meet the requirements not only for the area that you live in, but any region where you might have users or customers.

One of the main parts of a privacy policy is outlining the types of personally identifiable information you collect. This can include data points like:
Contact information — like a phone number, or email address
Shipping address
Credit card information
Demographic identifiers — like age, gender, or location
Technical information — like IP address, mobile device type, or web browser type
Not only will your privacy policy cover the types of information you hold on data subjects, but how that data collection happens too. This not only includes people giving you their data when they make an order, but through third-party service providers and plugins — like Google Analytics, Google Adsense, or Mailchimp.
Your privacy policy disclaimer should also cover data sharing, retention, and deletion. It should also tell people how they can access their data and make changes. Overall, it's a document that outlines your approach to data privacy and one that gives confidence to your customers.
For a more in-depth look at privacy policies, take a look at our comprehensive guide on privacy policy templates.
Why You Should Translate Your Privacy Policy into Multiple Languages

It's easier than ever to do business worldwide, which gives us so many more opportunities to find new customers and explore new markets. With this comes the challenge and responsibility of being user-friendly and compliant across multiple regions.

Not everyone will speak or understand English in the same way that you do — especially when it comes to communicating privacy law. Despite this, many companies don't consider translating their privacy policy into multiple languages. Here's why you should.
Fulfil Legal Requirements

In most cases, there's a requirement within privacy laws that the information is easy for users to understand. You could argue that if someone's native language isn't English, understanding a legal document in that language can be confusing.

Where countries have multiple official languages and an applicable law in place that guides privacy, you should make your privacy policy available in all official languages.

A great example of this is in Canada, where both English and French are official languages. Canada's Personal Information Protection and Electronic Documents Act (PIPEDA) requires you to "provide information in manageable and easily accessible ways" in order to obtain consent. This means you should make an effort to ensure you have both an English and French privacy policy.

Similar guidance applies within Europe and the UK's General Data Protection Regulation (GDPR). Under the principles of this law, you should process data "lawfully, fairly, and in a transparent manner" and that "clear and plain language be used". As it's not fair to assume equal understanding of just one language, efforts should be made to make your information available in as many languages as possible.

While there's no federal law that covers privacy in the United States, the California Online Privacy Protection Act (CalOPPA) is highly relevant and provides a useful baseline for data privacy. While it's not a strict requirement, there's a request within this guide to business owners to "consider providing your privacy policy in languages other than English".

As your customers could find you from any of the areas listed above, or in other jurisdictions with similar privacy laws, it's a good idea to have a privacy policy that covers all of the above — and is available in multiple languages.
Maintain Higher Levels of Trust

It's easier to do business with someone in the language you're most comfortable with. Making your privacy statement and other legal documents available in multiple languages gives your customers the opportunity to understand more fully, and put more trust in you.

If your users and customers can read all about your privacy practices in their native language, they can truly read, understand, and give their consent. When you only offer your privacy policy in English, you're putting up a barrier between you and your customers. It's harder for them to understand how you collect and process user data, so they may be less willing to hand over theirs.
Offer a Better Customer Experience

Your customers should be front and center when you're thinking about data privacy. Offering your privacy policy in multiple languages shows them that you care, and you're committed to offering them the best possible user experience.

Business happens across countries and continents these days, and offering up key legal documents in multiple languages gives your users more choice. It can also be a major draw for customers — it's a useful way to stand out against competitors that have a less people-focused approach to data privacy. If you're highly customer-focused, translating your privacy policy for your mobile app, web page, or desktop app should be a priority.
Examples of Brands With Translated Privacy Policies
While big brands with an international presence are more likely to translate their privacy policy into multiple languages, many companies only publish theirs in English. This means there's plenty of opportunity for you to stand out — by offering a privacy policy that your customers can understand fully in their most-used language.
Here are some brands that offer a translated privacy notice for their users. See how it's done and take inspiration on how you can create a similarly inclusive experience for your customers.
Facebook

With over 2.6 billion users worldwide, Facebook caters to a truly huge and international audience. This means they can't just publish their privacy policy in English — it needs to be widely available in multiple languages.

Facebook's approach to offering their privacy policy in multiple languages is to create microsites for each language. This means you can read not only the privacy policy but enjoy the entire Facebook experience in Italian, Spanish, or one of the many languages on offer.
While this works when you have a large budget and technical team behind you, building separate microsites for each audience is complicated, expensive, and out of reach for most small to medium sized businesses.
Origins

Like Facebook, skincare brand Origins has distinct websites for each of their main regions — including the United States, United Kingdom, and Canada. From their main website, Origins.com, users can find the region closest to them and be taken to a standalone website published in the official language for that country.

In countries where there are multiple official languages, like Canada and Hong Kong, users can then select the language of their choice in the footer. This also affects pages like their privacy policy and terms and conditions, instantly making them available in the user's preferred language.
You might not be building separate websites for your growing ecommerce business, but if you're based in Canada or another country with more than one language it's useful to consider publishing your website in both official languages. With a privacy policy to match, your customers can then enjoy a seamless browsing experience.
Enzuzo

Not every business has the budget, time, or resources to create entirely new entities to service multiple markets. Sometimes all you need is one website and a smart way to share your privacy policy in multiple languages.

At Enzuzo, our privacy policy does just that. It takes up one page on our website, and presents the information in a clear, transparent way. A user's location and language is automatically determined, but they're free to switch it using the toggle provided. Users can also select from one of eight languages to instantly see a translated version of our privacy policy.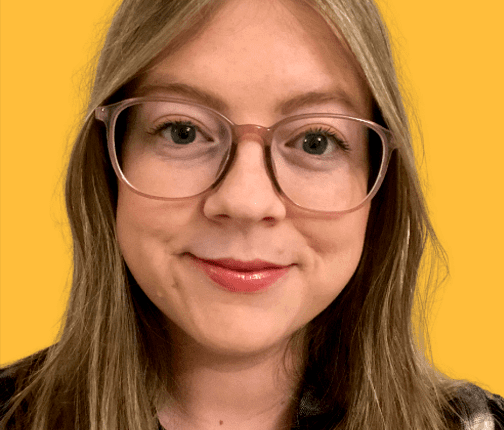 Nicola Scoon
Nicola is a freelance content writer for HR tech & SaaS. She's written for Polly, Zapier, Pyn & more and is passionate about remote work, employee wellbeing & productivity.