Table of Contents
Have you ever had a dream of owning a business or an online store? Or maybe you have had those days when getting out of bed seemed basically impossible because you were dreading your day job.
Well, welcome to your guide on how to set up a Shopify store in just one day! As a first-time entrepreneur, setting up an eCommerce store can seem daunting. That is why knowing how to set up a Shopify store in 1 day, accurately, can save you a lot of time and money and will get your business up and running in the blink of an eye.
Starting your online business doesn't have to be intimidating. Setting up a Shopify store in just a day is straightforward. The steps are simple, as long as you follow them carefully.
Here's what you need to do;
Create a Shopify account.
Add your products.
Choose your theme.
Configure the office you will be working from for shipping, tax, and payment specifics.
Create a custom domain.
Launch your store!
But while it sounds as easy as 1-2-3, there are a few things to be aware of so you don't stumble along the way.
If you are an entrepreneur eager to set up an online Shopify store, continue reading for step-by-step guidelines on how to create a Shopify account by the end of the day.
Can I Build a Shopify Store?
In short: of course you can! With the help of this guide, you will be capable of creating a Shopify store by yourself in as little as 24 hours. We know it may be a daunting task, but nothing good ever came from staying in your comfort zone.
You do not need to be the most tech-savvy person to follow a few instructions and build your own Shopify store. You just need to have access to a working computer and good internet speed. At the end of the day, you only need to follow a few steps to get the result you are looking for.
Do I Need a Business License To Sell on Shopify?
Probably not. However, although Shopify doesn't require every store owner to have a business license to sell online, there are a few cases in which you will need to have one.
Whether you need a business license to sell on Shopify depends the type of business you own and where you are based. Even if Shopify doesn't require you to have a license, the city you live in might.
The only circumstances in which Shopify will require you to have a business license are when you earn over $20,000 per month or when you use the Shopify Payments gateway. However, many places require certain types of businesses to have a business license. Always double-check the laws and requirements of your city, state or province, and country before setting up shop.
Here are a few examples that would require a license:
Personal service providers
Electricians
Collection agencies
Insurance agencies
Brokers
Contractors
How Much Does It Cost To Set Up a Shopify Store?
Shopify works off a subscription-based platform that offers three different pricing plans. Each plan comes with its own features, and as with most things in life, the more expensive the plan, the more features you have access to.
However, every plan does come with the ability to create an online store with an unlimited number of products. If you have a tight budget, you can always begin with the basic plan for only $29 a month and move to $79 or $299 for the more advanced plans.
Below you will find a summary with a few key features of each plan:
| | | | |
| --- | --- | --- | --- |
| | Basic | Shopify | Advanced |
| Price | $29 per month | $79 per month | $299 per month |
| Online Store | Yes | Yes | Yes |
| Unlimited Products | Yes | Yes | Yes |
| Staff Members | 2 | 5 | 15 |
| Transaction Fees (if not using Shopify Payments) | 2% | 1% | 0.5% |

If you are not sure whether you want to invest in a Shopify store, they offer a 14-day free trial with no credit card required. This will give you the freedom to determine whether this platform is user-friendly and a good fit for you.
Is Making a Shopify Store Worth It?
It really depends on what you are using it for. Shopify is an up-and-coming eCommerce store that is being used by millions of people all over the world. The question to ask yourself is: what are the advantages of a Shopify store for you?
It also depends on what you want from it. Shopify is merely a tool to enhance your business. If you are only planning on selling one product on your blog that can be sold as an ebook, then it is probably not worth it for you.
However, if you are looking for an eCommerce platform that can provide you with inventory, records, marketing tools, and so much more, then it is worth it.
How To Set Up a Shopify Store for Your eCommerce Business
Create a Shopify Account
Creating an account with Shopify is just as easy to do as creating an account on any other website. All you need to do is to go to Shopify's website and put in the necessary personal details, and you will have an account.
When it comes to filling in the store name, the major challenge is that it must be unique. It can't share a name with any other Shopify store in existence, but it still has to represent your business, so choose wisely. (No pressure!) It is always recommended to use a brand name that originated with you or a name that people already know your brand by.
Once you have selected a store name, you will then be able to access the store admin panel with your dedicated URL. (After you have gotten the hang of everything, you should add a custom domain name for the storefront.)
And just like that, you now have an online store! Once you have completed these steps, you will have 14 days to finish setting up and launching your online store. When you have signed in and created a Shopify account, you will be directed to the store dashboard, where you will see all the different features Shopify offers, including the next step.
Add Your Product
Everything from the pricing to the store design, shipment details, and other policies all depends on what it is you are selling. Obviously, you won't have much of a store unless you add some products!
On your dashboard, you will see the heading labeled "Products." Select Products > Add Product and then complete the following:
Product description
Stock keeping unit (SKU)
Relevant price field
Then you will be required to fill in the remaining fields, such as media, videos, and images.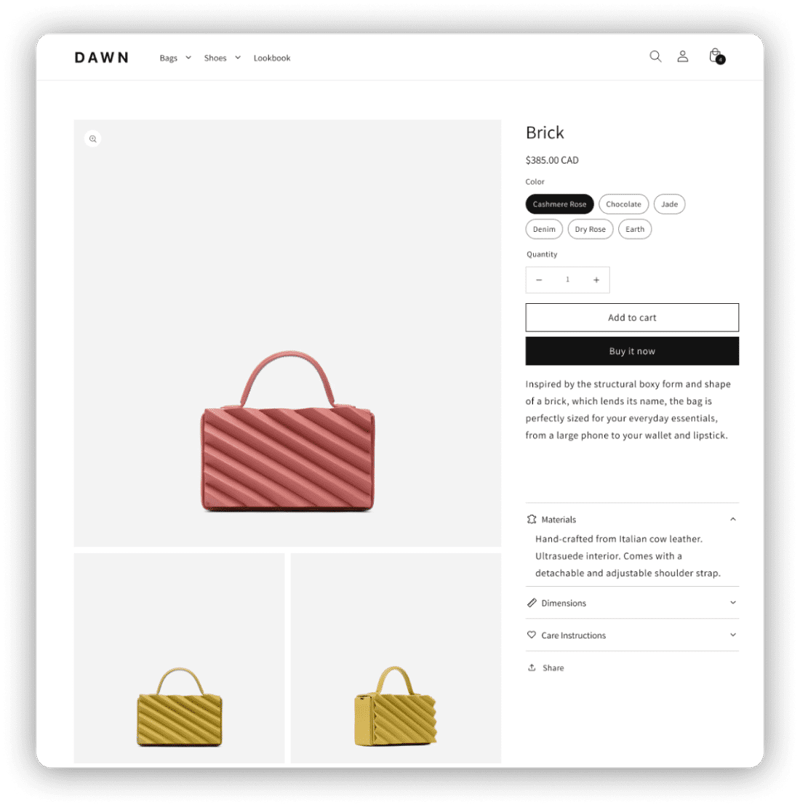 From a search engine optimization standpoint, content is key. This means that you will need to provide an in-depth description of your product, all while keeping it distinctive and to the point, answering any question the consumer may have.
Information such as the product's materials and the return policy should be clearly stated. If you are reselling something, let the consumer know why you believe they should purchase from you. Customers value honesty, so that is what you should give them.
When it comes to selecting the media and images to showcase your product, make sure you use high-quality images. If you can, hire a photographer to create images that consumers can relate to. Lastly, organize your products into collections so that your users can easily find what they are looking for.
If you need assistance, you can use Shopify's help center, which provides tips and tricks on an array of topics, including products and collections.
Select a Shopify Theme
This is where the fun begins! It is important to create your online store in such a way that it speaks to your brand and showcases the products you are selling. It is the first thing that customers will see, and it is the only thing they will judge your product on, especially if they do not know your brand to begin with.
There are lots, maybe thousands, of Shopify themes with a wide variety of different features. Some are small with very basic additional features, and others are big with considerable options and pre-made formats.
More often than not, trying to establish a brand identity can be a complicated task, so here are some tips on how to select the right one for you:
Decide what features you want on your store, what information you need on the home page, and the descriptions you are going to use on the product pages.
Do your research and have a look at the pre-made themes that have already been curated.
When doing your research, keep a keen eye out for how many sales the theme has had, and be sure to read the reviews (all of them!). This will give you a better idea of how the theme functions in real life.
Is There a Shopify Theme Store?
Yes! If you are unsure of where to start looking for themes, you can look at their theme store. This is where you will find a mixture of basic (free) and premium (paid) themes.
The premium themes are more expensive but come with multiple pre-made styles and theme features, making them easy for you to customize. If you have exhausted all these options, you can look at Themeforest, which has over 1,000 premium themes for you to select from for your Shopify store.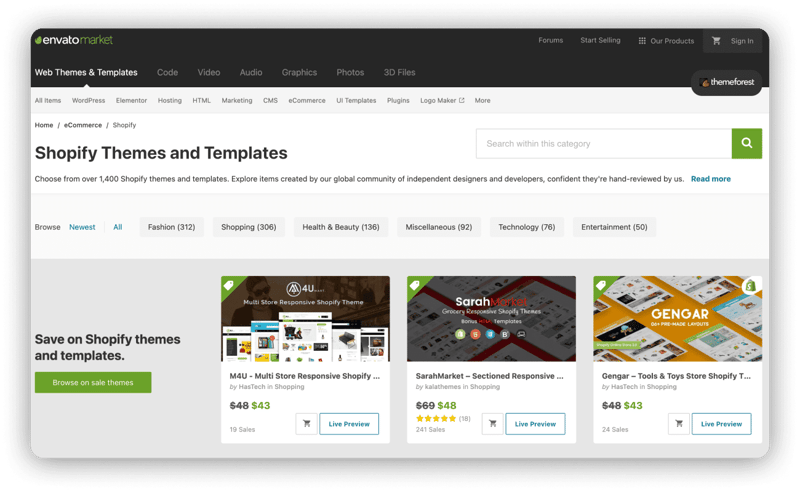 Don't get too overwhelmed by the thousands of themes to choose from. Instead, sort them into categories, best sellers and top 10. This will narrow down your options and make the decision process a lot easier! Keep in mind the features you'd like your store to have, and always read the comments.
What About the Design?
The design of your Shopify store is one of the most important things to consider. It says a lot about your brand as a whole and will be a crucial component of your online business. When you're choosing your design, you should always keep in mind the features it comes with. This could include, for example, a cookie banner generator or an email pop-up for customers to get the latest updates on your products.
Always do your research. There are many companies out there willing to help you create the store of your dreams by offering free features. For example, Enzuzo provides you with a free Shopify cookie banner generator which was specifically designed for Shopify and works with every Shopify theme.
The less money you spend on your theme, the more money you may end up spending on additional Shopify apps to get what you are looking for. However, the more apps you have, the slower the online store will be, which could lose you some sales. So we recommend thinking hard about what you need most. Keep it to just the essentials, and you will reap the rewards!
List of Essential Apps
There are many apps in the Shopify app store that can help enhance both the functionality and overall look of your store, but not every app that crosses your path will contribute to the success of your store.
Knowing what to install and when to install it will be crucial in helping you launch your new business. There are many types of apps. Some are designed to help with marketing and customer support when you are about to launch. Some can offer your customers extra help with their decisions, like providing a wish list when shopping.
Some apps may serve no place in your store, so choose wisely and always do your research. The following apps are likely to be useful to a wide range of stores:
Format Your Store
As a new shop owner, you will spend more of your time on the back end of the site than on the front end. This means getting the site set up so that everything functions just the way you want it to (don't worry, it is not as tricky as it sounds).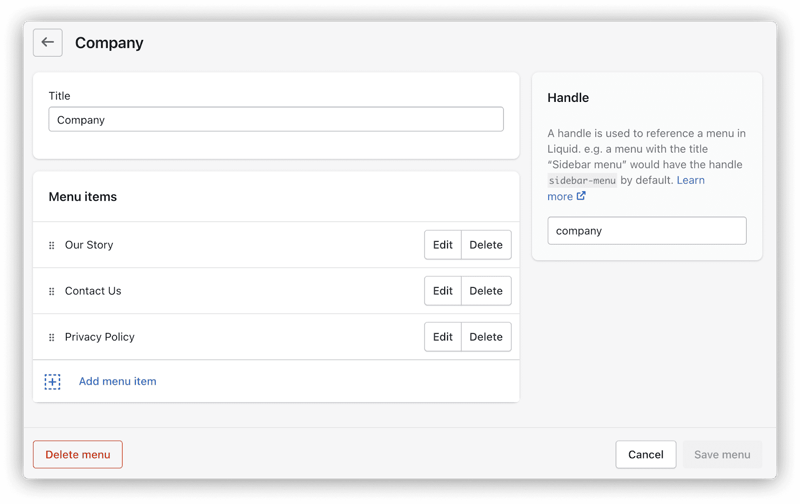 Shipping
Understanding all the different shipping options may seem overwhelming, but it can contribute hugely to the success of your business. Elements like product weight, size, shipping address, packaging, and courier rates are all worth considering.
Let's break it down for you:
Free shipping: Who doesn't love free shipping? You can bet your potential customers do! This may be the deciding factor of whether they will be purchasing from you or not. The great thing is that Shopify gives you the option of free shipping, depending on the following:

Product type
Minimum order price
Location

Flat rate: A flat shipping rate is helpful for both you and your customers because it keeps things simple. No math, no decisions.
Courier rates: Depending on where you ship to, courier rates can get a little confusing. If you have large stock and offer to ship worldwide, you will need to include a courier rate. Because Shopify is great, they have merged with many courier companies such as DHL, and USPS and can give your customers real-time shipping prices when they check out.
Shopify also offers a service called Shopify Fulfillment Network. They provide two-day delivery without the complexity of determining who ships it and where!
So, how do we configure this thing? Quite easily — let us show you how!
When you are on your store dashboard, you need to go to Settings > Locations and add the location in which your store is based. Following that, you will need to determine the shipping zones and rates at which you are going to charge. This can be done by selecting Settings > Shipping and Delivery.
Do I Have To Pay Taxes With a Shopify Store?
Yes, the government will expect you to pay taxes. This means you will have to sort this out on your storefront. We highly recommend consulting with an accountant before doing this step, as it is important to do it properly. In some cases, you will also need to collect VAT on your products.
To set this up, you can go to Settings > Taxes and format the appropriate tax options specific to your business. This gives you the chance to determine whether your products already include tax, whether the amount of tax charged should be based on the country, and whether courier/shipping fees should incorporate tax too.
How Do I Set Up Payments?
To get paid, you have to configure the payment routine on your Shopify store. Shopify allows you to select from over 100 payment providers as well as give your customers other payment options, such as PayPal or Afterpay.
To make things even easier, you could just configure your payment scheme with Shopify Payments, which will also allow you to format checkout in a number of different currencies.
Setting a Personal Domain Name
You might be wondering if this is it. The answer is yes! Your Shopify store is ready to launch, and you are ready to make those millions. But before you do that, you might want to give your store a custom domain name. This is the easily memorable address that is used to access websites.
Usually what happens is that you get an automated subdomain with shopify.com on the end of it, which isn't as appealing or as impressive as you might want. To avoid this, you can purchase a unique domain from Shopify or another company.
Once you have decided on your domain, you can change it by selecting Online Store > Domains in the dashboard. Here, you will need to update your DNS record, and voila!
Setting Your Store To Work
The moment you have been waiting for: after spending the day creating, designing, and configuring your own Shopify store, you can launch it!
All you need to do is disable the password page that is automatically put in place to stop consumers from having access to your site. You can do this by selecting Online Store > Preferences. After that, you will officially be open for business!
Summary
Setting up a Shopify store is really as easy as it seems. By doing it slowly and step by step, you will be able to configure and create the store of your dreams without needing to spend an excessive amount of money to hire a professional.
Shopify offers you a host of features that make design and understanding easy and seamless. With access to everything from their theme page and app store to their short video tutorials on how to work certain features or sections in the back office of your site, there is very little you wouldn't be able to do on your own.
When creating your Shopify store, it is important to be patient throughout the entire process and remember to include key features that will enhance the safety of both you and your customers. For instance, including the Enzuzo app in Shopify will help you with protecting your customers' personal data and will give them peace of mind, knowing that their information is safe with you.
You won't automatically have hundreds of visitors and lots of traffic to your site, but now that your store is live and customers have access to it, you can drive more of the focus to get clicks and sales. This can be done through blog posts, social media, Google Ads, and so much more.
Now that you have the whole lowdown on how to create and set up your own Shopify store, it is now your chance to go and create what you have always dreamed of and sell what you have always loved!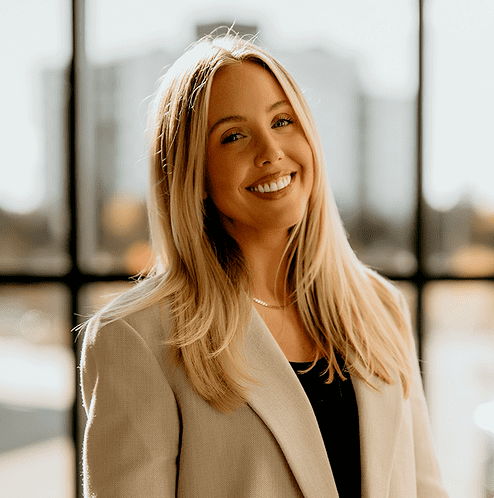 Paige Harris
Paige is the growth marketing lead at Enzuzo and host of The Living Lab podcast, providing insightful articles in the privacy space.