Table of Contents
When you build a Shopify website or other online store, there are many things to consider. Many business owners neglect the importance of making an eCommerce website that is fully accessible and compliant with the Americans with Disabilities Act (ADA). In reality, this should be at the top of your priority list.
There is a variety resources available to help you achieve ADA compliance, including ADA website compliance checklist. Once you understand the requirements and know where to turn for support, achieving website accessibility will be a much less intimidating prospect.

What Is Shopify ADA Compliance, and Why Is It Important?
The ADA was enacted in 1990 to protect people with disabilities from discrimination and ensure that they receive equal opportunities and experiences. Since the ADA's inception, eCommerce has emerged and rapidly grown. Business owners, along with the United States Department of Justice, have attempted to navigate how to build websites that comply with the ADA.
Failed ADA compliance risks significant legal, financial, and moral consequences:
The ADA is a federal law, and violations can result in significant fines.
Businesses without website compliance face potentially devastating lawsuits.
Inaccessible websites prevent a significant customer pool from purchasing your goods and services.
Accessibility improves your search engine optimization (SEO) and search result rankings.
It is immoral and unethical for people to be excluded from experiencing your website on the basis of disability.
In order to meet the standards that the ADA requires, you will need to modify and adjust your website so that it is inclusive for all users, including those with visual, mobility, hearing, and other impairments. Do not assume that your Shopify or other business site is already compliant. You are solely responsible for implementing the necessary steps to make your site accessible.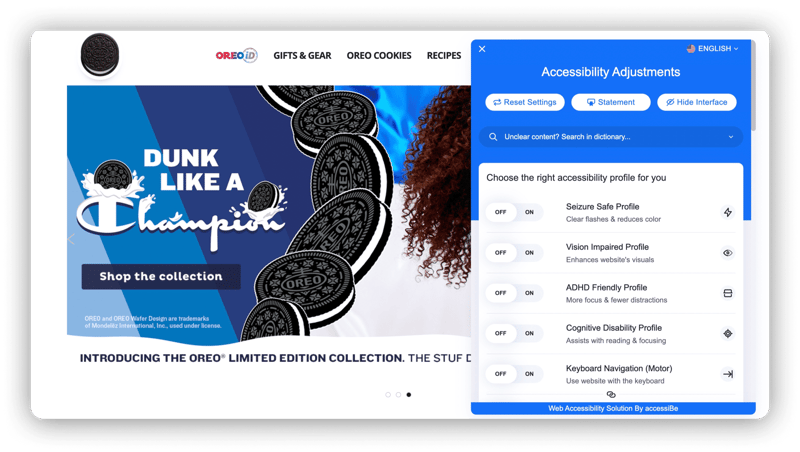 Following Web Content Accessibility Guidelines
You can begin to improve your site's accessibility by reviewing and following the Web Content Accessibility Guidelines (WCAG). Although some business owners talk about WCAG compliance, this phrase is misleading — there is no legal requirement to follow the WCAG. However, they are well-researched and effective standards that help make your site accessible and ADA compliant.
Reviewing the full guidelines is time-consuming because they are lengthy and extremely detailed. However, you can start by focusing on specific steps that are central to the accessibility of every website:
Set up keyboard navigation that allows users to tab through menus.
Optimize design elements like color, contrast, font, text size, and white space for visually impaired customers.
Provide alternative text for every image, table, or chart so that they can be interpreted by screen readers.
Include transcripts for all video and audio content.
Organize your pages with headings and subheadings for readability.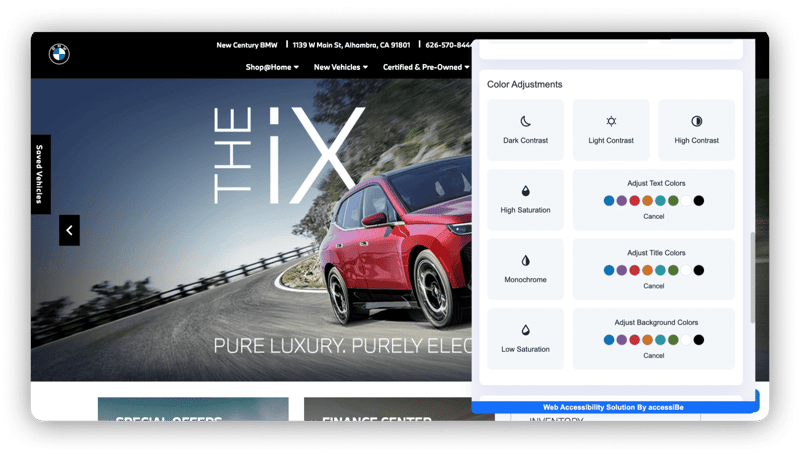 Each of these strategies creates a better website experience for customers who have visual and auditory impairments, those who rely on assistive technologies online, and visitors to your site in general.
Best ADA Compliance Software for Shopify
Many Shopify agencies offer support in creating an accessible website. There are also software solutions available to help ensure that your site on Shopify or another platform is compliant with the ADA.
accessiBe
The products that accessiBe offers increase accessibility by auditing your site for problems and automatically remediating them. The accessWidget from accesiBe addresses design, navigation, and structure deficiencies using artificial intelligence (AI) and machine learning. The company also offers accessFlow, a platform for developers to remediate source code for improved accessibility.
Accessibility Enabler
Accessibility Enabler is an app that allows users to personalize your Shopify site to best meet their needs. When users land on your page, they will have access to more than 30 tools that modify various aspects, including color, font, images, and text alignment. The app is built for optimization on mobile and desktop devices.
Accessibility Assistant
The Accessibility Assistant widget detects non-compliant items on your website and modifies them to make them more accessible. It can alter several aspects of your site, including color saturation, text size, cursor size, and contrast. Accessibility Assistant is intended to change your Shopify site elements in a way that makes them more accessible to people with visual and cognitive impairments.
Regardless of which software solution you choose, remember that none of them guarantees that your store is fully accessible. You are obligated to analyze your site's accessibility and determine whether it's compliant.

Read and Understand the Shopify Accessibility Policy
One of the best resources for understanding how to make your Shopify sites accessible is the company's accessibility policy. The policy provides specific information on how Shopify attempts to create an accessible environment for people with disabilities, both on their site and on their physical premises. While this document is not a substitute for reading the details of the WCAG and ADA, it does offer guidance on how the company as a whole approaches accessibility and compliance.
Get a Free Audit for Shopify
Conducting an audit is the first step to determining whether your site has accessibility compliance. You can conduct this audit independently, but it can be a cumbersome process that requires great attention to detail.
If you do not feel you have the skills, knowledge, or time necessary to fully analyze your Shopify site for accessibility, you can also use an outside party to conduct an audit for you. The company you hire may then offer to remediate any problems on your site for a fee. One such provider, accessiBe, offers the option to get a free audit to reveal weaknesses in your webs
ite's design and content.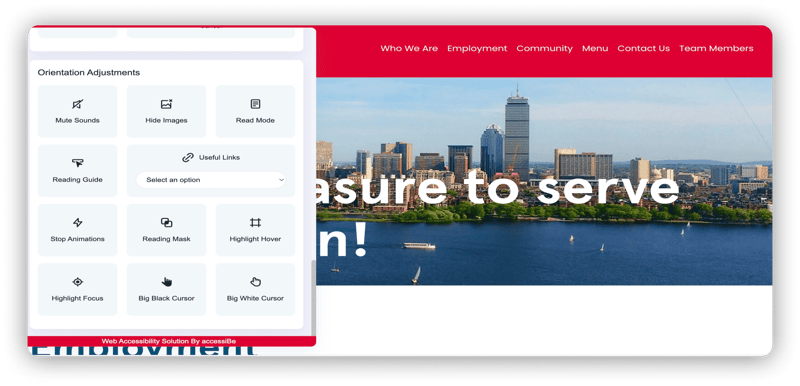 Level Up Your Shopify Store Compliance
Avoiding Shopify ADA violations is important for the success and future of your business. Unfortunately, maintaining ADA compliance for your website can be tricky because there are no clearly defined rules or regulations specifically developed for online businesses and eCommerce.
However, if you carefully evaluate critical aspects of your site, you can improve accessibility and meet the needs of all of your customers. You can also make use of available resources to conduct audits, provide remediation, and customize user experiences.
You also need to closely monitor your site's compliance with data and privacy regulations. Unlike accessibility, there are very specific laws regulating your use and protection of customer data. Enzuzo offers a way to ensure that you are meeting these standards. This will protect you from compliance violations and your customers from frightening prospects like identity theft.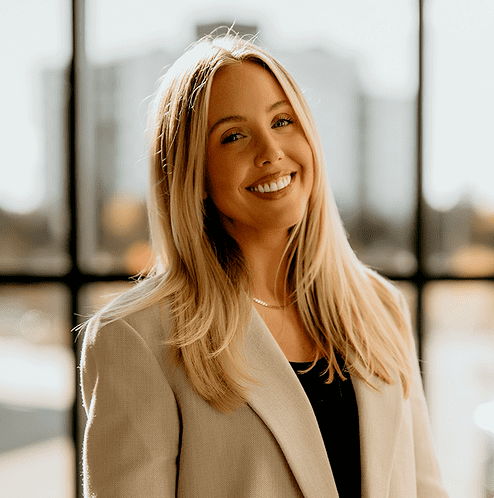 Paige Harris
Paige is the growth marketing lead at Enzuzo and host of The Living Lab podcast, providing insightful articles in the privacy space.