8 of The Best Shopify Cookie Banner Examples We Love
8 of The Best Shopify Cookie Banner Examples We Love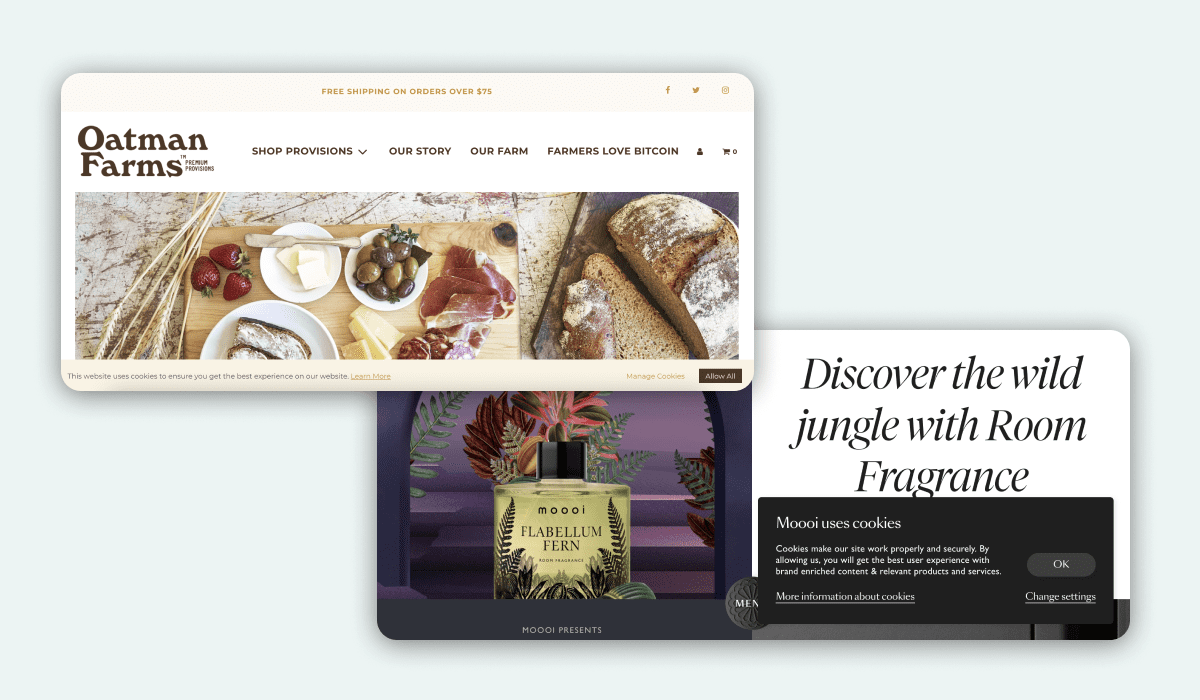 We talk a lot about the importance of cookie banners. Having a well-designed, well-written Shopify cookie banner is a must-have to keep your business compliant with privacy laws like the General Data Protection Regulation (GDPR) and California Consumer Privacy Act (CCPA).
Knowing this and getting your Shopify cookie consent banner up and running are two different things. Even with ample time and resources, it can be hard to create the perfect cookie banner. It's something your visitors will notice on their very first visit to your website, so we understand wanting to get it right.
To help you create an impactful Shopify cookie banner, we've put together this showcase of nine amazing cookie banner examples. For each cookie consent example, we'll walk you through why they work, and highlight what to consider when designing your own.
Focus on simplicity and language
We've all seen those "this site uses cookies" banners. Add more impact to your cookie consent banner with wording that balances simplicity with brand style. Take a look at these three cookie banner examples to see how language can make a difference.
Keep it succinct:
Unspun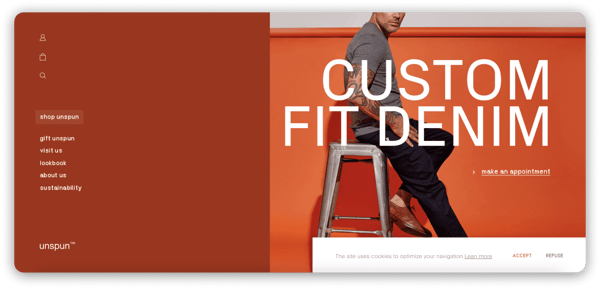 Cookie banners, while important, should never take away from your website's main focus: wowing visitors. The cookie banner at Unspun, a custom fit denim brand out of San Francisco, is one of the most succinct and seamless we've seen.
Unspun's cookie consent notice gives users a notification about cookie usage in a single sentence. This short and sweet wording still gives users plenty of control, allowing them to accept, refuse, or learn more about Unspun's cookie policy before proceeding. This is all made possible with a small, corner-placed banner that matches the website's overall aesthetic.
Balance details and brand identity:
Pangaia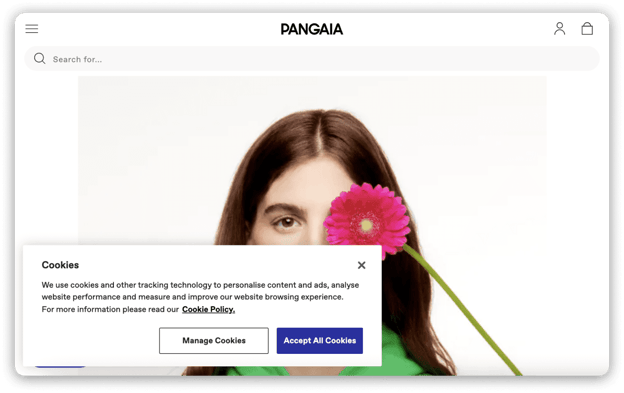 Over at Pangaia, a sustainability-focus clothing brand, you'll find a cookie banner with a little more detail. With a longer word count, this cookie banner provides more detail on what Pangaia's cookies are actually doing.
While Pangaia's pop up cookie banner is bigger in size than Unspun's, the added detail matches Pangaia's brand values around transparency and sustainability. A major plus to Pangaia's cookie banner is the "manage cookies" functionality, which gives users a list of the site's cookies and the opportunity to opt in or out of individual cookies.
Match language with your brand voice:
Vintageria Venezia
You might have a cookie banner for legal compliance reasons, but that doesn't mean your language has to be stuffy and legal-sounding — especially if your brand is more down-to-earth. Fun-loving Italian online vintage clothing store Vintageria Venezia, known for their quirky models in animal masks, is a great example of this.
Vintageria Venezia's website uses a really fun alternative to a content-blocking cookie wall, with a "game paused" overlay. This brings attention to their Shopify cookie banner, which you need to interact with to continue browsing the site. The brand still clearly explains their cookie policy and offers options, but in a playful way that creates a positive user experience.
Elevate your Shopify cookie banner design
If you've spent a lot of time and money on your eCommerce store, you'll want a cookie consent banner that doesn't detract from your design. Take inspiration from these website cookie banners on how you can use design creatively to make an impact.
Find the ideal banner location:
Catbird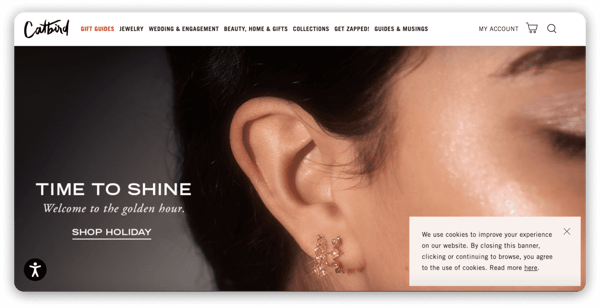 Catbird, a New York City based jewelry brand, changes their homepage often to showcase their new collections. This means they need a cookie disclaimer banner that doesn't get in the way of what they want to promote.
Taking Catbird's latest homepage as an example, they've cleverly placed the cookie banner in the bottom right — away from the main imagery. As your homepage changes, remember to check to make sure your cookie banner is in the optimum position. You want site visitors to be able to find it easily, without it obstructing key information or your high quality product photography.
Add some visual flair:
Nanoleaf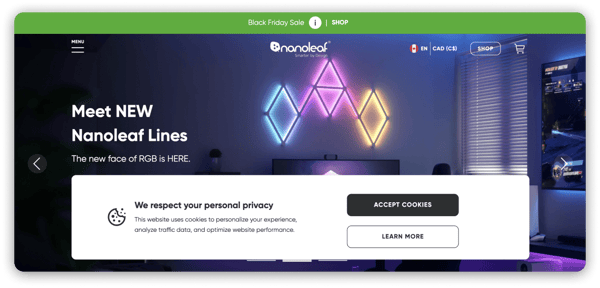 Taking inspiration from your brand and product design is always a great idea when it comes to designing your cookie banner. Nanoleaf, a customizable smart light company, places a lot of pride on aesthetics, with lots of great photography and animations on their website. This is a design choice they've continued with their cookie consent banner.
Nanoleaf's cookie consent banner matches their storefront perfectly. The sleek design and matching fonts make it feel integrated with the website, without distracting from the main video content on the web page. The small yet mighty cookie icon is also a nod to their brand's playful nature.
Create a premium experience:
Moooi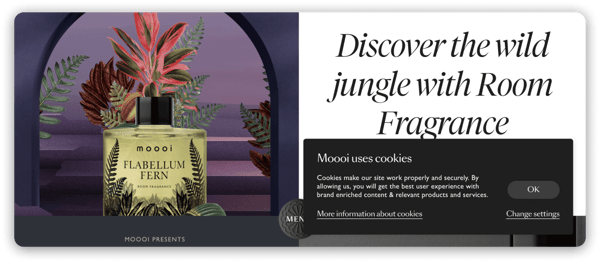 For a brand with a premium identity, you need a sophisticated cookie banner to match. Dutch interior design brand Moooi does just that with its sleek, luxury-feel cookie banner.
While the initial banner looks like nothing special, opening up the "change settings" menu introduces you to a premium user experience. Here, website visitors can choose from three predefined options to set cookie preferences within the widget. The star system subtly relates the cookie experience to a rating system, hinting that the three star option creates a more premium browsing experience.
Be customer-focused
While many of us close that cookie consent banner as fast as we can, others like to get a more informed view on how their personal data is collected and used. Satisfy your users' curiosity and needs with a customer-focused cookie banner, like the examples below.
For brands that want to empower their customers, giving visitors the opportunity to fine-tune their cookie settings is crucial. This approach aligns with the way Feel Nutrition, a supplements company, approaches their business and product, so it's no surprise their cookie experience is highly customizable.
If you click "read more" on Feel Nutrition's cookie banner, you're presented with an in-depth explanation of the categories of data they collect and use. You can then set your consent preferences for different types of cookies with a simple checkbox. With customer trust more important than ever, this is a great way to use customer data respectfully and is a great example for every brand to follow.
Offer as much detail as possible:
Jaded London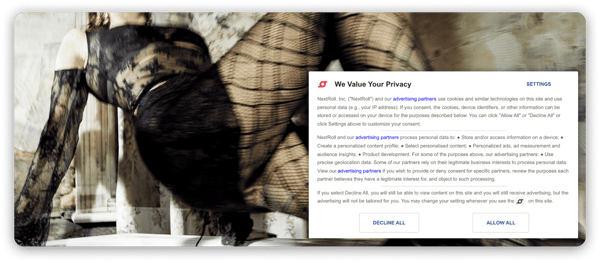 Often, simple is best, but sometimes presenting your users with all the information they need upfront works. This is the approach that fashion-forward UK brand Jaded London has taken with their info-packed cookie notice.
Jaded London's cookie banner gives website visitors a huge amount of control over their browsing experience. At a glance you can see what cookies are used for, and understand the impact of declining them. Beyond the initial banner, there's a full-featured menu to customize the experience even further. While we wish it was a bit shorter, the sheer amount of information is admirable, and highlights the brand's transparency around data privacy.
Create your own Shopify cookie banner today
Feeling inspired by these impressive cookie banners? If it's time to give your own a makeover, we have just the tool to help.
Checkout Enzuzo customer: Oatman Farms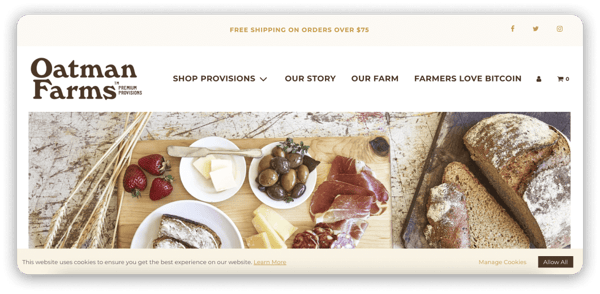 With Enzuzo, you can easily generate a customized cookie banner for Shopify today. Our easy to use tool walks you through the process, so you can transform our template into a design that matches the look and feel of your website. Personalize your banner's colors, text, and placement to suit your storefront.
Beyond aesthetics, our cookie consent banner can help you stay compliant with cookie laws. Decide whether to show your cookie banner to everyone or only EU visitors, so you can stay GDPR compliant. Don't forget about user experience, either. Our tool gives your users a way to customize their cookie consent management, so they have more control over their personal data.

Ready to get started? Head to our free website cookie consent banner generator to jump into the process.