Table of Contents
Searching for the best eCommerce privacy policy template for your Shopify store in 2022? Here are four factors to keep in mind when making your decision...
A privacy policy is a legal requirement when you're selling on Shopify. Not only does a privacy policy keep your store compliant, but it also helps you win consumer trust, meets the requirements of third party apps and may even increase your SEO rankings.
Plenty of help is at hand when it comes to populating your store's privacy page. But are all Shopify privacy policy templates created equal?
When exploring the options for your store, these four guiding principles to help ensure your choice is going to bring you the biggest benefits.
Privacy Page Clarity
Data privacy is a hot topic. Consumers are increasingly aware of (and concerned by) the way that their data is wielded by private companies. As a result, if your customers come looking for answers, it pays to make sure that they are clearly presented.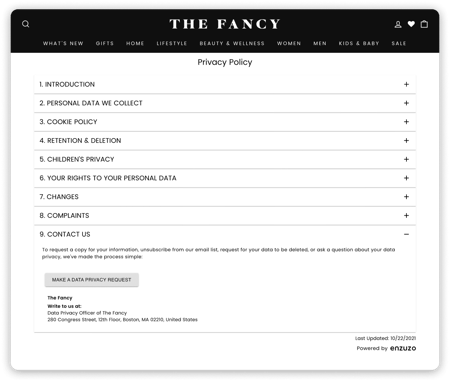 The way that your Shopify Privacy Policy template is laid out and structured is important. A wall of small print is off-putting, and doesn't go a long way to suggesting that care and attention a retailer might have put into the important task of privacy protection.
Instead, look for a solution that will offer a more dynamic and engaging presentation. Enzuzo's organized dropdowns make your privacy policy policy easy to read and explore.
Privacy Page Customization
You take your responsibility to your customers' data privacy seriously, and this should be communicated by the way in which your privacy policy is integrated into your Shopify's store's design.
A generic template, bolted onto your store's theme doesn't convey the greatest interest or commitment to the security of your customers' data.
When looking for a Shopify privacy policy template, seek out an option that will enable you to customize the look and feel to complement your existing store design. By bringing your privacy policy page in line with the rest of your branding, you'll clearly demonstrate how integral it is to your business.
Privacy Page Compliance
When it comes to creating a privacy policy for your Shopify store, it's important to remember that it will only remain valid for as long as privacy legislation remains unchanged. As soon as new directives come into play, your privacy policy will need to be updated to reflect them.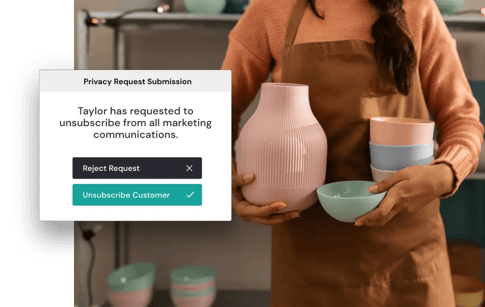 As you look for the best Shopify privacy policy template to meet your requirements, factor in the need for ongoing review and revision. Running an ecommerce business can be time-consuming, and anything that can be done to lighten the load, such as the automation of essential tasks, will make your job a lot easier.
Enzuzo will automatically update your privacy policy page as privacy laws change, meaning you can relax, safe in the knowledge that you're compliant at all times.
Privacy Page Communication
Finally, look for a Shopify privacy policy template that will help to open up the channel of communication between your brand and your customers. A privacy policy is a huge driver of trust when it comes to your customers' impression of your store.
By ensuring their ability to get in touch with questions and requests relating to their data privacy, you clearly signal your transparency and respect.
The perfect free Shopify Privacy Policy template?
With so many free Shopify Privacy Policy Generator available, picking the perfect option for your own store can feel daunting. But by keeping the four factors of clarity, customization, compliance and communication front of mind, you're certain to make a solid choice.