Table of Contents
French data privacy company Didomi is a robust tool for all things compliance. The app helps you comply with GDPR, CCPA, and other data privacy laws by building cookie consent management workflows, privacy policies, DSARs, and more.
But Didomi can be expensive and technical to set up. The workaround is to evaluate Didomi alternatives and competitors — those that offer similar services at a fraction of the price and technical complexity.
In this article, we'll walk you through our list of the top Didomi alternatives and competitors. We've based our research on factors such as cost, convenience, customer support, technical complexity, features, and ease of use.
1. Enzuzo (Our Top Didomi Alternative)
Enzuzo offers an array of data privacy compliance features including must-haves like cookie consent management tools, auto-updating privacy policies, DSAR forms, terms of service agreements, and much more.
It's also able to handle requests around data mapping, data management, and data governance for enterprise customers.
Enzuzo is battle-tested to be compliant with GDPR, Quebec Law 25, CCPA, LGPD, and a host of other data privacy laws around the world. Let's show you why we maintain that it's the #1 alternative to Didomi.
Pricing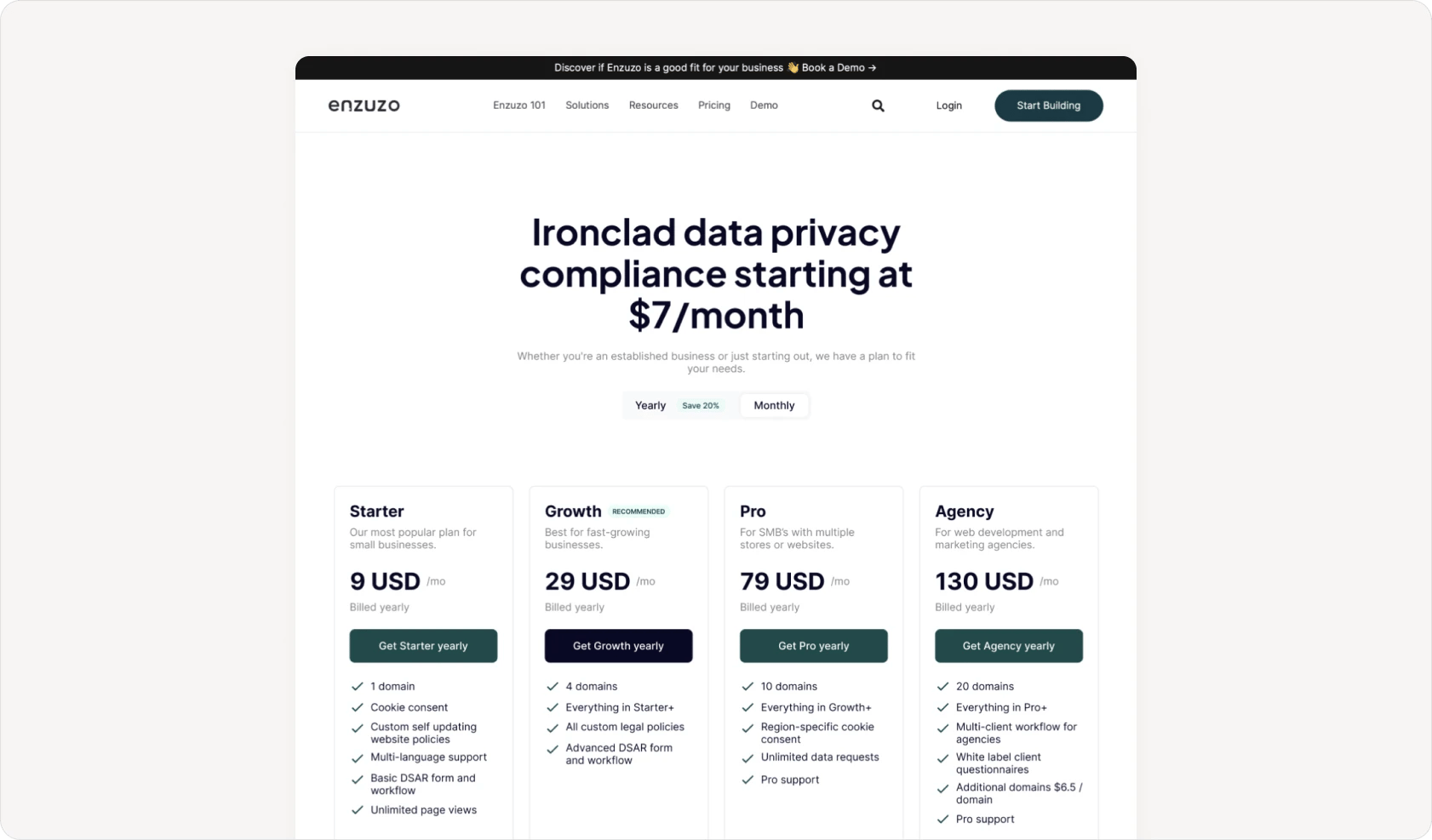 Didomi does not list pricing on its website. Enterprise plans can cost several hundred dollars a month for full compliance which includes cookie consent management, DSAR forms, customer support, and more.
Enzuzo's Growth plan priced at $29/month includes privacy policies, DSAR forms, terms of service agreements, and multi-language support. Bump up to the Pro plan that costs $79/month for region-specific cookie consent management and 10 domains. What's more, cancel whenever you like — Enzuzo does not force you into long-term contracts or prohibitive cancellation fees.
🏆 Overall Winner on Pricing: Enzuzo ✅
Support
Didomi's customer support is only available on its advanced plans. Dedicated onboarding & training, access to a customer support manager, and technical support requests are considered on a case-by-case basis.
Its own page points to how the standard plan does not include priority customer support.
Customer support is a critical feature included in the review because things tend to break in software environments and timely customer service is integral in sensitive industries like data privacy.
Didomi's existing customers also point to how support can be lacking. Check out one of its reviews on Gartner below 👇
Enzuzo's reviews on the other hand are consistent about how helpful and timely customer support requests are catered to. And if you're looking to migrate from another platform to Enzuzo, the team will pair you up with an implementation specialist to handle the move seamlessly.
You won't be left to figure things out on your own — compliance and consent management are serious matters and Enzuzo's team goes the extra mile for your satisfaction. Here's an existing review from an Enzuzo customer on G2 👇
🏆 Overall Winner on Support: Enzuzo ✅
UX, SEO, and Core Web Vitals
Cookie consent management shouldn't hurt your website's conversion rate, meaning all scripts should load quickly and prevent your website from getting bloated. A sluggish website can hurt your search rankings, impact your user experience, and lower conversions — the opposite of what you want from a privacy compliance solution.
Didomi's reviews point to how the app hurts core web vitals, and therefore has a negative effect on user experience, SEO, and conversion rates.
Enzuzo is engineered to be fast, simple to set up, and quick to install. Its cookie consent manager and other legal workflows can be set up with a couple of lines of Javascript. A recent update resulted in an even more lightweight app — the end result is a solution that doesn't hurt your website performance or impact your UX.
🏆 Overall Winner on UX & SEO: Enzuzo ✅
Features and Product Roadmap
It's tough to make a decision here. Didomi is an enterprise solution with the features and pricing to match, but Enzuzo isn't far behind. What's more, Enzuzo offers some legal pages and workflows that Didomi doesn't, such as privacy policies, terms of service pages, shipping and return policies, and end user license agreements.
If judged purely on features, Didomi does have a slight advantage over Enzuzo. For example, it offers consent management for Connected TV environments (think apps for Amazon Fire TV etc). It also enables vendor ROI assessment and risk management, two features that Enzuzo does not currently support.
The bottom line is that Didomi does offer plenty of advanced features, but will lock you into long-term contracts and monthly retainers in the several hundred dollar range to be able to access them.
🏆 Overall Winner on Features: Didomi ✅
Integrations & Onboarding
Enzuzo offers a native app for Shopify and easy-to-follow instructions for Wix, Go High Level, Wordpress, and more. It's also a plug-and-play solution designed to be used as a self-serve tool, with no complex onboarding requirements. Here's another review pointing to how intuitive the Enzuzo platform is 👇
Didomi does not have a native app for Shopify and has a more complex onboarding process than Enzuzo.
A native integration with Shopify gives Enzuzo the edge here, as does its self-serve experience.
🏆 Overall Winner on Integrations & Onboarding: Enzuzo ✅
Final Thoughts
Enzuzo and Didomi are slightly different products, with Didomi being a feature-rich compliance solution positioned squarely at large enterprise clients. However, Enzuzo can more than hold its weight with all things data privacy compliance — including cookie consent management, legal pages, and licensing agreements.
If you're in the market for a cost-effective compliance solution for GDPR, Quebec Law 25, CCPA, and more, we reiterate our view that Enzuzo is the top Didomi alternative.
Enzuzo doesn't lock you into long-term contracts, offers free onboarding and priority customer support, and ensures compliance with data privacy laws out of the box.


🏆 Recommended Didomi Alternative: Enzuzo ✅
Learn more about how Enzuzo can assist with your compliance needs. Book 1-1 time with our CEO👇

2. Ketch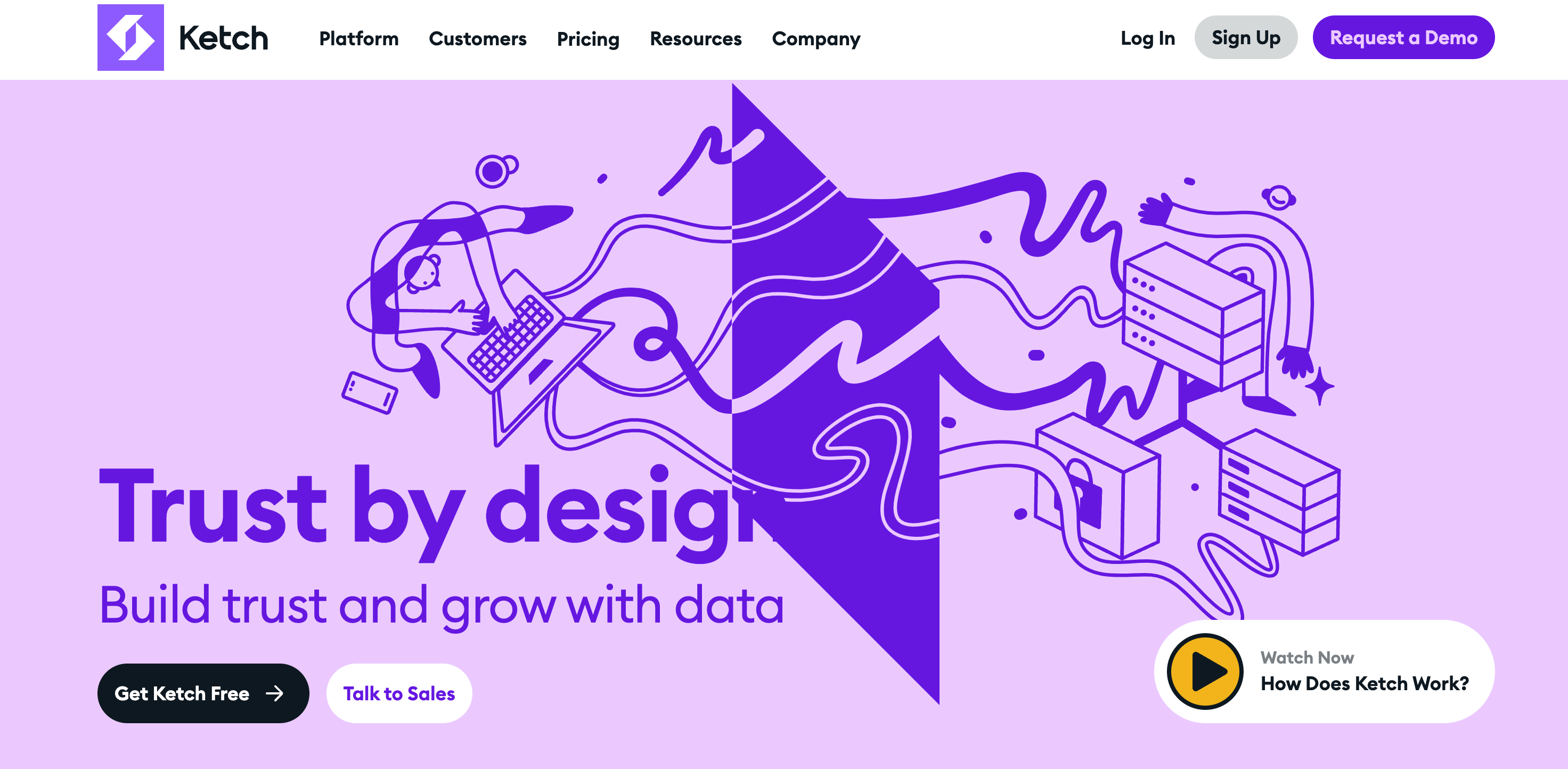 Pros of Ketch:
Free plan available
Data and AI governance
Ability to cater to wide range of industries
Cons of Ketch:
Long contracts
Poor UX
Complex integrations
3. Osano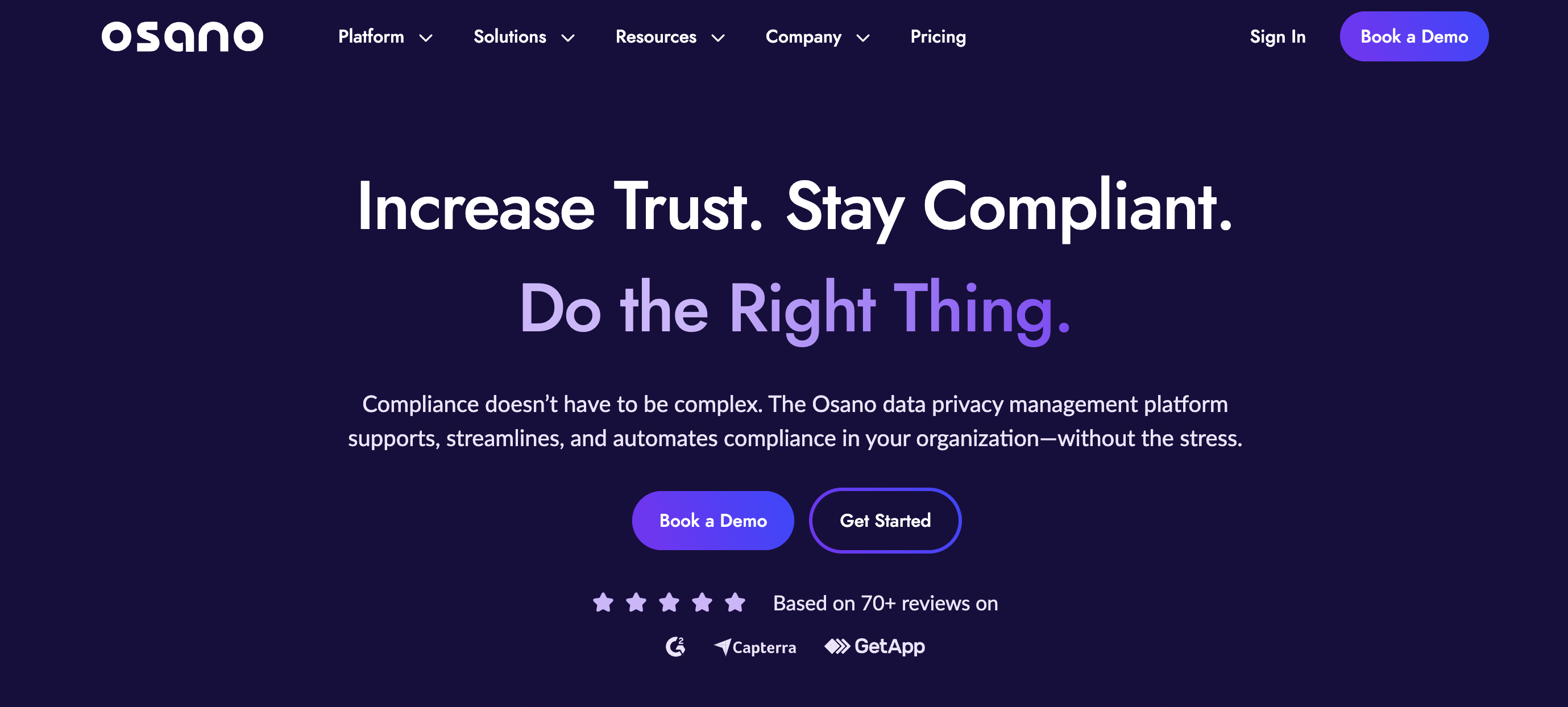 Pros of Osano:
Proven, reliable platform
Lots of enterprise features
Good UX
Cons of Osano:
Expensive
Limits on website traffic
Missing features like privacy policy
Want to consider other options? Check out our post on the best Osano alternatives.
4. OneTrust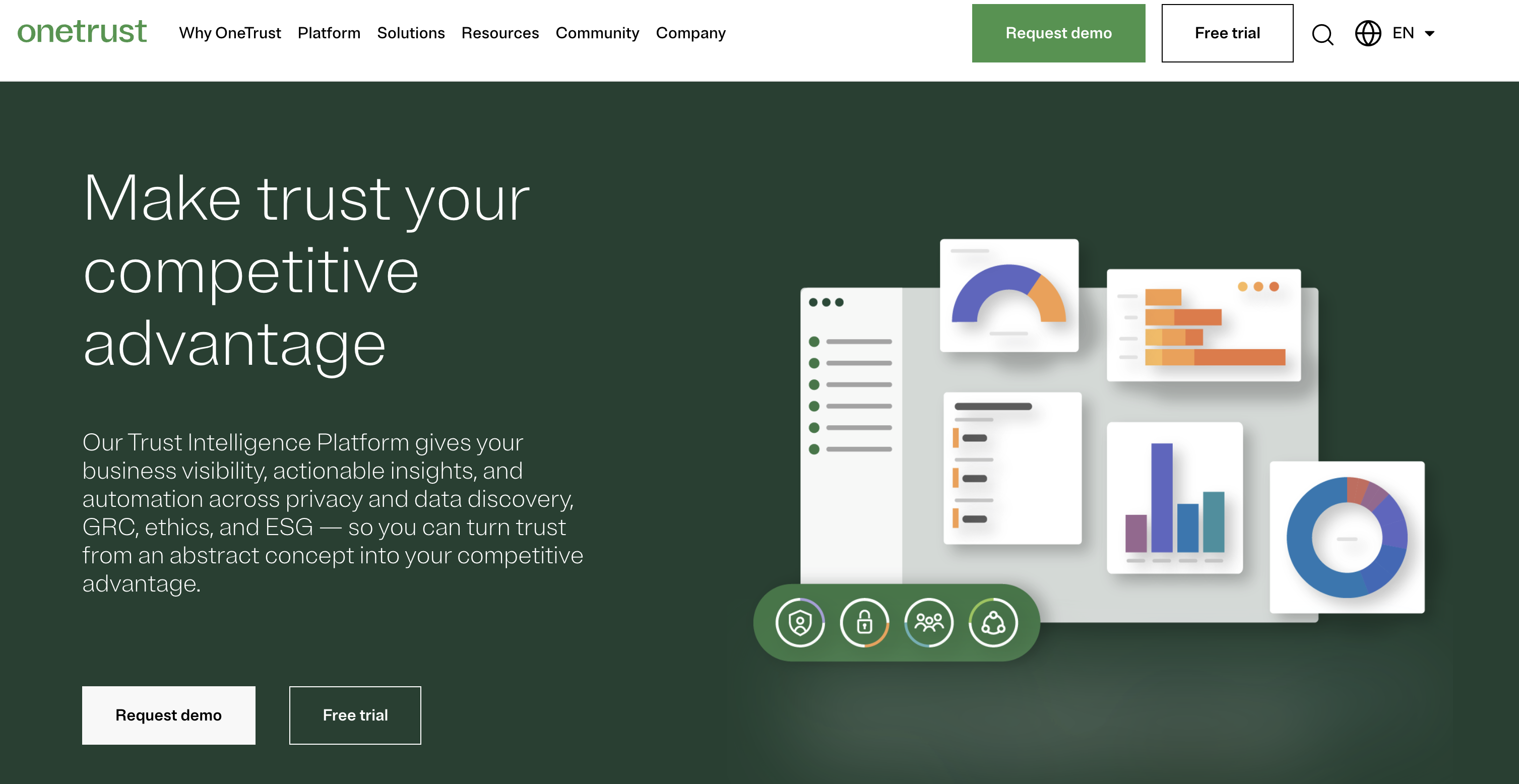 Pros of OneTrust:
Feature-rich platform on a scale above Didomi
Trusted by Fortune 500s
Robust product roadmap
Cons of OneTrust:
Clunky and difficult to set up
Very expensive for what it offers
Poor after sales support
Want to consider other options? Check out our post on the best OneTrust alternatives.
5. UserCentrics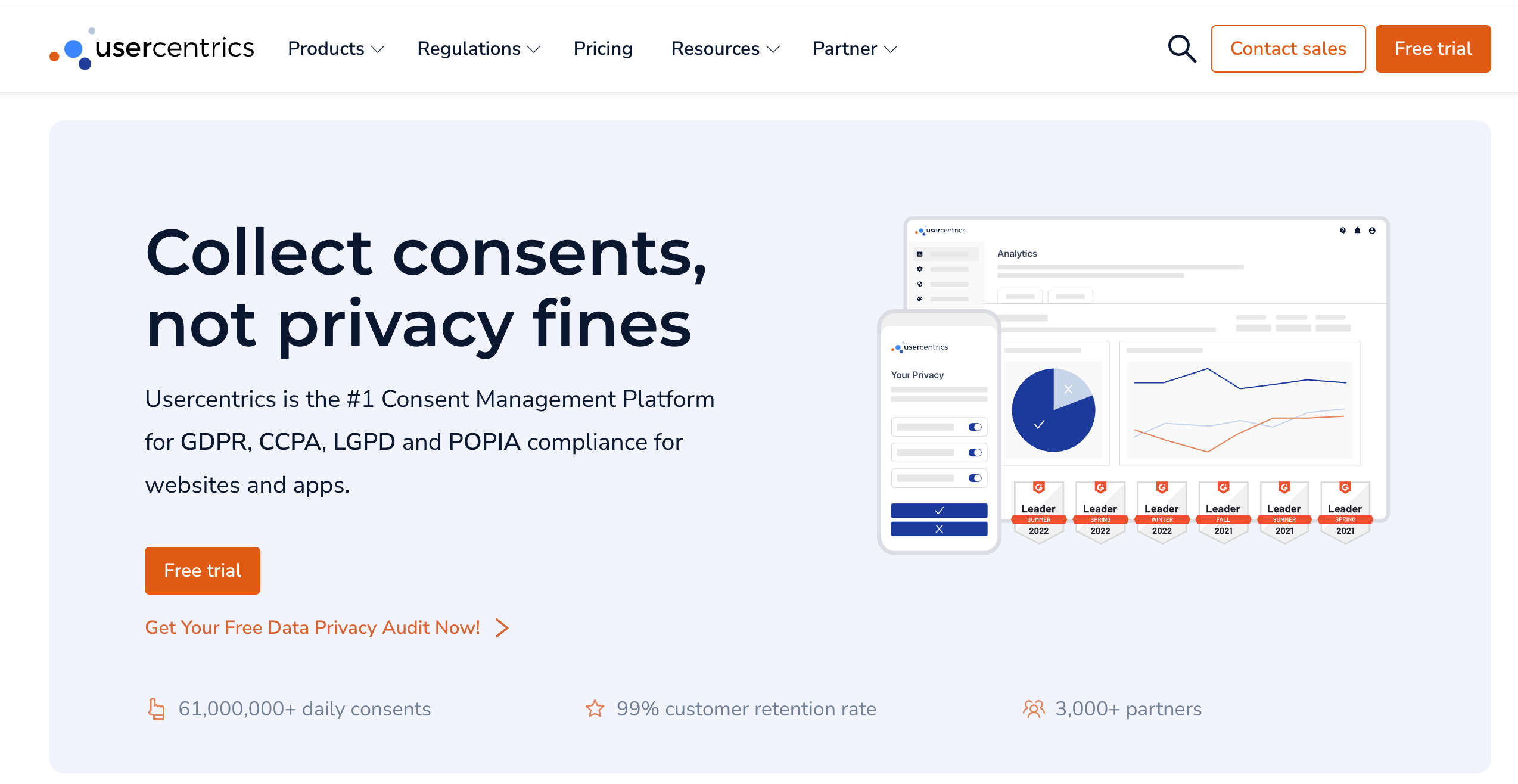 Pros of UserCentrics:
Excellent at consent management
Many integrations
DSARs included
Cons of UserCentrics:
Pricey for one domain
No additional legal workflows
Clunky UX
6. Mine

Pros of Mine:
Intelligent data governance
DSAR forms
Consent management
Cons of Mine:
Pricing only for enterprise customers
Complex integrations
Long contracts


7. DataShips
Pros of DataShips:
Great for ecommerce stores
Robust consent management
Excellent for SMS and email compliance
Cons of DataShips:
Not suited for software companies
Unclear whether it meets GDPR compliance
Pricing starts at $200/month
8. Iubenda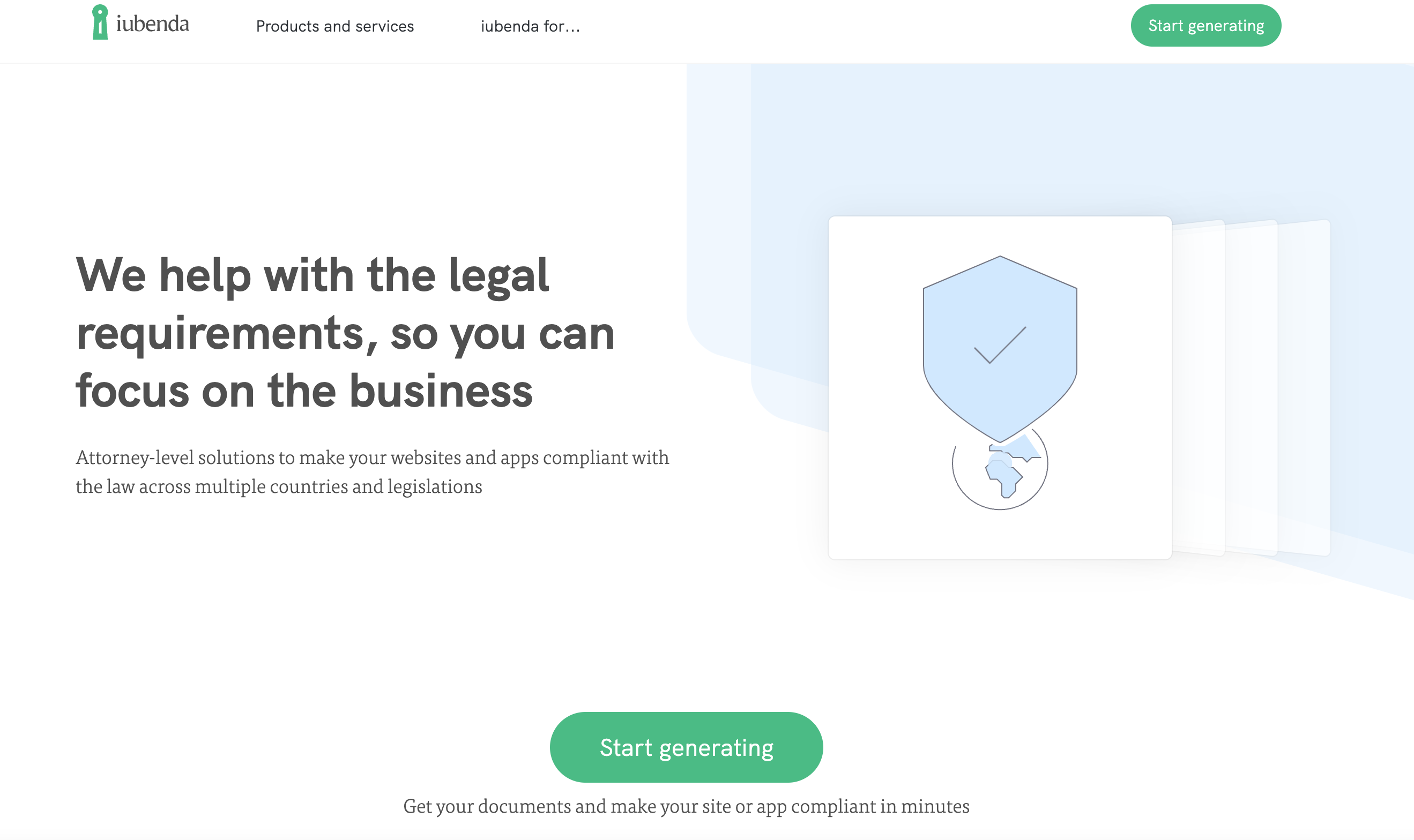 Pros of Iubenda:
Cheap
Several legal workflows
Ability to handle consent
Cons of Iubenda:
Isn't equipped with enterprise features
Limits on website traffic
Unresponsive customer support
Want to consider other options? Check out our post on Iubenda alternatives.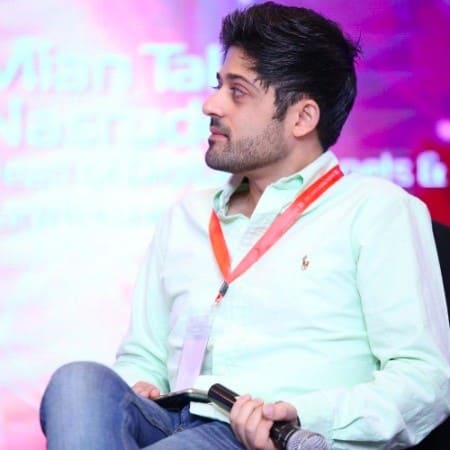 Osman Husain
Osman is the content lead at Enzuzo. He has a background in data privacy management via a two-year role at ExpressVPN and extensive freelance work with cybersecurity and blockchain companies. Osman also holds an MBA from the Toronto Metropolitan University.