Creating a Website on Wix: A Step-by-Step Guide
Creating a Website on Wix: A Step-by-Step Guide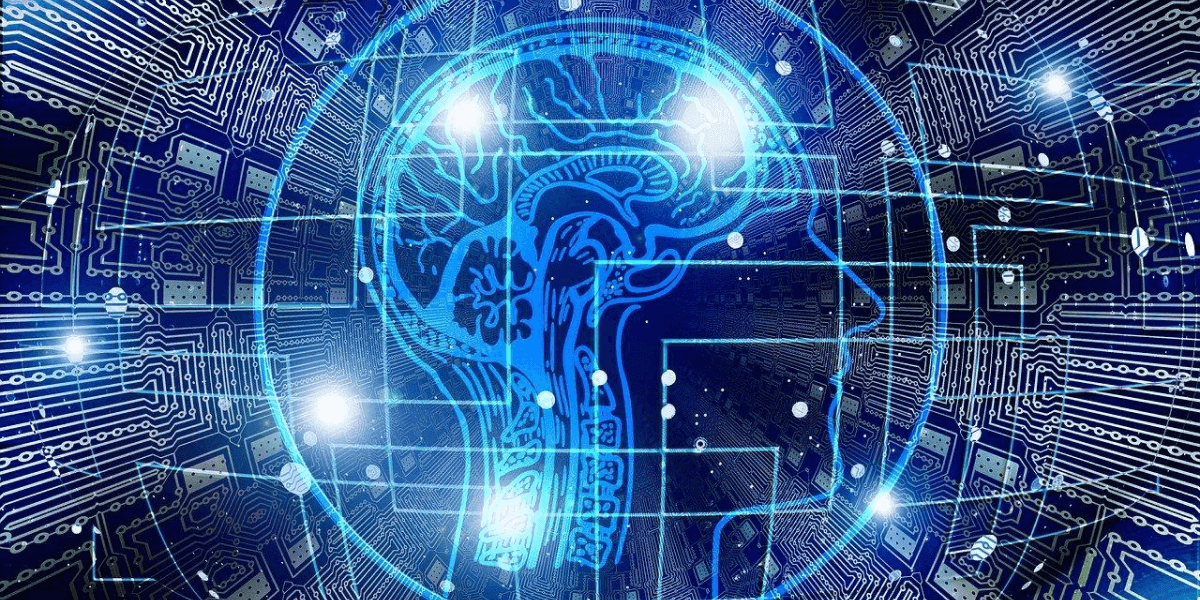 Table of Contents
Building a website is often an intimidating prospect because it requires the perfect combination of planning, organization, and creativity. Creating a website on Wix, however, can make the process easier and faster than you might have expected.
Wix offers a free website builder that allows you to create a unique page with customized elements and personalization. If you're unsure of how to create a professional website for free, the steps below can help you get started on Wix.
Why Create a Website on Wix
There are many platforms available for website building, but not all of them will meet your needs. There are specific benefits and drawbacks to Wix that may help you decide whether it's the right choice for your business site.
Advantages
Wix is an affordable, user-friendly platform with a lot of features and options. If you are just getting started, even the free version will help you to build a very professional, functional website.
The process of building a website on Wix is simplified by the option to use artificial design intelligence (ADI) and a variety of attractive templates. Once your basic site is built, you can select add-ons from the Wix app store to enhance the available features.
Finally, Wix offers excellent customer support to every user, including those who are using the free plan. If you encounter difficulties while building your site, the Wix team is available to get you back on track.
Disadvantages
Although Wix has a lot to offer, there are some limitations to consider. First, even the most expensive plans through Wix do not offer unlimited storage. For large businesses that use a lot of media or need significant storage, Wix may not be the best fit.
There are also limits to how much you can customize a Wix site. While the provided templates and features are more than enough for many businesses, those with very specific needs for their website may not be able to achieve their exact design on Wix. For example, you cannot integrate any third-party apps or add-ons that are not included in the Wix App Market.
Perhaps the most significant disadvantage is that you cannot switch between Wix website templates once your site has gone live. If after launching you decide that a template with a different aesthetic or structure would be more appropriate, you will need to manually transfer all of your content from the original template to the new one.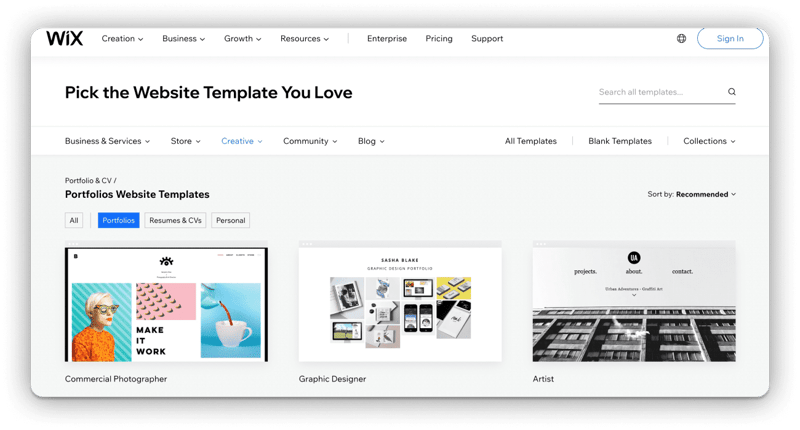 How To Create a Website on Wix
One of the best aspects of Wix is that it makes building a website relatively fast and painless for everyone. Even people with limited or nonexistent web design experience can follow the basic steps through Wix and have a site up and running within an hour.
Create an Account
Navigate to the Wix site and click "Getting Started." You will be directed to either enter your email address and create a password or connect to Wix using your Facebook or Google account. Because Wix has a free plan available, you will not be asked for your credit card or any other detailed information up front.
Once you have set up your Wix login, you will be asked to answer some basic questions about your site. You can jump past the questions by clicking the "Skip" button at the bottom of the screen, but choosing to answer them can benefit you.
The responses that you give to these questions will enable Wix to automatically generate website suggestions for you. Some of the questions you may be asked to answer include:
What kind of website are you creating?
What would you like to call your website?
What are your goals for this website?
What do you want to add to your website?
After you have answered (or skipped) these questions, you will be presented with options to proceed with the design of your website.
Select Wix ADI or Custom Build
If you want to complete other tasks, such as setting up payment methods, before fully designing your site, you can click "Go to Dashboard." From the dashboard, you can connect your domain name, write a blog post, or return to the building process by clicking "Design Your Website."
In most cases, rather than clicking "Go to Dashboard," it is better to choose one of the site-building methods on the right side of the page. To accommodate the needs of a wide range of customers, from website beginners to experienced designers, there are two ways to create your website on Wix. Your choice at this stage determines how much automation is involved in the design of your site.
First, you can use the Wix ADI builder. The ADI tool offers suggestions for the structure, layout, headlines, and images on your site. For beginning users, in particular, using Wix ADI is extremely helpful. As you build, you will need to give it a name and choose features, but Wix will provide guidance and offer suggestions for almost every aspect of the site.
Alternatively, you can custom-build your site based on one of the many premade Wix templates. If you choose to use a template rather than ADI, Wix will not offer automated options. Instead, you will need to manually build and customize each aspect of your site, including the headlines and body text, hero images, and product images.
Consider your level of proficiency when deciding which option is best. If you are concerned about your website being too generic, keep in mind that the ADI tool is designed to prevent replication of the sites that it generates. Additionally, you can still make changes to every element of your site, including text and images, if you use Wix ADI.
Choose a Theme and Template
Before choosing a template, you will need to select a theme. While the template determines the structure of your site, the theme dictates the color scheme, style, and feel. When choosing your theme, consider not only your personal taste but also your ideal customer. Imagine which look most closely represents your target customers and their preferences.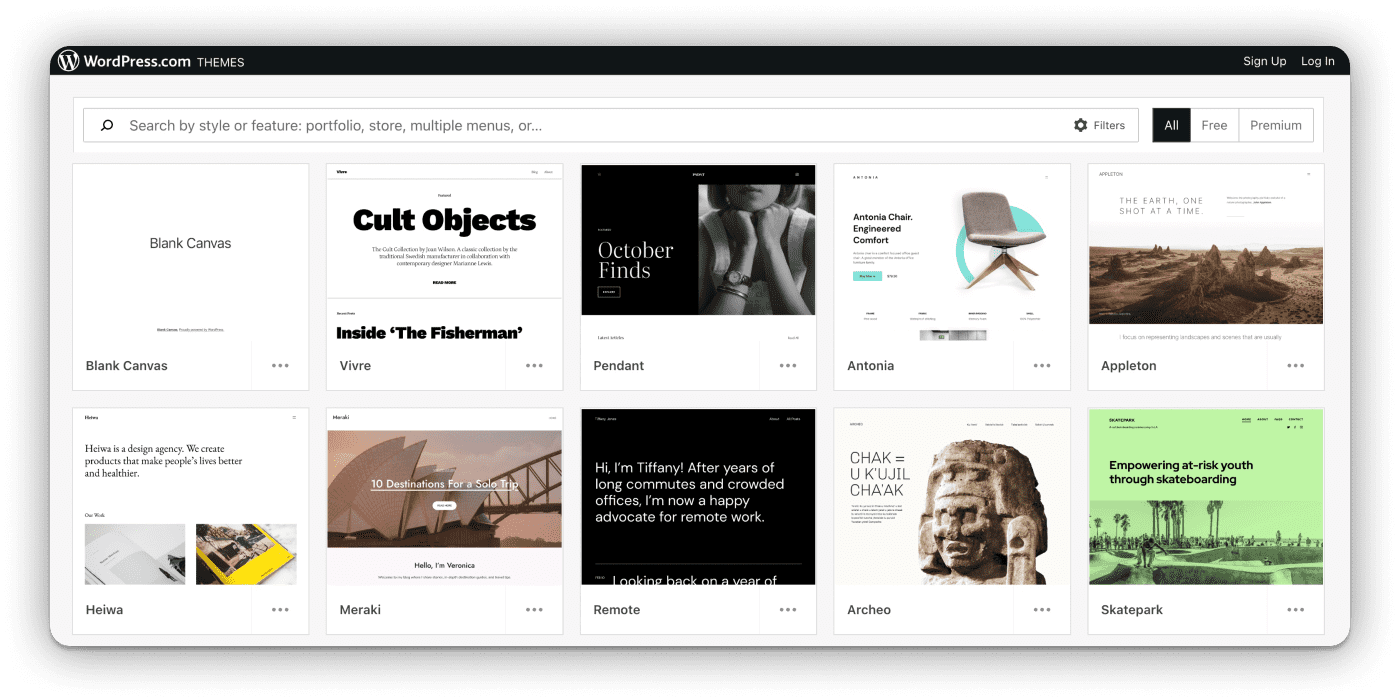 Wix ADI
If you're using the ADI tool, the screen following the theme selection will present you with three template options for your homepage. Review them closely and determine which one you like best, remembering that this choice is a permanent one. If you aren't satisfied with the template suggestions, you can also select your own and ignore what Wix has built for you.
Once you have selected your homepage, Wix will ask what other pages you would like to include on your site. Although the platform makes recommendations for page types, you can elect not to use any of the recommended pages or to add pages that were not suggested by Wix.
Wix Template Catalog
If you opted to build the site on your own without the assistance of ADI, or if you are unhappy with the ADI-generated homepage options, you can choose from a catalog of hundreds of templates.
To narrow down your options, you can search or browse by type. The available templates are organized by the kind of website you are creating and then subcategorized into more specific industries:
Business: There is a wide range of business options, including consulting and coaching, real estate, finance and law, travel services, and fashion.
Store: The types of store templates include fashion and clothing, arts and crafts, and electronics.
Creative: You can choose from a number of creative artforms, including photography, design, music, and literary arts.
Community: The available community options are categorized as education, communities, and events.
Blog: If the site will be used exclusively as a blog, you can choose a particular type, such as travel, personal, arts, or podcast.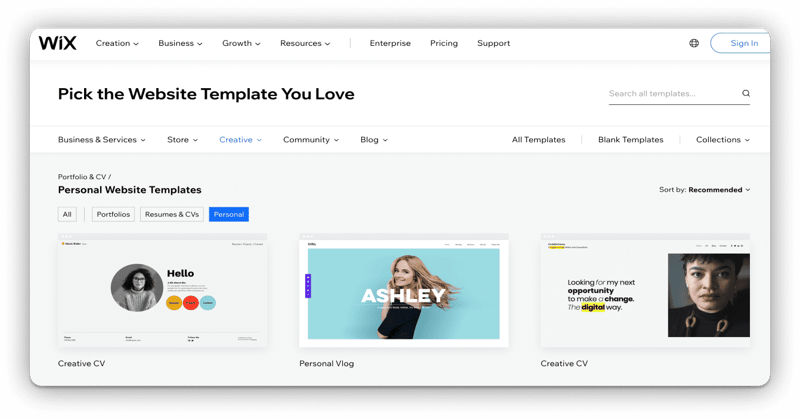 Make your template selection carefully, as you will be committed to it once your site goes live. If you decide to switch it later, you will need to go through a cumbersome process of transferring and recreating content from the original site.
Edit Your Site
Once you have selected a template or the ADI-generated homepage that you want to use, you will be taken to the Wix Editor. The editor is straightforward and often self-explanatory, allowing you to customize anything on the page by clicking on it.
For example, you can click on a section of text, such as the company name or business description, to replace it with your personalized content. Each time you select a particular element, Wix will provide prompts or instructions indicating what you should do next.
Other customization options include:
Adding content pages such as a store, bookings, or pricing plans and selecting a layout for each page
Uploading a logo or using the Wix logo maker to create one
Replacing images with your custom photos, images from other platforms, or stock photos
Editing images by cropping or adding filters, links, or animation
Using the theme manager to adjust the color scheme and fonts
Adding a custom background or one from the Wix gallery of images and colors, and adjusting the level of opacity and scroll effects
Inserting additional elements that were not part of the template, including images, slideshows, videos, buttons, or forms
Changing the site structure through the "Menus & Pages" link
Adding apps from the Wix App Market to increase the features available on your site
If you make an accidental modification or don't like an adjustment after you have made it, you can click the undo button at the top of the screen to reverse the changes.
Optimize for Mobile Access
Mobile optimization may seem like an unnecessary step, but it's one that you should be sure to complete. Customers who visit your site on a mobile device may miss out on important content or even question the integrity of your business if the mobile site does not function properly. A significant portion of today's web traffic occurs on mobile devices like cell phones and tablets, which causes you to ask the question do I need a privacy policy for my app?
Effective website builders recognize this fact and create two distinct site layouts, one for desktop computers and another for mobile devices. This allows customers to get the best possible experience from your site regardless of how they access it. Likewise, Wix offers an easy way to adjust your website layout for multiple device types.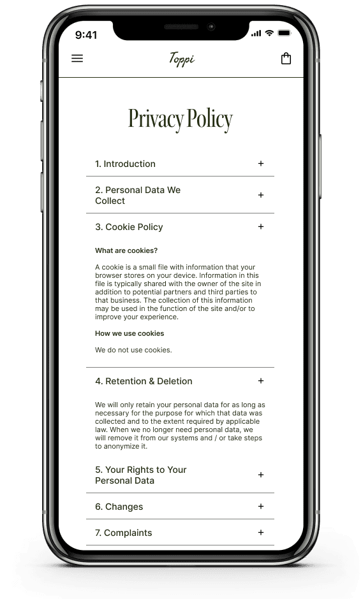 At the top of the Editor screen on Wix, you will see icons for desktop and mobile views. Click on the mobile icon to see how your site will appear on a mobile device like a cell phone. Wix automatically makes changes to \your content to better suit a mobile screen, but you can also make manual alterations to all aspects of the mobile view. These changes will not have any effect on the desktop version of your site.
Preview and Publish
At any point during the editing process, you can preview your website to see how your changes affect the overall look. Once you are satisfied with the results, click "Publish" to make the site live and viewable by the public.
Before being published, your site will need a domain name. Wix may automatically prompt you to create one, or you can go to the dashboard and click "Connect Domain." If you already own a domain name, you can enter that information. If not, you will be given the option to buy a domain name from the Wix platform.
Choosing a domain name is an important step. If you select something overly complicated, it will be difficult for customers to remember. On the other hand, if your domain name is too similar to your competitors, you may accidentally direct your customer pool to their sites.
Domain names can also reflect the level of professionalism of a business. If you are using the free version of Wix, your domain name will include "wixsite" and the homepage will feature Wix advertising. If it is affordable for your business, it is generally best practice to invest in a paid plan that eliminates both of these factors.

Wix Plan Options
There are several plan options to create a website through Wix. If you build your site under the free plan, you can decide later to upgrade to a premium plan and reap the benefits of the increased storage space and other features.
The Wix premium plan options include:
Website plans: These plans are the most affordable and are best for professional sites or portfolios because they do not allow you to accept payments through your website.
Business and eCommerce plans: If your business makes sales online, you will need to upgrade to an eCommerce plan, which ranges from $27 to $59 a month without promotions or discounts.
Enterprise plans: These plans include a much more comprehensive service from Wix, including features like coding and a dedicated support team, and are priced beginning at $500 per month.
Wix frequently offers discounted prices on their website plans, and you can also receive a lower rate if you sign up for a longer term.
Additional Wix Add-Ons or Features for Businesses
The basic features of the Wix platform are already quite robust, but you can also add functionality to your site through the Wix App Market. The marketplace provides access to more than 250 paid and free apps that are designed to function within Wix websites.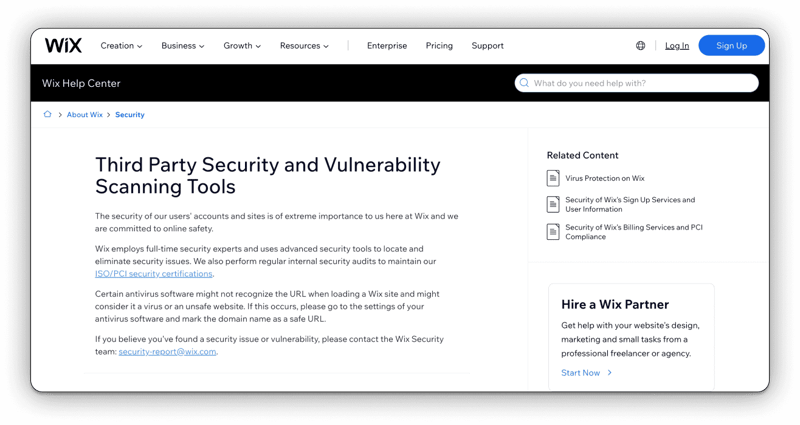 Adding apps makes it possible to integrate features to your site that are not available in the template. When you access the Wix App Market, you can search based on function or browse through popular categories. Once you have found an app that you like, click "Add to Site" and let Wix handle the rest.
Some popular apps include:
Wix Blogging Manager: Build and maintain a blog on Wix to promote your business and engage your customer base.
Ascend Business Tools: Take advantage of analytics, marketing tools, and other features for website management.
Wix Stores: Build an integrated online store to enable your business to make sales online.
Social Media Stream: Add social media feeds to your website so that customers can view social media posts when they visit your site.
Wix Chat: Add a minimized chat window to the bottom of your site so that visitors can ask questions and get support.
Site Booster: Enhance the SEO on your site and help boost its visibility and ranking.
Additional app features that may be beneficial on your site include videos and other media content, events, and member areas.
Getting Started With a Website on Wix
Wix is one of many website-building platforms available. It offers an excellent combination of style, practicality, and affordability for businesses that are looking for an easy way to build a website.

Now that you know how to make an interactive website on Wix, you can include all of the features necessary to comply with privacy regulations and protect your customers. Enzuzo's privacy policy generator can help you create a detailed policy that is tailored to your business and publish it on Wix with only a few minutes of your time.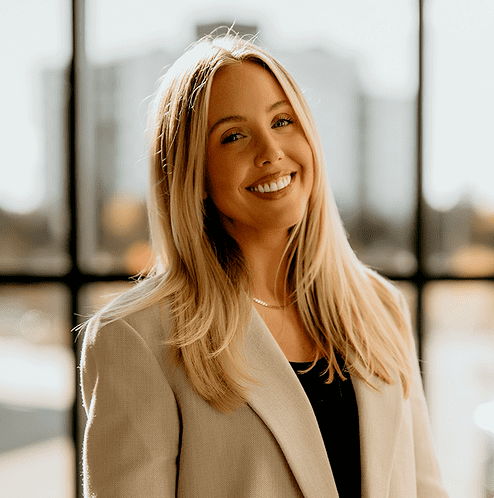 Paige Harris
Paige is the growth marketing lead at Enzuzo and host of The Living Lab podcast, providing insightful articles in the privacy space.