Table of Contents
Understanding how to keep your website compliant can be a challenge. Legislation isn't easy to navigate, and every company seems to take a slightly different approach with their policy pages.
In this article, we'll take a look at exactly what your website needs to stay compliant with relevant privacy laws and expectations.
Why You Need to Consider Data Privacy Compliance

People care about their data. And as a company that collects and uses that data, care should be at the heart of how you operate too. Not only this, but there are often damaging penalties for non-compliance.

Major privacy laws like the European Union's General Data Protection Regulation (GDPR), the California Consumer Privacy Act (CCPA), and Brazil's Lei Geral de Proteção de Dados (LGPD) all have robust measures in place to ensure there's a penalty for non-compliance.

For example, for non-compliance with the GDPR, your business could face a fine of up to €20 million or 4% of your annual global turnover — whichever is higher. Under the LGPD, fines of between 2% of revenue and R$50 million are possible. And California's $2,500-$7,500 penalty doesn't sound too extreme — until you consider it's a per-user violation, which can stack considerably.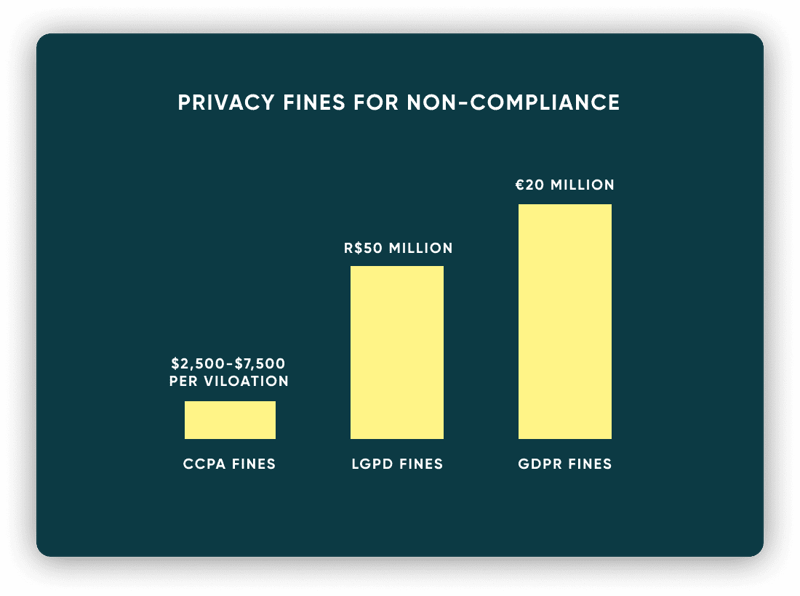 It makes sense to safeguard your business against these potential fines and penalties. Understanding data privacy regulations and putting your focus on data security gives you the best chance to make sure you're operating within the law — and providing a better customer experience.
Not sure what your data privacy risk exposure is? Our simple privacy portal dashboard can help you better understand what you're up against if you're not compliant.
Website Privacy Compliance: What Your Users Need to See

Data protection laws around the world vary, but they're united on one goal — to give people greater access to, understanding of, and control over their personal data. A big step towards this is giving users clear information about your access to their personal data.

When it comes to privacy compliance for your website, there are two main documents your visitors will want to see — a privacy policy and a cookie notice.
Privacy Policy

Every company that collects and uses personal data should have a privacy policy on their website. Most data privacy laws require you to make it clear how you collect, use, store, and transfer people's personal data — and a privacy policy is an easy way to do this.

Your privacy policy should outline your approach to data collection and use, and give your users key information in a simple, succinct way. They need to be able to understand what personally identifiable information (PII) you hold, how you plan to use it, and how they can make updates or request deletion.

The requirements from different privacy laws vary, so it's best to create a policy document that covers the sections and disclaimers required by all. For a detailed look at data privacy policies and what yours should feature, take a look at our privacy policy guide.
Cookie Notice

One of the main ways you'll obtain personal data is through the use of cookies. These small files are stored in users' browsers and hold key information about their use of the website. Cookies are often used to track user behavior or to store preferences for future visits.

Cookies are often loaded when someone visits your website, and continue to collect information about their activity while they're on your site. Before recent privacy laws, people had no way of knowing which cookies were present, what data they collected, or whether they were happy to consent to this.

Now, applicable laws state that you need to communicate clearly which cookies are present on your website, what they do, and how this information is used. Many privacy laws, like the GDPR and CCPA, also require you to have a cookie consent feature where users can consent to some, all, or none of your website cookies.

Some companies choose to make their cookie notice a section within their privacy policy, but if yours doesn't feature one you'll need a standalone document. Our privacy policy generator helps you create a more streamlined experience for users by bringing these two documents together in one place.
How to Handle Privacy Compliance Behind the Scenes

Your website compliance doesn't start and end with what users see on their screens. Much of what happens takes place behind the scenes, with the tools you use, your internal policies, and how you approach data privacy as an organization.

Here are some of the top ways to bring your processes and systems into line inside your organization, so you can ensure privacy compliance on the outside.
Focus on Data Security

Talking to your users about how you intend to handle, use, and store their data is a great start, but you also need to invest in data security to uphold your promises.

Cybersecurity remains a problem for businesses around the world, which means you need to invest in security measures to avoid potential issues. You'll want to do everything you can to avoid potential customer data breaches. Secure your website with security plugins, have strict information security policies, and ensure you have both physical and digital security for the data you hold, transfer, and store.
Choose the Right Software Tools

Often you'll use third-party tools to help you run your business. Whether it's email marketing software or your CRM, these tools have access to personal data — which means you have to make sure they're just as security conscious.

With some privacy laws, like the GDPR, there's a compliance requirement to have a data processing agreement with third parties. This means you'll need to seek out software providers that offer a robust approach to data security, are compliant themselves, and are happy to sign or provide a relevant processing agreement.
Build a Knowledgeable Team

Even with the right focus on data governance and security, you'll need a great team behind you to keep your organization on the right track. Invest in recruiting, training, and supporting your team so they can help you stay compliant.

Depending on the size of your organization, you might need a data privacy officer or a whole data governance team. It'll be their job to understand applicable laws, uphold data security, and run a privacy compliance program that helps you avoid issues. They'll also be able to help with internal auditing to identify problems, risk management, and creating an incident response plan to deal with challenging situations if they arise.
How to Manage Website Privacy Compliance the Easy Way

Navigating privacy laws, understanding risks, and making sure you're compliant isn't always simple — especially when you're trying to run a business. It shouldn't be a struggle for small businesses, which is why we've built a streamlined, user-friendly tool to help you manage your privacy compliance.
A Simple Privacy Portal

Say goodbye to endless spreadsheets and trying to remember to update your CRM with the latest information. Our simple privacy portal helps you run your privacy compliance from one place.

Our intuitive dashboard lets you manage your privacy efforts and see at a glance what's going on. You can see and respond to data subject requests, see reminders about customer data requests, and generate a clear report that demonstrates your compliance with privacy laws.
User-Friendly Privacy Policy

Introduce your website visitors and customers to a privacy policy that's designed around their needs. No more scrolling through a long privacy notice with complex paragraphs — they can read your privacy policy in a user-friendly, section by section format and skip to the part they're most interested in.

With our premium plans, you can also introduce greater template customization and the ability to translate your privacy policy into multiple languages. This makes it even easier to deliver a better customer experience for your users.
Easy Cookie Consent Management

With some privacy laws, like the GDPR and CCPA, there's a requirement for users to consent to the collection of cookies. Trying to find the perfect solution for this can be a challenge — especially if you're not tech-savvy.

Our tool introduces a one-click cookie consent management system that's easy to set up and manage. Customize the cookie consent bar to match your website's style and colors, and give your users the opportunity to consent to exactly which cookies they're happy with.
Website Privacy Compliance Can Be Simple

You should be able to focus on running your business, promoting your next product launch, or attracting a new investor — without data privacy concerns looming over you.

With Enzuzo, you can simplify your data privacy management — giving you peace of mind and more freedom to pursue the goals that matter most. If you're ready to streamline your approach to customer data privacy management, sign up for our free plan today.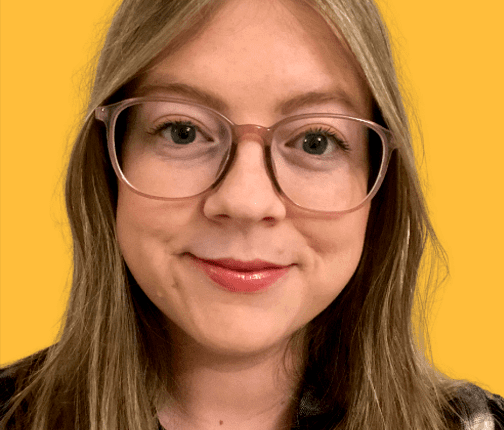 Nicola Scoon
Nicola is a freelance content writer for HR tech & SaaS. She's written for Polly, Zapier, Pyn & more and is passionate about remote work, employee wellbeing & productivity.