Table of Contents
Looking for ways to boost trust in your eCommerce store? Review Apps can help!
Making an online purchase can feel like a risky business. Will the product be exactly as you expected? Will it fit? Will it be delivered on time (or even delivered at all?)
As an online retailer, it's your job to ensure that your store instills (and then builds upon) trust in every customer that comes your way.
While certain elements of your store, such as superlative data privacy and a well-written policy page, will form the bedrock of this trust, there are plenty of other tactics that can be deployed to help you scale and grow that all-important faith in your brand.
Let's explore how review apps such as Okendo can help you mitigate your customers' fears, helping them discover products they love and ensuring that their relationship with your brand is built upon a rock-solid foundation.
The power of social proof
There's no easy way of saying this. Consumer trust in brands is bottoming out. From sales (or breaches) of personal data through to claims of false advertising, it's never been more challenging for a brand to come across as genuine and trustworthy.
But all is not lost—enter social proof. This is the core concept that underpins the success of review apps. We trust our peers' opinions and experiences, and we're hardwired to follow where others have already stepped.
By simply displaying reviews can skyrocket your conversion rate by as much as 270%. They do more than reassure a potential customer about your product's quality or your service's reliability. Reviews can also give customers more context and information about the items that they're considering.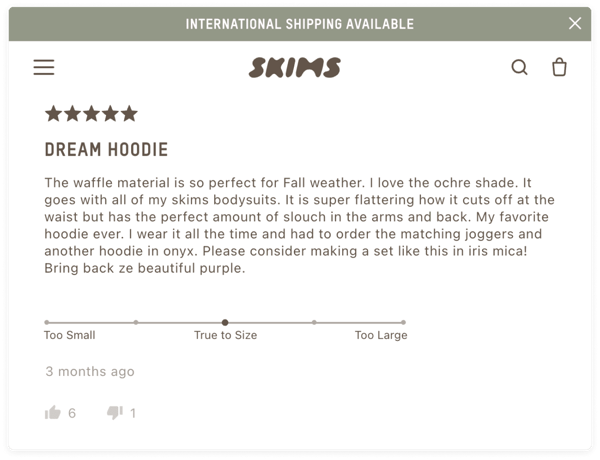 Getting a good idea of how true to size a garment might be, for example, removes a degree of uncertainty from the purchase, boosting confidence and trust at the same time as increasing the likelihood of conversion.
Beyond reviews, apps can also encourage user-generated content (product photos, demonstrations videos etc.), which also packs a powerful punch in the social proof stakes.
Displaying reviews, ratings, Q&A, photos, and videos at key conversion points across your website helps shoppers with their purchase decisions. In fact, shoppers that interact with reviews are 5x more likely to purchase than those who don't.

— Rachel Tyers, VP Strategic Partnerships at Okendo
Reassurance within search listings
The magic of social proof has the potential to extend far beyond the realm of your online store. If you're working with a reputable review app, you'll be able to ensure that star ratings can carry over into your SERP product listings and Google Shopping ads. Showing seller ratings on your text ads can boost your ads' click-through rate by as much as 10%, and the benefits don't end there, as Okendo's Rachel Tyers pointed out –
"Don't limit the opportunity to convert shoppers with social proof only to your website. Muir Way saw a staggering 59% increase in conversion rate after social-proofing their Google Shopping ads with Okendo star ratings."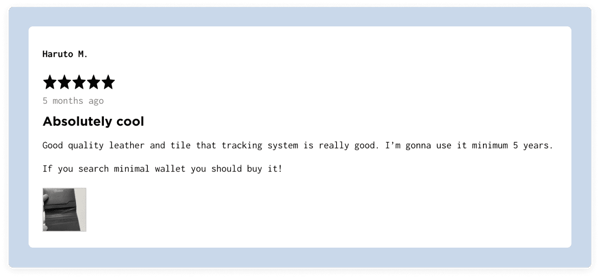 With so many eCommerce purchase journeys now being search-led, brands simply cannot afford to sleep on the huge boost to trust these star ratings can bring. The huge improvement that review apps can get to the way a brand is represented across results pages and within the Google Shopping tab should not be underestimated.
Better personalization and segmentation
When we're shopping online, recognition is increasingly reassuring. With the rise (and rise) of personalization within eCommerce, those brands looking to build consumer trust should not overlook consumer desire for a more tailored and "made to measure" experience.
91% of consumers say they are more likely to shop with brands that provide offers and relevant recommendations. As personalization becomes less of an elevated customer experience and more of an expected baseline, the smartest brands turn to their review app data to help build out customized messaging and marketing campaigns. These have huge potential to help their customers feel recognized, understood and valued.

Review apps can capture valuable attribute data, as customers provide feedback that incorporates a host of powerful, personal information. This should, of course, be wielded responsibly. Still, a savvy marketing team can see incredibly impressive results and a massive boost to perceived brand trust if they dig into their data and work with smart segmentation.
Keeping things transparent
Finally, review apps present brands with a valuable opportunity to keep things real. Although it may seem counterproductive, no review should be seen as a bad review – including a full spectrum of customer opinion (the good, the bad, and the ugly!) can do wonders for consumer trust. A sea of perfect five-star reviews can feel too good to be true – having the opposite of the intended effect on trust. 85% of consumers will actively look for negative reviews to make informed purchase decisions.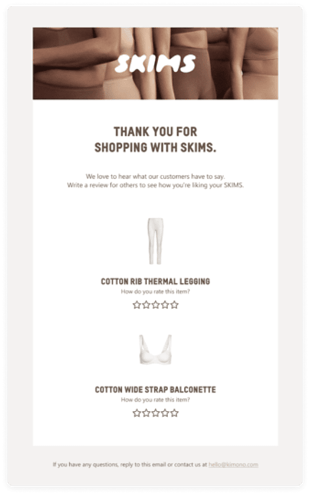 By working with a specialist reviews platform, brands can respond in a timely, human and crucially transparent fashion to their customers. These public interactions can really fly the flag for your brand personality and values – the way you deal with a customer who had a bad experience can say just as much about your brand as a glowing five-star review. 89% of consumers read businesses' responses to reviews, and when writing a review, 20% of consumers expect to receive a response within one day.
Grow brand trust with the reassurance of reviews...
As eCommerce continues to boom, the marketplace becomes ever more competitive. With so many other retailers to pick from, consumer trust has never been more important.

As this article has shown, review apps give online stores the capacity to double-down on the faith their audience feels in them.

From the power of social proof and those all-important ad star ratings, through laser-focused personalization and more transparent customer communication, review apps help grow trust on many fronts. They've never been more essential for a brand's continued growth and success.