Table of Contents
The Americans with Disabilities Act (ADA) protects Americans with disabilities from discrimination and ensures that they have equal access and rights. To meet the requirements of the law and best serve customers with disabilities, ADA website compliance is vital for any business owner, including those on Shopify.
Developing an accessible website and achieving ADA compliance can be overwhelming. One helpful strategy is to look at real-world examples of brands that have developed fully accessible sites.
Oreo
Oreo makes use of a well-known accessibility tool called accesiBe to achieve ADA website compliance. Aside from basic design elements, such as using clear fonts and a basic color scheme, Oreo also includes a button that opens an accessibility menu. The options on this menu allow people with disabilities to modify their experience on the site.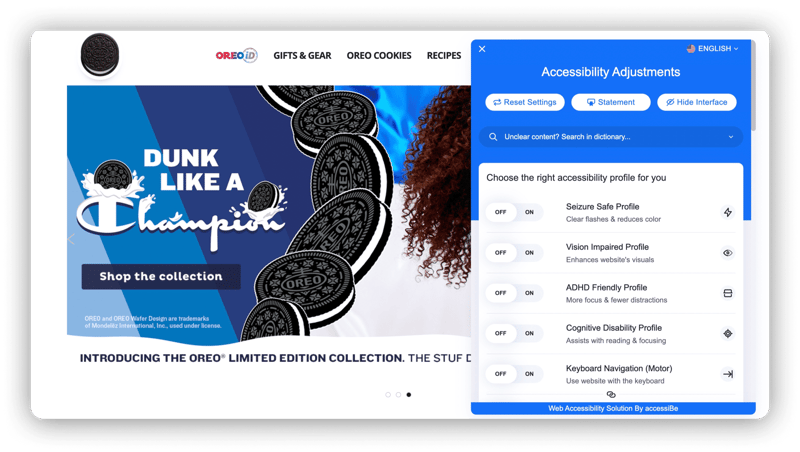 The accessibility adjustments available via accessiBe include profiles based on the needs of people with disabilities, specifically:
ADHD
Vision impaired
Seizure safe
Cognitive disability
In addition to selecting a profile, users can also make detailed changes to the site to improve their experience. For example, they can enable keyboard navigation, optimize the site for screen readers or other assistive technologies, change the fonts, magnify text, highlight links or titles, and make color and orientation adjustments. Users with heightened sensitivity to light, flashing images, or sound can also mute content or remove animations.
The Oreo site is an excellent example of incorporating customization. While this does not ensure that the site is always ADA compliant, it creates a much more inclusive environment for all users.
Xbox
In the past, Xbox faced lawsuits for its failure to create an ADA-compliant website. Today, the company has prioritized compliance not only for its website but for gaming as a whole. They have integrated multiple features into their gaming platforms and website to enhance the experiences of gamers with disabilities.
For example, Xbox has developed an adaptive controller that can be connected to additional devices. They have also enabled mouse and keyboard support for games to allow for different levels of movement and muscle strength.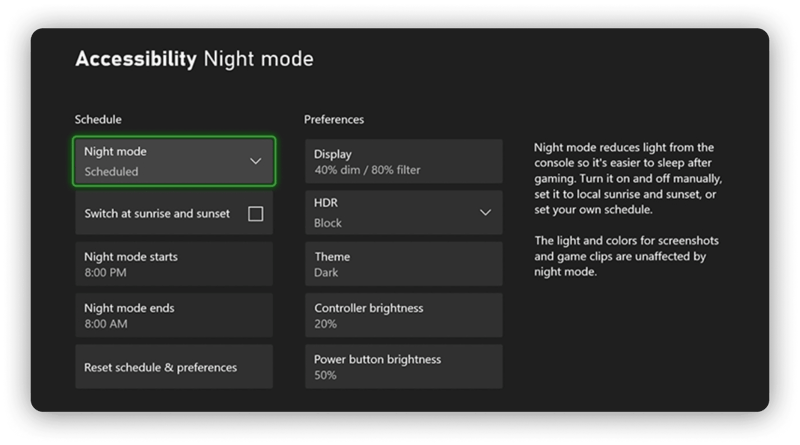 Other settings allow Xbox users to increase the accessibility of their gaming experience, including:
Contrast
Color filters
Audio
Captioning
Magnification
Speech transcription for players
Perhaps the best lesson that can be taken from Xbox is that making accessibility an integral part of your brand allows for innovation and expansion that was previously impossible. By developing new accessibility standards for gaming, and reflecting this accessibility through its website, Xbox has become a leader in a growing movement toward accessible gaming.
QuestTrade
QuestTrade also uses an accessibility service on its website. This service is part of their multi-year accessibility plan, which was developed by an accessibility committee. The committee is responsible for working with the web development team to determine how to follow the Web Content Accessibility Guidelines (WCAG).
The WCAG 2.0 are standards developed by an international group of accessibility experts, and they detail strategies for improving the accessibility of online content. In the case of QuestTrade, the company relies on UserWay to assist with its accessibility endeavors.
The program offers customers an accessibility tool through which they can highlight links, enlarge text, change spacing, pause animations, and alter contrast and saturation. There is also an option to improve the quality of the page for users with dyslexia as well as a reading mask and reading guide. Overall, QuestTrade has attempted to meet the needs of as many users as possible through a simple and straightforward tool.
Porsche
The accessibility statement on the Porsche website makes a specific reference to the WCAG 2.0. The company also makes a pledge to continually assess and upgrade the website based on the needs of users with disabilities, with the goal of meeting or exceeding the standards outlined in the WCAG.
While the site does not employ a specific accessibility tool, it includes clear text, offers alternative text for images, and uses descriptive link text. These are all important features for users who rely on screen readers to navigate the site.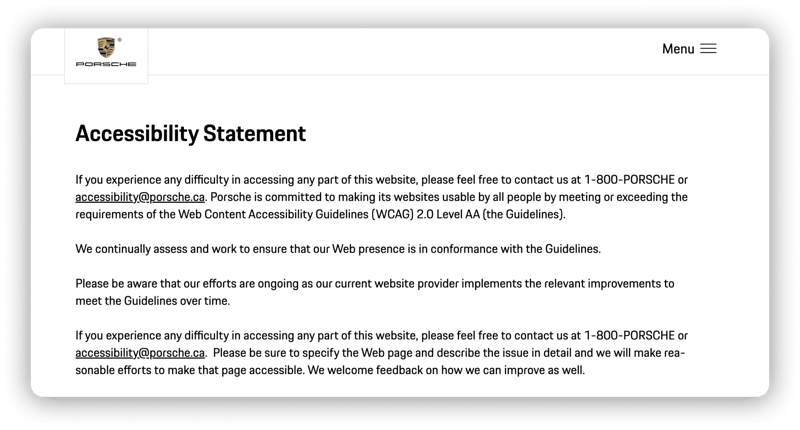 The most noteworthy aspect of Porsche's website accessibility is the assertion that it is still in the process of improvement. This is an excellent level of awareness and transparency for such a well-known and recognizable brand and reflects the company's willingness to grow in support of customers with disabilities.
Kylie Cosmetics
Kylie Cosmetics also has an accessibility policy to detail the efforts the company has made and will continue to make to create an inclusive site. The company guarantees an accessible website structure for all users.
The methods used by Kylie Cosmetics to improve accessibility adhere closely to the WCAG.
Providing text equivalents and alt tags for all non-text elements
Building a website that can be accessed and navigated with a keyboard
Developing consistency within the site and mobile apps
Using headings, lists, and paragraphs for readability
Including descriptive link textPerhaps more so than any of the other websites on this list, Kylie Cosmetics has successfully put the WCAG into practice to achieve ADA compliance.
Complete Compliance for Your Shopify Store Includes Privacy
Complying with the ADA is essential to the reputation and financial security of every business. Companies with failed compliance risk lawsuits, fines, and significant customer losses. You can learn how to improve your Shopify site's accessibility by reviewing those created by other companies and learning from their strategies.

When developing or upgrading a website for your own business, you should also complete an ADA website compliance checklist to ensure you are meeting the important points. You may also want to work with a partner, such as one of the Shopify Plus agencies in California, to identify and remediate any issues with compliance.
In addition to ADA compliance, owners of Shopify stores and other businesses must also follow the laws established for the protection of customer data and privacy, which can be complex and nuanced. Fortunately, Enzuzo offers a free Shopify app that helps protect your business from data breaches and compliance violations and creates the best possible experience for your customers.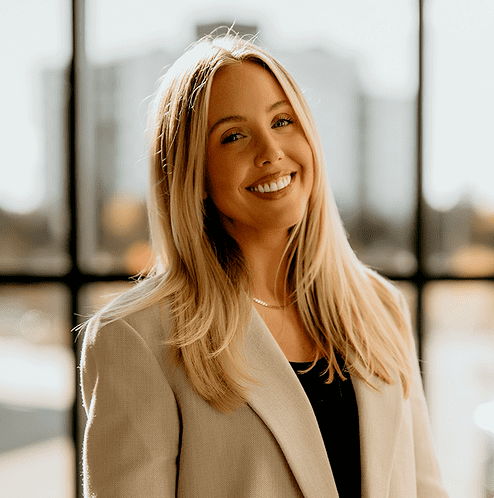 Paige Harris
Paige is the growth marketing lead at Enzuzo and host of The Living Lab podcast, providing insightful articles in the privacy space.