Table of Contents
We all want to work with the best Shopify Agencies.
But how can you choose the right partner for your brand?
Whether you're building your very first store or looking to replatform a thriving enterprise-level ecommerce operation, sometimes you just need to work with the pros!
When it comes to achieving success in the online retail space, there are many advantages to teaming up with an established Shopify agency. Although the Shopify platform is designed to be an intuitive, user friendly process, as anyone who's launched a new store will know, it can represent a steep learning curve!
By working with a dedicated Shopify agency, you'll benefit from decades of collective experience, sidestepping pitfalls, money pits and time sucks. Going it alone may seem an appealing cost saving exercise, but could well be a false economy if you find yourself making expensive mistakes that could otherwise have been avoided!
The first decision you'll need to make: which agency is best for you? Every brand is unique, and every journey is different: this isn't a one size fits all situation and there's no one "best agency."
To help get you thinking, we've collated a few of our favourite Shopify agencies in the UK and Ireland, highlighting what makes each of them especially awesome.

Best For Going Global:
WeMakeWebsites
WeMakeWebsites are synonymous with Shopify here in the UK, and beyond. As active members of the Shopify community, you'll often find their co-founders Alex and Piers speaking at industry events, sharing their expertise with merchants.
The first Shopify agency to go truly international, with permanent offices in both London and NYC, they're also renowned for their ability to take brands global. If you're looking for experts that can help you reach and excel in new markets, selling across borders in an efficient, compliant and highly profitable manner, look no further.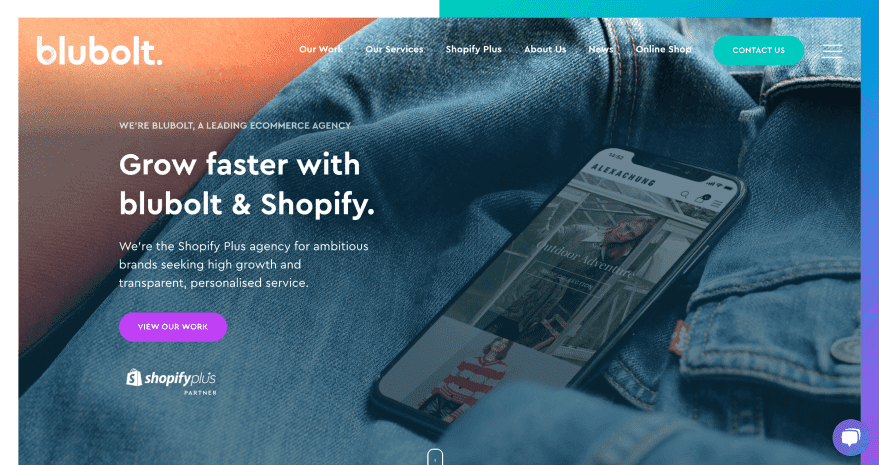 Best For High Street Heroes:
Blubolt
Based in the peaceful West Country, Blubolt punch well above their weight when it comes to clientele, and demonstrate a very impressive technical history. As an agency, their specialism in Shopify Plus came fairly recently, but deep ecommerce experience gained from years spent running their own platform gives them incredible contextual knowledge of the space.
When it comes to their niche, a quick glance at their portfolio will tell you everything you need to know – from Route One to Mistral, they're masters of managing the highstreet "brand retailer" – so, if you're looking to get a solid online / offline system up and running, Blubolt will be able to provide you with a seamless service.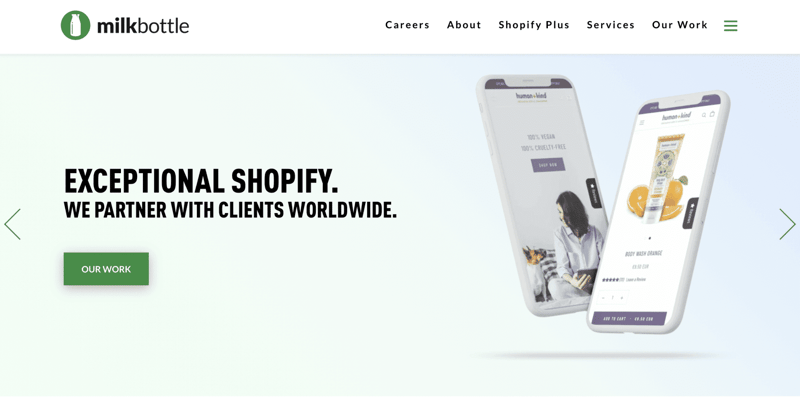 Best For Great Communication:

Milk Bottle Labs
An agency can have the best technical talent in the land, but if their workflows are bottlenecked, you're always going to be in for a poor experience. This won't ever be a problem with Milk Bottle Labs, who aside from their next-level Shopify expertise, are the undisputed champions of efficient client communications.
If you're looking to work with an agency who respects your time, gets you tangible results that hit your deadline and your budget, Milk Bottle Labs, based out of Dublin, are going to hit all of the right notes. Expect a friendly but no-nonsense approach to the flow of information you'll exchange, swift responses and a small, dedicated team that you'll get to know well.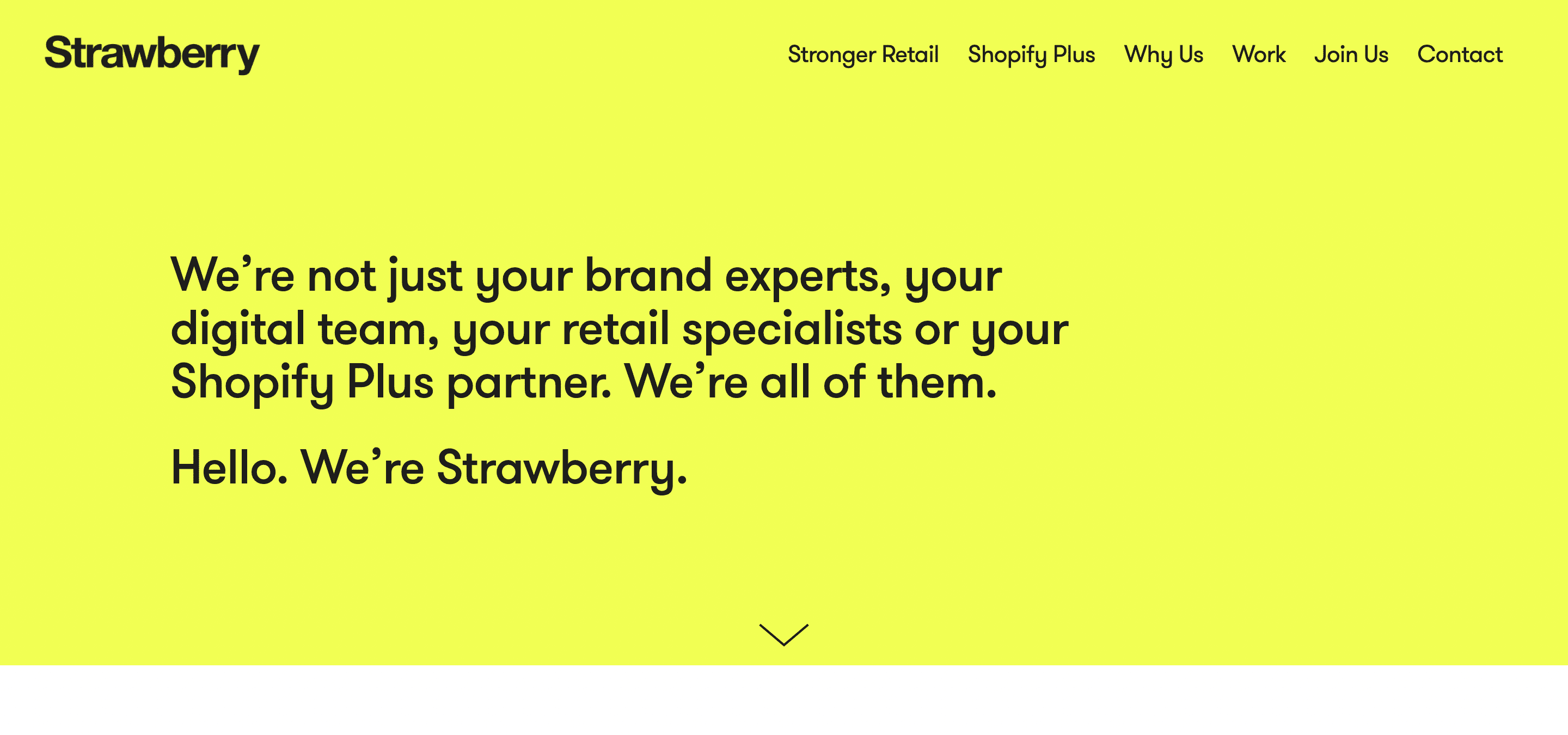 Best For A Pandemic Pivot:
Strawberry
Ecommerce is in a constant state of flux, and Strawberry have always been champions of keeping their finger on the pulse. As a result, if you're looking for an agency to help you make a swift switch, in response to circumstances beyond your control or as the result of a planned strategy shake up, you can expect plenty of smart advice and timely action.
Strawberry's approach is proactive - there's no sitting around passively waiting for success to land in your lap. If you're looking for an agency who'll help you see the bigger picture, especially when it comes to factors such as the seismic shifts brought about by the pandemic, then they'll be right up your street.

Best For Help Beyond Your Build:
Underwaterpistol
Launching, as we all know, is half the battle. If you need an agency who'll help you not only build your store, but then start to get it firing on all cylinders in terms of promotion and performance, Underwaterpistol have a great reputation for a knowledgeable in house team who can help with many supporting elements crucial to your ecommerce success.
From email marketing through to conversion optimization and better SEO, if you're keen to keep everything under one roof, then Underwaterpistol has a lot to offer. Beyond their range of additional services, they're also well respected when it comes to migration, and can provide highly beneficial Shopify training for team members who are unfamiliar with the platform.
Get The Most From The Shopify Ecosystem
One of the best things about building your business on Shopify is the rich community of experts and integrations that exists to support your success. The agencies mentioned in this article are the tip of the iceberg when it comes to dedicated specialists, ready to make your online retail dreams a reality.
Enzuzo is proud to offer a specialised service for all Shopify merchants in the form of our free privacy policy. Instantly enhance your store's reputation and customer experience, in minutes.
Read more: The Top Shopify Agencies in California