It's never been easier to launch a clear, compliant, and user-friendly privacy policy on your Shopify store.
Here's how to add a privacy policy to Shopify using Enzuzo, and why this is a must-have for any serious online store owner.
How to Generate a Privacy Policy for Shopify
You don't need to sit through legal advice meetings to build a privacy policy for your eCommerce store. With Enzuzo, the best data privacy Shopify app, you can generate a compliant, user-friendly Shopify privacy policy in just three steps.
Watch how easy and fast the process is with our Shopify privacy policy generator walkthrough:
How to Generate a Free Privacy Policy using Enzuzo!
1. Fill in the questionnaire
Our Shopify privacy policy generator kicks off with a short questionnaire. These questions prompt you to enter your eCommerce store details, so you can personalize your privacy policy.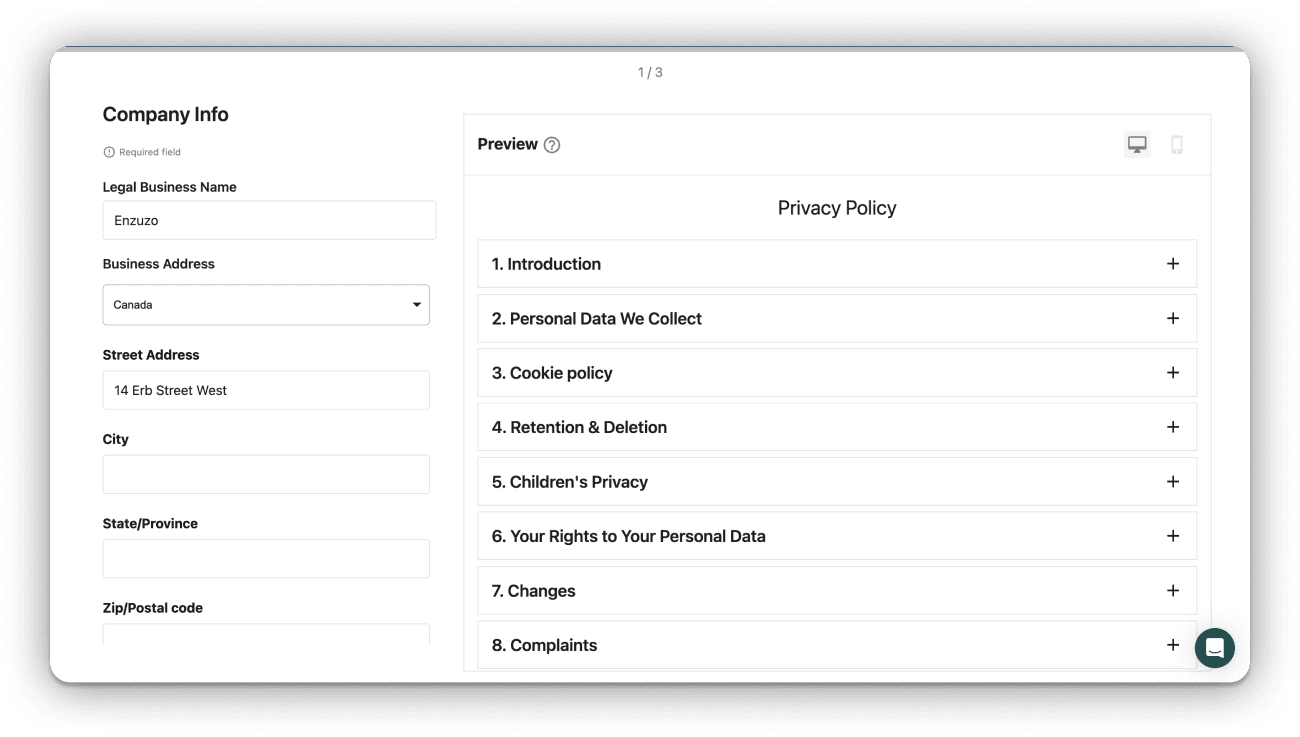 The questionnaire captures key details like:
Legal business name
Business address
Contact details — phone number and email address
This section only takes a minute or two to complete, and forms the basis of your Shopify privacy policy.
2. Customize your style
Next, we move onto customizations. In this section of the process, you can personalize how your privacy policy appears.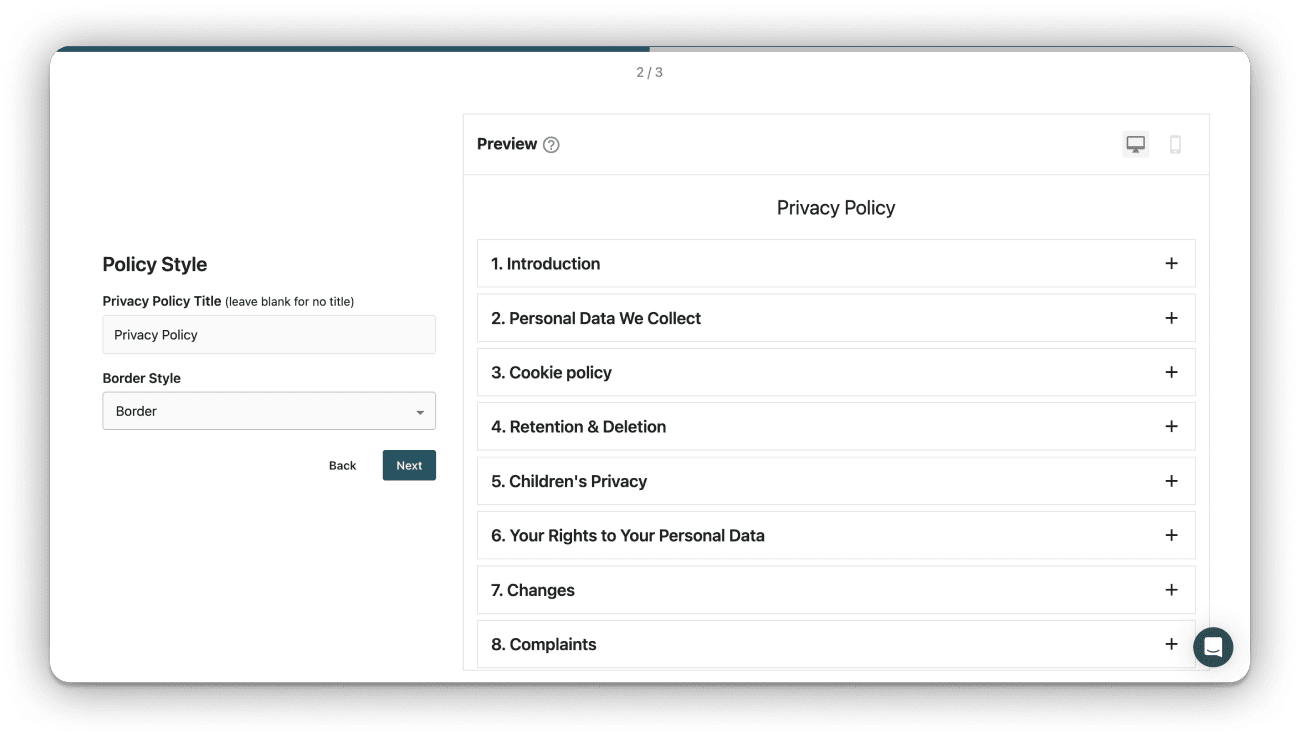 Here's what you can customize:
Privacy policy title
Drop-down border style
You'll also be asked to tell us which regions your customers come from. This changes the wording on your privacy policy based on which privacy laws apply.
Unless you run a really niche store for one area only, it's a good idea to select all the options. This means you're covered if a visitor stumbles across your eCommerce store from Brazil, or if you want to expand in the future.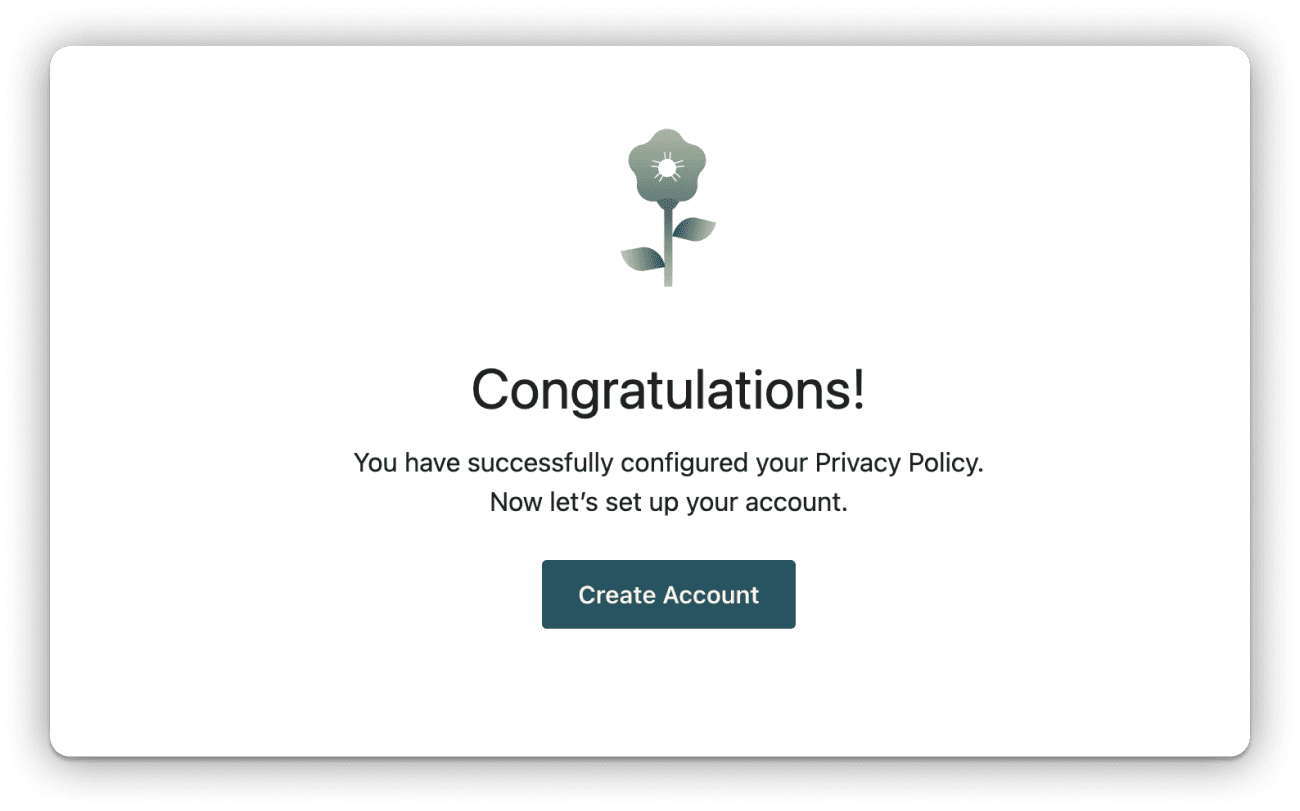 You might notice there's no option to customize fonts or colors. That's because Enzuzo pulls this styling directly from your website theme. This means there's never any clash of styles, and your privacy policy feels like it's a natural part of your eCommerce store.
3. Publish in minutes
The final stage is to finalize your policy and prepare it for launch.
You'll be prompted to tell us which platform you're using — in this case Shopify — and the URL of your Shopify store. Next, you'll be directed over to Shopify where you can connect Enzuzo to your account. You're now ready to add your privacy policy to Shopify, which we'll cover in the next section.
Join 5,000+ Shopify stores using Enzuzo!
How to Add a Privacy Policy to Shopify
Once you've created your policy and connected your account, adding your policy to your Shopify store is simple.
Here's how to do it.
In your Shopify admin area, navigate to your online store, then select Navigation in the Online Store menu.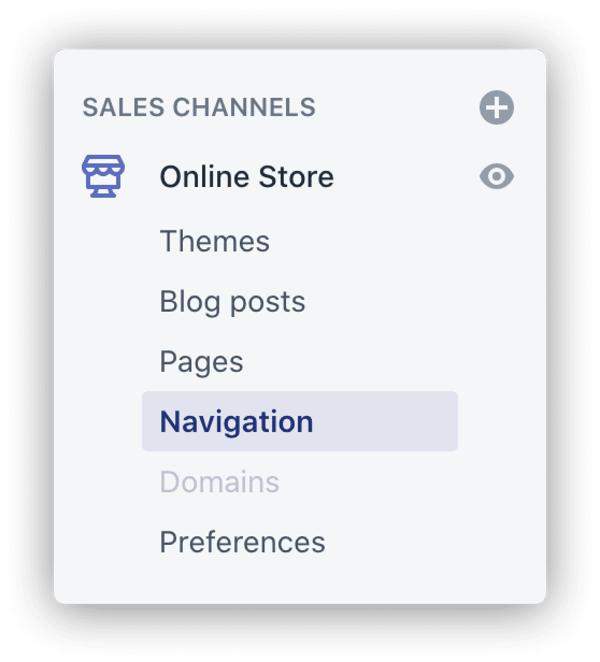 On the right, look for the Menus section. Click on the title of the menu you want to add your privacy policy to — like your Footer Menu.

If you don't have a Footer Menu already, use the Add Menu button at the top of the screen to create one, then return to this step.
Look for the Menu Items section on this page, and click Add Menu Item.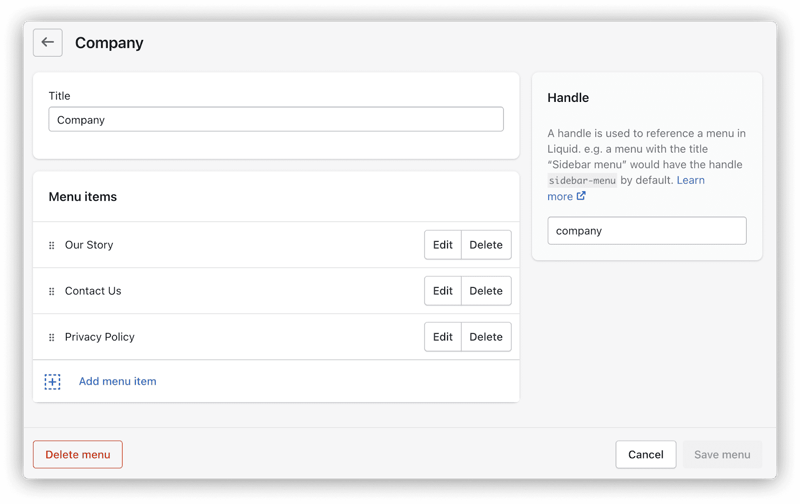 This will create a popup window. In this popup, enter this information for the Name and Link fields:
Name: Privacy Policy
Link: /apps/enzuzo/privacy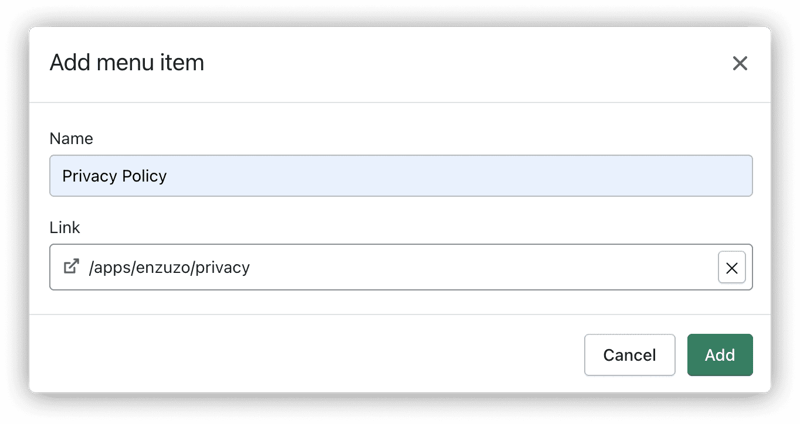 Now, press the green Add button to add this link to your menu. This will close the popup menu.
Finish the process by clicking the green Save menu button on this page.

You'll now see your new privacy policy linked in your Shopify store's footer menu.
You can display your privacy policy in any menu you like, but our recommendation is your footer menu. This means it's always easy to reach from product pages and your checkout page, without taking up valuable space on your main header menu.
What to Include in Your Shopify Privacy Policy
Starting from scratch with your privacy policy can be challenging — especially if you're not sure what it needs to feature.
Here's what your Shopify privacy policy should include:
What personal information you collect
How this data collection happens
How this personal data is stored, managed, shared, and secured
How long you keep personal data for
Whether you collect personal data from children or not
Your customers' privacy rights
Information on how to make a data privacy request
Your contact details
The best part is, all this and more is covered in our Shopify privacy policy generator — so you can make sure you're compliant from the start.
Do You Need a Privacy Policy for Shopify?
Privacy laws like the General Data Protection Regulation (GDPR) and California Consumer Privacy Act (CCPA) set out legal requirements on what you need to share with customers. The best way to stay compliant is with a privacy policy page.
If you collect personal data for business purposes, you'll need a privacy policy.
Here are some quick examples of personal data:
Name
Email address
Credit card details
Shipping address
IP address
Browsing habits (e.g. through Google Analytics)
Based on this list above, every eCommerce store owner or service provider should have a compliant privacy policy. It's the best way to meet your legal requirements and share information with your customers in a clear, transparent way.
Why Use Enzuzo vs. Other Shopify Store Privacy Policy Generators
The shift in focus towards data privacy and customer experience means there are lots of options out there now for privacy policy generators. You might be wondering how Enzuzo compares to other privacy policy template providers.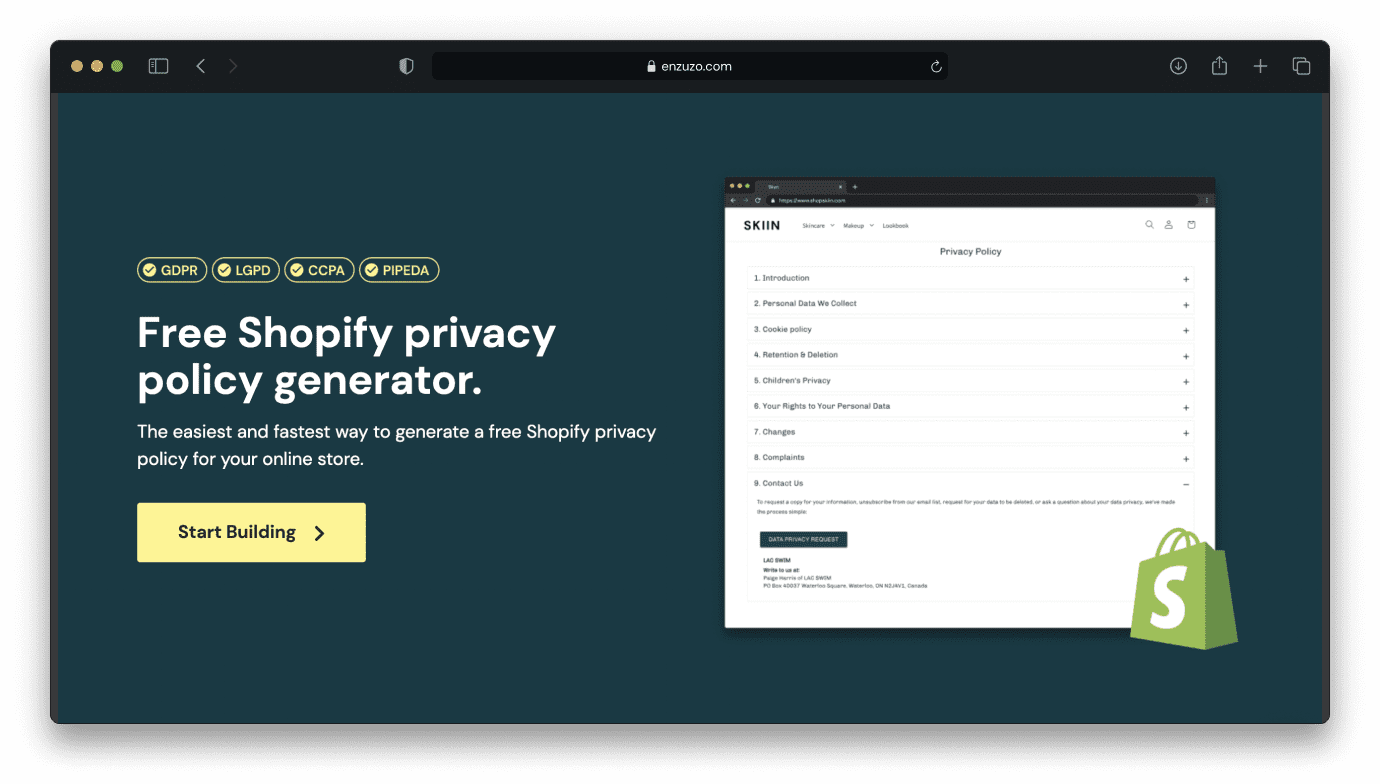 Here's why Enzuzo comes out on top compared to other privacy policy generators:
Immediate onboarding — build your policy first, save the account creation for later
Dynamic automatic updates — your professionally drafted policy is always compliant
Professional legal policy, without the legalese — simplified language helps build a connection with your customers
User-friendly design — offer a better customer experience with drop-down menus
Built-in data subject access request form — make the process easier for your customers
Direct Shopify integration — no need to add code to your website
Multi-language translation — make your policy available in 8+ languages
Affordable pricing — stay on our forever free plan, or upgrade for extra features
Built-in privacy dashboard — manage data requests that come in through your privacy policy
Enzuzo offers you the most comprehensive, user-friendly set of features. Our Shopify privacy policy generator gives you a simple, fast, and effective way to create and launch a privacy policy — with no compromise on features or design.
Best Examples of Shopify Privacy Policies
It's hard to visualize what a great privacy policy looks like. Some are great because the language is so simple and clear, while other online retailers lean on clever design to make an impact.
Here are some of the best examples of Shopify privacy policies we've seen. Take inspiration from these store owners to create your own best in class Shopify privacy policy.
Miracle Naturals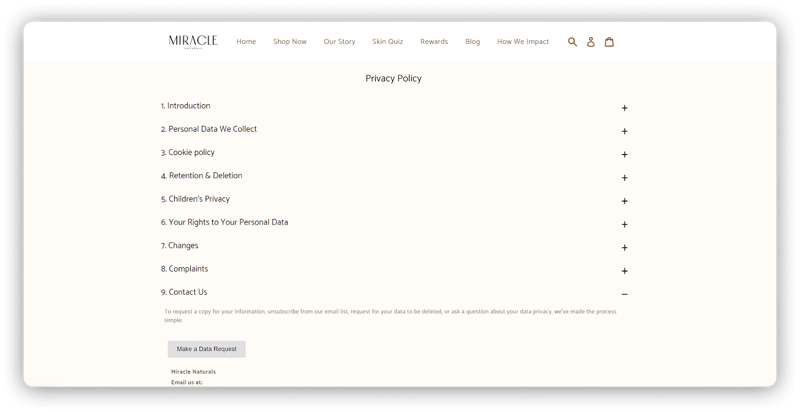 We love how fresh and clean the Miracle Naturals privacy policy page feels. They've personalized their Enzuzo template to remove the drop-down borders, which makes the whole look and experience feel seamless.
The Little Market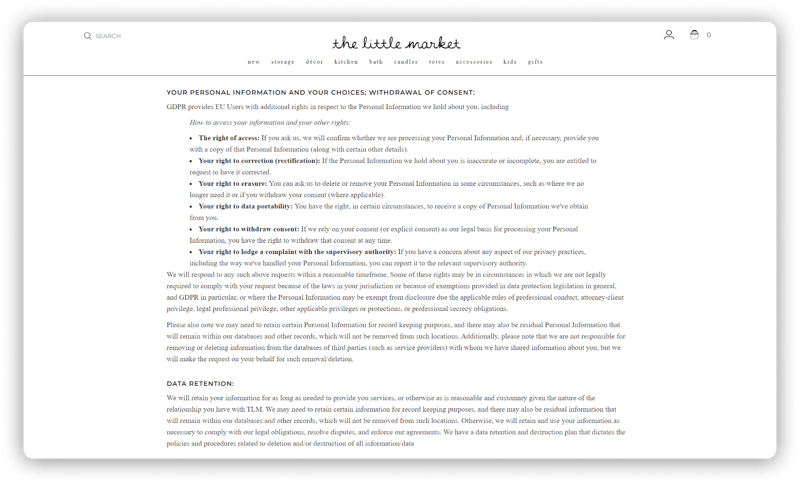 There's a real commitment to transparency over on The Little Market's privacy policy page. This includes a whole section that covers users' rights and the company's responsibilities. Adding this into your privacy policy is a great way to build customer trust.
Huel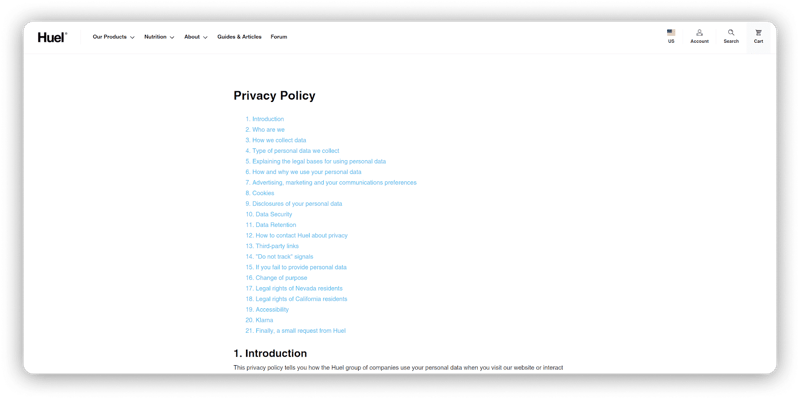 There's nothing short and sweet about Huel's privacy policy page — it's a page packed full of clauses and detail. To help users navigate it, they've included a useful list of anchor links right at the start. Consider user experience when you build and publish your privacy policy for a great way to connect with customers.
These Shopify privacy policy examples are a great reminder that your policy page can integrate into your design seamlessly, demonstrate creativity, and give your customers a better experience when browsing through this must-have document.
Create Your Shopify Privacy Policy Today
Your customers deserve a best in class privacy experience, and you deserve the peace of mind that data privacy compliance brings. Enzuzo can help you achieve both, with a Shopify privacy policy generator that covers the legal bases and wins at customer experience.

See just how easy it is to launch your personalized, compliant Shopify privacy policy — try Enzuzo now.