Table of Contents
Most organizations and brands have heard of the term "brand transparency."
However, achieving this much-lauded transparency is easier said than done. Many big-name companies, like Facebook, often forget to prioritize brand transparency above all else. According to Reid Hoffman, one of Facebook's earliest investors, the company has lost people's trust "for good reasons" and hasn't been responding appropriately to claims that it prioritizes profit over user safety.
To regain the public's trust, Hoffman said, Facebook would have to be "extra transparent" from now on. They'd have to step forward and show the public their metrics, their dashboards, how they process data, and what their priorities and responsibilities towards their users are. However, it's not just Hoffman who's worried about brand transparency — consumers are also echoing his concerns. With this in mind, as we approach 2022, transparency is no longer optional — it's a must.
Read on to learn more about why transparency in business is important and how you can be transparent about your eCommerce store's business practices.
What Is Brand Transparency?
Brand transparency is when a brand maintains honest, accessible, and open relationships and communications with the public. In other words, it's about being honest and open about your products, how you create them, how you do business, your pricing, and your values.
To maintain brand transparency, you need to:
Share with internal and external stakeholders your policies and performance metrics
Be willing to admit and acknowledge mistakes
Be willing to make heartfelt and genuine apologies when mistakes happen
Provide updates whenever you change prices, deliver faulty services or products, or make other important changes that affect customer experience
In short, being transparent means you're willing to admit that your organization isn't perfect. It also means you're willing to address customer concerns to improve your products and services.
Why Does Brand Transparency Matter?
Brand transparency matters because it's what customers demand from businesses these days.
According to Forbes, a whopping 90% of consumers say that brand transparency is important to their purchase decisions. Google has also suggested that brand transparency will become even more important in the near future since a majority (60%) of Generation Z — young people born between 1995 and 2005 — are self-reliant and want to know about the brands they engage with. They want to know what's in your products, how you create them, what your values are, and so on.

By not providing these details, you risk customers losing interest in your products and services. In some cases, they may even post negative reviews about your company, particularly if they feel you've overstepped moral boundaries as Facebook did.
How to Improve Brand Transparency
If you want to improve your brand image and reputation, boosting your brand transparency is the way to go. Here's how you can start improving brand transparency in 2022:
Ask Customers What They Want to Know
Firstly, you need to ask customers what they want to know about your business. Ask them what they care about using polls on social media and your website to get a sense of what you should reveal to them. Consumers will be asking different questions depending on the services and products you offer, so it's important you know what they actually want you to disclose.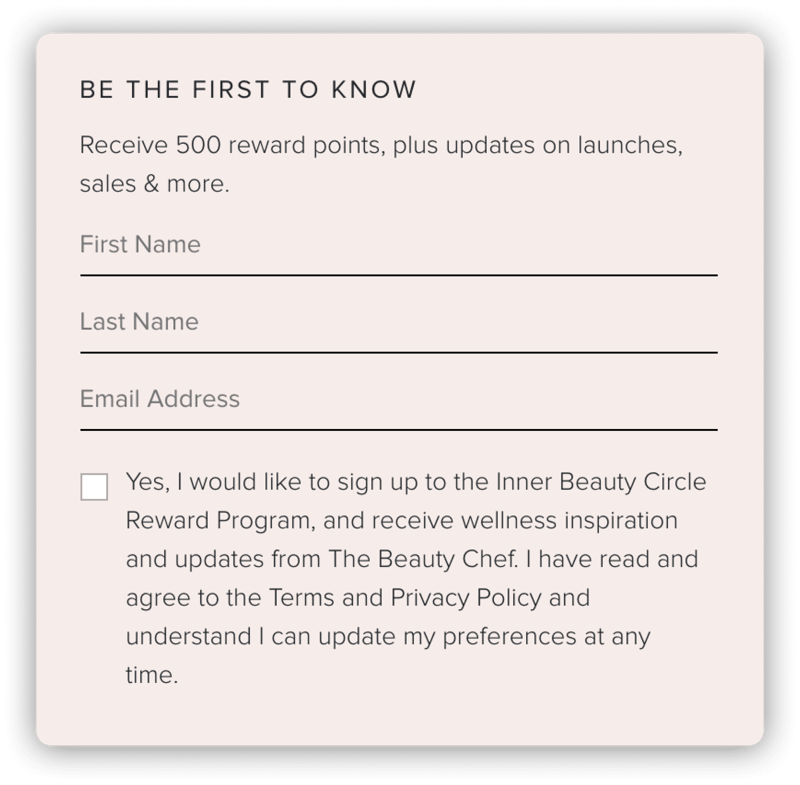 Outline What You Want to Share
After you've gathered a list of questions to answer, it's time to outline what you want to share. Analyze behavior on online platforms, your customer support logs, competition studies, and keywords to determine which issues you should prioritize answering. It's important to prioritize answering the most important and potentially controversial questions — such as questions about data privacy and child safety — to give the public confidence in your brand.
In other words, start with "low-hanging fruit," or concerns that are easy to address. For instance, if you're operating an international supply chain, you can increase transparency by sharing that your products are made by well-paid adult workers (as opposed to underpaid child laborers).
Adopt Stringent Data Privacy Practices
As more business transactions go online, consumers have become increasingly concerned about brands' data privacy practices. With cybercrimes becoming more prevalent than ever thanks to COVID-19, many consumers are now reluctant to engage with a brand that has suffered data breaches. A study by Verizon has revealed that nearly half (45%) of 18 to 24-year-olds are open to sharing their data for a more personalized user experience. However 69% of these respondents said they would avoid a company that has suffered data breaches.
This means that eCommerce businesses need to prioritize consumers' right to privacy by adopting stringent data privacy practices. In other words, you need to:
Reveal to customers what data you need from them and why
Tell customers how you will process the data and if they can opt-out of giving certain data to you
Create internal standards for data processing and use by making sure your data policies comply with laws such as the California Consumer Privacy Act (CCPA) or the European Union's General Data Protection Regulation (GDPR)
Publish and regularly update a comprehensive and accessible privacy policy that addresses all these issues. The public must be able to view and access your privacy policy on-demand
Create a Responsible Social Media Policy
Besides having a data privacy policy, you should also adopt a responsible social media policy. A social media policy is a document that establishes how your company uses social media platforms, online communities, and forums. Essentially, it's your startup's playbook on how to use social media. The goal of having a social media policy is to set boundaries for appropriate behavior and avoid getting into legal trouble, negative media coverage, or scandals.
Here's what a typical social media policy covers:
Your brand style and voice
What is considered confidential information
What to do with customer complaints
How and when to respond to customers
How to work with influencers
What topics are off-limits
How to approach media coverage and how to interact with media platforms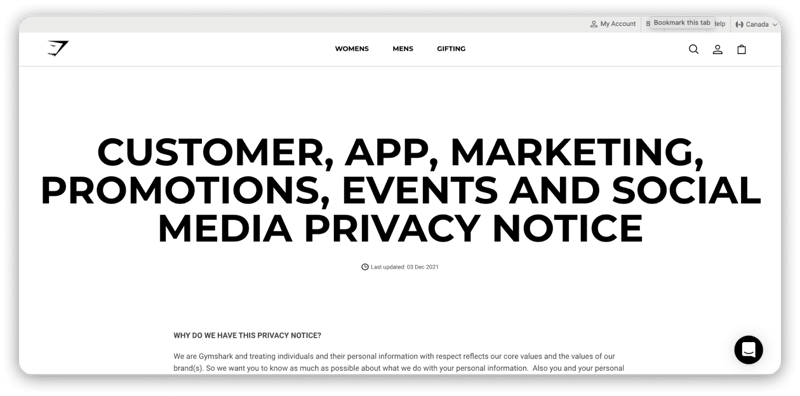 Make Sure That Your Company Complies With the Modern Slavery Act
If you sell products, you need to make sure your company complies with the standards of the Modern Slavery Act. The Modern Slavery Act is a 2015 UK law that has prompted many nations around the world to reduce the impact of modern slavery on supply chains. By 2018, seven of the G20 countries had adopted anti-slavery legislation, using the UK's Modern Slavery Act as a reference.
If your company doesn't comply with the Modern Slavery Act, you could land in big trouble. In August 2021, Shein — the Chinese fast-fashion retailer that's currently all the rage — came under fire in the UK for failing to disclose working conditions along its supply chain as required by the law. As a result, Shein now has a tarnished image. It's currently trying to salvage its image through a reality show, but the damage has already been done.
Make Sure Your Organization Is Accessible
To show that you treat all consumers with dignity and respect, make sure your company meets legal requirements for website accessibility. Relevant laws depend on what jurisdiction you're in, but generally speaking, most laws require you to do the following:
Provide text alternatives to non-text content like videos and images
Ensure your site and app are accessible through screen readers
Ensure your website and app can be accessed by users who only use keyboards
Allow timed content to be controlled by users
Create a Supplier Code of Conduct
Creating a supplier code of conduct will help your organization instill environmental, social, and financial transparency in the supply chain. It will also create and promote full disclosure and accountability around issues like the environment and human rights. However, codes of conduct are ineffective unless organizations do something to bring about the transparency they want. As such, you need to regularly monitor your supply chain to make sure that everyone is following your supplier code of conduct.
Consider Environmental or Social Responsibility
Another thing you need to consider when improving your brand transparency is environmental or social responsibility.
Research has shown that socially-aware companies are more popular. A global survey by Accenture Strategy revealed that:
62% of US consumers wanted companies to take a stand on issues like environmental sustainability, fair employment practices, and transparency
48% of US consumers who are disappointed by a brand's actions or words about a social issue will complain about it
42% of consumers will step away from the brand they're disappointed in and 21% never come back
In short, companies that don't have a clear stance on environmental and social issues will pay a price.
Establish a Strong Company Mission and Values
If your company's mission and values are meaningful to customers, they're likely to stick around and make repeat purchases. That's why it's important to communicate what your company believes in and what causes you're championing. After all, brand transparency is one of the best ways to increase customer loyalty.
Anti-Racism and Representation
Simply saying your organization is inclusive and anti-racist is no longer enough. To demonstrate that you care about racial justice and diversity, provide examples to the public of how your company values diversity and racial justice and what you are actively doing to promote the interests of POCs. Post demographic data of your employees and publish reports mapping your diversity progress.
Announce and Publish Policies and Guidelines Online
To be truly transparent, you need to publish and announce transparency policies and guidelines online. This will help everyone, including customers, stay on the same page and keep you accountable.
Put Processes in Place
Having official policies and guidelines for transparency isn't enough, however. You need to also put processes in place to ensure that your people are following these policies. Create an evaluation system to see if everyone is being as transparent as possible and set up a mentoring system to help those who are falling behind.
Keep Customers Up-to-Date
Finally, you need to keep customers up-to-date about your business. When any of your policies or guidelines change, you need to inform them that changes have been made. Otherwise, they won't be able to understand what your business is like and keep up with any value shifts that may have happened.
Examples of Transparent Brands
Here are some examples of transparent brands:
Zulu & Zephyr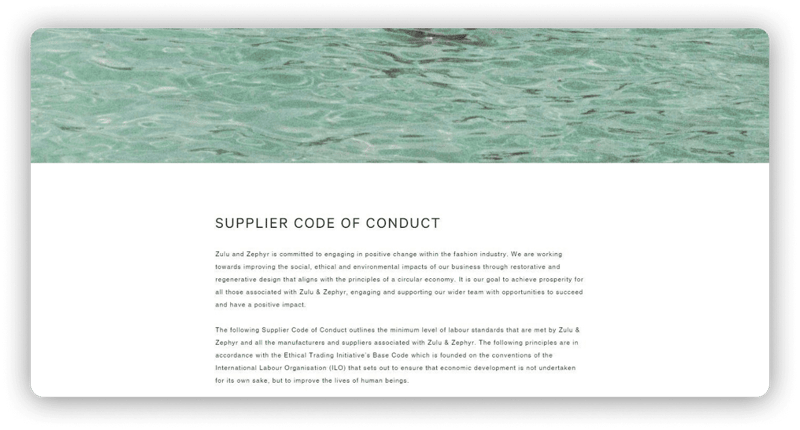 When visiting their website, the first thing you see on Zulu & Zephyr's website is their Supplier Code of Conduct. This policy states they are committed to "positive change within the fashion industry" and are working to improve their business's environmental, social, and ethical impacts through regenerative and restorative design. Their Code also meets the standards of the UK's Modern Slavery Act since it outlines all the labor standards that Zulu & Zephyr and their manufacturers and suppliers meet.
Mate the Label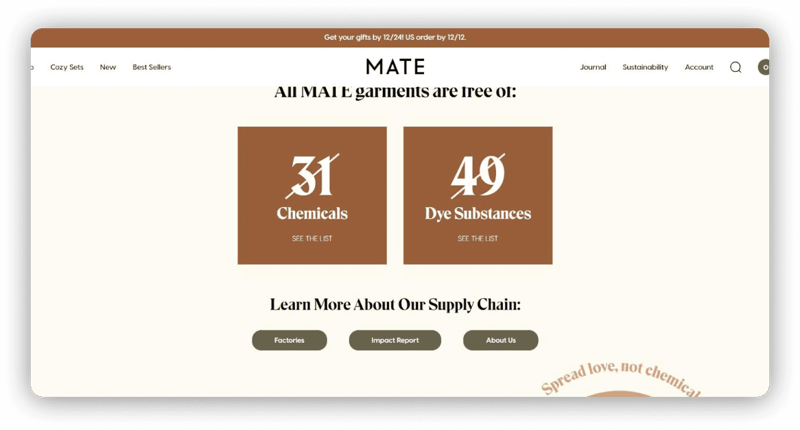 Like Zulu & Zephyr, Mate the Label talks about their supply chain in detail on their front page. They also mention how they keep their garments "organic, essential, and ethical." All in all, their homepage makes it clear to consumers they are passionate about ethics, sustainability, and being environmentally friendly.
Farmacy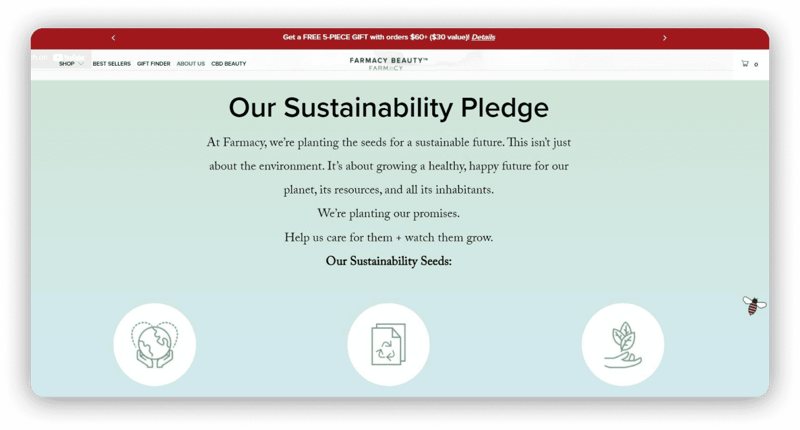 Farmacy is entirely transparent on its About Us page. According to their testimonials and videos, they're a clean CBD company that doesn't use mineral oils, formaldehyde, SLS and SLES, and other chemicals you typically encounter in the industry. They also talk about their responsibility towards the Earth, how they're a proud partner of Feeding America, and detailed information about the environmental sustainability milestones they've achieved over the years.
H&M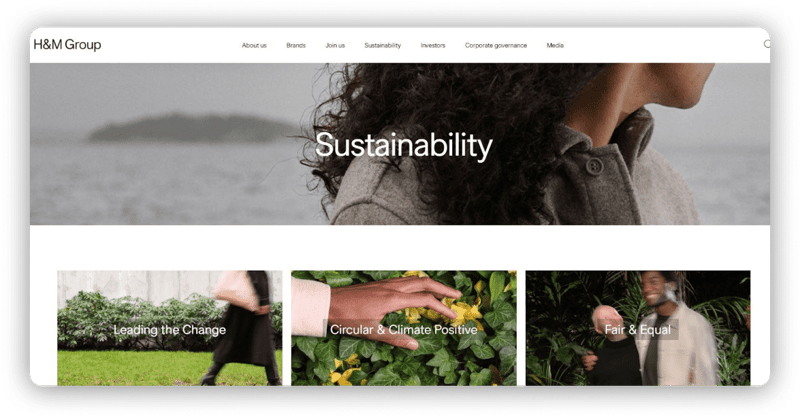 Fashion giant H&M has also made significant strides towards brand transparency. Their Sustainability page has videos and blogs detailing their commitment to a "greener" fashion future. Like the other transparent clothing brands we covered above, they also discuss their company vision, transparency goals, business standards, and strategies on their Leading the Change page. On their Transparency page, H&M also discloses their supplier list and includes information about their products' environmental and social impact.
Final Thoughts
With so many things to watch out for, becoming transparent is easier said than done, particularly if you're new to eCommerce. That's why you should consider using Enzuzo. An intuitive, fast, and easy way to create, customize, and launch powerful privacy tools for your company. Enzuzo has everything you need to make your eCommerce store compliant, including:
Data requests

Cookie banner templates

Compliance reporting

Eight language options
What's more, everything on the platform is GDPR, LGPD, CCPA, and PIPEDA-compliant.
Get started with us today for free to learn more about how we can help you.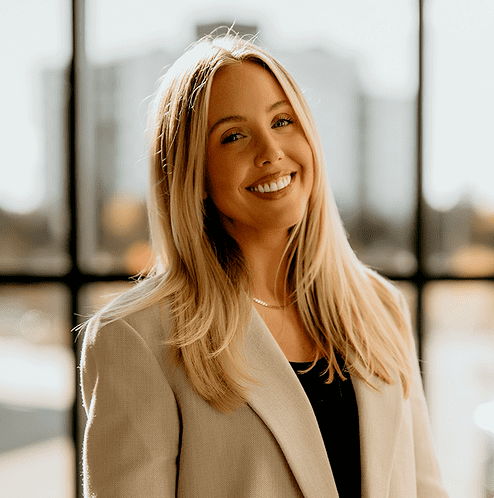 Paige Harris
Paige is the growth marketing lead at Enzuzo and host of The Living Lab podcast, providing insightful articles in the privacy space.