Table of Contents
Why is Patagonia a Good Company?
If you don't already know, Patagonia is an American retailer that specializes in outdoor clothing and equipment. In addition to clothing, they also sell outdoor products like sleeping bags, backpacks, camping food, and so much more.
The company was founded by Yvon Chouinard in 1973 and has built its reputation over the decades since. Patagonia focuses on customer experience, data protection, and eco-activism in everything it does. This is why consumers continue to rely on Patagonia every step of the way.
Patagonia is undeniably one of the most trusted brands of all time. It focuses on the experience of its customers as well as the world as a whole. Its focus on philanthropy and environmentalism led consumers to name it the company in America with the best reputation, according to a 2021 Axios-Harris Poll 100.
Patagonia goes further to protect its customers as well. Its return policies and focus on personal data privacy engender faith with consumers. These and many other reasons are why consumers have confidence in Patagonia when making purchases in-store and online.
9 Reasons Why Patagonia Is Such a Good Brand
Consumers trust Patagonia for multiple reasons, whether during their shopping experience or in the world at large. The company has inculcated several steps to establish itself as a good, trustworthy brand in the eyes of its loyal clientele. Here are just some of the reasons why.
1. It Offers Easy Return Policies
Patagonia makes it easy and fair to return products. Its return policies take quality seriously. In their own words, they state:
At Patagonia, our business is building the best product. If something isn't working for you, we want to help.

The company makes it easy to exchange products for any reason, whether it's because it didn't fit right or you just want to try something different.
They also make it easy to return products in a Patagonia-owned store or online. Knowing you can return a product easily and fairly makes it easy to depend on a company.
2. It Provides DIY Repair and Care Guides For All Products
Patagonia provides DIY Repair & Care Guides for their products to keep gear going for a long time. They want to keep their products out of landfills, even if it means you keep your products longer.
They are not looking to sell you products that break down quickly so they can make another sale. The company truly wants your Patagonia product to last a long, long time.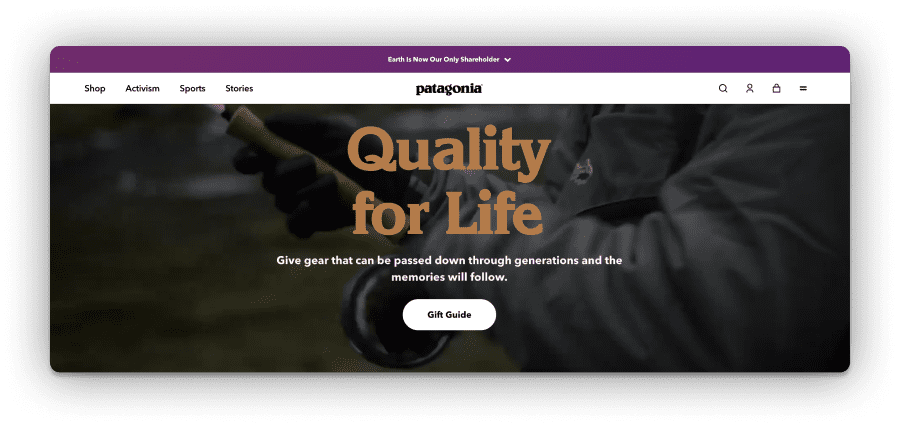 Patagonia offers videos and instructions on things like:
How to fix a zipper slider
How to patch insulation
How to fix your buckle
How to install an iron-on patch
These and other care guides show just how much Patagonia cares about your experience and the products they make.
3. The Patagonia Ironclad Guarantee Builds Trust
Patagonia guarantees everything they make. This Ironclad Guarantee means that if you are not satisfied with the product when you receive it, you can return it to the store for replacement, repair, or refund.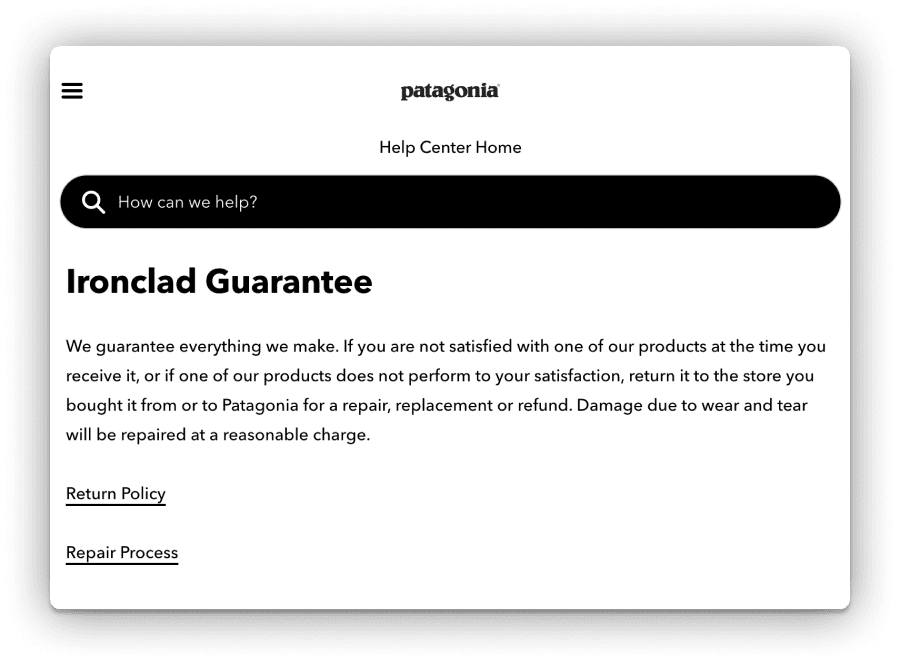 The company promises you this ability any time and hassle-free. Patagonia trusts its own products and wants you to trust them as well. You can shop with confidence knowing your product will be what you want, or you can send it right back for a full refund.
4. Patagonia's Worn Wear Selection Lowers Prices
Patagonia wants to keep quality gear out of landfills and back in the hands of those who could use it. That's why it has created Worn Wear, a section of its website dedicated to extending the life of its gear. The company wants to cut down on consumption and get more out of the stuff we already use.
To make it work, Patagonia:
Creates high-quality gear that can last for years
Buys or trades used gear for new gear
Resells used gear to extend the life of products and reduce the trash in our landfills
Worn Wear products help further Patagonia's environmental efforts as well as their focus on customer satisfaction. Worn Wear products are still of high quality and are usable for new users far into the future.
5. Patagonia Champions Environmental Activism
Patagonia provides support to countless environmental nonprofits in an effort to defend the planet. They want to defend our air, land, and water around the globe. To do this, they have a self-imposed " Earth tax" of 1% of all sales.
Since 1985, Patagonia has continued to pledge 1% of all sales to the restoration and preservation of the planet's natural environment. Patagonia's founder partnered with Craig Matthews to create 1% for the Planet, a non-profit which encourages other companies to do the same.
Patagonia also links sports with activism. It employs sports activists from across the globe to drive positive environmental and social change. These individuals help draw attention to environmental issues and advertise how important Patagonia's environmental message is for the world.
6. It Supports Philanthropic Efforts
Patagonia also supports other environmental nonprofits in their quest to protect the environment and stop global warming through Patagonia Action Works. It has awarded over 1,330 grants to these environmental organizations. Its collective efforts showcase Patagonia's dedication to protecting the world we all live in and that its customers love to enjoy.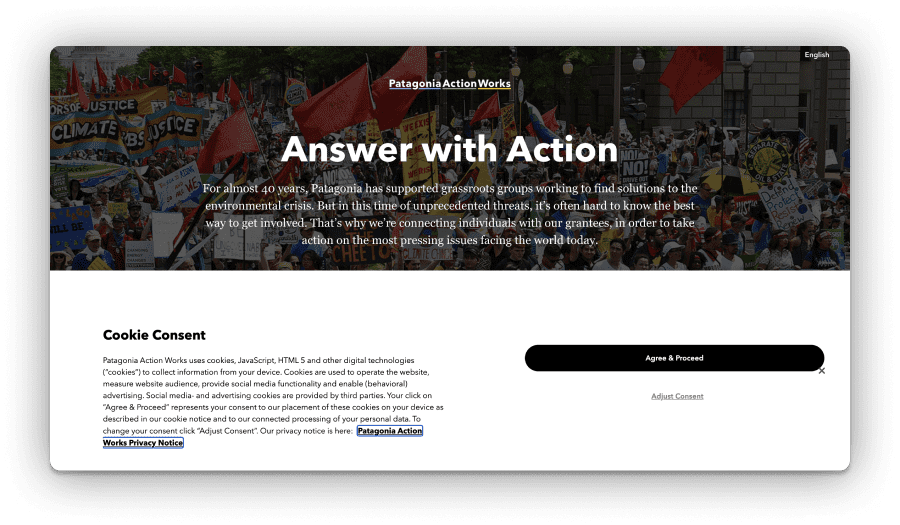 Patagonia also helps fund grassroots environmental organizations looking to get started. It is looking for bold, direct-action agendas and innovative work to support. The company focuses on groups that can create a strong support base for their efforts but are willing to get creative to help save the environment.
7. Patagonia Actively Tries to Reduce Its Eco-Footprint
Part of Patagonia's continued focus on the environment is to reduce its eco-footprint in the world. It understands that everything it makes has an impact on the environment. Patagonia recognizes that the clothing industry at large has contributed up to 10% of the pollution that drives the climate crisis.
To combat this, Patagonia focuses on the following:
Using Recycled Materials: Of Patagonia's clothing line, 94% uses recycled materials. This avoids adding 4,300 metric tons of CO₂ emissions and keeps material out of our overfull landfills.
Growing Organic Cotton: Patagonia's virgin cotton is all grown organically. This means no harmful chemicals added to the environment, less water, and less CO₂ emissions.
Improved Conditions for Workers: Patagonia employs workers all over the world to create its food, clothing, and materials. It is dedicated to the constant improvement of conditions, including using fair trade certified sewn clothing.
Regenerative Organic Practices: Patagonia invests in and researches new ways to improve soil health and quality. This reduces greenhouse gas emissions and the need for harmful chemicals in food growth.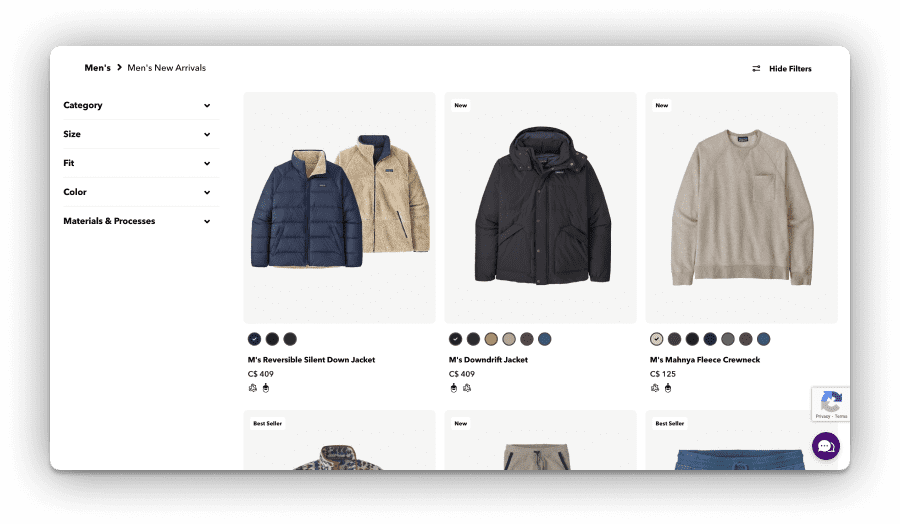 Patagonia has identified key ways to make changes in its eco-footprint, such as:
Materials and Environmental Programs: The company has built robust animal welfare and environmental responsibility programs to guide how it makes products and materials. Also, 89% of its fabrics are made with preferred materials. And 100% of its down is responsibly sourced. Patagonia focuses on quality materials that withstand the test of time.
Social Responsibility Programs: Patagonia uses certified programs to make sure that it has a positive social impact on the world. From its focus on workers to social issues of our time, Patagonia works hard to be a responsible and ethical company.
Using Renewable Energy: 100% of Patagonia's electricity needs were met with renewable energy. This saves countless amounts of CO₂ emissions every year that would otherwise contribute to climate change.
Few companies focus on their eco-footprint like Patagonia. This is one of the main reasons customers continue to trust this brand.

8. It Follows Top-Notch Customer and Data Privacy Practices
Patagonia protects its customer's personal data and informs them about how it uses that data. Its privacy policy is available for everyone to see because Patagonia values transparency in everything it does.
Data privacy is so important in this modern, digital world. Customers need to know their information is safe and will not be abused. This is another reason customers have confidence in Patagonia. It protects their information and gives them choices about how their data is used.
Patagonia complies with data privacy laws like the California Consumer Privacy Act and others which work to protect consumers' personal data. Their disclosures and efforts to ensure data protection add to the reasons that customers can rely on this company.
9. Patagonia's Founder Donated $3 Billion to Fight Climate Change
It's not easy to give up something that you've worked your entire life for, but Patagonia's founder and his family announced that they will be donating their entire shareholding for climate change initiatives. This donation is worth about $3 billion USD and represents over 50 years of work that Yvon Chouinard put in to build the company to where it is today.
Is Patagonia Good? Absolutely: It Cares About Customer Trust
Patagonia cares about what its customers think. Its practices in the real world and the digital one protect customers and ensure they live in a safe and healthy world. From the company's eco-practices to its protection of consumer data, you know you can trust Patagonia.
Enzuzo helps ecommerce and retail businesses around the world maintain privacy compliance which is a key part of building a trusted brand. Our data privacy platform is the only one you'll ever need because it has everything to protect your site and your customers. With store policies, cookie banners, and more, you can develop the same kind of reliance with your brand and customers, as Patagonia has done.
Protect your customers' personal data and comply with ever-changing privacy laws. Let Enzuzo show you what we can do.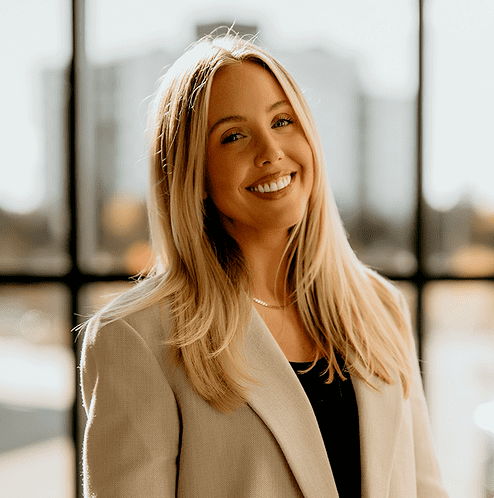 Paige Harris
Paige is the growth marketing lead at Enzuzo and host of The Living Lab podcast, providing insightful articles in the privacy space.