Table of Contents
It's 2021 and nearly every CEO says their business is "data driven." What that really means depends on the company, of course. Regardless, everyone agrees that data is one of the most important and valuable resources, especially for consumer-facing eCommerce brands.
The tricky part for business owners is how increasingly concerned consumers are when it comes to their data. According to a report by the Pew Research Center, 79% of U.S. adults are concerned about how companies use the data they collect, with 81% believing the potential risks outweigh the benefits. With more of our lives and assets becoming digital, it's only natural for people to think twice before accepting another "Terms of Service" agreement.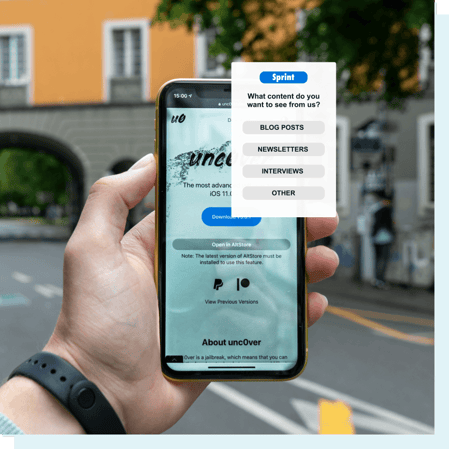 At the same time, consumers love a personalized experience. Looking at a report from Epsilon, a consumer insights group, 90% of consumers are more likely to do business with a company that offers a personalized experience.
How do businesses balance the need for customer data with customer's concerns about their data? Zero-party data may be the answer.
What is Zero Party Data?
Zero party data is data intentionally, proactively, and voluntarily given by a consumer to a company. That in and of itself makes zero party data very different from other types of party data.
Generally speaking, the two most popular types of party data are:
First-Party Data: data sourced internally from observations made about your customers, interacting with your site.
Third-Party Data: more general, often anonymized data gathered from hundreds of different companies about thousands of different customers.
Insights from first and third-party data can include anything from how long someone spends on a product page to the popularity of a paid service across certain demographics.
Zero party data breaks the mold. Instead of inferring customer preferences based on certain behavior, with zero party data, the customer tells you their preferences, often information regarding product preferences, shopping frequency, clothing size, brand identity, and more.
The Benefits of Zero Party Data
Through zero party data, businesses can gather better, more actionable customer data to utilize in providing a more personalized customer experience. Instead of relying on vague behavioral analysis, zero party data allows customers to specifically tell businesses what they want to see. Naturally, hearing straight from the consumer leads to more actionable insights. In the case of Twitter, this looks like a more personalized homepage. On Youtube, this may be more interesting, personalized video recommendations.
It's important to remember that collecting zero party data from your customers is hard work. Customers have to take time out of their day to share personal details about themselves. Most people are not going to do that for just any random brand that asks nicely.
Why Zero-party Data is the Future of Personalization
Major privacy changes to iOS and third-party cookies have disrupted the way brands are able to track attribution through paid ads like Facebook, Google and Instagram. Giving consumers the ability to consent or not consent to apps tracking their behavior means it will be more difficult to validate online ads performance, and brands may see a decline. This data will become less reliable long-term, which means spending thousands of dollars on ads is risky business in the future of eCommerce.
That's why collecting owned zero-party data is so essential. This data will help brands build personalized buying experiences for their customers, resulting in higher conversion rates and a more sustainable way to grow in years ahead.
How to Collect Zero Party Data for your eCommerce Brand
With clever, incentivized implementation, zero party data can be easy to collect. Below are some of the best places to gather zero party data:
1. During Account Registration
A great time to collect zero party data is during the new user setup and registration process. Here, you can ask users questions about their interests, what they want out of your platform, and more.
Social media platform Pinterest does a great job of this during their new user setup. After collecting some basic demographic information, Pinterest asks users to select at least five topics that interest them, ranging from DIY to winter fashion. Then, the new user's homepage is populated with posts from these topics, providing a more personalized experience for the user, and more specific data for Pinterest.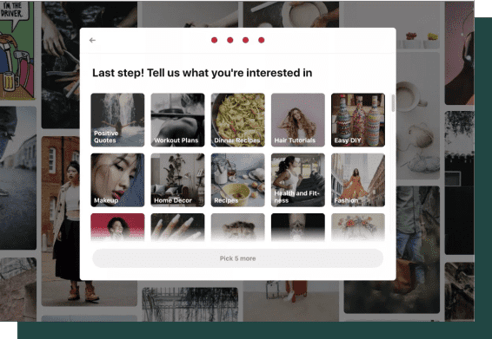 2. Through Personalized Quizzes and Pop-ups
Depending on your business and product category, you can capture even more personalized zero party data through your customers' online shopping experience. Ecommerce fashion service Stitch Fix is a great example of a fair zero party data exchange. Stitch Fix is a clothing delivery platform that assigns a stylist to each of its users. As part of registration, new users fill out a "style quiz" that serves as both zero party data for Stitch Fix and guidelines so that Stitch Fix stylists pick personalized clothes for each of their customers.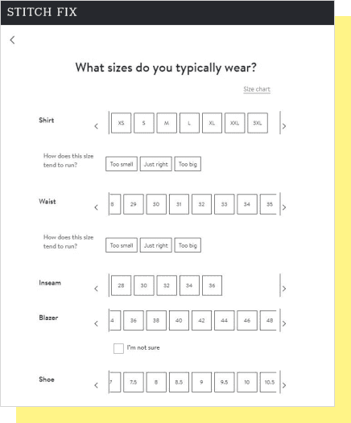 Looking to add a personalized quiz or pop-up to your website? Our friends over at Octane.ai have a game-changing Shopify App that personalizes the shopping experience at every stage of your customer's journey - website, email, ads, SMS, and Facebook Messenger!
3. Through Email Survey
Most business owners are familiar with the good ol' email survey. It may be old fashion, but email surveys are great examples of zero party data. With an email survey, customers get a chance to respond to your product or service in their own words.
Even customers who aren't part of your most loyal cohort can be leveraged with email surveys. Misfits Market, a grocery delivery service, sends out detailed surveys to customers who have not shopped with them recently, allowing less frequent customers to give their feedback and speak upon what would reignite their interest in shopping with the brand.