Table of Contents
Purchasing software and similar technology products involves a contractual agreement between the two parties. This agreement is similar to how you might engage a contractor for home renovation services — the contract between the two parties covers things like rights, responsibilities, liability, terms of use and more.
The legal agreement when you buy software products is referred to as the end user license agreement (EULA). This article explains the definition of EULA, its purpose, what it includes, and how you can create one for your software application or mobile app.
What is an end user license agreement (EULA)?
An end user license agreement (EULA) is a legally binding contract between a software company and its users, specifying the terms, conditions, liabilities, and fair use policies that a software user must abide by in order to continue to use the product.
This agreement establishes the legal playground between the two parties. For example, a software company may wish to safeguard its intellectual property rights — it can use the EULA to establish that all paying users only have access to the software for personal & business use and that they cannot market it as their own.
The two main entities involved in a EULA are the software developer — the individual or company that brought the product to life and who owns the intellectual property — and the end user, the person or entity who paid the fee to acquire a license. The agreement applies to both parties.
What is the purpose of EULA?
The goal of a EULA is to govern the relationship between software developers and their users. For example, a company may want to remind its users that they are not allowed to use the software for any illegal activity — such as transactions on the dark web. The EULA must specify after purchasing it. Buying the product does not give them the right to create copies and sell to third parties at a profit.
Another agreement in the EULA might be that the user agrees to the processing of their personal information, payment details, user generated content, and liability waivers.
The EULA intends to keep both parties informed and protected about their rights as they use a software product. The developers of the software are free to articulate the terms and conditions that govern user behavior. And users are educated about their rights, restrictions, and access to legal recourse.
Hence, the purpose of the EULA is to clearly outline what users can or cannot do while interacting with the software, thereby protecting intellectual property rights, preventing any software reverse engineering, and guarding against copyright infringement.
Since it's a legally-binding agreement, the EULA is presented at the time of installation and setup — giving users the option to opt out at the start if they do not agree with the conditions.
When do you need a EULA?
As we've mentioned above, an end user license agreement protects both businesses and their users. Some specific use cases for when you need a EULA are:
1. Copyright infringement
EULAs help guard against intellectual property theft. For example, video game studios can include a clause in their EULA stating that users are only allowed to play the game for recreational purposes. They will be barred from redistributing the product or claiming it as their own.
2. Financial transactions
If your product involves things like money transfers, payments, or purchases, your EULA must include specific clauses around each transaction. For example, a stock trading app may wish to talk about things like how long it will take to process bank transfers. Payment processors like PayPal will discuss things like currency conversion fees and international wire transfers.
3. Compliance requirements
Many jurisdictions require you to detail exactly how customers can opt out, delete their account, or request a copy of their data. Your EULA can outline all of these to provide clarity for your users.
4. In-app purchases and user-generated content
Some applications permit the use of in-app purchases, such as Twitch users buying tokens or users purchasing Roblox cash inside the game. In such cases, the EULA must cover how these purchases are treated — how long will the credits stay active in the user's account, whether they are redeemable or transferrable, and what payment methods are accepted.
5. Limitations of liability
Any software company or video game studio should clearly articulate its conditions for when the product encounters any bugs or doesn't work as intended. Software tends to break or can be attacked with viruses — while this is usually fixed with an update, there might be a brief outage in the interim. That's where limitation of liability comes in, explaining that the company cannot be held liable for this.
What does a EULA include?
Every end user license agreement is unique and tailor-made for the organization's specific requirements. Having said that, most EULAs include the following things:
An explanation of how user data is collected, whether it is shared with third parties, and what steps are taken to handle it correctly.
2. License Conditions
Outlining how products must not be used for commercial purposes, unless explicitly allowed.
3. Intellectual Property and Ownership
Explaining that the software company ultimately holds the intellectual property rights to the product or service and that simply purchasing the app does not grant the user exclusive rights.
4. Warranty Information
How users can expect the product to behave and after- sales support offered to them.
5. Updates
Whether uses can expect to get future releases and for how long.
6. Limitation of Liability
How users can expect the company to respond to software outages and whether they can expect any kind of compensation in return.
7. Indemnification
Explanation of the legal fees and costs involved in the matter of a dispute.
8. Termination
What might happen if you were deemed to be non-compliant with the EULA. This section can also be covered in the terms and conditions agreement.
9. Changes to the EULA
The EULA is a live document and is subject to change when needed. That should be made clear at the start.
Is a EULA the same as terms and conditions?
No, the EULA is not the same as a terms and conditions agreement. The two legal agreements are similar, but serve different purposes and needs.
A EULA is hyper specific to software products and services, covering how users interact with the product, their rights, and how they can deal with things like in-app purchases.
A terms and conditions agreement is far more general in scope and can apply to companies like ecommerce stores, marketing agencies, coaches, and more. It covers things like chargebacks, refund policies, data privacy agreements — many of which will not be addressed by the EULA.
If you're looking to build an agreement, Enzuzo's terms and conditions generator can help.
How can I create my own EULA?
Let's take you three ways to create your own end user license agreement.
1. Using a template
If you're looking for a quick and easy solution, using a template may be the right option for you. The only caveat here is that a template is fairly generic and does not take into account your unique business needs. However, it can get the job done when you're just starting out.
A template is provided in the section below, so scroll down slightly and you should be able to download it.
2. Write it yourself
If you would like to write an end user license agreement yourself, make sure that you do the following things:
State your full business name and place of business registration
Outline the rules that your customers must follow while using your software
Define conditions and user behaviors that may trigger a termination
Explain your intellectual property claims and rights
Include disclaimers and liability statements
We've also included a section earlier that talks about what to include in a EULA, so that can help you write this document yourself too.
3. Use a EULA generator (our preferred option)
An end user license agreement is a complicated and legally binding agreement, so it's important to take it seriously. We recommend that you use a EULA generator that's vetted and certified by an experienced lawyer.
Enzuzo's EULA generator can be set up within minutes and takes into account your unique business requirements.
EULA template
Here is a sample template created by Enzuzo's EULA generator.

We've copied and pasted the EULA template into a public Google doc. Feel free to download, edit, and tweak to your liking.
👉 Download Sample EULA Template in Google Docs
5 EULA examples
End user license agreements are present in most major software applications, including popular games such as Fortnite and Roblox, fintech apps such as Paypal and Cashapp, accounting software like Quickbooks, and everything in between.
Fortnite's EULA covers its privacy policy, terms of service, fan content policy, and more.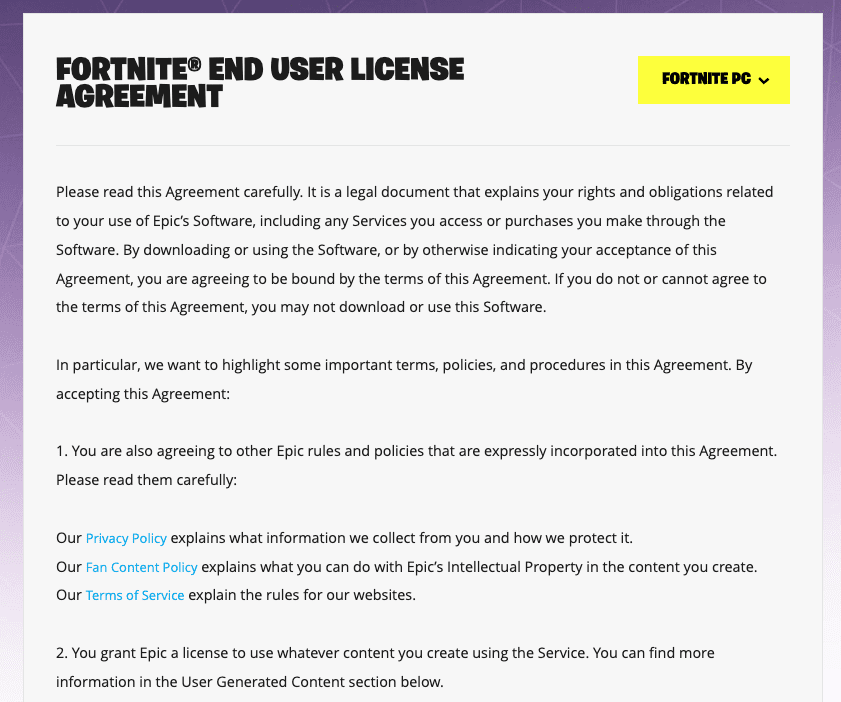 Here are a few other EULA examples we found during our research. All are from leading software firms, so we can vouch for their comprehensiveness: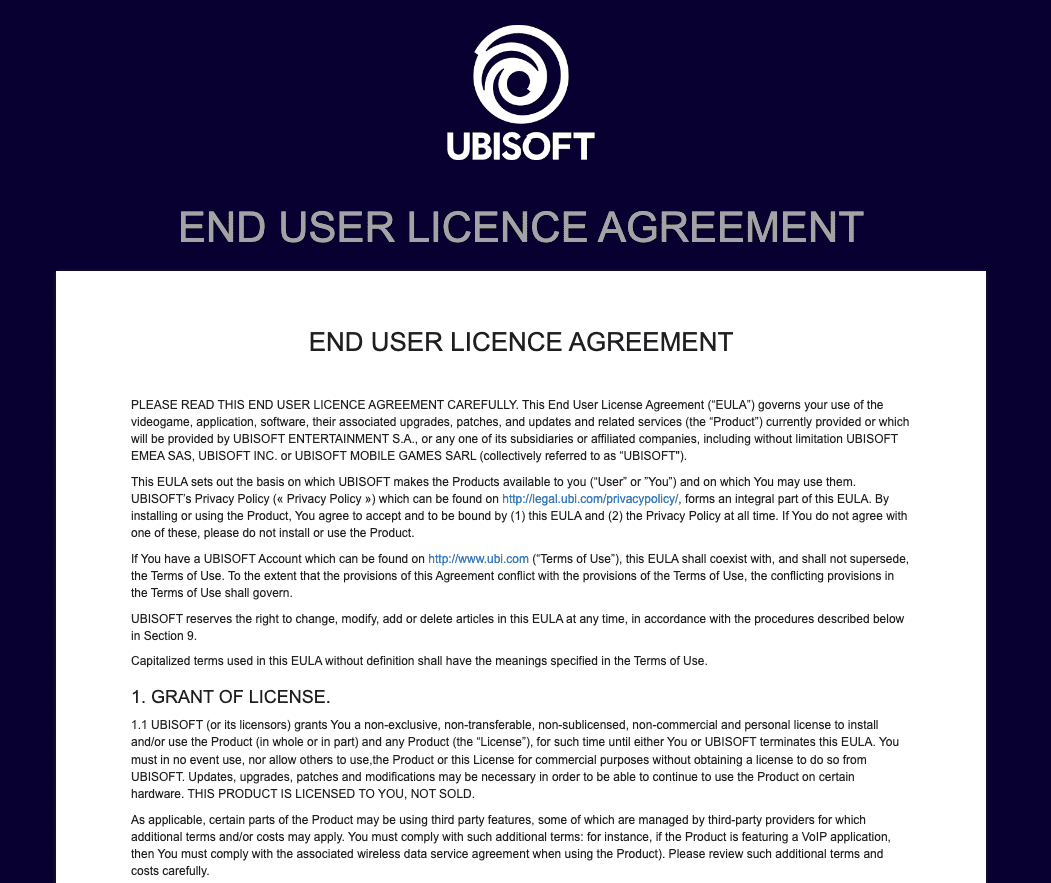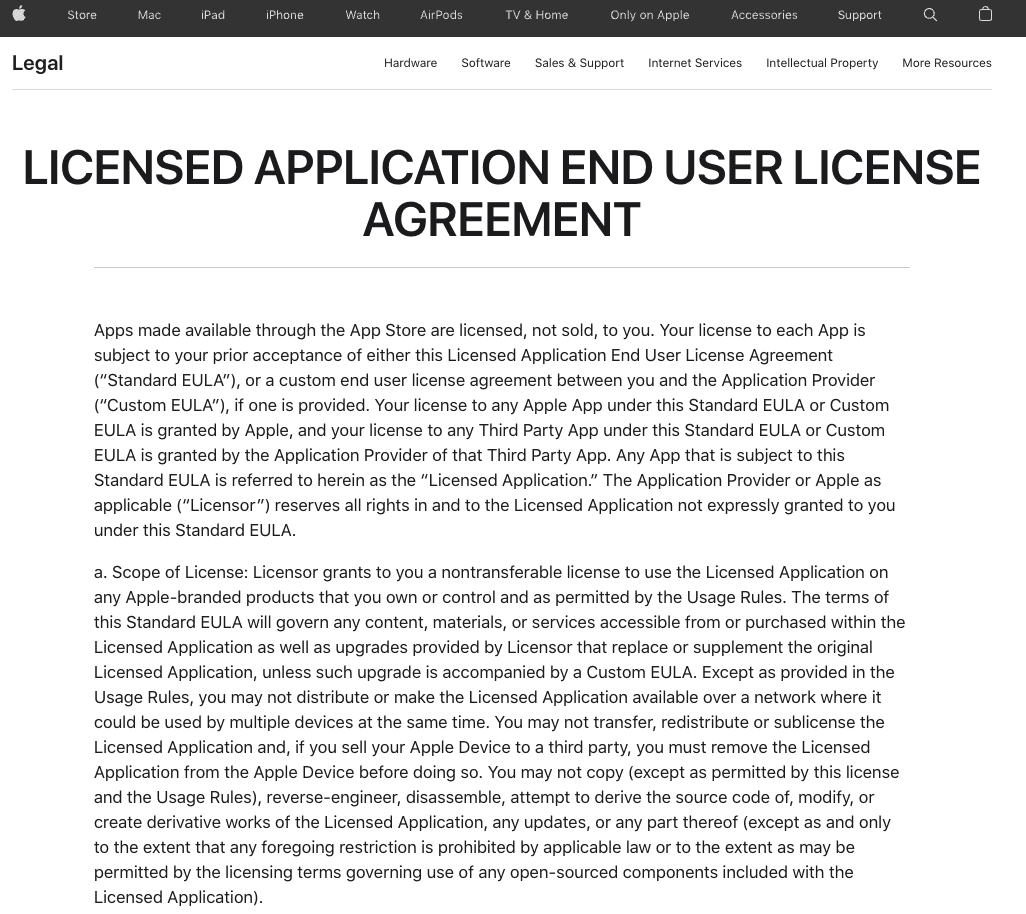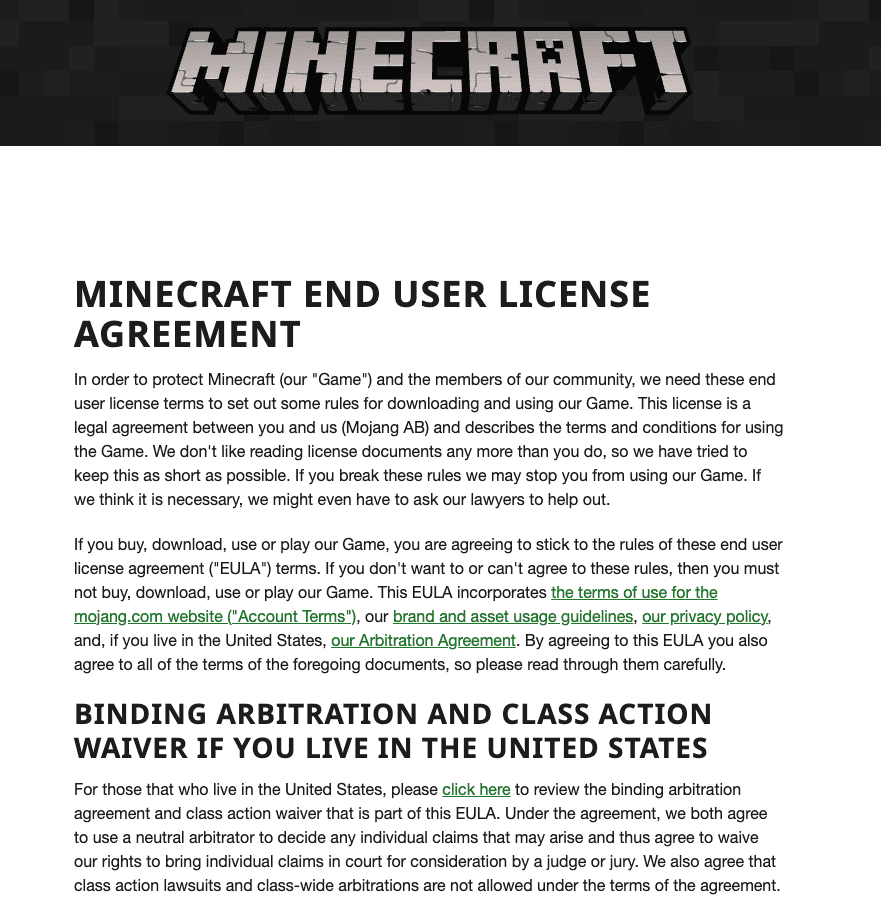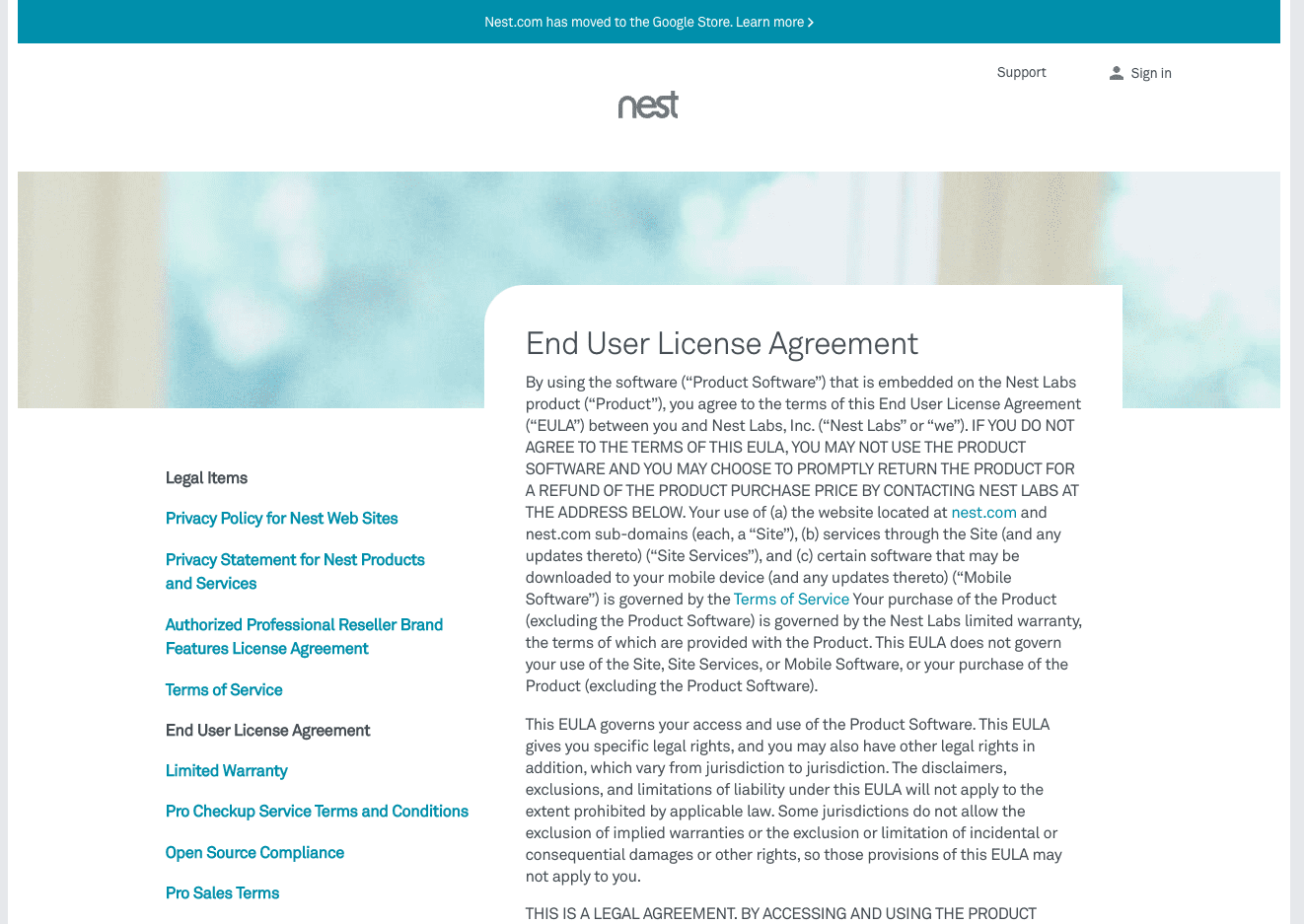 Summary and Wrap Up
As we've explained above, an end user license agreement is a legally binding document that governs the relationship between a software company and its users. EULAs help protect companies from misuse, theft, or intellectual property damage. They're not a document to be taken lightly and any software company must invest the time and resources to generate a EULA tailormade to their business.
👉 Looking to build a EULA for your business? Check out Enzuzo's EULA generator that's vetted and certified by lawyers.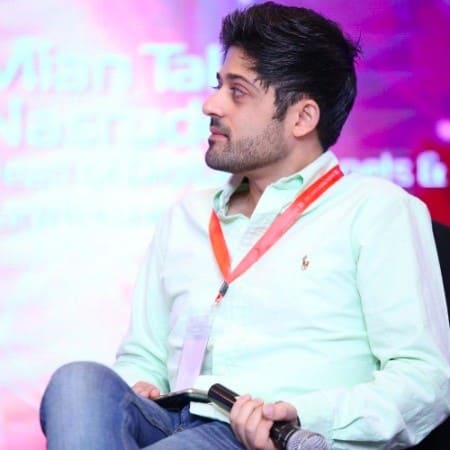 Osman Husain
Osman is the content lead at Enzuzo. He has a background in data privacy management via a two-year role at ExpressVPN and extensive freelance work with cybersecurity and blockchain companies. Osman also holds an MBA from the Toronto Metropolitan University.