Table of Contents
A terms and conditions agreement signifies the relationship between the developer of a product or service and its end users. This legal document is not to be taken lightly, since it can protect a company from lawsuits, intellectual property theft, credit card chargebacks, and more.

We provide more detailed information in our blog about why you should have terms and conditions for your business, but if you're reading this, you're probably aware of that already.

In this post, we'll show you the 11 best terms and conditions examples we found on the internet. These are publicly curated examples from large brands and well-known companies, for you to use as your personal swipe file. Later down the post, we've also included a free terms and conditions template that's yours to use, edit, and repurpose.
Editors Note: Terms and conditions are also often referred to as terms of service or terms of use. When curating these examples, we've included all three variations from across the internet. So the examples mentioned here are also terms of service examples and terms of use examples.

Let's dive in:
The 15 Best Terms and Conditions Examples On the Internet
Here's a list of the best GDPR terms and conditions pages on the web. All the examples are from companies with global operations, so you can be sure that they adequately cover lots of privacy laws and compliance regulations.
Target's terms and conditions page discusses its acceptable use policy across its website as well as mobile sites, services, applications, platforms, and tools that the U.S. retailer operates. That's a massive amount of businesses and operating units to cover, but it does its job very well.
The page is super detailed, but we like the jump links at the top for users to be able to navigate to a specific section. Other than that, it does the job as intended — protecting Target from a legal perspective, while informing users of what they can or cannot do on the platform.
Spotify is enjoyed by millions of users across the globe, and the nature of the platform means its terms and conditions are to be taken very seriously. Artists are free to upload their original music, while users stream at their leisure.
Spotify must tread carefully, though. In order to continue to be the preferred platform for creators, it has to protect their rights and intellectual property. And it needs to convey to users what they can or cannot do.
Its terms and conditions page does exactly that. The document is easy to understand, devoid of complex legalese, and clearly outlines the rights of creators and users on the platform. An excellent example of a terms and conditions document.
We're in the business of generating privacy policies, so you can be sure that the Enzuzo terms and conditions generator is compliant with GDPR, CCPA, and other data privacy laws while also making sure that users are kept informed of their rights and responsibilities.
Enzuzo's terms and conditions agreement is simple, smart, and functional. Each section of the policy is broken up into smaller blocks to help with readability and to make it accessible. It won't try to drown you out in large, unyielding text — a smart choice that prioritizes user experience.

The English Premier League (EPL) isn't a transactional platform in the same vein as Spotify or Target, but we like its terms and conditions page that outlines how users may interact with its website and mobile app.
The page is short and to the point, but it gets the job done. If you run a website that has a similar non-transactional play, you may want to take inspiration from the EPL. If not, you will definitely enjoy reading more about the various English clubs!
Ancestry collects a significant amount of personally identifiable information, such as DNA. It also uses that information to deliver results about individual heritage and background — results that are bound to evoke strong reactions. That's why it must address the use of such information and other responsibilities in its terms and conditions page.
And it does that seamlessly, using a well-designed terms of service agreement that delivers on accessibility, user experience, and ease of navigation.
If you live in North America, there's a high likelihood that you've visited Costco. Whether it's to try their famous $1.50 hotdogs or benefit from some incredible savings, Costco continues to be a fan favorite.
Costco needs to have a robust terms and conditions page, given the large number of people visiting its retail and digital outlets. And that's what it does, with a complex, detailed document that outlines plenty of policies. The navigation could be improved somewhat, but we like that there are links allowing folks to jump to specific sections if required.



We're including another streaming platform here because of how vital terms and conditions agreements are in these cases. While Sony Music's page isn't as aesthetically pleasing as Spotify's, it gets the job done. We also like the Twitter feed and the FAQ section on the right column, giving users another reason to stay on the site.
The Canadian government's terms of service page discusses things like accessibility, posting on social media, IP addresses, as well as the rights and responsibilities of users. The page is a nice touch, showing that the government prioritizes transparency and communication.
The British airline is best known for its contrarian social media accounts, but it's nice to see Ryan Air give some serious attention to its terms and conditions page. The agreement covers things like:
Liability for passengers
Compensation
Passenger delays
International flights
It's a long page, but that's necessary. Travel is a complex operation, and the rules surrounding baggage, claims, and insurance is vast. While we doubt ordinary consumers will read this agreement from start to end, it's good to see that Ryan Air has clearly outlined what people can expect from their operations.
We wouldn't expect a food delivery service's terms and conditions page to be incredibly detailed, but DoorDash definitely steps it up a notch. The agreement is super complex — we'd like there to be sections for better readability but it's a great example for those building two-sided marketplaces.
BBC Studios, a division of the British Broadcasting Corporation, has a thorough terms and conditions page that talks about copyrights, intellectual property rights, user contribution, liability, and more. If you run a content studio, production house, or are otherwise engaged in entertainment programming, we recommend that you take a look at this page.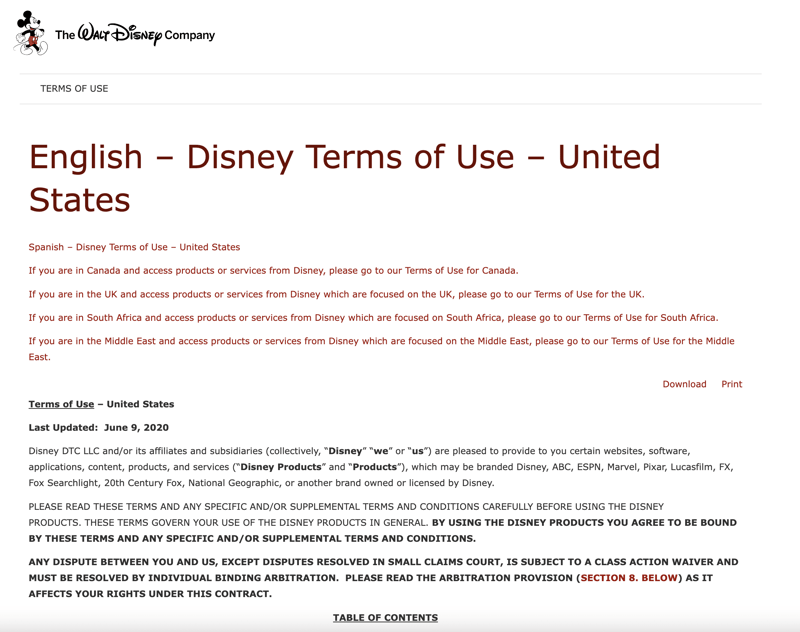 Disney's terms of use page discusses things like subscriptions, licenses, contests, liabilities, user generated content, and more. While there's a bunch of legalese in there (as expected), the document does a thorough job of explaining users' rights and how they can interact with the service.

Apple's terms of service example are fairly light and don't come with all the bells and whistles that are generally part of its flashy marketing campaigns. However, that's refreshing to see and goes to show that you don't need pages of lengthy legal documents to get your point across. If a trillion dollar company is satisfied with this, it must be rock solid from a legal perspective.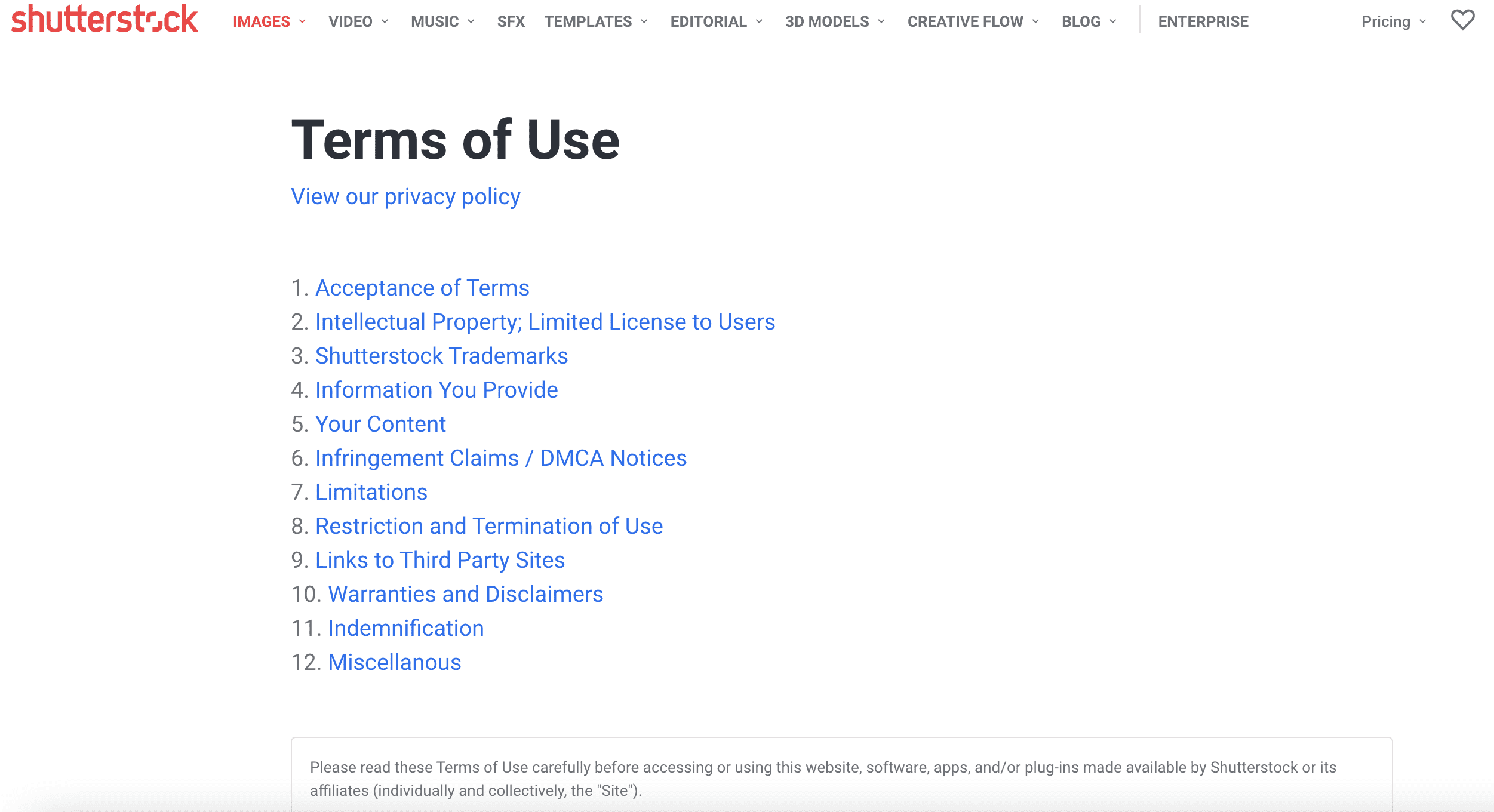 Stock photo and video site Shutterstock is an interesting site to analyze, since they're processing user generated content and intellectual property on a daily basis. Its terms of use are neatly laid out in twelve sections, providing users with clear information about their rights and what they can expect from Shutterstock.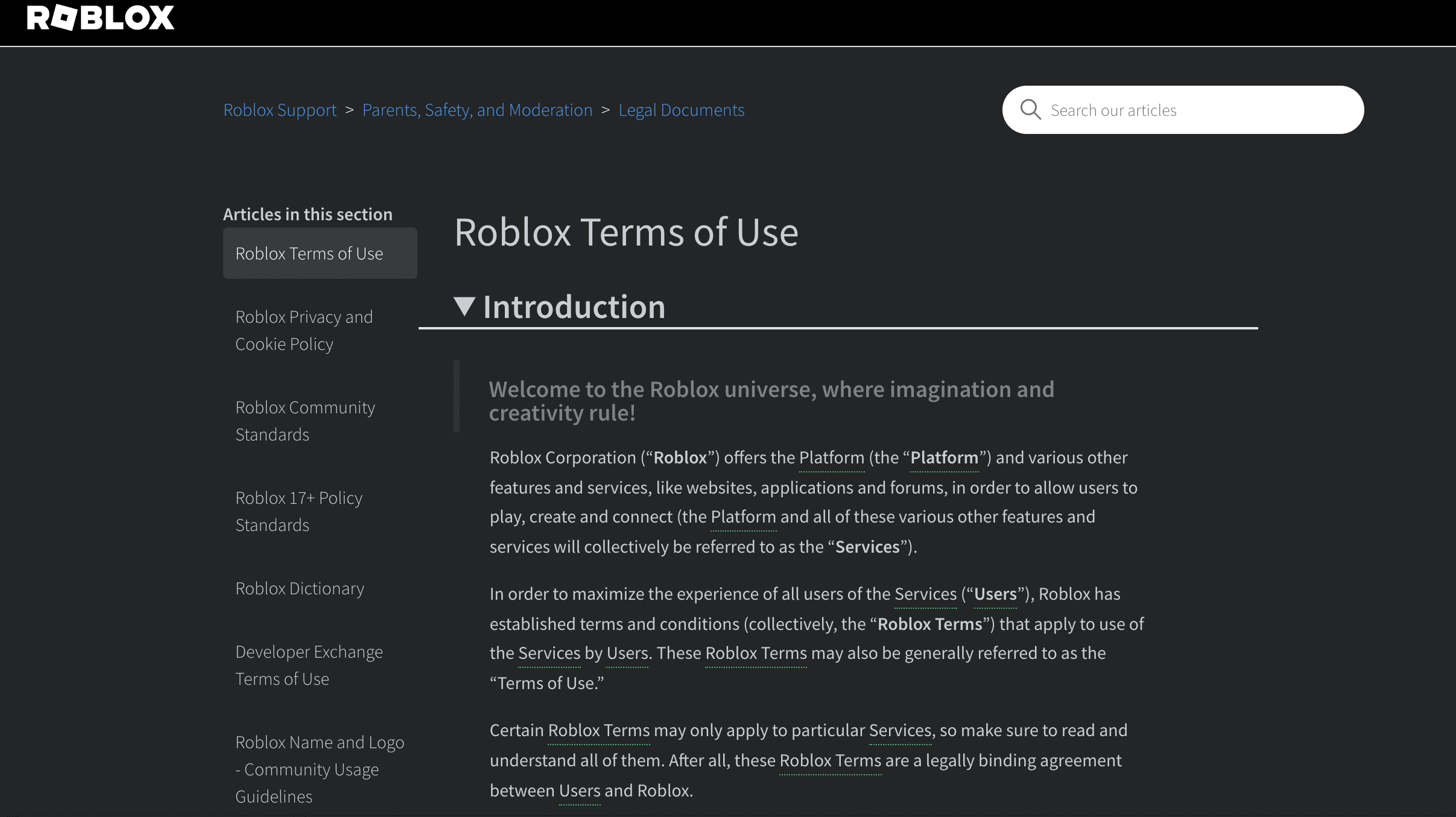 Popular video game developer Roblox has incredibly detailed terms of use, but that's par for the course when it comes to online games and communities. We like that the page is designed to be on brand with the rest of the company as well as the welcoming tagline to give it a more human touch.


Free Terms and Conditions Template
We've included a terms of service template that's compliant with major data privacy laws around the world, including GDPR, CCPA, PIPEDA, CPRA, and much more. It's yours to download, edit, and tweak to your requirements.
👉 Download the Free Terms and Conditions Template in Google Docs

What Should Be Included in Website Terms & Conditions?
Each terms and conditions page is unique, but here's a list of sections you could include:
Introduction
Updates
Website & Content Ownership
Prohibited Activities
Rights to Access
Limitations
Governing Law
Contact Information
User Responsibilities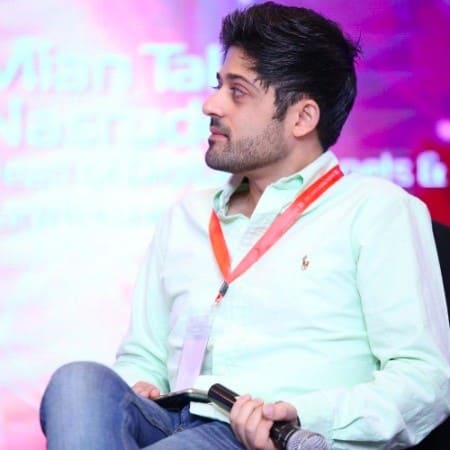 Osman Husain
Osman is the content lead at Enzuzo. He has a background in data privacy management via a two-year role at ExpressVPN and extensive freelance work with cybersecurity and blockchain companies. Osman also holds an MBA from the Toronto Metropolitan University.