Table of Contents
The law doesn't obligate website owners to include a Terms and Conditions agreement in most cases. However, most informed website owners find a Terms and Conditions agreement beneficial and opt to include one, regardless of legal obligations. So, why do websites need Terms and Conditions?
Why Do You Need a Terms and Conditions or Terms of Service?
The Terms and Conditions agreement (also known as Terms of Service) makes your users aware of your website's rules. It covers the rules associated with your services and content. Some examples of what you may clarify in your Terms and Conditions include:
How your users are allowed to use your content
The rules users must abide by when interacting with other users
When and why you may cancel or suspend a user's account
The agreement creates a legally binding contract between you and your users. It helps you deal with problems when they occur. It can even help prevent problems by setting clear guidelines for unacceptable behavior.
Does My Business Need One?
There's no legal requirement for you to include a Terms and Conditions for online store or website. While you may not technically need one, it is usually a good idea to include a Terms and Conditions page for your business.

Why Are They Important?
Some transactions require mandatory disclosures, regardless of whether a transaction is web-based. For example:
The Uniform Commercial Code may require written disclaimers of warranties for your product or service.
Financial and banking regulations require many detailed disclosures.
If your business collects personal information from children under the age of 13, you must make explicit disclosures according to the Children's On-Line Protection Act.
If you wish to be protected from copyright infringement lawsuits for the content you host on your website, you must adhere to the Digital Millennium Copyright Act. You must also disclose your contact information so you may receive notice of potential copyright claims.
These are just a few examples of laws that may affect online businesses and provide an incentive for business owners to post a Terms and Conditions statement.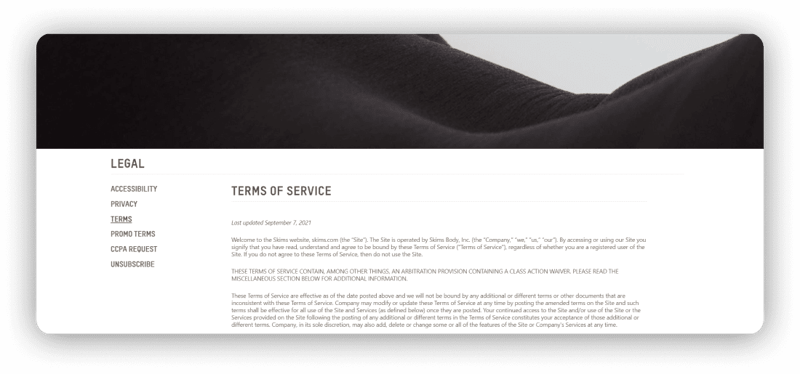 What if I Don't Have a Terms and Conditions?
If you don't have a Terms and Conditions on your site yet, it may simply be because you weren't aware of the benefits of including one. If your industry, products, or services require a Terms and Conditions agreement, as outlined in the above examples, you must implement one.
If you have been operating without a Terms and Conditions agreement in an industry or area that requires you to make a written statement about your products or services, you must comply with that requirement immediately. If you have been lucky enough to slip past the regulations unnoticed so far, it's best to avoid pushing your luck further.
Even if the law does not require you to enact a Terms and Conditions agreement, here are five reasons you may decide to include one anyway:
Limit liability
Own your content
Prevent abuses
Terminate accounts
Ensure enforcement
Limit Liability
It's a great idea to include a disclaimer in your Terms and Conditions to remove your liability for errors in your online content. This can be a clause that states you can't be held responsible for any errors found in your content.
Malicious website users are a given. If your site is popular enough, there are likely to be a few hackers, phishers, scammers, or exploiters. You must protect your other users from these malicious intruders. Your Terms and Conditions can help limit your liability for the bad actions of your users.
If your website allows visitors to post content to your page, you should include a statement limiting your liability for offensive language, images, or other postings. You can even include a statement that you aren't responsible for third-party statements, nor do you endorse users' posts.
The limitation of liability provision in your Terms and Conditions allows you to limit the various damages you can be held responsible for, so long as the applicable laws and regulations recognize the limitations.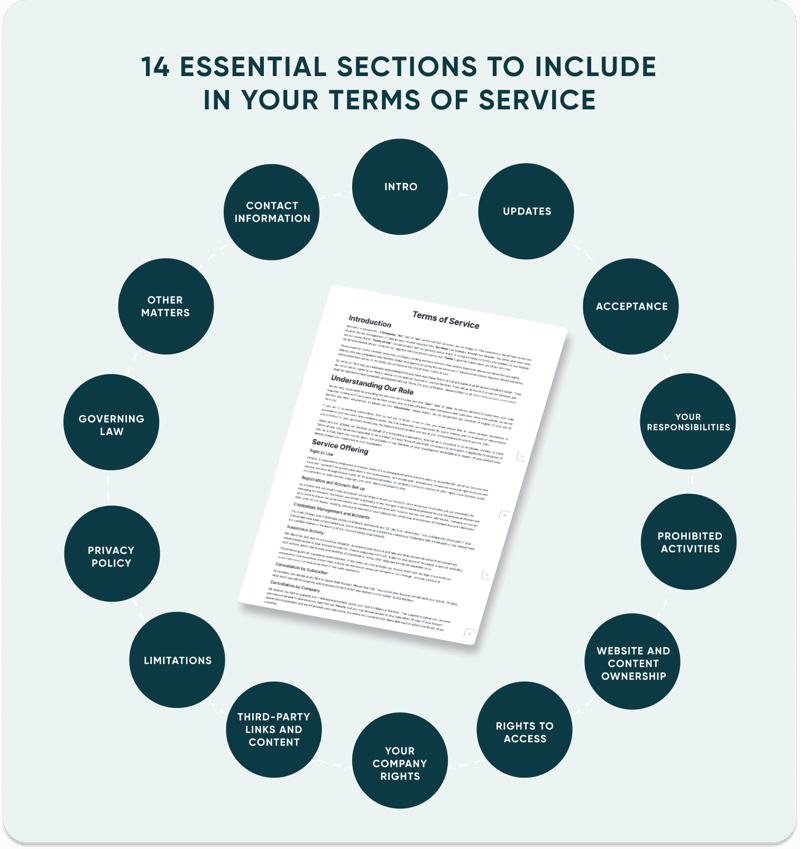 Own Your Content
Many website owners include an intellectual property (IP) clause in their Terms and Conditions to claim ownership of IP on the site. IP can include your logo, content, images, and site design.
It's good to include a statement in your Terms and Conditions that users agree not to redistribute or reproduce your content without your consent.
Protecting your IP rights is essential. If you don't protect your content, it's easy to lose it to someone else.
Prevent Abuses
Speaking of malicious users, another reason to implement comprehensive Terms and Conditions for your business is to prevent abuse. Your Terms and Conditions agreement enters you into a legally binding contract with your users. You can set the guidelines that your users must obey if they wish to continue using your site.
You can use your Terms and Conditions agreement to explain the repercussions of abuses. Examples of abuses you may choose to take action against include:
Spamming your users
Using foul language
Posting defamatory content
Posting lewd content
You can even use it to regulate political postings or the type of topic allowed. Users who fail to follow your rules will face the repercussions in your Terms and Conditions.
Website users generally appreciate a good moderator who prevents other users from wasting their time or posting offensive content. A well-drafted Terms and Conditions agreement can keep your website on target and avoid alienating valued users.
Terminate Accounts
If you have users that won't play nice on your website and follow your Terms and Conditions, a termination clause can be the answer to your problem. Most websites will first issue warnings and temporarily ban offensive users. However, if this clause has been included in Terms and Conditions, you'll have the ammunition you need when faced with a relentless troll.
Websites and apps may employ termination clauses when they require registration to access certain site areas. If the user violates the termination clause, you can ban their account from interacting on your site.
Some users are determined to keep posting inappropriate material until you ban them. You must have a solution for these types of users, and a thoughtful Terms and Conditions agreement that includes a termination clause is key.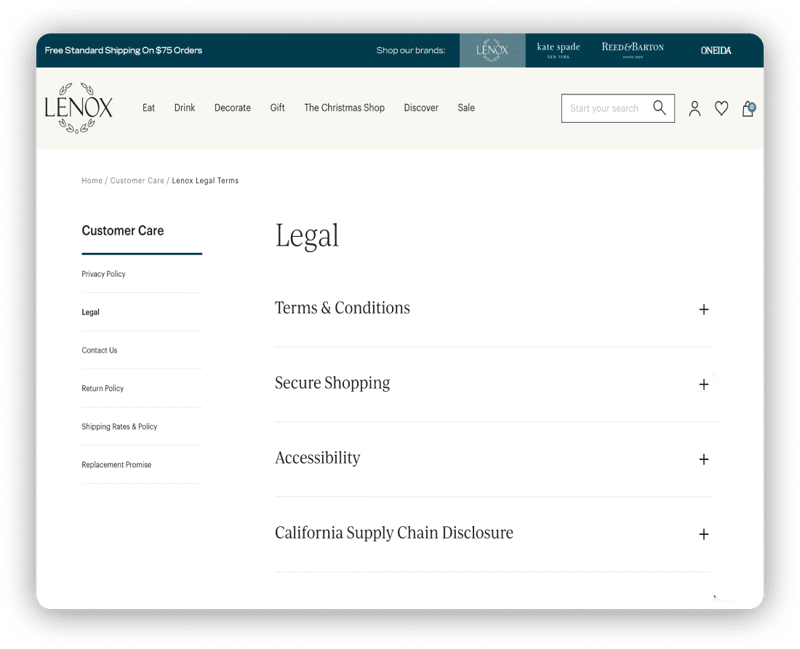 Ensure Enforcement
Courts regularly enforce pop-up Terms and Conditions agreements on websites. This can be important if you're embarking upon an intellectual property suit due to someone stealing your online content.
Requiring your users to agree to your Terms and Conditions before accessing your content is an integral part of preserving rights (like your IP rights), creating a safe space for your users, and protecting your interests when things do go wrong.
Of course, courts don't always enforce websites' Terms and Conditions. Courts will consider how reasonable your Terms and Conditions were for your users to accept. If your Terms and Conditions weren't made thoughtfully and crafted with your exact site in mind, courts are less likely to uphold them. When a court deliberates whether to uphold your Terms and Conditions, they may consider the following questions:
Was the agreement legible?
Was the text written in legal jargon or easy to comprehend?
Was the user aware they agreed to a contract?
Was the full text of the agreement easily accessible?
If the court determines that the answer to any of these questions is no, they are less likely to uphold your Terms and Conditions. Another critical question a court is likely to consider is:
Are the terms so unfavorable or restrictive to the user that they would be considered "unconscionable"?
If the court finds the agreement unconscionable, your Terms and Conditions won't be enforceable. Your agreement must walk a fine line. It should be comprehensive enough to cover important issues to your business but not so overly comprehensive as to be considered unconscionable.
For this reason, we don't recommend that you use a generic Terms of Service generator free of charge that you might find online. Your Terms and Conditions should be drafted by an expert in the field who can strike the right balance needed to ensure enforcement.
What Terms and Conditions Should Be on a Website?
The Terms and Conditions for your website must be drafted with your unique business in mind. Each website includes different clauses in the Terms and Conditions agreement based on its unique business model and needs. However, there are a few pieces of data that should be included in most Terms and Conditions, like:
The website owner or company and their contact details
Registration requirements
Disclaimer of liability for content on linked sites
Website availability
Permitted uses of the website's content, if any
A list of necessary fees to be paid to the website
Declaration of unacceptable content to post, including illegal, defamatory, and abusive content
VAT details
Reference to privacy policies and cookies policies with links
How Can Enzuzo Help with Terms of Service?
Enzuzo can help you analyze your Terms of Service needs. Our robust platform and industry experts can quickly determine what elements to include in your website's Terms of Service.
With just a few clicks, Enzuzo can help you launch a Terms and Conditions agreement that walks the fine line of being just comprehensive enough to protect your interests and ensure legal enforcement.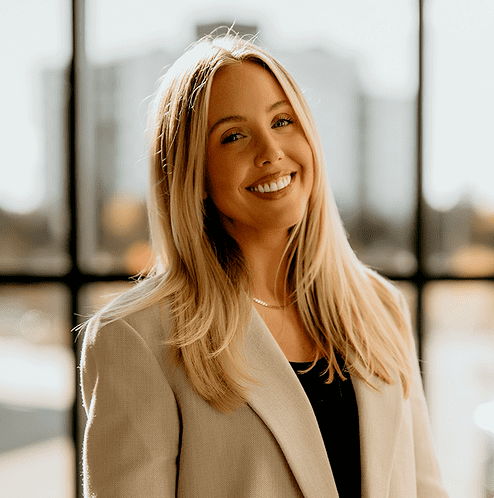 Paige Harris
Paige is the growth marketing lead at Enzuzo and host of The Living Lab podcast.