Table of Contents
In this article, we will be reviewing and ranking the 9 best terms of service generators available on the market. Whether you're starting a new business or updating an existing legal document, choosing the best terms of service generator can save you time and ensure that your agreements are legally compliant.
We have researched and tested a variety of different generators, taking into consideration factors such as ease of use, recurring fees, specialized legal knowledge, customization options, and pricing. By the end of this article, you will have a clear understanding of which terms of service generator is the best fit for your needs, whether you run an online store, a mobile apps business, or if you're a solo business owner.
What to Look For When Choosing the Best Terms of Service Generator
While terms of service generators all serve the same purpose, they aren't all equally effective. Before you decide which generator best suits your business, consider these essential factors:
Cost: There are terms of service generators available at every price point. Some services are free while others offer monthly subscription plans or one-time fees.
Customization: Terms of service are most effective when they're personalized. The best terms and conditions generator can customize your policy based both on the structure and specific needs of your business as well as things like intellectual property rights, governing law, and legal compliance.
Ease of use: Some generators are more user-friendly than others. If navigating or using the terms and conditions generator makes building your terms of service a struggle, it's probably not a good fit.
Quality: Your terms of service are an important part of maintaining compliance and protecting your business from liability. When you use a service to generate your policy, make sure that it has clear language and correct grammar and that it addresses all of the essential points.
Offers free hosting & automatic updates: An ideal tool hosts important legal pages on its own platform, allowing the legal team to update the terms and conditions agreement as and when privacy laws change. This protects the business from the recurring costs of updating the agreement internally.
Ideally, a terms of service generator will check all of these boxes, offering a high-quality policy at a price that's best for your bottom line.
Best Terms of Service Generator: 9 Options Tested & Ranked
To help narrow down the seemingly endless list of terms of service generator options, we've selected the best services on the market. Whether you're building a new company and need a basic policy or are looking for more comprehensive legal policy and privacy solutions, we've compiled a list of the most effective and affordable generators for every type of business.
Our list is based on the ability to help businesses insert an intellectual property clause, create customized terms, generate a robust legally binding agreement, guard against a legal dispute, and cover international laws wherever possible.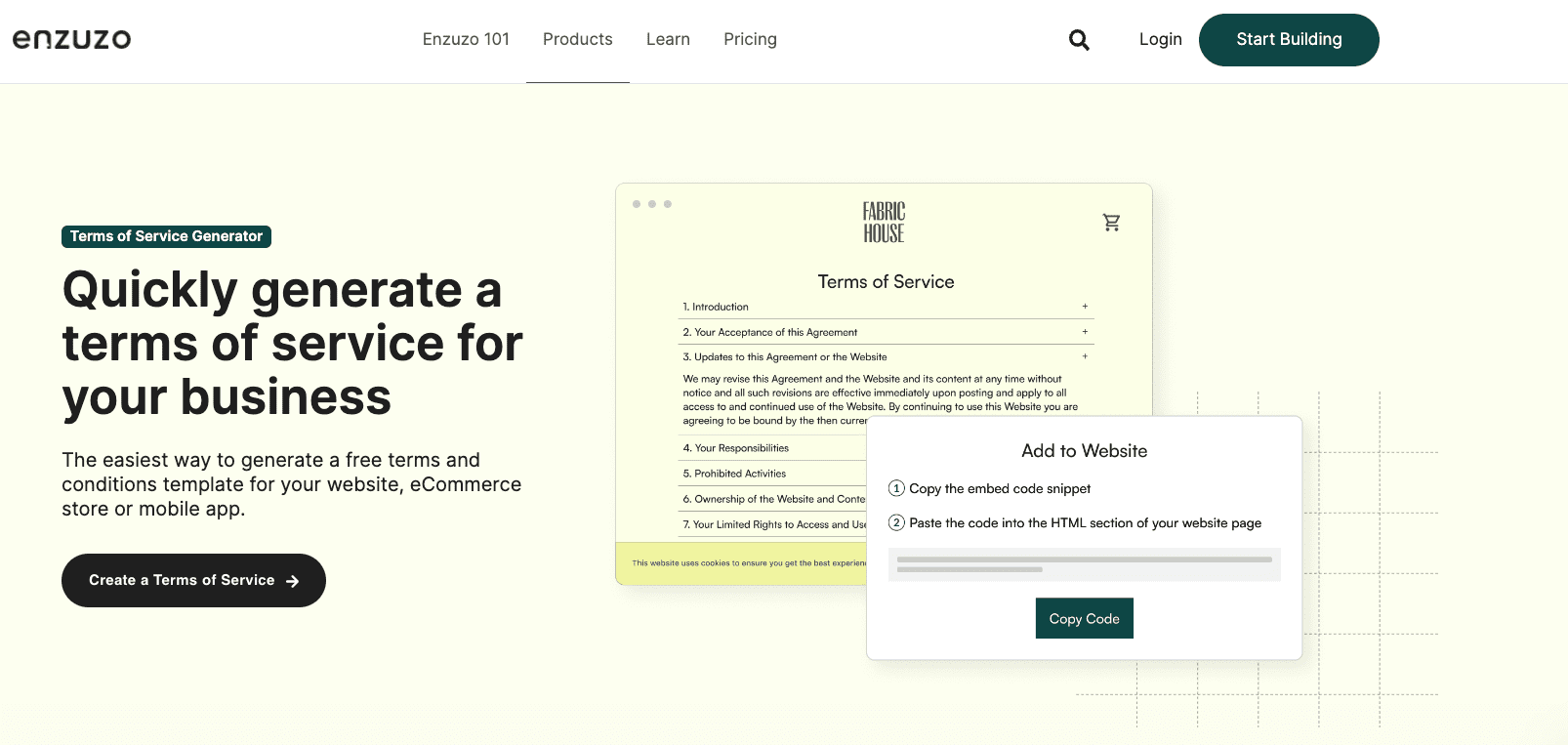 Enzuzo is a comprehensive data privacy platform based in Ontario, Canada. The company is trusted by more than 10,000 businesses. It offers a variety of products, including a terms of service generator that is straightforward and simple enough for even the non tech-savvy business owners to navigate.
Enzuzo's internal legal team helps generate each terms and conditions agreement, covering ecommerce stores, mobile apps, online businesses, and more. It's a tool power packed with features that helps dispute resolution by including important clauses such as a legal agreement, conditions agreement, business's terms, and many other premium features.
Cost
Enzuzo's terms and conditions generator is a free tool for basic use, meaning that small businesses and those just starting out can quickly create terms and policies without a credit card. Businesses with a more comprehensive pack of requirements can pay a monthly fee for additional customizable disclosures, removal of the Enzuzo logo, and other features on the platform. For users who pay annually, plans range from $7 per month to $99 per month.
How it works
Using the Enzuzo terms of service generator couldn't be easier. You simply click "Start Building" and are taken instantly to a template with customizable options. Add your business name, address, and preferences, and you're well on your way to having an excellent terms of service policy. Preview the policy in web and mobile views to ensure that customers will be able to easily scan and review it once it goes live.
Pros
User-friendly, step-by-step process

Compatible with popular platforms like Shopify and Wix

Priority customer support

Covers all website terms

Includes all the legal requirements necessary, vetted by an in-house team

Automatic updates

Best free terms and conditions agreements
Cons
Some limitations on languages for policies in the free plan
Final thoughts
Enzuzo's generator is budget-friendly and effective with a rich set of features that simply can't be found through competitors. Automatic updates, for example, ensure that your business stays compliant in the face of changing laws and regulations. Support for multiple languages allows you to cater to a global clientele. It's simply the best terms of service generator, unmatched in its ability & specialized legal knowledge, with a comprehensive pack of conditions agreements.

Shopify Terms & Conditions Generator (Best for eCommerce)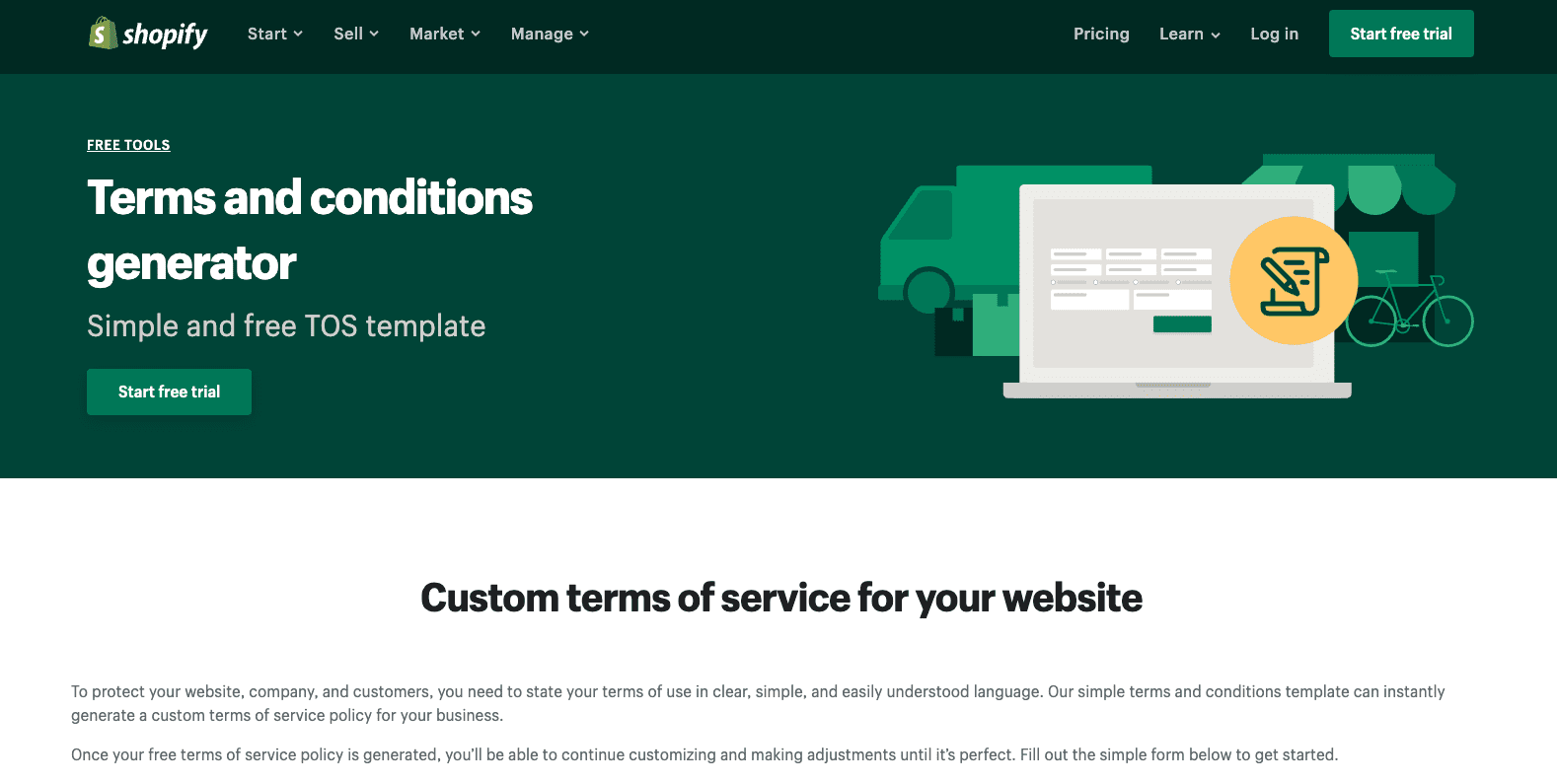 Shopify is an extremely popular eCommerce platform with billions in revenue each year. This online juggernaut knows a thing or two about how to do business, including how to protect your interests and your customers with a terms of service policy.
Shopify's terms and conditions generator is mostly suitable for ecommerce store owners and B2B ecommerce business operators, but the positive aspect is that there are no recurring fees to generate terms. It's another free terms and conditions generator, which means you can protect intellectual property rights without having to splurge on lawyer fees for your online business.
Cost
Shopify's terms of service generator is completely free, and you don't need to create a Shopify account to make one. While the website does give the option to sign up for a Shopify trial, you can easily skip the trial and jump straight into creating your terms of service policy. Unlike some other services, Shopify doesn't give the option to upgrade to a paid plan for expanded policy generator features.
How it works
Creating a terms of service policy with Shopify requires a few simple steps. First, enter your business name and contact information in the text boxes. Click "Send me my terms and conditions," and, in a matter of minutes, Shopify will email you a link to your newly generated policy. From there, copy and paste the link into a page on your website and make any changes as needed.
Pros
Free for any business

Fully customizable policy

Fast creation and response time
Cons
Limited prompts and in-platform customization options

No upgrade options with advanced features

No language options

Unable to create mobile app terms
Final thoughts
Although the Shopify terms of service generator doesn't offer much in the way of features, it's a quick and cost-free option for business owners who are happy to manually fine-tune their policies. As an added bonus, companies that already use Shopify to host their online stores, or who plan to do so in the future, can create a policy without leaving the platform.
FormSwift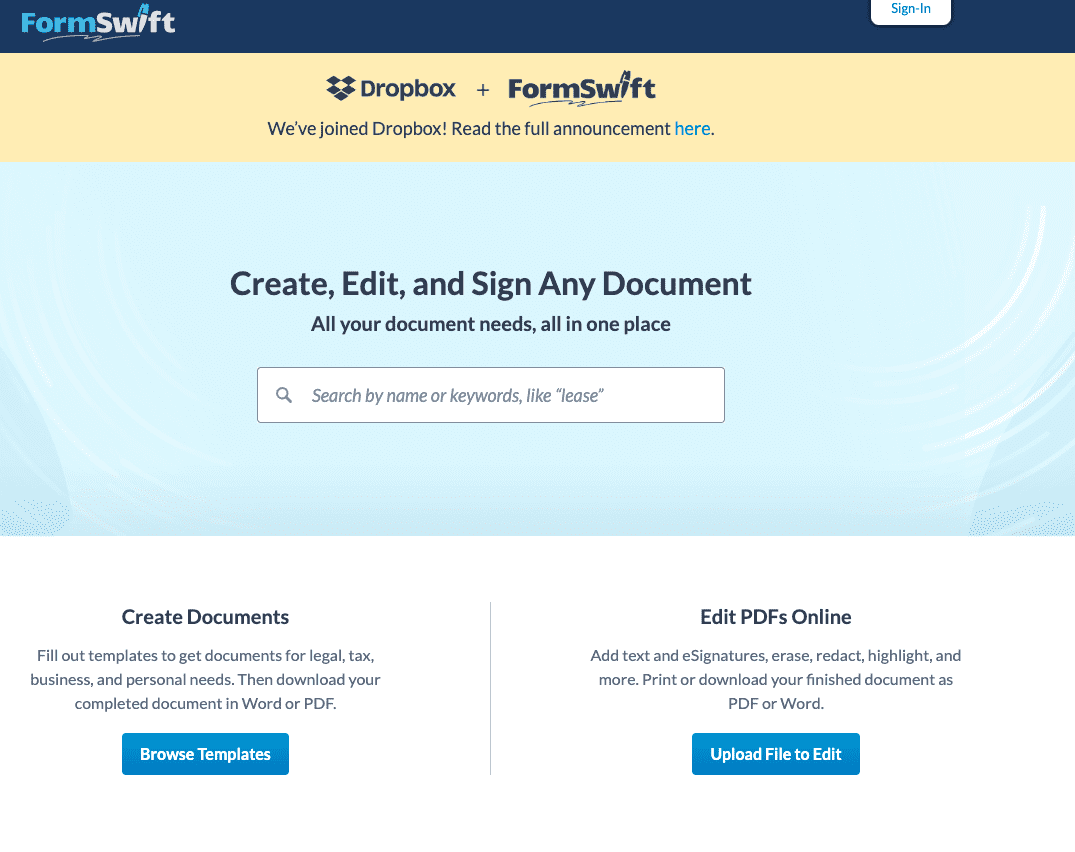 FormSwift was established in 2012 to help business owners simplify their processes for creating and completing standard documents. In 2022, the well-known file-hosting service Dropbox acquired FormSwift and combined their services.
Cost
The terms and conditions templates on the FormSwift website are free to download in Word or PDF format. If you prefer to use the online generator instead, you can create your policy for free, but you'll have to choose a paid plan to download or print it. Pay $69 for a single policy or opt for monthly or annual subscriptions of $37 and $99, respectively. Take advantage of the 7-day free trial if you simply want to give the generator a test run.
How it works
The FormSwift generator takes you through a number of screens asking for information related to your business. Once you've entered all the necessary details, you'll be prompted to create an account and choose a paid plan. On the dashboard, you'll find options to edit, duplicate, print, and share documents. The PDF editor allows you to change every aspect of your policy.
Pros
Well-organized document storage

Clear, comprehensible prompts

Free templates with fillable fields
Cons
Unable to export documents without payment

Expensive monthly subscription

No language options
Final thoughts
FormSwift's terms of service policy generator is a clean and highly customizable option. The platform includes effective prompts to generate a customized terms and service policy, but the lack of a truly free option may be a drawback for small business owners.
GetTerms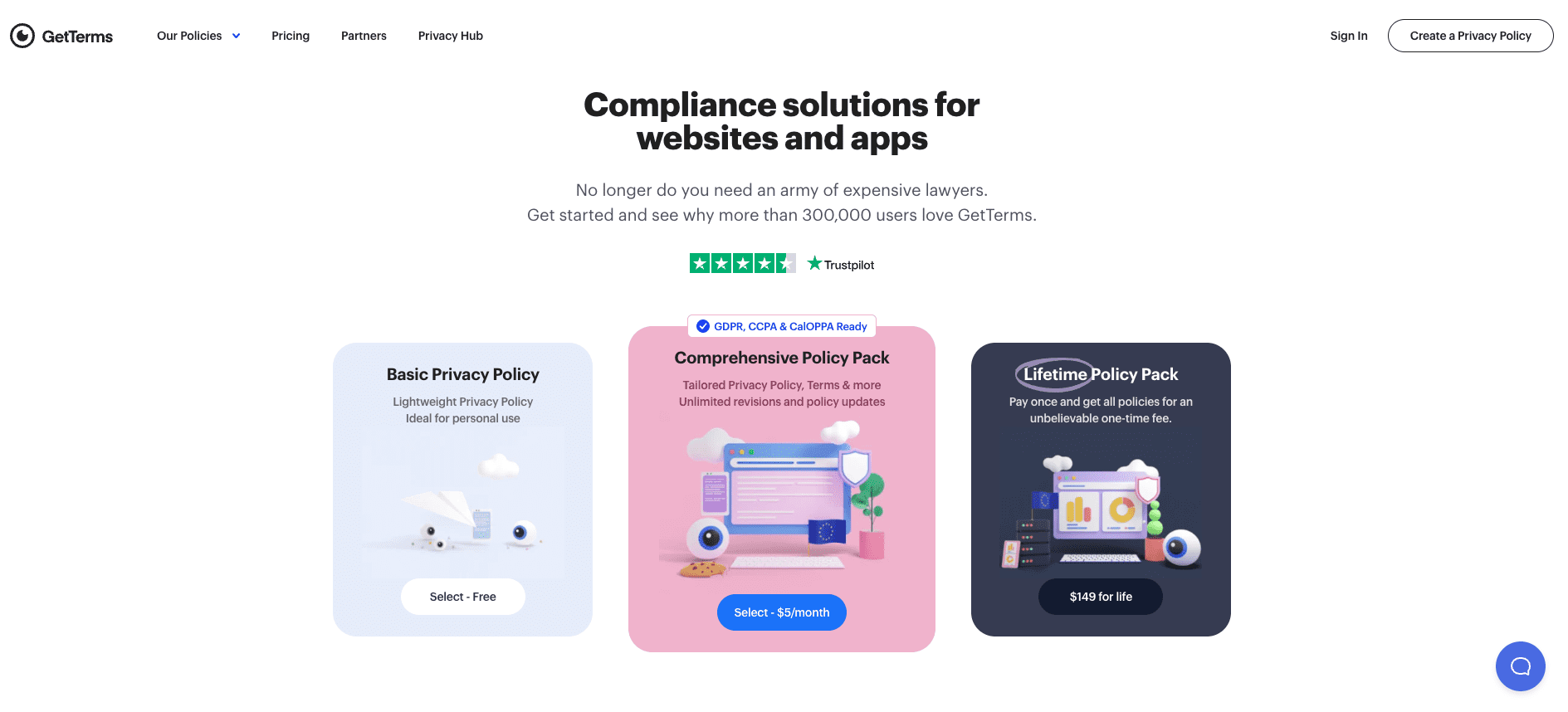 GetTerms specializes in policy generation, including terms of service policies, privacy policies, and cookie policies. The platform, which was established in 2015, also offers policy packs with premium features.
Cost
Choose from three plans available from GetTerms. The basic plan is free and includes a generic privacy policy (but no terms of service policy) in HTML and text formats. For $5 a month, or $149 for a lifetime subscription, GetTerms offers perks like unlimited edits, policy hosting, and tailored policies.
How it works
Using the GetTerms policy generator requires entering your business information and checking a few boxes. You'll have the option to fully configure your policy during your initial account set-up or to come back and make changes in the future. When your policy is ready, copy it to your clipboard and add it to your site.
Pros
Clean interface with easy navigation

Affordable subscription plans

GDPR and CCPA compliance for paid plans
Cons
No free option for terms of service generators

Limited language options
Final thoughts
GetTerms' low monthly cost and lengthy list of policy options help make up for the fact that it doesn't offer a free terms of service option. Business owners in search of a truly free service will have to look elsewhere.
WebsitePolicies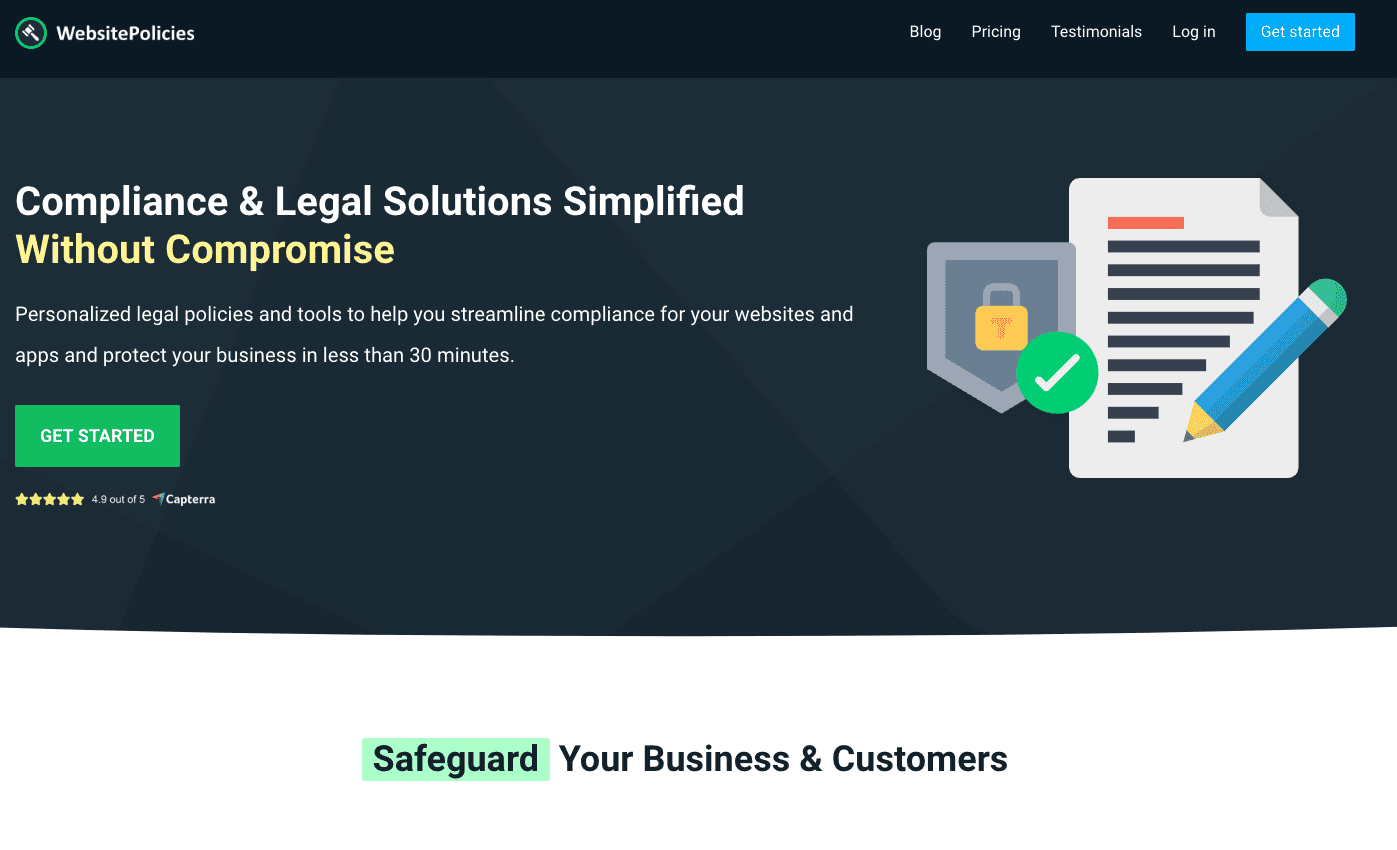 Established in 2015, WebsitePolicies offers a variety of legal documents for businesses, including disclaimers, refund policies, and terms of service policies. With more than 250,000 policies under their belt, WebsitePolicies has a sleek interface that's suitable for both large and small businesses.
Cost
WebsitePolicies has three plan tiers: basic policy, premium policy, and premium bundle. The basic policy is free and includes one basic policy of your choice in multiple downloadable formats. The premium policy is a one-time payment of $29.95 and also offers a single policy but also includes GDPR and CCPA compliance, hosting, and lifetime updates. The premium bundle is $59.95 or $99.95, depending on which policies you select, and offers access to the full library of policies available through the platform.
How it works
The WebsitePolicies conditions agreement generator is built on a detailed questionnaire that hones in on the specific needs of your business, but some customization options are limited to premium users. When the questionnaire is complete, you'll be able to access, further customize, and edit your terms of service policy and copy it to your site.
Pros
Easy-to-follow comprehensive questionnaire

Extensive features for premium users

GDPR and CCPA compliance for premium policies
Cons
Only one free generator

No monthly payment options

Basic policies are not suitable for commercial use
Final thoughts
The premium services available through WebsitePolicies are feature-rich and user-friendly. Businesses that are comfortable making a one-time investment in a policy generator platform will be pleased to discover a range of options, but the basic plan has limitations for small business owners who want to fully personalize a single policy.
PrivacyTerms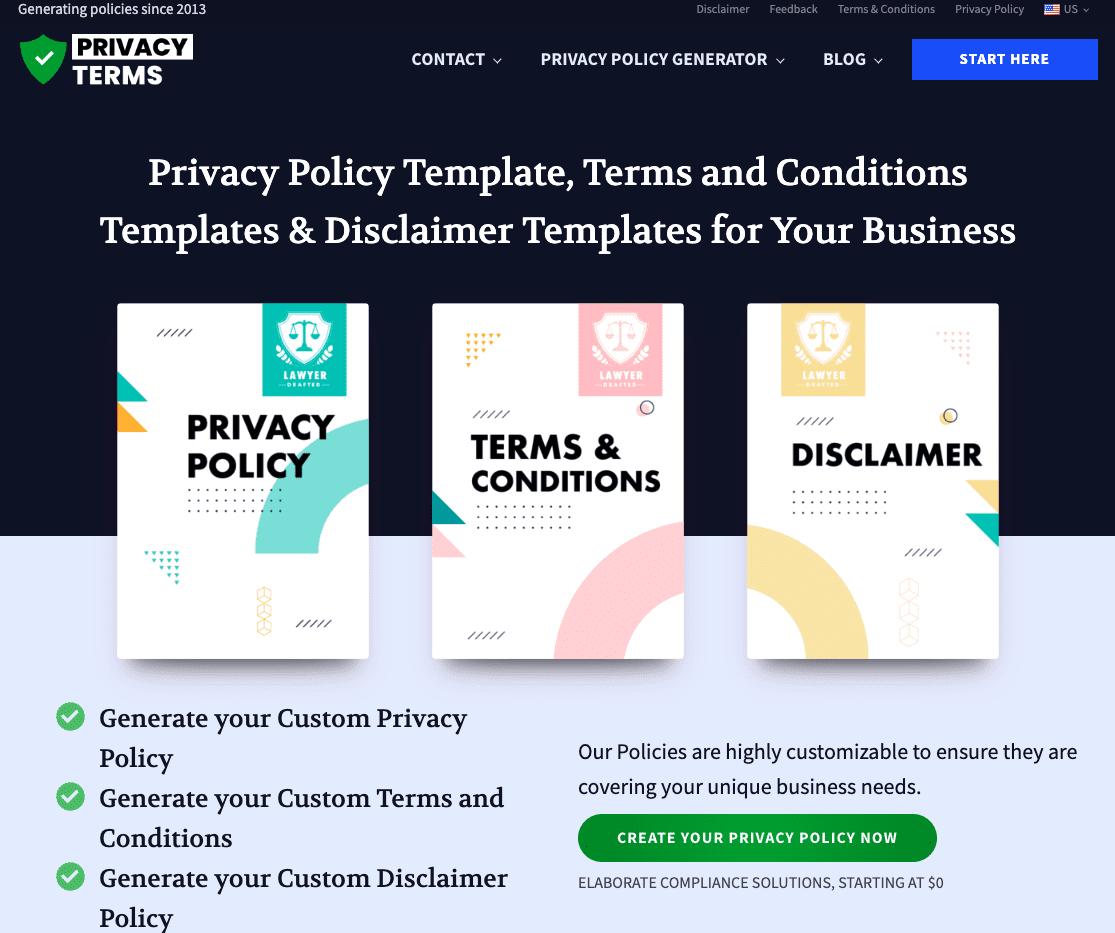 Unlike some of the other services on this list, which offer more wide-ranging products, PrivacyTerms focuses on three items exclusively: privacy policies, terms and conditions policies, and disclaimers. It offers free policy templates as well as a terms generator for users to customize documents to their tastes and business structures.
Cost
PrivacyTerms offers a free plan that allows you to generate a basic terms of service policy and host it with up to 10,000 monthly views. Paid options include a professional package for a one-time payment of $29.95, which features customizable terms, and a privacy policy and terms of service combo for $44.95. The most expensive option, the developer's license, costs $159.95 and includes five separate terms of service policies.
How it works
Creating a terms of service policy through PrivacyTerms takes only a few minutes. Just enter your contact information and select which clauses should be included in your policy. As an added bonus, the free version of PrivacyTerms allows you to create custom terms that will be inserted alongside the preset clauses. When your form is complete, choose to copy the HTML code, rich text, or link to your website.
Pros
Add custom clauses with free plan

Free hosting for all plan levels

Easy-to-navigate questionnaire
Cons
No unlimited form generator options

No monthly subscription options or recurring fees

No language options

They prefer one time payments
Final thoughts
PrivacyTerms' minimalist product line might be too limited for some businesses, but for those who want a policy generator without the bells and whistles, it's an appealing option.
SEQ Legal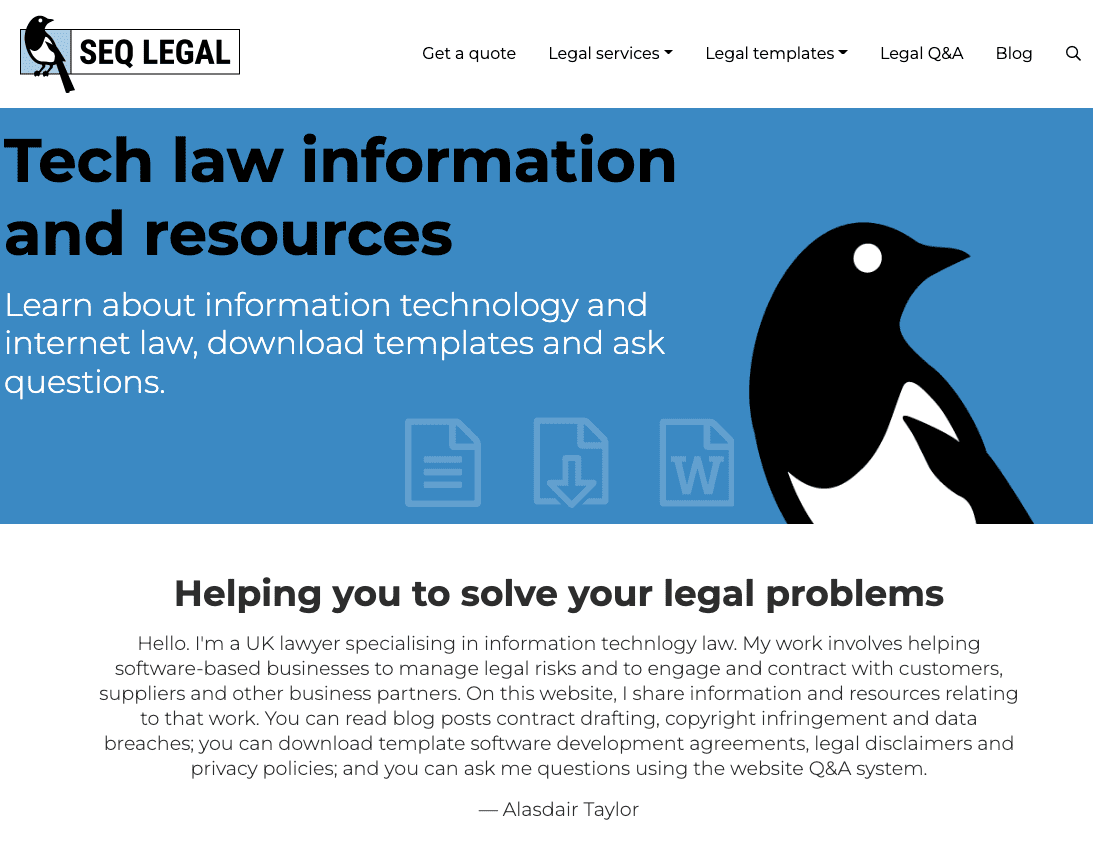 Operated by a UK lawyer who specializes in information technology, SEQ Legal offers tech law information and resources to business owners around the world. As part of those services, SEQ Legal has a library of free terms & templates for legal documents like disclaimers, non-disclosure agreements, and terms of service policies.
Cost
Many of the templates on SEQ Legal are free and can be downloaded with a single click. Users who want to use a template without the attribution text pay a license fee, which varies based on the specific document. Other templates on the site, which are labeled as professional legal documents, require paying a licensing fee.
How it works
SEQ Legal operates more as a template repository than a generator, which means that the process of customizing your terms of service policy will fall on your shoulders. When you find a template that works for you and your business, simply download it as a Word document and make edits as needed. Sign up for the in-house editing platform called Docular to purchase template licenses and make in-line edits.
Pros
Expansive library of templates

Many templates are free

Paid templates are generally inexpensive
Cons
Does not auto-fill any fields with your business information

No advanced features

Requires knowledge of policy structure and content
Final thoughts
Business owners who have experience with terms of service policies and are looking for a basic framework may benefit from SEQ Legal's template library. However, users who are hoping for a more hands-off approach to building their policies will be better served by other options.
Terms and Conditions Generator (Good for Free Terms)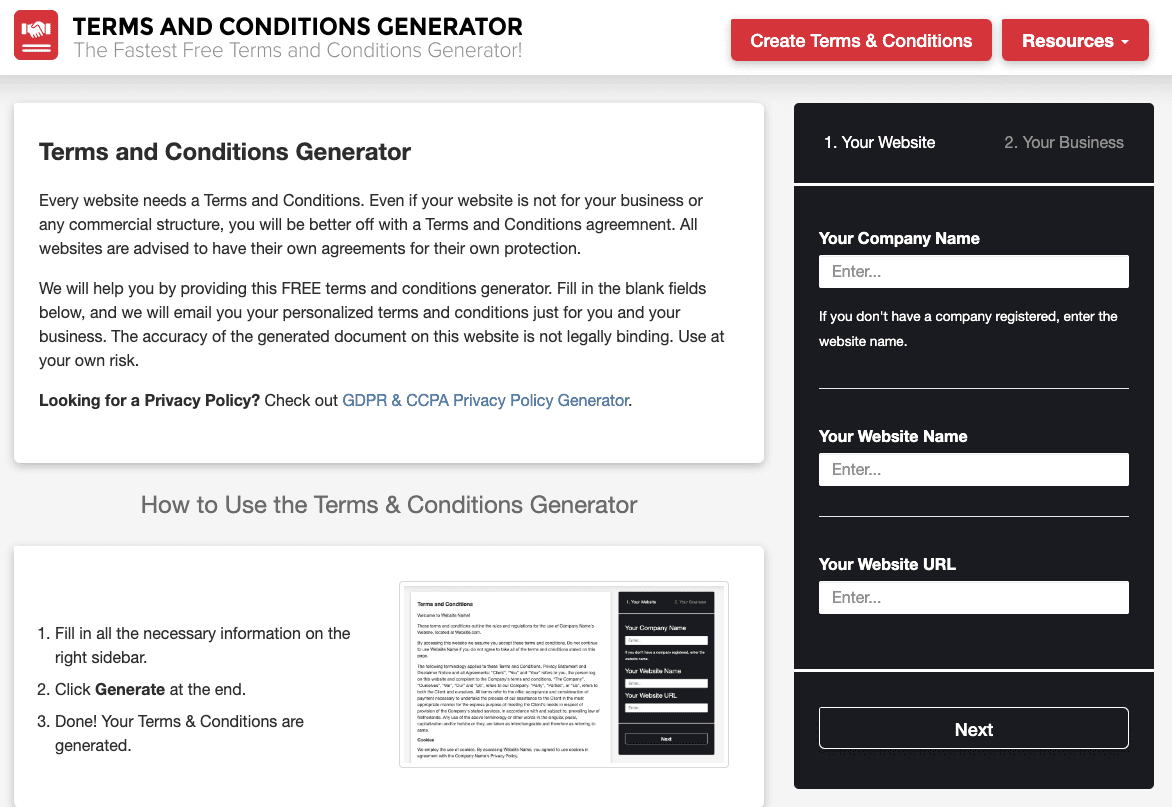 As the name suggests, Terms and Conditions Generator serves the sole purpose of creating terms of services policies for website owners. The site is extremely straightforward, and it takes only a few moments to create a custom policy.
Cost
Terms and Conditions Generator is free and has no paid plans or subscriptions available. You can not only create a basic terms of service policy but also host it at no cost through the site.
How it works
For businesses in a hurry, there's no faster option than Terms and Conditions Generator. On the website, enter basic details like your business name, website, and contact information and click "Generate." Your terms of service policy will immediately appear, along with the option to copy a link that to add to your website, or copy the text of the policy so that you can embed, revise, or further customize it elsewhere.
Pros
Free hosting

Fast and easy

Downloadable text for customization
Cons
No advanced features

No language options

Unclear whether policy is updated automatically
Final thoughts
Terms and Conditions Generator certainly isn't the flashiest option on this list, but it gets the job done for a small or new business that wants to quickly generate a terms of service policy and post it online. The lack of features and fairly generic terms & legal clauses might be a dealbreaker for larger organizations.
Termly

Termly has been in business since 2017, and since then they've established a strong presence in the policy generation space. Alongside its different policy generators, Termly also offers consent management services for businesses.
Cost
The free plan from Termly includes one legal policy and four policy edits, along with other platform features like quarterly cookie scans. For $10 per month (paid on an annual basis), users can create two legal policies with more edits. The best deal for paid users, however, is the $15 monthly plan, which includes unlimited policies and edits.
How it works
Termly's terms of service generator requires you to answer a few simple questions related to your website content and personal information. You also have the option to add custom clauses before finalizing your form. When you're done, click "Publish," and you'll be taken to a dashboard where premium users have the option to add custom themes and remove Termly's branding.
Pros
User-friendly dashboard with access to all Termly's products

Unlimited subscription plan available

Customize free policies with additional clauses
Cons
Only one free policy

No language options
Final thoughts
Termly's terms of service questionnaire is detailed without being overwhelming, and the user dashboard is extremely easy to navigate. Business owners who don't mind paying a monthly fee can easily manage all of their legal policies in a single location.
Conclusion
In conclusion, choosing the best terms of service generator isn't a straightforward task since each business has its own needs and requirements. Broadly speaking, however, your terms and conditions generator should help you protect intellectual property, cater to user-generated content, offer a free plan, cover the needs of different types of businesses including ecommerce stores, and allow you to generate your very own terms.
After reviewing and testing a variety of different terms and conditions generators, we have presented the top 9 options in this post. Each terms and conditions generator allows you to create terms tailormade to your needs and keep you legally compliant across different business jurisdictions.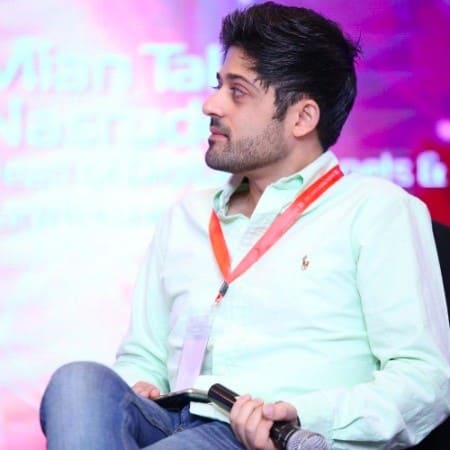 Osman Husain
Osman is the content lead at Enzuzo. He has a background in data privacy management via a two-year role at ExpressVPN and extensive freelance work with cybersecurity and blockchain companies. Osman also holds an MBA from the Toronto Metropolitan University.