Table of Contents
Creating a privacy policy for your website can be a daunting task, especially if you're not a lawyer or have little experience with data protection regulations. This is a legal document that outlines how you collect personal information and must be taken seriously.
That's where privacy policy generators come in. These tools make it easy to create a professional and legally compliant privacy policy in a matter of minutes. Additionally, a privacy policy generator should plug into your content management system for ease of use.
In this blog post, we'll be sharing our top 10 picks for the best privacy policy generators on the market. Whether you're running a small software firm or a large e-commerce store, you'll find a tool on this list that fits your needs. So, let's get started!
What makes a good privacy policy?
Most privacy policies are not fun to read – especially considering they're generally a massive block of legalese. If you want to instill trust, you must make it as clear and easy to read as possible. This means the privacy policy should be written using simple language, and be as user-friendly as possible.
Additionally, your generated privacy policy needs to include the following:
It must accurately reflect your website's data collection and use.
It must inform users of your ability or inability to modify and use their personal information.
It needs to be a clear and direct privacy policy statement.
It must avoid highly technical jargon and legal terminology that isn't easy to comprehend.
It must state if it will be collecting aggregate data or otherwise.
It must detail what security measures are in place to protect user information.
It must state if user information will be shared with other companies or kept in-house.
Moreover, it's often a good idea for a generated privacy policy to include how users can contact the company if they have any questions or concerns.
Things to consider when choosing the best privacy policy generation tool
When it comes to choosing the best privacy policy generation tool, there are a few key things to consider:
Ease of use: Look for a tool that has a simple and straightforward interface, so you can create your privacy policy without any hassle.
Customization options: The best privacy policy generators will allow you to customize your policy to fit the specific needs of your website or business. This might include the ability to add your own sections or clauses, or to choose from a range of pre-written templates.
Legal compliance: It's important to choose a privacy policy generator that produces documents that are legally compliant with data protection regulations like the GDPR or the California Consumer Privacy Act.
Cost: Consider the cost of the privacy policy generator, as well as any additional fees for features or support.
Customer support: If you have any questions or need help creating your privacy policy, it's important to choose a tool that offers good customer support.
By keeping these factors in mind, you can find the privacy policy generator that best meets your needs and helps you create a professional and legally compliant policy for your website.
The best privacy policy generator tools
Let's dive into our list of the best privacy policy generators, including a discussion on features, pricing, pros and cons, and overall thoughts:
Enzuzo allows businesses to create CCPA and GDPR-compliant privacy policies for mobile apps or websites within minutes, absolutely free of charge. All policies are certified and vetted by top-tier lawyers, so you know that you're in good hands.
Users can choose from over 25+ languages, including English, French, German, Italian, EU Portuguese, Brazilian Portuguese, Spanish, Dutch and more.
Unlike other privacy policy generators, Enzuzo does not generate a one-time policy using a template. All policies are live and hosted on Enzuzo, which means the terms of service is kept up-to-date as legal regulations change.
Each legal policy can be customized to your brand and visual guidelines, making it more accessible for your customers.
Enzuzo is also compliant with Wix, Shopify, Squarespace, and a number of other major platforms which makes it very easy to set up and get started. And when you're looking to upgrade to a paid plan, Enzuzo is also much more affordable than many alternatives without compromising on quality.
Another key feature that sets Enzuzo apart from the rest is its built-in request form. It's one of the few solutions that allows customers to make data deletion requests right from the privacy policy itself, without having to fill out cumbersome tasks. Priority customer support is available on all tiers, including the free plan, with a real human on hand to help you get set up.
Pros
Available in more than 25 languages including Italian, Dutch, German, Spanish, and French.
Automatic updates to keep companies compliant and law-abiding.
Customizable with CSS elements to suit any website or mobile app.
Trusted by over 10,000 businesses.
Friendly customer support
Frequent updates to products with value-added features.
Cons
Not as well known as the other big brand privacy policy generators.
Overall Thoughts
Enzuzo has some of the best features of any data privacy solution, including privacy policies, terms of service, EULA, DSARs, and more. Its privacy policy generator is 100% free and includes things like custom style elements, customer support, GDPR compliance, and much more. Enzuzo is scalable to your needs and ideal for businesses of all sizes that have varying needs. That's why it is our #1 choice.

2. Shopify Privacy Policy Generator

Shopify's Privacy Policy Generator is free and you don't need a paid Shopify plan to sign up. And since it's offered by Shopify, one of the biggest tech companies in the world, you can rest assured that the privacy policy is backed and validated by professionals. However, the privacy policy is a pre-filled template that's semi-customizable to your needs. It certainly does not come with all the bells and whistles like Enzuzo, such as custom style elements, priority customer support, and automatic updates.
Pros
Easy to use and sign up.
Backed by Shopify
Multiple privacy policy statements can be generated.
Cons
No automatic compliance updates to generated privacy policies.
Mostly suitable for eCommerce.
The operating system is cloud-based.
Overall thoughts
The Shopify Privacy Policy Generator is a good option, given that it's offered by one of the most recognizable brand names in tech. It's also easy to set up, given that all you need to do is answer a few simple questions and the resulting policy will land in your inbox.
The downside is that the privacy policy does not appear to update automatically based on laws and is primarily geared toward eCommerce firms. So if you're in SaaS, mobile apps, or another business, this privacy policy generator may not work for you.
3. Cookie Yes
Cookie Yes is primarily a cookie consent solution, but it does offer a free privacy policy generator too. We recommend this tool because of its ease of use, cost, and seamless user experience.
The downside of Cookie Yes is that it doesn't host the generated policy — it allows you to download the template, but you have to do the heavy lifting of embedding it on your site.
The downside of Cookie Yes is that there isn't any customer support or automatic updates as per policy and regulatory changes, so the onus is on you to stay compliant.
Pros
Easy to use and navigate, especially for copy-paste privacy policy needs.
There isn't a limit to the number of sites you can cover.
Multiple privacy policy statements can be generated for free.
Cons
No automatic compliance updates to generated privacy policies.
Privacy policies are not its main feature.
Overall Thoughts
Cookie Yes is perfect for people who want to a quick, templated solution. It won't support enterprise needs but will get the job done for a small to medium-sized business.
4. Legal Templates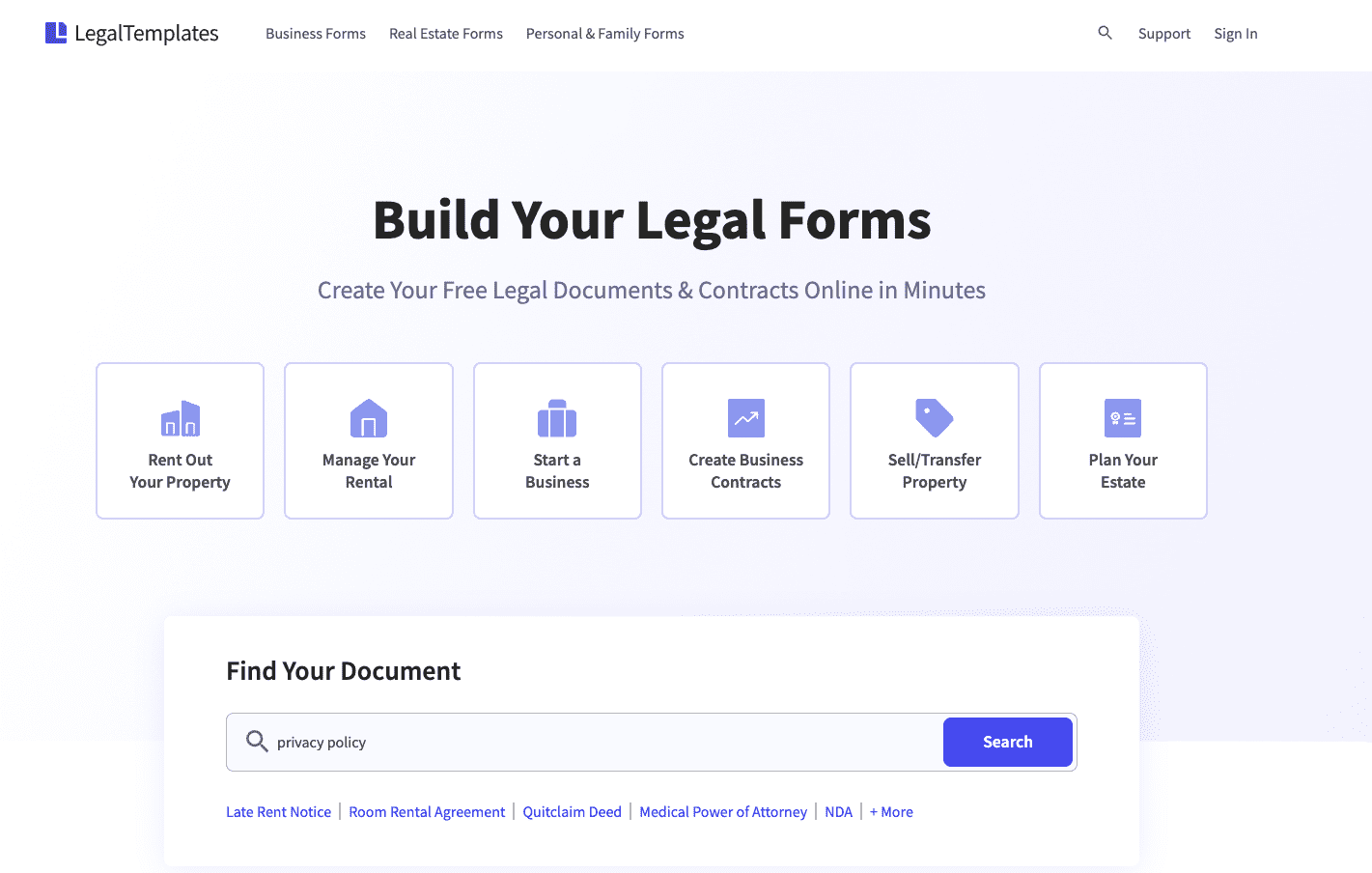 Legal Templates snags a place on our list as it is a well-known free option to generate privacy policies. As the name suggests, the site offers a number of templates for personal and business use, including articles of incorporation, lease agreements, and more.
Pros
Easy-to-use and download.
Vetted by lawyers.
Many options to choose from.
Cons
No automatic updates to privacy policies.
Template-based, so you cannot tweak to your brand requirements.
Unclear whether the templates are tailor-made for different regions.
Overall thoughts
Legal Templates is free, which means it's a good option for cash-strapped businesses looking for a quick solution. However, the offer seems to be a cookie-cutter solution that's not customized for your business. Since a software company will have different requirements than an eCommerce firm, you might want to take a closer look. Nonetheless, it's an option that can definitely work for the right user.
5. Privacy Policies
Privacy Policies allows you to generate multiple policies, based on whether you run a mobile app, SaaS, or website. We like this platform because it's easy to use, customizable, and laser-focused on this niche. Privacy Policies helps you generate return & refund policies, EULAs, cookie policies, and more, too if that's what you need.
Pros
Expertise with GDPR & CCPA.
Relevant privacy policies.
Paid tier has many options to choose from.
Cons
No hosted option in free plan.
Cannot download as HTML.
Paid plans are expensive.
Overall thoughts
Privacy Policies is a great option and highly customizable, too. Its policies are vetted by lawyers, so you can rest assured that your compliance needs are covered. We also like that there's specific terminology for GDPR, CCPA, and more data privacy laws. However, Privacy Policies is not cheap — the paid plans start at $14/month which is definitely on the higher side.
6. FormSwift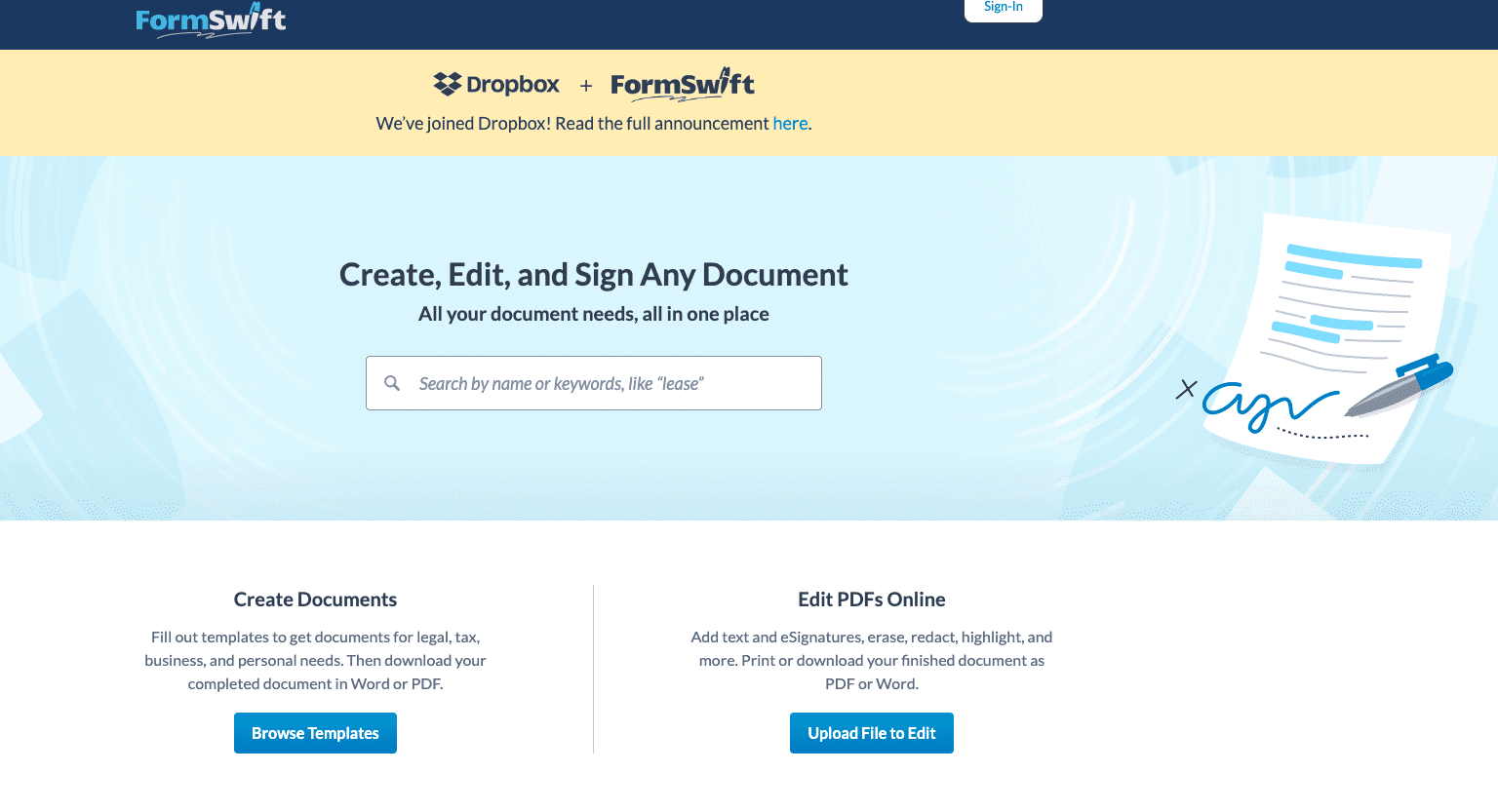 FormSwift falls into the same category as Legal Templates — there's a bunch of options that cover the gamut of business needs. From website privacy policy forms to real estate forms, the site offers almost anything you can think of. That's ideal if you need a quick solution for your firm without diving into anything too complex.
Pros
Option for a one-time payment.
Many policies to choose from.
Quick to get onboarded
Cons
No automatic updates.
Unsuited for complex needs.
Not highly relevant for SaaS and mobile app companies.
Overall thoughts
We like FormSwift for its ease of use and quick onboarding. That it supports other legal policy templates is a nice touch, too. However, it's not an ideal choice for firms looking to scale up or those that have customers in places around the world. You might have to do a lot of the heavy lifting yourself in that case.
7. GetTerms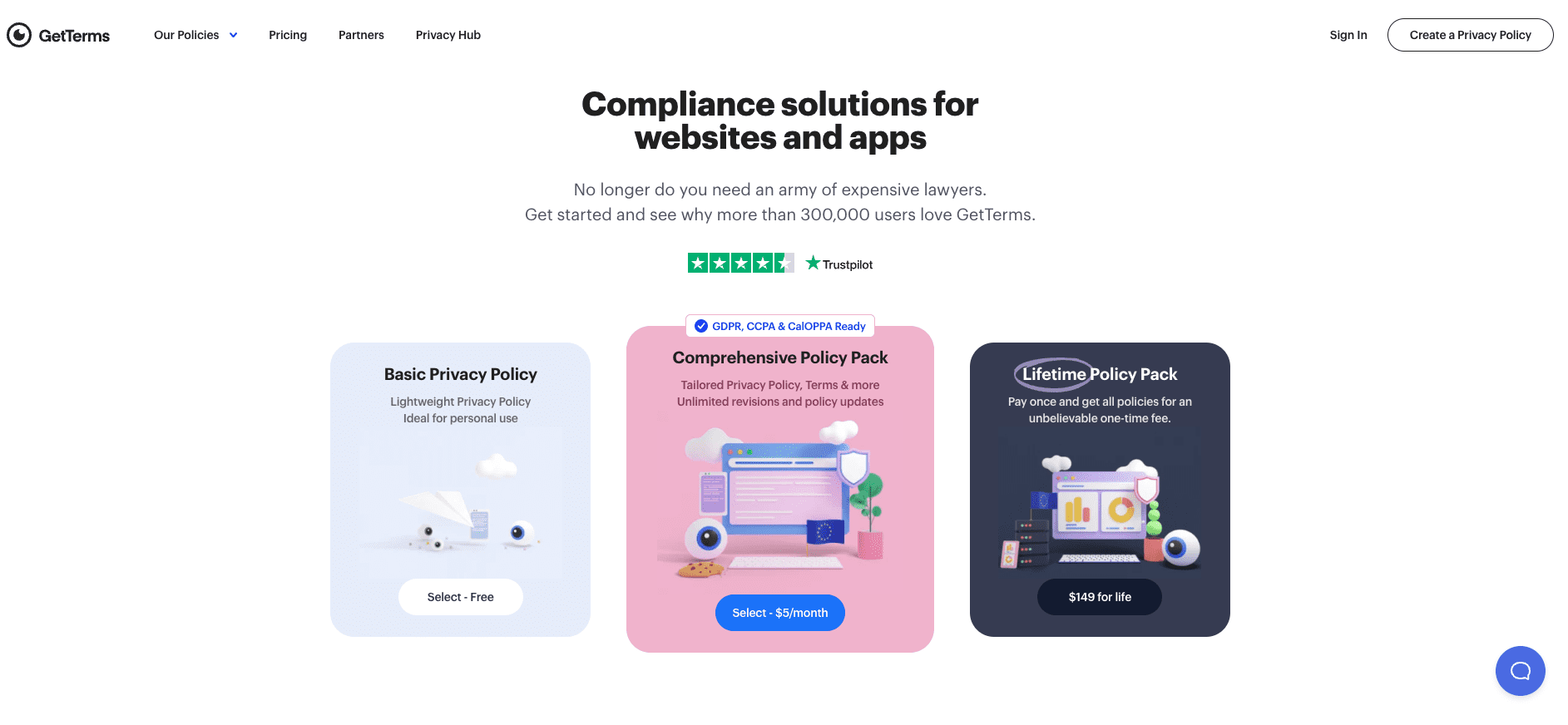 GetTerms only offers the basics, but it does that well. You won't find complex documents like DSAR forms or EULAs, but you can make use of simple privacy policies, cookie policies, and terms of service requests. So while it doesn't ship with many bells and whistles, it will get the job done for basic needs.
Pros
Seamless user experience.
Wide variety of policies to choose from
Quick to get onboarded
Cons
No automatic updates on free plan.
Suitable only for small businesses.
No complex features included.


Overall thoughts
GetTerms has friendly UX and quick onboarding. However, it doesn't support more complex needs such as DSARs and cookie consent managers, which might be offputting to some users. Nonetheless, it's not a bad option for those with smaller needs.
8. WP Legal Pages

WP Legal Pages is a plugin for WordPress sites that helps you generate a privacy policy as well as other forms like cookie policies, terms of service agreements, and more. However, as the name suggests it's only meant for use on WordPress sites which means other CMS platforms are not supported.
Pros
Excellent for blogs and content sites.
Single click install for Wordpress.
Many legal policies included.
Cons
No automatic updates.
Unsuited for platforms like Hubspot and Webflow.
Won't meet enterprise needs.
Overall thoughts
WP Legal Pages is great for WordPress managers and web masters. It doesn't support other platforms and is also unsuited for enterprise needs. However, if you're running content sites or affiliate marketing sites, it will get the job done.
9. TermsFeed
TermsFeed is a popular choice as a privacy policy generator as well as other needs like terms and conditions, return and refund policies, end-user license agreements, and legal disclaimers.
While TermsFeed does offer support for laws like CCPA, COPPA, CalOPPA, and GDPR, those are only available at an extra fee. It does not offer those in the free version. All paid plans are a one-time fee, which means the policy does not automatically update to take into account new provisions to the law.
Pros
Wide range of privacy policy templates for all types of businesses.
Unlimited revisions to a privacy policy once generated on the site.
Users are only charged for generating in-depth privacy policies.
Cons
It can be expensive depending on what services are needed.
Not as user-friendly as the competition.
Policies do not automatically update
Overall Thoughts
TermsFeed is best suited for apps, websites, eCommerce stores, SaaS apps, and Facebook apps because of its unique pricing and wide assortment of services that includes a privacy policy generator. However, its limited functionality means it is not suited for enterprise and scale-up companies.
10. iubenda
Iubenda doesn't have the best user experience, but it's still a popular tool. The privacy policy generator gets the job done without any major hiccups.
While it does offer a free plan under the basic license, the functionality is very confusing and the team makes it very hard to operate. You have to upgrade to a paid plan in order to access features that exist on other solutions.
However, iubenda does include support for specific services like Facebook, Cookies, Google Ads, and mailing lists. We also like that all solutions offered by Iubenda are vetted by lawyers and follow strict internal protocols.
Pricing
Iubenda has odd pricing that can be confusing. They are also somewhat more expensive than other options on the market. See below to learn more about which pricing plans you can choose for your site.
| | | |
| --- | --- | --- |
| Personal Plan | Business Plan | Business Plus Plan |
| $29 | $10 | $24 |
Pros
GDPR compliance.
Automatic privacy policy updates when the laws change.
Cons
Limited basic plan.
More expensive than competitors.
Complicated payment plan arrangements.
Overall Thoughts
Iubenda is ideally suited for eCommerce store owners, website managers, and small businesses. However, its confusing pricing and basic functionality in the free plan are bound to frustrate some users.
Privacy Policy Generator FAQs
How do I create a privacy policy?
Creating a privacy policy is a relatively straightforward task with Enzuzo. Just navigate over to our privacy policy generator, where we'll ask you a few questions about your business, location, and legal jurisdiction. After that, we'll generate a GDPR-compliant privacy policy that's customized to your business and updates automatically in accordance with relevant laws.
Is it okay to copy a privacy policy from another website?
We do not recommend copying a privacy policy from your competitors or another website in the same niche. Every business is different and requires a custom privacy policy of its own. We strongly recommend that you take the time to generate a privacy policy that's applicable to your business.
Can I use a privacy policy generator?
Absolutely! The best privacy policy generators, like Enzuzo, use a combination of machine learning and expert guidance from vetted lawyers to create relevant and legally-compliant privacy policies. There's no harm in relying on them to generate a privacy policy for your business.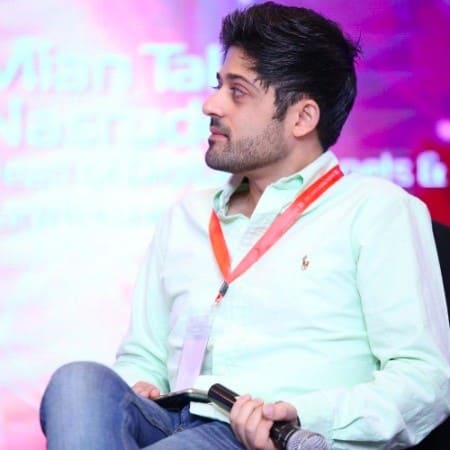 Osman Husain
Osman is the content lead at Enzuzo. He has a background in data privacy management via a two-year role at ExpressVPN and extensive freelance work with cybersecurity and blockchain companies. Osman also holds an MBA from the Toronto Metropolitan University.