Table of Contents
End User License Agreements (EULAs) are crucial for businesses and software developers to protect their intellectual property. With the proliferation of online software and services, creating a EULA can be a complex and time-consuming task. This is where EULA generators come in, providing a quick and easy solution to generate professional and legally-compliant EULAs.
In this blog, we've done the heavy lifting by reviewing and ranking the best EULA generators. Each app is evaluated on features, pricing, and user-friendliness to provide you with a comprehensive overview of the best options available.
Whether a business owner or a software developer, this blog will help you find the best EULA generator to meet your needs.
Criteria to Choose the Best EULA Generators
We go into this in a lot more detail toward the end of the article, but the condensed version is that our ranking criteria is:
Ease of use

Vetted by lawers

Compliance

Updates automatically

Customizable for your business

Offers value for money
Our List of The Best EULA Generators
Our list considers all the factors listed above to help you choose a generator that's the best fit for your business. Let's dive in: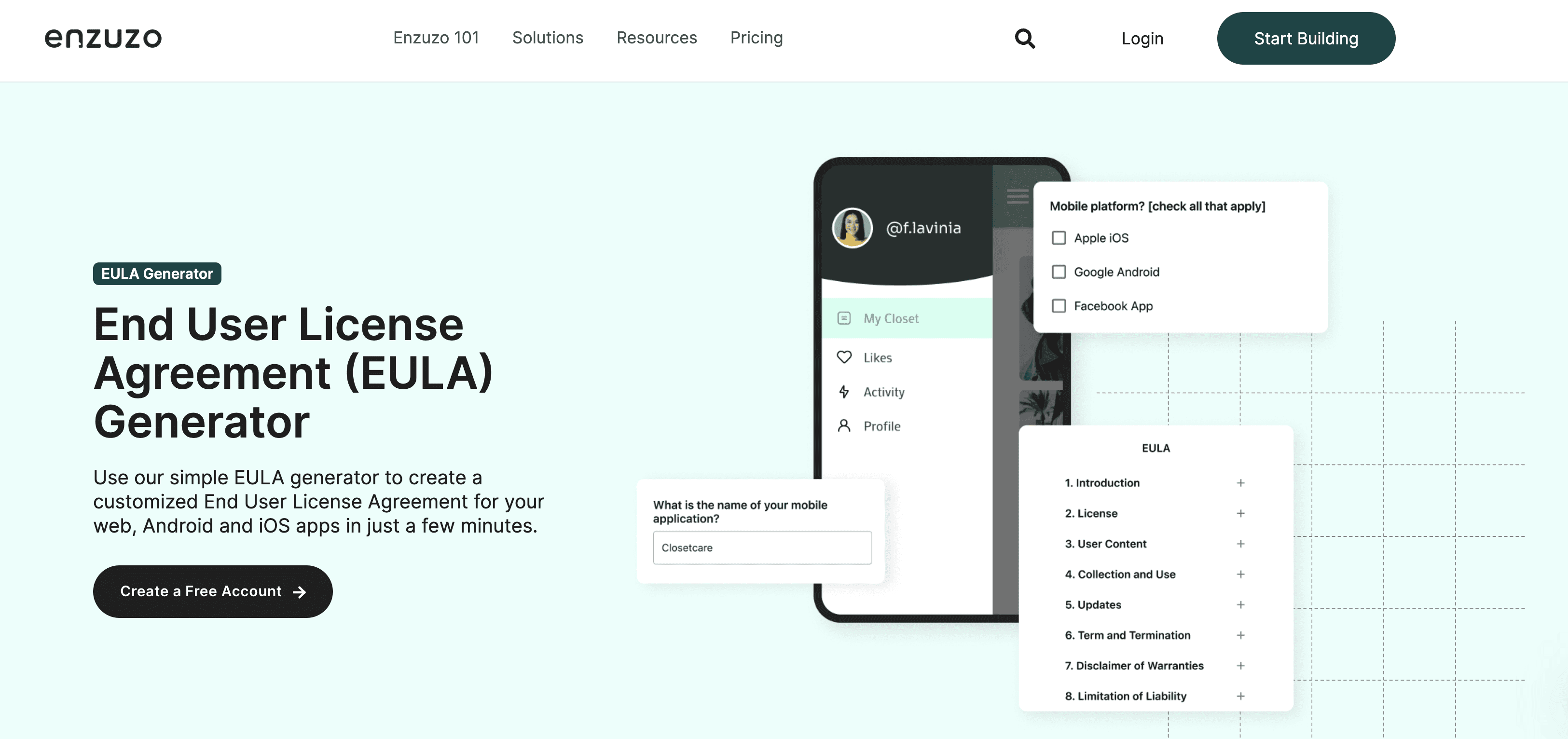 Enzuzo is a data privacy platform with lots of customizable options, including legal agreements, custom EULA agreements for mobile apps, a licensing agreement for software, and more.
The company is based in Ontario, Canada, and is trusted by more than 10,000 businesses to generate things like user agreements, liability disclaimers, privacy policies, copyright infringement regulations, and more.
During our review, we analyzed the features that make a great EULA generator. Enzuzo's EULA met or exceeded standards for each of those factors and stood out as a solid option for any business.
Enzuzo is Easy to Use
Of all the generators we tested in our review, Enzuzo's end user license agreement generator was the easiest to use. The features and tools are user-friendly even with minimal technological experience. This generator does the hard work for you, the processes are simple, and managing your EULA is made easy. The features are intuitive and the software guides you through the process of creating a customized end user license agreement.
What we like is that Enzuzo can generate your EULA policy in 3 easy steps:
Complete a Guided Setup: The questionnaire walks you through the setup process. Answers to simple questions help you generate a robust agreement through the easy-to-use software.

Publish to the App or Website: Enzuzo makes it easy to add a EULA to your app, website, or platform in minutes.

Manage Updates and Policies: Enzuzo manages all of your legal policies, including the EULA, in one simple dashboard.
It's Vetted by a Team of Lawyers
The framework for Enzuzo's end user license agreement generator is developed by lawyers. This is not a one-size-fits-all template created by non-legal professionals. It is fully tailored to your needs and ensures compliance with legal requirements. The quality of the product demonstrates the great detail and attention Enzuzo's legal team has poured into it.
All of Enzuzo's legal policies, including the EULA, are drafted by attorneys, providing you with the peace of mind that comes with knowing your policy is well-written and compliant.
Enzuzo Ensures Compliance
Enzuzo has created a comprehensive end user license agreement app to ensure full compliance at all times. The EULA generator is fully customized to eliminate compliance risks with features such as the following:
Limitation of liability

Apple App Store or Google Play Store information

Link to Privacy Policy

License information

Data deletion request (DSAR) management

Returns and refund policy
These built-in features help ensure your EULAs are always compliant in the ever-shifting landscape of privacy laws.
It Offers Automatic Updates
Enzuzo is dedicated to keeping your end user license agreement up to date and compliant with the changing privacy landscape. Each generated EULA is hosted on the cloud, meaning you don't have to bother with manual updates. Enzuzo helps you maintain control, stay compliant, and prevent users from violating the terms of service.
Overall Thoughts on Enzuzo
Enzuzo's software is simple to use and highly effective. It's vetted by lawyers, offers automatic updates, and helps you build high-quality legal documents without an expensively assembled team.
With multiple embed options, customization, and automatic updates, you are always in control of your agreements. And the cherry on top is that it is budget-friendly with several pricing options and supports multiple languages for companies that operate globally.

2. Termify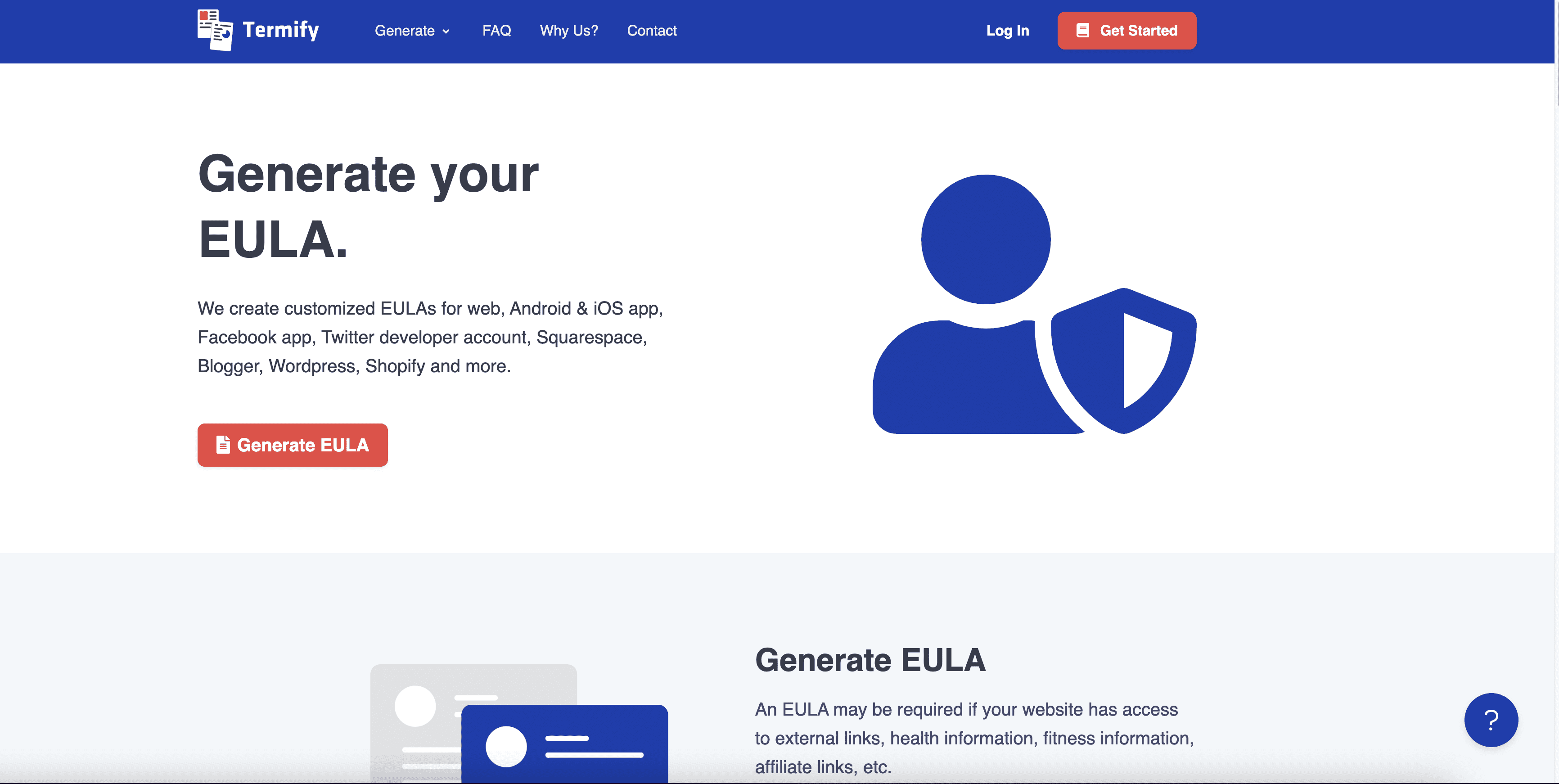 Termify is another option for EULA generation. The software can help you create a legally binding agreement for your business, website, or app, and allows a certain level of customization. Termify has a free EULA option, but paid upgrades kick in pretty quickly, especially if you need some custom work.
Termify includes a step-by-step process to generate the EULA, including answering questions about your business functions and structure. It allows users to download the legal agreement in PDF, plain text, DOCX, or HTML code format.
Pros of the Termify EULA Generator:
Flexible options for generating the end user license agreement

Step-by-step process that asks specific questions about your business

Permits downloads in various formats

Free updates within the app

Centralized location for multiple types of privacy policies
Cons of the Termify EULA Generator:
The app charges for certain conditions in the EULA

Website is less user-friendly than other options
Overall Thoughts
The Termify end user license agreement generator is capable and offers a good set of tools. It helps walk you through the process and creates a simple EULA you can use for your business. It is a little less intuitive than other options but provides tools to help generate a basic EULA.
3. LawDepot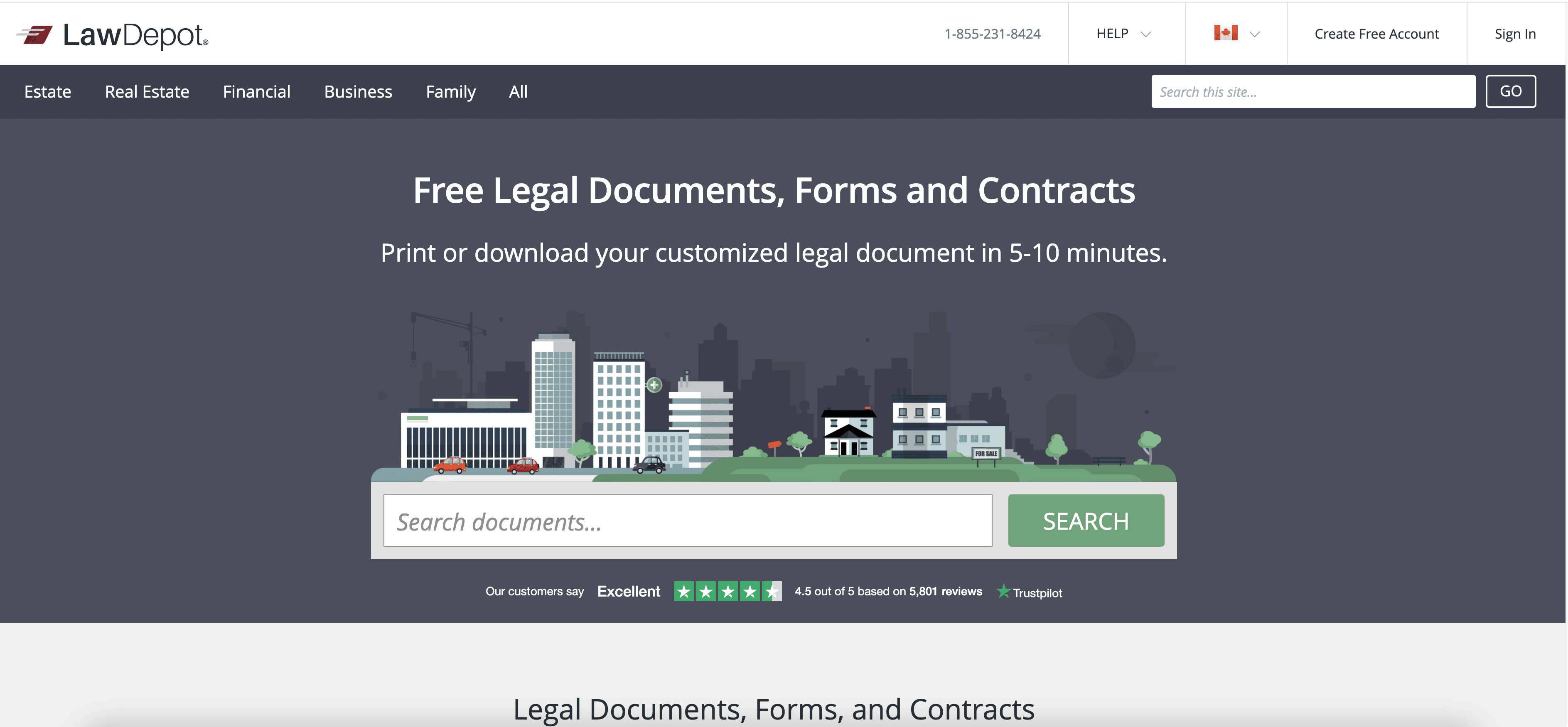 The LawDepot end user license agreement generator makes our list but it is a fairly expensive option. The upside is that there are significant customization options to help build the contract you need for your business that other software may not be able to match.
LawDepot focuses on many types of services and online document creation. It offers a variety of packages with different pricing, but most require a monthly subscription to use the service. The company's step-by-step question process can help you create an agreement customized to your needs.
Pros of the LawDepot EULA Generator:
The generator is customizable with lots of options

Highly detailed information is requested in the step-by-step process

Quick process to create your document
Cons of the LawDepot EULA Generator:
A more expensive option than many others

Requires a monthly fee without warning until after you have completed the questions

Lack of legal information due to very basic Law Library and FAQs

Does not state whether their documents are reviewed by lawyers for accuracy
Overall Thoughts
The LawDepot EULA generator is a pricier option than most, but generally produces good-quality end user license agreements. It is customizable to fit your needs and relatively simple to use. The monthly fee may be concerning for some, and the lack of confirmation regarding whether the documents are reviewed by attorneys is questionable.
4. Terms and Conditions Generator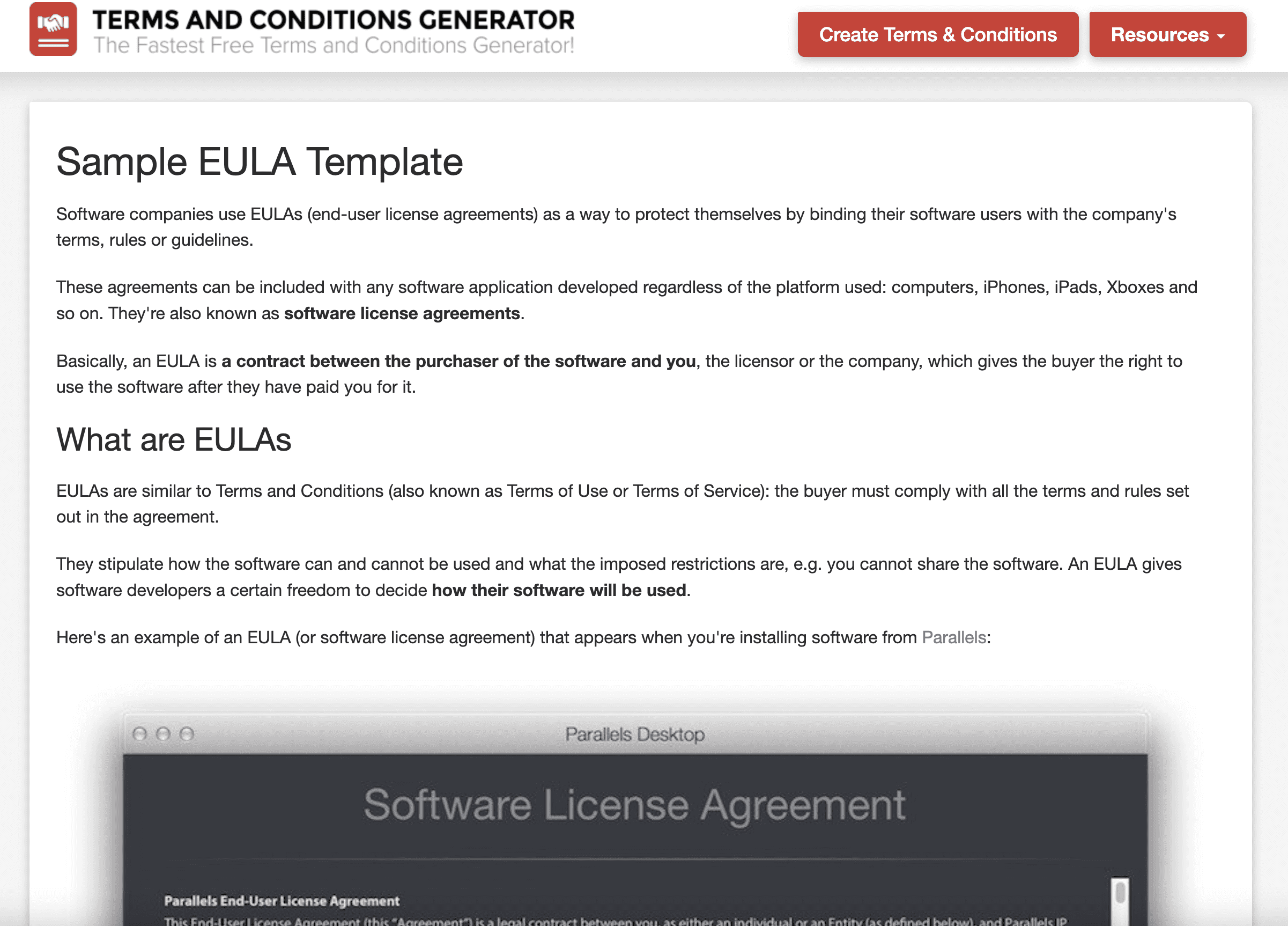 The Terms and Conditions Generator EULA is another online option we reviewed. The company provides a free EULA template to show you what one would look like. This option is designed more for those who want a quick option you can download and use, but do not require customization.
The website provides information about what a EULA is but fails to offer much information about its own generator or the quality of its EULAs.
Pros of the Terms and Conditions Generator EULA Generator:
Simple and easy to use

Provides basic information about what a EULA is

Simple click-through implementation
Cons of the Terms and Conditions Generator EULA Generator:
Provides little guidance on which tools are available

Offers little customization compared to other options
Overall Thoughts
The Terms and Conditions Generator EULA offers little customization but may be appropriate for certain limited circumstances. Most companies would prefer a more robust product that better protects them from potential legal issues.
5. Zappter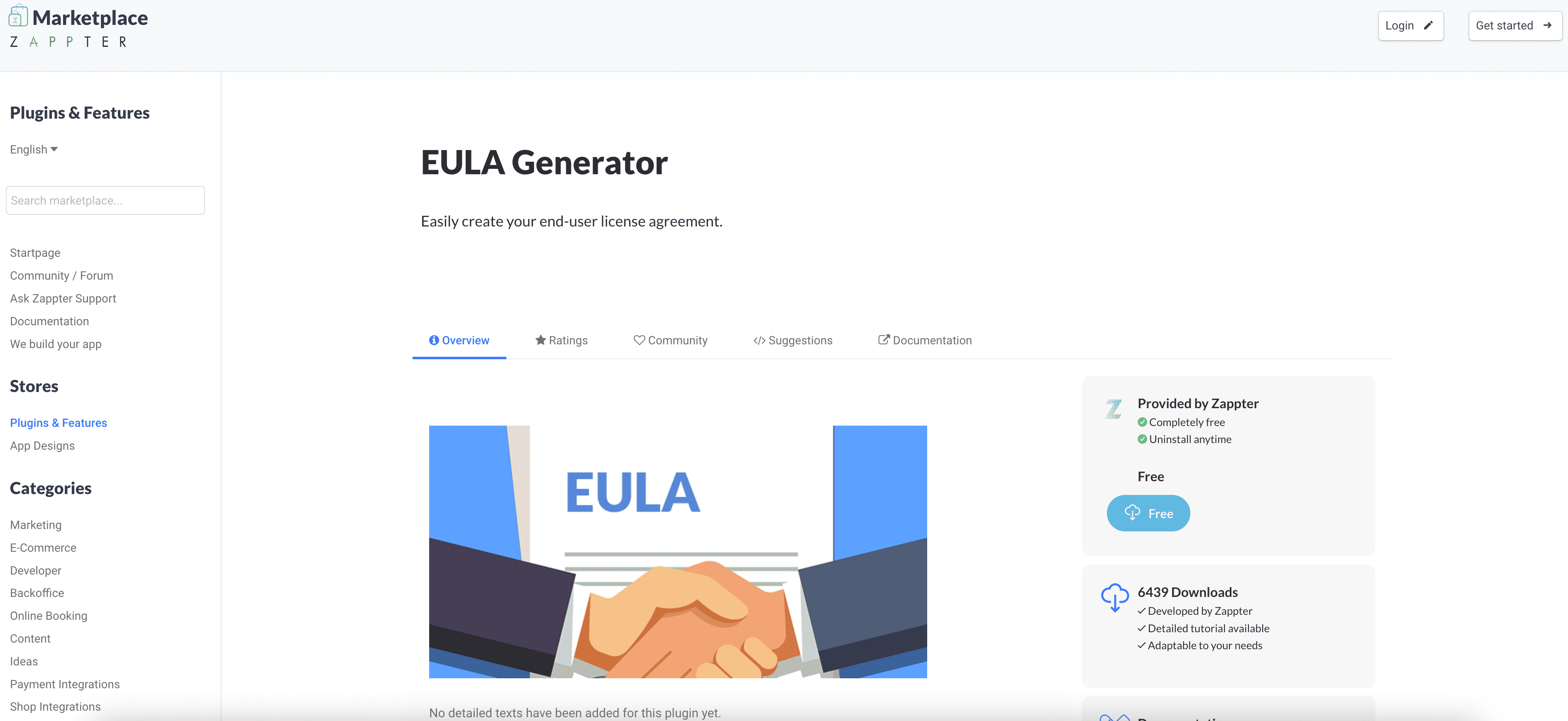 The Zappter EULA generator is a basic, free option that you can uninstall anytime. The webpage for the EULA generator offers little information for users to know what they are getting. It offers some basic features but fewer customizable options than other EULA generators.
Pros of the Zappter EULA Generator:
Free generator

Uninstall the software anytime

Offers some customization options for businesses

Tutorial available
Cons of the Zappter EULA Generator:
No explanation of the product features on the website

Lacks customization options

No mention of automatic updates or compliance updates

Does not state whether the generator is reviewed by attorneys
Overall Thoughts
The Zappter EULA generator appears to offer some basic tools, but not much else. The website itself has little information about the generator which may raise concerns when considering whether to use this particular generator.
6. FreePrivacyPolicy (Best Free Option)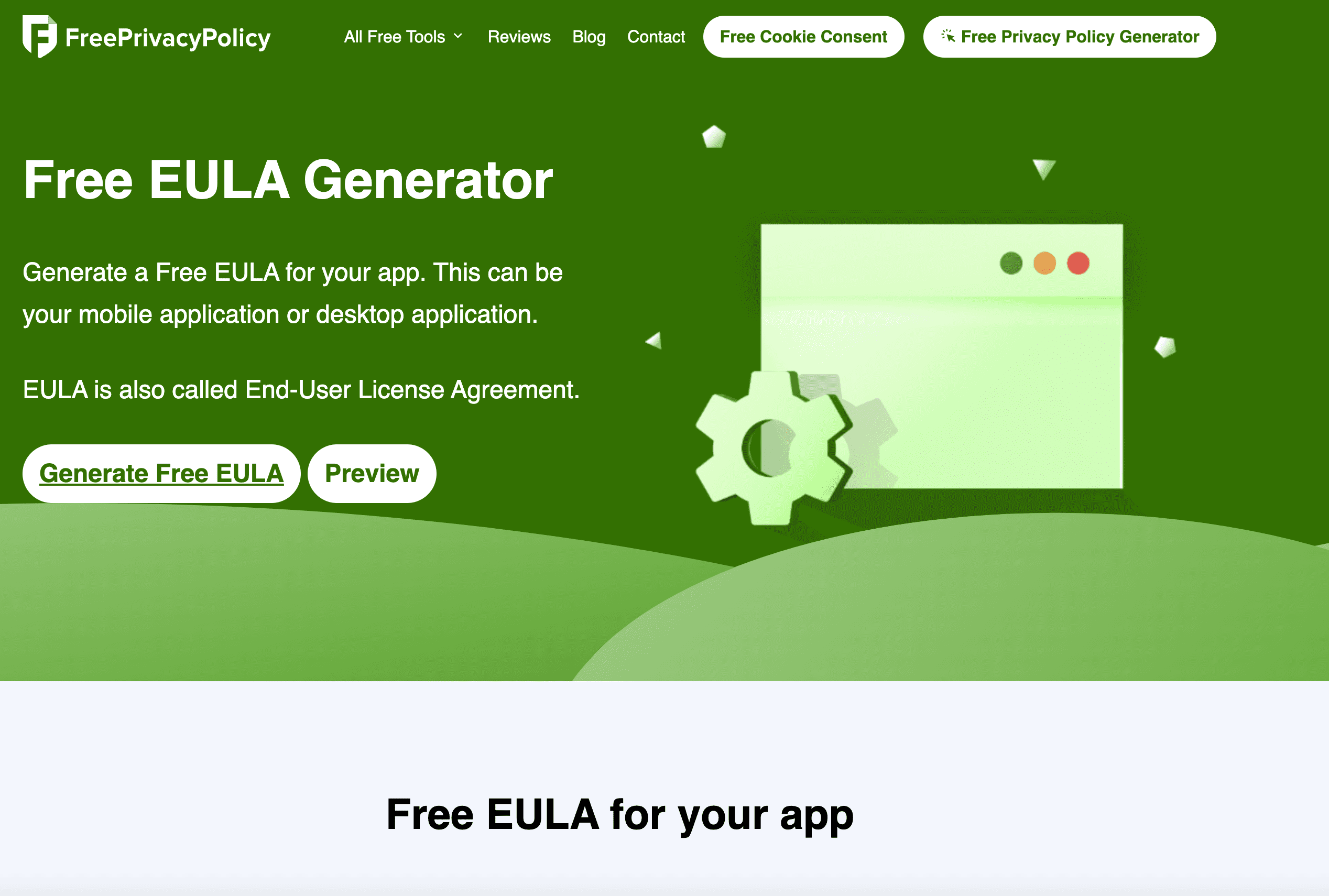 The FreePrivacyPolicy EULA generator is another free option to create an end user license agreement for your business. It can be added to your desktop or mobile application to create these agreements. It also offers other privacy policy options to help your business maintain privacy and legal compliance.
Pros of the FreePrivacyPolicy EULA Generator:
The company's website describes the generator in detail

It offers a free version of the EULA generator

Mentions compliance with the Apple App Store

Provides step-by-step guidance through the process
Cons of the FreePrivacyPolicy EULA Generator:
Does not mention whether attorneys review their documents

Less user-friendly than other EULA generators

Lacks mention of automatic updates for software or compliance
Overall Thoughts
The FreePrivacyPolicy EULA generator offers a quick way to create a customized EULA for your needs. However, it lacks many of the features of more effective EULA generators.


Ranking Criteria When Choosing an End User License Agreement Generator
As discussed earlier, your EULA generator must be easy to use, comply with applicable laws, and protect your intellectual property. Let's discuss these in more detail:
Ease of Use
Some EULA generators are easier to use than others. Some generators do not flow well and make it difficult to make necessary changes to your documents. If navigating the software causes a struggle, it is not the right option for your business. The generator should make your life easier and integrate into your business seamlessly, allowing you to focus on revenue-generating activities instead.
It is important to select a tool that provides what your business needs while making your life easier. You should not have to spend much time creating your agreement — the generator should largely do it for you.
Vetted by Lawyers
A EULA generator creates legally binding documents that are intended to protect your company's intellectual property. If they are drafted improperly, they may not protect that intellectual property at all. Improperly drafted agreements could expose your company to liability in certain circumstances. It is important to ensure your end user license agreement generator works properly to create legally binding and enforceable contracts.
The EULA generator you pick should be vetted by lawyers. This evaluation process puts the product in front of attorneys to analyze the agreements from the generator. They carefully consider whether the agreements are enforceable, accurate, and comply with applicable law. Too many EULA generators are not properly vetted, and many are not vetted at all, which could put your business at risk.
Ensures Compliance
Your EULA generator should automatically ensure compliance. Laws change constantly, especially when dealing with software and the internet. Your company needs a EULA generator that can keep pace with these changes. Otherwise, you could find out too late that your agreements no longer satisfy applicable law and are unenforceable. As privacy laws continue to evolve, you need a company that ensures compliance.
Compliance is a significant issue for many businesses and adds significant cost to creating these agreements. When your generator does this for you, you save on these in-house costs and can rest assured your agreements are updated to conform to existing law. You can be confident that your intellectual property is protected and your contracts are enforceable.
Automatic Updates
Your EULA generator should receive automatic updates. These updates include changes to ensure compliance, as discussed immediately above. You should not have to pay attention to these changes and wonder if your EULA generator is keeping pace.
Automatic updates apply to other aspects as well. As technology progresses, your software should continue to improve itself. This is the mark of a good company that cares about the products they generate. Choose a generator that provides automatic updates to continuously improve its capabilities.
Customizable for Your Business
The software you pick should be customizable to fit your business needs and workflows. You can select options that best suit your business's unique structure, governing law and intellectual property rights that need protecting.
This customization should also be easy to do. It should not require you to have an IT background to be effective. A well-designed EULA generator makes it easy for you to create agreements specific to your unique needs.

EULA FAQs
What is a EULA?
An end user license agreement (EULA) is a contract that outlines how a customer may use a business's intellectual property. While this can apply to many situations, it is especially common when using software. A EULA often appears when a customer downloads an app, game, or software that requires them to agree to a specific set of terms.
How does a EULA help a business?
While most customers simply click through EULAs without reading them, business owners know that this is an important legal document that prevents intellectual property theft and misuse. EULAs govern what a customer can or cannot do with the software.
What's the best EULA generator for mobile apps and websites?
Our #1 pick for the best EULA generator is Enzuzo, given its ease of use, fair pricing, and customizability. However, it's important that you make an informed decision according to your needs.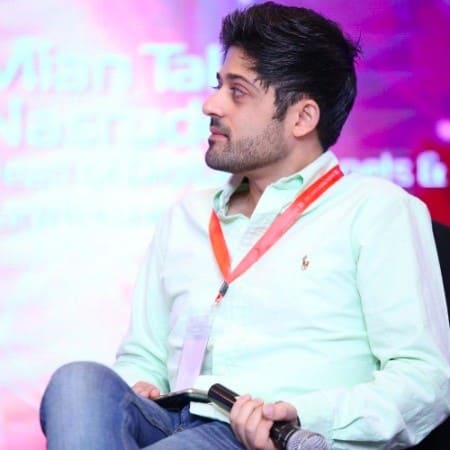 Osman Husain
Osman is the content lead at Enzuzo. He has a background in data privacy management via a two-year role at ExpressVPN and extensive freelance work with cybersecurity and blockchain companies. Osman also holds an MBA from the Toronto Metropolitan University.