Table of Contents
TrustArc Alternatives
TrustArc helps businesses manage and maintain compliance with data protection laws, and includes features like consent management, DSARs, cookie compliance, and more.
But some complaints about TrustArc include multiple bugs in the product, subpar customer support, and a frustrating experience on mobile. We detail our top nine choices below if you're looking for a reliable TrustArc alternative.
This list of TrustArc competitors includes companies that offer comparable data privacy products but at a better price point or feature set. A detailed list of our criteria is outlined at the end of the article.
Our List of the Best TrustArc Alternatives
Let's dive deeper and evaluate the features, price, usability, onboarding processes, and more for the best TrustArc alternatives.
1. Enzuzo (Our Top Choice)
Enzuzo offers a comprehensive data privacy tool suite that simplifies compliance with regulations like GDPR, PIPEDA, CCPA, Quebec Law 25, and more. It caters to a wide range of businesses, from beginner to advanced needs and everything in between.
Let's show you why it's our top TrustArc alternative.
Features
TrustArc's core features revolve around consent & preference management, cookie compliance, and data subject access requests.
Enzuzo delivers on all fronts, with a world-class consent management tool that can unlock the following capabilities:
Integrations with Google Consent Mode and Google Tag Manager
Unlimited pageviews and website scans
Consent logs & dashboards
Sub-domain consent management
Cross domain consent
Multi-domain management
Auto-translation of cookie banner in 25 languages
Custom CSS and prebuilt templates
Enzuzo's DSAR workflow is also included in the Growth plan and above, enabling businesses to comply with the GDPR 'Right to be Forgotten', CCPA's data deletion requests, and similar provisions in Quebec Law 25.
Businesses looking for enterprise solutions such as privacy impact assessments, data mapping, data governance, and more are offered an ala carte service, with white glove onboarding and custom privacy workflows.
Price
Some TrustArc customers believe the platform can be pricey for what it offers.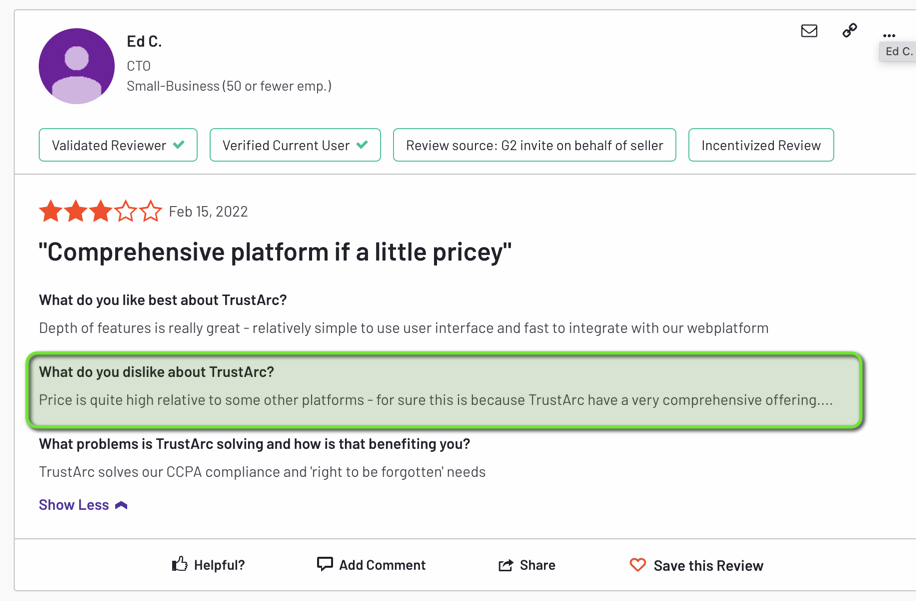 On the other hand, Enzuzo is priced at a discount to competing solutions in the data privacy space. Moreover, all plans are month-to-month and don't require long-term contracts, unlike TrustArc. For example, a full-fledged cookie consent manager is available in Enzuzo's Growth plan for only $29/month, with the flexibility to cancel whenever you want.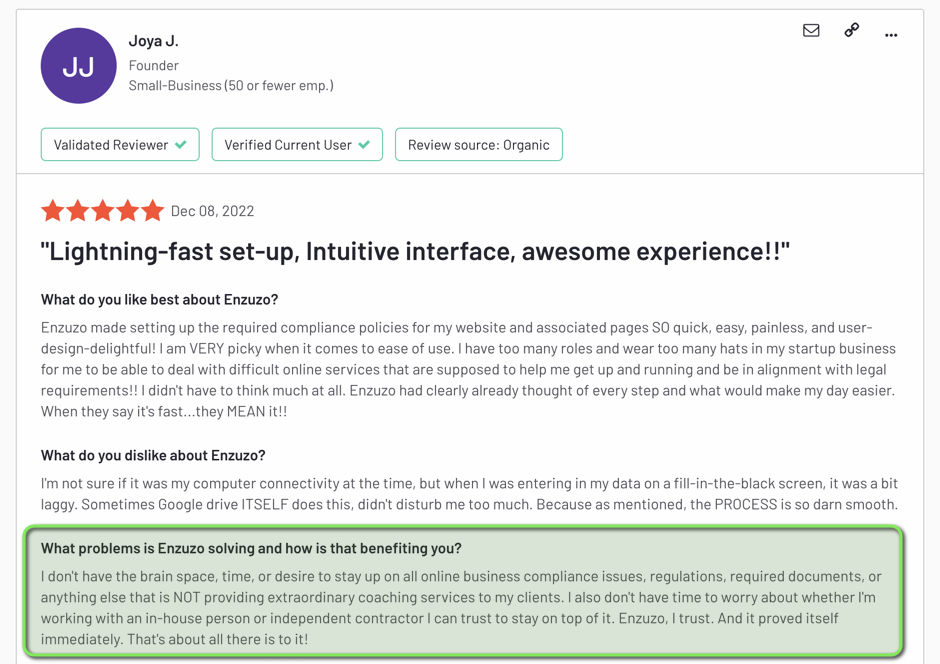 UX & Onboarding
Plenty of TrustArc's reviews point to a frustrating and confusing user experience.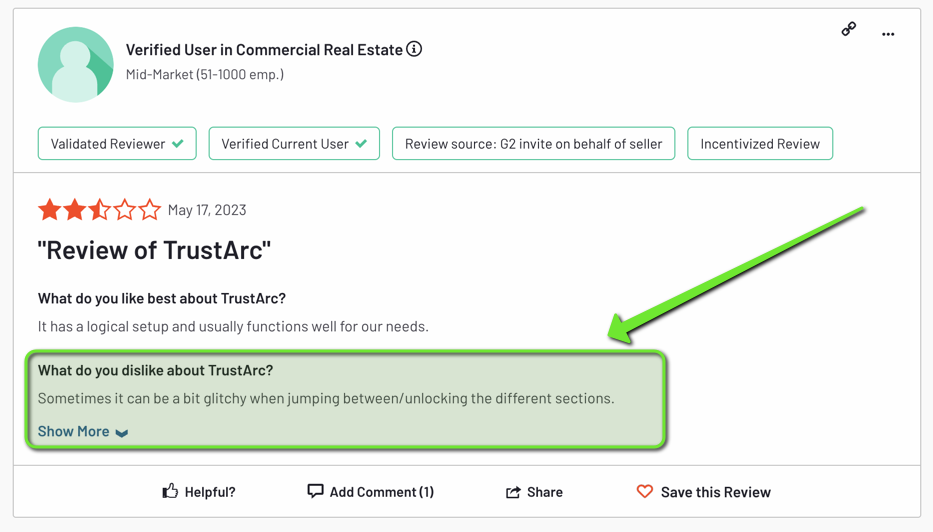 Many satisfied Enzuzo users talk about how easy it is for users to get onboarded and how intuitive the platform is for newcomers to compliance.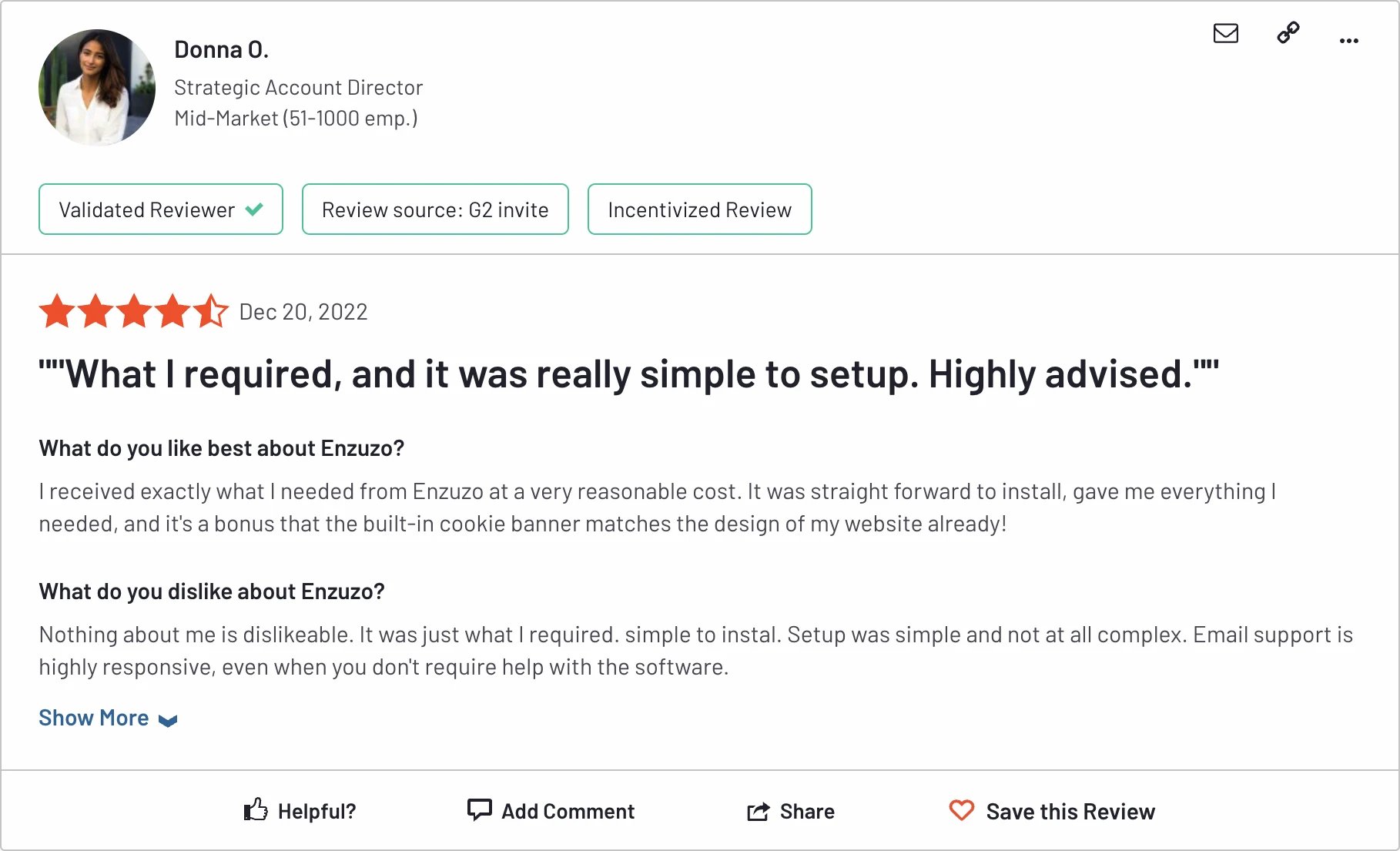 Customer Support
Customer support is critical in any software environment, as cloud solutions can go offline due to bugs, and businesses expect clear and timely communication. Additionally, some customers may require onboarding assistance via customer success reps — which is particularly important in sensitive industries like data privacy.
Enzuzo's reviews point to timely and seamless customer support when tasked with solving any issues.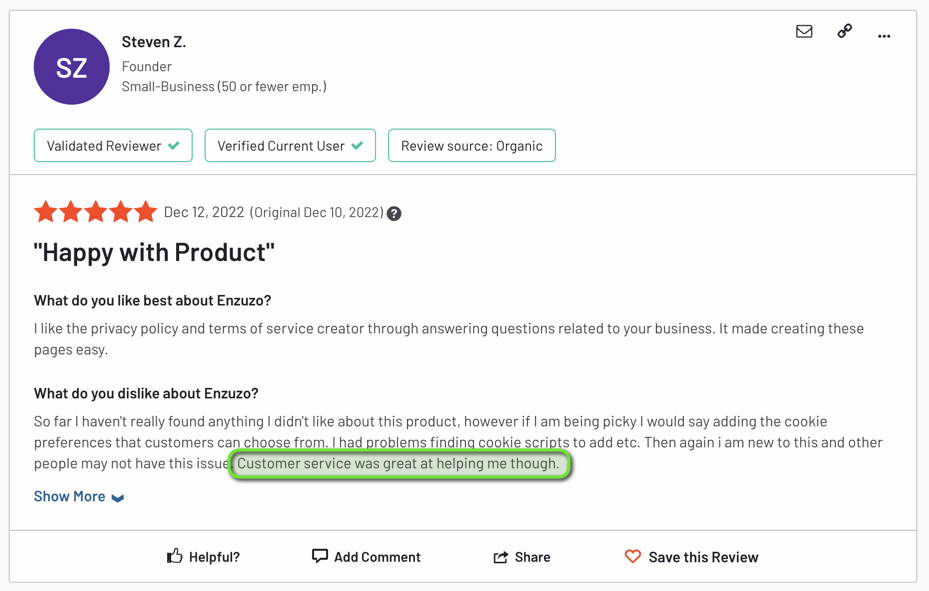 Trusted by International Companies to Power Data Privacy
Enzuzo was recently chosen as the data privacy partner of Lucy Group — an international electric business that employs over 1,600 people across 5 continents and 12 countries, following a competitive bidding process.
Enzuzo is also the data privacy partner of the Power Corporation of Canada, a globally recognized management and holding company specializing in financial services across North America, Europe, and Asia.
Both organizations depend on Enzuzo for critical data privacy compliance — and it can certainly solve similar challenges for businesses with a global footprint.
Overall Thoughts
Enzuzo offers free onboarding, doesn't lock you into long-term contracts, and provides priority customer support. It's designed to simplify compliance with GDPR, PIPEDA, CCPA, and other data privacy laws out of the box.
🏆 Recommended TrustArc Alternative: Enzuzo ✅
Learn more about how Enzuzo can assist with your compliance needs. Book 1-1 time with Mate Prgin, CEO👇

2. Data Sentinel
Data Sentinel emphasizes immediate detection of potential breaches and a transparent pricing model as its top selling points. As a result, Data Sentinel offers businesses the quick, consistent security they demand in an ever-evolving digital space.
Top Features
Data Sentinel's data privacy solutions hinge on automation and machine learning and the platform's automated data mapping tool helps businesses maximize return on investment.Data Sentinel also provides complete data inventory capabilities for a full picture of company assets. This makes it ideal for risk management, audits, and overall compliance.
Pros
Data Sentinel's automation makes it a perfect match for businesses that want to automate more data compliance functions.
Real-time monitoring: Offers real-time data monitoring so businesses can swiftly identify potential breaches.
Transparent pricing: Allows clear and upfront pricing for easy budgeting.
Automated data mapping: Makes it easy to assess data privacy impact, sensitive data management, data migration, and governance.
Data profiling: Generates a full data asset catalogue for cloud migrations and audits.
Cons
Data Sentinel's onboarding process and overall automation controls can be more complex than some businesses would like. This means more time spent up front to configure settings and get familiar with the platform.
Complexity for beginners: Some users might find the platform initially overwhelming.
Onboarding process: Could be more intuitive, especially for non-tech-savvy users.
Overall Thoughts
Data Sentinel is a strong choice for businesses needing real-time data monitoring and increased automation. However, there is a bit of a learning curve meaning users must invest time familiarizing themselves with the platform.
3. Mine
Mine attempts to redefine how businesses approach data privacy and usage insights with a well-rounded product and a powerful analytics suite.
Top Features
Mine's Digital Footprint Assistant gives users a snapshot of their online presence and data points. Automated data retrieval simplifies fetching data across multiple platforms and reduces manual effort. The platform's data insights offer a deep dive into how personal data is used to ensure transparency and build trust with users.
Pros
Mine supports integrations that help facilitate access and deletion requests. Everything you'd expect, like secure communication, customizable privacy webforms, and cross-channel data requests, is supported.
Robust analytics: Provides businesses with in-depth insights into data usage.
Efficiency: Increases user satisfaction because it handles tasks quickly and efficiently.
Enhanced data coverage: Identifies authoritative systems to provide full data systems coverage.
Cons
Customers say Mine has more glitches out of the box than they'd like, which leads many to look elsewhere for a reliable TrustArc alternative.
Occasional Glitches: Some users have reported minor technical hiccups.
Customer Support: While the platform is efficient, responsiveness from customer support could be better.
Pricing transparency: Mine's pricing around different services is not clear.
Complex UI: Some reviews point to how Mine's UI is below expectations.


Overall Thoughts
Mine is a competent tool for data management for businesses that want in-depth analytics. That said, top-tier customer service comes at a price. Mine's base plan promises a response within forty-eight hours, but you need to upgrade your plan to get a response within a few hours.
4. Securiti
Securiti harnesses the power of AI and positions itself as a futuristic data privacy solution for businesses. It offers a blend of efficiency and compliance, with automation at its core and a comprehensive understanding of global regulations.
Securiti's Consent Management Platform automates obtaining and managing user consent so businesses remain compliant. Its data discovery tool scans various data sources to identify and manage personal data.
The platform also offers a unique Chatbot feature that helps users access and manage their data.
Top Features
One of Securiti's standout features is its PrivacyOps, which integrates data privacy operations seamlessly into daily business tasks. The platform touts personal data graphing that visually represents data relationships and flows. Their AI-driven data discovery also allows businesses to locate and categorize personal data across various sources.
Pros
AI coupled with increased integration helps some businesses stay compliant, and Securiti even offers a testable version of its platform for businesses still on the fence about a TrustArc alternative.
Comprehensive AI-driven solution: Securiti.Ai uses AI to automate many data privacy tasks, reduce manual effort, and increase accuracy.
Support for Global Regulations: It robustly supports GDPR, CCPA, and other major regulations.
Freemium model: It offers a free trial version that allows businesses to test the platform's capabilities.
Cons
Businesses with a taste of the AI-driven data compliance services that Securiti offers may feel bait-and-switch regarding prices for premium features.
Complexity: Some users might find it overwhelming initially due to its extensive features.
Non-free pricing model: While they offer a free version, the premium features can be pricier for smaller businesses.


Overall Thoughts
Securiti is an AI-driven, comprehensive tool for businesses serious about data privacy. However, smaller businesses might need to evaluate whether the premium features justify the cost.
5. Ketch
Ketch is a reliable navigator in the vast sea of data privacy. The platform prioritizes real-time data orchestration and integration flexibility to make sure businesses always operate with accurate and up-to-date data insights.
Top Features
Ketch distinguishes itself with its omnichannel data mapping and discovery. This helps customers gather data from various sources, online or offline, and seamlessly integrate.
Ketch's data encryption ensures that personal data is anonymized to provide an extra layer of security. The platform's data compliance hub also keeps businesses updated on any potential compliance drifts so they remain within regulatory bounds.
Pros
Ketch focuses on data management and privacy compliance from multiple angles to support responsible data control from end to end across the data lifecycle.
Real-time data management: Ketch provides real-time data orchestration for up-to-date information.
Flexibility: It's designed to be platform-agnostic and allow integration with various data sources.
Transparent pricing: Pricing is upfront without any hidden add-ons or surprise service fees.
Data audits: These identify data expiration and facilitate proper data disposal.
Template customization: Customizable cookie and disclosure templates
Cons
Ketch limits some software environments so businesses can apply just one domain per tier within the integration process—development, staging, and production. This, coupled with a steep learning curve, makes it hard for some businesses to choose Ketch as a TrustArc alternative.
Learning curve: Some users might need time to familiarize themselves with the platform.
Integration issues: While it's designed to be flexible, some users have reported integration challenges with specific tools.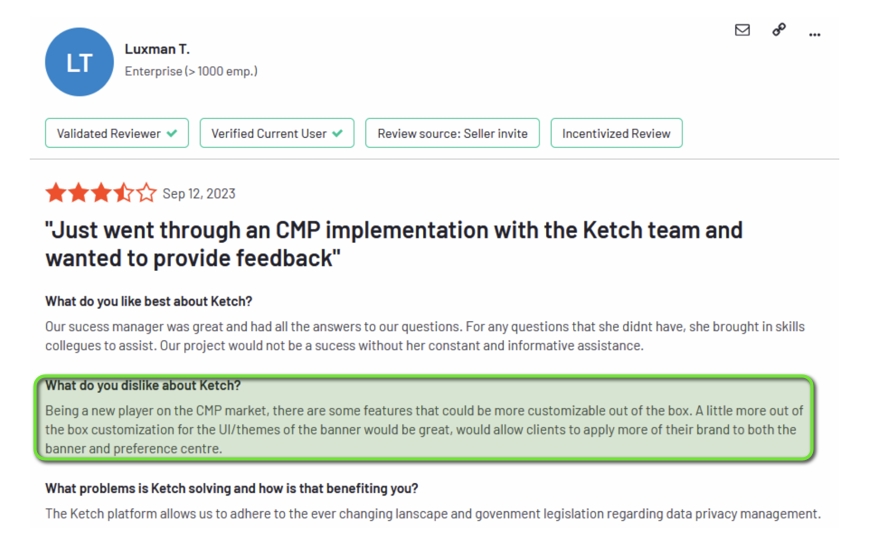 Overall Thoughts
Ketch is suitable for businesses looking for real-time data management and flexibility. However, there is an onboarding and implementation period y might need time setting up and understanding the platform. The back end isn't the most user friendly, and unique naming conventions make it easy for users to make mistakes.
6. Osano
Osano offers an intuitive data privacy experience that's suited for mid-market companies. It's not the cheapest TrustArc solution out there, but it does offer a risk-free guarantee on its enterprise plans.
Top Features
Osano's Cookie Consent management is our favourite feature. It ships with a range of capabilities, including geo-blocking, custom branding, analytics, and more. Osano also includes other data privacy tools such as vendor risk management, DSARs, record of processing activities, and more.
Pros
Osano is more user-friendly than TrustArc, making it a good fit for businesses looking to migrate away. We also like the following aspects of its product:
Consent management: Osano specializes in consent management, cookie discovery and blocking, and iFrame control, all so businesses remain compliant with user consents.
Cookie management: Their cookie consent feature is easy to set up and complies with global regulations.
Dashboard: The dashboard is user-friendly and provides insights at a glance.
Cons
Osano's product only starts to shine in its most expensive plan, which starts at $549/month. All other plans have limits on website traffic, domains, users, and essential features like cross-domain consent, DSARs, and legal policies. .
Limited advanced features: While great for consent and cookie management, it might not have the extensive features some competitors have. You'll need to pay for top-tier plans to unlock more beneficial features.
Pricing: Some users find the pricing steep for the features offered.


Overall Thoughts
Osano is a solid choice for businesses primarily focused on consent and cookie management, but some plans may leave businesses shortchanged. Those looking for advanced features might need to look elsewhere.
7. OneTrust
OneTrust is undoubtedly one of the leaders in the data privacy industry and offers cutting-edge tools that set the industry standard.
Top Features
OneTrust is a comprehensive tool that aids in everything from data assessments to program management. Their Vendorpedia feature is a unique third-party risk exchange that offers insights into vendor risks and evaluations. The platform also boasts a Targeted Data Discovery tool that pinpoints specific data types across vast data landscapes for more accurate data handling and compliance.
Pros
OneTrust sits atop the data compliance ladder with industry leaders like TrustArc. With that kind of superiority comes a wide range of features that offer comprehensive solutions.
Holistic platform: OneTrust provides a wide range of features, from data discovery to risk assessment, which makes it ideal for one-stop-shop businesses ready to scale.
Regulation support: Extensive support for global regulations, including GDPR, CCPA, and more.
Community support: OneTrust users create a vast community with extensive resources that make it easier for users to get help and share experiences.
Cons
Being king of the hill means it offers more features than many businesses want, need, or can understand. OneTrust costs a lot of money and comes with long-term contracts, that might be off-putting to some businesses.
Complexity: The platform's extensive features can be overwhelming for new users.
Cost: OneTrust's comprehensive solution comes with a higher price tag.
Customer Support: We've also noticed several complaints about the quality of OneTrust's customer service and account management, so treat them with caution.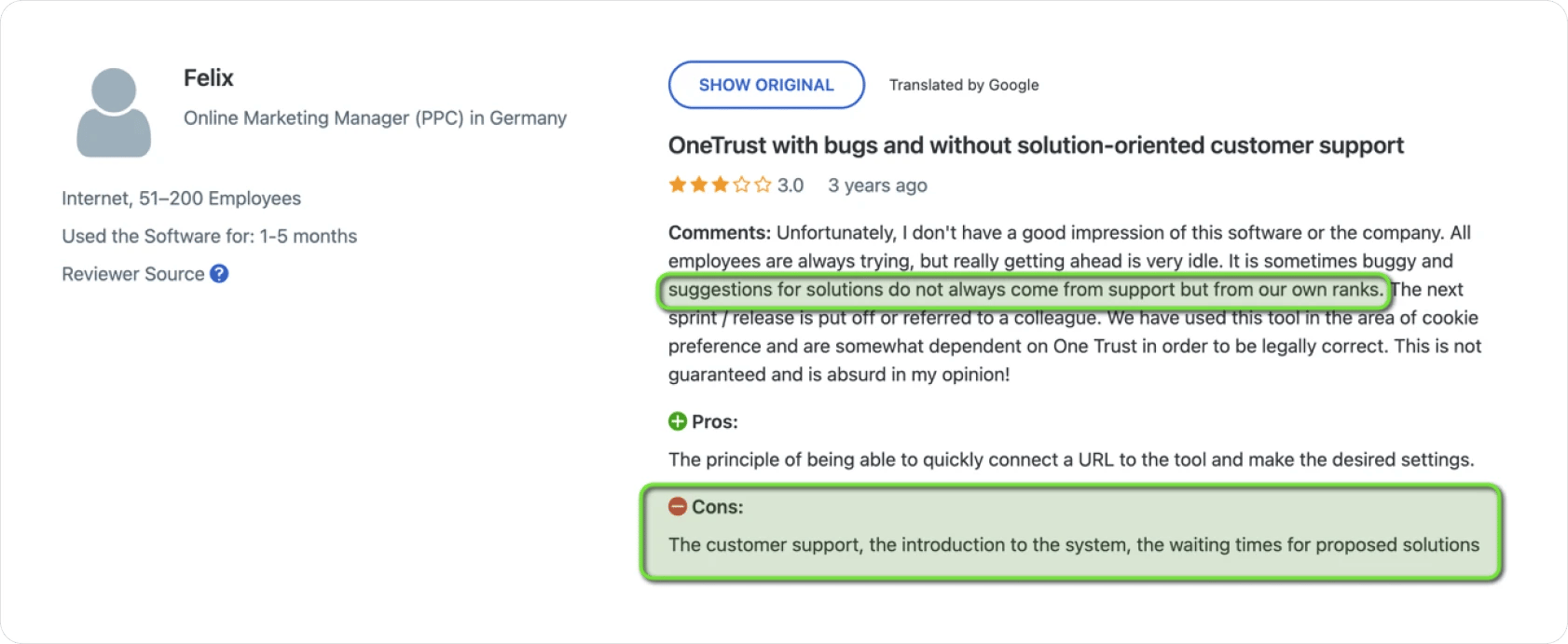 Overall Thoughts
OneTrust is one of the industry leaders and is suitable for enterprises looking for an all-encompassing solution. However, the cost and complexity might be barriers for some. As a TrustArc alternative, OneTrust is more of a lateral move in terms of features and pricing than an affordable, accessible solution.
8. Egnyte
Egnyte is a dual-purpose platform that emphasizes both data security and collaboration. It offers a secure content platform that businesses, big and small can rely on to integrate with other popular third-party tools.
Top Features
Egnyte's standout feature is its Storage Sync, a hybrid content collaboration tool that facilitates secure collaboration across cloud and on-premises environments. The platform's Data Lifecycle Management tool ensures that data is managed effectively from creation to deletion. Also, Egnyte offers intelligent data classification, which uses AI to categorize and tag data so it's treated with the right privacy and security protocols.
Pros
Accessibility and a focus on increased integration within collaborative data security compliance make Egnyte a well-rounded TrustArc alternative.
Data security: Egnyte, at its core, is a secure content platform. It guarantees data security across various devices and locations.
Collaboration features: Besides data privacy, Egnyte offers collaboration tools that make it a dual-purpose platform.
Integrations: It seamlessly integrates with popular tools like Microsoft Office and Google Workspace.
Cons
Some businesses might find Egnyte's split focus less comforting than the company intends. As a result, businesses looking for enterprise-level data compliance software could give this platform a pass.
Not purely a privacy tool: While it offers data security, it's not a data privacy tool like others on the list.
Pricing: Some users find the pricing a bit steep, especially for smaller teams, and additional features tend to cost more money.


Overall Thoughts
Egnyte is perfect for businesses that want a combined data security and collaboration tool. The company offers a free trial version to try before they buy. However, those seeking a dedicated privacy tool might need to consider other options.
9. Vanta
Vanta has rapidly emerged as a notable player in automated security and compliance. Continuous monitoring offers businesses a proactive approach to security that ensures standards are met and consistently maintained. Its platform is designed to simplify the complex compliance landscape, making it a sought-after choice for businesses aiming for certifications like SOC 2.
Top Features
Vanta stands out with its continuous security monitoring capabilities, providing businesses with real-time insights into potential vulnerabilities. It guarantees compliance is maintained around the clock with automated security audits that streamline tedious processes and provide actionable feedback. Vanta also ensures comprehensive coverage of a business's digital infrastructure when integrated with popular cloud platforms.
Pros
Automation, integration, and continuous support elevate Vanta above less-accessible TrustArc alternatives. The platform makes it easier for businesses to set preferences and access data analytics.
Automated security checks: Vanta offers automated security checks to reduce manual effort and increase the accuracy of assessments.
Continuous monitoring: Unlike platforms that offer periodic checks, Vanta ensures continuous surveillance so businesses can identify potential risks in real-time.
Integration capabilities: Vanta integrates with various popular cloud services and tools to provide comprehensive coverage.
User-friendly interface: The platform is designed to be intuitive, so businesses can easily navigate and understand their security posture.
Cons
Businesses looking for more customization might find Vanta's a bit lacking. The platform's integration capabilities also come at a price.
Pricing: Some users might find Vanta's pricing on the higher side, especially for smaller businesses.
Customization limitations: While Vanta covers a wide range of checks, some businesses might require deeper customization for specific needs.
Overall Thoughts
Vanta stands out as a modern, automated solution in security and compliance. Its emphasis on continuous monitoring sets it apart and assures businesses are always ahead in maintaining their security standards.
While it's a robust tool, businesses should evaluate their specific needs, especially in terms of customization and budgeting, before diving in.
Factors to Consider When Choosing TrustArc Alternatives
Here's what we took into consideration when setting on our list of the best TrustArc competitors:
Robust Features
We analyzed clear differentiating factors, whether a unique feature or a more user-friendly interface, and things like user consent management, customizability, onboarding, and built-in adherence to global regulations like GDPR, CCPA, etc.
Pricing
TrustArc is an expensive solution, so we considered platforms that offer better pricing or the flexibility of a free trial before getting started.
Your data privacy needs will evolve as your business grows. Your platform of choice should be capable of scaling with you to accommodate larger datasets and more complex requirements without complication.
User Experience and Integrations
The best data privacy platforms offer integrations with other software and a user experience that makes it easy for newcomers to get up to speed quicker.
Vendor Reputation and Customer Support
We scoured online reviews and customer feedback to determine which apps make it on this list. We believe the best TrustArc alternatives should offer continued support—for customer service, training, or updates to maintain data integrity and compliance.
Top-Tier Compliance and Data Management
The primary purpose of a data privacy tool is to ensure compliance with various global regulations, avoiding fines and public relations disasters. That's why we considered considerations around audits, risk assessments, and other compliance checks.
Find a TrustArc Alternative That Works for You
Several TrustArc alternatives provide similar or enhanced features, and our list of the top 9 should point you in the right direction.
Learn more about how Enzuzo can assist with your compliance needs. Book 1-1 time with Mate Prgin, CEO👇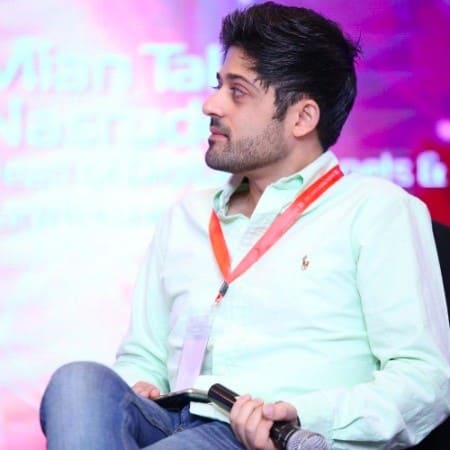 Osman Husain
Osman is the content lead at Enzuzo. He has a background in data privacy management via a two-year role at ExpressVPN and extensive freelance work with cybersecurity and blockchain companies. Osman also holds an MBA from the Toronto Metropolitan University.