Free Shopify cookie banner generator.
The ultimate free GDPR compliant cookie consent banner generator for your Shopify store.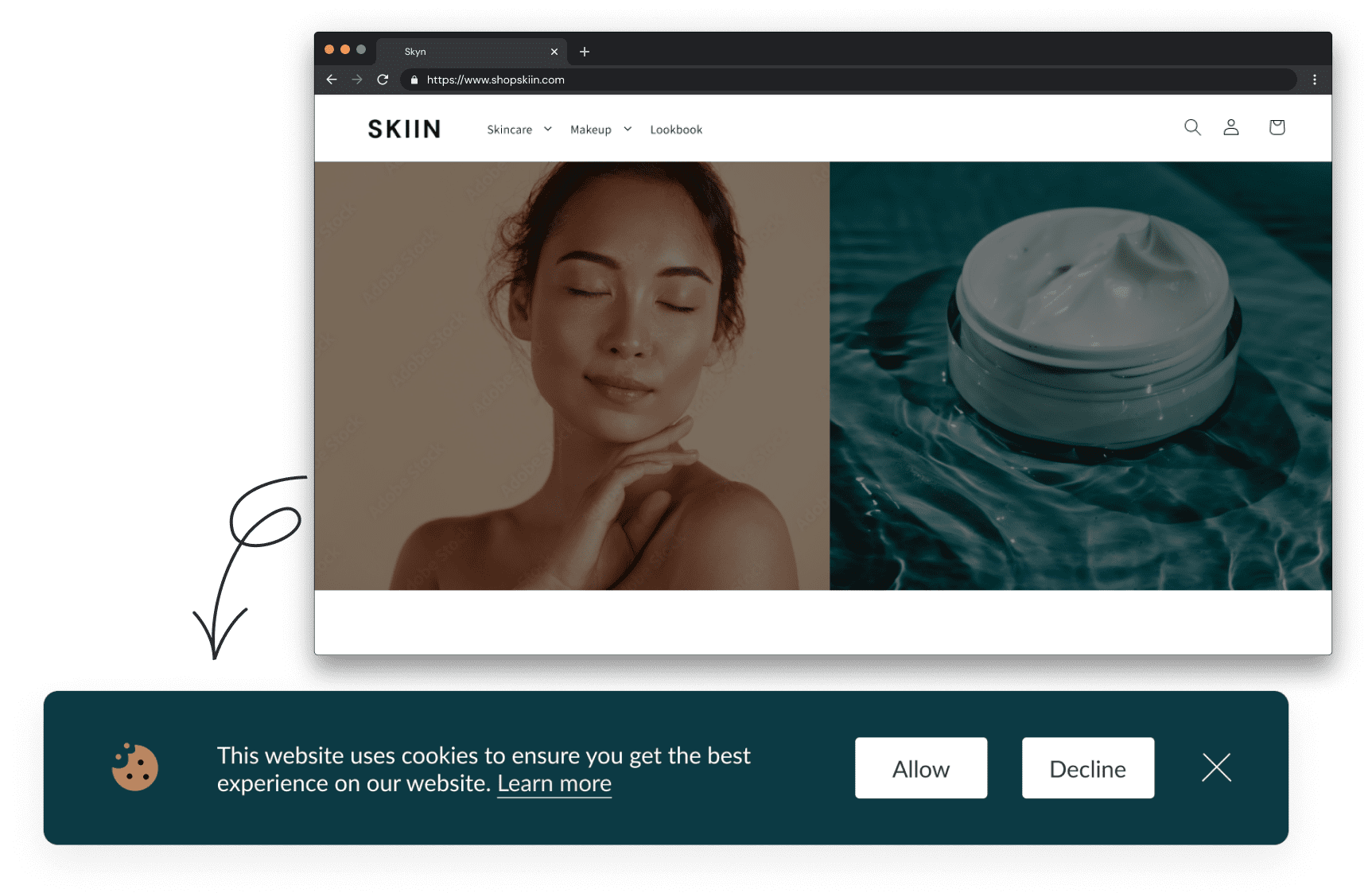 Shopify cookie banner features.

Made for Shopify
Designed for Shopify, our cookie banner has multiple design layouts that work with every Shopify theme.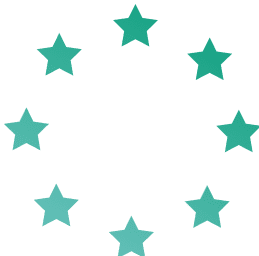 GDPR & CCPA Compliance
Our Shopify GDPR cookie banner includes all of the legally required settings, making compliance easy.
8+ Languages
Your cookie banner in 8 languages: English, French, German, Italian, Brazilian Portuguese, Spanish and Dutch.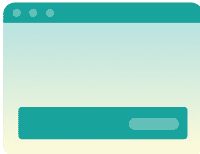 Edit banner colors & text
Customize your Shopify cookie banner colors, text and placement to match your existing theme design perfectly.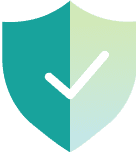 Built-in cookie manager
Allow your store visitors to choose their tracking consent using Enuzuo's easy cookie manager linked on your banner.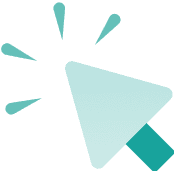 1-click banner install
Easily configure and install your Shopify cookie banner on your store in a few minutes, saving you time and worry.
On-brand Shopify cookie consent banner.
Custom banner colors and text
Customize the colors and text on your cookie banner to match your Shopify theme.
Choose a cookie banner template
With multiple layouts to choose from, your cookie banner placement fits seamlessly with your store theme.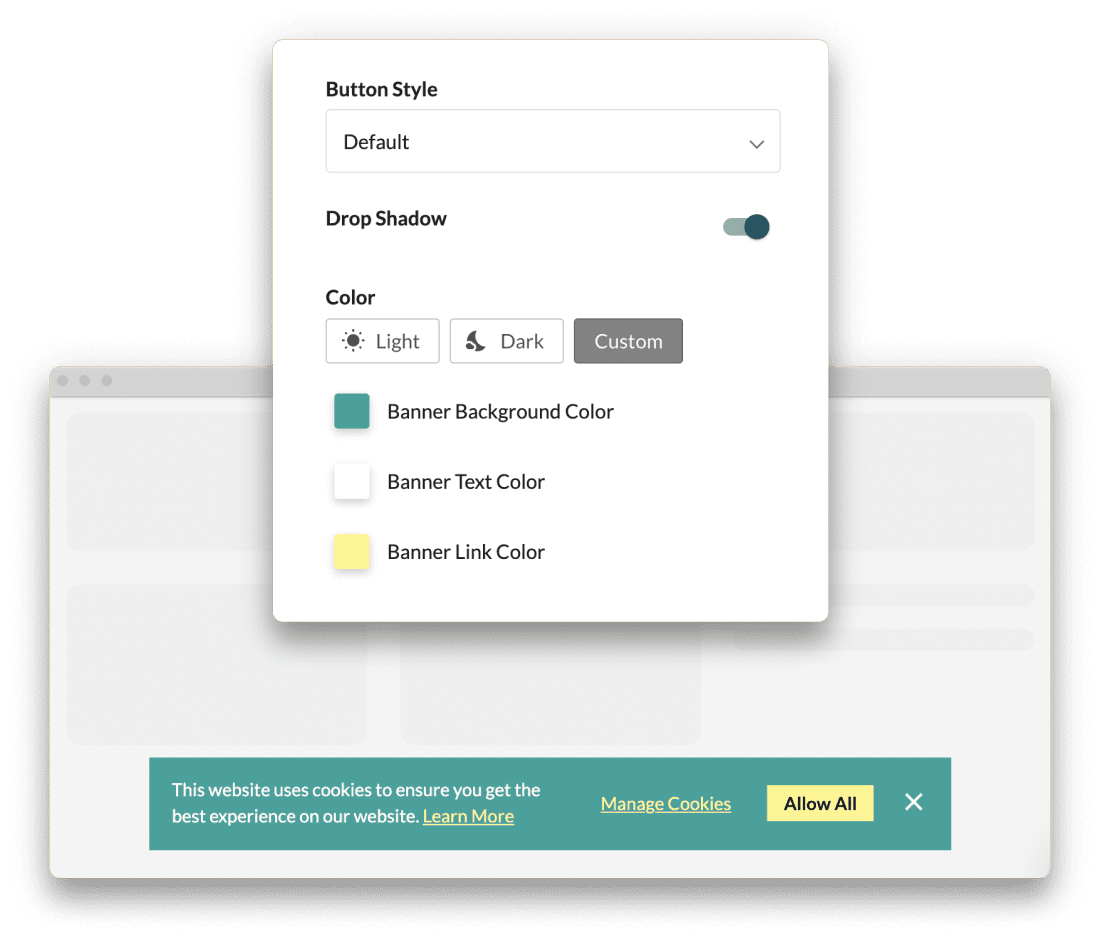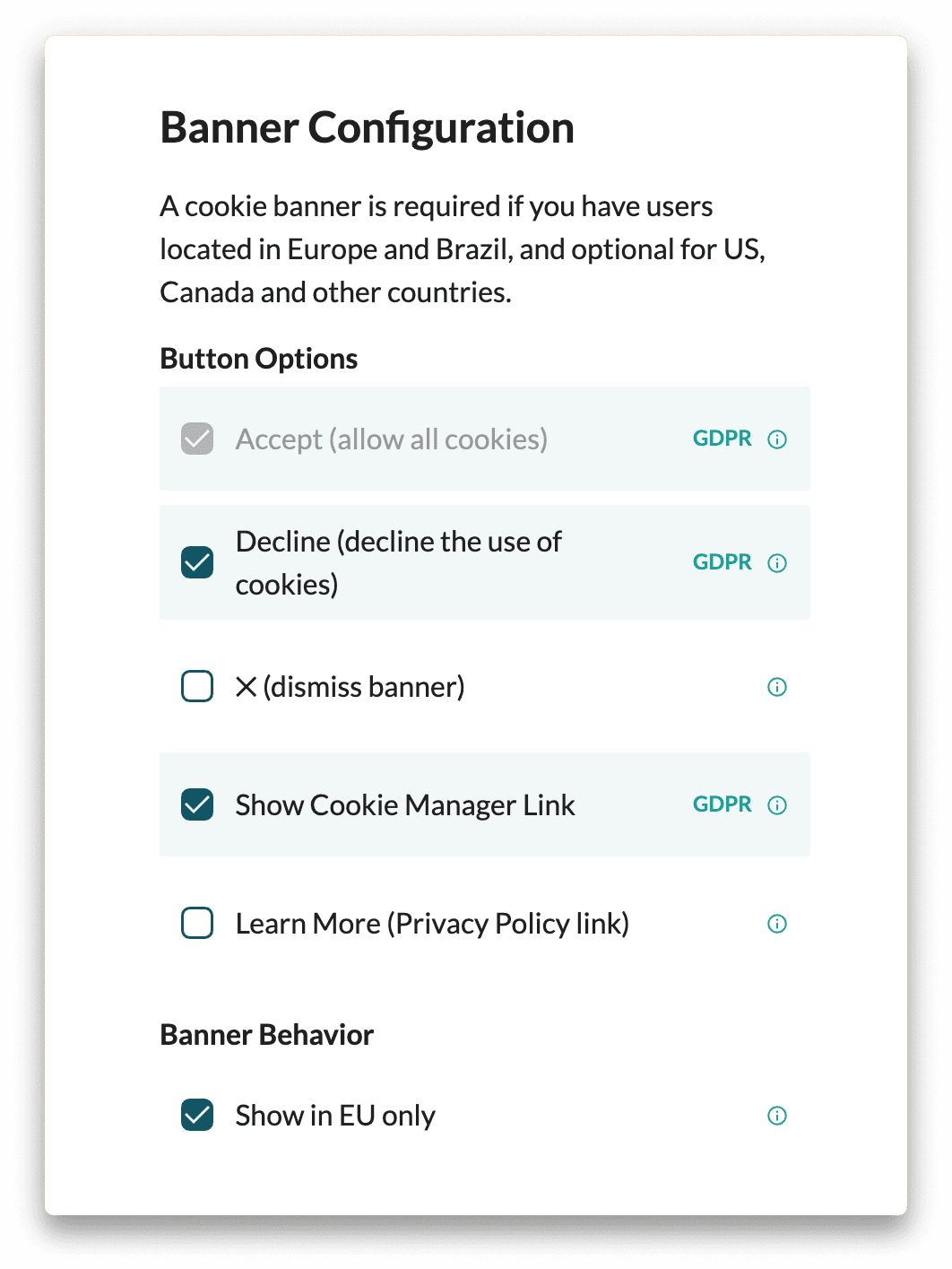 Easy Shopify GDPR compliance.
Multiple compliance configurations
Configure your EU Shopify cookie banner your way. Whether you want strict GDPR compliance or a more simple banner setup—you choose your level of compliance.
Option to show in EU only
Want fewer website pop-ups? No problem. Set your cookie banner to only show to visitors located in the European Union for easy GDPR compliance.
Built-in cookie
manager popup.
Let your visitors choose consent
Allow visitors to choose which cookies they want to allow or decline through our easy-to-use cookie manager, that's linked right from your Shopify cookie banner.
Link to your privacy policy
Link to your Shopify store legal policies like privacy policy, cookie policy or terms of service so customers can quickly find the information they need.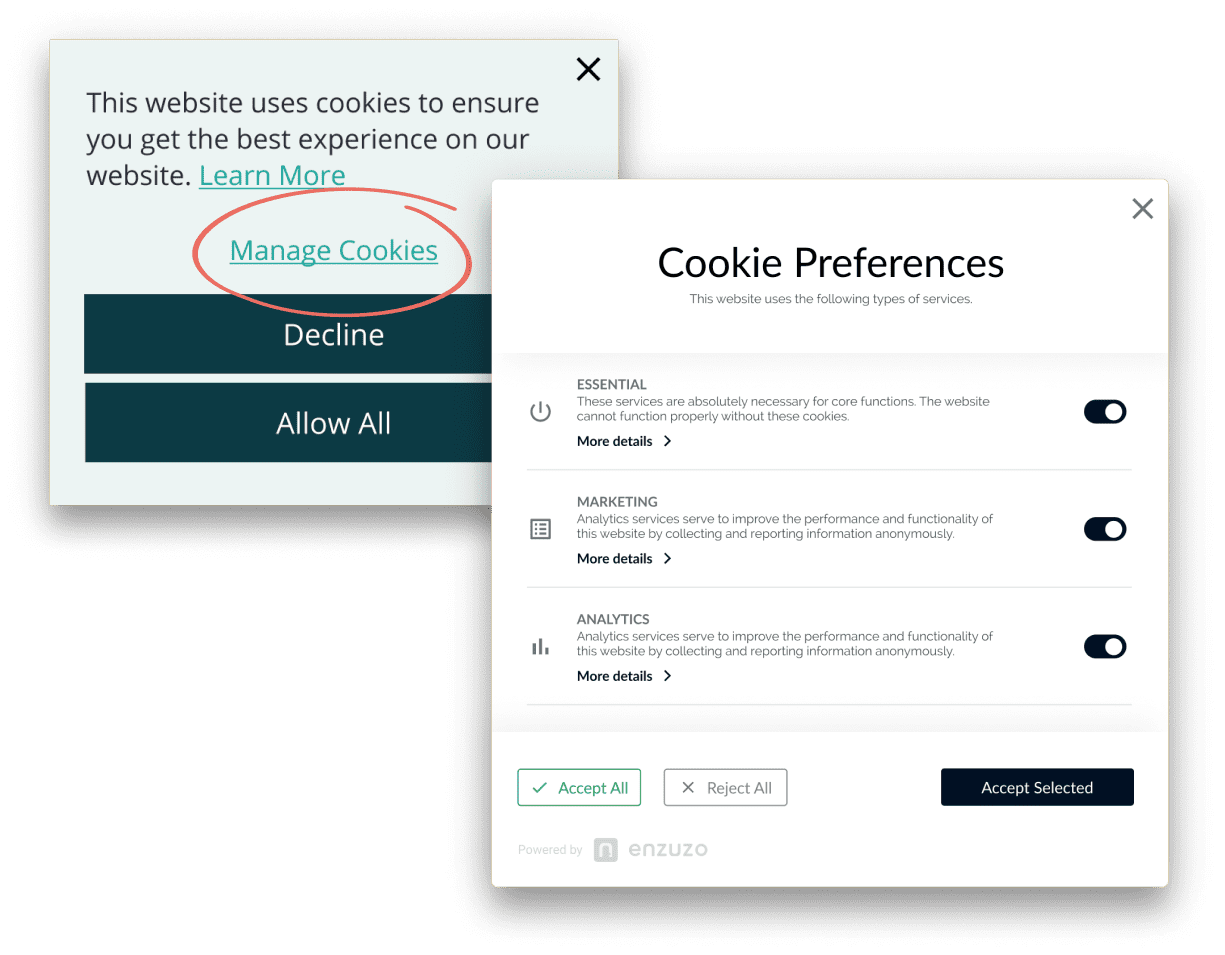 Join 1000+ brands using
the Enzuzo cookie banner.
Join thousands of forward-thinking brands using Enzuzo for GDPR cookie compliance.

Before Enzuzo, I was worried about how I would effectively deal with customers' inquiries and requests regarding their privacy and data.
Stacey Keller
Founder | Ponyback Hats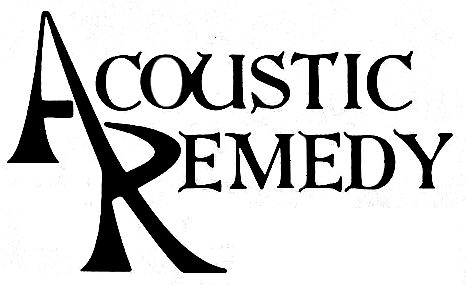 In a day and age where privacy is so important, we're glad to find an app that helps us take this worry away and allows us to focus on providing an exceptional customer experience.
Adam Jacobson
Owner | Acoustic Remedy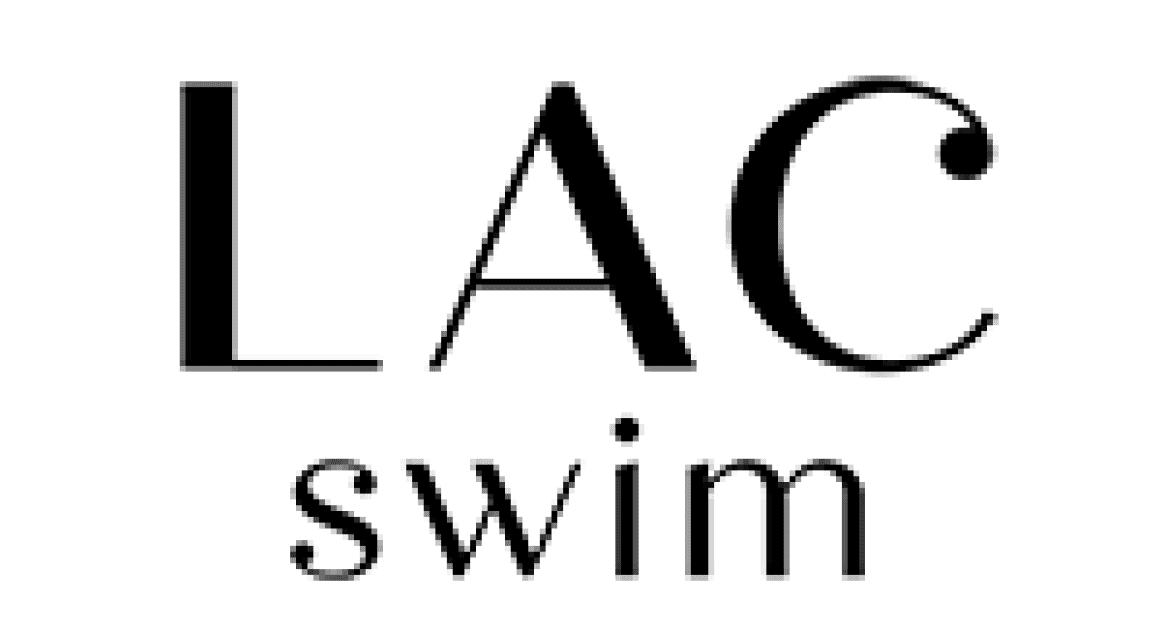 Trust is something that is really important to our brand, so it's great to have an app like Enzuzo available to help manage privacy without the headache.
Paige Harris
Founder | LAC swim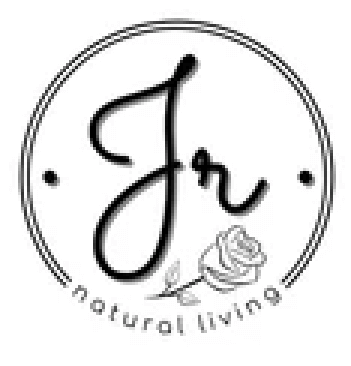 Great App! Really easy to use and doesn't take long to set up. Customer service are fast to respond too.
Jenna Rose
Founder | Jenna Rose Natural Living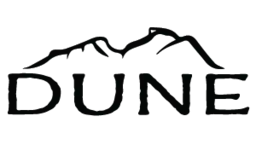 Super easy to install and set up. Works like a charm, providing GDPR compliant ToS right out of the box.
J. Anders Hvide
Founder | Dune Original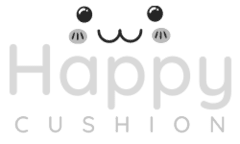 A great application that has all the settings you need. Up to date with the latest compliance requirements. Highly recommended!
Founder
Happy Cushion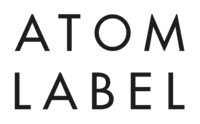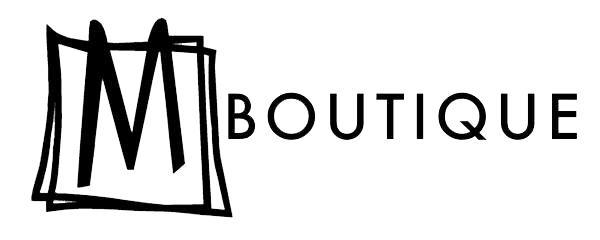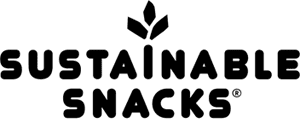 The best Shopify cookie banner examples database.
Looking for inspiration? We've compiled the best Shopify cookie consent banner examples on the internet.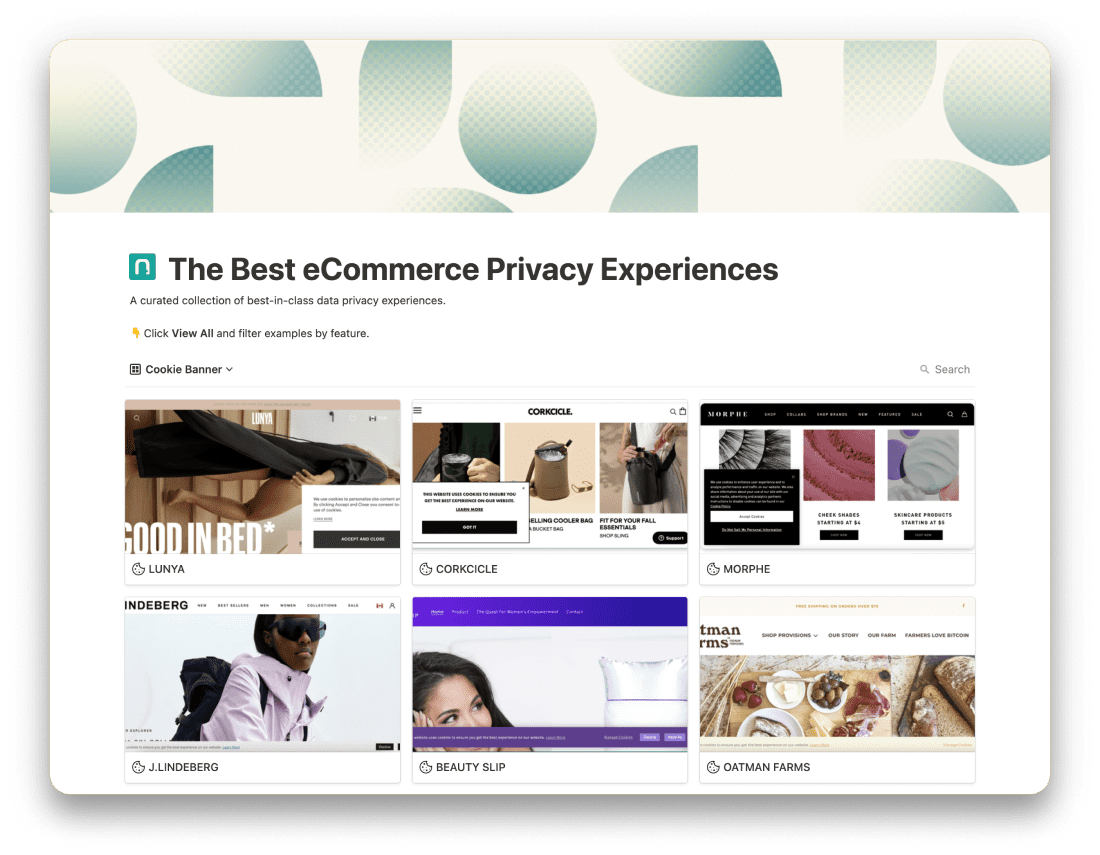 Why do I need a Shopify Cookie Consent Banner?
If you have website visitors from the European Union or you're based there yourself, chances are you need to display one on your website or app thanks to EU laws. Two key European Union privacy laws cover the requirement for users to be informed about cookies and provide consent for this personal data to be collected, used, and shared.
Both the EU's ePrivacy Directive (also known as 'The Cookie Law') and the GDPR set out requirements for applicable businesses to feature a valid cookie notice.
One of the best ways to achieve website compliance is by having a valid and user-friendly cookie banner. This cookie banner can inform users of the required details, and give them a simple way to provide their consent. This consent can then be tracked and stored, and in many cases the software you use can also allow users to adjust their data privacy preferences or withdraw their consent.
Is the Shopify Cookie Banner Generator free to use?
Yes! Enzuzo has a free forever plan for businesses just starting out and looking to add standard privacy features, including a cookie banner to their website. We also have affordable pricing plans with added features for small, medium and fast-growing businesses.
What languages does my Shopify Cookie Banner come in?
Our cookie consent banner is available in 8 languages: English, French, German, Italian, EU Portuguese, Brazilian Portuguese, Spanish and Dutch. We will be adding more languages in the near future, so please stay tuned.
We will be adding more languages in the near future, so please stay tuned.
What is Cookie Consent for Shopify?
A key element of these privacy laws around cookie use are that users should give their consent before it happens. For this consent to be valid, it needs to follow certain key principles.
A user's consent should be freely given. This means there's no requirement for the user to accept some or all of the cookies in order to use the website. Users can't be excluded from a service or forced to consent to cookie use, and instead should be free to accept or decline consent as they wish.
When someone chooses to consent to cookie use, this should be explicit. Have your users take a specific positive action — like clicking an "Accept" button.
Can my visitors what Cookies they consent to?
Enzuzo's cookie consent management tool gives your users control over which cookies they consent to. This functionality gives you a greater chance of some of your cookies being accepted by users, giving you valuable data, as they can deny consent for the ones they don't want.
Not only do you benefit, but these customizable consent options offer a better user experience for your visitors too.