Table of Contents
There's one thing we think is key to any successful Wix website — a great privacy policy. It's one of the best ways to communicate transparency and trust, and helps you stay compliant with worldwide privacy laws.
Let's explore how to add a privacy policy to Wix the easy way with Enzuzo.
How to generate a Privacy Policy for Wix
Coming up with your own privacy policy for Wix doesn't have to be difficult. With Enzuzo, you can have your own legally compliant and easy-to-use privacy policy in no time at all. We have a super swift, user-friendly process that you can complete in just three steps.
Ready to get started? Here's how to generate a Wix privacy policy in moments with the help of Enzuzo.
1. Complete our short questionnaire
The first step is easy. Our privacy policy generator kicks off with a one minute questionnaire that captures all the essential details we'll need to help you build a compliant privacy policy.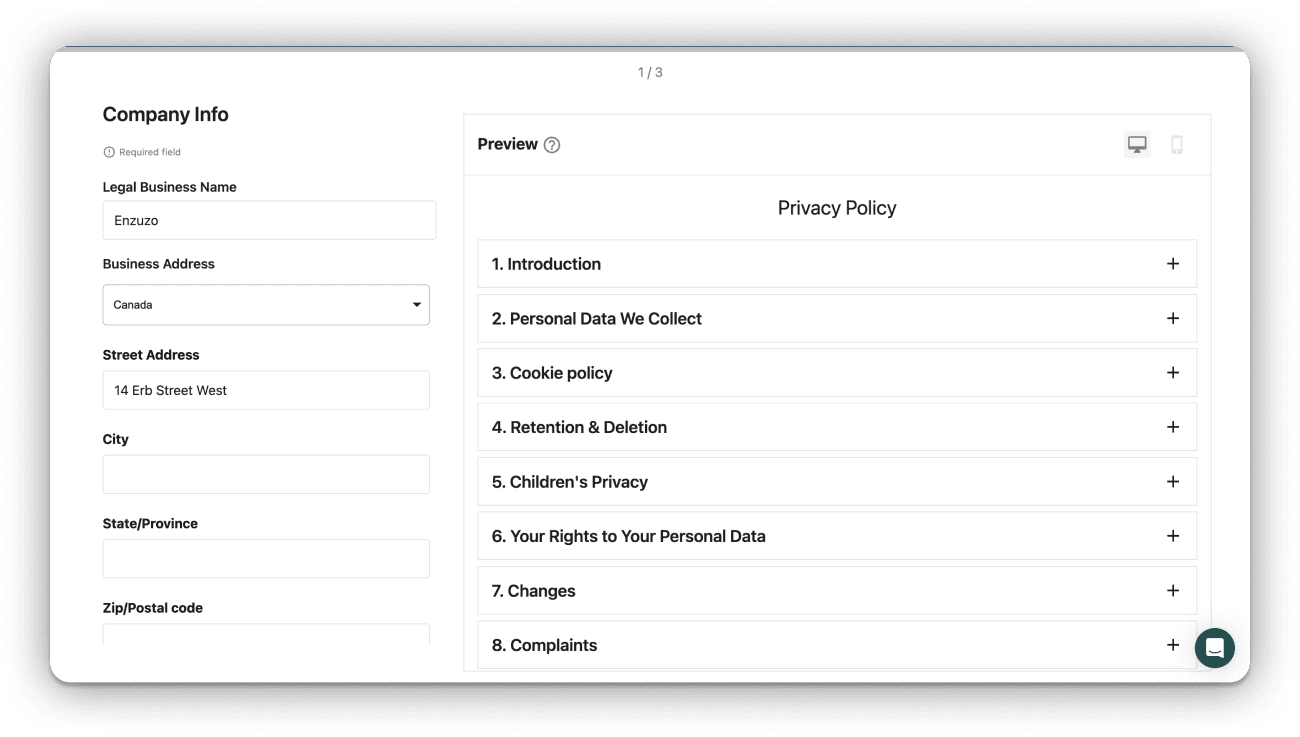 Through the questionnaire we'll ask for your:
Legal business name
Business address
Contact details — including email address and/or phone number
Giving us these details means you don't have to manually add them to your privacy policy page yourself, and everything is neatly contained within your policy itself.
2. Customize your privacy policy
Next up, it's time to customize your Wix privacy policy. This stage of the process is all about changing the way your privacy policy looks so it fits the look and feel of your website effortlessly.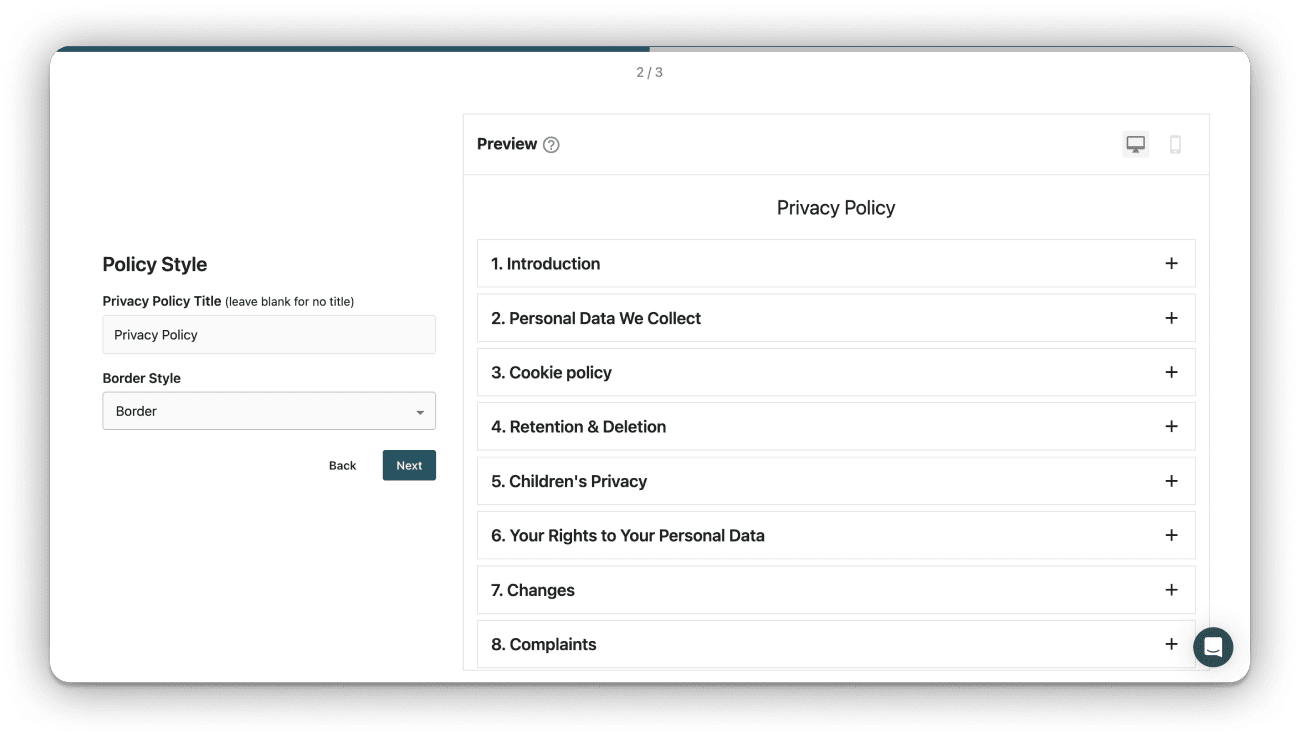 You'll have the option to give your privacy policy a title, or stay with the standard option. Adding a custom title is great if you want to add a little brand personality — but make sure it's always clear what your customers are reading.
Decide whether you want a drop shadow on your section borders or not, or whether you want to go completely borderless. Choose the option that matches your brand style best, so your policy feels like a natural part of your website content.
You might notice there aren't any color customization options here. Enzuzo pulls this information directly from the styling on your website, so that there's no awkward font or color clashes. Plus, it saves you time trying to look up that perfect shade of your signature brand color.
Here's where you'll also share some information about where your customers visit you from. Check all the boxes that apply and you can feel reassured that your policy contains the right disclaimers and details for the applicable privacy laws of that location. If you're not sure where your customers come from, or if you're happy to take orders worldwide, check all the boxes.
3. Finalize and publish your new Wix privacy policy
With the essentials and styling taken care of, it's time to save your Wix privacy policy and create an account. This only takes a few moments, then you can get your privacy policy live on your Wix store.
Let us know which website builder or eCommerce platform you're using.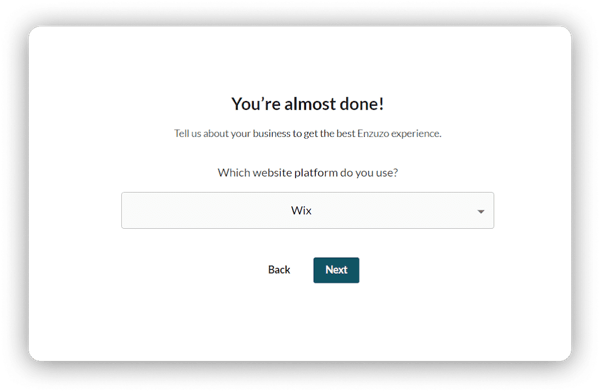 Next, you'll be prompted to create an Enzuzo account. We only need a handful of details so we can save your progress and create a place for you to edit, publish, and manage your privacy policy.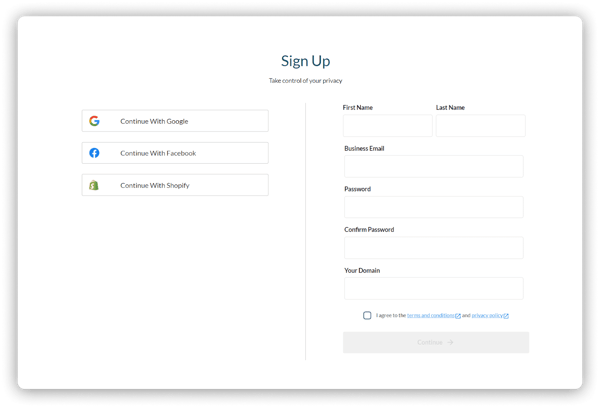 After you've signed up, you'll see your shiny new Enzuzo dashboard. This is where you can see all your policies and cookie banners at a glance, or click through to make changes and publish.
From here, there's only one thing left — to add your privacy policy to your Wix store.
How to add a Privacy Policy to your Wix site
Before you can add your privacy policy to your Wix site, you'll need your code snippet.
Open up your privacy policy from your Enzuzo dashboard, and click Add to website in the top right corner. You'll then see a popup window like the one below.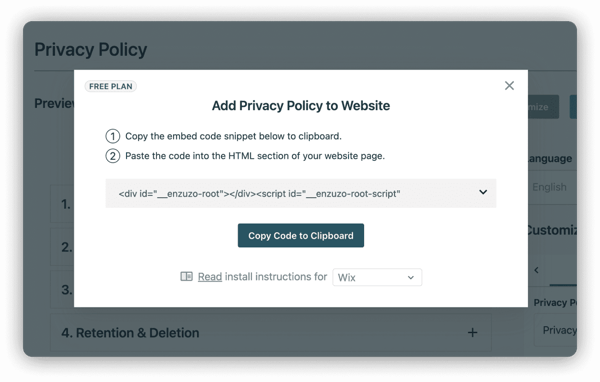 Select Embedded Policy and then click the Copy to clipboard button.
Your code snippet will now be sat in your clipboard, ready for you to paste into your Wix site later on.
Here's how to add your privacy policy to Wix.
Navigate to your Wix dashboard and click Edit Site on the website you want to add your privacy policy to.

In the Wix editor, click the arrow next to Page: Home in the left sidebar, and select Manage Pages.
In the Site Pages menu, select an existing page you want your policy to show up on, or select + Add Page and then + Blank Page to create a new one.
Give your page a name (Privacy Policy is fine) and then click into the page editor. This view also dictates where in your site the link to your privacy policy will appear. In this case, the link will appear in the Site Menu navigation.
Click the (+) Add button and select Embed, then choose Embed a widget.
Place the Embed where you'd like it to display on the page, then resize accordingly.
With the Embed widget selected, click Enter Code. Inside the code text box, paste the code snippet you copied from the Enzuzo App earlier. Click Update.
You should now see your policy in the page section. Please remember to resize the page section accordingly so your content fits properly.
Once you're happy with the way everything looks, click Preview to see a live preview of your new page. Click back to the editor to make any final adjustments, and when you're happy click Publish. Your new page will now be live on your website.
What to include in your Wix Privacy Policy
Like any legal policy, there are certain things you'll need to cover. Privacy laws like the General Data Protection Regulation (GDPR), California Consumer Privacy Act (CCPA), and California Online Privacy Protection Act (CalOPPA) ask you to share specific details — like how data is collected and what it'll be used for.
Here's what you need to include in your Wix privacy policy:
What personal information you collect
How this data collection happens
How this personal data is stored, managed, shared, and secured
How long you keep personal data for
Whether you collect personal data from children or not
Your customers' privacy rights
Information on how to make a data privacy request
Your contact information
Keeping up with the legal advice and legislation side of privacy can be tough. That's why we've done all the hard work for you, by creating professionally drafted policies that we keep updated. This means you can feel confident that your policy meets the requirements.
Do you need a Privacy Policy for Wix?
If your eCommerce store or online business collects personal data for business use, it's likely that you'll need a privacy policy. That's because it's one of the best ways to keep up with legal requirements to be transparent about data collection and use from privacy laws like the GDPR and CCPA.
Let's explore whether or not you collect personal data. Here are some examples of personal data you might collect on your Wix website:
Name
Email address
Shipping or billing address
Credit card numbers
IP address, browser, and internet service provider
User behavior via cookies and pixels (including from third-party services, like an email marketing or analytics tool)
It's hard to run an online store without collecting any of this data. That's why it's always a good idea to have a legally compliant privacy policy. While there's no requirement for you to display a privacy policy in the Wix terms of use, privacy laws override the need to state this anyway.
Why use Enzuzo vs. other Wix store Privacy Policy Generators
Data privacy is a huge concern for most of us now, which means there's lots of choice out there when it comes to privacy policy generators and privacy policy templates. What makes Enzuzo unique is our user-focused approach and simplicity — everything's in one place, easy to use, and professionally designed.
Here's why our privacy policy generator is a wonderful option for your Wix store:
Swift onboarding process — build your policy, then create your account
Dynamic automatic updates — keep your online store compliant as privacy laws change
Professional legal policy, written with your users in mind — CCPA and GDPR compliant, with no unnecessary legalese
User-friendly approach and design — create a better user experience with intuitive drop-down menus
Embedded data subject access request form — let your customers make a request from the same page
Multi-language options — translate your policy into 8+ languages
Free and affordable pricing plans — stay on our forever free plan, or upgrade as you grow
Comprehensive privacy dashboard — run your website data compliance with confidence
Beyond our free privacy policy generator, Enzuzo offers you a data privacy platform that can help you create and scale a better approach to privacy. Revamp your legal policies, cookie banner, and process for handling data requests so you can be confident in your compliance and offer a better experience for customers.
Best examples of Wix Privacy Policies
Some privacy policies were made better than all the rest. Even though it's essentially a pretty standard legal document, there are ways you can make yours stand out — whether that's through wording, functionality, or design.
To help you find an engaging way to present your comprehensive privacy policy, here are some great examples from fellow Wix users — along with why they stand out.
Caring Clothesline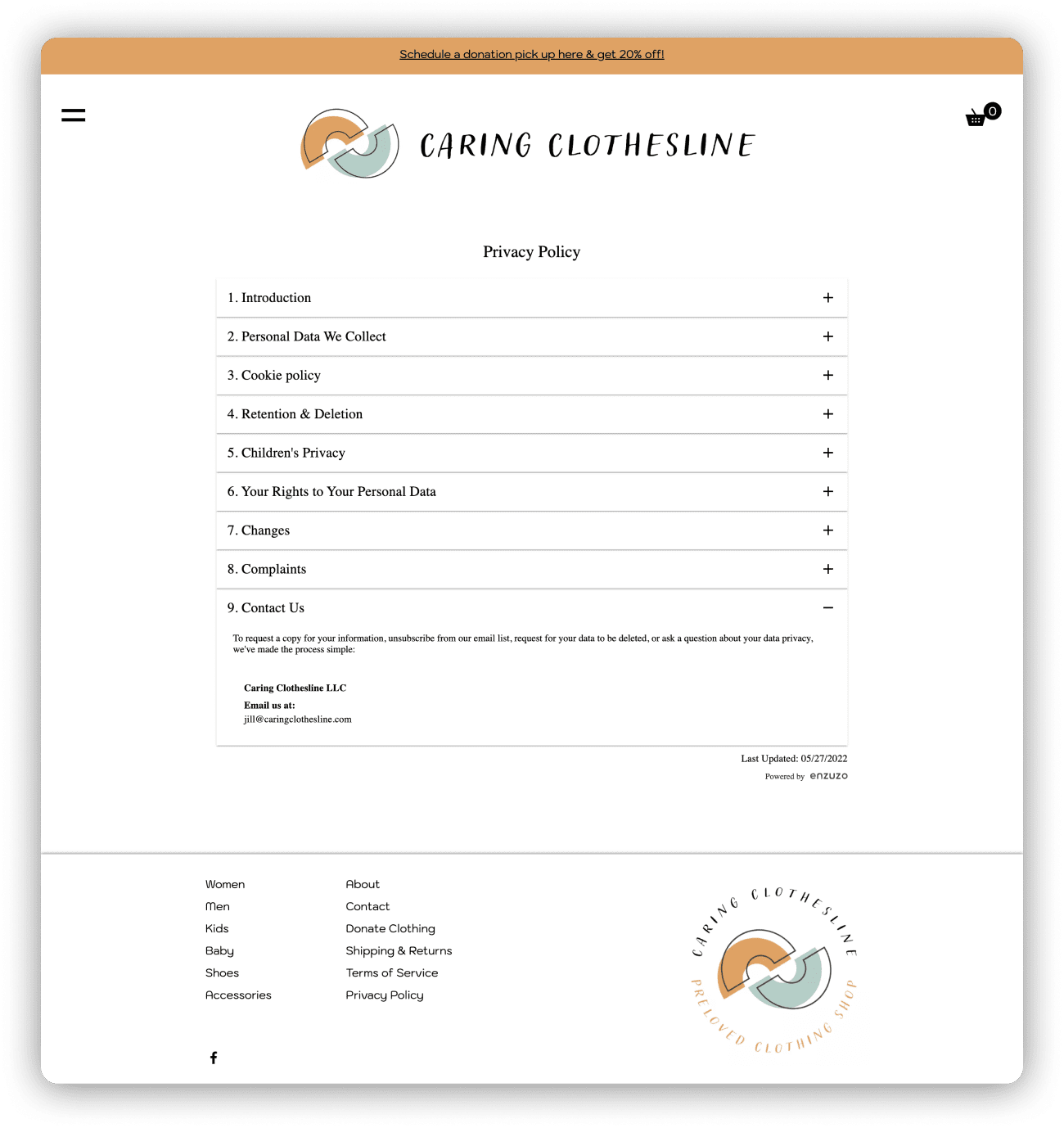 Karlie Kloss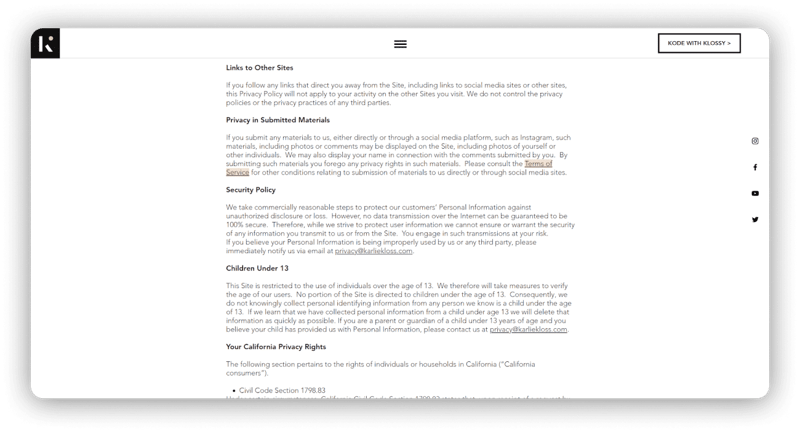 Renowned model and businesswoman Karlie Kloss' privacy policy features lots of examples of what makes a great Wix privacy policy. Here you can see that key links are highlighted, making it easier for users to find valuable details. The policy also breaks down users' rights and makes specific reference to key themes like security and data processing of minors.
Alice Blue Florist
It's easy to create a catch-all statement about how you use personal data, but the Alice Blue Florist privacy policy takes it a step further with a detailed list of exactly how your data might be used. This is a great example of the kind of transparency that can help build brand trust.
Create your Wix Privacy Policy with Enzuzo
We're used to seeing a privacy policy on big-name brand websites, but adoption across website builder platforms like Wix has been slower. This gives you plenty of opportunity to stand out with a privacy policy that not only meets the requirements but creates a winning user experience too.
It's easy to create your own privacy policy with Enzuzo. Our simple process, user-friendly approach, and comprehensive privacy dashboard gives you everything you need to tackle website data privacy compliance. See how straightforward it can be — try Enzuzo today.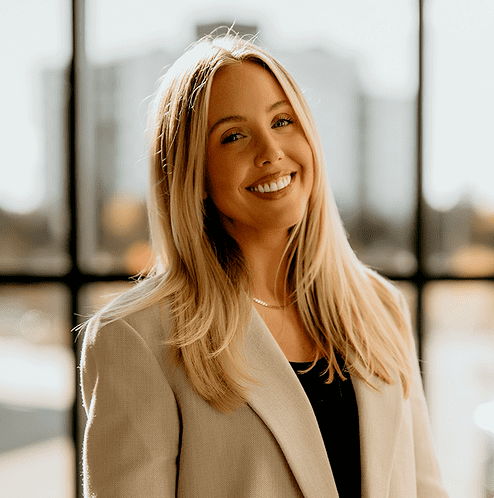 Paige Harris
Paige is the growth marketing lead at Enzuzo and host of The Living Lab podcast, providing insightful articles in the privacy space.