Table of Contents
You know you need a privacy policy for Squarespace, but how do you create one? In the past, you'd need to be legally savvy or pay for expert legal advice to draft a policy for your eCommerce store. Now, there's an easier way.
Here's how to create, customize, and launch a Squarespace privacy policy in minutes with Enzuzo.
How to generate a Privacy Policy for Squarespace
Creating a legally compliant, user-friendly privacy policy is simple with Enzuzo. All you need is to follow our fast and fuss-free three-step process to build, customize, and publish your new privacy policy.
Want the full instructions? Here's how to generate a privacy policy for Squarespace with Enzuzo.
1. Complete the questionnaire
The first step in our privacy policy generator is a short, one minute questionnaire. This is where you'll share details about your eCommerce store or business with us, so we can add this information into our privacy policy template.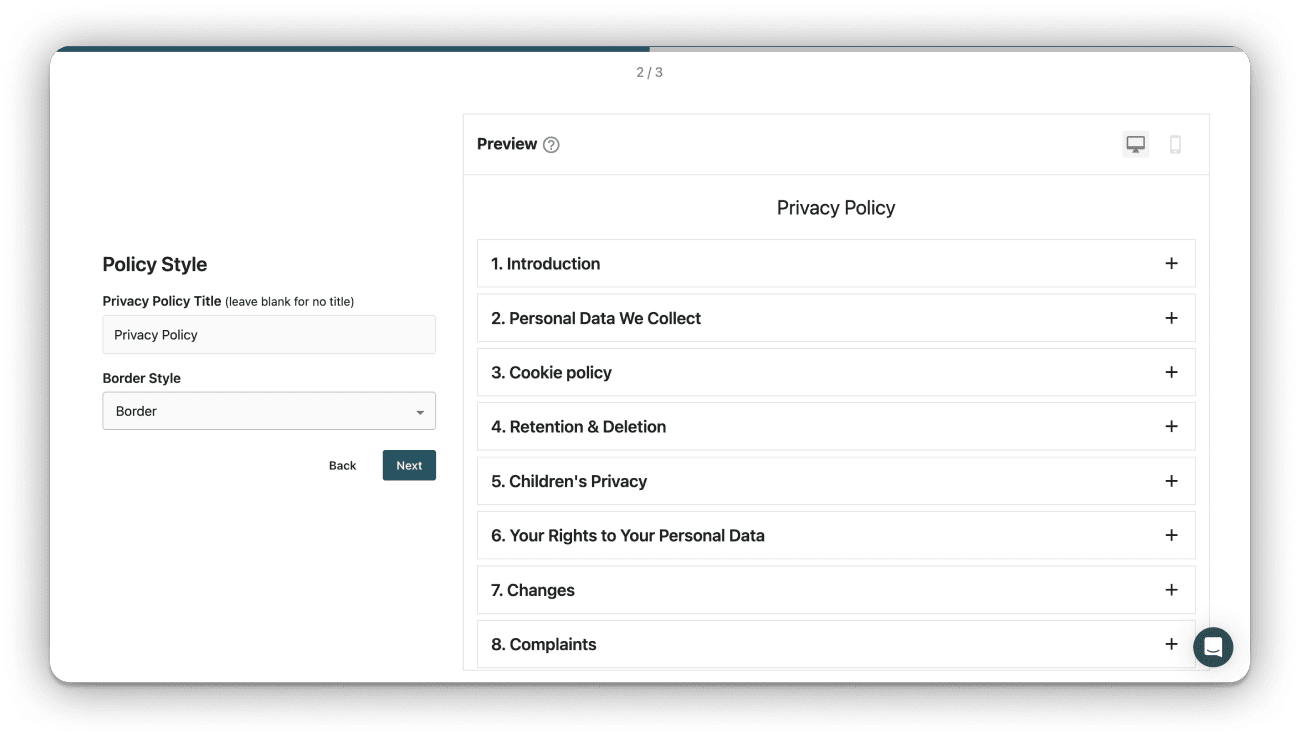 Our questionnaire asks for your:
Legal business name
Business address
Email address and/or phone number
With this section completed, you're well on your way to having a privacy policy ready for your Squarespace store.
2. Customize how your privacy policy appears
The second step in the process is all about customization. Here, you'll be able to make a couple of quick changes that alter how your privacy policy looks on the page.
Give your privacy policy a title, or stick with the standard — the choice is yours. You can also choose which border style you'd like for your drop-down sections. Drop shadow is our default option, but you can also opt for a border or no border. The last option is perfect if you prefer a seamless look and feel.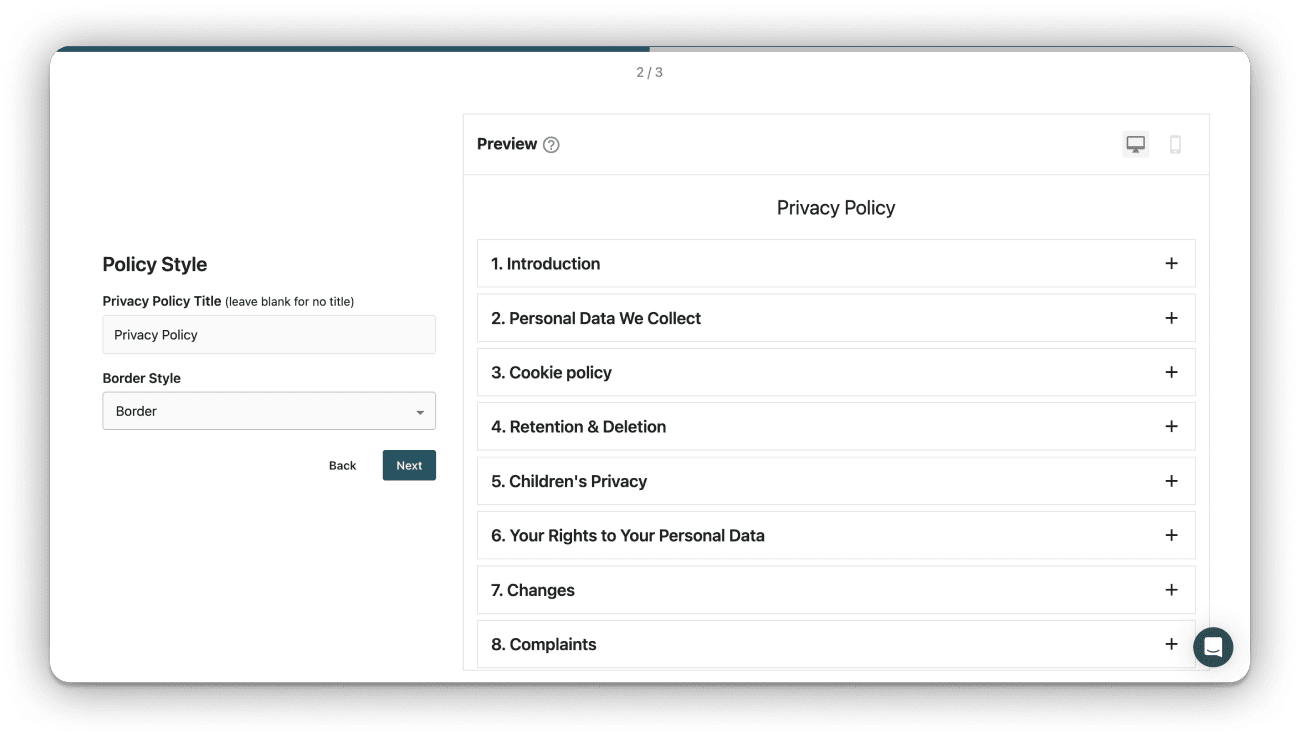 There's no need to choose color or font options here. That's because Enzuzo pulls this styling directly from your website theme, so you don't have to worry about learning CSS or clashing styles.
In this section, you'll also tell us which areas of the world your customers come from. The options you choose here change the wording in your policy, so that it's tailored to the privacy laws that apply to your customers. We recommend checking all these boxes, so you're covered in case someone finds your online store from a new location.
3. Save and publish your Squarespace privacy policy
You're all done with the build and customization stages of the process, now it's time to move on to the most important — saving your new Squarespace privacy policy.
First, tell us which website builder you're using. In this case, it's Squarespace.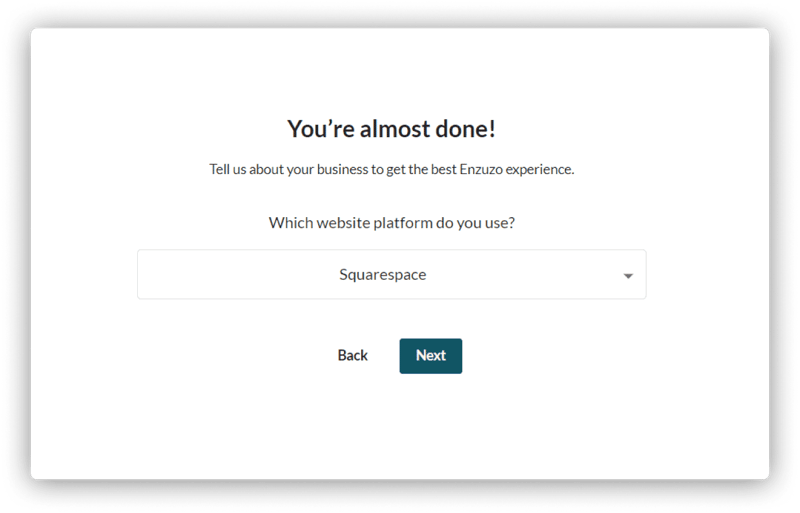 Next, you'll be asked to create an account to sign up and save your privacy policy. We only need a few details here, and you don't need to hand over any credit card details.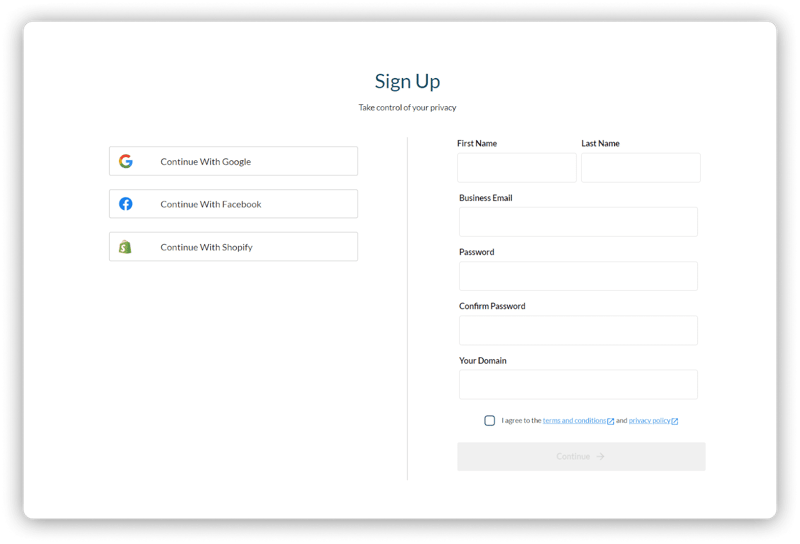 Once you've finished the sign up process you'll be shown your Enzuzo dashboard. Here you can view your privacy policy, make changes, and find the details you need to add it to your Squarespace website.
Let's explore how to add your new privacy policy to your Squarespace website.
How to add a Privacy Policy to Squarespace
You can add your privacy policy to Squarespace in just a few steps. All you need is a basic understanding of how to navigate your Squarespace admin area.
Before we begin, you'll need your code snippet from Enzuzo's privacy policy generator.
Navigate to your

Enzuzo

Dashboard.
Choose your Privacy Policy from the available options.
Click the Add to Website button in the right-hand menu.
Press the Select button under Embedded Policy. This will reveal your code snippet.
Copy your code snippet and keep it handy for Step 4 of the installation process.
Here's how to add your privacy policy to Squarespace:
Log in to your Squarespace account and navigate to the Pages section from the Home menu.


Click the + icon in the Not Linked section. Create a new page and name it Privacy Policy.


Click on your newly created Privacy Policy page. Use the gear icon to open the Page Settings menu. Click on Advanced in the sidebar.


In the text box, paste your code snippet. Click Save in the top left corner to save your progress.


Navigate to your website's Home Page. In Edit Mode, scroll down until you reach your footer. Click Edit Footer.


Hover over the area where you want your privacy policy link to appear. Use the blue + icon to open the embed menu and choose Content Link.


A popup window will appear. In the Pages list, look for your Privacy Policy page. Select this, then save.
Your privacy policy page will now be linked in your website footer.
What to include in your Squarespace Privacy Policy
Creating your own privacy policy can feel daunting. As it's a legal document, it's something you want to get right.
With Enzuzo, we've done all the hard work for you. Our professionally drafted policies cover all the sections and disclaimers you need, including:
What personal information you collect
How this data collection happens
How this personal data is stored, managed, shared, and secured
How long you keep personal data for
Whether you collect personal data from children or not
Your customers' privacy rights
Information on how to make a data privacy request
Your contact information
This means you don't need to worry about missing some vital statements that are essential for legal compliance. Instead, you can focus on delivering an amazing customer experience.
Do you need a Privacy Policy for Squarespace?
Absolutely! If you collect personal data for business reasons, a privacy policy should be on your "must have" list for your website. It's also part of Squarespace's terms of service that you provide a legally compliant privacy policy.
Here are some examples of personal data that you might collect:
Name
Email address
Shipping or billing address
Credit card numbers
IP address, browser, and internet service provider
User behavior via cookies and pixels (e.g. Google Analytics, Google Ads, Mailchimp)
International privacy laws like the General Data Protection Regulation (GDPR) and California Consumer Privacy Act (CCPA) place requirements on business owners to be transparent about data collection, use, and sale. A privacy policy is the best place to share this valuable information with your website visitors.
Why use Enzuzo vs. other Squarespace Privacy Policy Generators
Enzuzo isn't the only data privacy platform out there, but it's packed with features that are hard to find elsewhere — especially for free. Combine those features with a swift, user-friendly experience, and you have a platform that feels seamless and easy to use.
Here's why Enzuzo's privacy policy generator stands out:
Immediate onboarding process — build your policy, then create your account
Dynamic automatic updates — stay compliant, even as privacy laws change
Professional legal policy, written with customers in mind — avoid unnecessary legalese
User-friendly design — create a better user experience with helpful drop-down menus
Embedded data subject access request form — let your customers make a request, without leaving the page
Multi-language options — translate your policy into 8+ languages
Affordable pricing plans — stay on our forever free plan, or upgrade as you grow
Comprehensive privacy dashboard — build a cookie consent banner, terms of service, and monitor your data requests in one place
Enzuzo isn't just a privacy policy generator — it's a data privacy platform built with user experience in mind. Our tools and integrations make it easy to build, customize, and launch policies and cookie banners in moments. It's data privacy compliance made simple.
Best Examples of Squarespace Privacy Policies
It's easy to simply publish a privacy policy and forget about how it looks, or what the user experience is like. Stand out from those around you by taking care over how your policy is worded, how it's styled, and how easy it is for customers to navigate.
To get you inspired, here's a handful of some of the best examples of Squarespace privacy policies out there today.
Bembien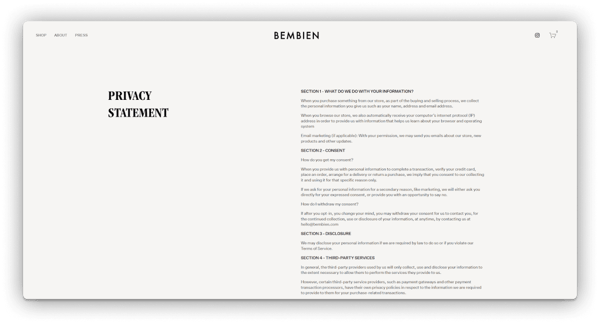 Accessories brand Bembien's privacy policy page fits right into their design aesthetic. They've used Squarespace's great template tools to align the policy information to the right, which matches the style of their product page. This helps tie everything together.
Betty Lu Paperie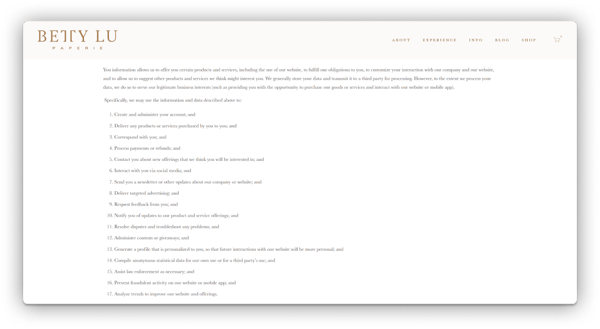 Wedding stationery experts Betty Lu Paperie's privacy policy page is full of detail that's really useful for their customers. What's especially great is their openness about how they use personal data — instead of using a catch-all phrase, they've listed the different ways they use data. This is a great way to build customer trust through transparency.
These privacy policy examples are a useful reminder that legally compliant doesn't have to mean boring. Feel inspired to create and launch a privacy policy that matches your website design seamlessly, with a user experience that centers on making things easy for your customers.
Create your Squarespace Privacy Policy Today
A privacy policy is a must-have for any eCommerce store owner, but writing your own can be challenging. With Enzuzo, the hard work is done for you — all you need to do is follow a short three-step process.
See just how easy it is to build and launch your personalized, legally compliant Squarespace privacy policy — try Enzuzo now.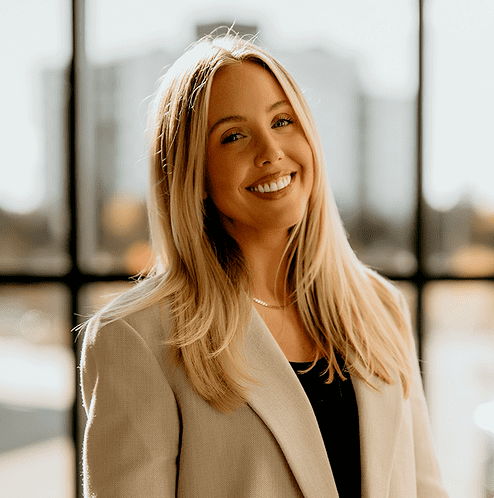 Paige Harris
Paige is the growth marketing lead at Enzuzo and host of The Living Lab podcast, providing insightful articles in the privacy space.