Table of Contents
Here's your introduction to Enzuzo: what it is, the benefits & how it works.
The privacy landscape is changing fast.
This is in part thanks to the big tech giants like Apple and Google, prioritizing privacy and protecting consumer data—over profit.
What you should know:
Non-compliance with major privacy laws can be costly
Customers are more selective with their personal data than ever before
Data privacy is on everyone's minds
In 2022 and beyond, It's more important than ever to take ownership over your customer data, and I have good news, with Enzuzo it's really easy.
Say goodbye to complicated and expensive privacy solutions, and say hello to Enzuzo.
Our privacy platform exists to give you the tools you need to not only stay compliant but build trust with your valuable customers too.
Data privacy made easy. Here's how.
What is Enzuzo?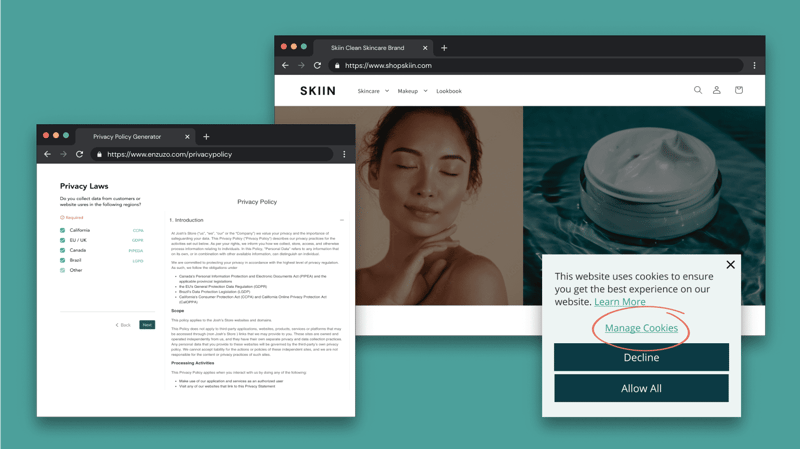 Enzuzo is an easy-to-use privacy management platform for small and medium businesses.
Our privacy compliance software includes a collection of features to help you deliver a winning customer privacy experience. Easily stay on top of any data privacy compliance concerns.
Our goal is to make data privacy compliance easy which is why we've included everything you need in one simple privacy dashboard.
Over 5k businesses use Enzuzo to power privacy. Keep reading to find out why.
What are Enzuzo's features?
We believe that building trust and staying compliant with the law shouldn't feel impossible, so we've built a suite of features that make it simple.
To help you manage compliance and build customer trust, our core set of features includes:
Privacy Policy Generator

Terms of Service Generator

Cookie Banner Generator

Easy DSAR (data subject access request) workflow

CCPA and GDPR data request forms

and more features coming soon!
Everything you need in one easy privacy platform.
You don't need to worry about installing multiple apps or transferring data across different tools. Instead, you can streamline your privacy efforts into one dashboard.
Who can use Enzuzo?
Enzuzo works for any size eCommerce store, but you can also use Enzuzo if you own or operate any type of online business such as;
Shopify and eCommerce stores

Service-based businesses like marketing agencies

Facebook and Mobile Apps

SMB software companies

Personal website or blog
Still not sure if Enzuzo will work for you? Send us a quick message, and we'll be happy to help.
What website builders does Enzuzo work with?
Enzuzo works with all the major eCommerce platforms and website builders, so you can enjoy the same experience whether you're a Shopify superfan or a Squarespace supporter.

We've designed Enzuzo to work with:
Shopify
Wix
Squarespace
WordPress
WooCommerce
BigCommerce
Webflow
If your eCommerce store runs on Shopify, you're in luck — we have a dedicated Shopify App.

Use a website builder that's not listed here? No problem!
You can use our handy embed codes to add features like your new privacy policy, terms of service, or cookie banner to your website in just a few steps.
Why should I use Enzuzo?
Thousands of businesses worldwide choose Enzuzo because we make it easy to manage data privacy in one place. We provide everything you need to build a trusted data privacy experience, and stay compliance with international privacy laws from day one.
You can't sleep on customer privacy any longer. Savvy customers know how valuable their data is, and will protect it fiercely. They'll choose to shop with companies that do the same, so customer data privacy should be a top priority.
That's where we come in. Let's explore these benefits in more detail.
Benefits of using Enzuzo data privacy
Build trust & improve retention
Customers want to know you're treating their personal data with care. Good privacy practices should start from day one, not after you've collected customer data in the tens of thousands.
Investing in your customer privacy experience is a simple yet effective way to demonstrate your commitment to a privacy-first future. This transparency is a key way to build trust, which can help improve customer loyalty, retention, and revenue.
Privacy compliance in one place
Most people don't wake up excited about data privacy laws, but the worry of huge fines can cause sleepless nights. With Enzuzo, you don't need to be a privacy expert because we do it for you. We update our legal policies and features automatically as laws change, so you're always covered.
Our features are designed for compliance with the General Data Protection Act (GDPR) and California Consumer Privacy Act (CCPA) — two major privacy laws with a wide reach.
Pro tools without the high price
Our legal policies are carefully drafted by lawyers (without the expensive hourly rate), so you can feel confident that they're robust. Unlike other privacy management software that is complicated and expensive, Enzuzo is committed to making data privacy compliance affordable, accessible and straightforward for every business no matter what size.
Setup in minutes—not weeks
Confused about privacy compliance? We've got you covered. At Enzuzo we do all the hard work for you, with a collection of tools and features that mean you can stay compliant — without losing sleep over the legal side of things.
Our easy-to-follow questionnaires mean you cover all your bases
We've designed the whole experience to be as streamlined and fast as possible
We stay on top of changes and automatically update our templates


How to build a customer privacy experience
We've talked about how Enzuzo can be your privacy partner, but what does that look like in reality? To help you picture how Enzuzo can help you create a better customer privacy experience, we've broken our features and benefits into two categories, must-haves and optional.
Must-have features include legal policies like privacy policy and terms of service. Optional features depend on which privacy legislation your business must comply with. This usually depends on where your customers are located.
For example, if you sell to people in California, you will need to comply with the California Consumer Privacy Act (CCPA). Or if you have customers in the European Union, you will need to make sure your website is in compliance with the General Data Protection Regulation (GDPR).
We've created a helpful article that outlines how to figure out which privacy laws apply to your business.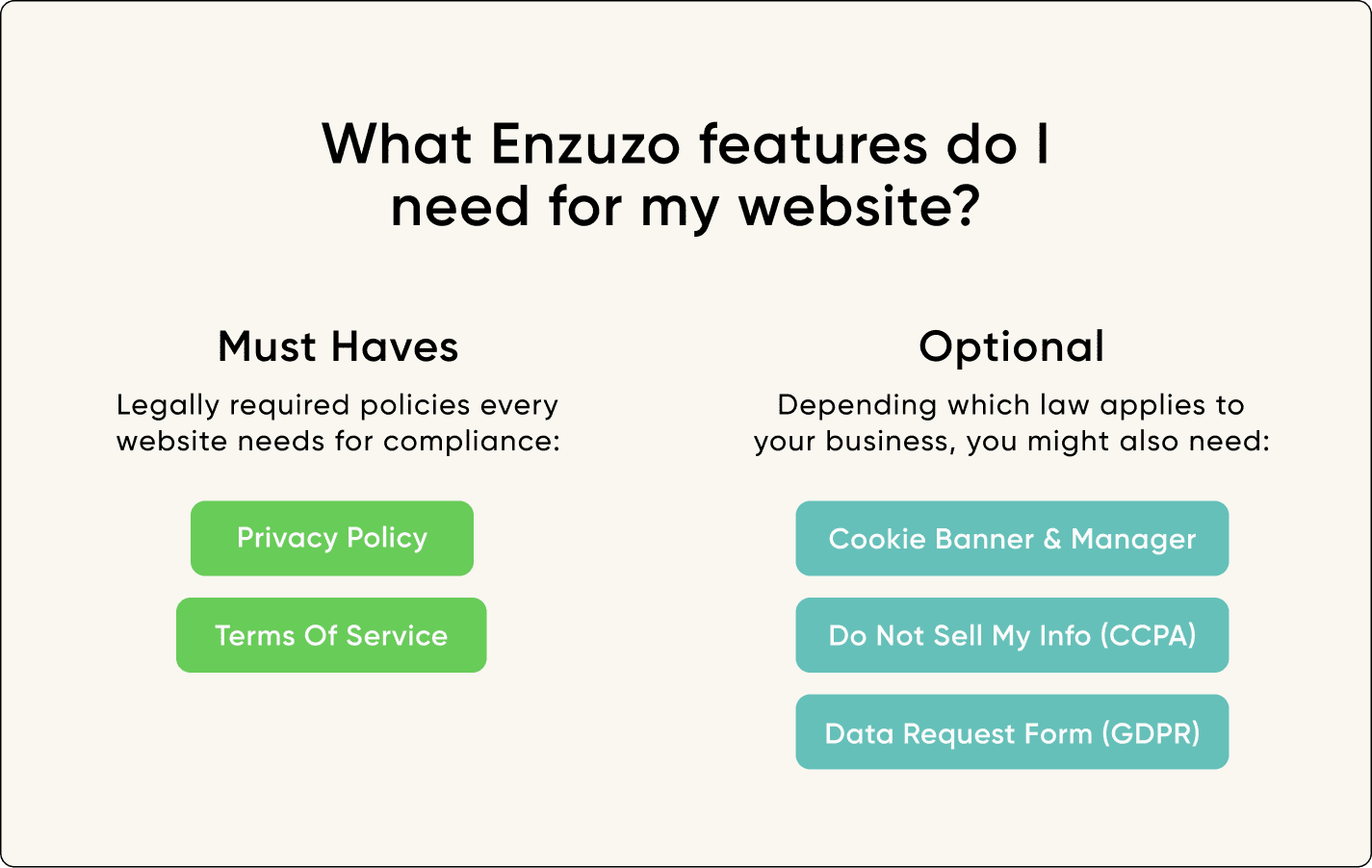 These aren't the only ways to use Enzuzo. As you explore the platform, you'll figure out what works best for you and your goals. Enzuzo is there to provide the tools for you to deliver a best-in-class customer privacy experience.
How much does Enzuzo cost to use?
You don't have to have a big budget to add Enzuzo to your eCommerce store or website. Get access to our privacy platform for as little as $0 per month.
Our forever free plan means you can enjoy our standard features, automatic compliance, compliance reporting, and a handful of data requests a month — all with no credit card required.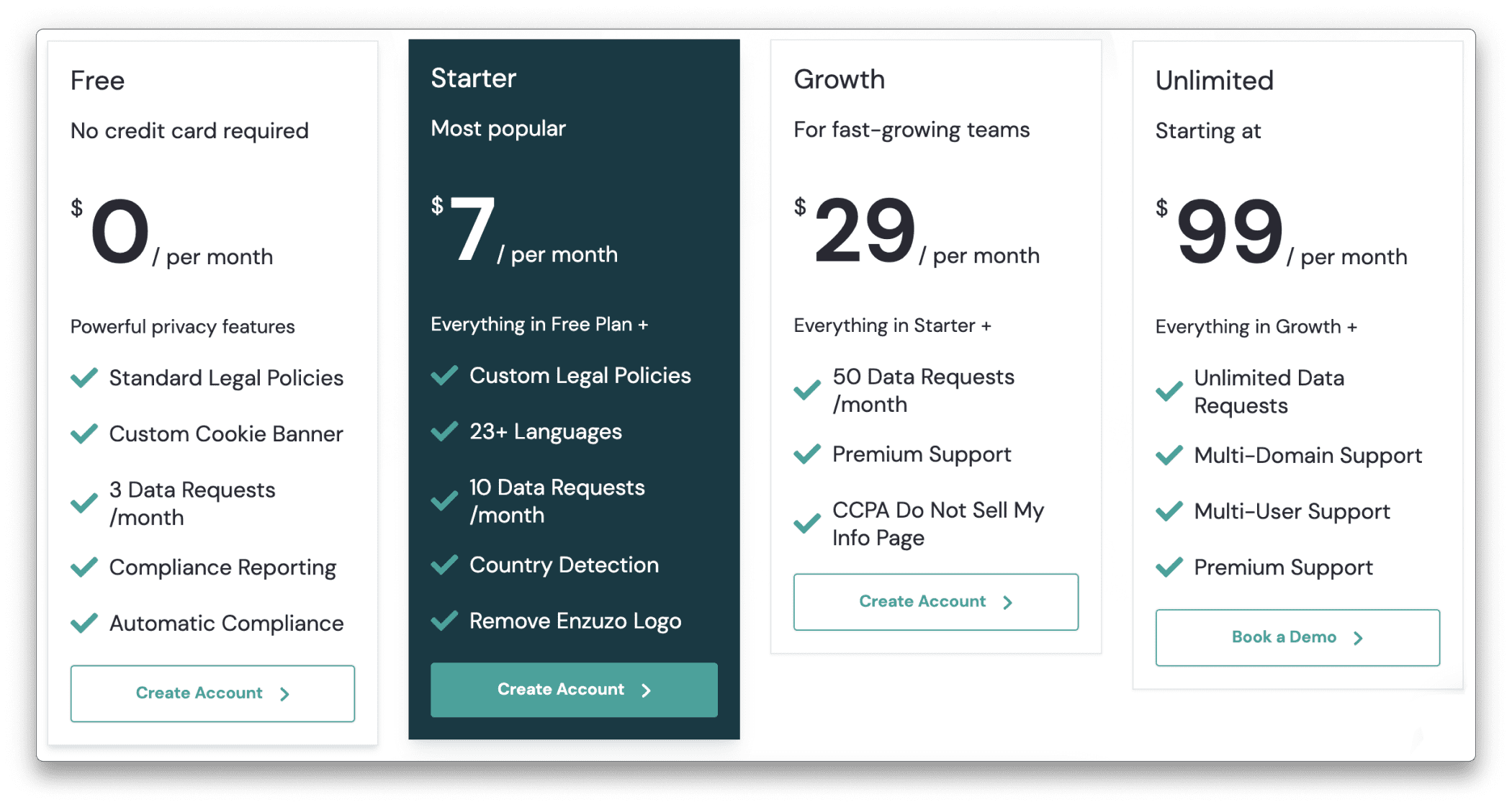 If you want to access premium features like custom legal policies, language translations, country detection, and white labelling you'll want our popular Starter plan. Our Growth plan is ideal if you want a purpose-built "Do Not Sell My Information" page for CCPA compliance, and our Unlimited plan is perfect for data privacy compliance at scale.
We know that growth can be unpredictable with eCommerce stores. That's why we've made it super easy to scale your plan up or down, depending on how your needs change.
Want to explore the plans in more detail? Head over to our pricing page to see the comparisons.
Why should I use Enzuzo instead of Termly, Iubenda, or other alternatives?
With data privacy such a huge focus, it's no surprise there are lots of choices out there when it comes to providers. Before you commit to one, it's smart to compare between Enzuzo and other providers like Termly or Iubenda.
At Enzuzo, our approach is to make things fast and easy for you as the eCommerce store owner, and user-friendly for your customer. This means we offer a forever-free plan where you can access all of our key features, and a swift onboarding process that lets you launch a policy or cookie banner in minutes.
Easy integrations with your eCommerce platform or website builder
Dedicated Shopify app
A simple approach to pricing — no complicated plans or bundles
Every privacy feature you need in one place
Streamlined onboarding and policy creation process
Dynamic, automatically updated policies as standard
Live chat and email support during business hours
Forever free plan — no credit card required
If you're looking for a free privacy platform experience, Enzuzo's features are comprehensive. You can build a privacy policy, terms of service, and cookie banner all for free — you don't have to choose which is more important to you.
Plus, you get additional customization options that are paid upgrades with other providers.
Our goal is to become your privacy partner. Our privacy platform not only makes compliance easier but our features are designed to help you create a better customer experience too.
That improved experience and transparency can build trust, loyalty, retention, and more spend over time. Investing in the right privacy platform doesn't just help you stay compliant — it can transform the way customers see your business.
Frequently asked questions about Enzuzo
Choosing the right privacy partner is a decision you want to get right. We've covered a lot in this guide, but sometimes it's helpful to hear your questions answered directly.
Let's take a look at questions we get asked the most.
Will Enzuzo work with my website?
Absolutely. We've designed our privacy platform to work smoothly with any website or eCommerce platform out there. Most of the eCommerce stores that use our platform run their stores on Shopify, Wix, Squarespace, or WordPress — but you can add Enzuzo to anything. It's as simple as copying and pasting our embed codes into your website builder.
Will Enzuzo help me become compliant with GDPR and CCPA?
Our privacy platform is designed to help you maintain compliance with key privacy laws like the GDPR and CCPA, through a relevant and compliant privacy policy, terms of service, and cookie banner.
There are some areas you'll still need to handle — like your internal processes and website security — but we'll take care of the data privacy side of things. With our templates and tools, you can rest assured that your website compliance is sorted.
Is Enzuzo really free?
Yes! We have a forever-free plan that gives you access to our core features, so you can build a better customer privacy experience at no cost. You don't even need to enter your credit card details. If you want to customize your policies, translate them, or access more premium features, you can with one of our paid plans. These are still really affordable, so you can maintain the same best-in-class privacy experience as your eCommerce store grows.
How do I install Enzuzo?
Using Enzuzo is easy. There's no software to install on your devices — instead, everything is handled in the cloud.
Head to our sign-up page, then follow the process to create your first banner or policy. Once you're happy with what you've created, you'll be prompted to save. From there, you can add your new cookie banner or policy page to your website in just a few clicks. We have full installation guides for popular eCommerce platforms, but it's also easy to copy and paste the code.
Will Enzuzo slow down my website?
There shouldn't be any impact on site speed when using Enzuzo. Our platform has been designed with your success in mind, and uses minimal resources to help make that happen.
Have another question?
Get in touch with our support team for a speedy response to your question. We're here every day, 9-5 (EST). You can reach us at support@enzuzo.com or via chat!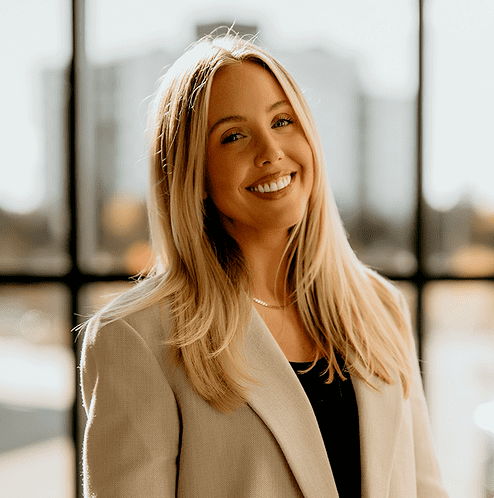 Paige Harris
Paige is the growth marketing lead at Enzuzo and host of The Living Lab podcast, providing insightful articles in the privacy space.