Data Privacy Teardown: Kim Kardashian's Billion Dollar DTC Brand Skims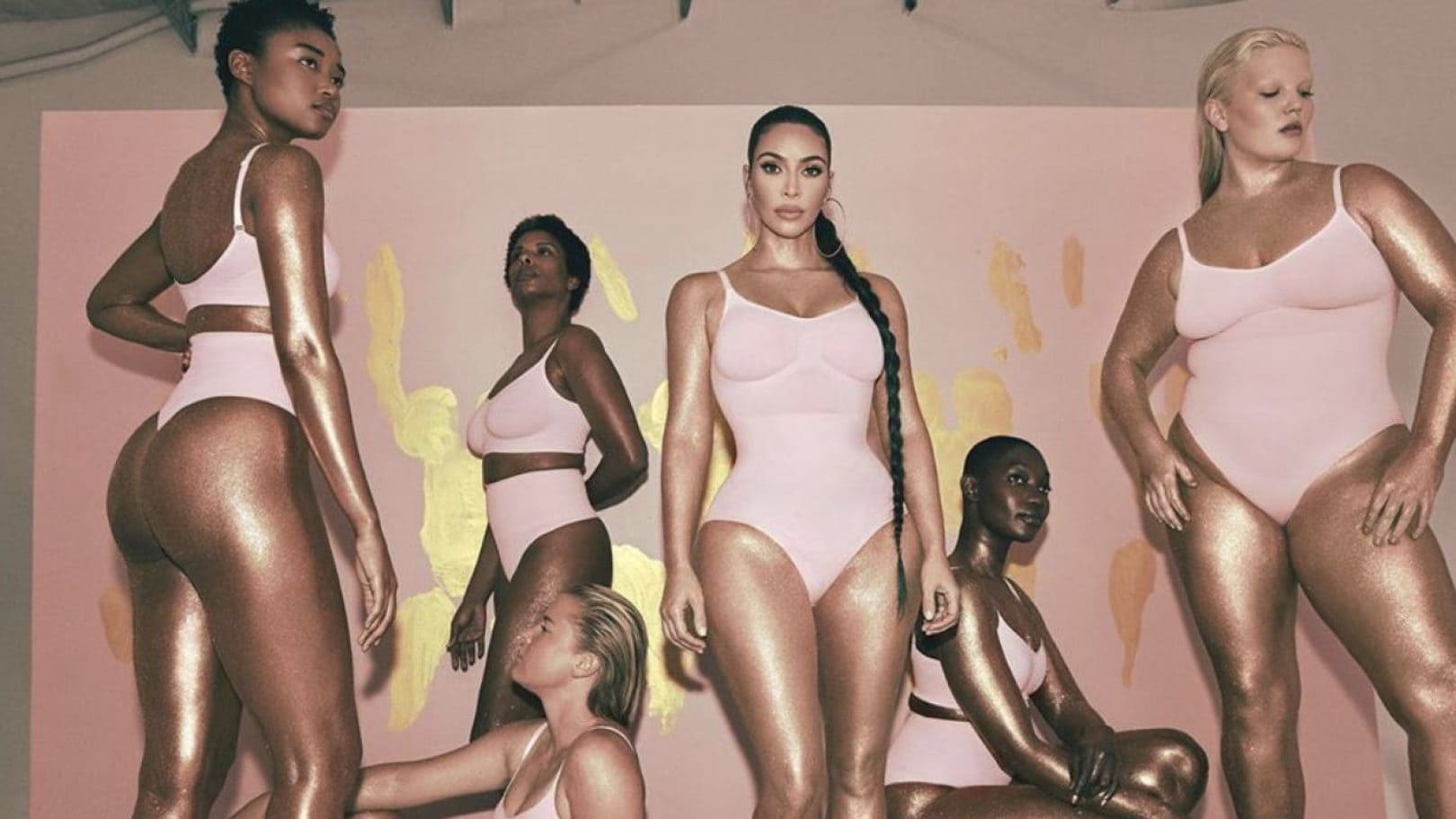 Table of Contents
Kim Really "Kares" About Her Customers' Privacy
Earlier this year, Kim Kardashian's net worth sailed past the billion-dollar mark. And more recently, her clothing brand Skims became a billion-dollar brand. That's some success for a company that's only been around since 2019.
Skims is a clothing brand that offers lingerie, loungewear, and shapewear for every body. This inclusive approach is not Skims' only success — it's a brand that's also incredibly conscious of data privacy.
Being aware of data privacy regulations and offering customers a better experience isn't something that should come as a surprise.
After all, Kim Kardashian is studying to become a lawyer and they have an attorney on staff. This is a brand that does privacy well and shows that being privacy conscious doesn't mean you miss out on revenue.
Let's dive in and see what you can learn from the Skims privacy experience. We'll take a look at some of the reasons why it's a powerful approach, and share some practical tips to help you level up your own privacy compliance.
What makes the Skims privacy experience elite
There are 4 key reasons why the Skims privacy experience stands out:
So many brands pay lip service to data privacy. Skims takes a refreshingly detailed and empowering approach, to give customers a truly elite experience. Here's how they do it.
Everything lives in one place
Policies are easy to find
Sidebar navigation to organize sections
You don't need to look far to find Skims' legal policies and terms of service. They're listed clearly in the website footer, in easy reach no matter which product page you land on. This is pretty standard for direct-to-consumer brands, but Skims takes it a step further.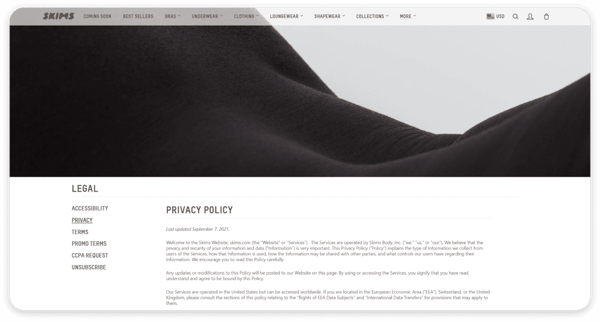 Once you click through to view one of the policies, you're taken straight into their legal section. This dedicated area of the website contains all the information you could ever want or need about their approach to privacy and legal compliance.
It's easy to read through the Skims privacy policy, then browse their accessibility pledge or terms of service. The left-hand navigation is familiar to most of us and makes it super simple to jump between policies to find the details you're looking for.
This customer-focused approach is the way forward. You want your customers to quickly access the right information, with no fuss and no jumping through hoops.
Trust Tip #1: Make your policies easy to find and access for your customers. They shouldn't need to click around the site to get a clear picture of how you collect and use customer information.
The right policies are published
It's not uncommon to see eCommerce stores that don't feature any policies at all. Sometimes when you're excited about launching, these must-haves get missed out. Skims wasn't taking any chances though — the website displays exactly the right policies for compliance.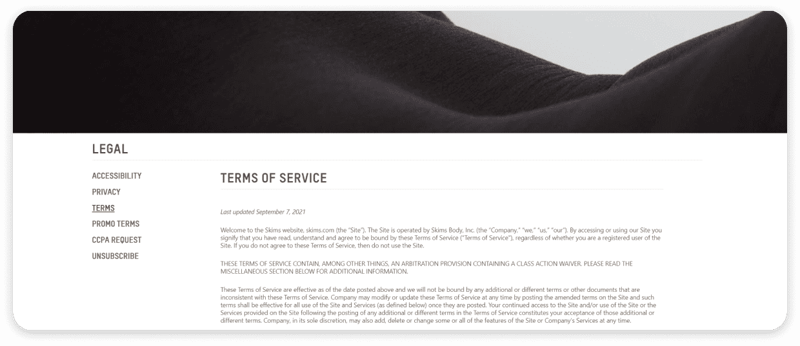 Inside the Legal section of the website you'll find the following pages and policies:
Accessibility Assistance
Privacy Policy
Terms of Service
Promo Terms
California Consumer Privacy Act (CCPA) Request Form
Unsubscribe
A fully-featured privacy policy is essential if you want to make sure you're compliant with privacy legislation — no matter where you're based. And while Terms of Service aren't strictly a legal requirement, they're useful to set out some ground rules and give you a way to uphold your terms.
You'll notice that Skims doesn't just stop there, though. The website also has a dedicated area for accessibility that outlines their approach to inclusivity.
Promotional terms are kept separate, so customers don't need to dig through the main privacy policy to find the details they need. Customers also get easy access to ways to exercise their rights, like opting out or unsubscribing.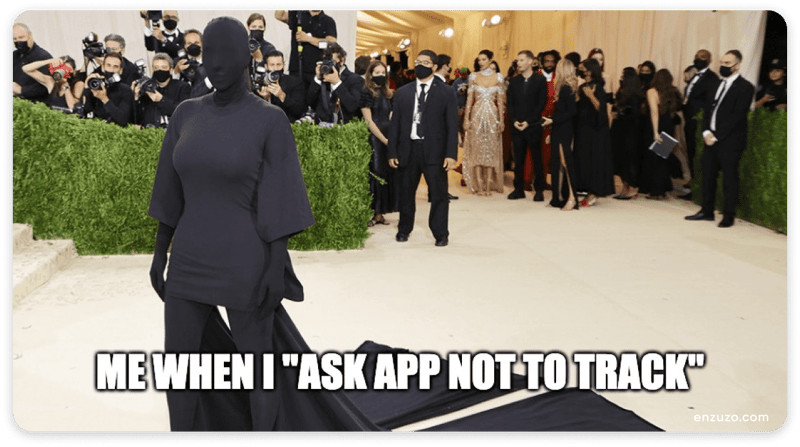 The Skims website offers customers access to the policies they need to put their trust in the brand. They can easily understand how their data will be used and feel confident that the brand knows what it's doing when it comes to data privacy.
Trust Tip #2: Check that your website features all the right policies to help you stay compliant. Evaluate your policy wording too, to make sure it covers all the bases and is easy for your customers to understand.

Customers can easily make data requests
Privacy compliance isn't just about posting a policy on your website. You also need to offer a way for your customers to get in touch about the data you hold on them. Skims not only gives customers a way to do this, but makes the whole process simple.
On the Skims website, there's a dedicated page where customers can make a CCPA data request. There's an overview of how the brand approaches the sale of data (in this case, it doesn't), and what your rights are as a customer. This is a great way to inform people and show that the brand cares about data privacy.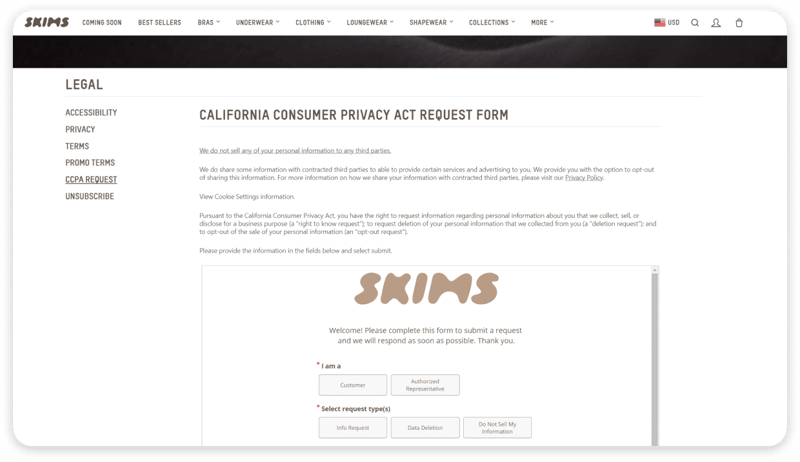 Below the details, there's a streamlined request form. Customers or their representatives can fill in this user-friendly form to submit an info request, ask for their data to be deleted, or make a "do not sell" request.
Skims uses OneTrust to make this happen which is a high-priced privacy platform, but our affordable privacy platform is another great option for new or growing brands.
What makes this request form one of our favorite examples is that it's so easy to use. It's embedded right there on the page, so customers don't have to leave the site to make a request. There are only a handful of fields, with selectable options that help keep things organized for the Skims team at the other end. Plus, the form features those signature Skims colors to continue the brand identity right through the experience.
Trust Tip #3: Give your customers an easy way to exercise their privacy rights. Instead of asking them to call you or send an email, use a tool like Enzuzo to simplify the experience.
1-click unsubscribe from email and SMS
As merchants and marketers we want people on our email or SMS list so we can entice them to engage with our content, recommend our brand to a friend, or buy from us. Sometimes people want to leave — and that's okay — but we need to make it easy for them. Skims honors that with a 1-click unsubscribe.
Instead of forcing the user to unsubscribe from their inbox, they can make the request directly from the Skims website as another option.
We know it's hard to say goodbye sometimes, but when your customer wants to leave they want the process to be painless. A 1-click unsubscribe, or similarly simple process, gives them the result they want — fast. They don't have to jump through hoops and enter a password, or tick multiple boxes to unsubscribe.
Skims also recognizes how frustrating it can be when you receive promotional SMS messages that you don't want. To help their customers streamline their experience, they offer an easy way to stop SMS messages — by texting one word to a number.
More brands should make it easy to customize your communications preferences. Skims' approach is an example of a super respectful way to give your customers choice over how they hear from you. It also reassures them that they can change their preferences later on with no fuss, making them more likely to subscribe.
Trust Tip #4:

Make the unsubscribe process as swift and simple as the signup one. Take inspiration from Skims and use

Klaviyo

to offer a 1-click unsubscribe feature.
Ready to elevate your own eCommerce privacy experience?
Enzuzo is the all-in-one privacy platform for Shopify, helping eCommerce merchants create a trusted and transparent privacy experience from day one.
Explore powerful features like an auto-updating privacy policy, cookie consent banner, data request management and more. Enzuzo offers data privacy for your small business, all in one place.
Not sure how to bring data privacy excellence to your Shopify store? We'll help you find your way there.

You don't need to have a lawyer on speed dial like Skims to have a world-class data privacy experience. All you need is an understanding of what matters most to your customers, and the right tools to help you turn your approach into a reality.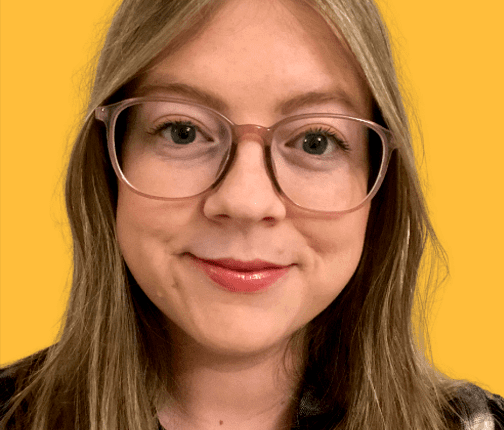 Nicola Scoon
Nicola is a freelance content writer for HR tech & SaaS. She's written for Polly, Zapier, Pyn & more and is passionate about remote work, employee wellbeing & productivity.