Table of Contents
WordPress is one of the most popular content management systems worldwide, and the platform powers millions of websites daily. It's important for WordPress users—and WordPress-powered businesses—to understand the importance of data collection, processing, and security. This is especially crucial when it comes to compliance with national and international data privacy laws.
The rise of global privacy concerns and resulting regulations like the California Consumer Privacy Act (CCPA), the General Data Protection Regulation (GDPR), and many other data privacy laws make it a priority for website owners to make sure they're transparent with users about how data is collected.
This is why businesses big and small have privacy policies.
What is a Privacy Policy?
A privacy policy is a legal document that frames how a website collects, processes, protects, and utilizes user data. It's an essential document that builds trust with users and helps enable compliance with data privacy laws worldwide. Any online business that collects personal information ought to have a privacy policy on its website.
Things To Consider When Picking a WordPress Privacy Policy Generator
It's essential for businesses to have a clear, comprehensive privacy policy in place, whether you've just launched your website or have been online for decades. However, not all companies have the resources to use an in-house legal team to draft a privacy policy from scratch.
Smart business leaders choose to utilize a WordPress-compliant privacy policy generator to make the process less complex. A privacy policy generator simplifies the process of policy generation because it guides users through necessary steps to ensure compliance, security, and more.
This is why privacy policy generators are so helpful.
Privacy policy generators help businesses create all-encompassing privacy policies, but not all privacy policy generators are created equal.
Here are things to keep in mind when you choose a WordPress privacy policy generator:
Cost:

Free privacy policy generators are available,

but they may not offer the same level of functionality as paid generators

. Work within your budget, but also be price-conscious of essential features so you get what you need at a price you can afford.



Customization:

A good privacy policy generator

offers customizations to suit your specific needs

. This means the ability to add or remove clauses, modify the language, and specify what data you collect and how it's used.



Vetted by legal professionals

: Privacy laws vary by jurisdiction, so choose a

privacy policy generator that is up to date with the latest regulations

. The easiest way to do this is to make sure yours is vetted by legal professionals.



Ease of use:

A privacy policy generator should be user-friendly.

The ideal solution should guide you through a step-by-step process

and

provide explanations for any legal jargon or technical terms.





Automatic updates:

Stay compliant with laws, keep your software current, and minimize operating issues with a privacy policy generator that provides automatic updates.



Customer support:

Look for privacy policy generators that have a

reputable, reliable customer support team

. The most successful ones have been used by other businesses in your industry, so be sure to check for customer feedback to gauge the customer service experience.



WordPress Compatibility:

This should be a no-brainer if your website runs on WordPress, but not all privacy policy generators work with all WordPress themes. Everything runs more smoothly when your

privacy policy generator is designed with WordPress compatibility in mind

.
Your privacy policy generator is an important business decision, one not to be taken lightly. Consider the above-mentioned factors to be sure that the generator you choose creates a privacy policy that's compliant, personalized, and easy to use.
The 8 Best Privacy Policy Generators for WordPress
A privacy policy is important for any WordPress website that collects personal information from its visitors and/or users. It helps ensure legal compliance, builds trust with users, and protects your website from potential liabilities. Therefore, it's crucial that you choose the right privacy policy generator to serve your needs.
Let's dive into our list of the best privacy policy generators for WordPress websites.
1. Enzuzo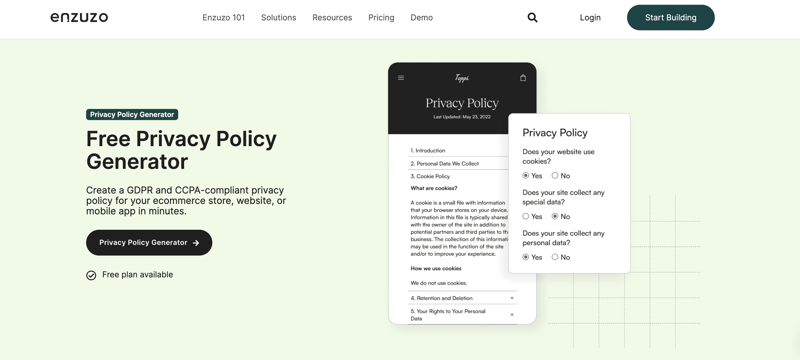 Enzuzo is a software application that provides privacy policy templates and generators for websites and mobile applications. Other than that, it's also a full-stack data compliance solution built around the idea that data privacy management should be easy, comprehensive, accessible, and affordable.
That's why the Enzuzo Privacy Policy Generator is only one part of a much broader privacy mission.
Enzuzo's self-serve privacy ecosystem offers a state-of-the-art privacy policy generator that's designed for WordPress, eCommerce, Shopify, mobile apps, Facebook apps, startups, SaaS, and much more.
There are several benefits of using Enzuzo for privacy policy generation:
Time savings: A privacy policy created from scratch can be time-consuming and complicated. Enzuzo's templates and generators can help you create a privacy policy in minutes.
Customization: Enzuzo's templates can be customized to fit the specific needs of your website or mobile application. You can add or remove clauses, choose different options, and make sure that your privacy policy reflects your data collection and processing practices.
Compliance: Enzuzo's privacy policy templates are designed to comply with global privacy laws including GDPR, CPRA, CCPA, PIPEDA, CalOPPA, COPPA, VCDPA, and more. Enzuzo makes sure that your website or mobile application is compliant with applicable privacy laws.
Accessibility: Enzuzo's privacy policy generators are easy to use, even for non-legal professionals. You don't need a legal background to create a privacy policy that's comprehensive, effective, and professional.
Enzuzo's Privacy Policy Generator also offers:
Translations to 25+ languages

Prompt customer support

Affordable pricing

Global legal compliance

Automatic updates

And more





2. WP Terms Popup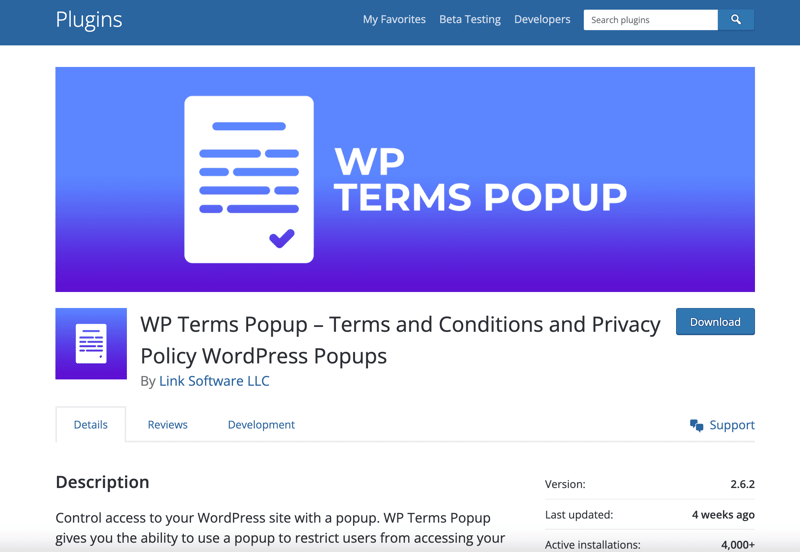 WP Terms Popup is a WordPress plugin that displays terms and conditions or other types of legal agreements with a popup window. This plugin provides an easy way for website owners to create custom popups that can be shown to visitors even before they access site content. WP Terms Popup also offers popup customization options that let you change text, font, color, etc.
Pros of WP Terms Popup include ease of use and versatility—like the ability to display things such as disclaimers, age verifications, and cookie consents—but it's hindered by the intrusive nature of popups, limited customization options, and compatibility issues with some WordPress themes.
WP Terms Popup can be a useful tool for organizations that want to ensure compliance, but website owners should consider the potential negative impact on the user experience before installing it.
3. WP Auto Terms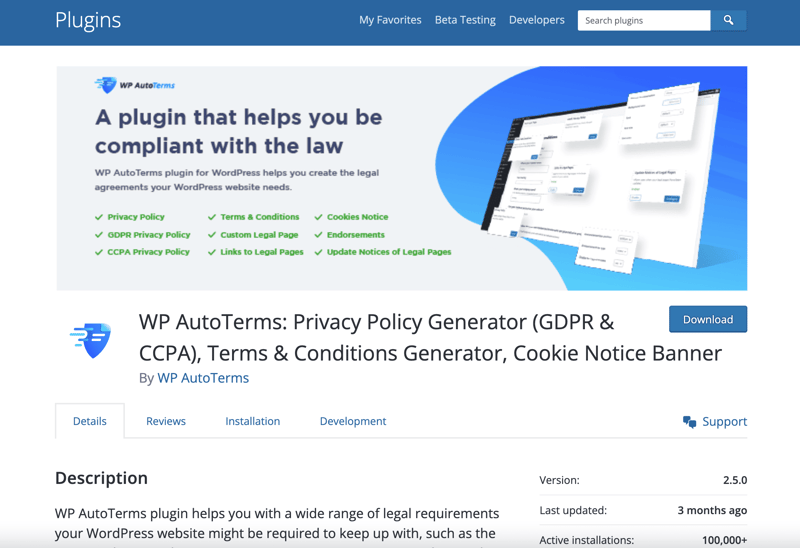 WP Auto Terms is a WordPress plugin that generates legal agreements like terms and conditions, cookie policies, and privacy policies for websites. This tool is useful for business owners to automate the creation of legal pages without having to put too much work into it.
Pros of WP Auto Terms include the ability to automatically update pages to comply with the latest legal requirements, to save time with process optimizations, and to be a cost-effective option for users without a legal team, all within WordPress.
Unfortunately, limited customization options on top of accuracy issues mean it might not be an ideal solution for some businesses. WP Auto Terms uses pre-written templates to generate legal agreements, so inaccuracies are possible.
WP Auto Terms can be a useful tool for website owners who want to ensure legal compliance, but website owners should keep in mind the potential accuracy and customization limitations of the plugin.
4. Oik Privacy Policy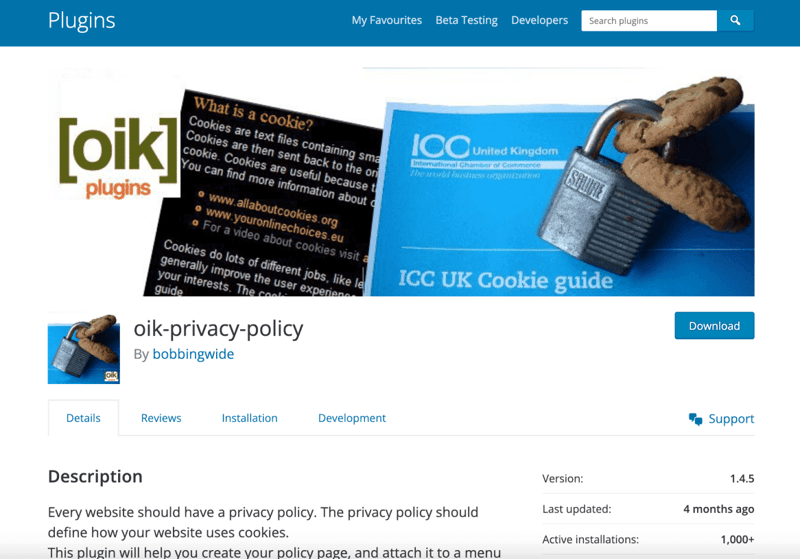 The "oik-privacy-policy" plugin for WordPress is designed to help website owners create and display a privacy policy on their site. The plugin provides a template that can be customized to include specific types of data the website collects as well as how that data is used. It also includes features to help website owners comply with privacy regulation laws.
Oik-privacy-policy provides transparency to website visitors about the data being collected while it protects the privacy of your users.
Just like WP Auto Terms, oik-privacy-policy is a time-saving solution but comes with limited customization options. It also has compatibility issues with some WordPress themes, which can make it difficult to integrate with other plugins.
5. GetTerms

GetTerms is similar to Enzuzo in that it's more than just a privacy policy generator. GetTerms is a software tool or API that extracts relevant terms and phrases from a given piece of text and uses natural language processing (NLP) techniques to identify and extract important words and phrases that are relevant to the context of the text.
How does this apply to privacy policies? GetTerms helps improve the accuracy and effectiveness of various applications, including a privacy policy generator. GetTerms uses its data processing practices to generate custom privacy policies tailored to specific needs.
GetTerms is more functional than some WordPress-specific plugins, but the broad scope of the software tool means privacy policy generation is a more complex process.
6. PrivacyPolicies.com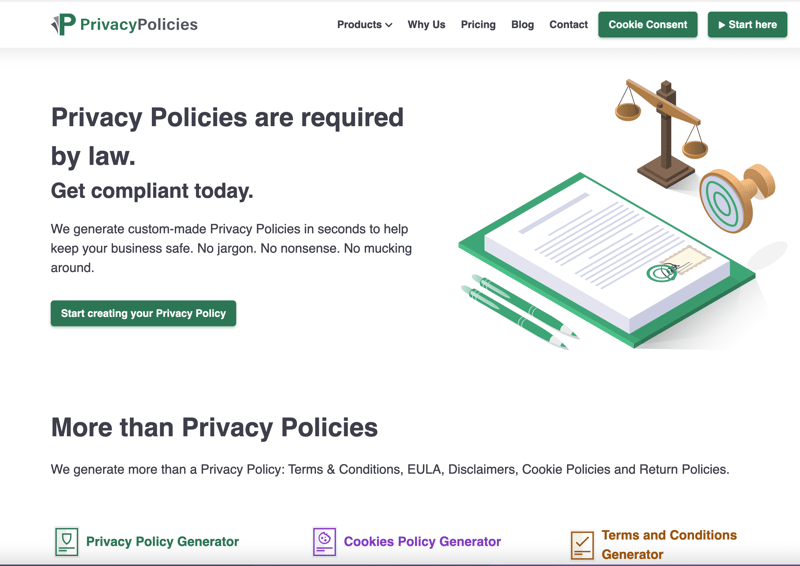 PrivacyPolicies.com provides free privacy policy templates and generators for websites and mobile apps. The site offers a simple and user-friendly interface that allows users to create privacy policies tailored to their specific goals by answering a series of questions about their website or app.
PrivacyPolicies.com is as much a resource center as it is a policy generator. It provides information to help website and app owners understand the legal requirements and best practices related to privacy policy compliance.
Pitfalls of PrivacyPolicies.com include pre-written templates (like WP Auto Terms) and limited customization and support. The site doesn't offer support beyond the initial generation of the privacy policy, which means website owners themselves must make sure that their policy is up to date and complies with any new laws or regulations.
7. WebsitePolicies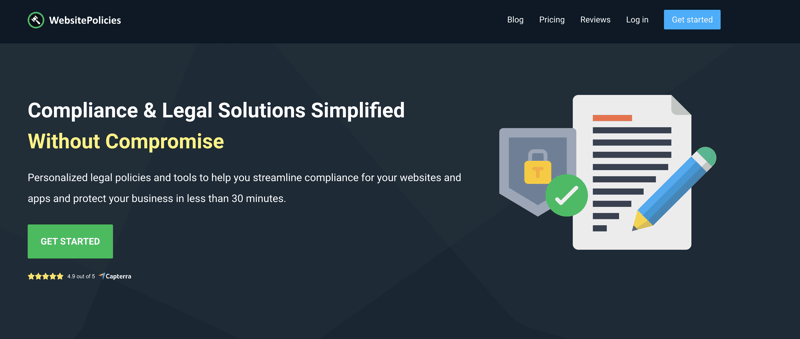 WebsitePolicies is a website that offers a WordPress plugin to help website owners generate and manage essential legal documents that include everything from privacy policies to terms and conditions. The WebsitePolicies plugin generates your documents based on pre-made templates that can then be customized to meet specific business needs. WebsitePolicies also makes it easy to update, display, and disseminate your legal documents for maximum transparency.
Pros of WebsitePolicies include regular automatic updates as well as comprehensive legal insights into data protection, liability, and intellectual property law. Cons include common accuracy issues mentioned above but also a pay-to-play type of business model. Some WebsitePolicies features are free to use, but others are available only through a paid version of the plugin.
WebsitePolicies can be beneficial for website owners who want to ensure legal compliance, but it's important to consider potential limitations if you operate on a budget.
8. LawDepot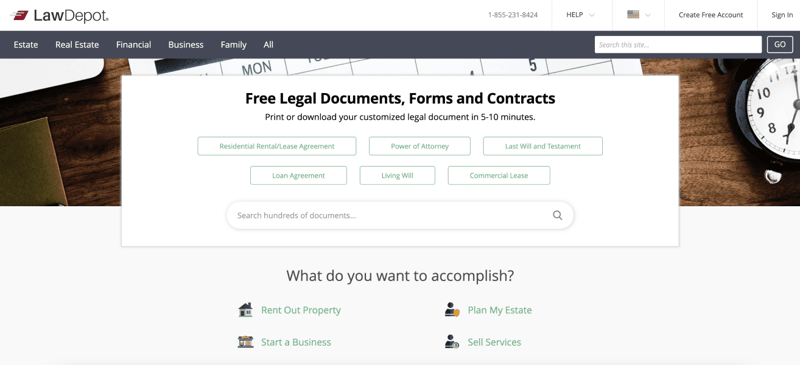 LawDepot is a website and WordPress plugin that provides a wide range of customizable legal documents for business owners. LawDepot users can generate documents like rental agreements, employment contracts, and power of attorney forms without the need for a lawyer.
The plugin includes an intuitive interface that guides users through the document creation process, and documents are available in multiple languages. LawDepot offers a free trial with limited access to its document library, and users can choose from several pricing plans to access more documents and features.
The ability to customize a vast library of legal documents elevates LawDepot above your typical WordPress-branded plugin, but that customization is also a limitation. Users can't add clauses or sections to documents, and LawDepot's library should not be used as a substitute for legal advice.
What's more, the online nature of the platform means human interaction is minimized, and LawDepot's documents are not tailored to specific jurisdictions. This means that users may need to modify documents to ensure compliance with local laws and might have to seek additional legal advice.
FAQs About WordPress Privacy Policy Generators
Still unsure about which privacy policy generator is best for your WordPress website? Here are a few frequently asked questions from business leaders:
Do I need a privacy policy for my WordPress website or app?
Yes, you are generally required by data privacy laws to have a privacy policy if you collect any personal data from your website or application users. A privacy policy can build trust with your users and protect your business from liability even if you don't collect personal data.
What is considered personal data?
Personal data can be anything from a user's name and email address to their browsing history and IP address.
What are the most important things to consider when choosing a generator?
Cost, customization, and compliance with local, national, and global privacy laws are all important things to consider. Automatic updates will help assure that you're always in compliance. Clarity and accessibility are also crucial for usability and transparency. Lastly, reputation is important. Make sure the tool you choose has a reputation for customer support and satisfaction.
Does a privacy policy generator help with GDPR compliance?
It depends. Most privacy policy generators attempt to stay within compliance regulations, but not all policy generators come with the same features. Furthermore, compliance regulations can change, and if your policy generator isn't up to date, you'll miss important policy updates. Find a privacy policy generator—or a partner like Enzuzo—that keeps your platform updated and always optimized.
Are privacy policy generators legally binding?
A privacy policy generated by a reputable privacy policy generator is considered legally binding as long as it's customized to reflect the specific practices of the business and complies with relevant privacy laws and regulations.
Partner with Enzuzo for Data Privacy Management
Enzuzo's suite of privacy features is optimized for mobile and designed for WordPress integration. That's why organizations around the world work with us to improve their processes, enhance their privacy policies, and maximize their business potential.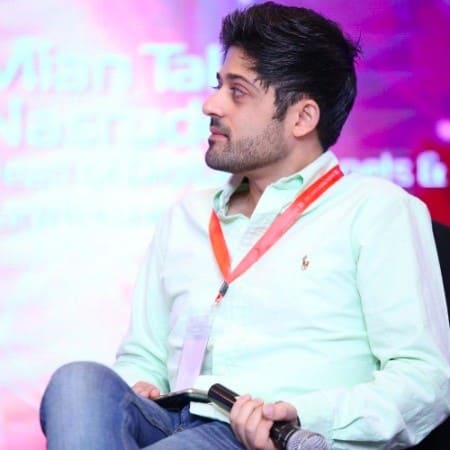 Osman Husain
Osman is the content lead at Enzuzo. He has a background in data privacy management via a two-year role at ExpressVPN and extensive freelance work with cybersecurity and blockchain companies. Osman also holds an MBA from the Toronto Metropolitan University.