Table of Contents
Returns and refunds imperil cash flow and are a bane for both online and offline retailers. Studies estimate that $420 billion worth of goods were returned in 2020, collectively amounting to over 10% of retail sales.
And returns come at a cost — goods can be damaged or in a condition that doesn't allow them to be resold. That's when the business has to absorb the cost on its own accord, eating into profit margins and dragging down the balance sheet.

However, it is possible to guard against freewheeling customers. An 'All Sales Are Final' policy is one way. Let's take a look at what it is, examples, and how to implement one for your business.
What is an 'All Sales Are Final' Policy?
An 'All Sales Are Final Policy', also known as a 'Final Sale Policy' is a rule implemented by businesses that prohibits the return and exchange of products once sold unless the item is found to be defective or develops a fault within its warranty time period.
Such policies are usually applied by businesses and online stores for clearance and 'final sale' items. It can also be for customized gift items, where the business prints a name or makes material changes to a product at the specific request of a customer.
All sales are final policies are applied to items that cannot be resold or are priced so low that the business is breaking even on the sale. Most businesses outline such rules in their returns and refund policy and, in some cases, may also make it clear on the pricing and checkout page.
Types of Final Sale Policies
While there might be exceptions, we generally find that there are two main types of final sale policies. Both of these apply to different campaigns and sales. Let's take a closer look.
1. Custom Items & Limited Merchandise Drops
Some brands may offer limited-time offers and exclusive merch sales as part of a creator or brand partnership. The Tiffany and Nike partnership, for example, is a case of a limited-time, exclusive offer that no doubt would have had fans excited. In such exclusive cases, the brand may well slap on a 'final sale' clause to retain exclusivity and status. The hype behind these drops means the brand wants to maintain its appeal; allowing refunds and exchanges would curtail some of that.
In other cases, customized items such as artwork and handmade goods such as custom furniture may also come with a final sale clause. That's because this item isn't a mass-made product and was specifically engineered on a customer's request. There's no option to return it if they have buyer's remorse since it was commissioned by them in the first place as a special request.
2. Clearance Items
Businesses will also often severely reduce prices to clear seasonal and dead stock. For example, the onset of summer sparks clearance sales for unsold winter jackets and coats. Such items are priced usually at cost, so the business does not make much money. Hence, they are marked as 'Final Sale' items — to make it clear to the customer that they cannot expect a return or refund.
For example, many of the items in Abercrombie's clearance section are marked 'final sale'. That's because they are seasonal items and priced low to attract quick purchases. Once you buy them, a return or refund is not possible.
Is a Final Sale Policy Legal?
Yes, final sale policies are legal in most parts of the world. Let's take you through final sale policies in the U.S., the EU, Canada, and Australia.
Final Sale Policies in the U.S.
Final sale policies are very common in the United States across a wide array of categories. However, there are some federal and state stipulations depending on what your business is selling. All final sale policies need to be clearly communicated in writing either in your physical store, online, or even on the receipt at the time of purchase.
However, there are a few caveats that business owners should be aware of. From the Magnuson-Moss Warranty Act to the Uniform Commercial Code, business owners should know that these laws supersede any final sale policy you create if your product offering falls within their scope.
Product Warranties versus Final Sale Policies
For example, the Magnuson-Moss Warranty Act creates legal protections for consumers that buy a product that costs $25 or more and comes with a written warranty. Under this law, the warranty needs to explicitly state how a consumer can receive a refund or repair for an item purchased, as well as who can rely on the remedies outlined in the warranty. Likewise, this act further defines a full warranty versus a limited or multiple warranty.
Translated for businesses selling goods, this means that a final sale policy would be invalid if you're selling items that come with a warranty. That's because your warranty has to provide remedies for repairs, replacements, or a return with financial compensation for the time period stated in the warranty.
Lemon Laws versus Final Sale Policies
Similarly, lemon laws exist at the federal and state levels to prevent consumers from being unwittingly duped by unscrupulous sellers. Usually, lemon laws are reserved for used car sales and appliances. But other sectors like real estate do allow for a technical return policy after a buyer signs the paperwork for a property.
For example, the state of New Jersey has a Lemon Law that protects auto purchasers from defective used cars. If a buyer's car experiences frequent defects or the same repair within the first two years or 24,000 miles of purchase that dramatically prevents them from using the car, they can seek remedies from the state. This includes not only having the car marked as a lemon (which leads to repercussions for the car dealer) but having their loan cleared if the car is financed, or being refunded if paid in cash.
New Jersey isn't the only state with a lemon law. Pretty much every state in the nation has one — but the protections provided and remedies offered vary widely. For business owners, this means that if you sell a product regulated under a lemon law, you need to create a final sale policy that complies with those regulations.
Final Sale Policies in the EU
Final sale policies are legal in the EU. However, the Consumer Rights Directive, the EU equivalent of the Federal Trade Commission (FTC) in the U.S., does give consumers a grace period before that final sale policy can take effect. In an EU member state, consumers have a "14-day cooling off period" from the date of purchase (or receipt of product for online orders) to return their purchase for a full refund.
Similar to the U.S. Magnuson-Moss Warranty Act, the EU also requires that sellers repair or replace faulty items. Buyers have a two-year grace period — set by the EU — from the date of purchase to take advantage of that caveat if they purchase from an EU seller. In the EU, that two-year window supersedes shorter time periods listed on warranties.
So, if a consumer buys a laptop with a six-month warranty and the laptop needs repairs seven months after purchase, the manufacturer must honor the repair request. Note that this ruling also applies to second-hand goods purchased from commercial sellers, but not private citizens.
There are a few categories where the EU's 14-day cooling-off period doesn't apply. Specifically, the organization won't recognize the following purchases:
Tickets for travel or events, car rentals, and even catering services for specific dates
Regularly scheduled food deliveries
Opened audio, video, and computer software that was originally shipped sealed
Digital content that you've already started streaming (i.e. buying a movie and then wanting a refund halfway through it because you don't like it)
Anything purchased from a private citizen and not a commercial entity
Emergency repairs and maintenance contracts
Final Sale Policies in Canada
It's perfectly legal to have a final sale policy in Canada. The Canadian government says businesses are not obligated to accept returns for any merchandise sold unless it is defective. Hence, the onus is on the retailer to outline its final sale policy and for consumers to understand the terms and conditions before engaging in a purchase.
The Office of Consumer Affairs encourages people to keep a copy of their receipt and proactively ask the business about their returns and refund policy before purchase.
Final Sale Policies in Australia
Similar to Canada, the Australian laws around final sale policies are meant to protect both businesses and consumers. The Australian Competition and Consumer Commission says businesses can implement final sale policies, but cannot take away consumers' rights to replace or refund the item if it is found defective. How this applies to things like clothing is unclear, but electronics manufacturers must honor all warranty clauses even in clearance sales.
That means it's possible for a consumer to ask that their television be replaced if it is found defective after a final clearance sale event. Said consumer could also ask for their money back, or a return for a comparable item. That's perfectly within the law in Australia.
Does Clearance Mean Final Sale?
Clearance items don't always mean a final sale. That's up to the discretion of the business — it may price items extremely low and deny refunds. It may also allow customers to return clearance items. There is no hard and fast rule that determines all clearance items to be final sales.
However, our research suggests that it is common for retailers to mark clearance items as final sale purchases. It's generally accepted as a rule in the retail industry to clear under performing inventory. Final sale items are displayed clearly on the price tag if shopping in a mall, or directly on the product page as indicated in the next section.
All Sales Are Final Policy Examples
Let's take you through three examples of final sales that we saw on various ecommerce stores.
1. Maxpedition Morale Patch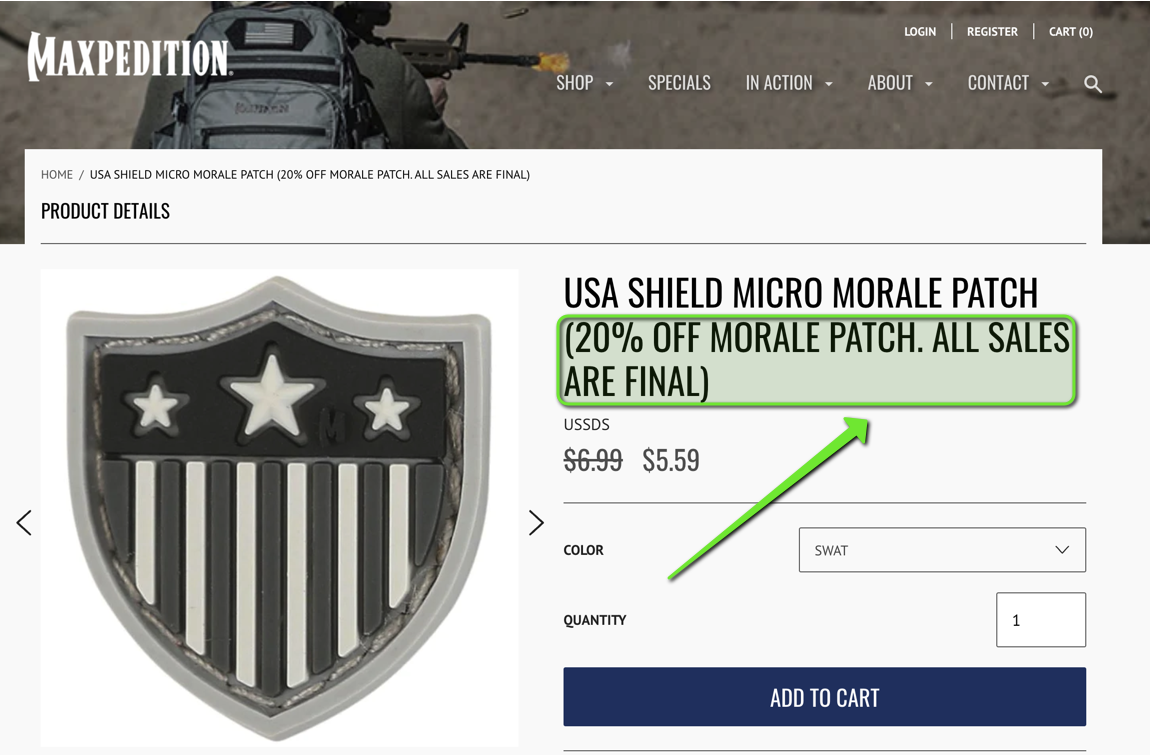 The USA shield morale patch is discounted by 20% at the Maxpedition store and marked as a clearance item. The final sale policy is clearly articulated on the product page, making it clear that no returns or refunds will be accepted.
2. Baubax Women's Shoes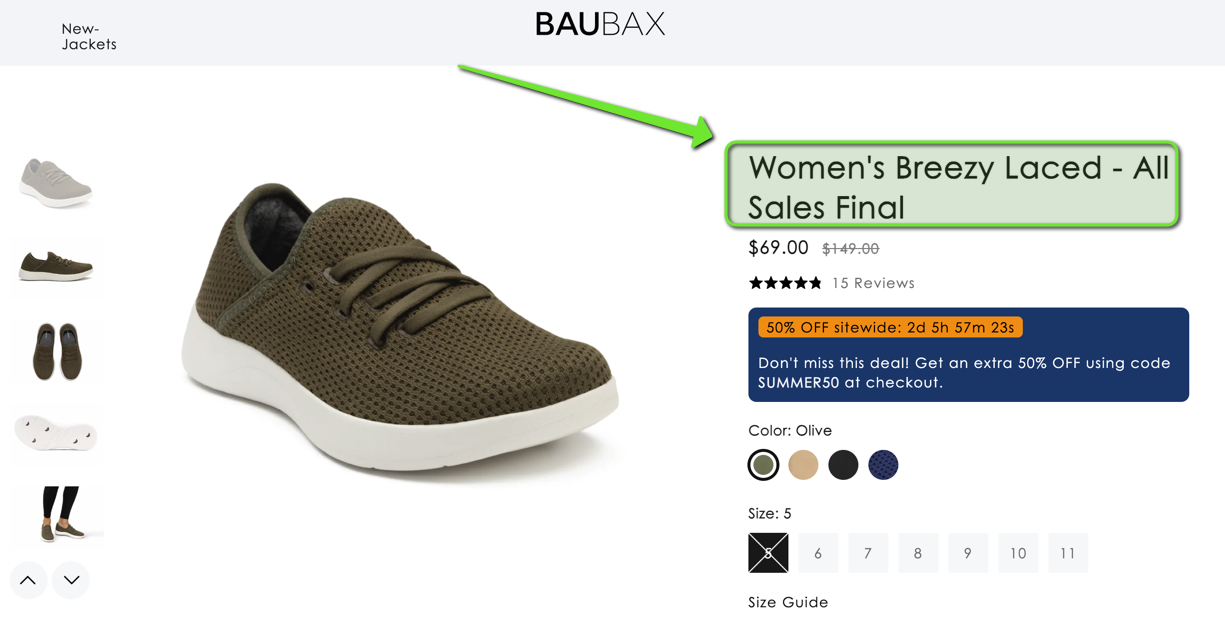 Baubax has dropped the price of its women's shoes by over 50%. That's a great deal, and the business wants you to know that it is a final sale item. There will be no returns or refunds accepted for these pair of shoes.
3. Octa Versipack

Rounding up our list is the Octa Versipack, also a product from Maxpedition. While the item isn't marked as discounted, it may possibly be a limited-time offer which explains its final sale policy.
How to Write an All Sales Are Final Policy (Template)
A robust all sales are final policy can help guard against chargebacks and irate customers. It's a legally-binding document, so spending a bit of time to write one for your business is a good idea. Here's how to do so:
Step 1: Understand Your Region's Laws
Your final sale policy must be developed in accordance with the local laws of your place of business. We've articulated some of the laws around final sale policies in the section above, but you must also do your research into local and federal laws of your country.
This research will help in understanding what you can include in your policy and how you must frame it.
Step 2: Add the Necessary Clauses
After your research into the legal matters, the next step is to insert the clauses into your final sale policy. For example, you might have to add that all warranties will be respected and that the product will be accepted for return or refund if it is found defective. You may also want to add additional clauses such as a return will be accepted if the item is damaged during the shipping process.
Step 3: Obtain Customer Consent
All sales are final policies must be clearly communicated to customers before they hit purchase. We recommend adding clear verbiage to your product page, as shown in the examples above. Another way you can do it is by adding a checkbox at the final checkout step, explaining to customers that this is a final sale item and that no refunds will be accepted.

Step 4: Insert Your Policy on Your Website
We recommend that you add your final sale policy in your website footer or a place where it can be found easily. That prevents complaints from folks who may say that they were unaware of it being a final sale item or what the laws around final sale policies entail.
How do I Generate an All Sales Are Final Policy?
If you're unsure of how to proceed and are hesitant about writing your own legally-compliant final sale policy, Enzuzo's returns and refund policy generator can help. It's specifically designed for e-commerce businesses and can create a policy based on your unique product offerings and return periods. It also easily integrates with all major platforms like Shopify, Wix, BigCommerce, and more. Best of all, it's 100% free.
Conclusion
The TL;DR for final sale policies is that they are in fact in the U.S., EU, Canada, Australia, and other parts of the world. You have the right to outline certain product or service offerings as final sales — just ensure you're still compliant with state and federal laws.
Write one yourself or use Enzuzo's returns and refund policy generator to guide you in the right direction.



All Sales Are Final FAQs
What does final sale mean?
All sales are final is a stipulation from a business stating that the product cannot be considered for refund or exchange if the customer changes their mind or has buyers remorse about the product.
Are businesses allowed to refuse refund requests?
If there's a valid reason for doing so, businesses can certainly deny refund or exchange requests. These don't even have to be limited to final sale items, some returns can also hinge on things like items being used or damaged before return.
Is an All Sales Are Final Policy Legal?
Yes, all final sale polices are perfectly legal to implement. You must comply with product warranties and defects, however. Failure to do so might land you in legal trouble.
What are Customers' Rights Under Final Sale Policies?
Customers must be informed clearly before purchasing any final sale items. As such, they are fully aware of the terms of the transaction before hitting checkout. Hence, the only way they can get a refund is if the product is materially defective or damaged. Apart from that, there is no other recourse.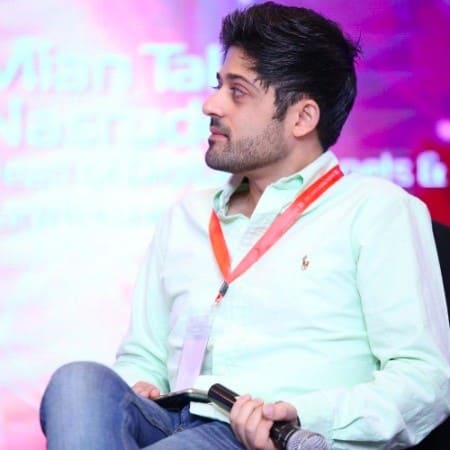 Osman Husain
Osman is the content lead at Enzuzo. He has a background in data privacy management via a two-year role at ExpressVPN and extensive freelance work with cybersecurity and blockchain companies. Osman also holds an MBA from the Toronto Metropolitan University.