What is a Social Media Policy, and Do You Need One for Shopify?
What is a Social Media Policy, and Do You Need One for Shopify?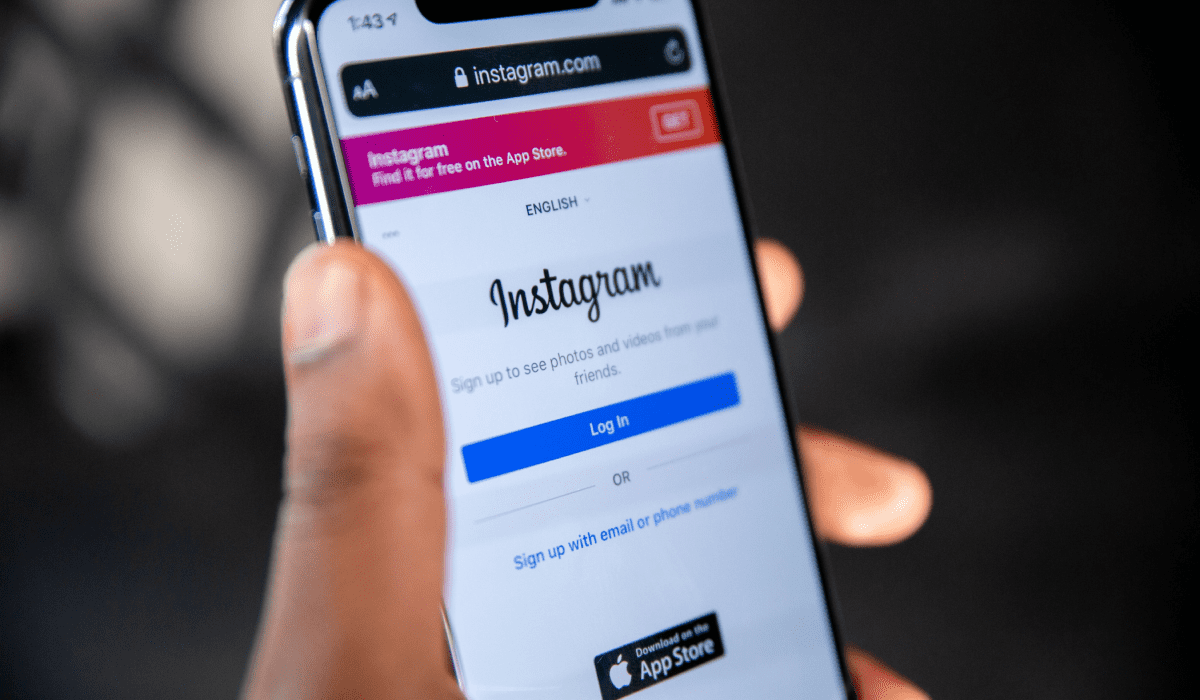 Table of Contents
Social media channels like Facebook, Instagram, TikTok, LinkedIn, and Twitter are great ways to bring more traffic to your Shopify store. Growing a brand on social media gives you plenty of ways to turn those followers into loyal fans and customers too. With reports showing that 71% of people are more likely to buy based on social media referrals, a strong presence on social networking sites is a must-have.
Being a player in the social media landscape doesn't come without risks though. One wrong step and you could be facing a PR crisis. Whatever your approach to social media is, a social media policy can help you stay on track, prevent mishaps, and build a thriving brand presence.
71% of people are more likely to buy based on social media referrals
Let's take a look at what a social media policy is, why it's essential, and what to include in an effective social media policy.
What is a Social Media Policy?
A corporate social media policy is an internal document sets out how your organization, and the people within it, use social media sites, forums, and online communities. Think of it as your team's guidebook on all things social media. Social media policies usually relate to corporate social media accounts, but you might also include suggestions or ideas on how people can use their personal accounts for employee advocacy too.
The goal with any great social media policy is to create a consistent experience for your customers and to avoid getting attention for the wrong reasons — whether that's a legal issue or unwanted media coverage.
Your company policy on social media should cover how to respond to customers, what to do with complaints, a guide on confidential information, and your brand voice and style. It can also include information on how to work with influencers, what to do with media approaches, and what's definitely off-limits when it comes to discussion.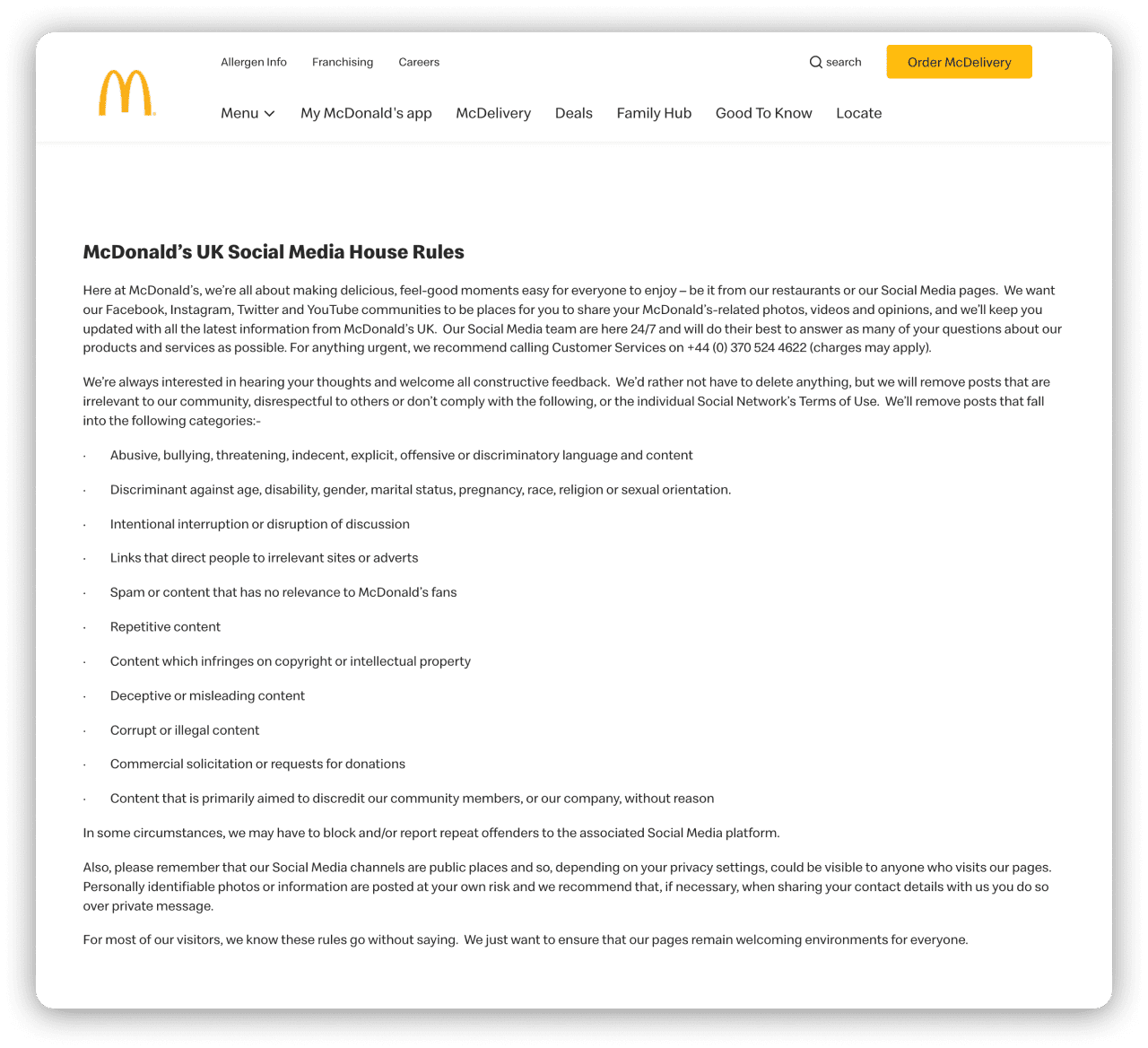 It's easy for someone to accidentally share the wrong information if they're not sure what's right and wrong in the first place. Even with common sense, someone's personal interpretation of how to use social media can vary.
Your social media policy should steer your team members in the right direction, make them feel empowered, and let them know who to approach with any concerns.
Without a company social media policy, you're at risk of damaging your brand online. It also means you can't take as many opportunities to grow as your competitors, because your team can't act with precision and confidence. A social media policy is an incredibly useful tool in this busy eCommerce landscape.
3 Reasons Why You Need a Social Media Policy for Your Shopify Store
Having social media guidelines for your team makes perfect sense. With them, they know exactly what they can do and feel empowered to create and share amazing content.
Giving your team the best opportunity to shine isn't the only reason to introduce a social media policy though.
Here's three more reasons why you should add a social media policy to your employee handbook.
1. Prevent the Sharing of Confidential Information
A strong social media policy sets out clear guidance on which information can and can't be shared. It outlines what confidential information means, what's covered, and why it should definitely not be shared in a public space.
It's easy to see how someone could accidentally share information that could be considered confidential — especially if a support team member is helping a customer with a query on Twitter. Your social media policy should state that any conversations like this take place by DM, or through a secure live chat on your Shopify store.
Confidential information doesn't just apply to your customers' personal data. Trade secrets, product research, and embargoed press releases are all examples of the kind of information you don't want shared on social media. Make this clear in your policy, so someone excitedly talking about a new product on their personal social media account doesn't derail your advertising campaign.
Being careful with confidential information and personal data helps you build a relationship of trust with your customers. They know their information is secure and that you're happy to keep it that way, even if it means a few extra steps for your support team.
Case Study: T-Mobile
One of the most infamous horror stories about the use of social media accounts irresponsibly comes from T-Mobile. When a user asked on Twitter whether T-Mobile was storing the passwords of users in plain text, someone replied using the company's account that they could see the first four digits.
Even worse, they didn't seem to understand why this was a problem. This is a huge red flag when it comes to customer data privacy and social media activities.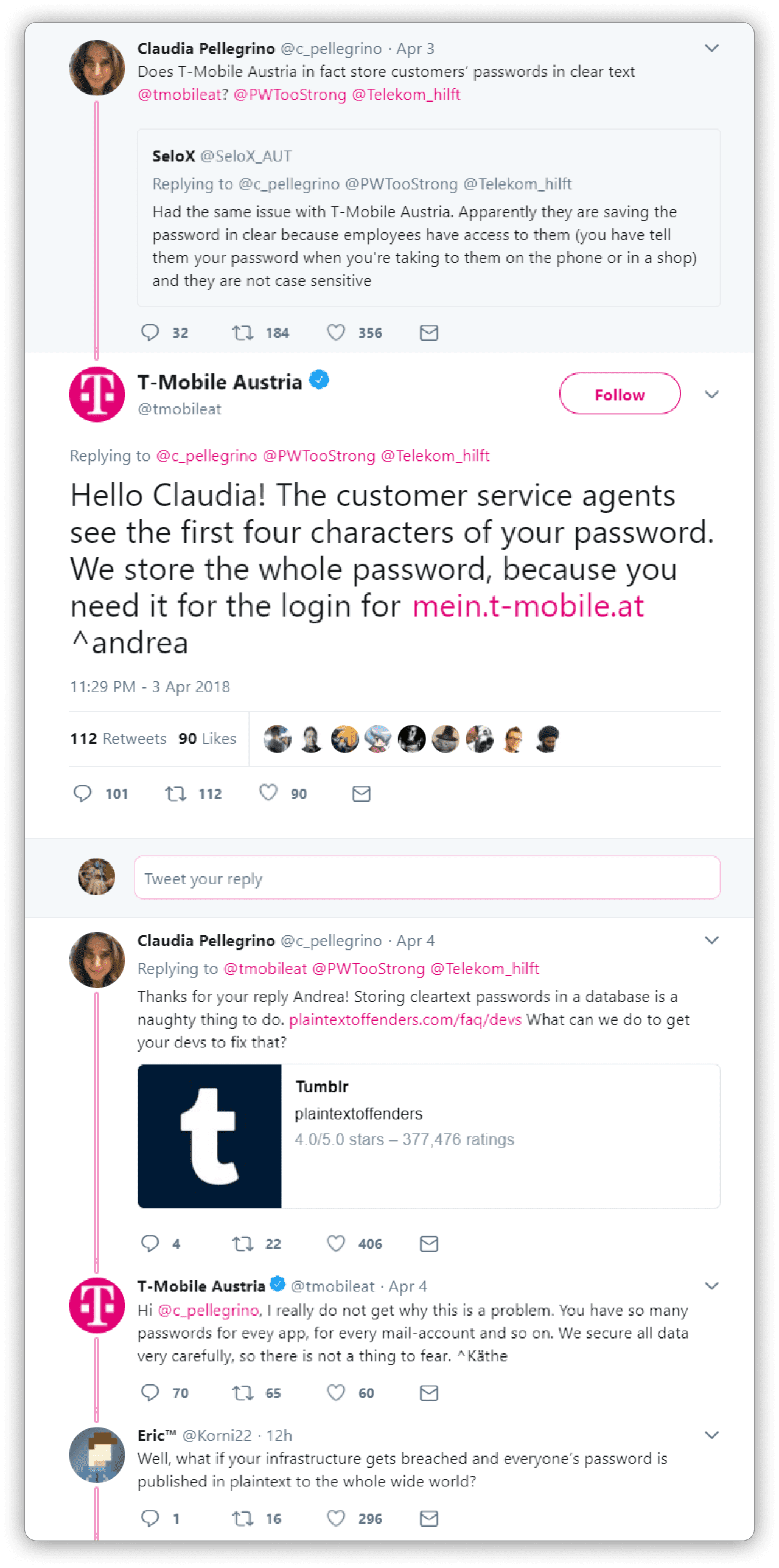 Customers need to feel like their personal data is safe, and this Twitter exchange showed that it wasn't — and that the customer service rep didn't see why this was an issue.
A robust social media policy would've helped the team member handle the situation better. While the social media team can't change the way passwords are stored, they can refer to their legal team to put together a response that doesn't cause a PR crisis.
2. Reduce Legal Compliance Risks
Your social media policy is one of the best places to inform your team members about privacy laws like CCPA or GDPR, regulations, and legal risks when it comes to using social media platforms to promote your Shopify store.
Add a section to your social media policy that introduces the key themes and laws that apply where you are, and give examples of how to work within them. For example, you could talk about copyright and where to source appropriate imagery from, or the regulations around influencer marketing. Inform your team so they know what is and isn't okay to post on social media.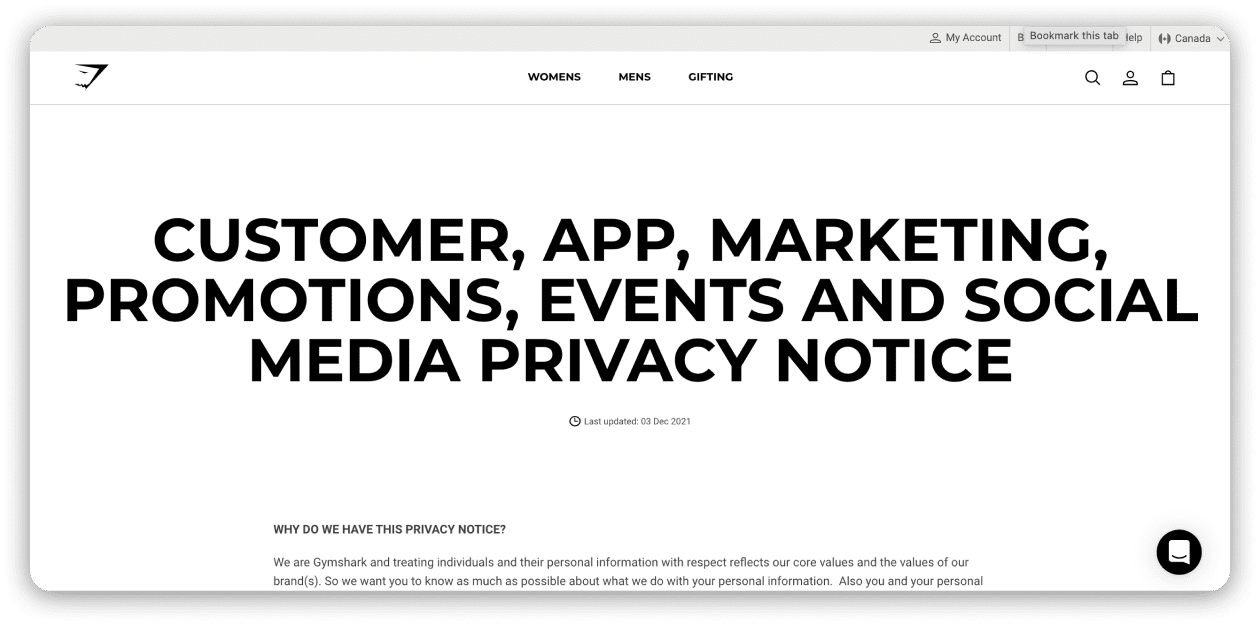 Some industries need to be especially careful when it comes to social media promotions. If you sell products in niches like alcohol, healthcare, or other regulated industries, make sure you're really clear on any social media laws or guidelines that apply.
Making a wrong move and falling foul of the law can come with unwanted consequences, like fines and other punishments. It can also bring you unwanted media attention and damage your brand reputation. Give your brand the best possible chance of always acting within the law by covering this in your social media policy.
Case Study: Solace Vapor
A great example of being caught out by legal compliance comes from the vaping industry. An influencer promoted one of Solace Vapor's products on their Instagram page, but failed to mention that the product contains nicotine.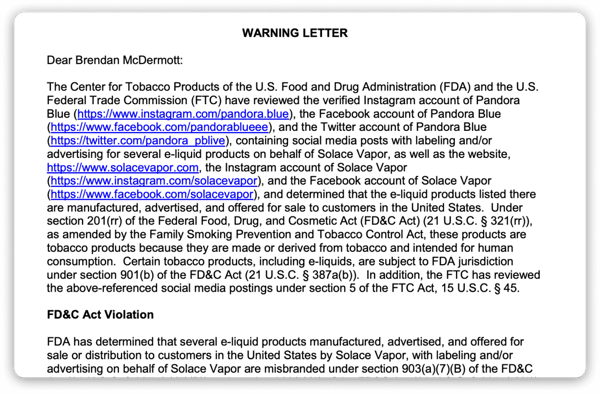 This is a big no-no when it comes to advertising rules, so the US Federal Trade Commission (FTC) sent a warning letter to the company — and other vape brands that had a similar social media mishap.
3. Create a Consistent Customer Experience
Last but definitely not least, your social media policy acts as the ultimate guidebook on how your brand comes across on social media. This means it becomes a powerful tool for your team to refer to when it comes to brand style, tone of voice, imagery, and content.
We're all for originality, but with multiple team members and no social media policy, it's easy for your social media posts to look confusing to your audience. A clear social media policy guides your team on how to structure posts, what kind of language to use, how to use emojis, and more. This helps you create a consistent, cohesive experience for your customers.
Last but not least, having a Social Media Policy also provides a consistent tone-of-voice for your brand and helps maintain a good public image. You can set rules on how your employees should communicate with potential customers.
You can also use your approach to social media to reinforce some of your brand values. Recently, Lush announced that they're quitting some social media platforms until they create a better experience for users. Take inspiration from this and shape your social media policy and platform use around what you stand for as a brand.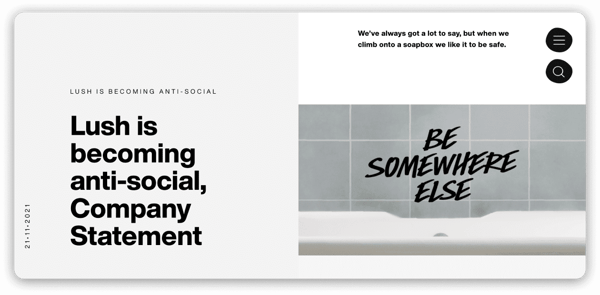 Case Study: Innocent
One of the best examples of a brand with a consistent social media presence is innocent. The drinks brand has a unique presence on social media, with posts that feel human, relaxed, and all from the same train of thought.
That's not an accident — it's thanks to a carefully crafted social media policy that directs and empowers the team to create fun experiences for their audience. Use your social media policy as a space to give your team the tools to help your brand shine through noisy social media feeds.
What to Include in Your Social Media Policy
There's no clear-cut way to put together your social media policy. It's totally up to you to decide what you want the document to feature. To help guide you through the process though, here are some elements we strongly recommend including in your social media policy.
Who is allowed access to your social media profiles and how to get this
Rules on how to use your company's social media profiles — for example, what's prohibited
What happens if your social media code of conduct is broken — for example, disciplinary action
Guidance to empower your team members to be spokespeople for your brand
Information on intellectual property, copyright, plagiarism, and how to use and share content appropriately
Advice on tone of voice, language, and brand style
Your brand values and how they apply to your social media marketing
Best practice and examples on topics like content creation, communication with customers, and building a community
How to work with influencers and any specific rules they need to follow
Any rules or guidance around social media for personal use or the sharing of personal opinions on company social media accounts
Pre-prepared content or disclaimers your team can use to meet legal obligations
How to build relationships and create partnerships with stakeholders
Information on related policies — for example, your

privacy policy

Processes for what happens if something goes wrong — for example, if someone makes a complaint or a data breach happens
Who is responsible for your overall social media policy and how to get in contact with them
Coming up with your social media policy template from scratch can be challenging. If you're not sure how to structure it, take a look at how a leading brand does it — here's Dell's social media policy. This social media policy example sets out the brand's approach to social media in a clear, transparent way, so their team members know exactly how to act.
Make Your Social Media Policy Part of Your Approach to Data Privacy
Your social media presence is one of the best ways to attract an audience, build a community, and create an amazing source of customers for your Shopify store. Creating that presence takes time, energy, the right people, and a strong social media policy.
Take inspiration from the ideas above to help you create a social media policy that empowers your team members to represent your brand online. Give them the tools and information they need to stay ahead of the competition and respect customer data.
Your commitment to your customers doesn't stop there, though. Take this approach beyond your social media policy and make a real commitment to data privacy and transparency across your eCommerce business. To make that transition easier, try Enzuzo's privacy platform and streamline your whole approach to customer data privacy.